Thick Legged Flower Beetle - May 2016
Despite being relatively common, this Thick Legged Flower Beetle (Oedemera nobilis) is a new beetle to me. You can see where it gets its name, just look at those powerful looking rear legs.
It wasn't the best of week's to be hunting for insects. I know it's just turned June, and should be summertime, but we've been experiencing what can only be described as winter weather for the past few days.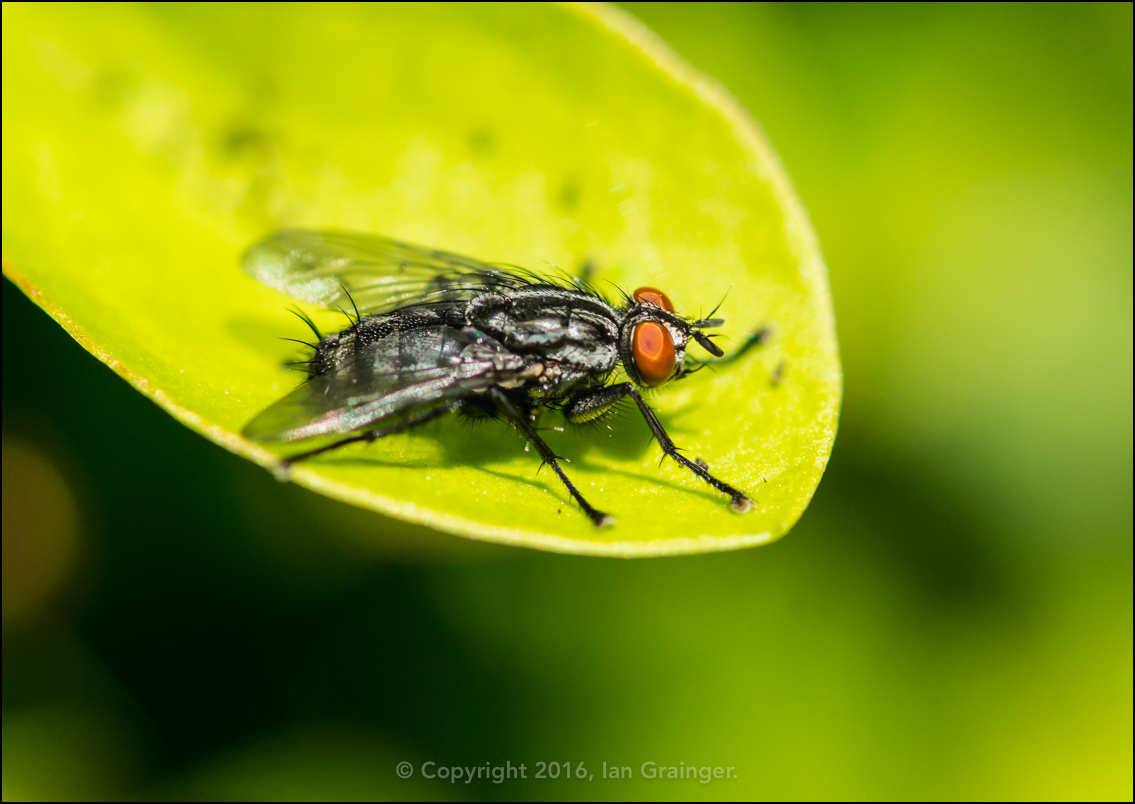 Flesh Fly Cradle - May 2016
However, there were a few Flies around to photograph, mostly sheltering in leaves like this Flesh Fly (Sarcophaga carnaria)...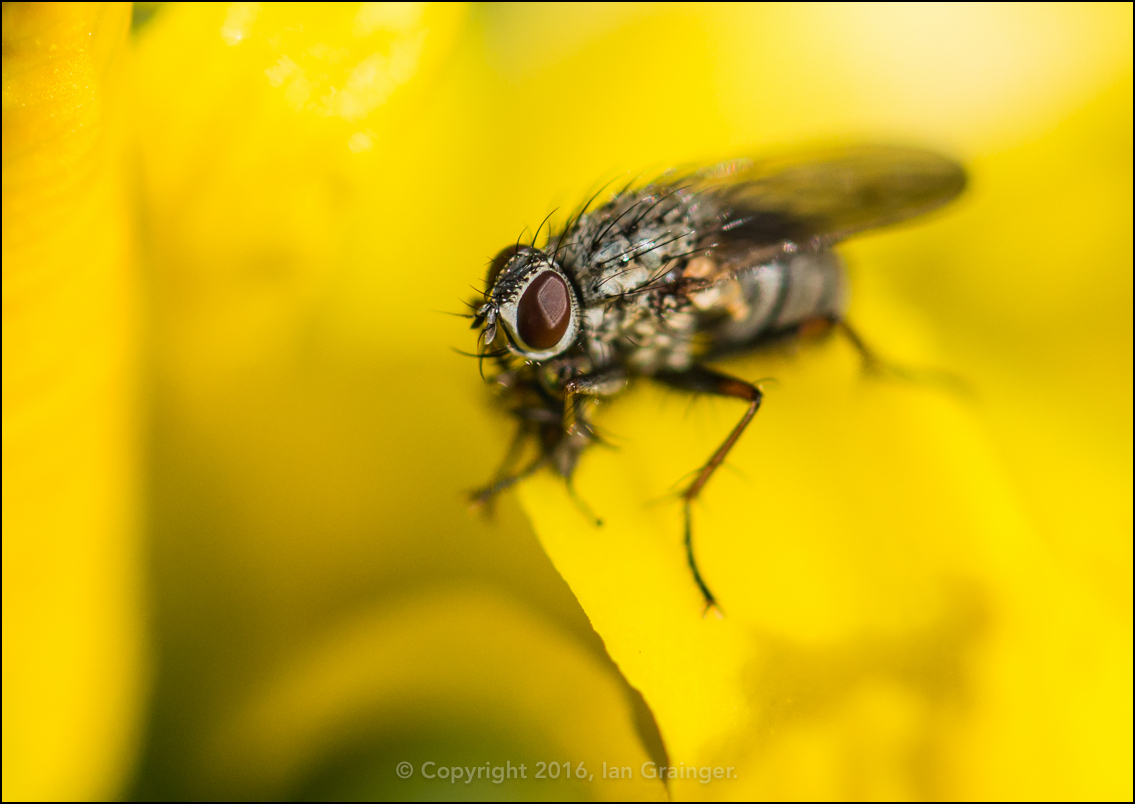 Iris Occupation - May 2016
...or hiding within flower petals like this one. If you look closely, you can see that this one is actually munching away on a smaller fly.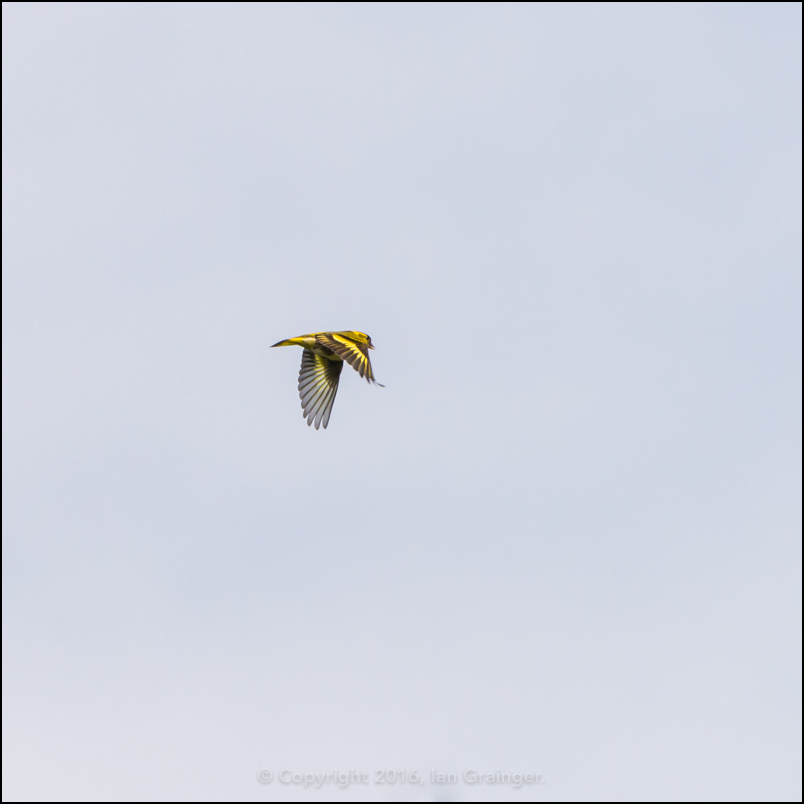 Flapping Siskin - May 2016
The cold and wind didn't seem to be effecting the birds so much, and there were plenty of them buzzing around the sky. I was quite pleased to grab a shot of this Siskin (Carduelis spinus) making its way between perches.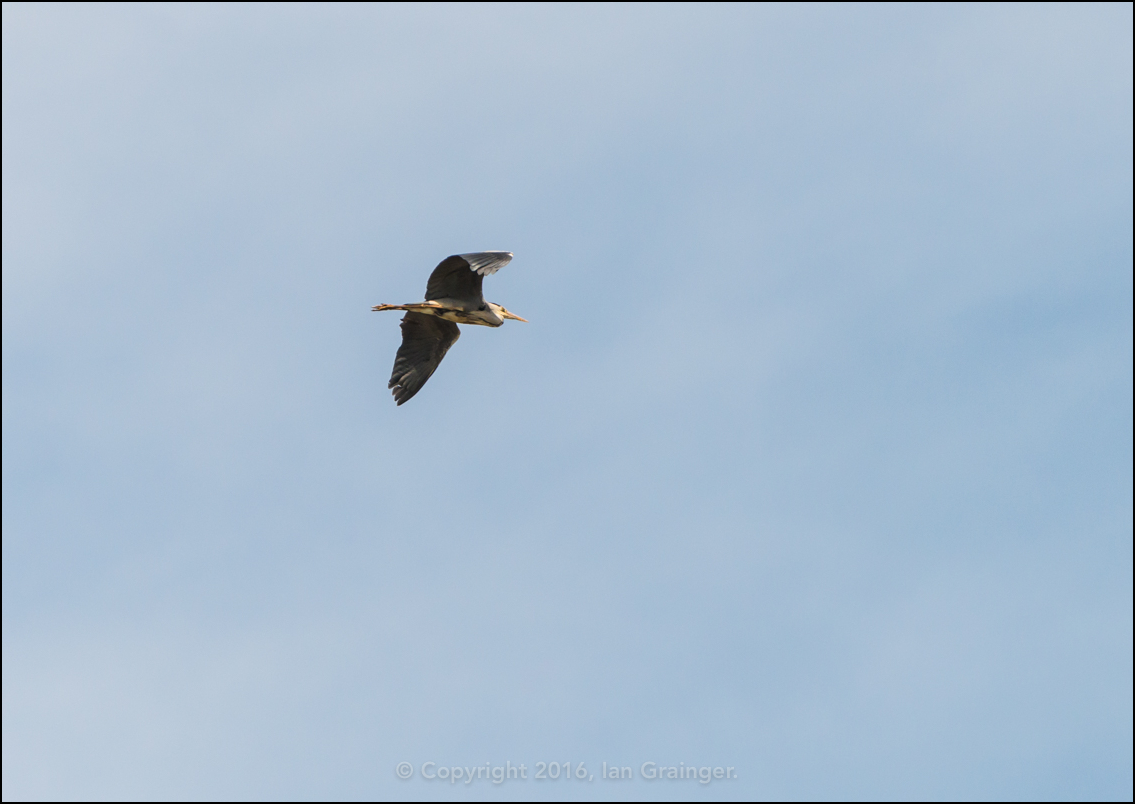 Grey Heron Ahoy - May 2016
And my old friend the Grey Heron (Ardea cinerea) was a welcome sight as it's the first time I've seen him this year. He used to pass by a couple of times a day but must have changed his routine!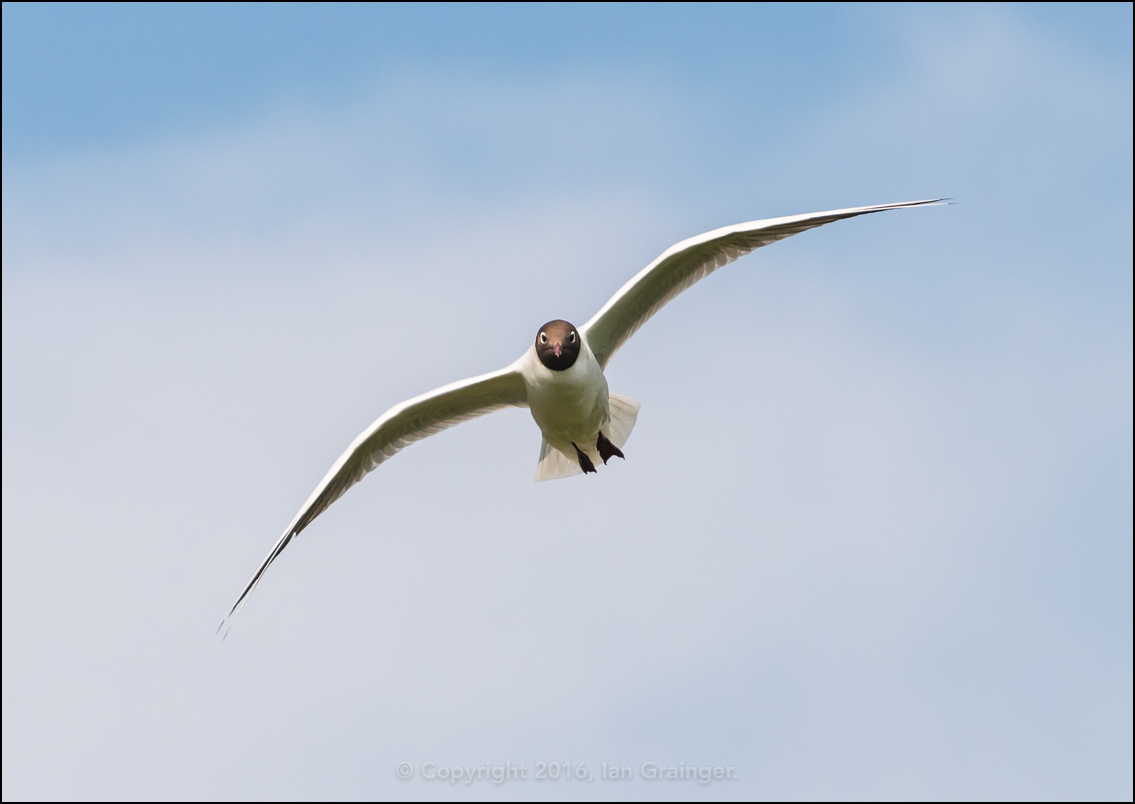 Black Headed Gull Incoming - May 2016
This Black Headed Gull (Chroicocephalus ridibundus) seemed intent on singling me out for some reason. I must have been too close to his next intended meal.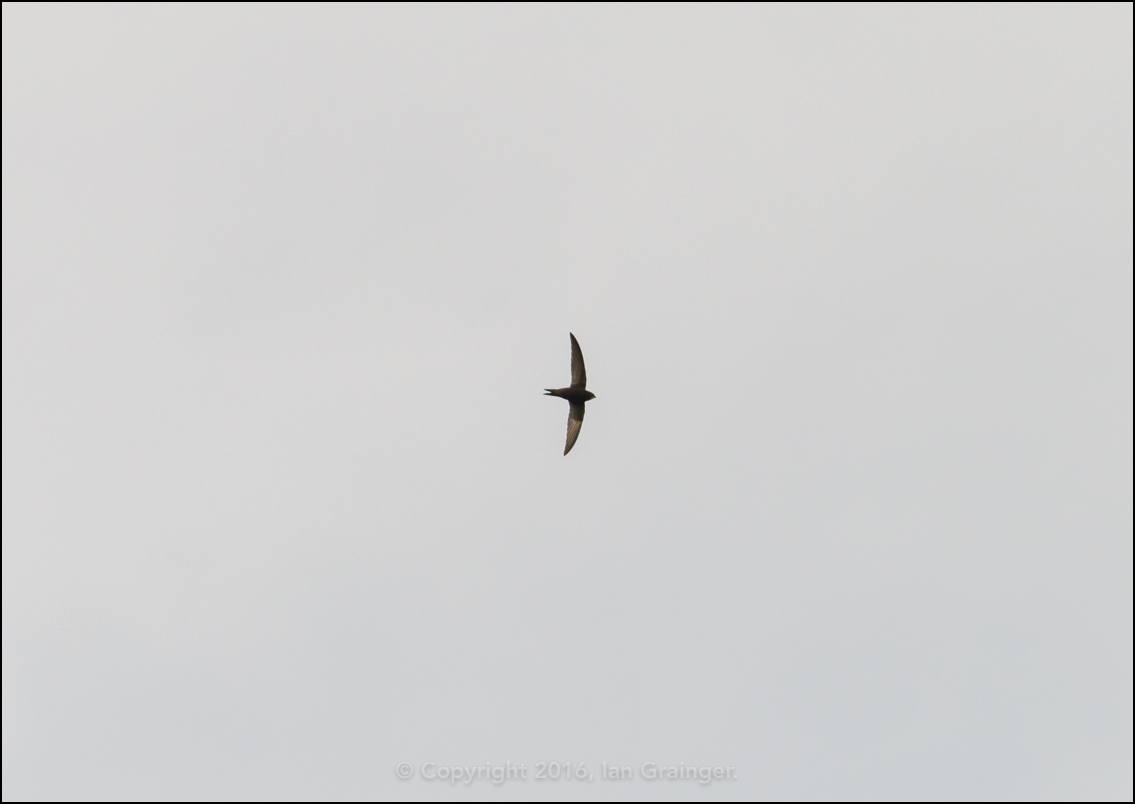 Swift Overhead - May 2016
It's always nice to be able to photograph a Swift (Apus apus), and even better when it turns out to be in focus.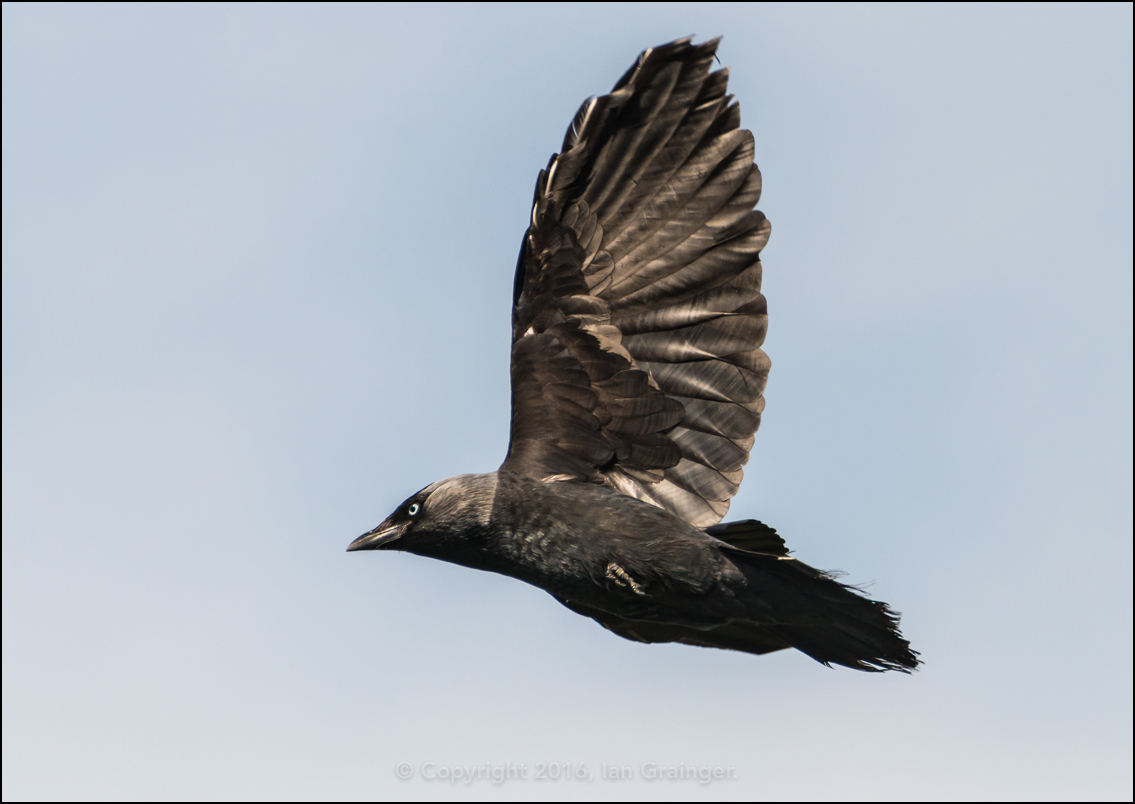 Determined Jackdaw - May 2016
This Jackdaw (Corvus monedula) had a very determined look on his face, like he was up to no good!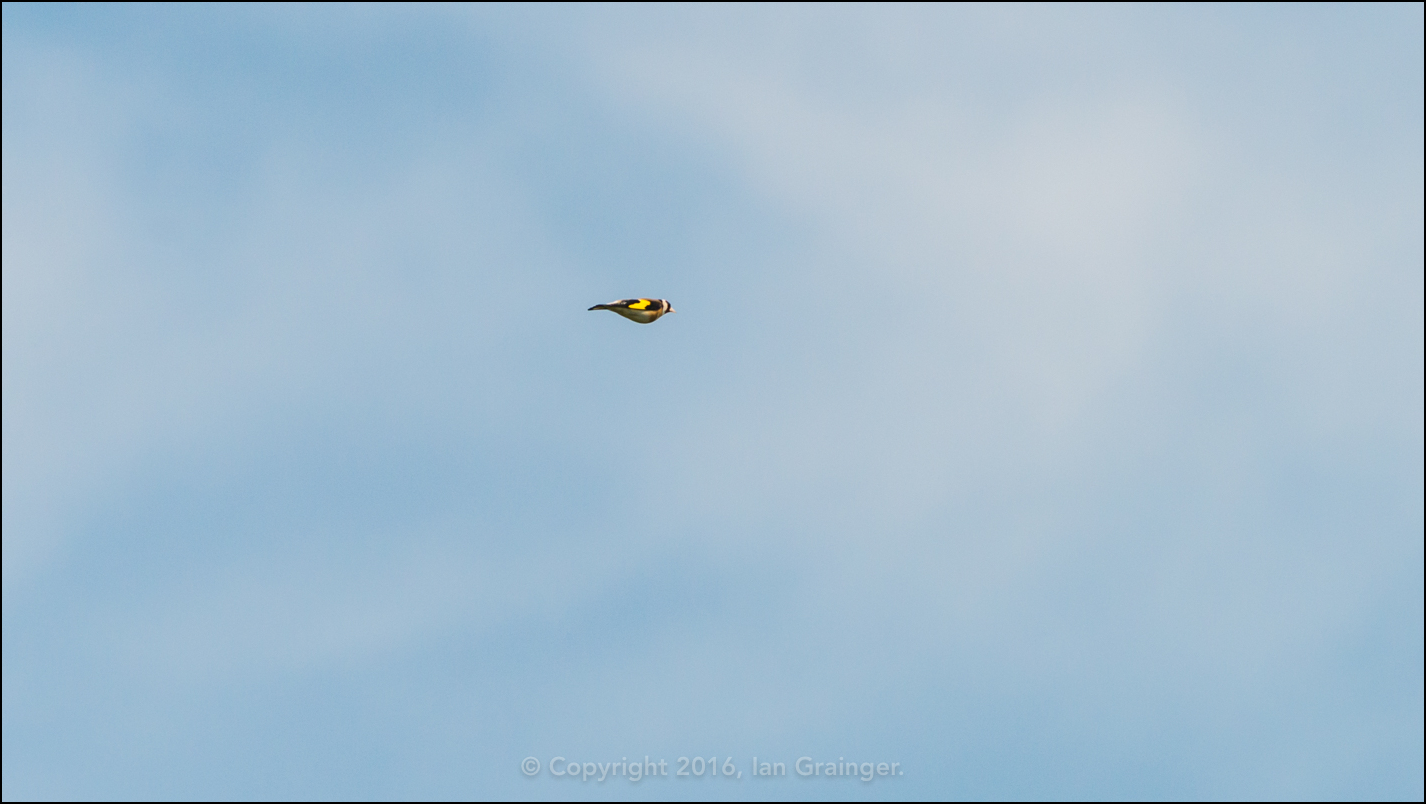 Wingless Glodfinch - May 2016
Finally for the medley of birds is this Goldfinch (Carduelis carduelis). It's a bit annoying that when I finally got one of these small colourful speed merchants in focus, it happened to have its wings folded. Oh well!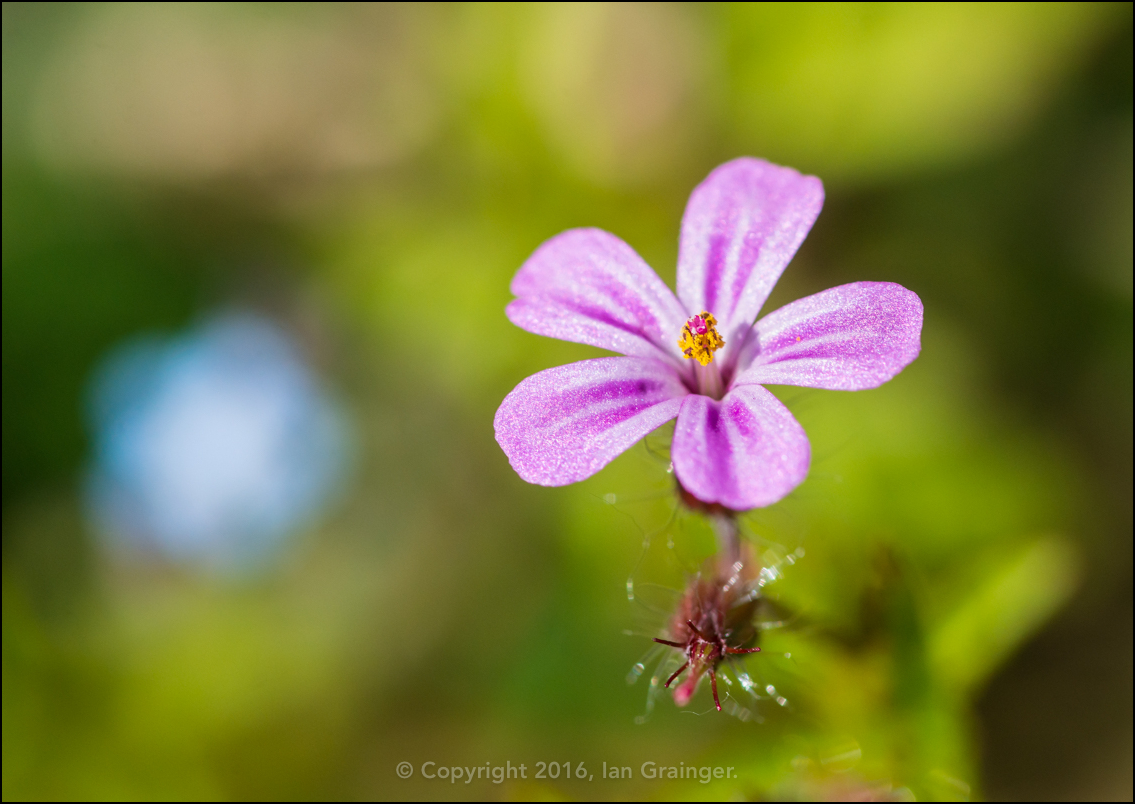 Herb Robert - May 2016
New to dad's garden this week was this pretty little Herb Robert (Geranium robertianum), which is part of the Geranium family. It's classified by most gardeners as a weed, but I think it's rather pretty.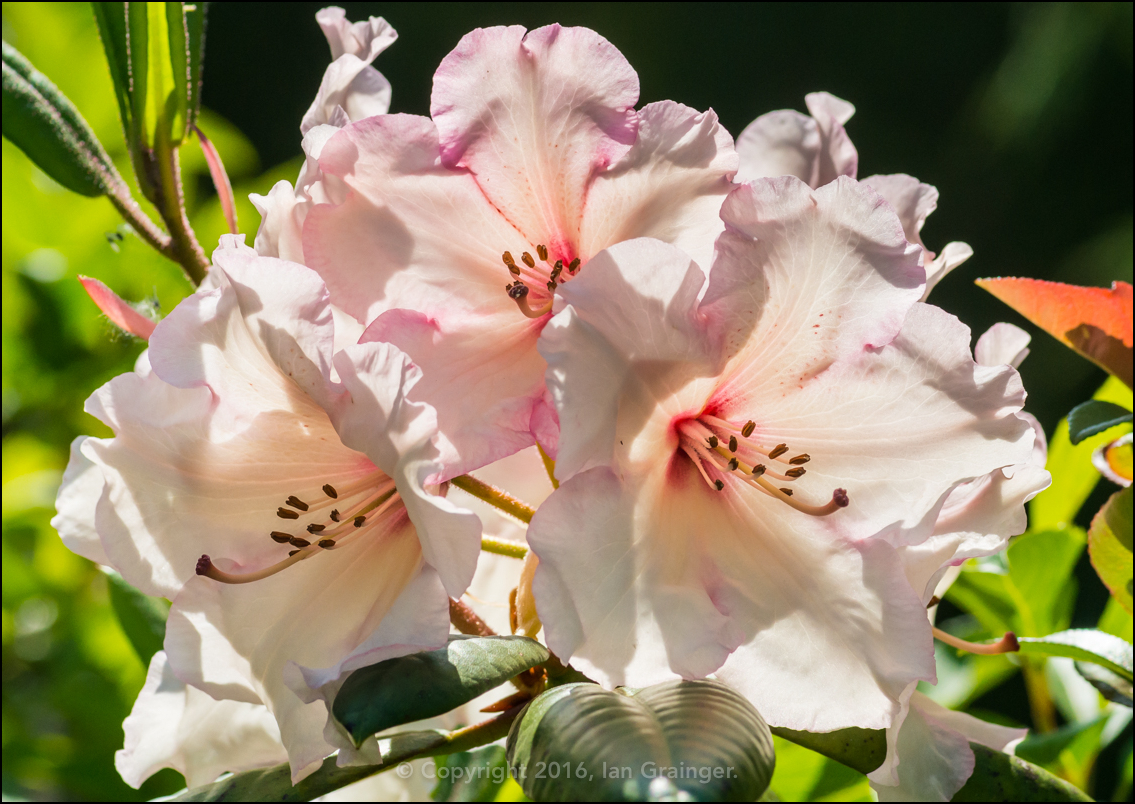 Rhododendron Display - May 2016
The Rhododendron has finally come into bloom. The bush is covered in these lovely showy flowers which change from red, to pink and then to white.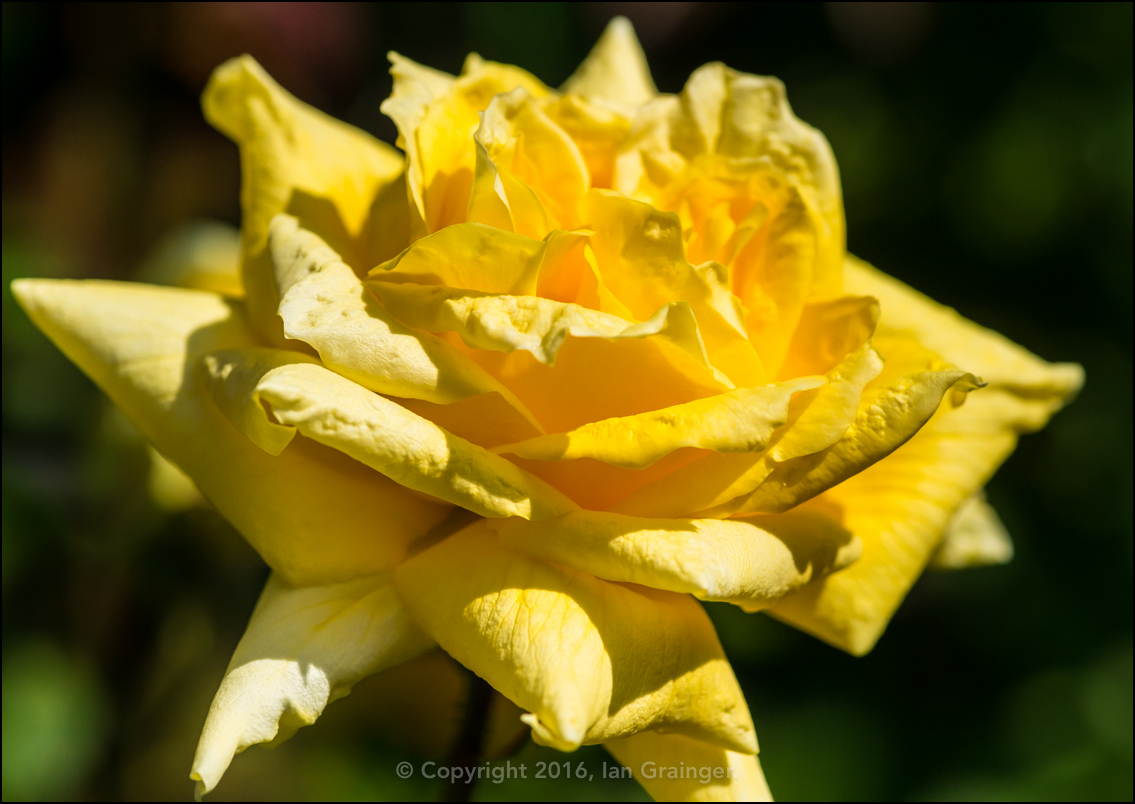 Yellow Queen Mother - May 2016
One of the Roses (Rosa) has also come into bloom. This one is called Queen Mother, I think, and has been a very prolific bloomer in dad's garden for years.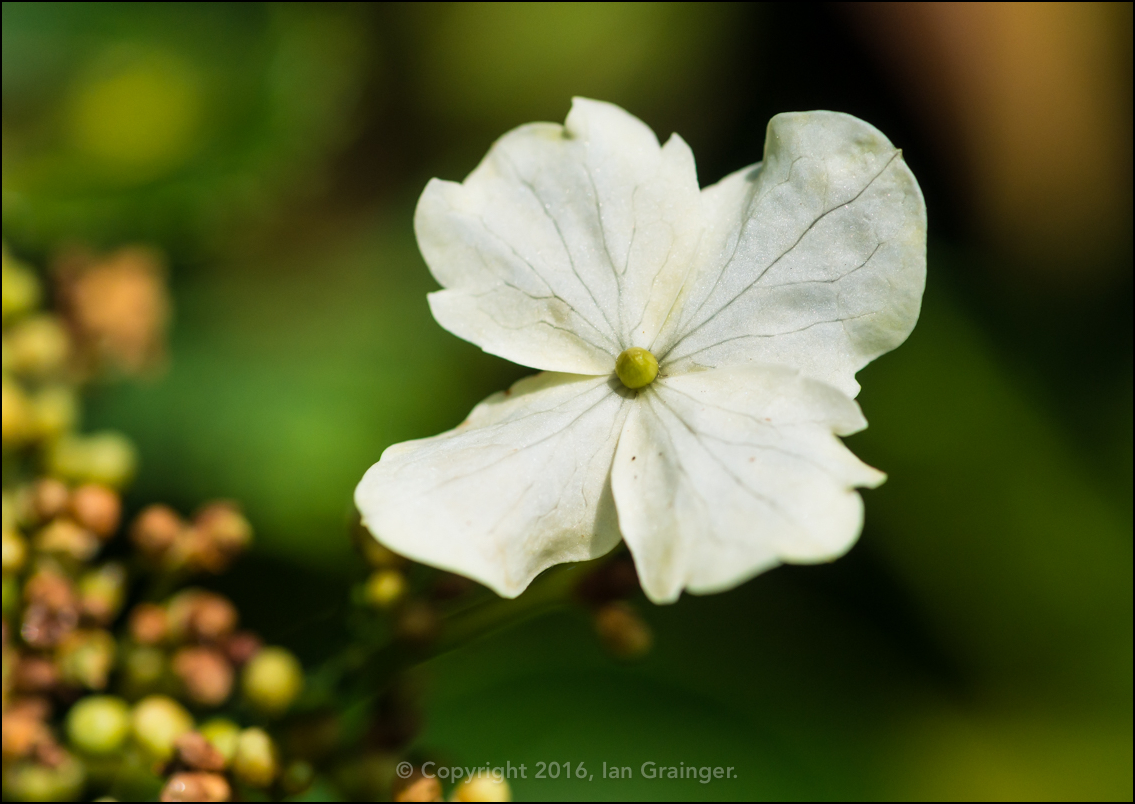 Hydrangea Arrival - May 2016
The climbing Hydrangea has also started producing flowers, or should I say bracts.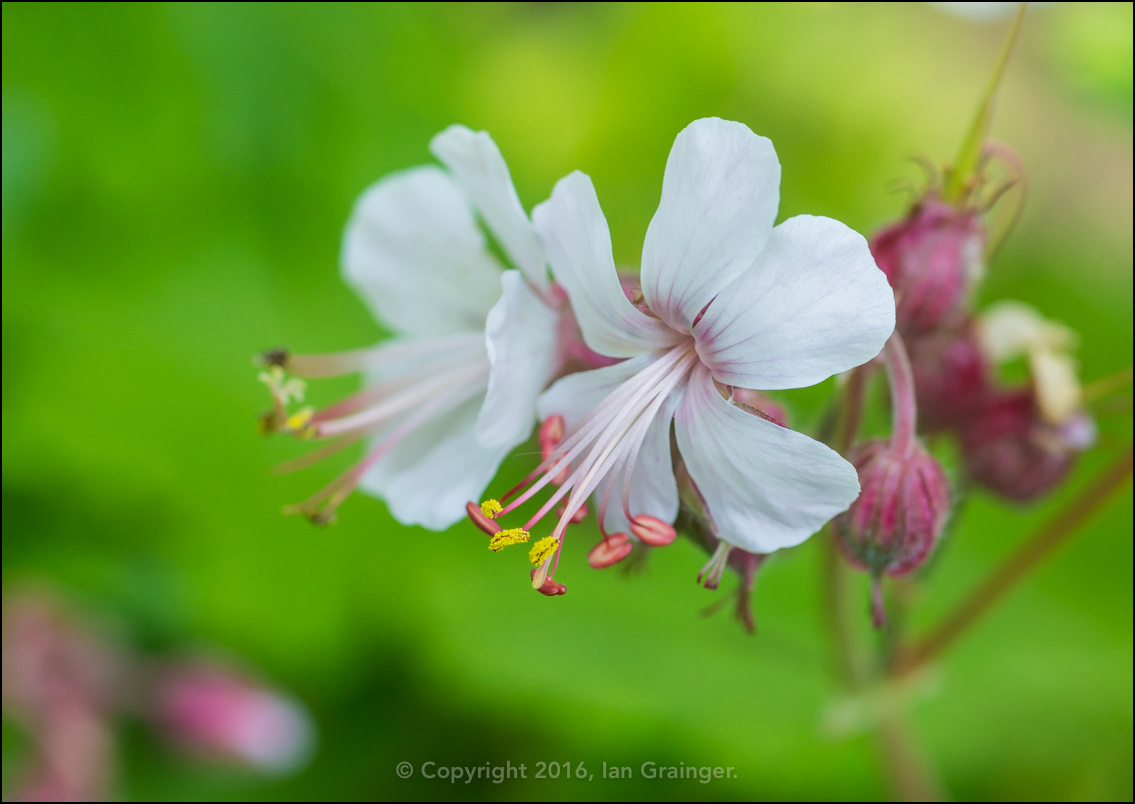 Hardy Geranium - May 2016
Another new arrival is this hardy Geranium. I don't know the name of it unfortunately, but it comes back year after year.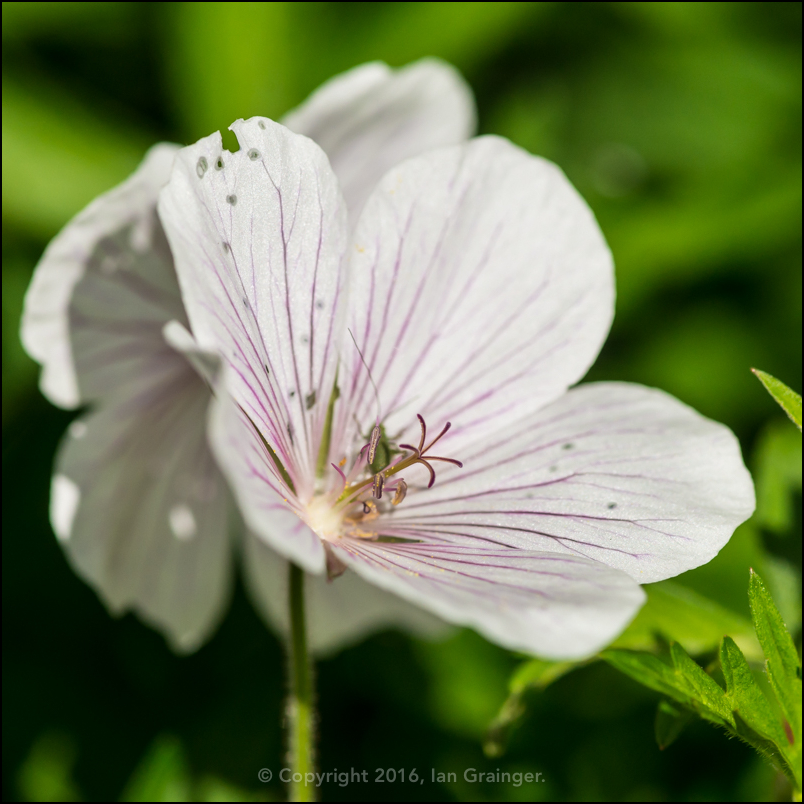 Back to Back - May 2016
Another perennial Geranium is this lovely white one with dark veins running through the petals. Again I'm don't know the name of it, but it's another one that returns year after year.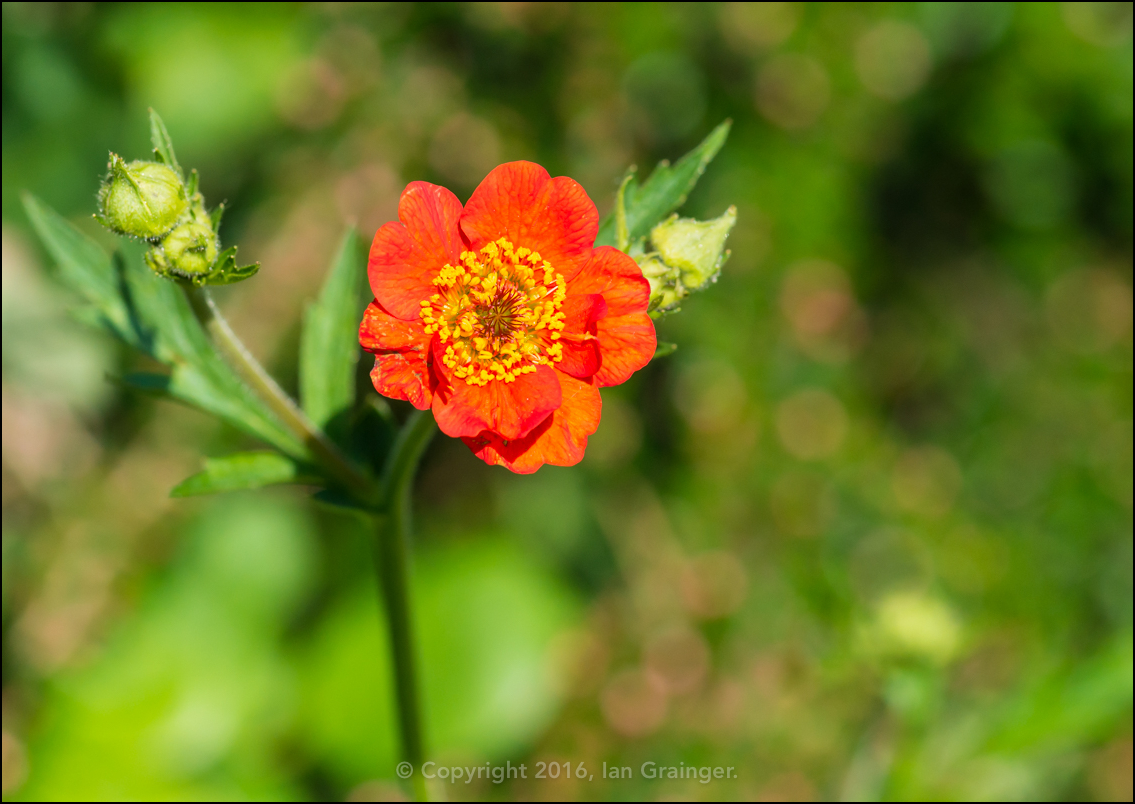 Geum Bloom and Buds - May 2016
The Geum is still putting on a nice display, and has plenty of fresh buds waiting to open.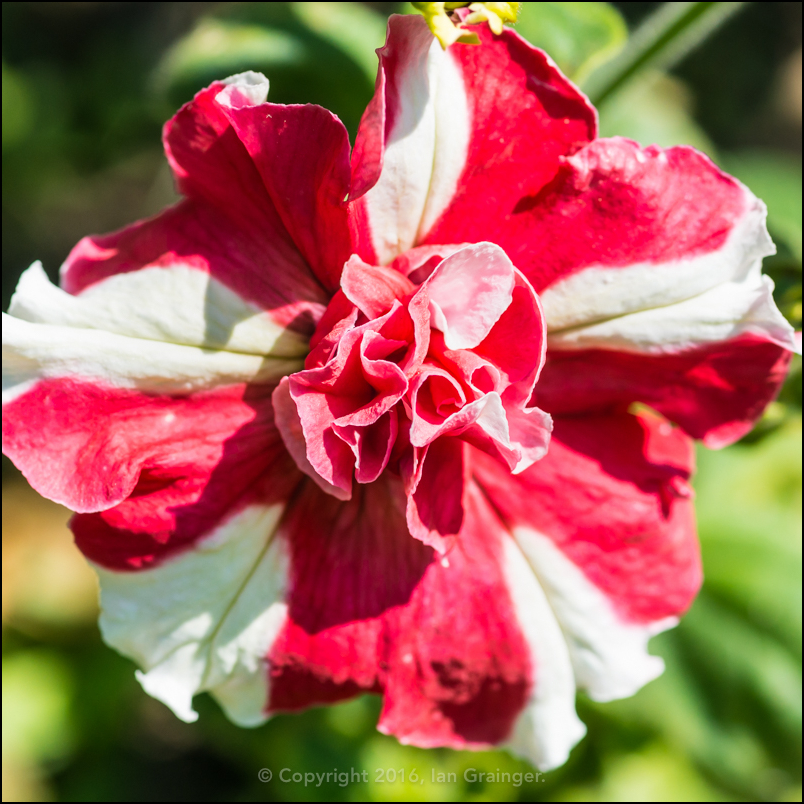 Red and White Stripes - May 2016
Then there are the Petunias. As I said last week, I've become a bit of a Petunia lover, and there are plenty of new ones this week to retain my fascination - like this red and white striped one...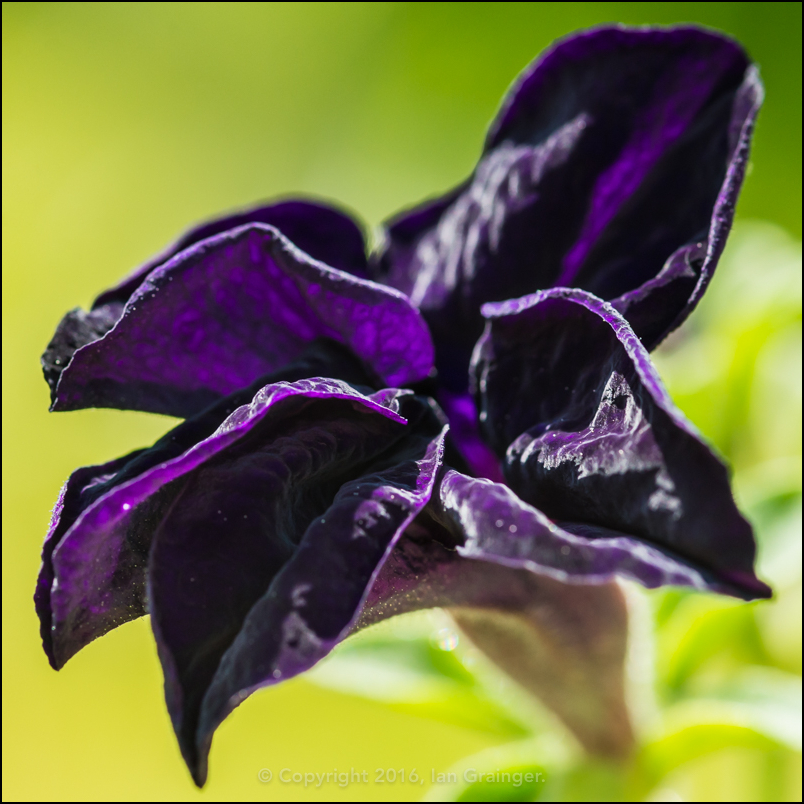 Purple Velvet - May 2016
...and this fantastic looking purple one, with the texture of velvet.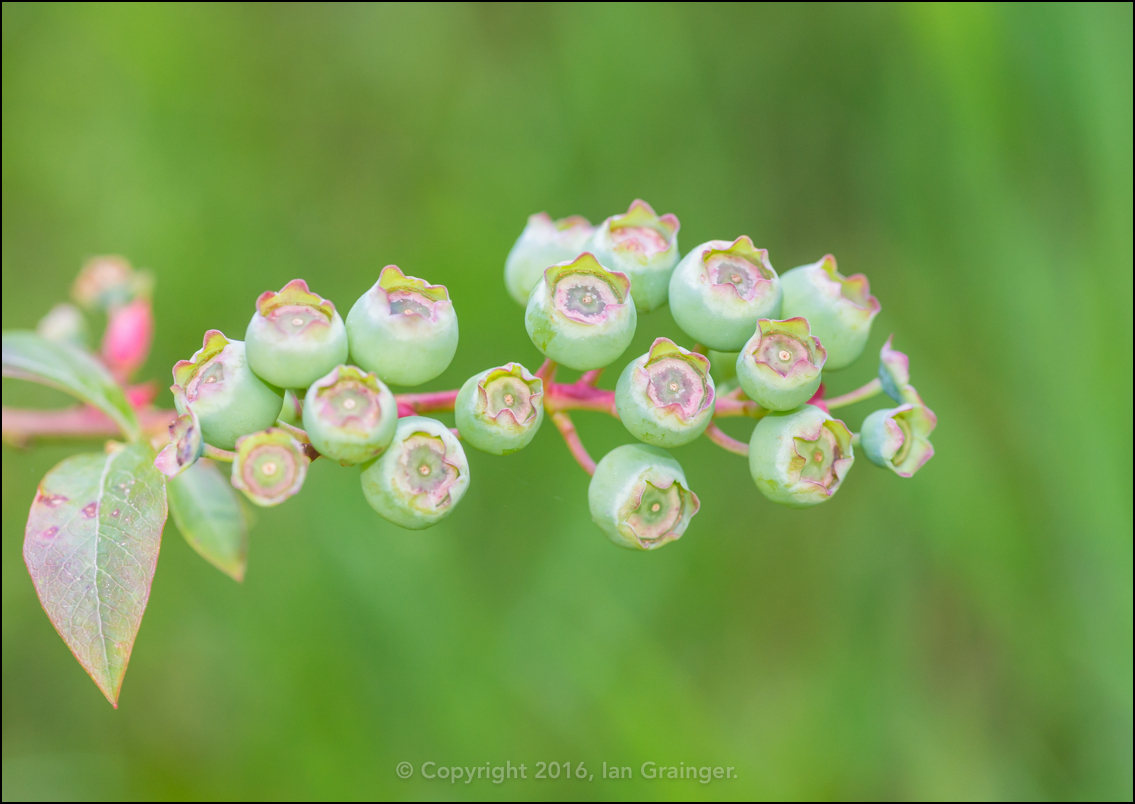 Blueberry Beginnings - May 2016
The blossom has finally gone from the Blueberry bushes, the insects have done their job, and the blueberries have started to form.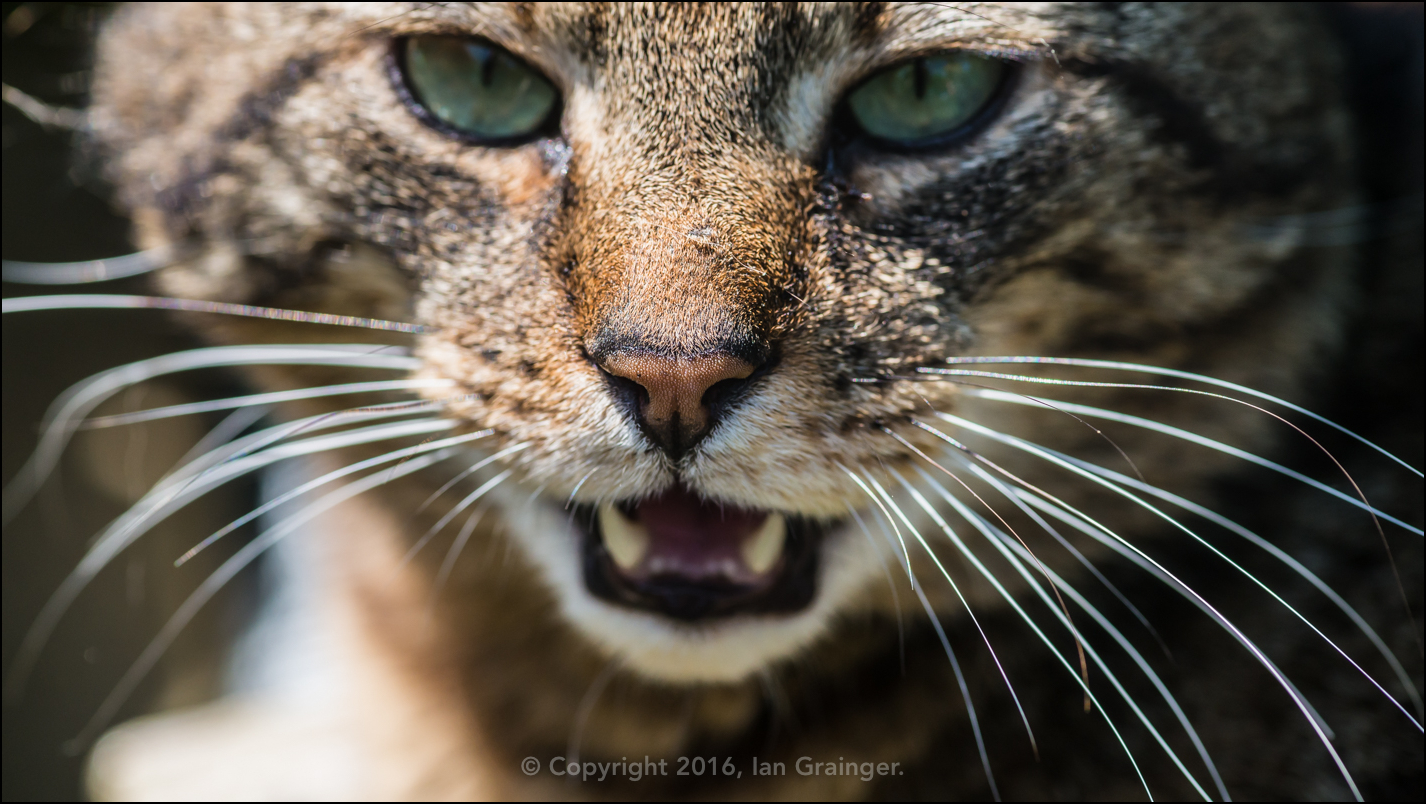 Nose and Whiskers - May 2016
My photo shoot companion was a bit nonplussed about the whole shoot this week, spending most of the time asleep indoors. When he did come out to join me I only managed to grab one shot of him before he turned tail and went back inside. Sensible boy, as it was rather cold!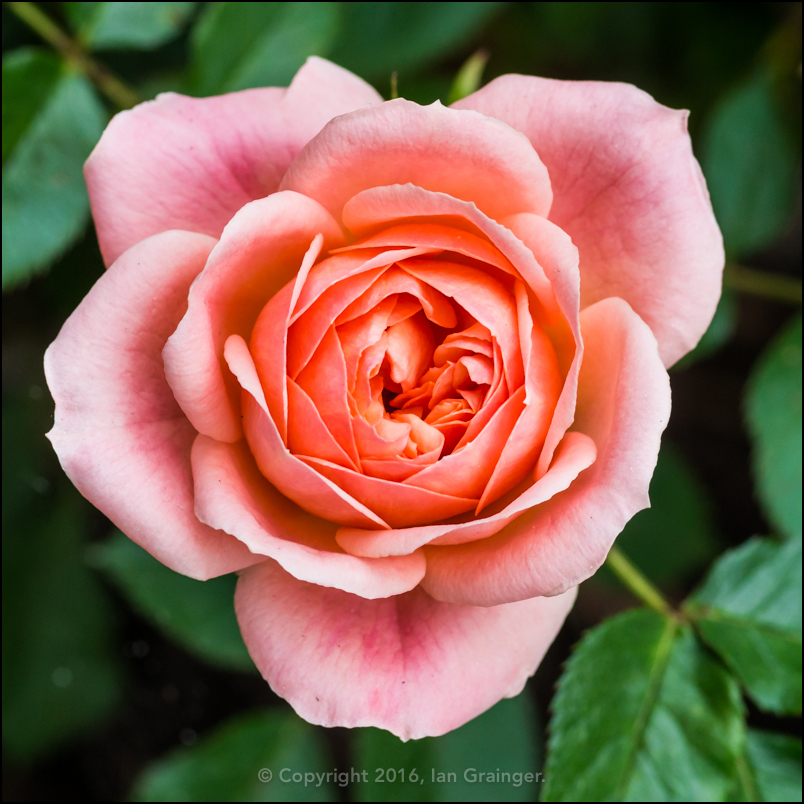 Pretty Patio Rose - May 2016
Back in my own garden, one of my patio Roses has begun to flower. I'm quite pleased as it was covered in white fly a couple of weeks ago, but a quick spray with some Rose Clear seems to have done the trick.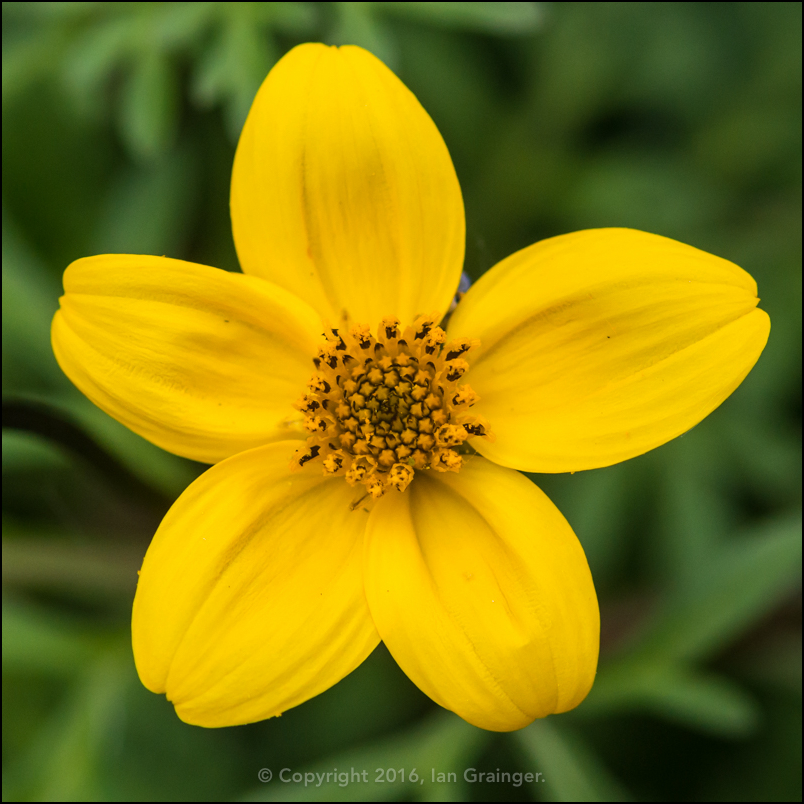 Bidens Bloom - May 2016
Bidens is a new plant to me, and this variety is a trailing variety that I've planted up in my hanging baskets.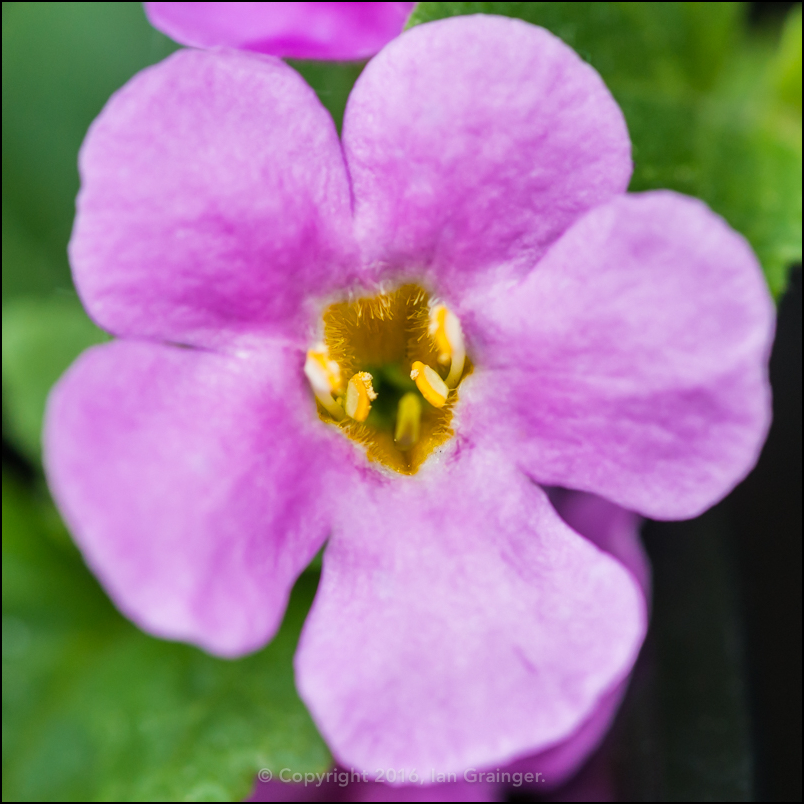 Pink Bacopa - May 2016
This Bacopa is another trailing variety, of which I've got pink and white variations, which should look good when they fill up one of my baskets.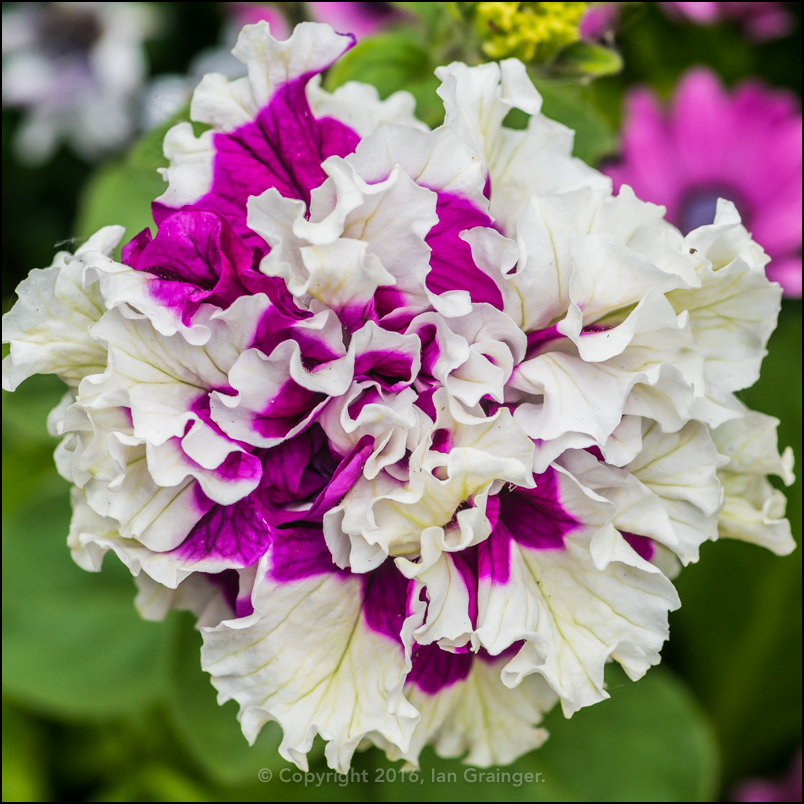 Ruffled Double - May 2016
Going back to my love of Petunias, this Double has to be my favourite one so far. I know I've said that I prefer the Single varieties as they are more accessible for the bees, but, I mean, just look at this. It's stunning!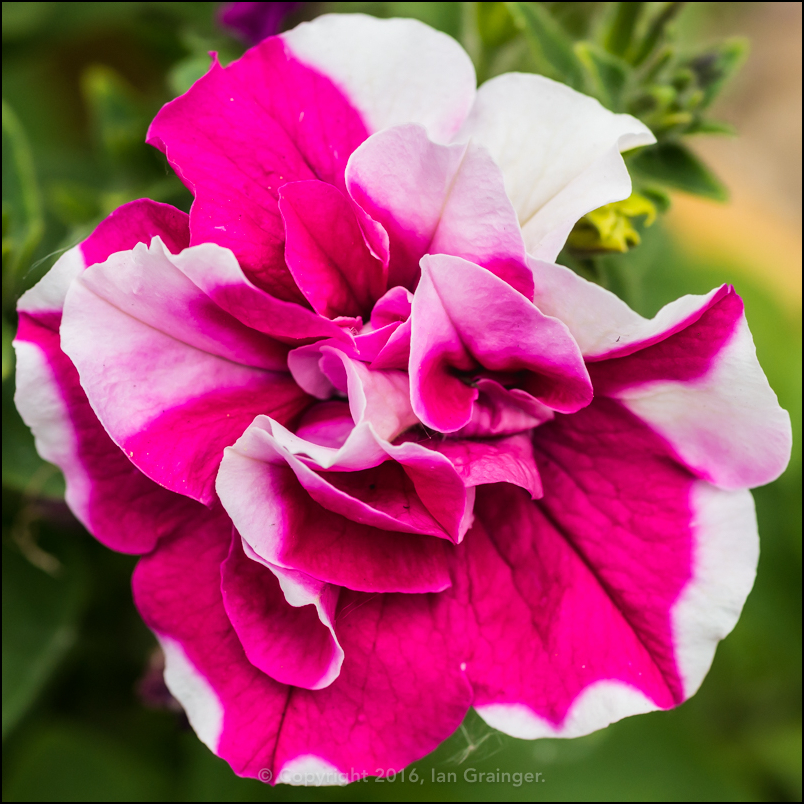 Pyjama Double - May 2016
This one reminded my of stripy pyjamas, hence the title.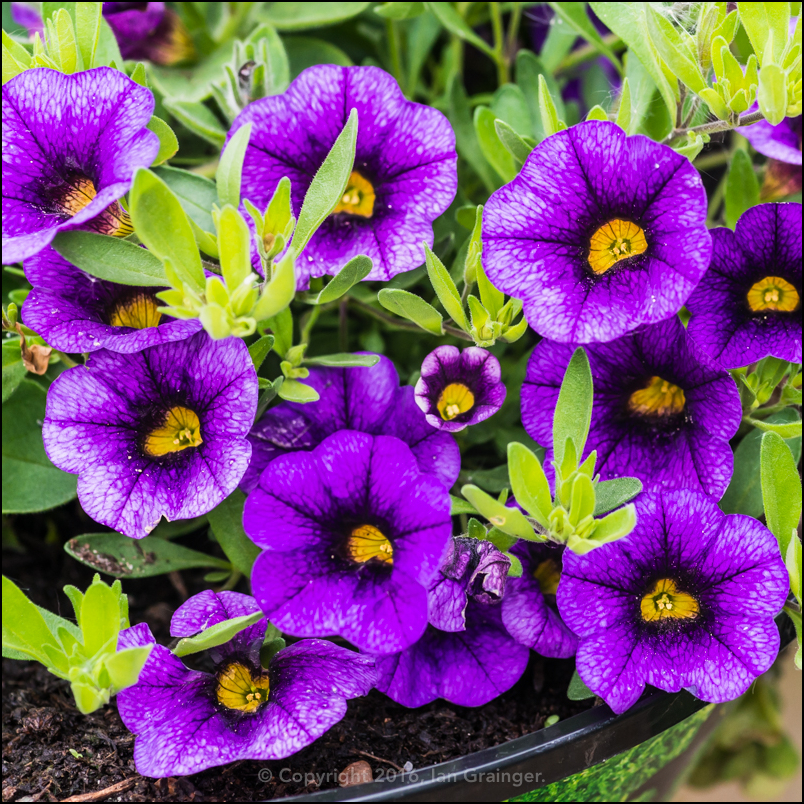 Purple Calibrachoa - May 2016
Another plant for my hanging baskets is this Million Bells (Calibrachoa). It is a prolific flowerer, and has the advantage of not even needing to be dead headed.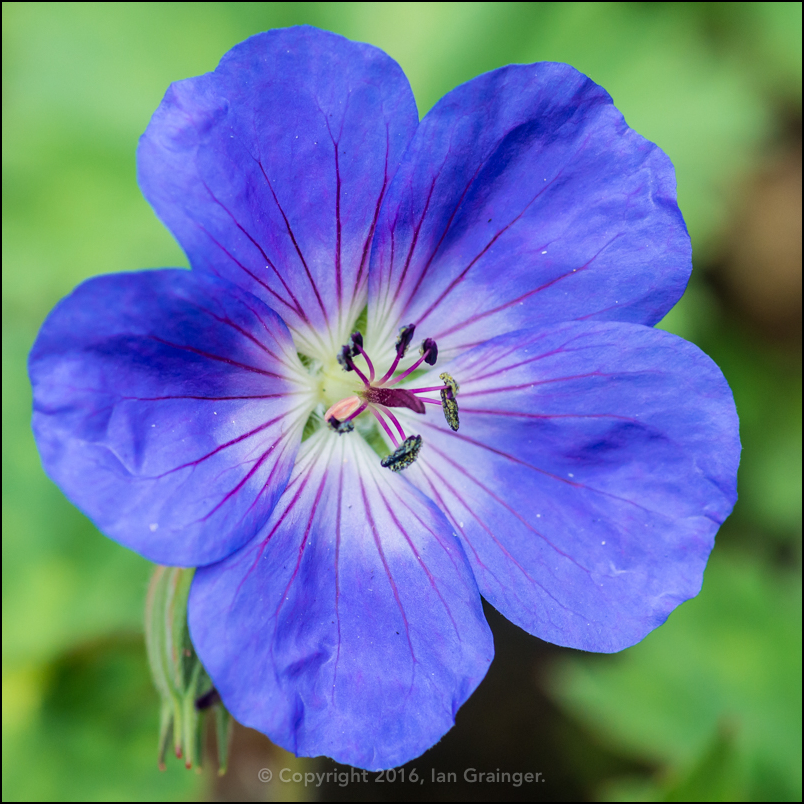 Geranium Rozanne - May 2016
Finally, this Geranium Rozanne made its first appearance of the year. I now expect it to keep flowering until the first frosts.
So, that was my week of pictures once again. This week I chose Thick Legged Flower Beetle as my Image of the Week simply because it was a new insect for me, although I was also chuffed to catch the Siskin in flight, and I have soft spot for the Ruffled Double image...