Ichneumon Profile - June 2016
Well what a change in the weather there was this week! Last week I devoted my whole weekly article to the arrival of the insects, but this week it was so cold and wet there was hardly one to be found.
This fine fellow, an Ichneumon Wasp (possibly Ambyletes armatorius), had taken refuge in the greenhouse, to both keep warm and stay out of the rain I guess.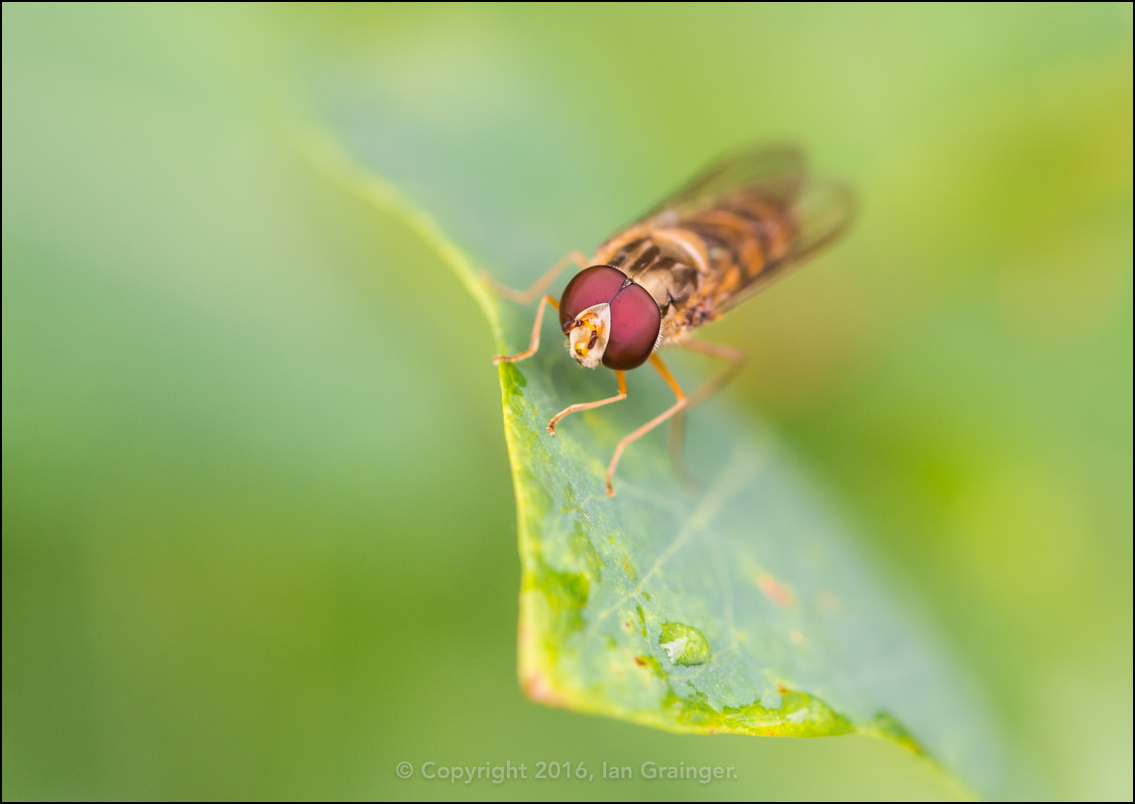 Hoverfly Head - June 2016
There were hundreds of Hoverflies buzzing around last week, but this week I could only find this loner, hanging out on a damp leaf.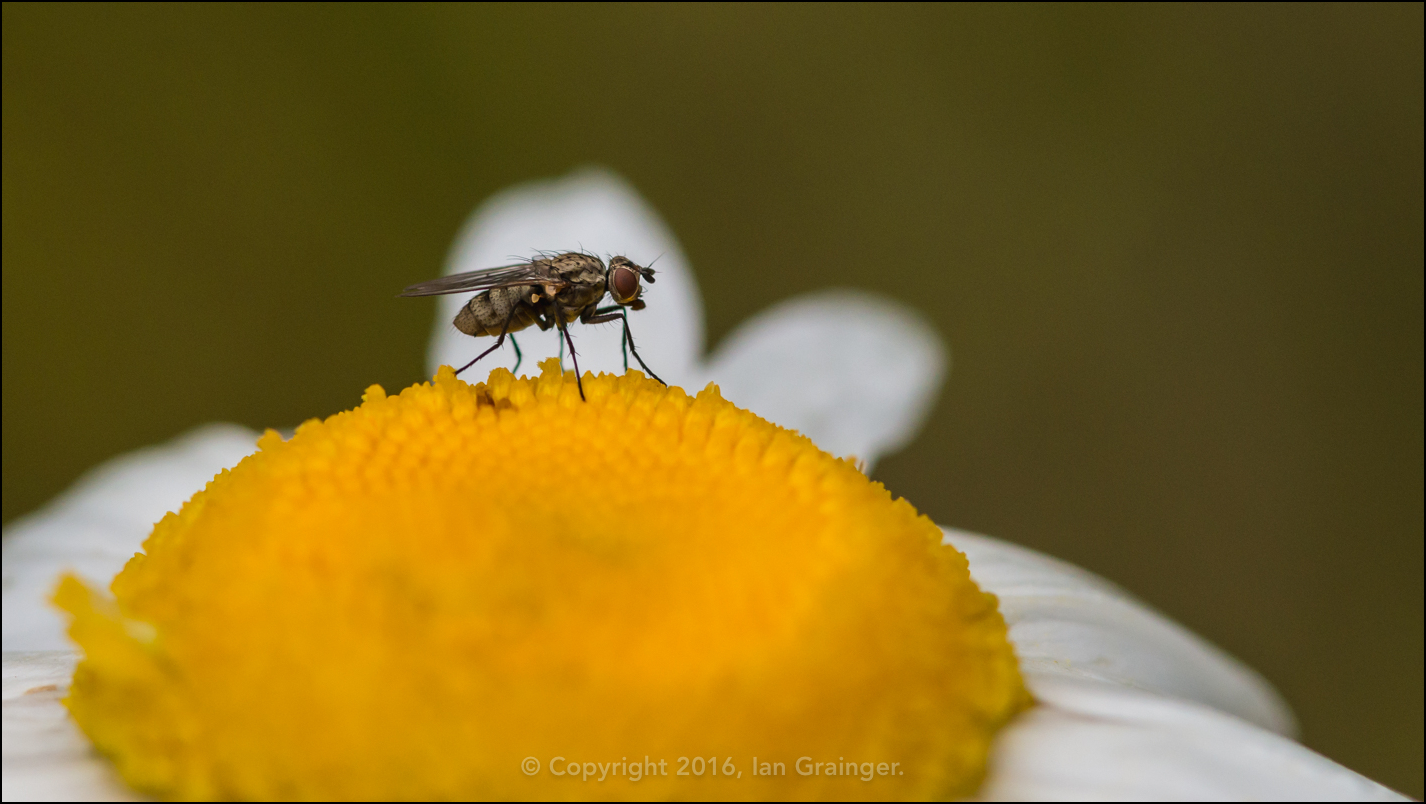 Fly on Daisy - June 2016
The only insects that were plentiful were the Flies (Diptera), and I liked how this tiny guy had positioned himself within the curling petal of an Oxeye Daisy (Leucanthemum vulgare).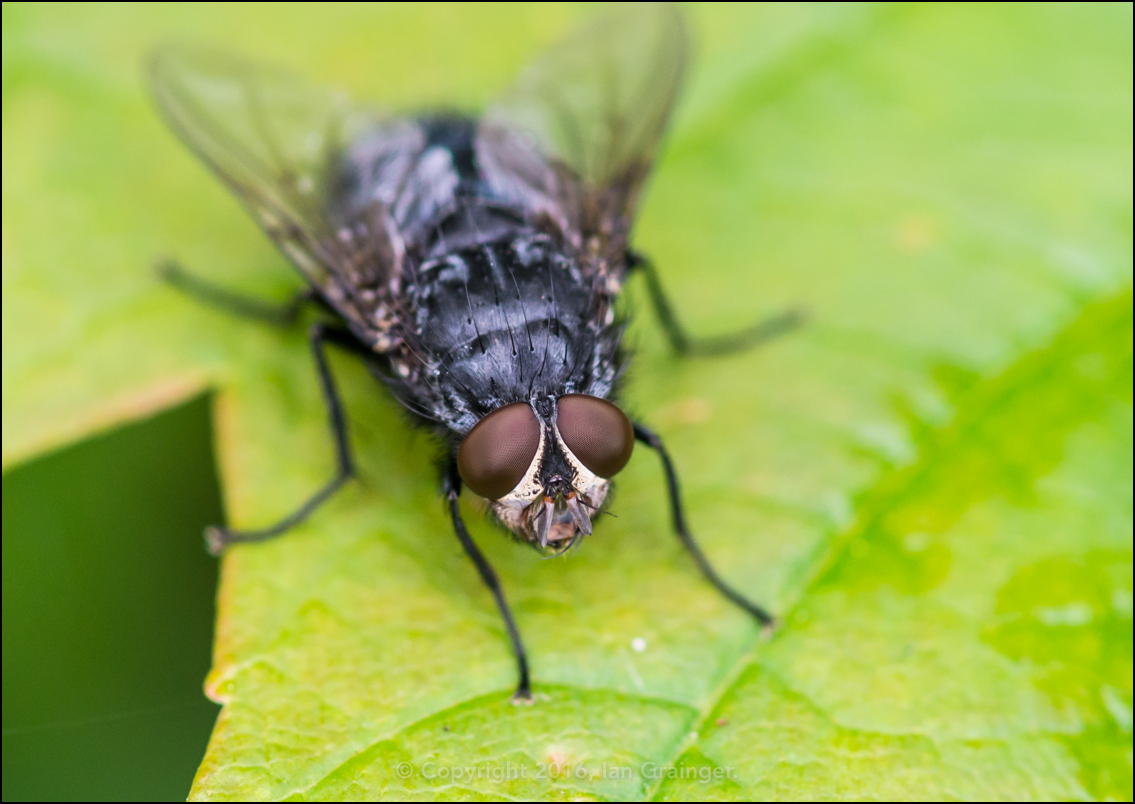 Basking Fly - June 2016
I'm not sure why I called this image Basking Fly, as there was no sunshine to be basking in. I was trying to get a shot of the head only, but didn't quite manage to get close enough before he buzzed off.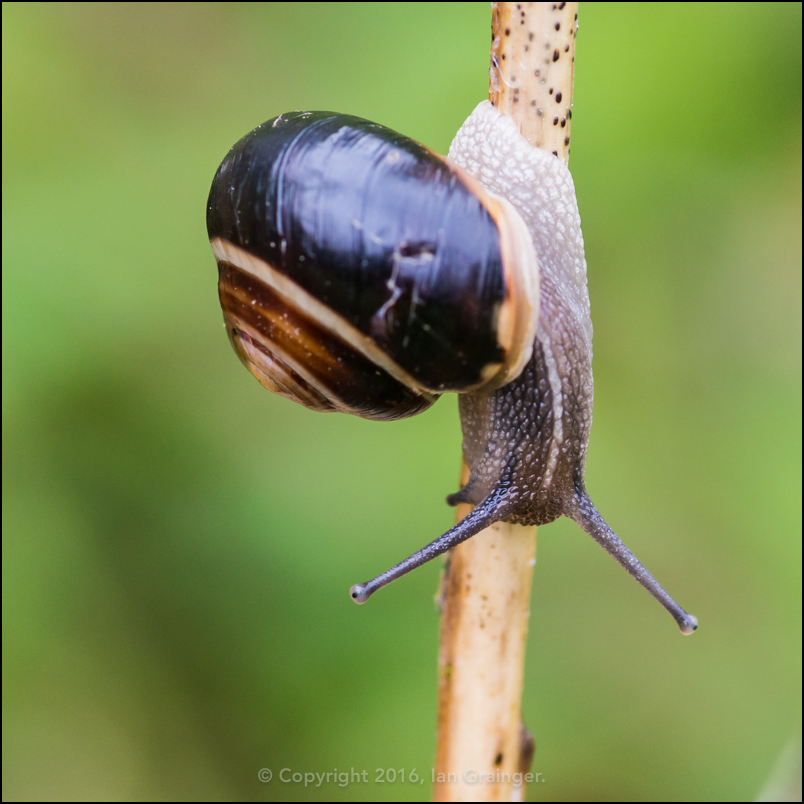 Slow Descent - June 2016
It really was weather for snails, of which I think this is a White Lipped Snail (Cepaea hortensis). There were literally hundreds of them making their way across the lawn, to go where, I have no idea!
Raindrops on Rosebuds - June 2016
So, considering it was very wet while I was on my main photo shoot, here are a few images to prove the point! There were plenty of raindrops on the rosebuds of my dad's wild rose...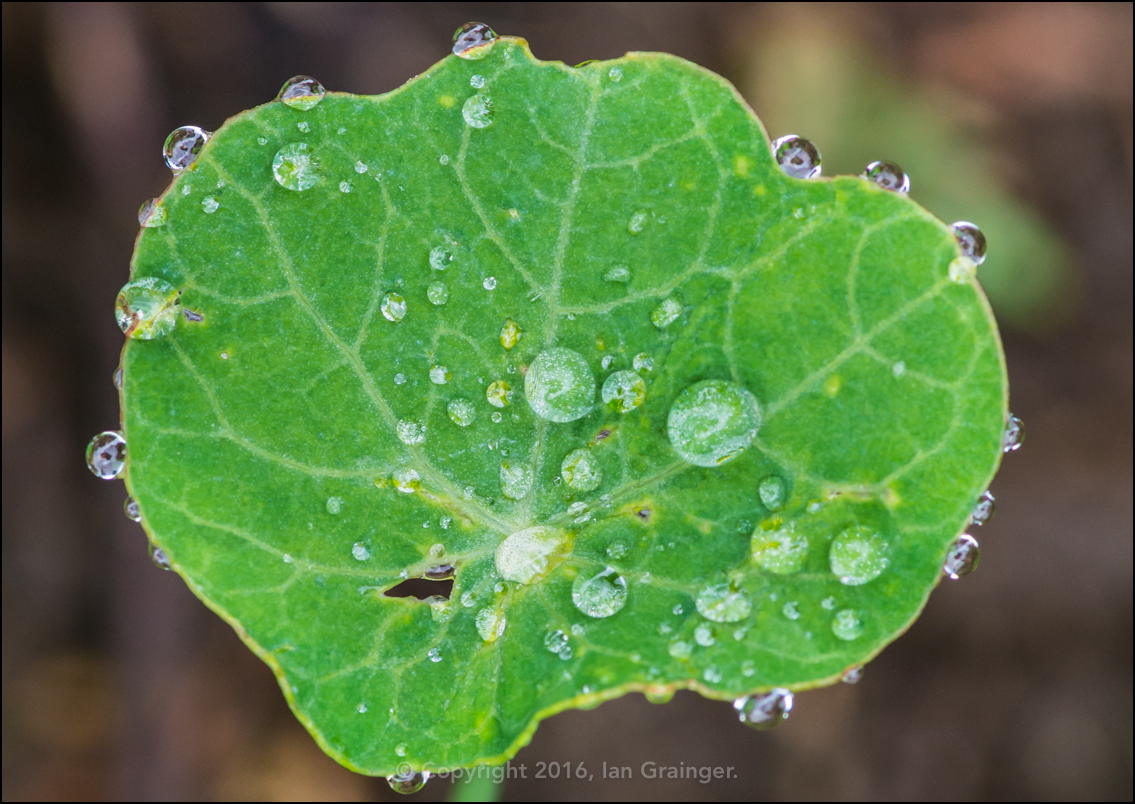 Nasturtium Leaf Rain - June 2016
...and the Nasturtium leaves looked quite resplendent with their watery adornment!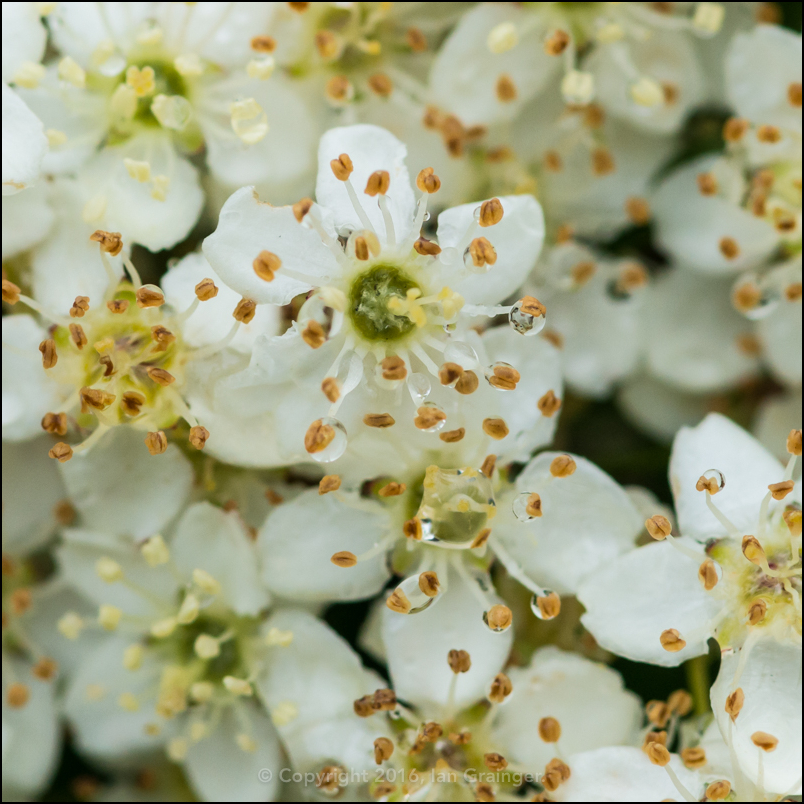 Pyracantha - June 2016
The Pyracantha bushes were putting on an early display of summer blossom, and even their flowers were covered in tiny raindrops.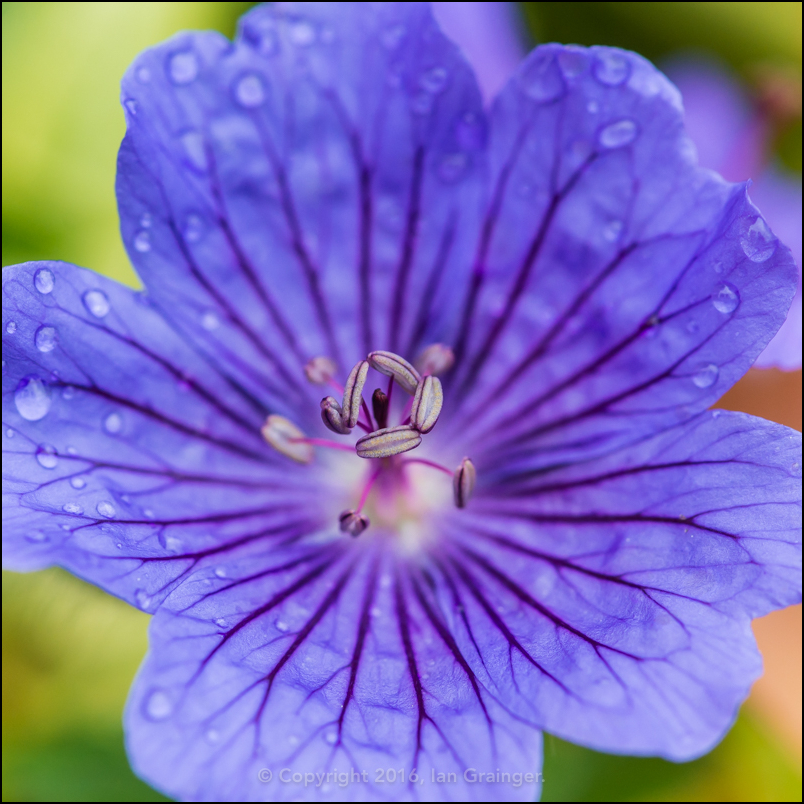 Hardy Geranium - June 2016
The Hardy Geraniums were putting on a nice display too, and this blue one looked particularly nice with its raindrop accompaniment.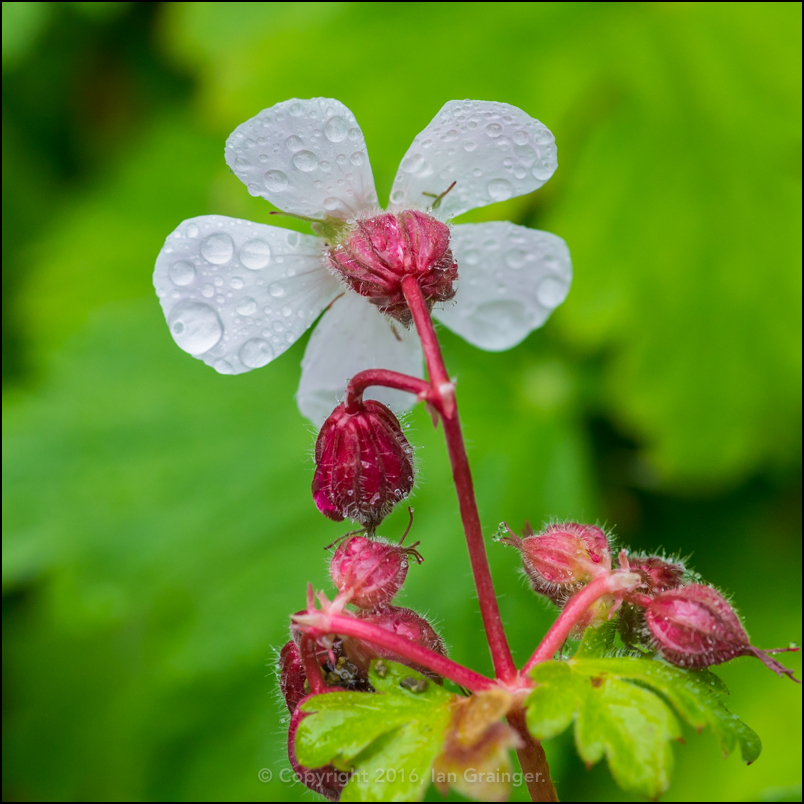 Rain on Reverse - June 2016
Another type of Hardy Geranium looked equally beautiful, even when viewed from behind.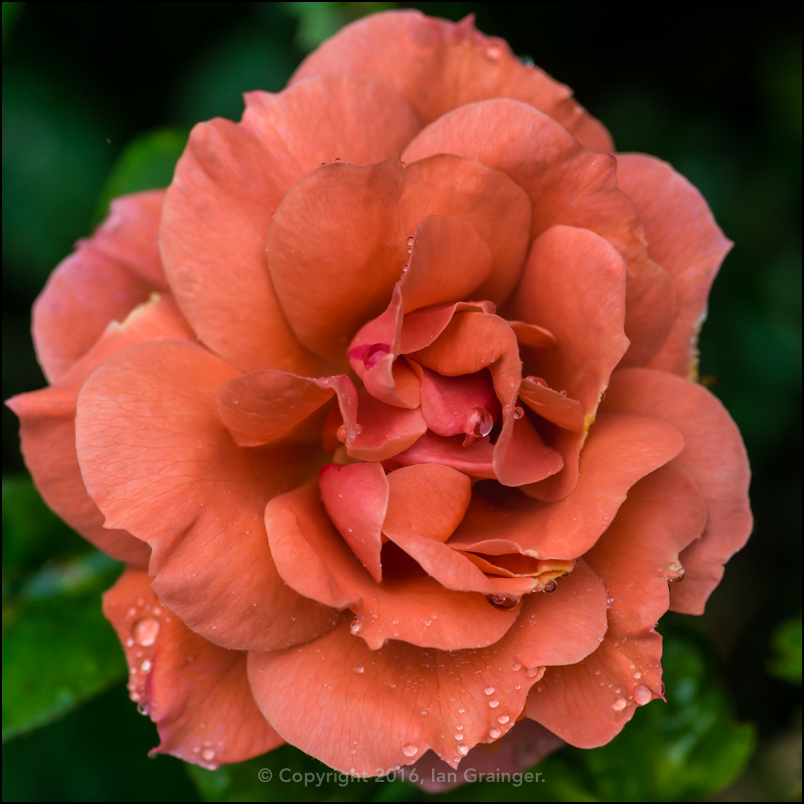 Raindrops on Roses - June 2016
I couldn't post images of flora and raindrops without including a beautiful Rose (Rosa), this one is a variety called Queen Elizabeth.
Geranium Stamen - June 2016
Here we have another shot of a Hardy Geranium, or rather the stamen of Hardy Geranium.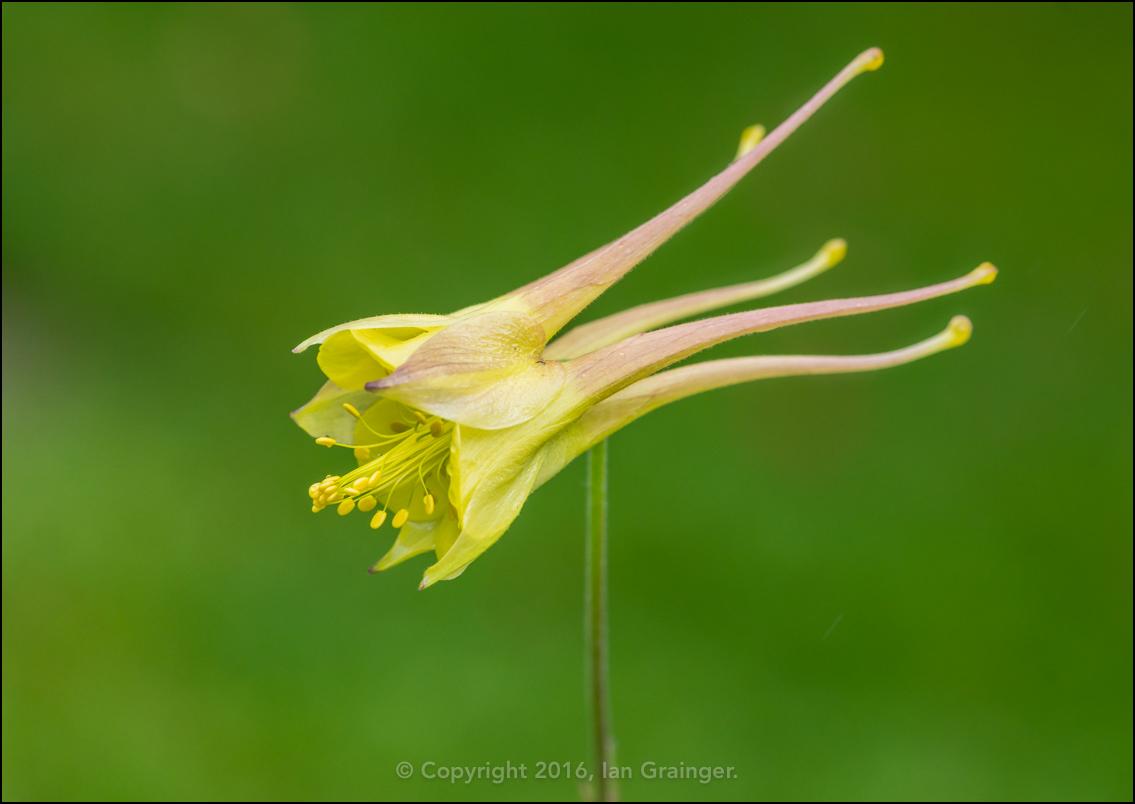 Aquilegia - June 2016
While I seemingly have huge problems getting Aquilegia plants to grow in my own garden, they grow like weeds in dad's. There were quite a few of these yellow ones dotted around the place.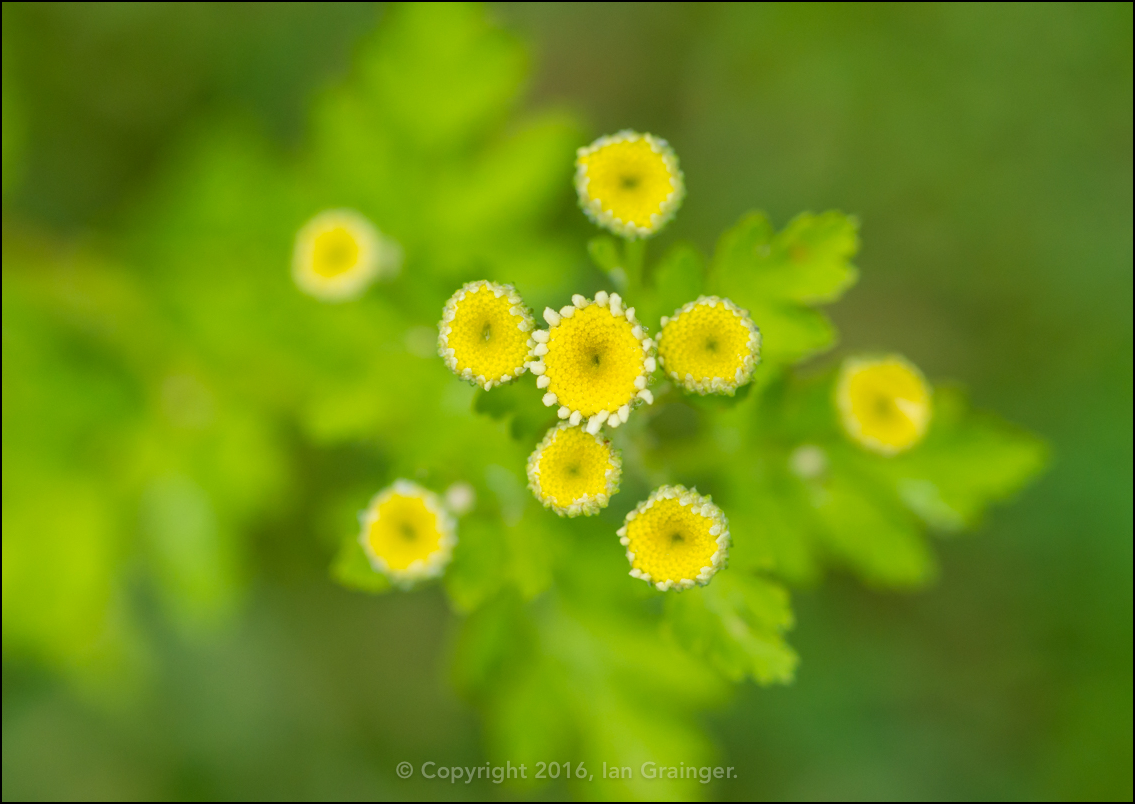 Feverfew - June 2016
One of my favourite plants in dad's garden is the Feverfew (Tanacetum parthenium). I love its clusters of small daisy-like flowers, reaching skywards on tall stems.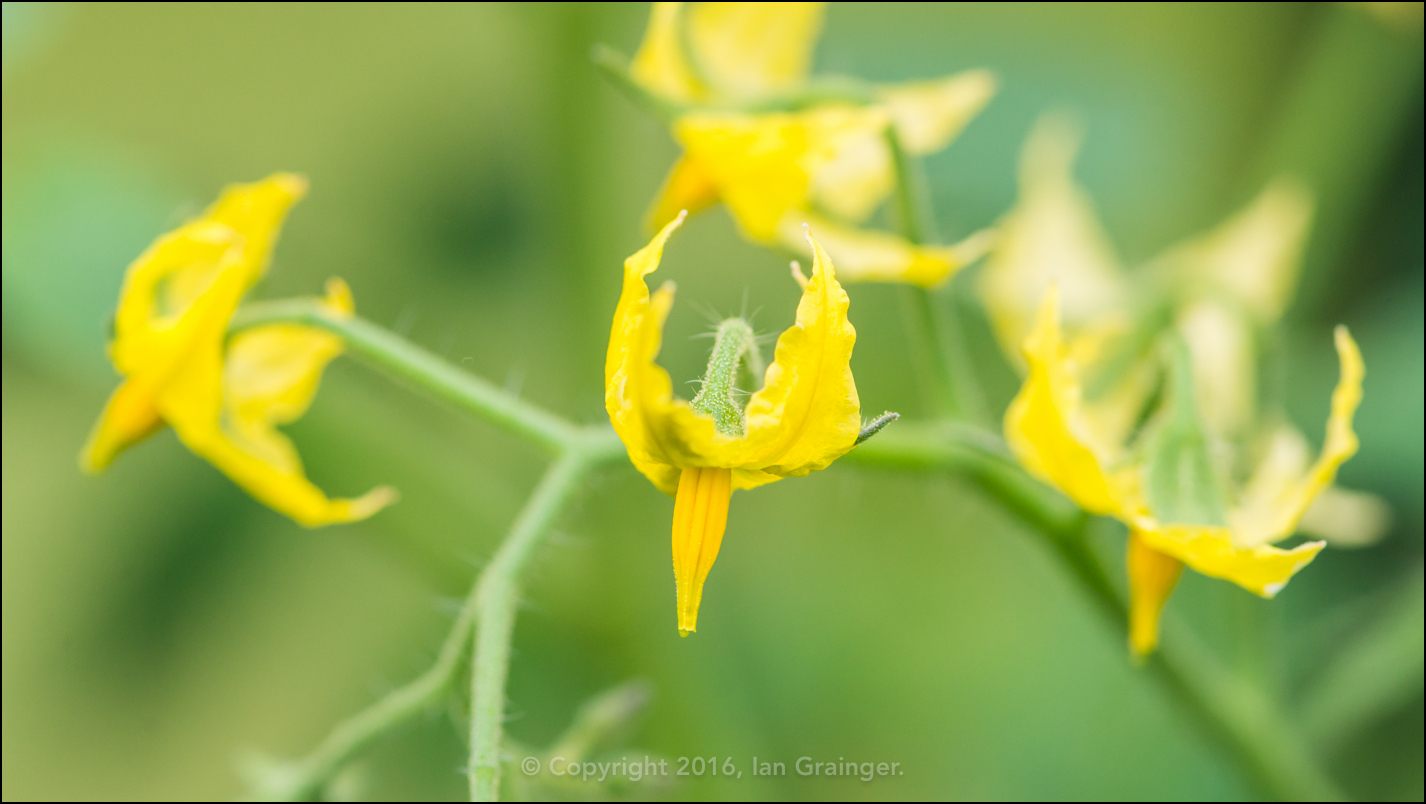 Tomato Blossom - June 2016
Back in the greenhouse, and while I wasn't chasing the Ichneumon Wasp, I had my eye on the Tomato blossom. There were actually a few tomatoes already forming, which I'll be showing you in the coming weeks.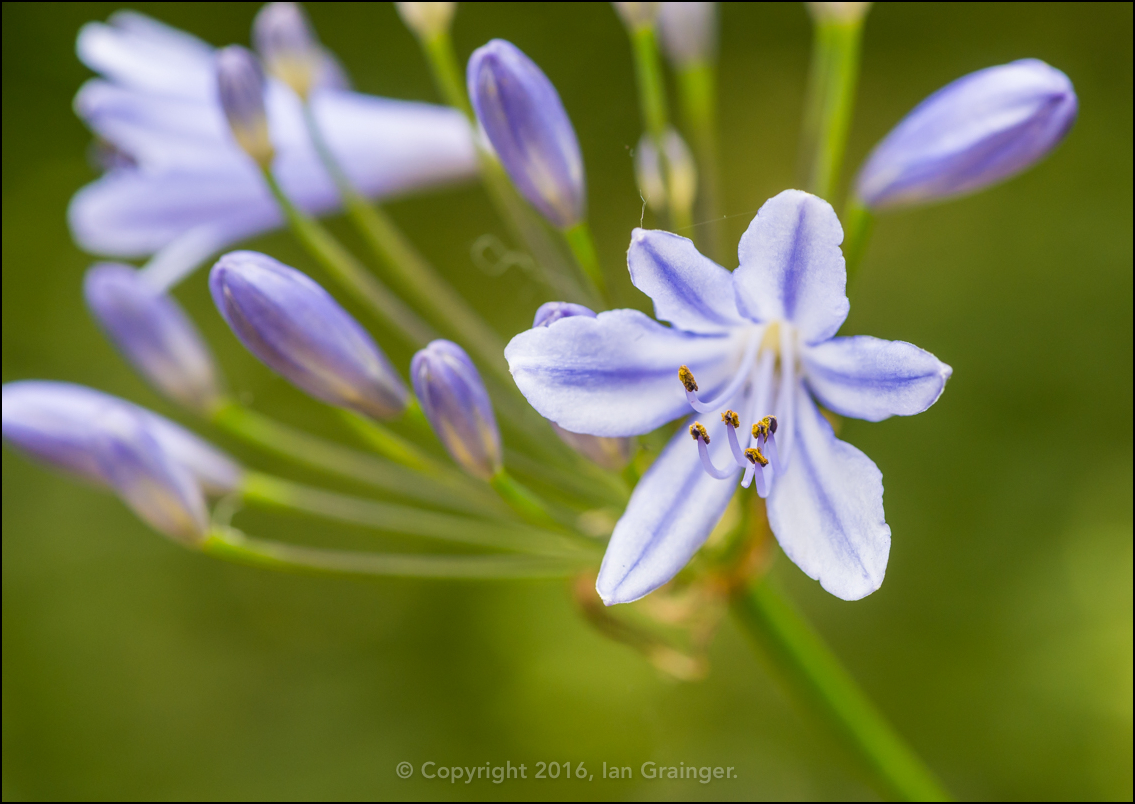 Agapanthus Arrival - June 2016
Back in my own garden my first Agapanthus had finally opened. It has lots and lots of flower spikes and looks like it will be flowering for a long time this year.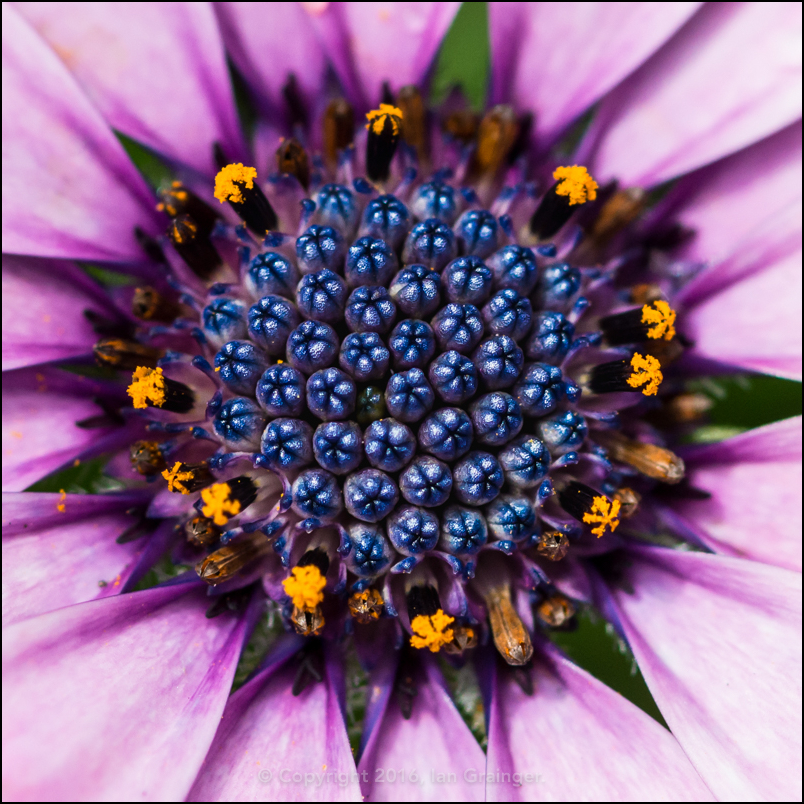 Rain Daisy - June 2016
Given the weather in recent days, this appropriately named Rain Daisy (Osteospermum) was providing some much needed colour to my summer containers. I love the shade of blue of this particular specimen, and I'm still striving to capture the perfect shot of its colourful centre.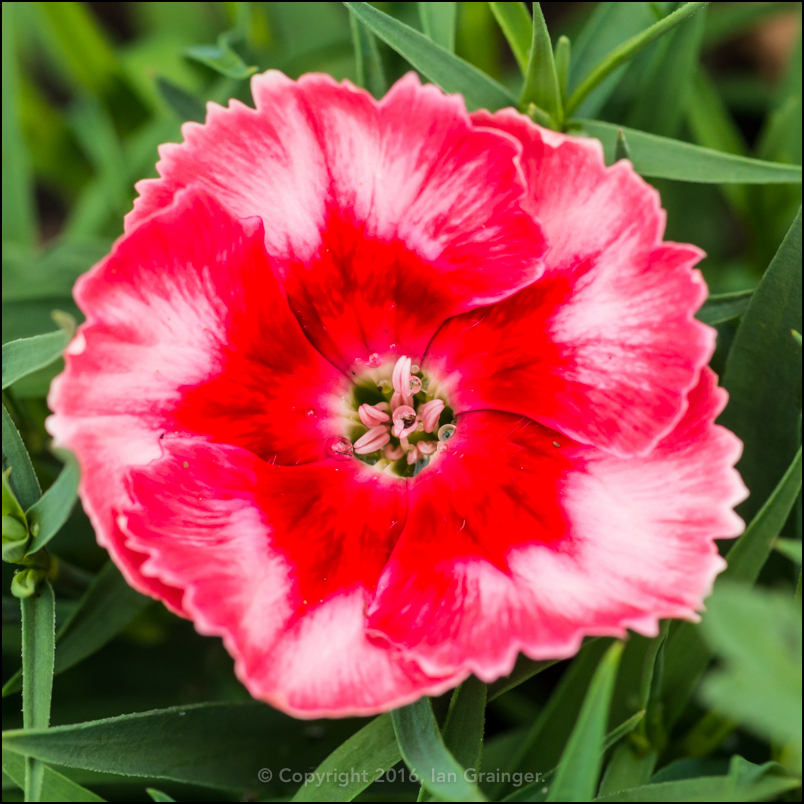 Red Dianthus - June 2016
This pretty little thing is Dianthus Strawberry Parfait, and has only just begun flowering this week.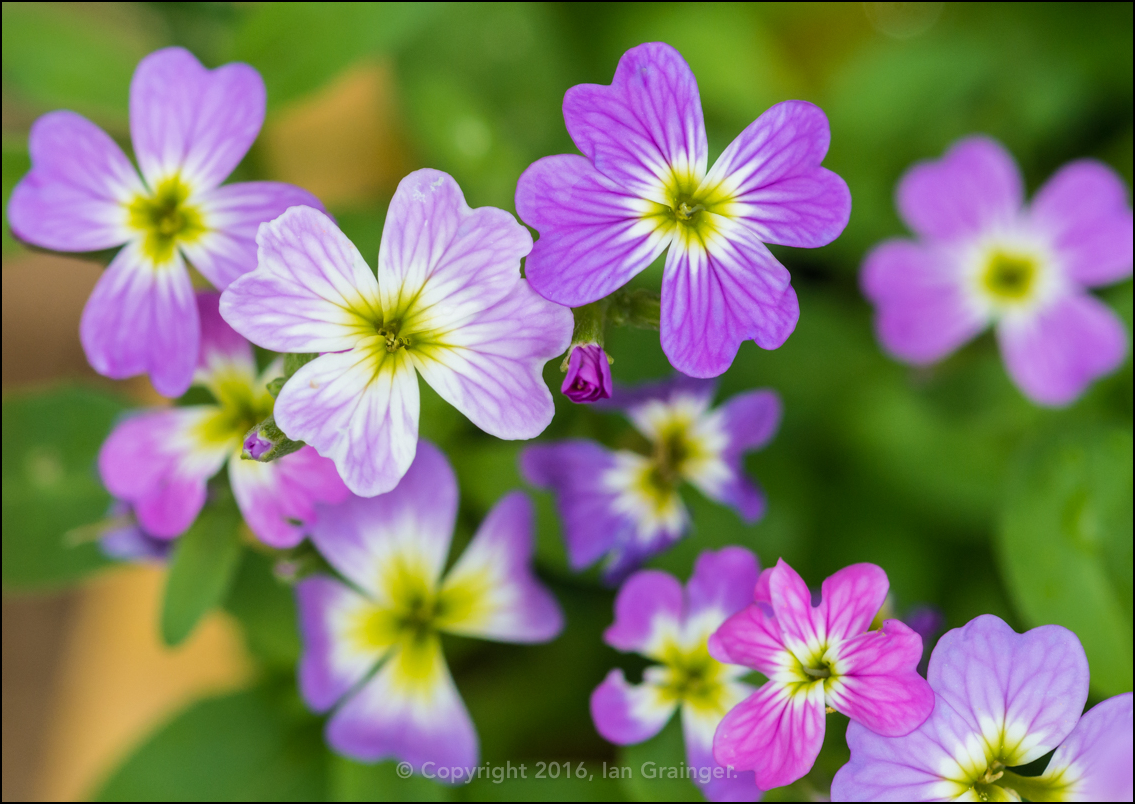 Stock Shot - June 2016
Obviously, the rain has done the world of good for some flowers, as another new flower to my garden is this Virginia Stock (Malcolmia maritima). I grew this from seed and it is putting on a fantastic display, with lots and lots of these lovely pink coloured blooms.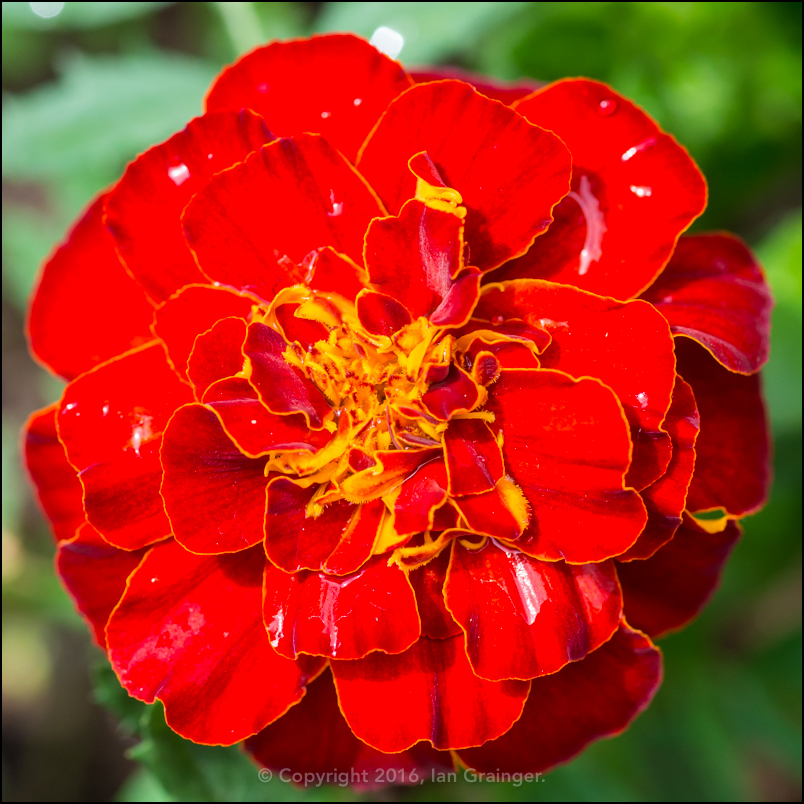 Red French Marigold - June 2016
The French Marigold (Tagetes patula) is a garden favourite that no self respecting gardener should be without. They come in a variety of bright colours like this red one...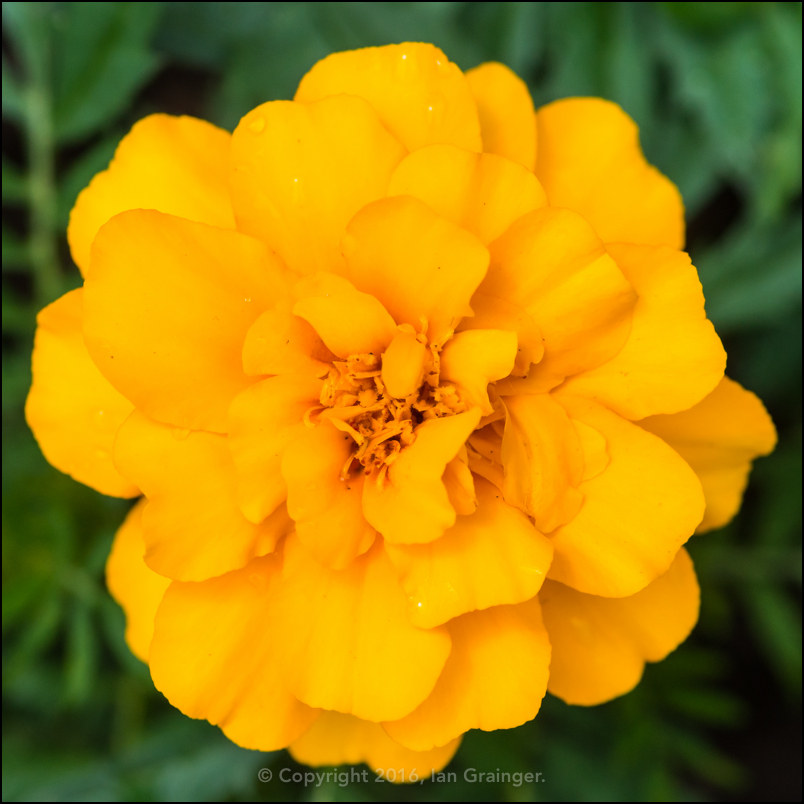 Yellow French Marigold - June 2016
...and this more mellow yellow one!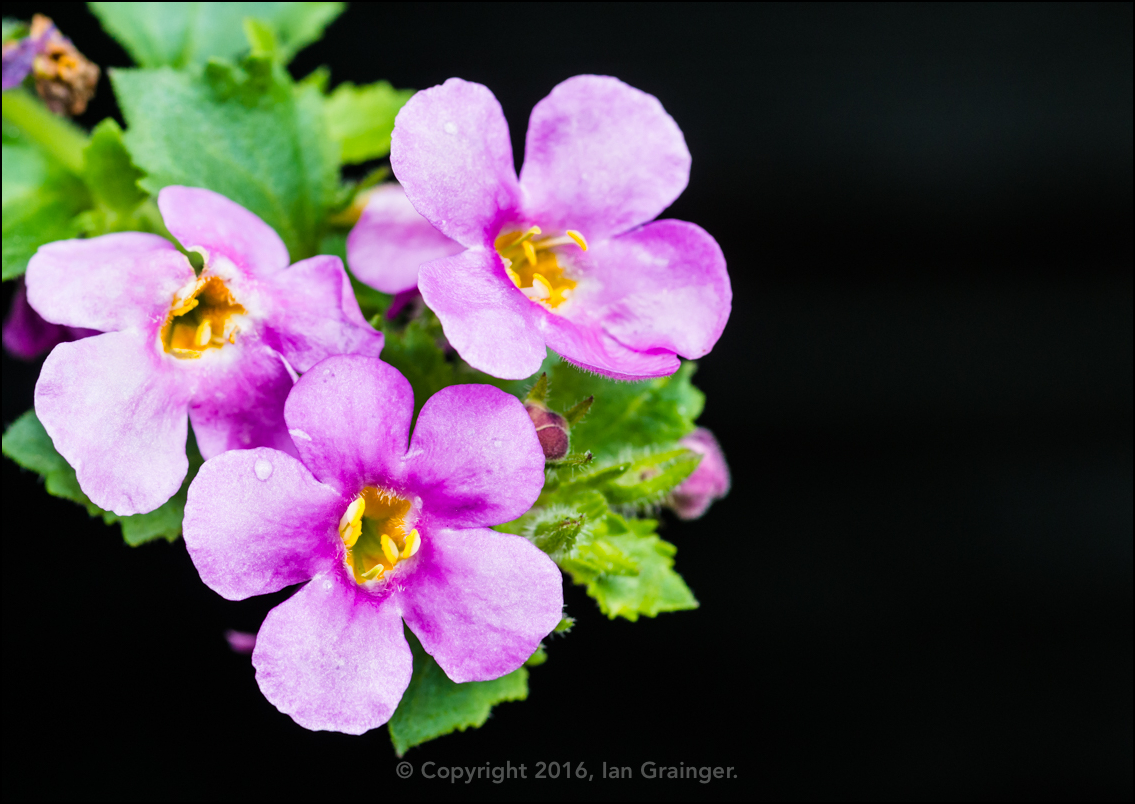 Pink Bacopa on Black - June 2016
The pink Bacopa is doing well in my hanging baskets, and is looking even better since I painted my shed and fence black.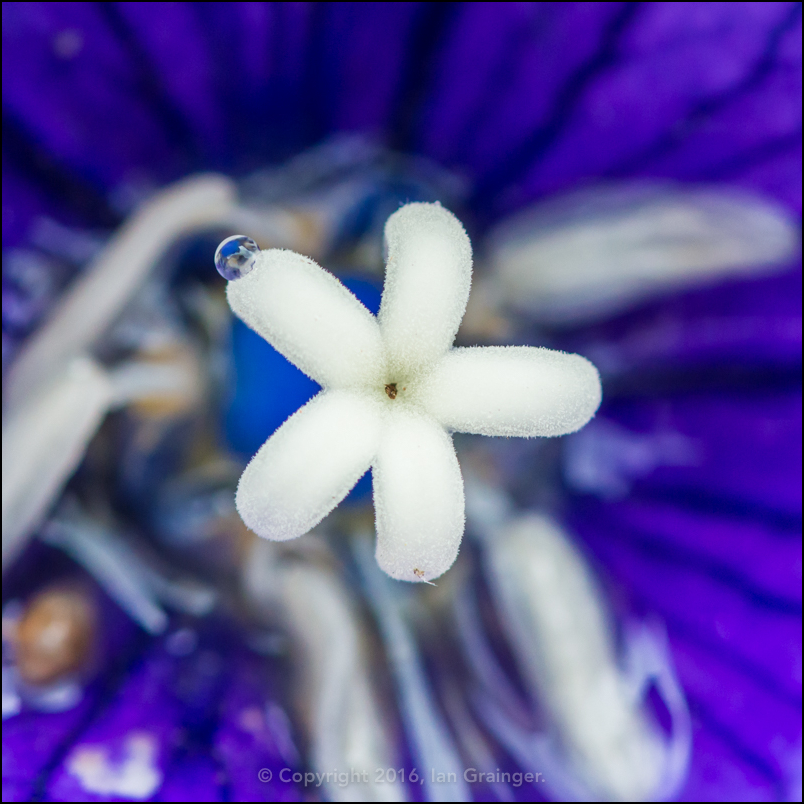 Balloon Flower Stamen - June 2016
This Balloon Flower (Platycodon grandiflorus) is a new purchase, and has taken pride of place in one of my larger planters. Returning to the rain theme, this flower had a single raindrop clinging onto its stamen.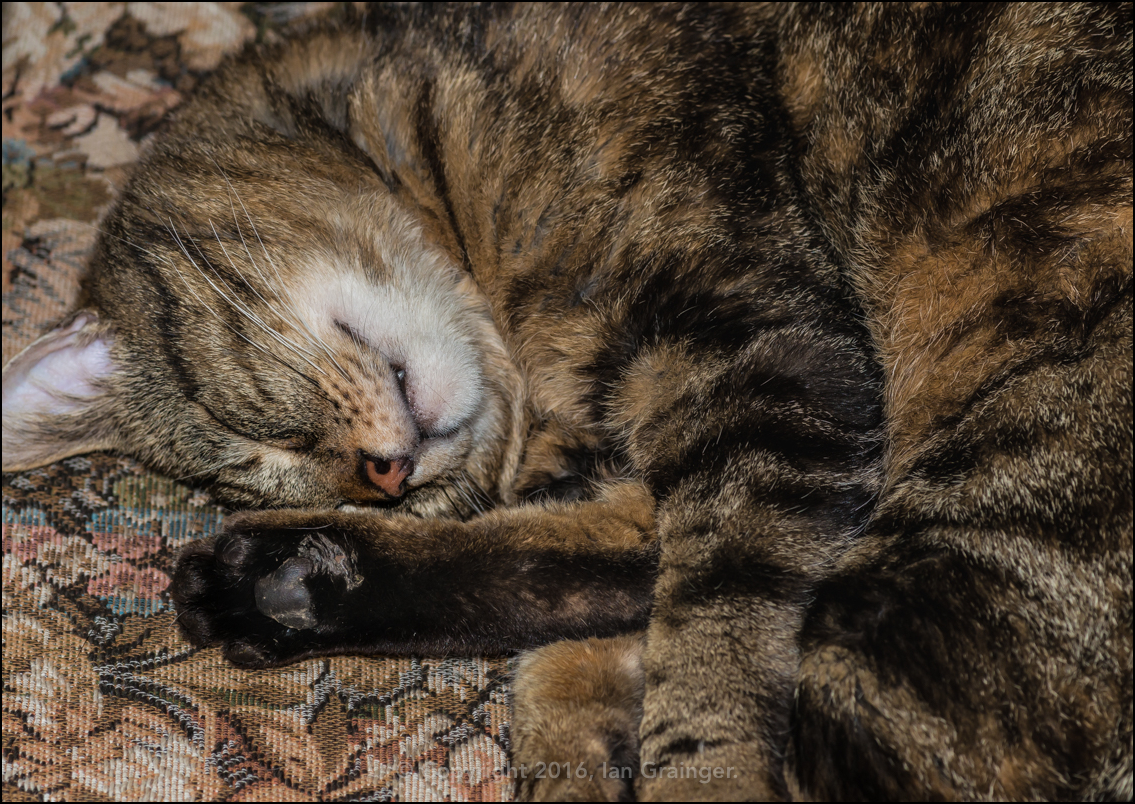 Snoozer - June 2016
Finally, my photographic helper had absolutely no interest in following me around the garden this week. It was far too wet, so he did the sensible thing and had a snooze indoors while I got myself soaked!
So, this week I don't feel I really have any stand out images, but I'm making Ichneumon Profile my Image of the Week simply because it's a shot of a more exotic type of insect...