Berberis Sawfly - April 2017
We've had a bit of a cold snap since I took these photographs, but despite it being quite dull and cloudy, the insects were out in force last weekend.
This Berberis Sawfly (Arge berberidis) was one of many stripping a Viburnum hedge of its leaves. Actually, it was the larvae doing the munching, while the adults set about producing more offspring.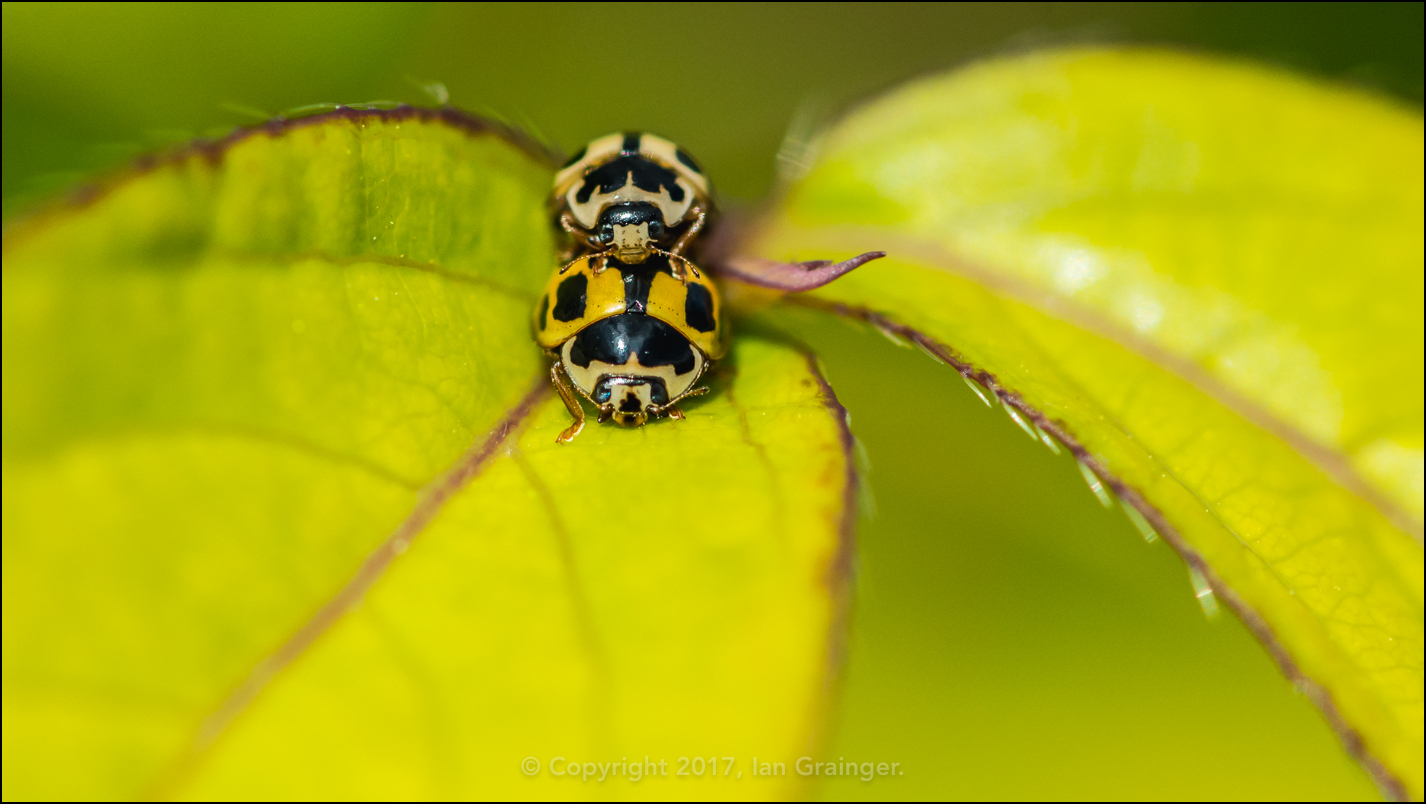 Ladybird Lovin - April 2017
Talking of which, these Ladybirds (Coccinellidae) were getting into the mood as the sun made a rare appearance.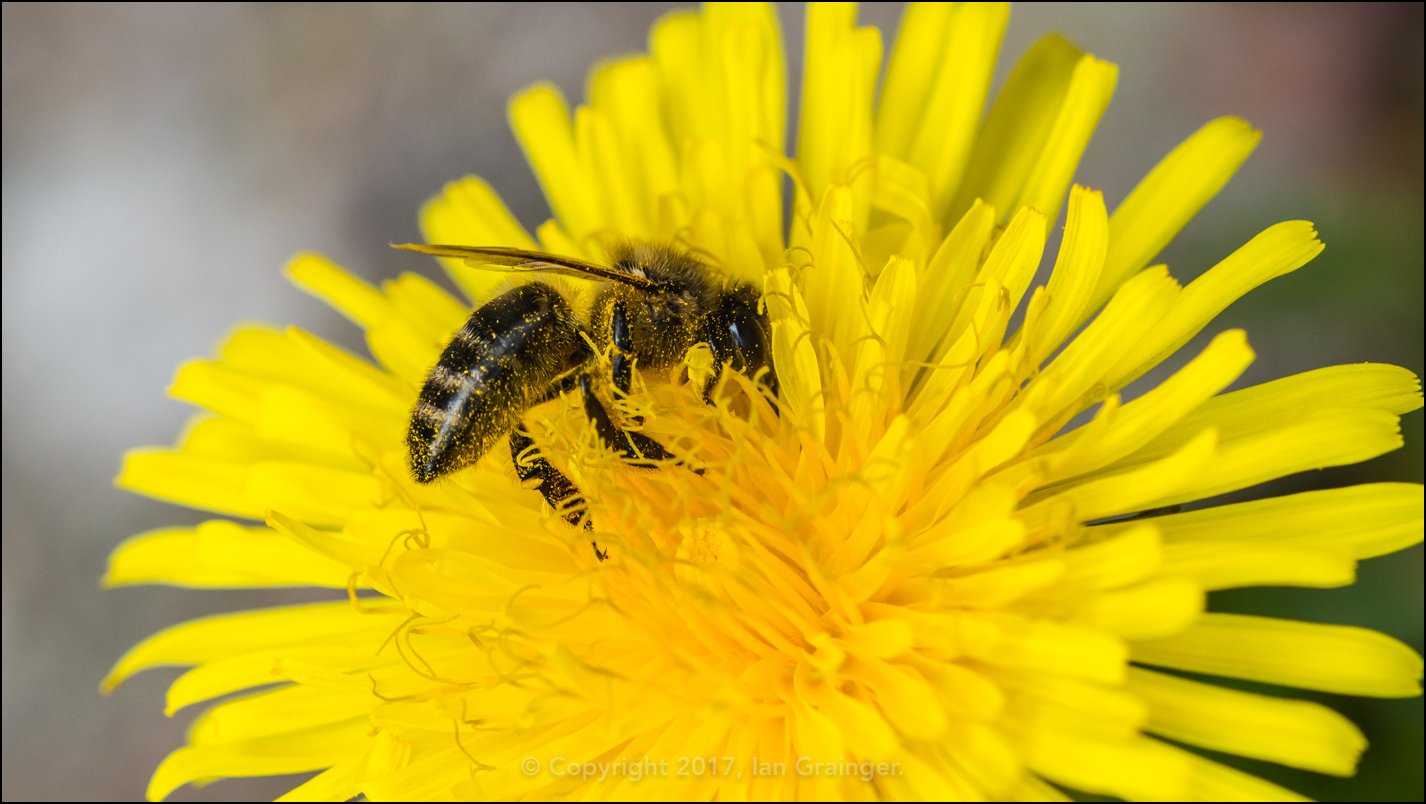 Pollen Predator - April 2017
The Honey Bees (Apis) were out in their droves, collecting pollen from some of our more common native wild flowers, namely the Dandelion (Taraxacum) in this instance.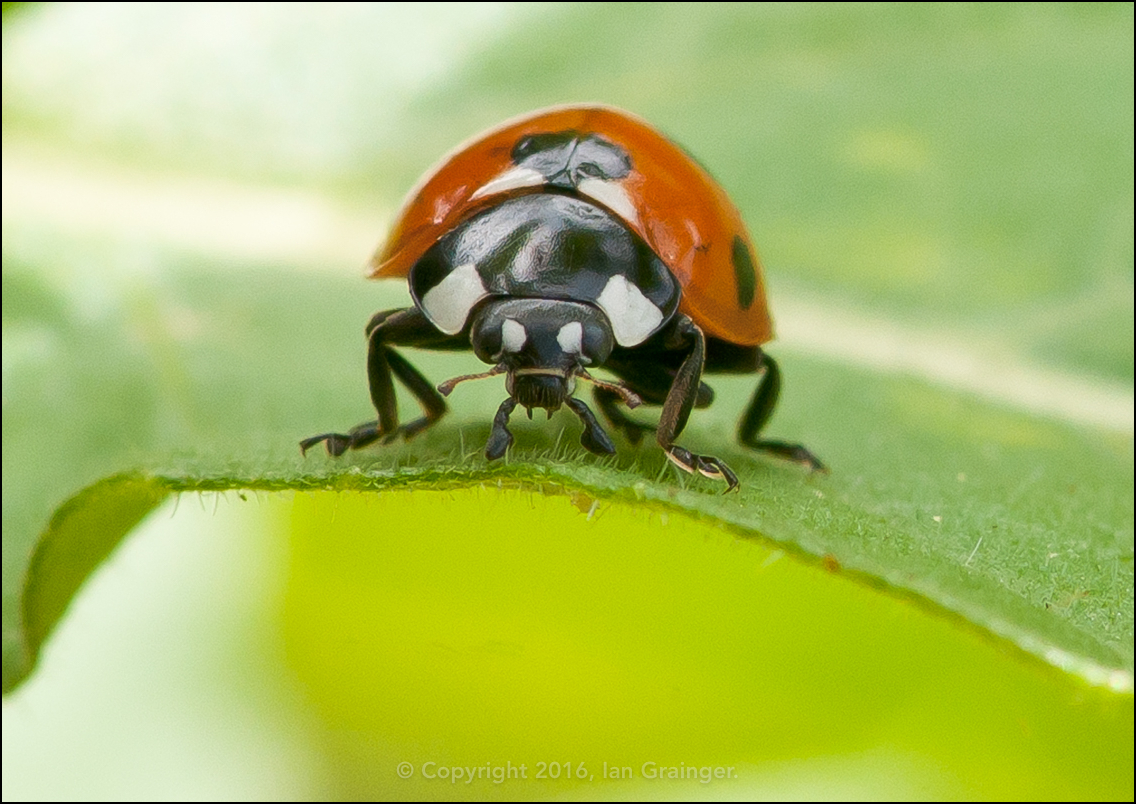 While I'm on the subject of insects, you may be interested to read my tutorial. Entitled Insect Safari, it explains the equipment and techniques I use to locate and photograph insects. Why not click on the link to check it out?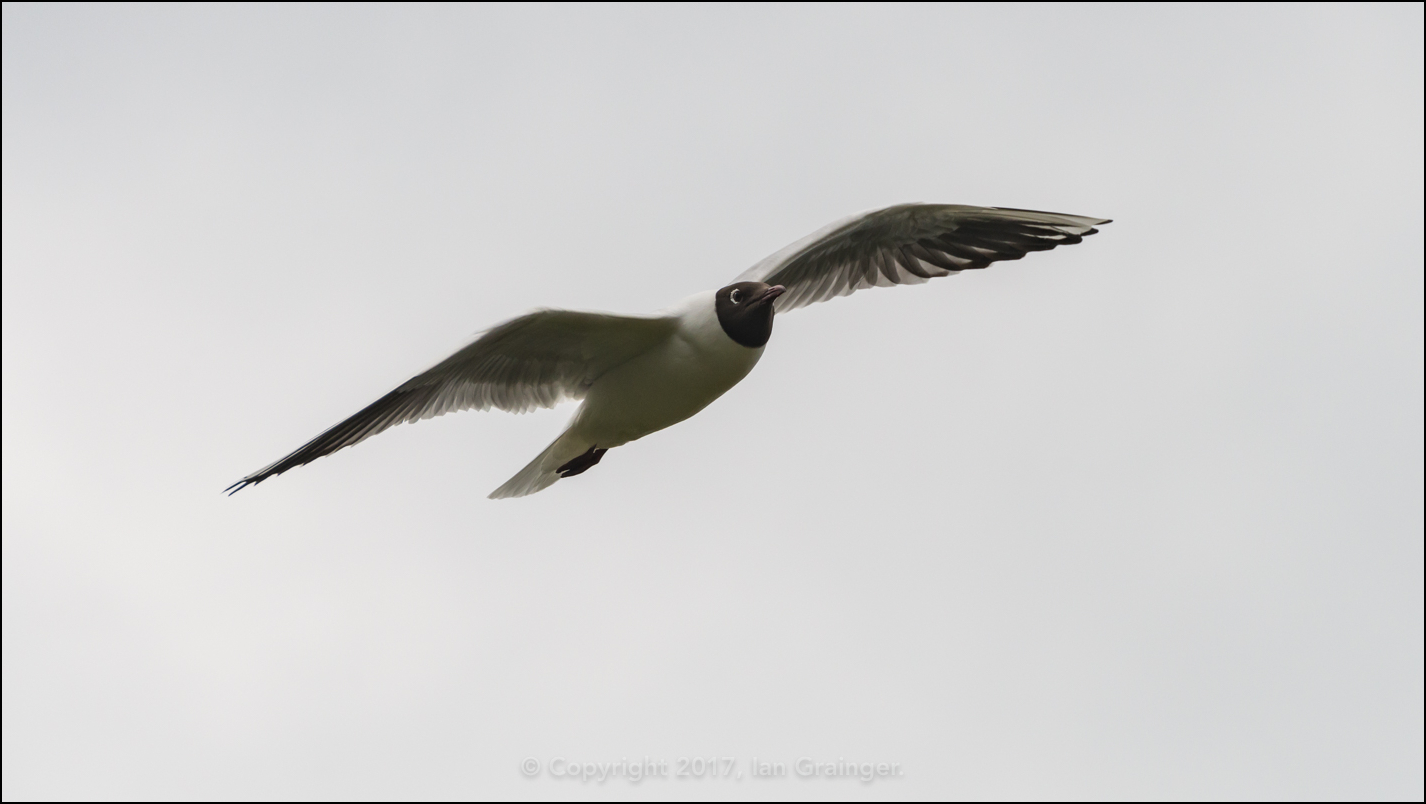 Black Headed Gull - April 2017
As the morning went on, the skies got greyer, but it remained quite warm. This Black Headed Gull (Chroicocephalus ridibundus) circled overhead, looking for the remains of someone's Sunday lunch!
Spiraea Vanhouttei - April 2017
The blossom in dad's garden was still going strong. Thanks to the guys over at Garden Tags I finally got an identification for one of the Spiraea bushes I've been posting pictures of for a couple of years. This is Spiraea vanhouttei.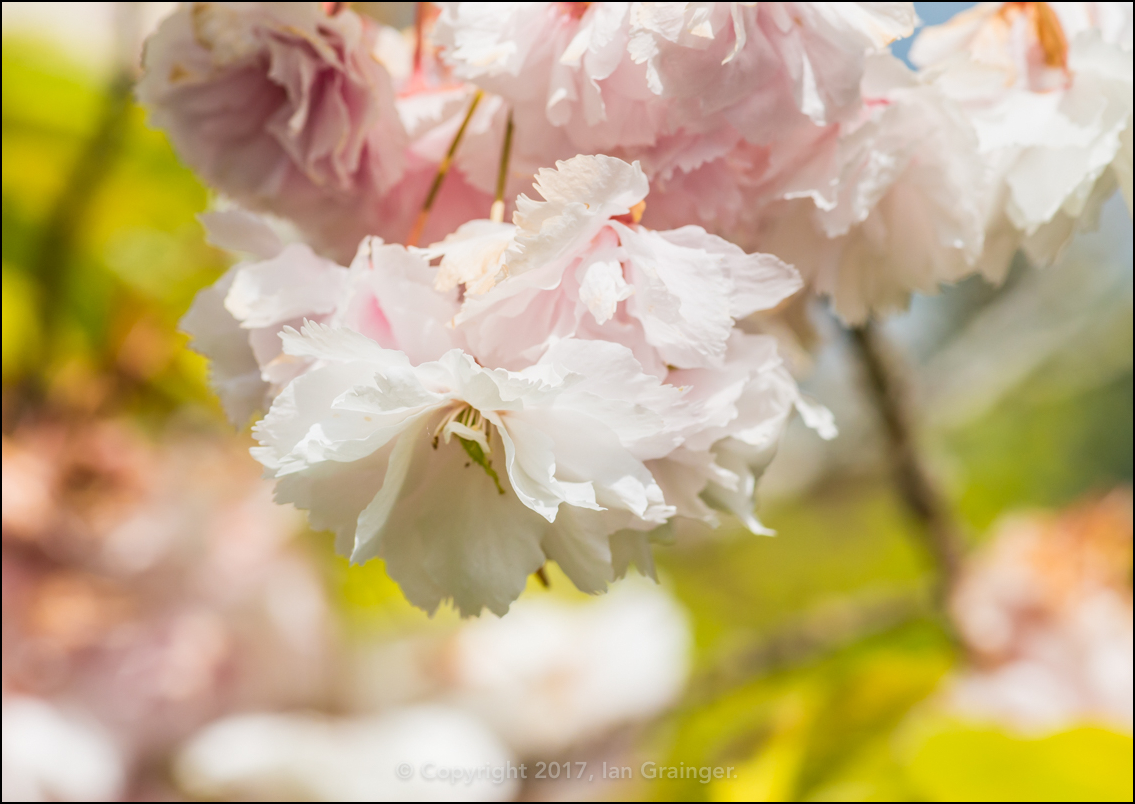 Cherry Tree Blossom - April 2017
The Cherry Tree (Prunus) blossom was still looking gorgeous, although the lawn was now coloured pink from all of the falling petals.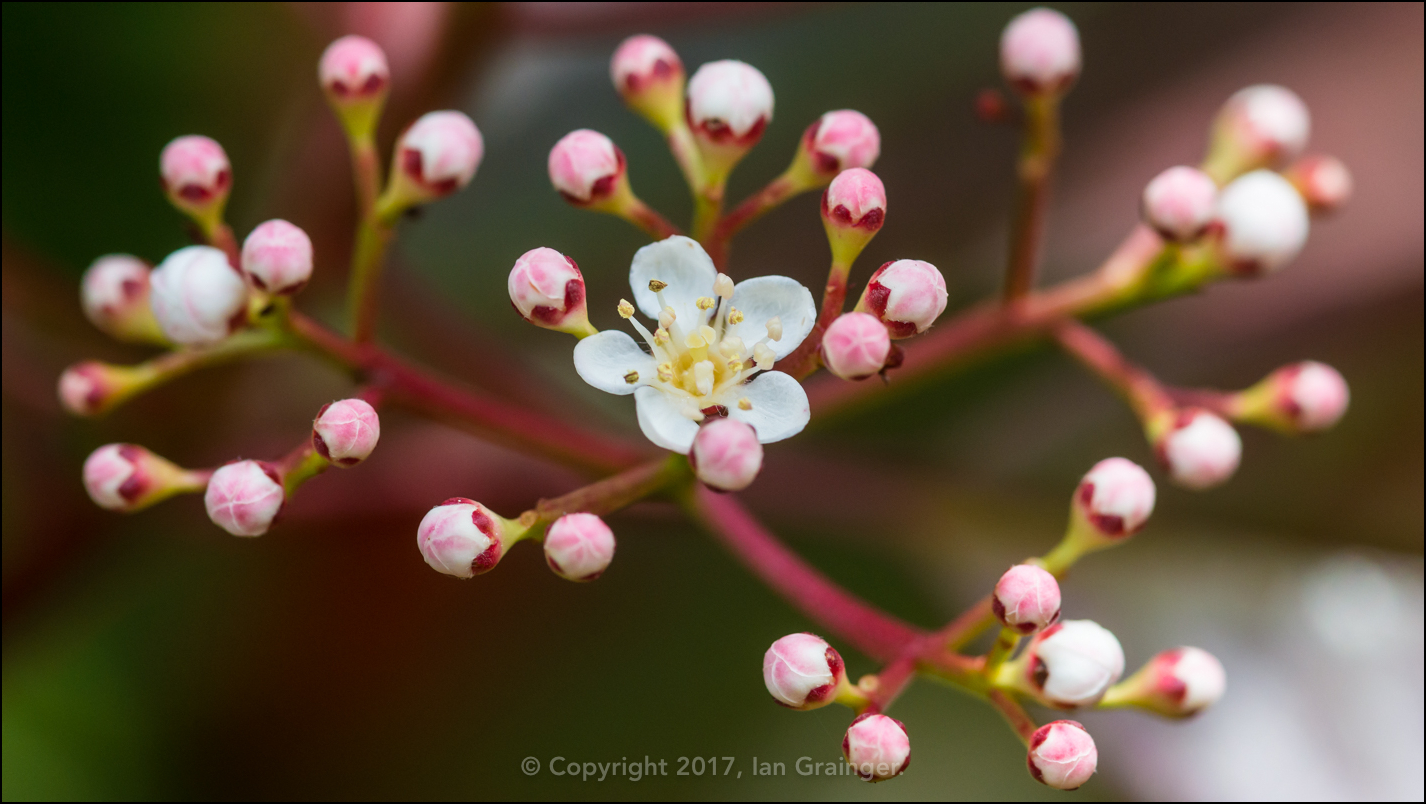 Red Robin Blossom - April 2017
The Red Robin (Photinia fraseri) flower buds were only just starting to open, and would soon be a mass of these pretty white flowers.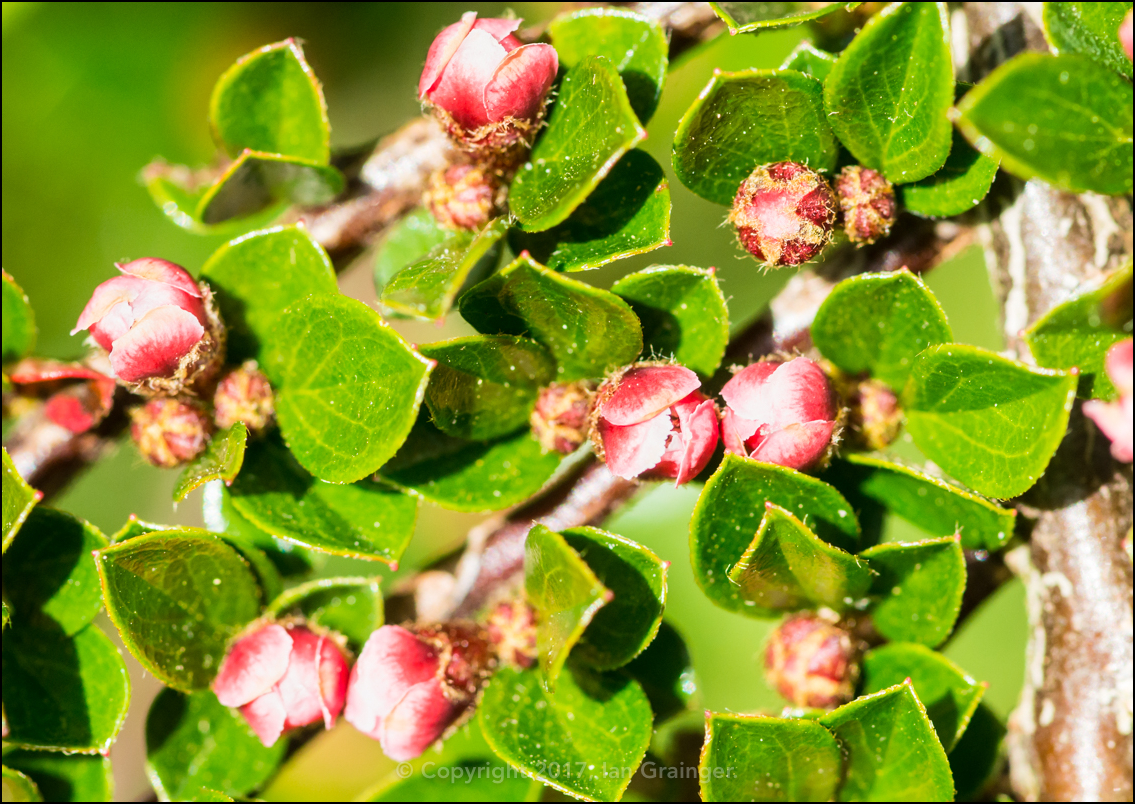 Cotoneaster Blossom - April 2017
The tiny pink blooms of the Cotoneaster bush had also put in an appearance. They're quite easy to miss, so if you've got one of these bushes, it's well worth taking a close look for them. Actually, you'll probably hear them buzzing before you see them, as the Bees go absolutely nuts for them.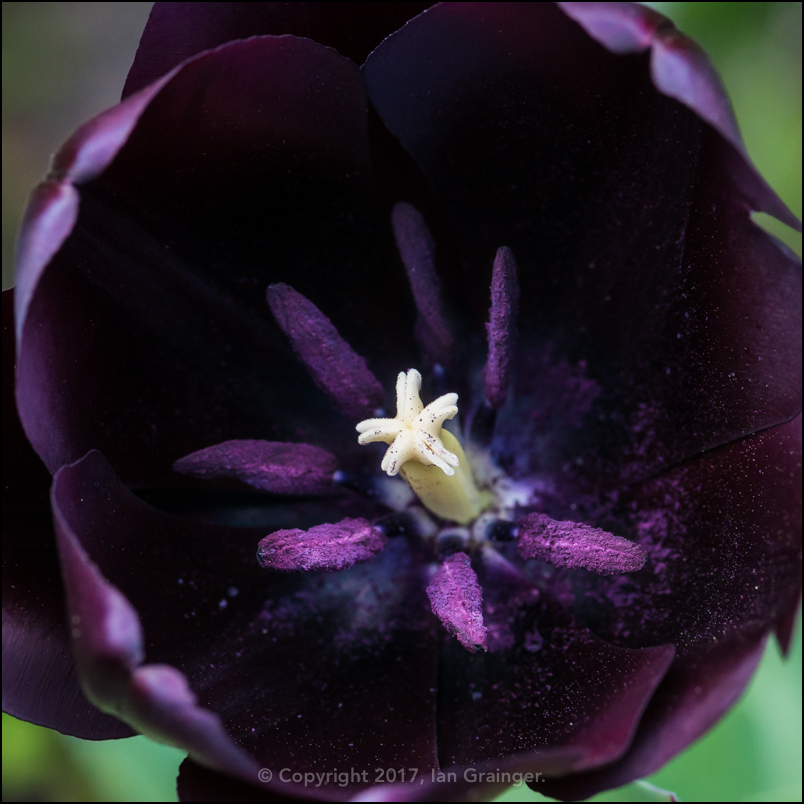 Queen of the Night - April 2017
The Queen of the Night Tulips (Tulipa) were looking dark, rich and beautiful when taking a peek inside...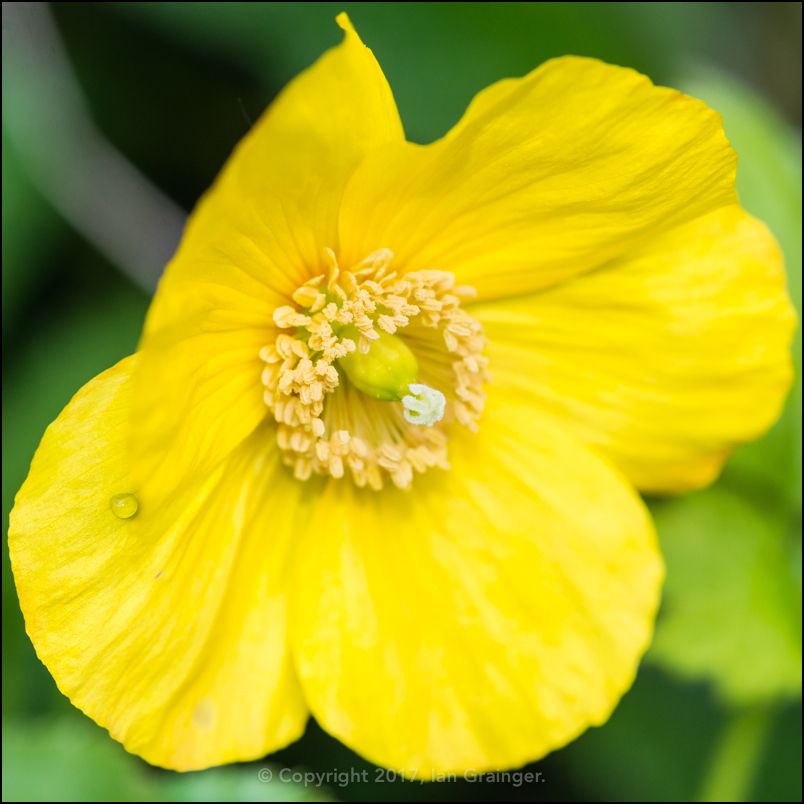 Yellow Poppy - April 2017
...and the bright yellow Welsh Poppies (Meconopsis cambrica) were brightening everything up, despite the dull weather.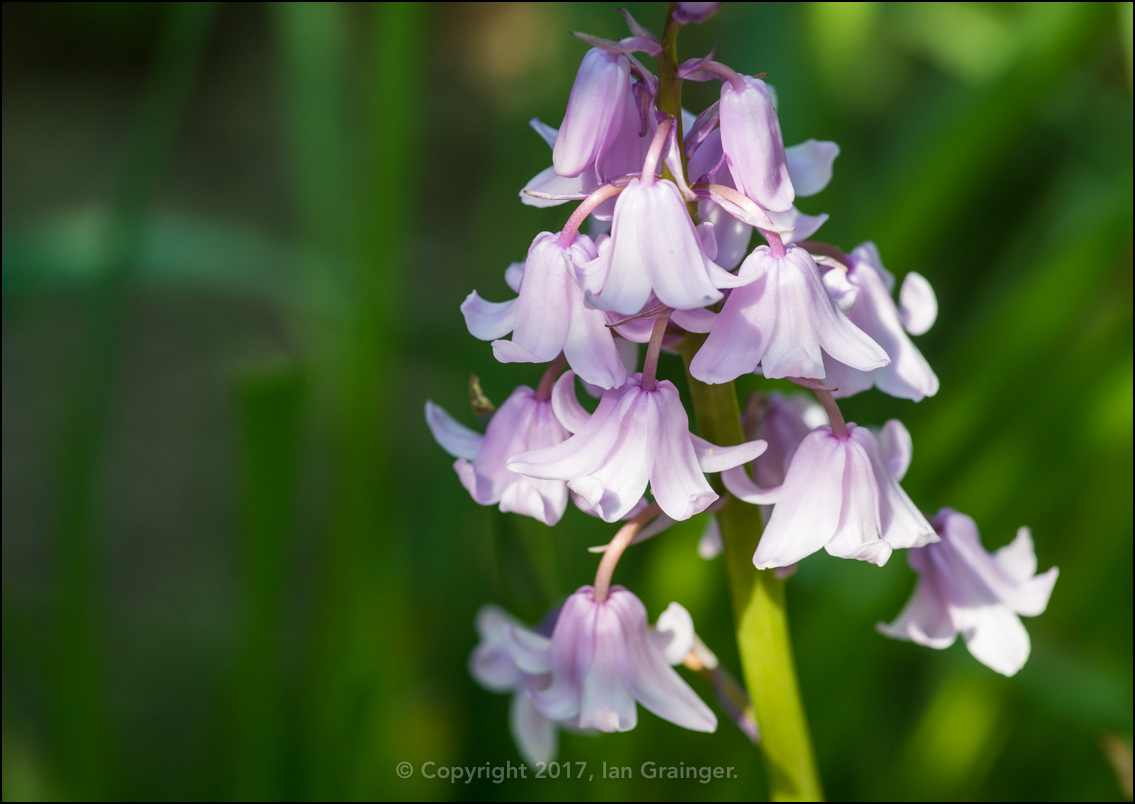 Pink Bluebell - April 2017
Even these pink Spanish Bluebells (Hyacinthoides hispanica) were shining in the dappled light, underneath a hedge.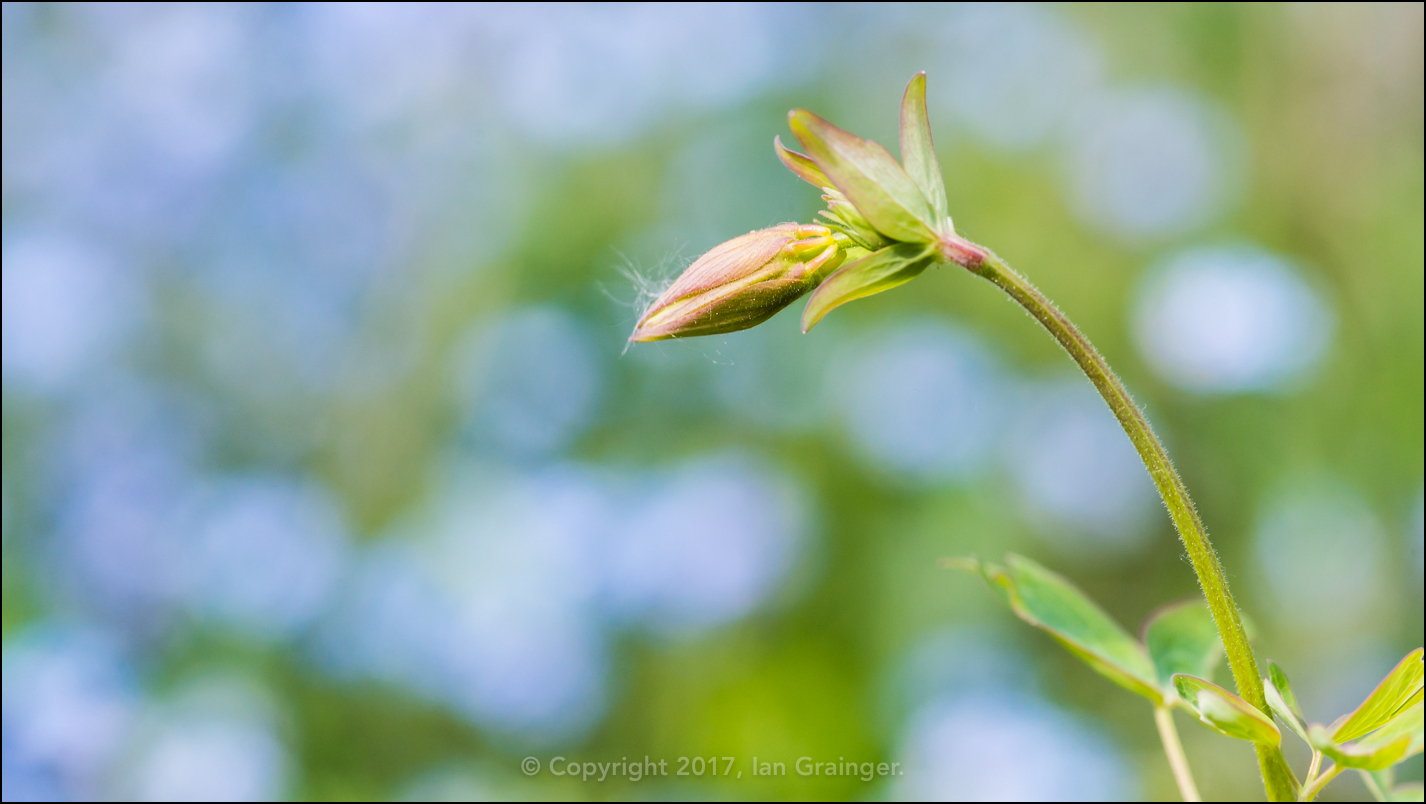 Aquilegia Arrival - April 2017
Next week I'm hoping to bring you the first Granny's Bonnet (Aquilegia) bloom of the season, although I thought even the flower buds looked interesting with the Forget Me Nots in the background.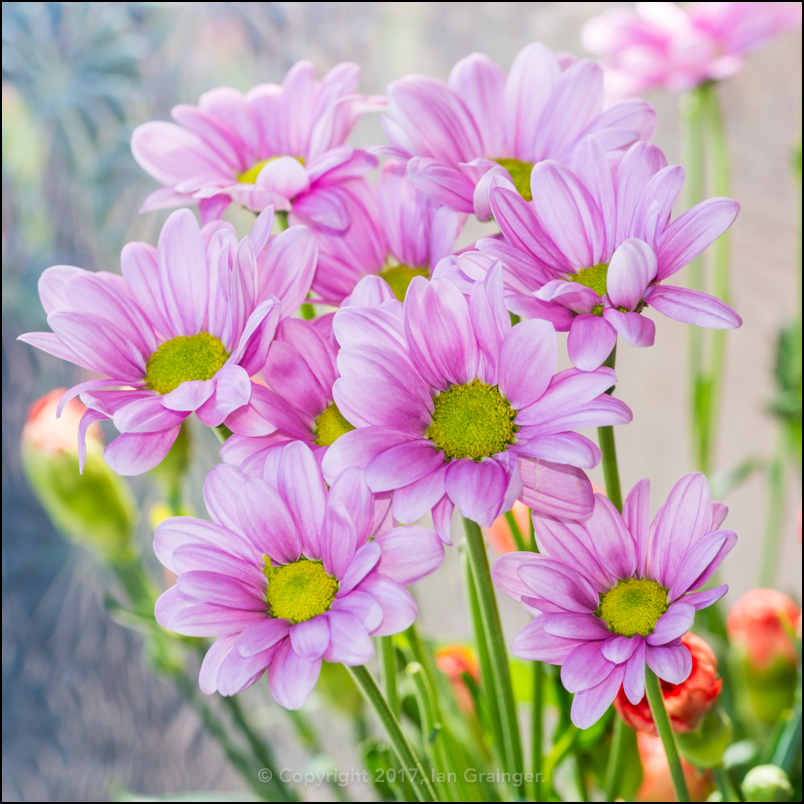 Chrysanthemums - April 2017
It would have been Mum's birthday at the weekend, so what better flower to purchase to mark the occasion than a bunch of Mum's (Chrysanthemum)? This collection of light pink ones were my favourites...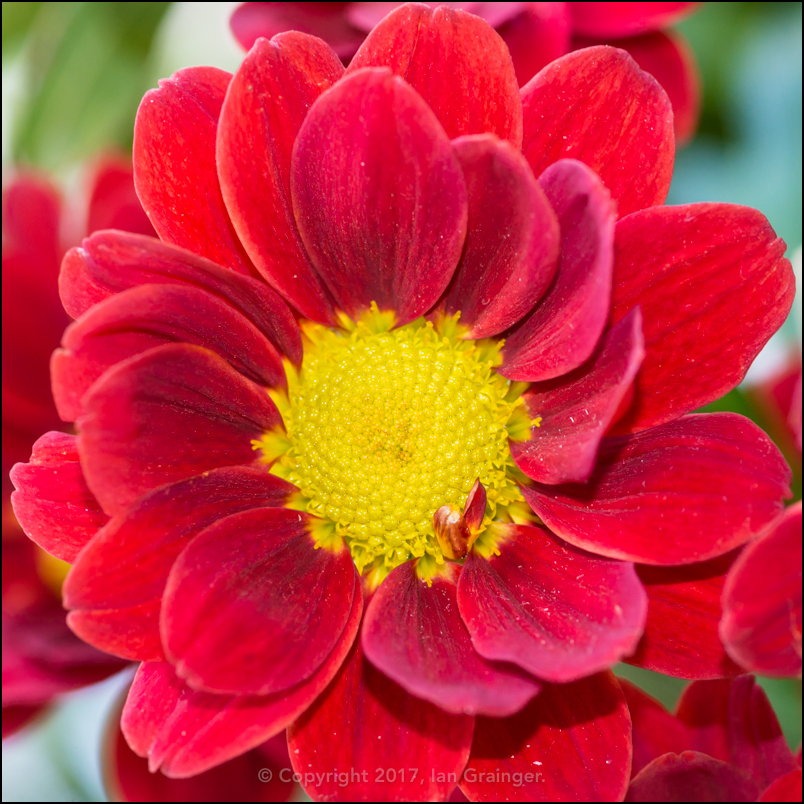 Red Mum - April 2017
...although the darker red ones looked quite beautiful too!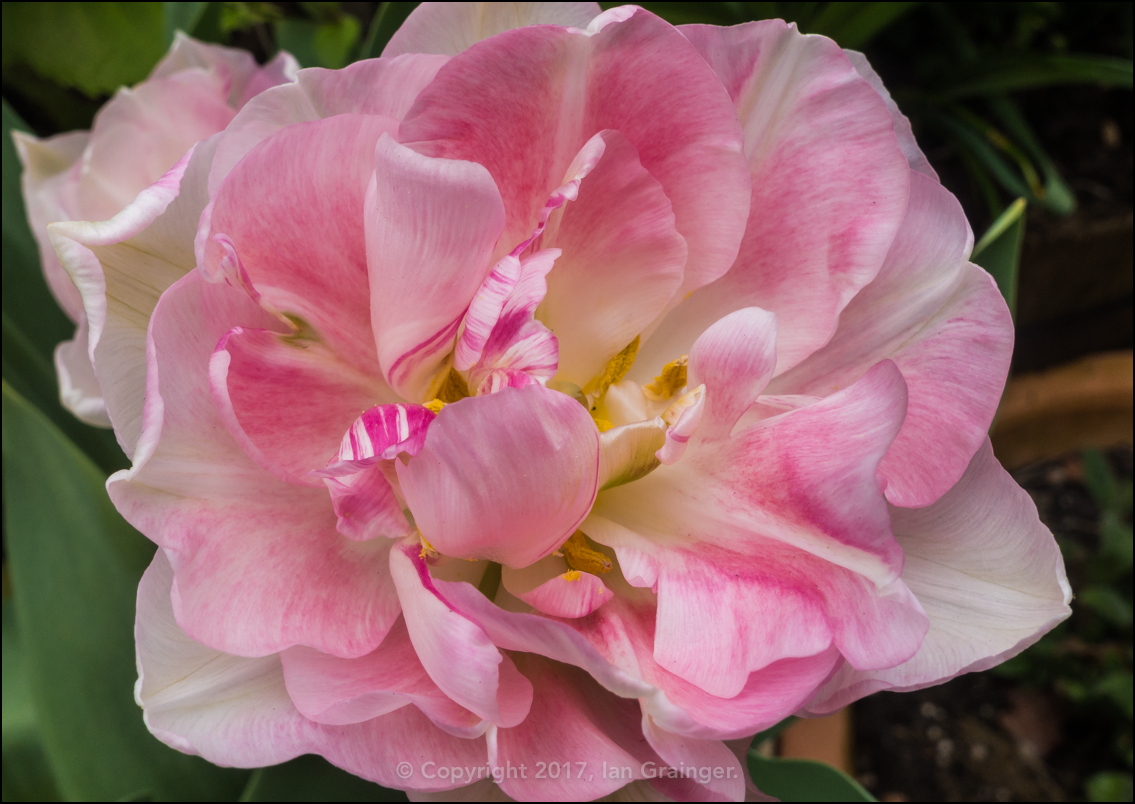 Angelique - April 2017
The story in my garden this week was all about Tulips! This is Tulip variety 'Angelique' looking particularly pretty on a cold winter-like day.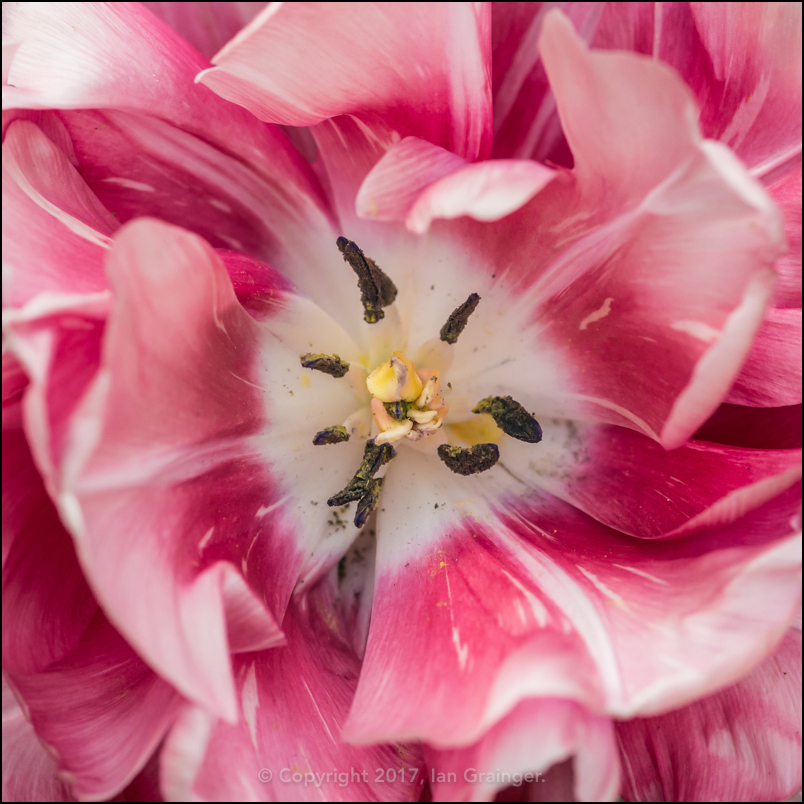 Opening the Gift - April 2017
The Tulip variety 'Wedding Gift' were getting more beautiful by the day, and it was a real treat to take a peek inside.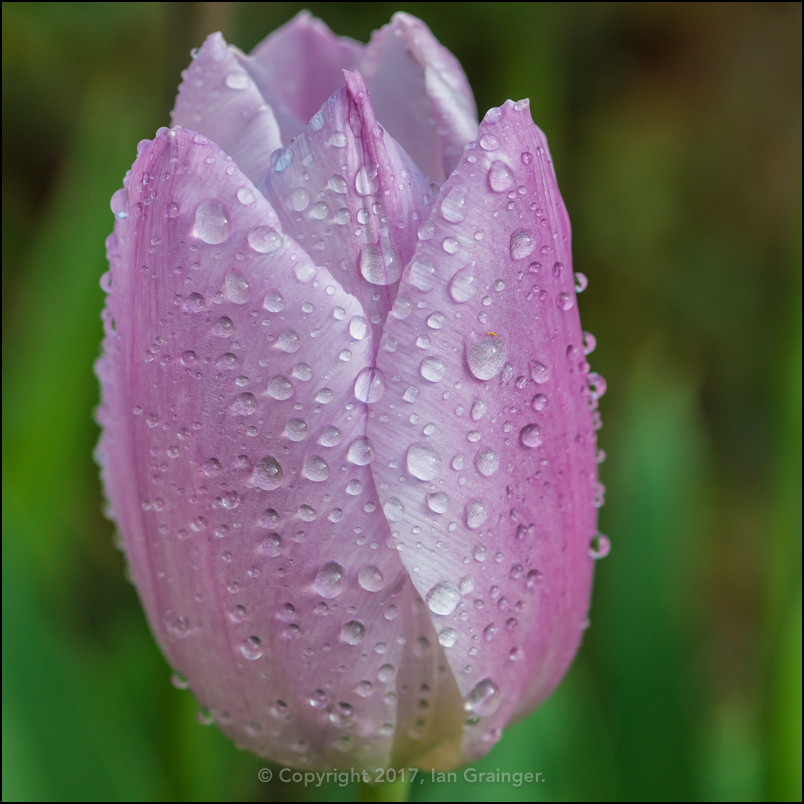 Dewdropped Candy Prince - April 2017
Raindrops on flowers are always a joy to behold, and this Tulip variety 'Candy Prince' was no exception.
Laughing Boy - May 2016
Finally, I'm ending on a really sad note this week. Those of you who follow my weekly blog will know that we think my furry photographic companion was hit by a car recently. He suffered a broken leg, amongst other injuries, and after a trip to the vet, we found out that his wounds had become infected, and the infection had spread to his bloodstream. The vet explained that amputating the leg was the only option, and that that wasn't guaranteed to save him. As this would have diminished his quality of life severely, the vet recommended that we say our goodbyes, and he was put to sleep.
RIP my photogenic furry friend...