Waspish - August 2017
This week I was back on the trail of bugs again in dad's back garden, and came across this interesting looking creature. It's another one of those insects that styles itself on a Wasp, but is actually a Sawfly called the Figwort Sawfly (Tenthredo scrophulariae).
I don't remember ever photographing one before, so I was quite pleased to get such a decent close-up of this one.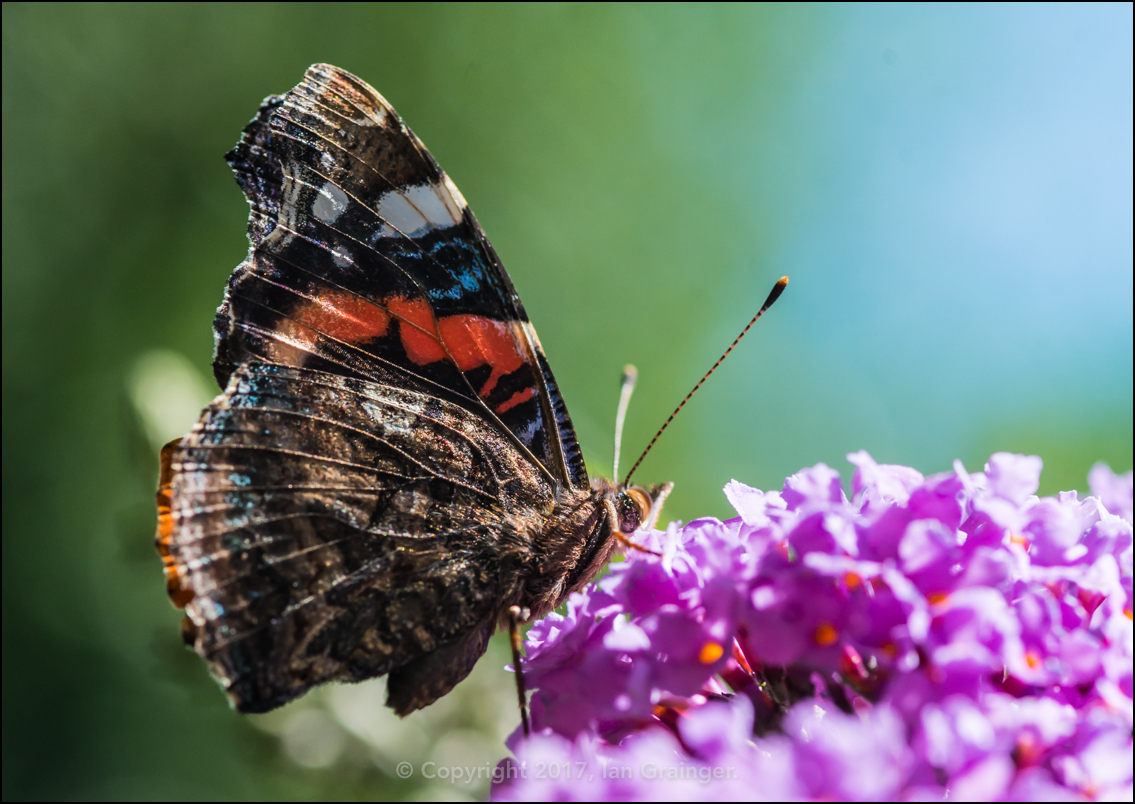 Red Admiral - August 2017
The Butterfly Bushes (Buddleia) seemed to be where all of the insect action was taking place this week. I thought that the underside of this Red Admiral's (Vanessa atalanta) wings were looking very colourful in the early morning sunshine.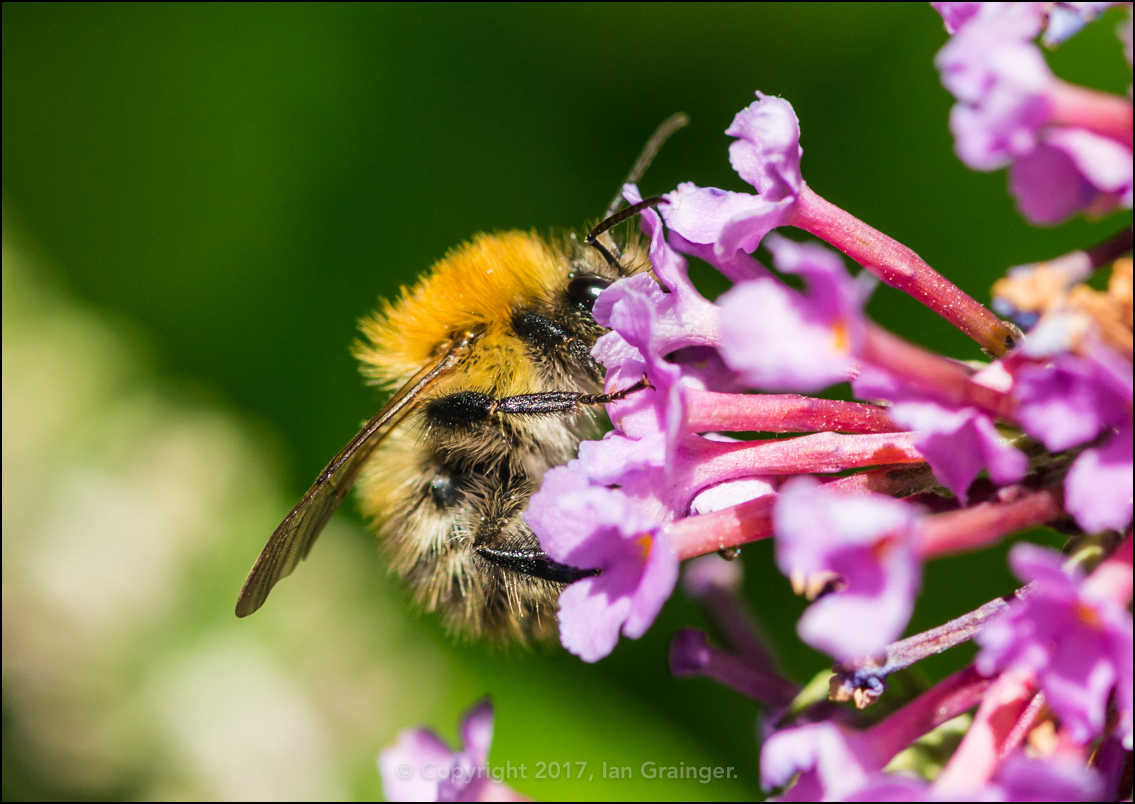 Industrious - August 2017
The Common Carder Bee's (Bombus pascuorum) were out in force, and also enjoying the delights on the Buddleias...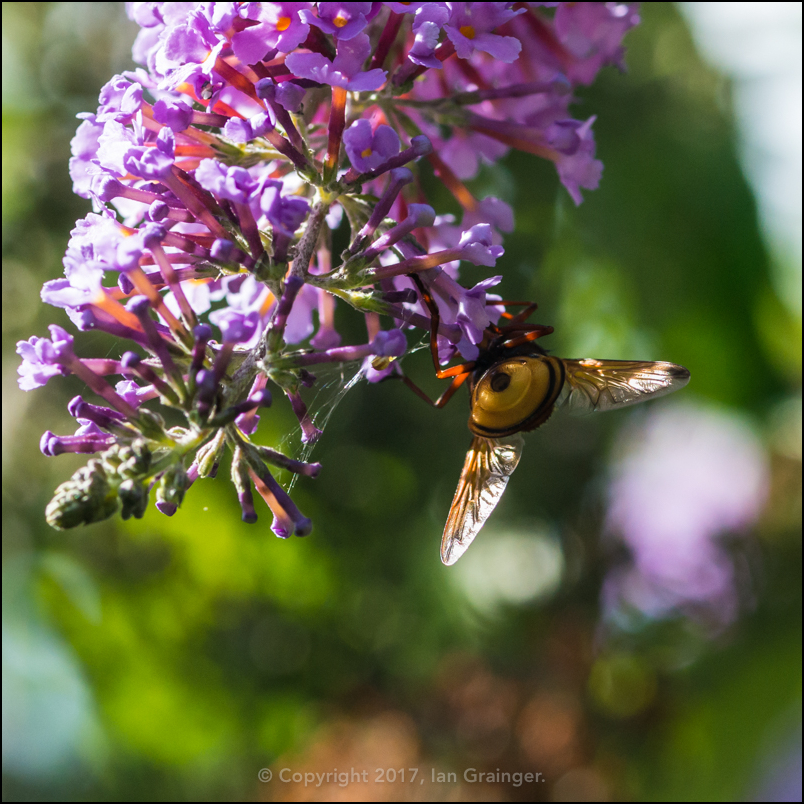 Rear End - August 2017
...as were a number of these large Hoverflies (Syrphidae). This one, annoyingly, wouldn't turn to face the camera.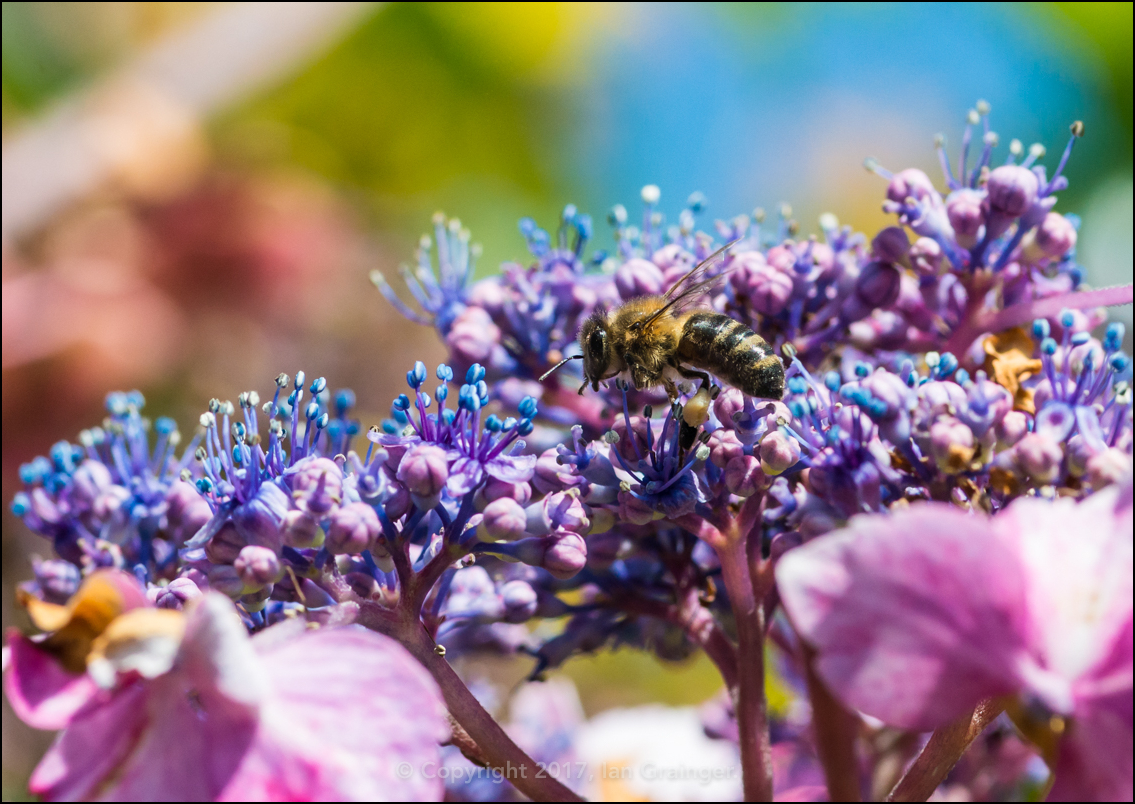 Busy Bee - August 2017
This busy Bee (Apis) preferred the little blue blooms of a Lacecap Hydrangea Bush (Hydrangea macrophylla), which were looking at their best at this time of year.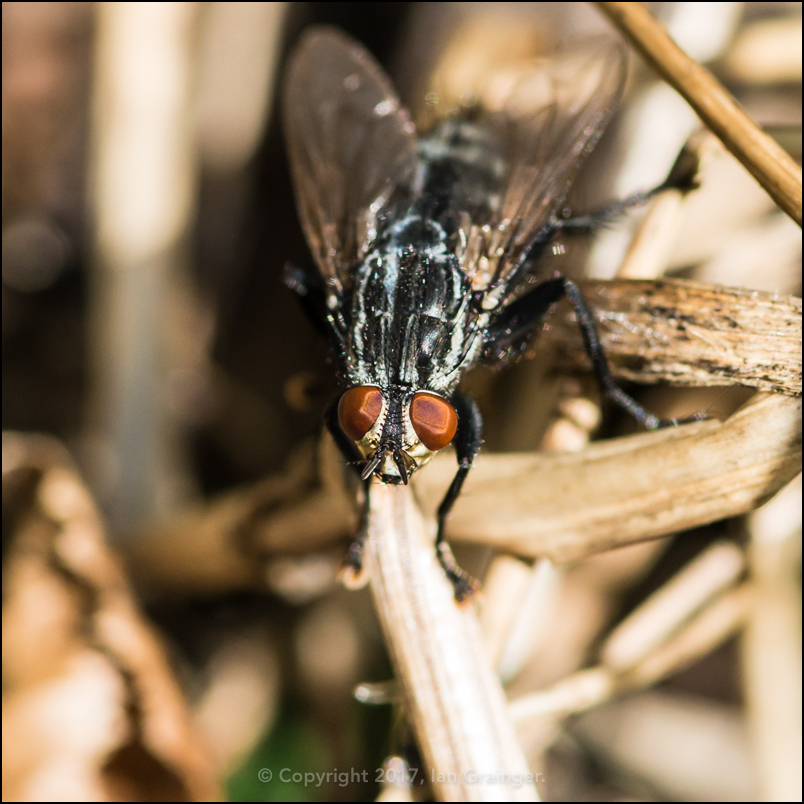 Flesh Fly - August 2017
Meanwhile, the Flesh Flies (Sarcophaga carnaria) seemed to be happy anywhere there was some sun to warm them through. This one preferring some old dried grass to sit on.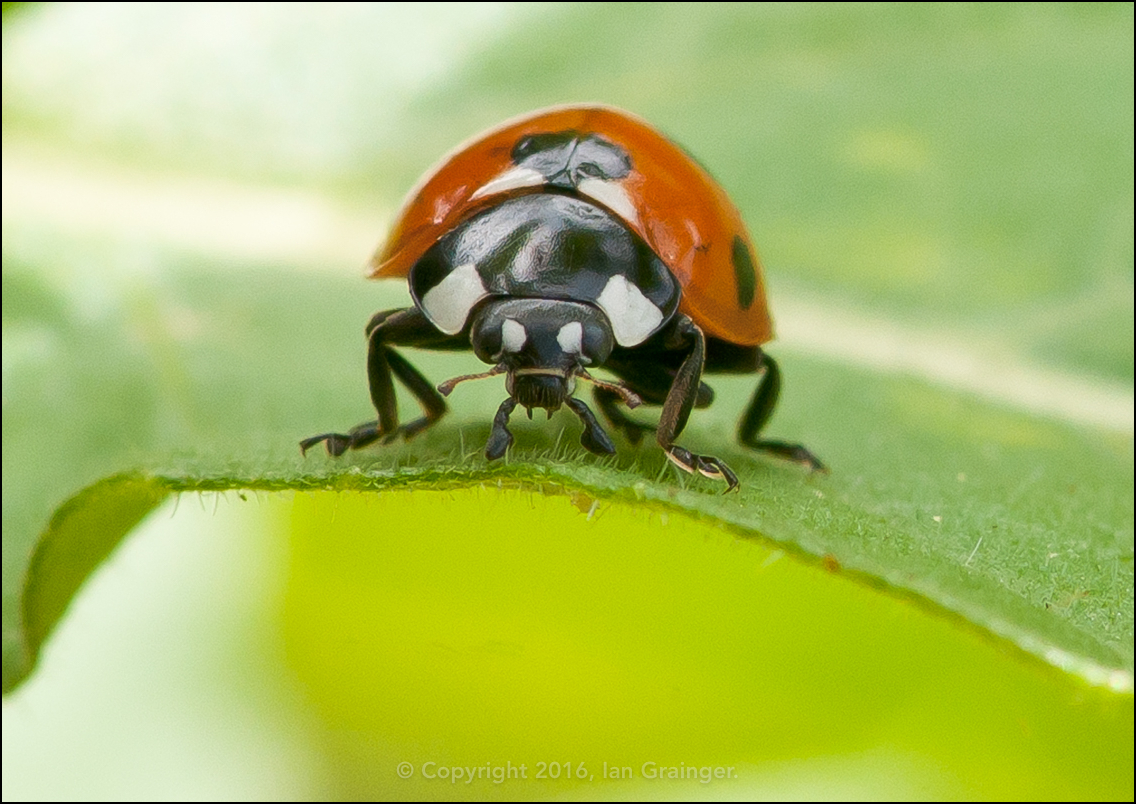 If you're interested in taking photographs of insects, you may want to take a look at my tutorial. Entitled Insect Safari, it explains the equipment and techniques I use to locate and photograph insects. Why not click on the link to check it out?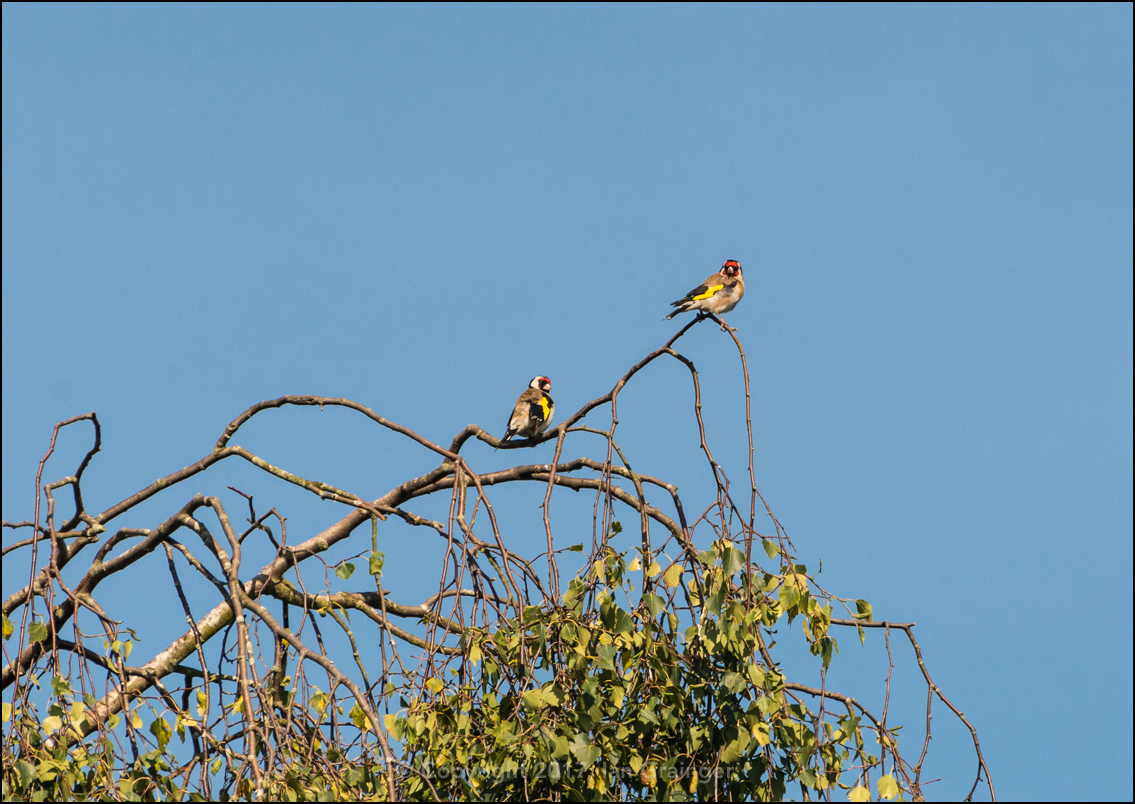 Parents - August 2017
Looking skywards, there wasn't much avian action this week, as I suspect it was a little too early, and a little too chilly, despite the beautiful blue skies. The resident Goldfinch (Carduelis carduelis) group seemed to be the only birds braving the cooler conditions.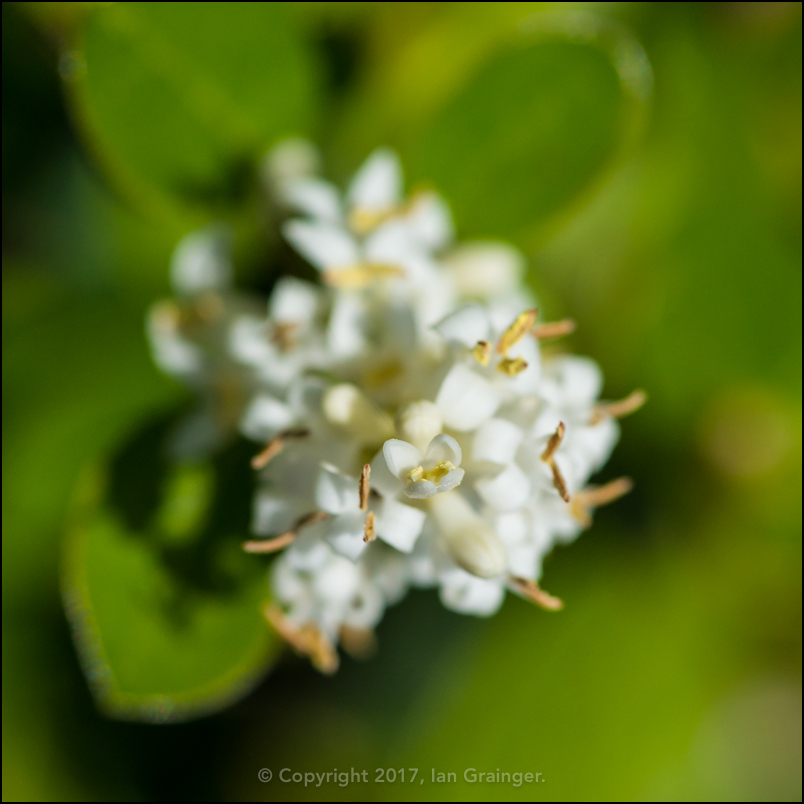 Pretty Privet - August 2017
Turning my attention to floral photography, I spotted this pretty Privet hedge blossom. I'm always a bit taken aback when I see these hedges burst into bloom, as they're a lot prettier than you'd expect them to be.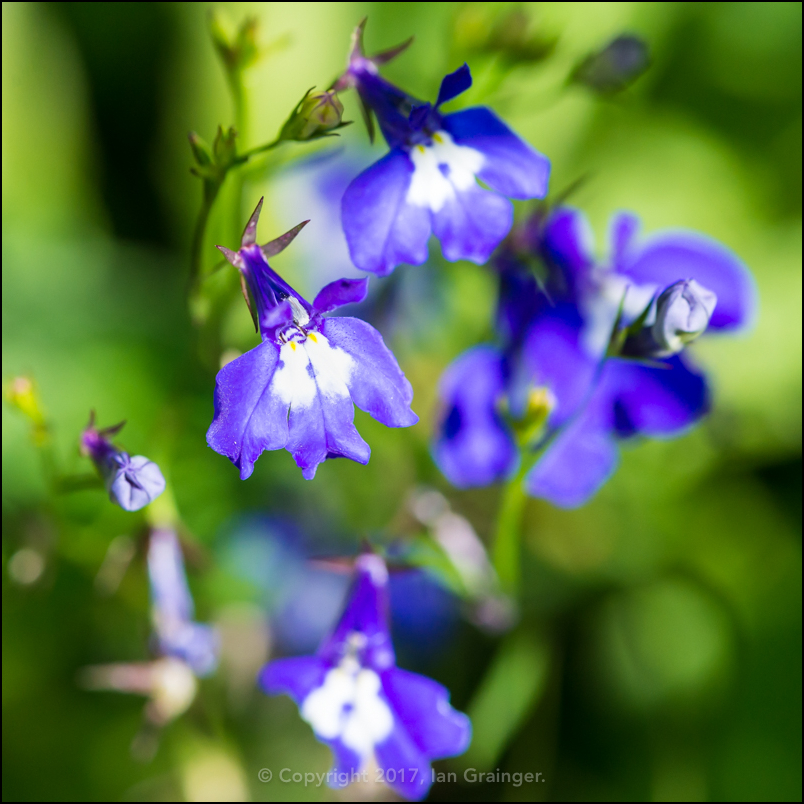 Lobelia - August 2017
Another little bloom that always outperforms its expectations, in my opinion, is the Lobelia. It looks great in drifts in the border, and even better when cascading from hanging baskets.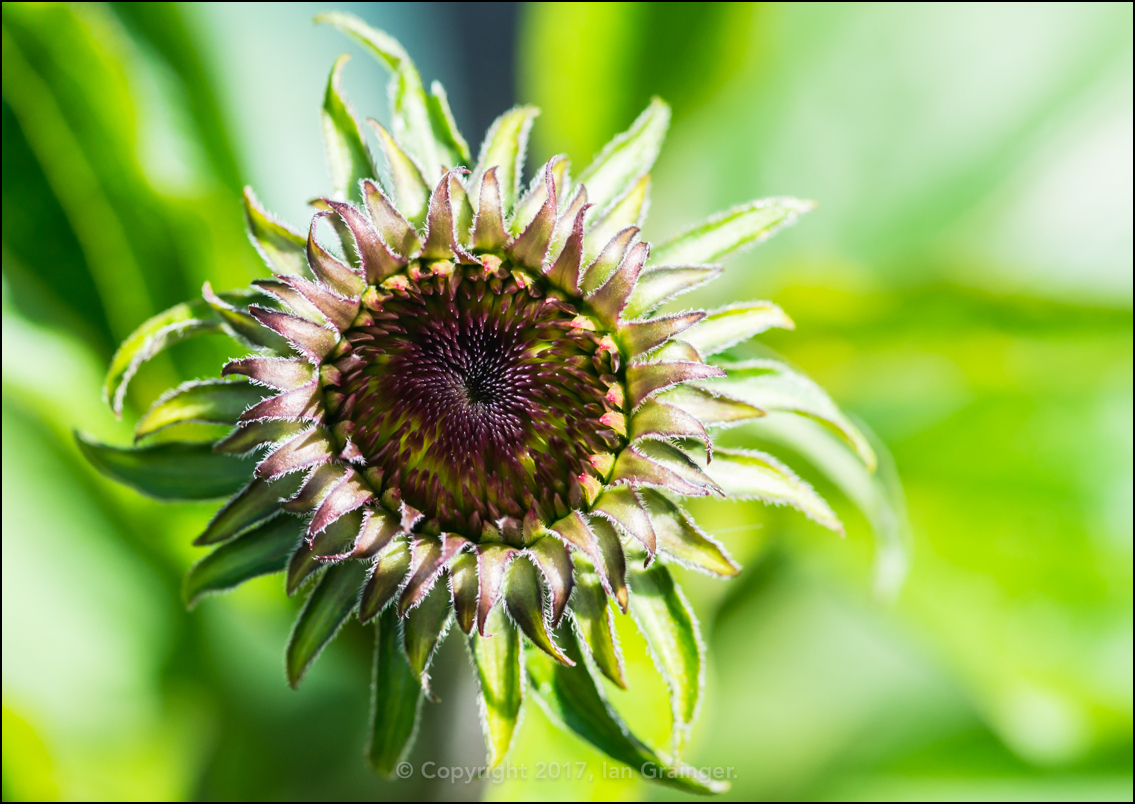 Echinacea Opening - August 2017
I speculated last week whether the Coneflowers (Echinacea) would be open or not, and unfortunately, they haven't opened yet. However, they're very close, and surely next week I'll be able to bring you more colourful pictures...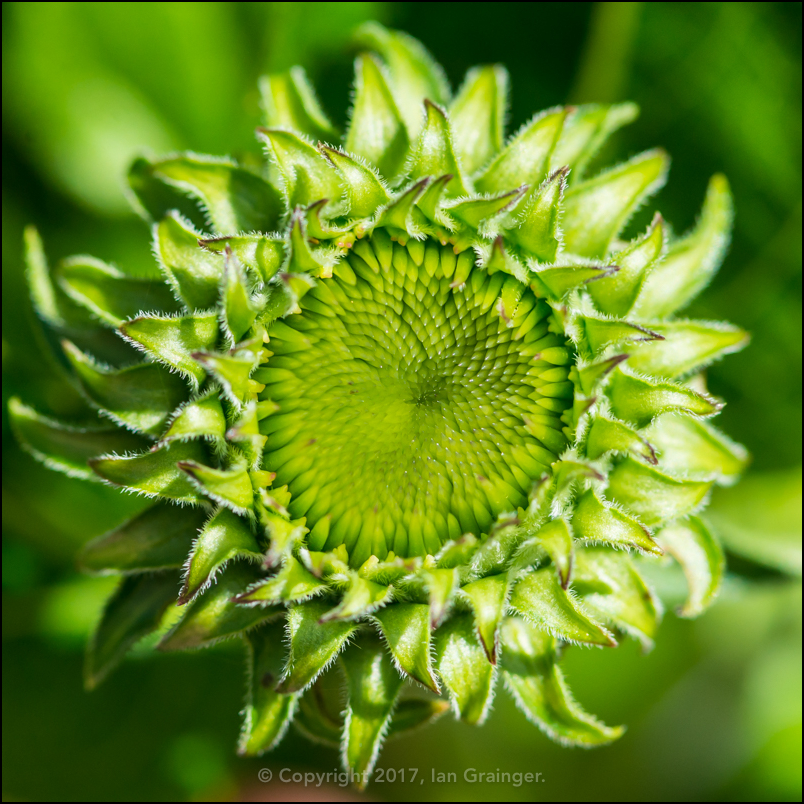 Another Echinacea - August 2017
...from at least two different colour forms.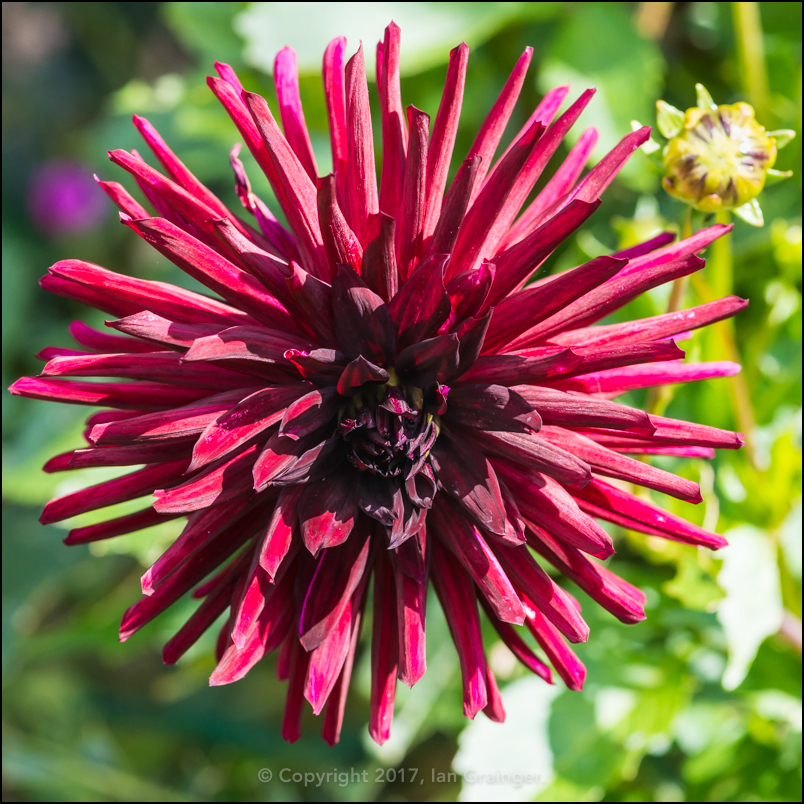 Cactus Dahlia - August 2017
While my own Dahlias aren't doing too well this year, the one's I gave to dad this year are doing brilliantly. This Dahlia 'Nuit D'Ete' has been the best performer, and has literally dozens of buds still left to open.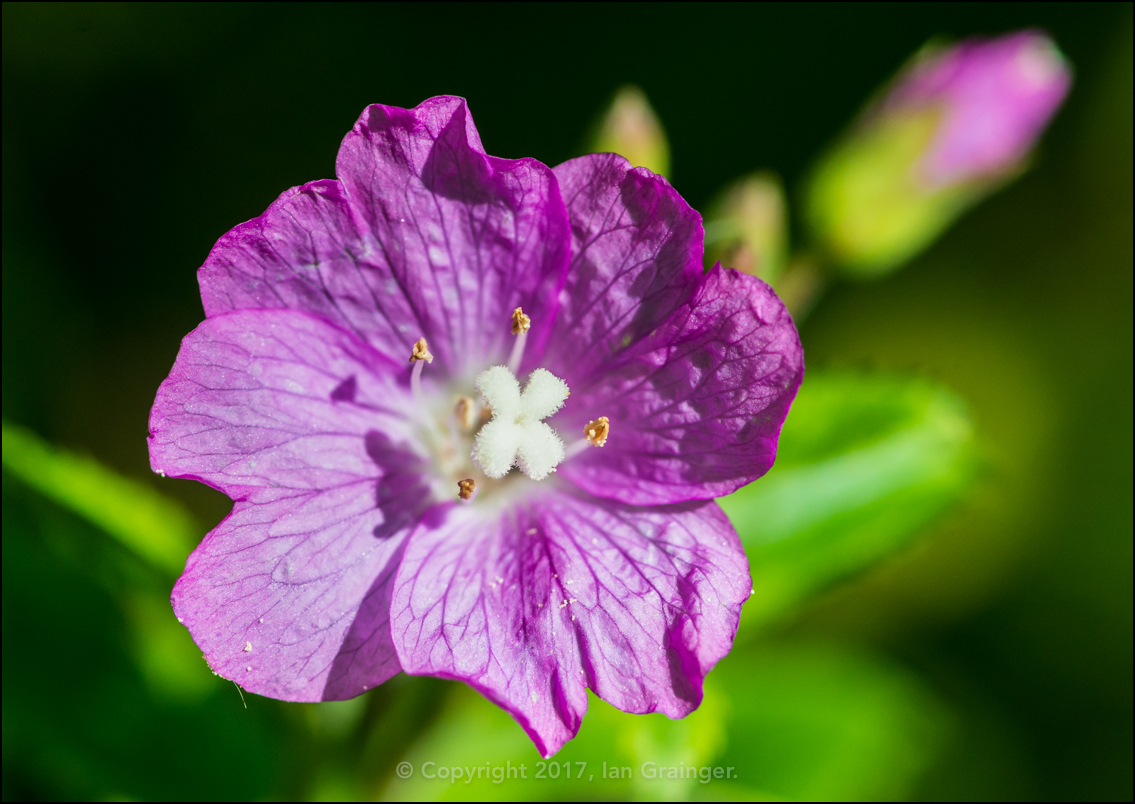 Greatness - August 2017
One of my favourite flowers at this time of year are that of the Great Willowherb (Epilobium hirsutum). Yes, they are really classed as weeds, but boy, do the insects love them, and you surely can't argue that they're not pretty.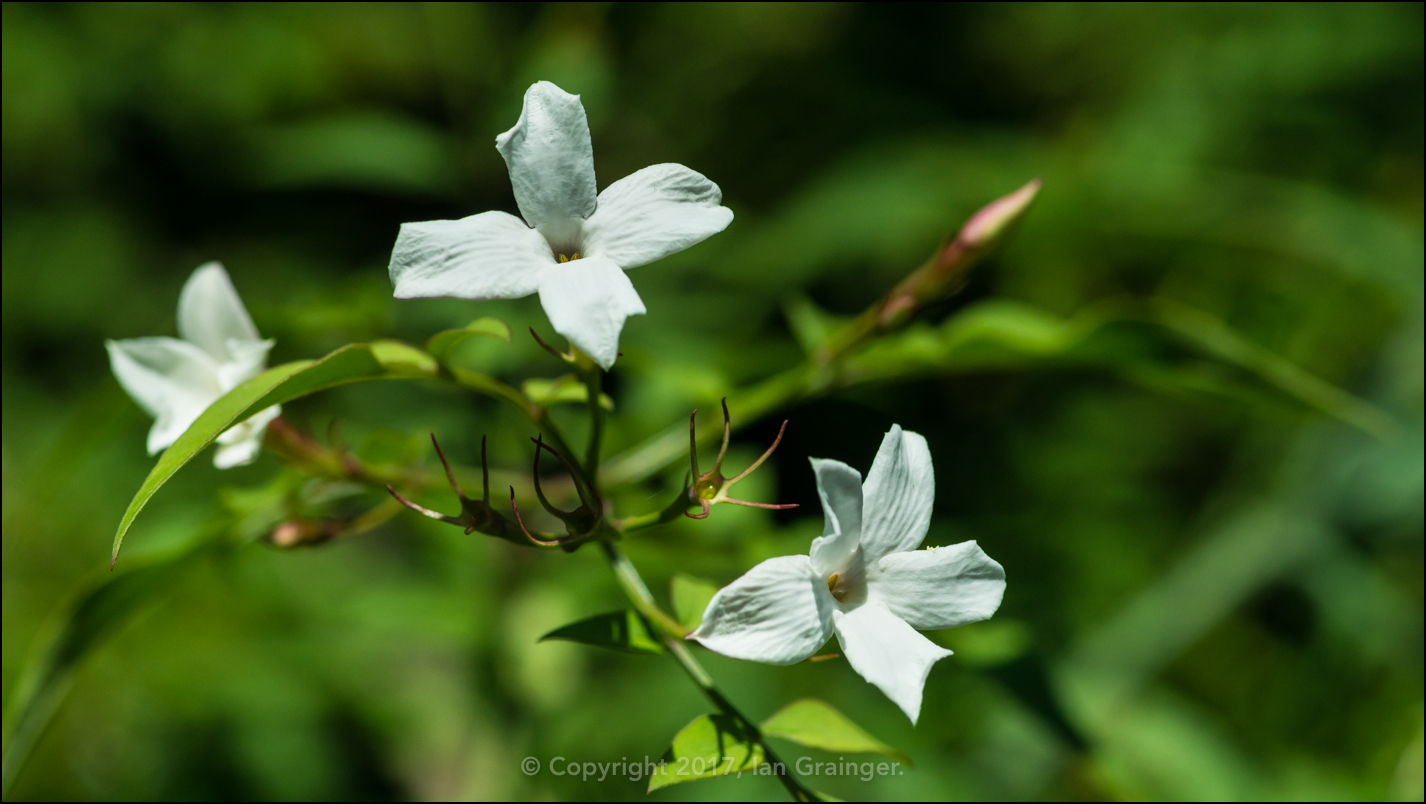 Summer Jasmine - August 2017
The Summer Jasmine (Jasminum officinale) is starting to get its coat of flowers, although I don't think there are as many flower buds as there have been in previous years. This may be because I gave it a severe haircut at the wrong time, earlier this year!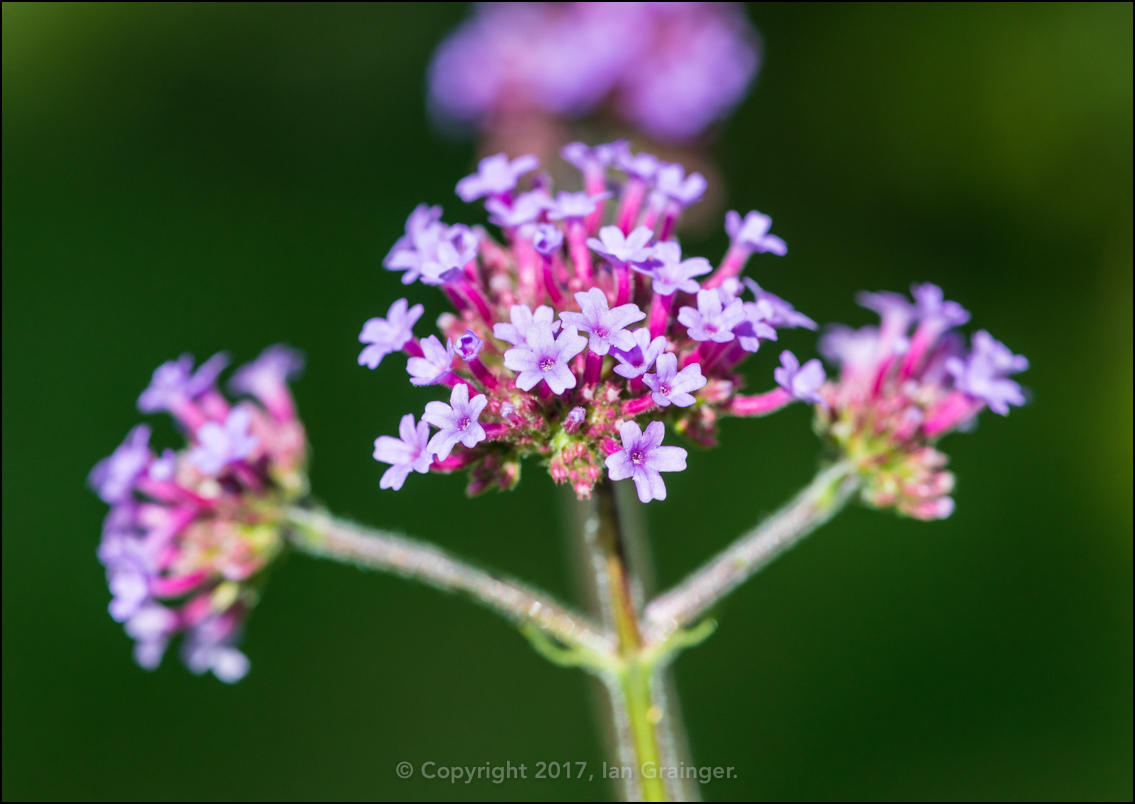 Verbena Umbrella - August 2017
The Verbena (Verbena bonariensis) 'Buenos Aires' is continuing to grow well, although it's not proving as popular with the insects as I'd anticipated.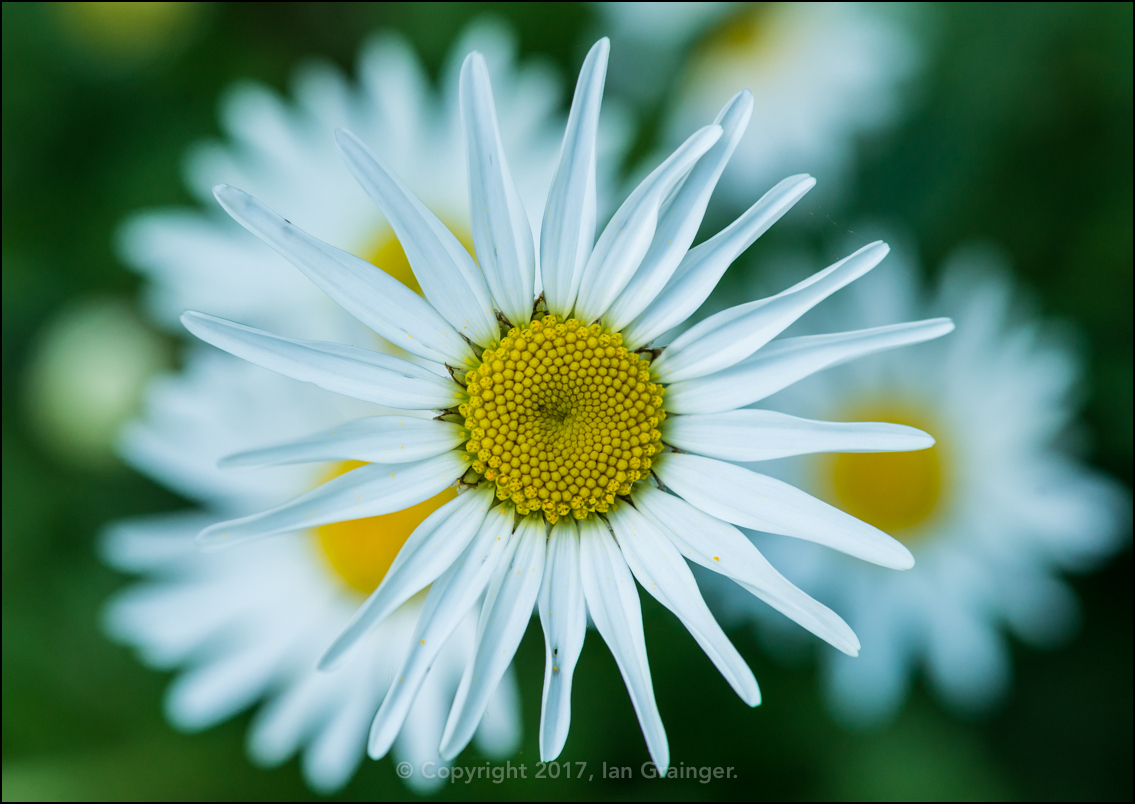 Oxeye Array - August 2017
The Oxeye Daisies (Leucanthemum vulgare), on the other hand, have proved extremely popular with all sorts of insect life, and have been ever since late spring.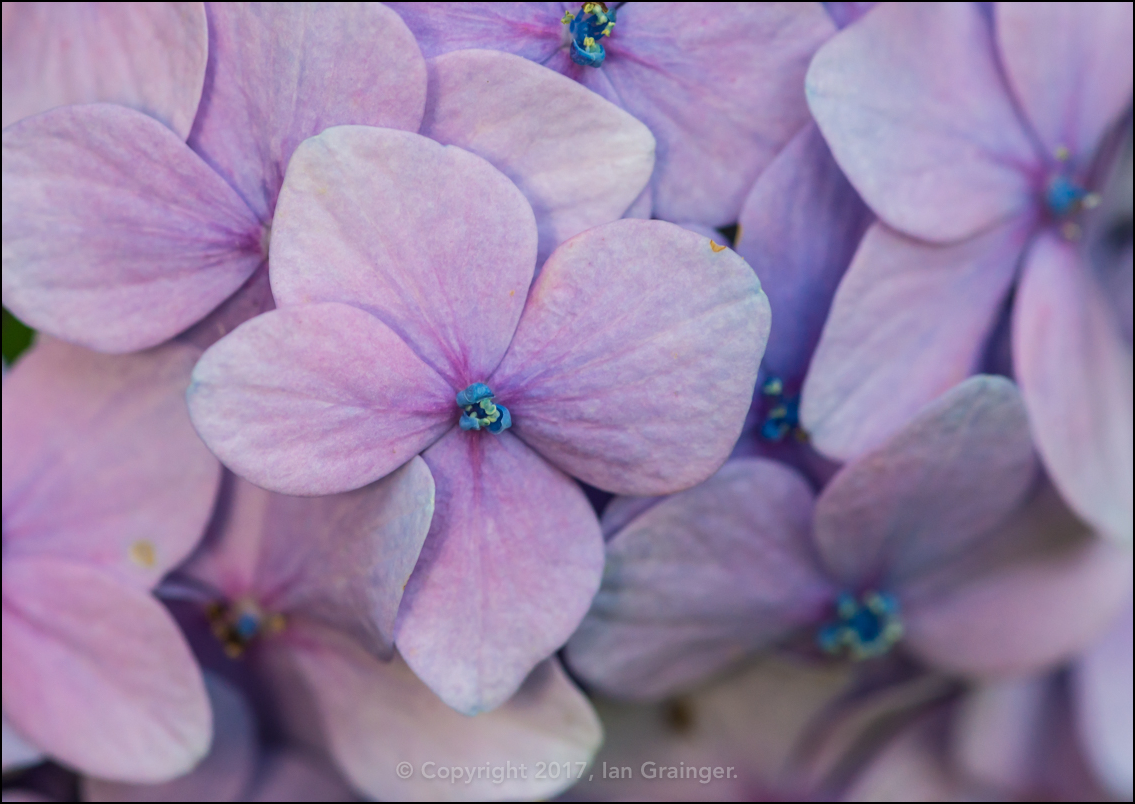 Hydrangea Buds - August 2017
As mentioned earlier, the Hydrangeas are looking at their best at this time of year, with this Mophead variety just starting to come into flower. Yes, those tiny blue things in the centre are the actual flower petals, while the surrounding lilac coloured 'petals' are actually modified leaves called Bracts.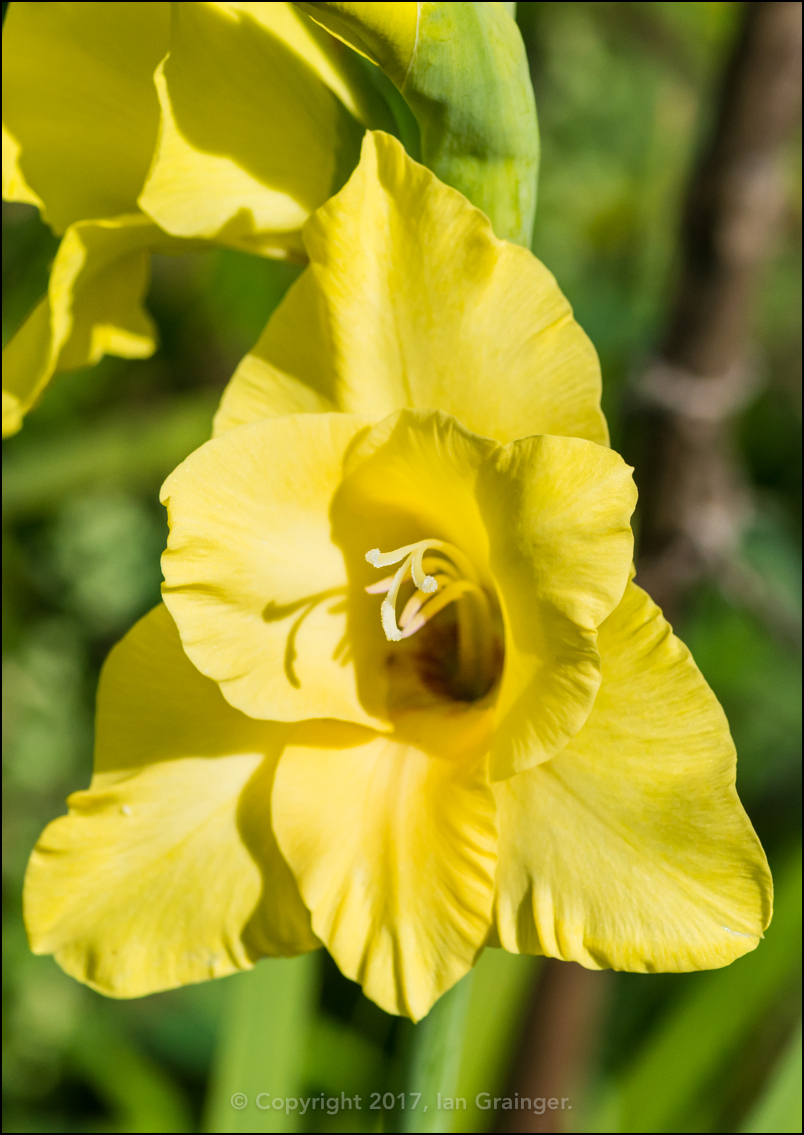 Gladiolus Triangle - August 2017
The Gladiolus were also looking their best at this time of year. I only wished they would last a little longer, and were a bit more resilient against wind and rain.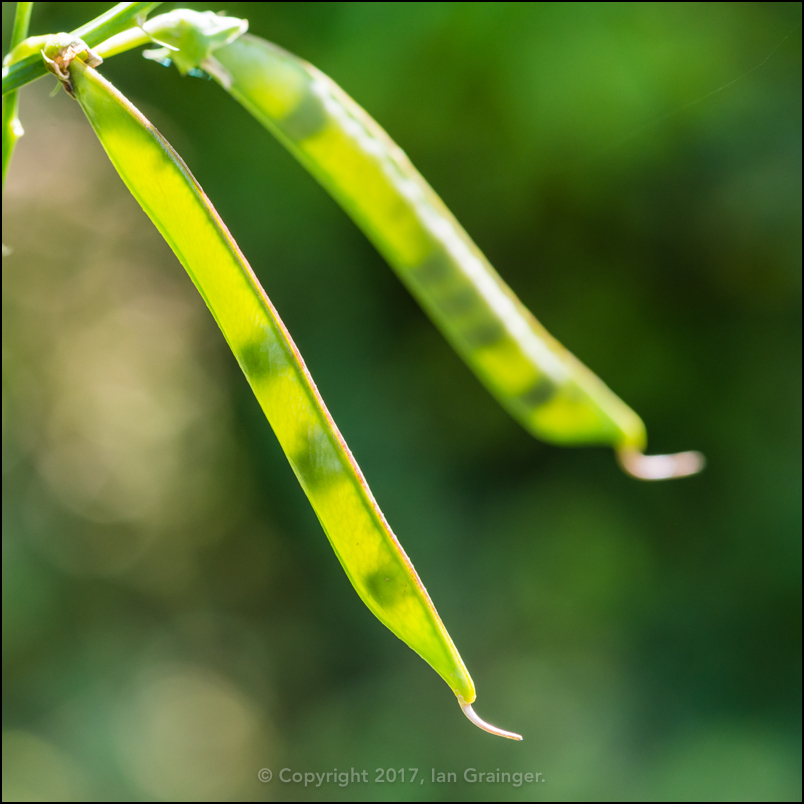 Sweet Pea Pods - August 2017
It would soon be turning from summer into autumn, and there were already early indications of this happening. The Sweet Pea (Lathyrus odoratus) plants were already starting to set seed.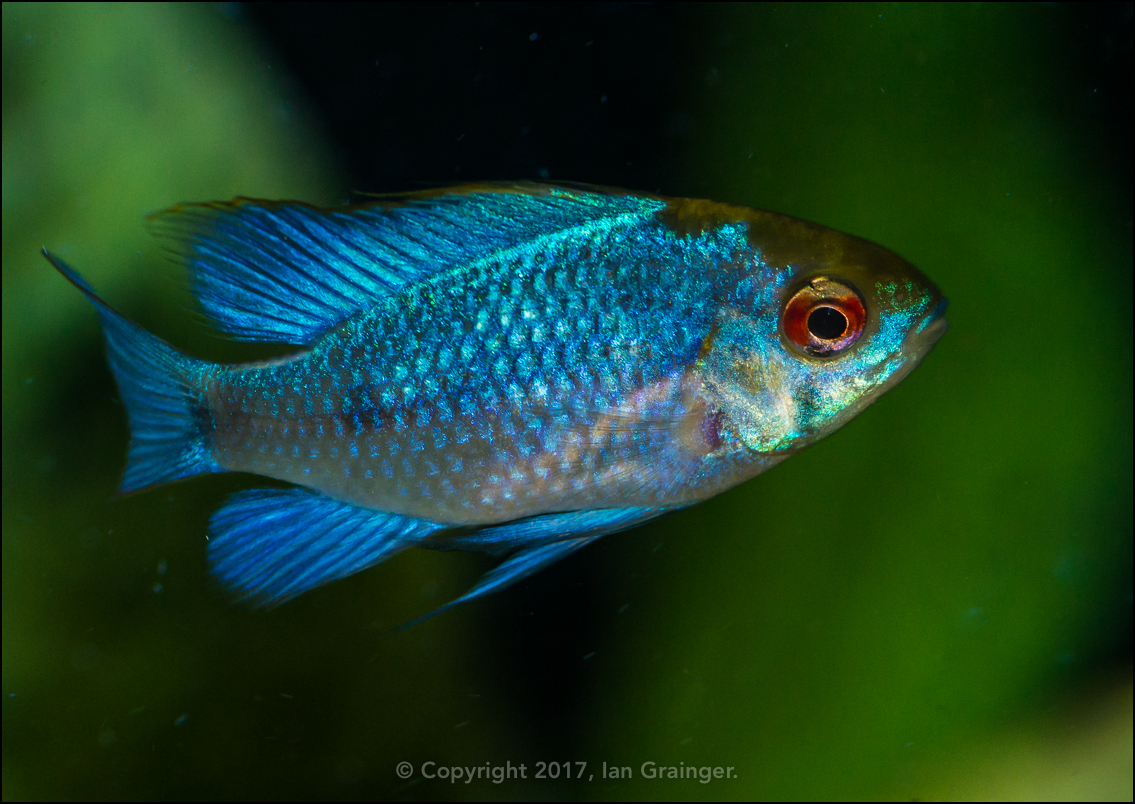 Electric Blue Eric - August 2017
Finally, here's another attempt at photographing one of my fishy friends. This week I'm showing off Eric again. Yes, I've named my Electric Blue German Ram (Mikrogeophagus ramirezi) Eric. He really has mellowed in the few months that I've had him, and has thankfully stopped trying to kill his tank mates. He's now the first fish to come to see me when I go near the tank, and has got begging for food down to a fine art!
So, this week I chose Waspish as my Image of the Week, and once again it was for the very simple reason that it was a new species for me to photograph...