Curvy Lines - December 2017
This weekend I got to indulge my passion for abstract architectural photography during a Christmas shopping trip in Southampton.
This shot is looking up at the new Showcase Cinema which is part of the Westquay shopping complex. It's one of the more modern looking buildings in Southampton city centre that turned out to be quite fun to explore with my camera lens.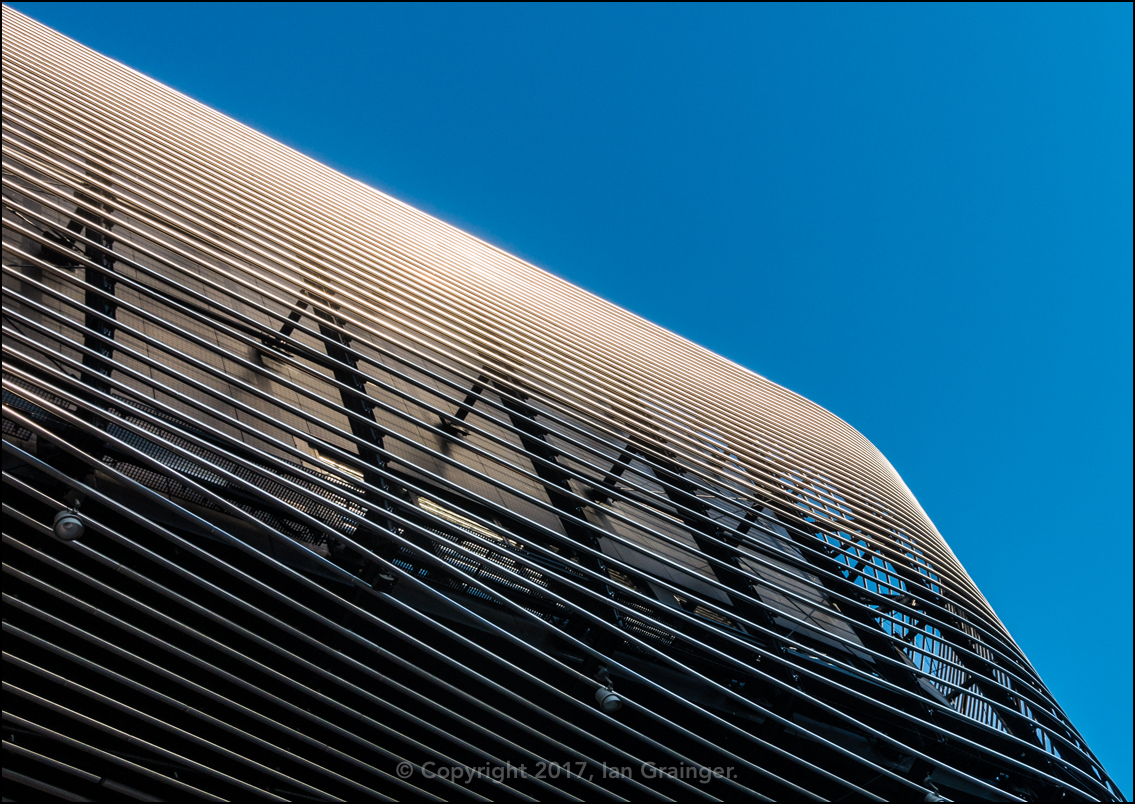 Lines and Curves - December 2017
I shot it from multiple positions and at multiple angles, and it was almost impossible not to get a pleasing abstract image, especially with the gorgeous blue sky behind it.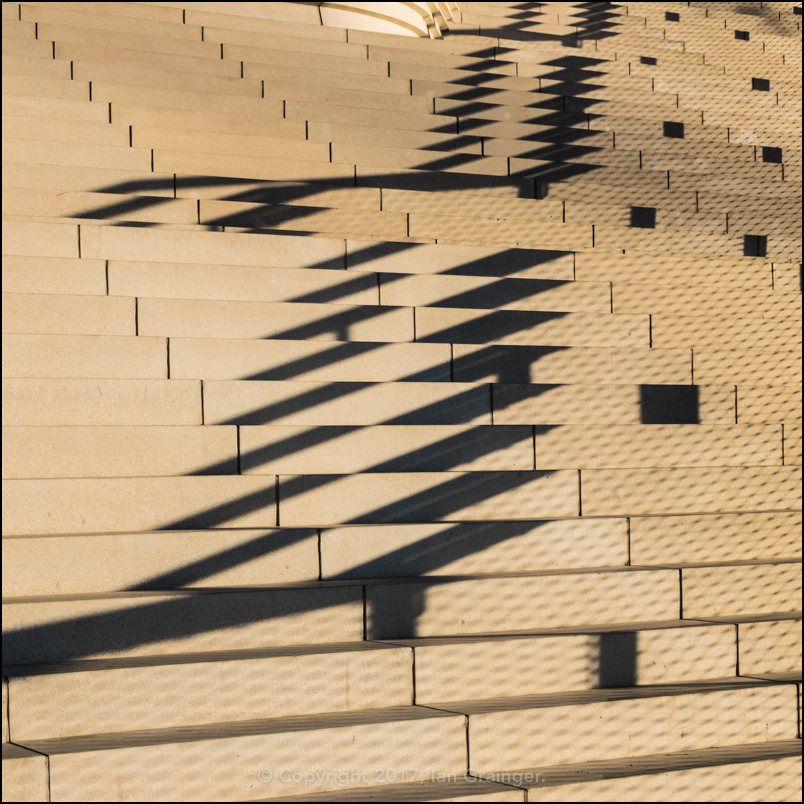 Shadowy Ascent - December 2017
Even the grand stone staircase leading up to the building offered some pleasing perspectives, and an intriguing shadow that led the way up the steps.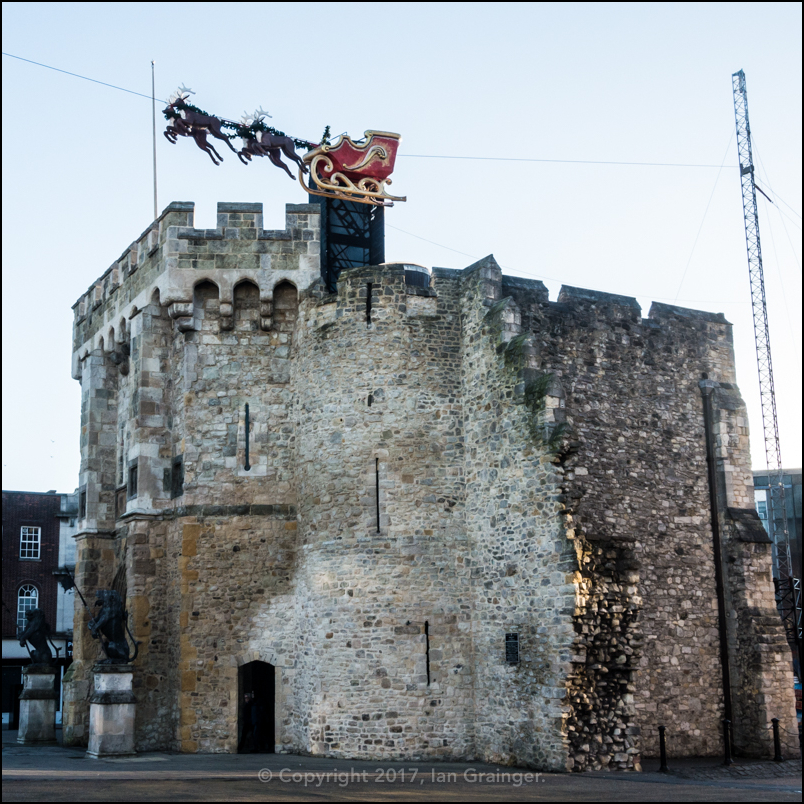 Sleigh over Bargate - December 2017
As it was Christmastime, I couldn't resist pointing the camera at the Bargate, with its rather bleak looking reindeer and sleigh.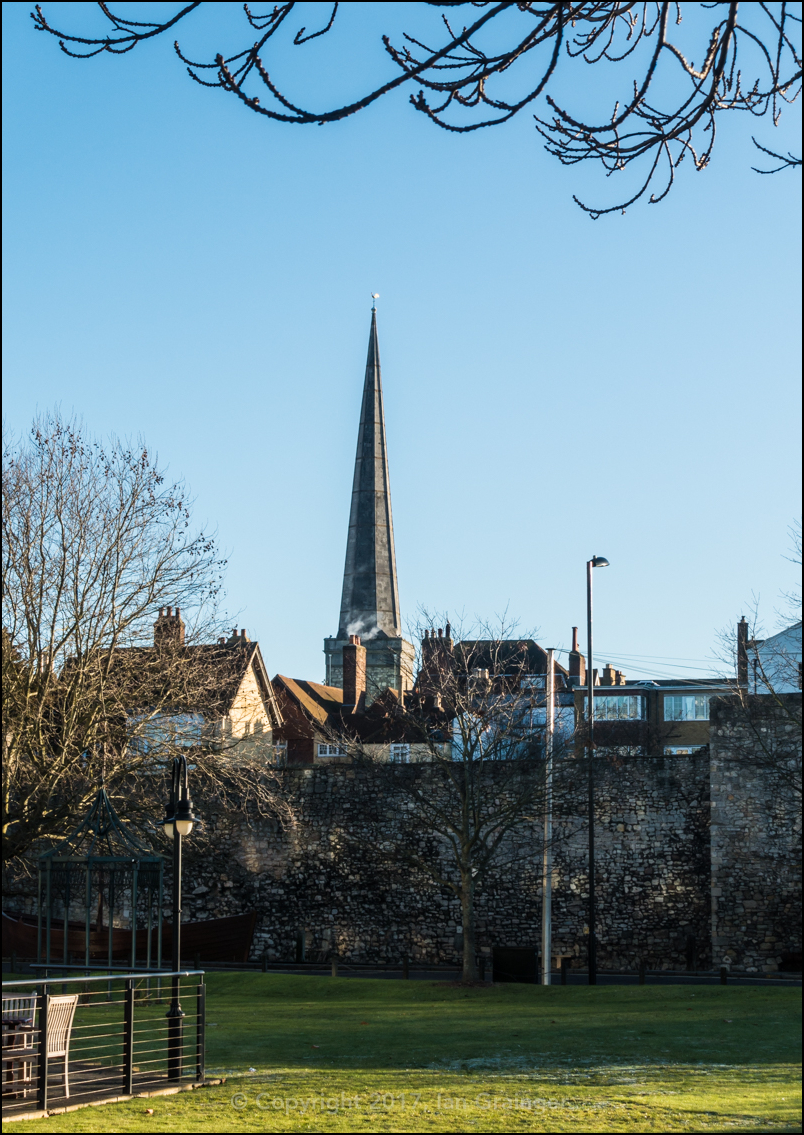 St Michael's Spire - December 2017
The view of St Michaels's church spire in the distance behind the City walls was an interesting one, so I had to take a couple of images as I headed away from the city centre.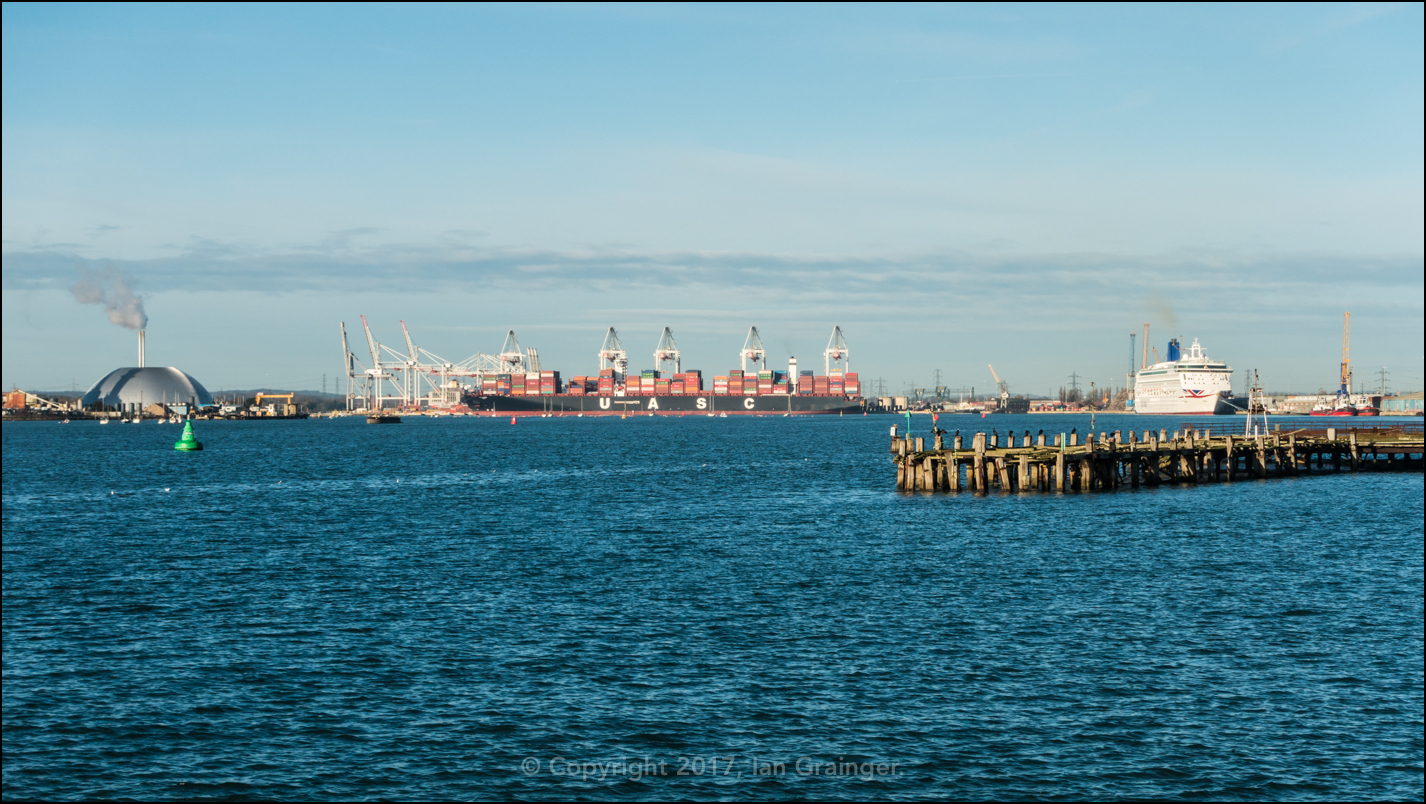 Southampton Water - December 2017
I found myself in Mayflower Park, and looking across Southampton Water at multiple sights. That's Marchwood Incinerator dome to the left, part of the large container ship port in the middle, and the cruise ship Oriana docked at the Mayflower Cruise terminal on the right.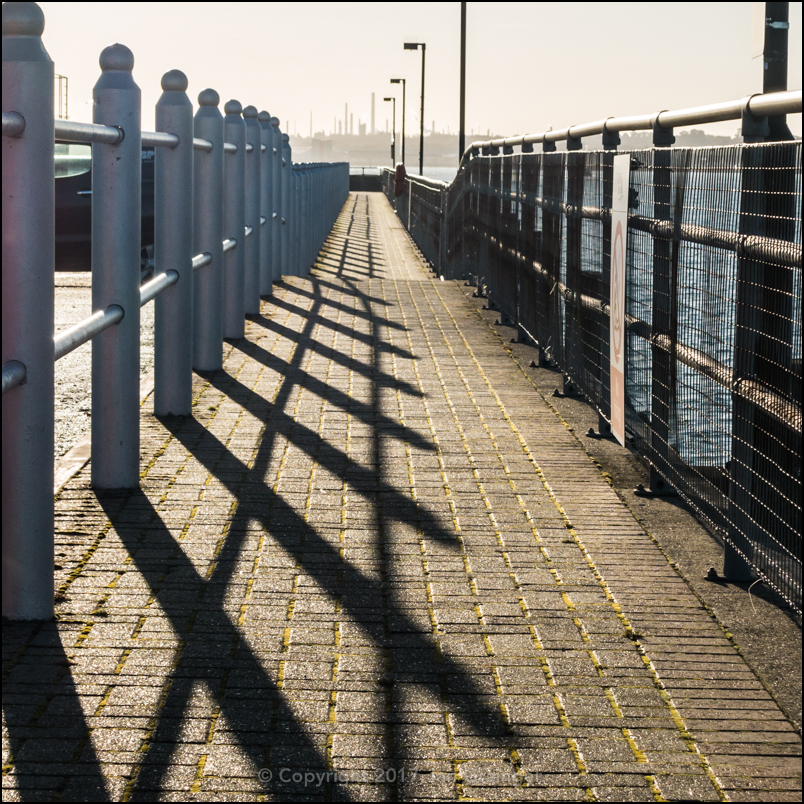 Walkway - December 2017
I continued my journey into Town Quay, and took a walk past the ferry terminals. I quite enjoyed trying to frame the multiple leading lines of this walkway, so that they led to a hazy view of Fawley refinery.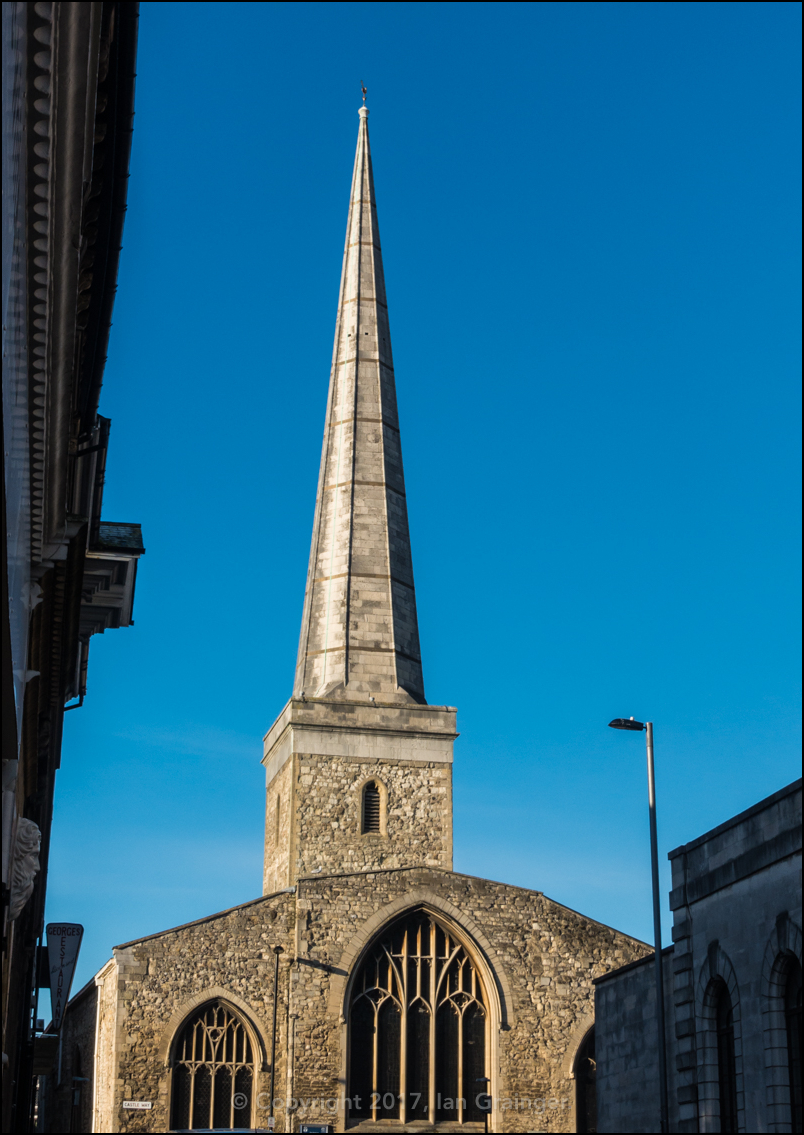 St Michael's Church - December 2017
I then made my way back into the city centre, and came across St Michael's church again, in what has to be my favourite view of the church.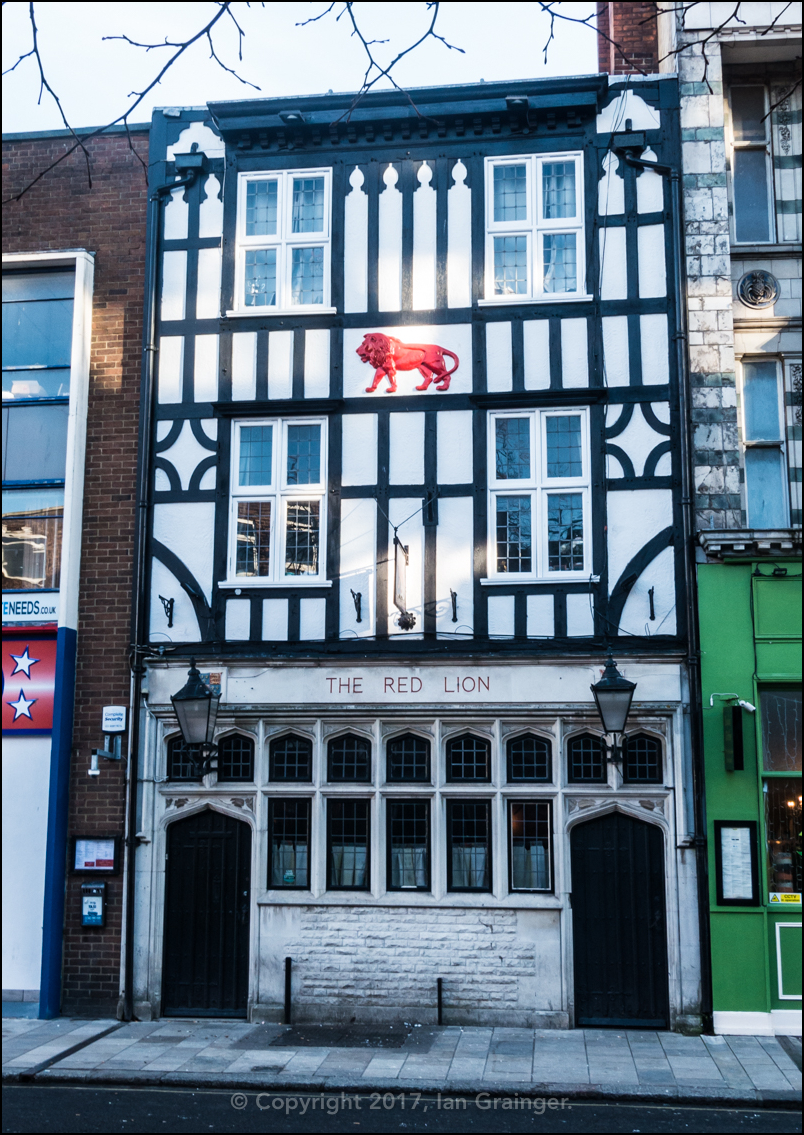 The Red Lion - December 2017
However, my favourite view of the day must have been of The Red Lion pub, where I could rest my weary legs, could partake in some proper beer, and where I also enjoyed a good meal.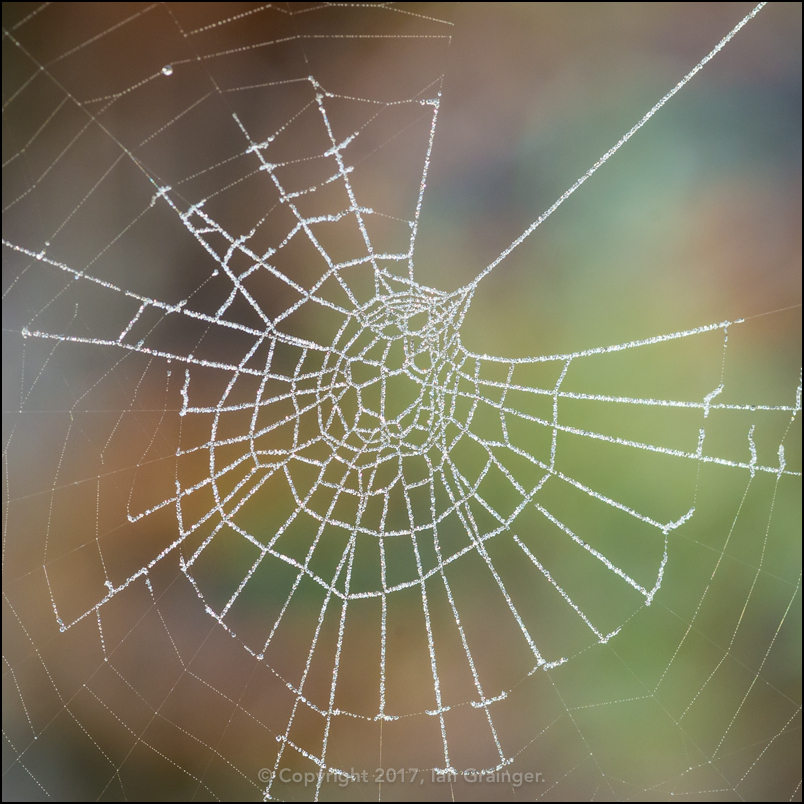 Frosted Web - December 2017
Away from town, and back at home, in my garden, it was a cold start to the week, and there was more abstract architectural imagery to be had. This spider web was looking great covered in frosty ice crystals.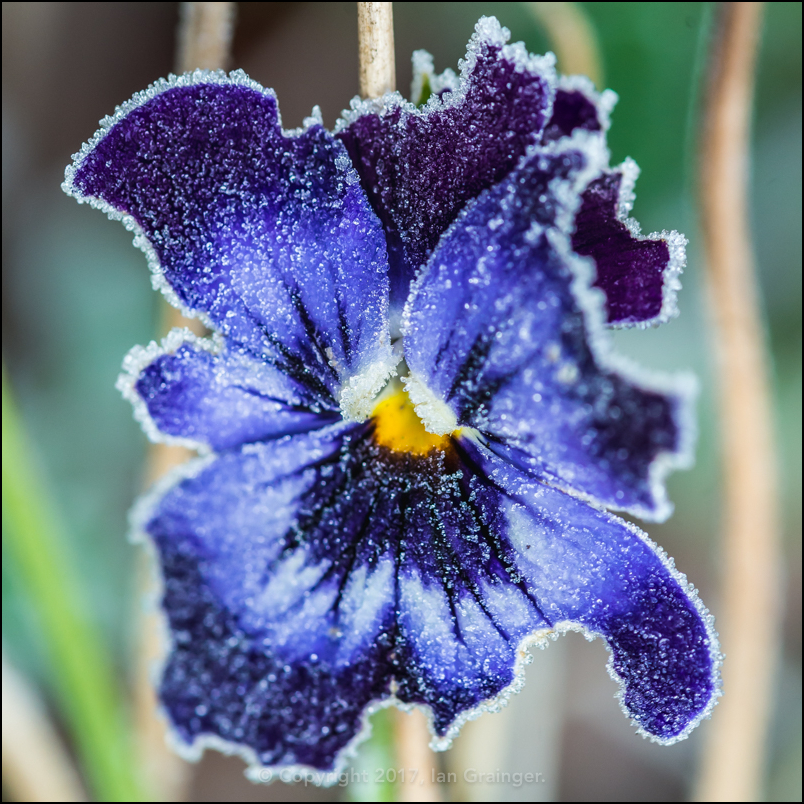 Frosted Pansy - December 2017
The ice crystals were also giving a wow factor to this pretty little Pansy (Viola tricolor) bloom.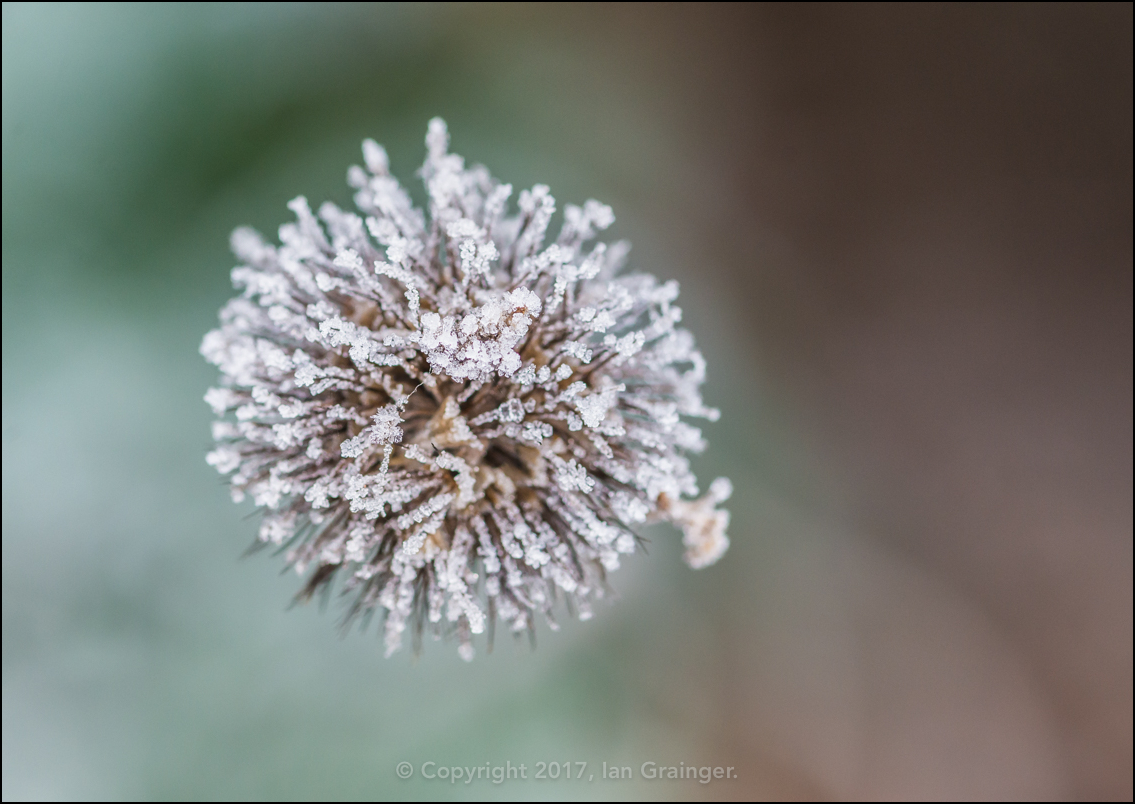 Frosty Scabious - December 2017
The frost had also got around to covering the Scabious (Scabiosa columbaria) seed heads...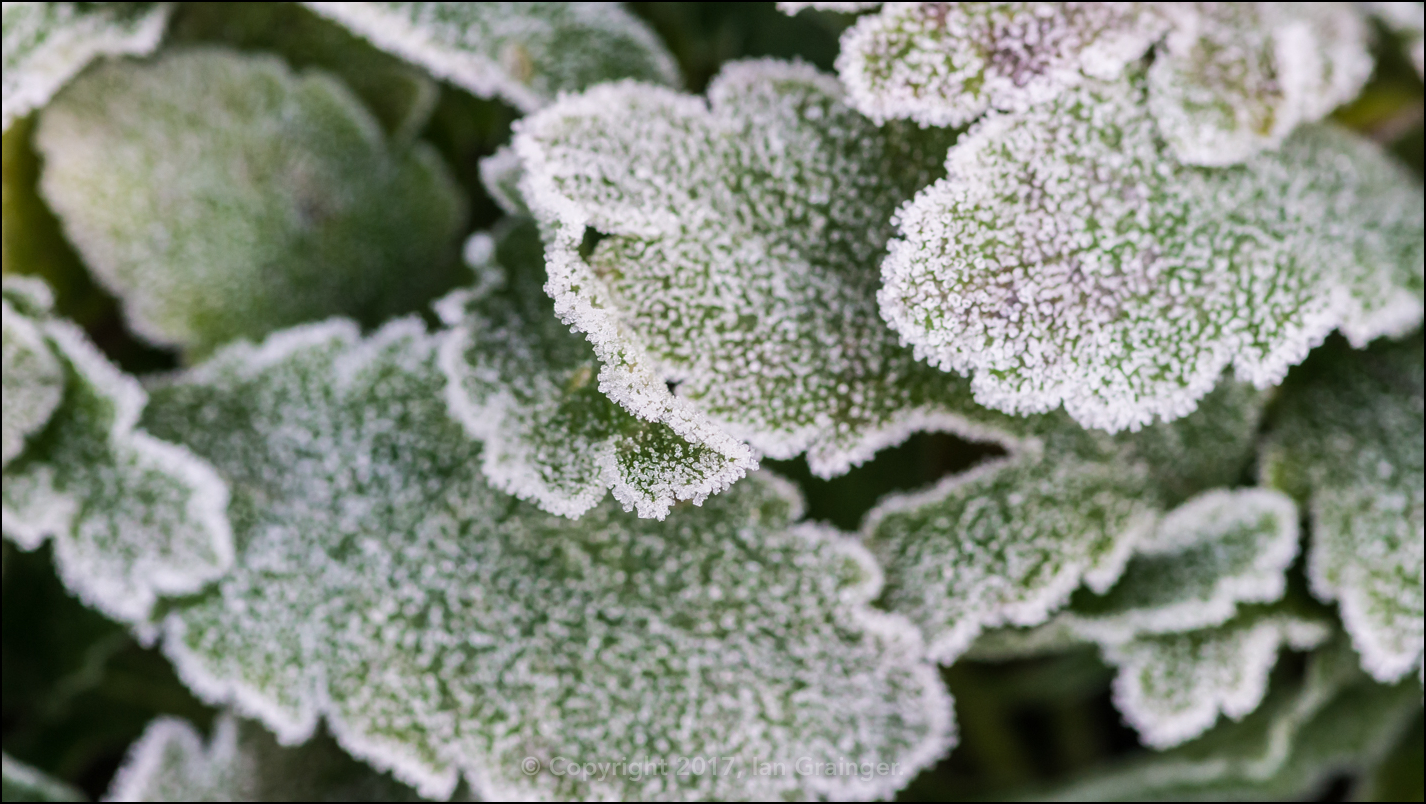 Frosted Leaves - December 2017
...and their associated greenery.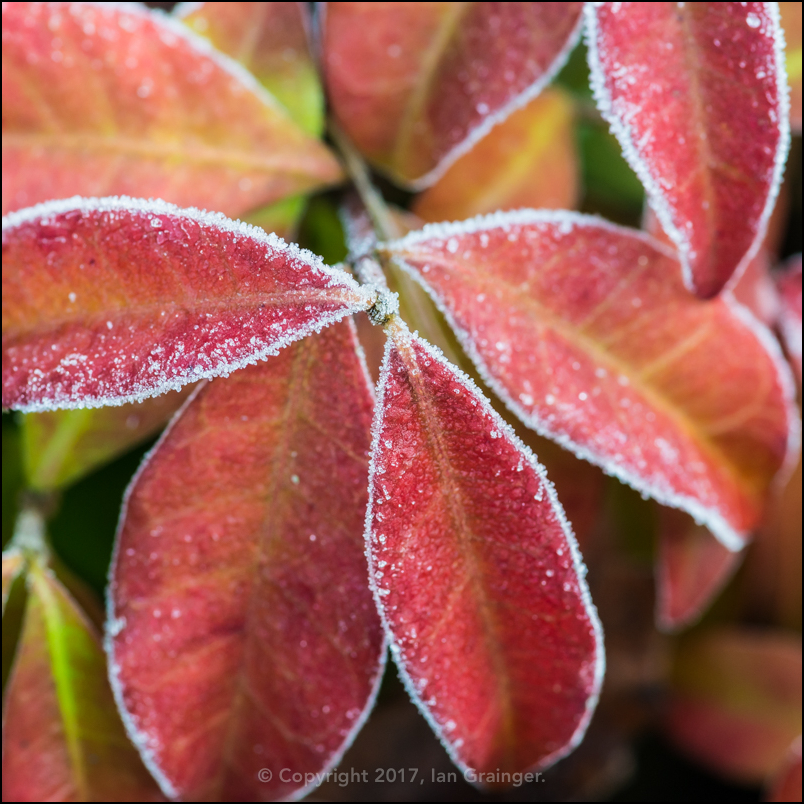 Frosty Honeysuckle - December 2017
One of my favourite coloured leaves in the garden at the moment are from this Honeysuckle 'Serotina' (Lonicera periclymenum serotina) bush, and they look even better outlined in frost.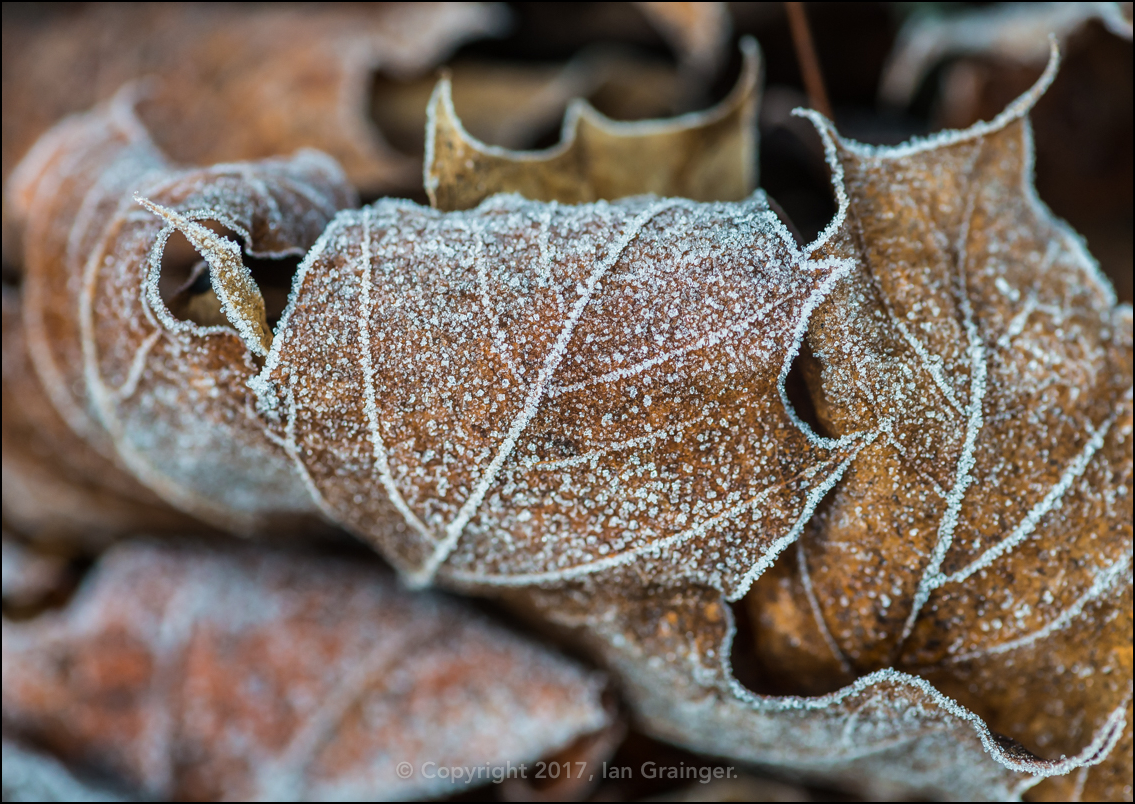 Frosty Sycamore - December 2017
However, my favourite frosty leaf shot this week has to be this one, of some plain old Sycamore tree leaves.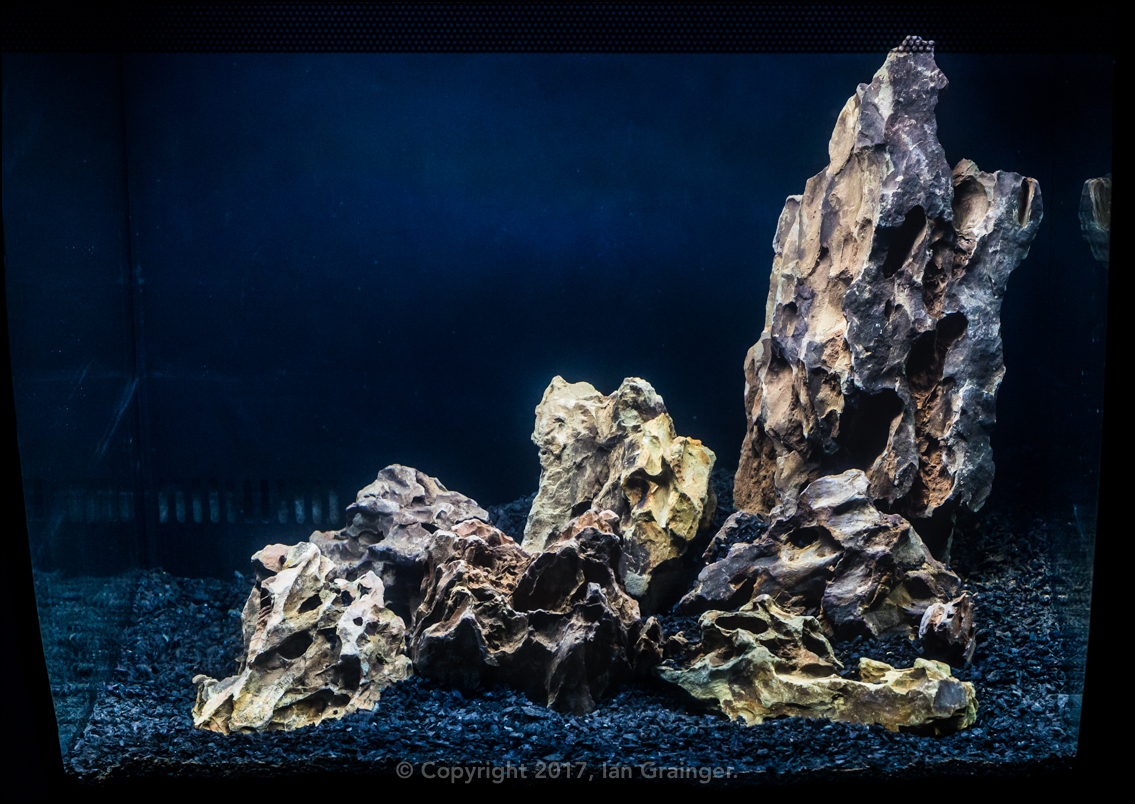 Fluval 57 Hardscape - December 2017
Finally, from frosty to tropical!! This week I thought I'd share an image of a new aquarium project I'm currently working on. This is a Fluval Flex 57 aquarium that holds 57 litres (approximately 15 US Gallons) of water. It's almost a cube shape, but, unusually, has a vertically bowed front glass. At the moment I'm living with the Dragon Stone hardscape, to see how much I like it, but will eventually be planting with live plants (as opposed to artificial ones), and stocking with a combination of Nano fish and Shrimp.
So, this week I'm going with Curvy Lines as my Image of the Week, as I was pleased that I could indulge myself in some abstract architectural photography...