Hang Time - July 2017
This weekend's photo shoot started with bright blue skies, lashings of sun, and an abundance of bird activity in the garden.
There were lots of these Black Headed Gulls (Chroicocephalus ridibundus) circling overhead, and each was making occasional swoops down onto the lawn, where a feast of sliced bread had been strewn.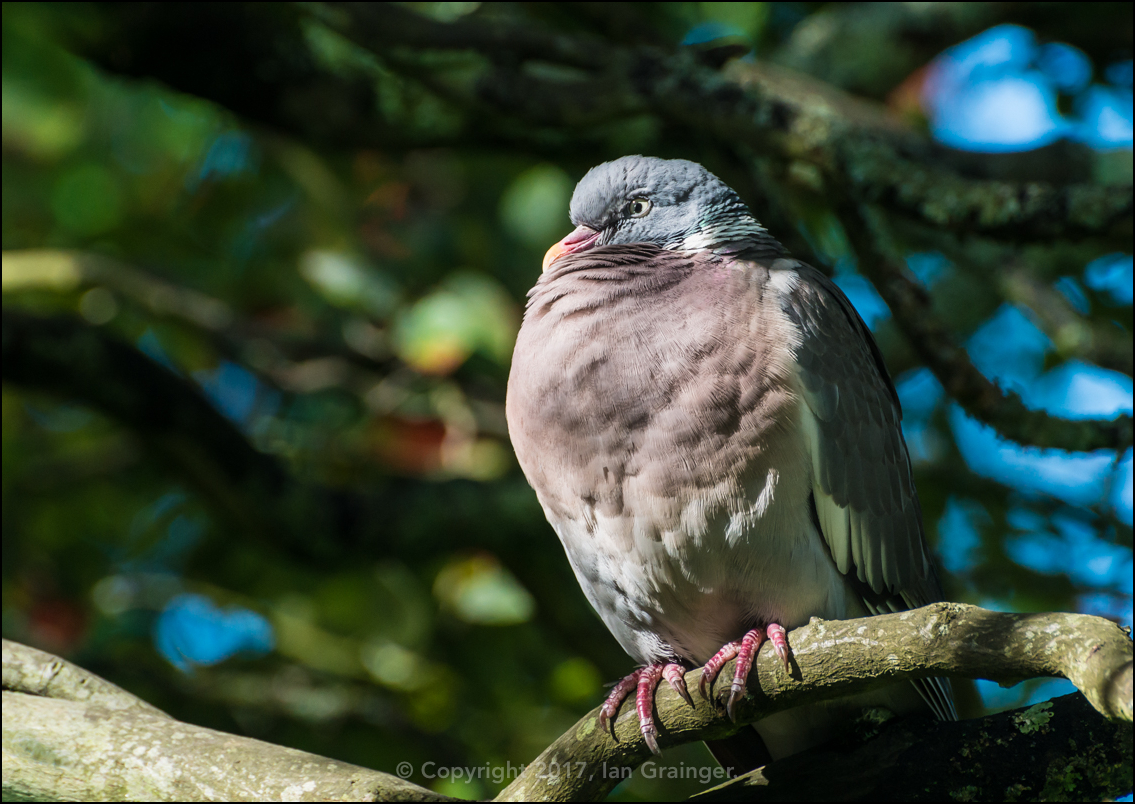 Sheltering - July 2017
Despite the sunshine, early on, it was rather chilly, but this Woodpigeon (Columba palumbus) had found a warm place to shelter in the branches of an Amelanchier tree.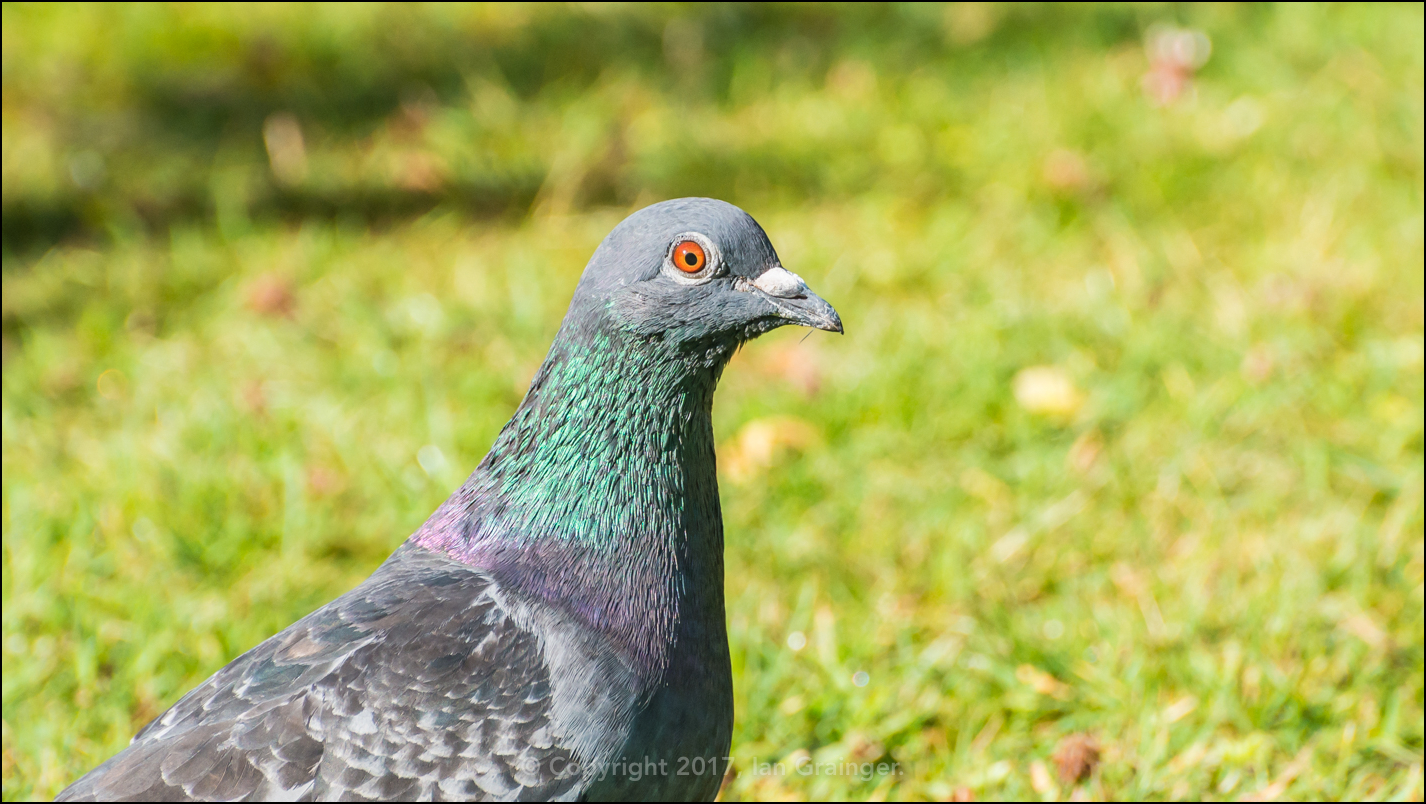 The Red Eye - July 2017
While the Black Headed Gulls preferred to swoop in to get their breakfast, the Feral Pigeons (Columba livia) were quite happy to land and walk up to theirs. I really do love how colourful the plumage is of these birds, and also how bright this one's red eye was.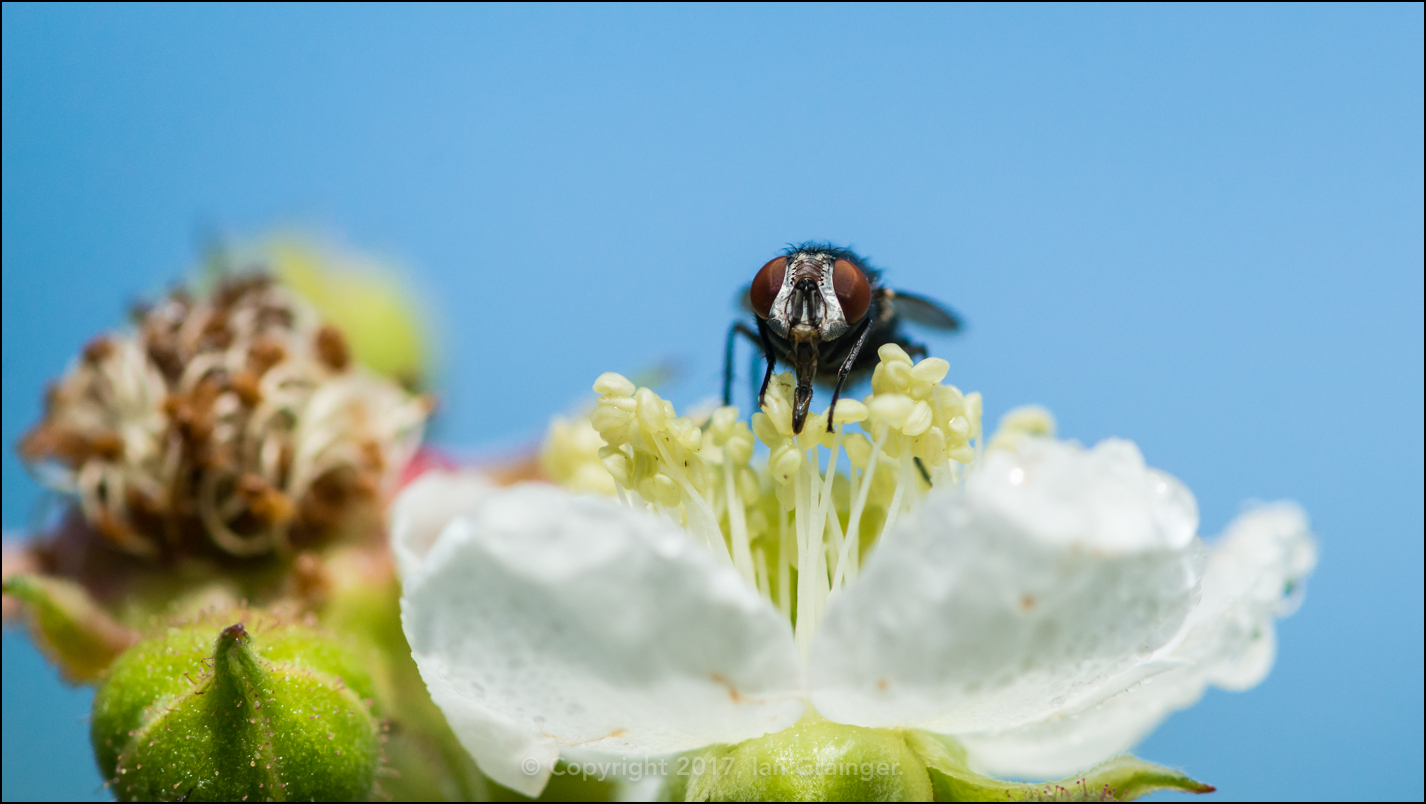 Feast for the Tongue - July 2017
As the skies remained blue, and the sun gently warmed the air, the insect population started to wake up. I was very impressed at the length of this Greenbottle's (Lucilia caesar) tongue as it lapped up the pollen from the Bramble (Rubus fruticosus) bush blossom.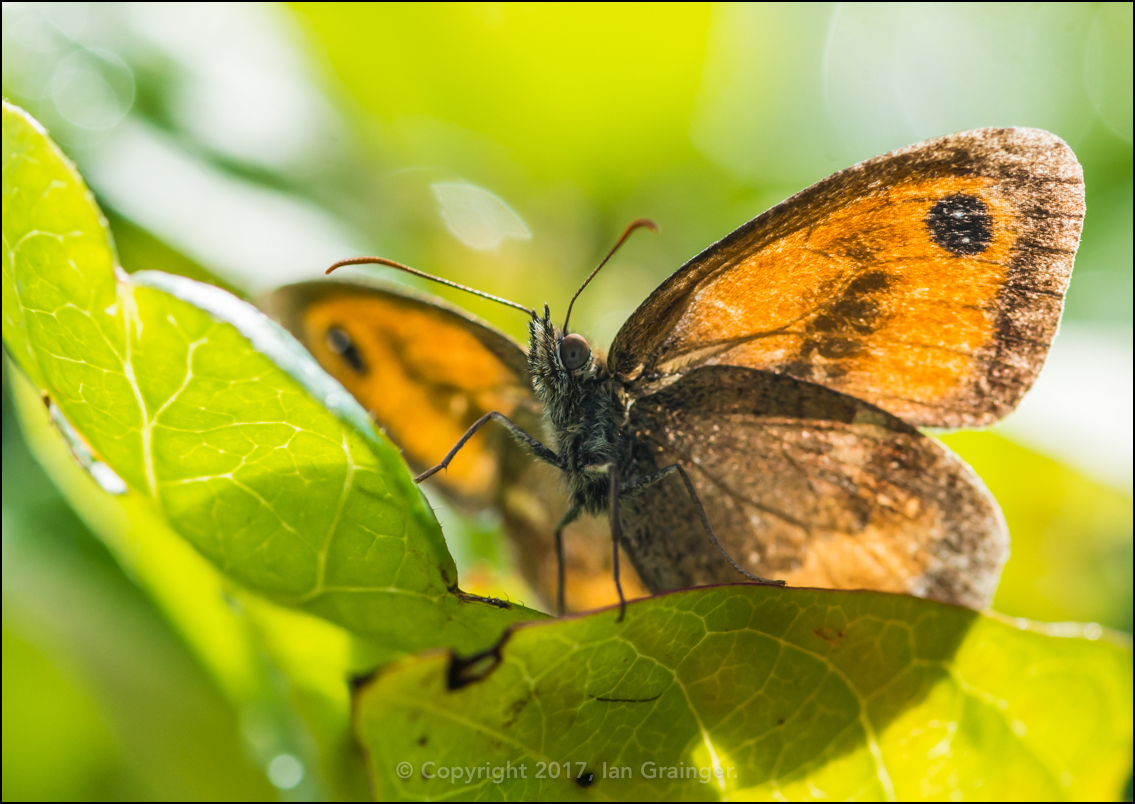 Sunbathing - July 2017
This Gatekeeper (Pyronia tithonus) was doing a spot of early morning sunbathing...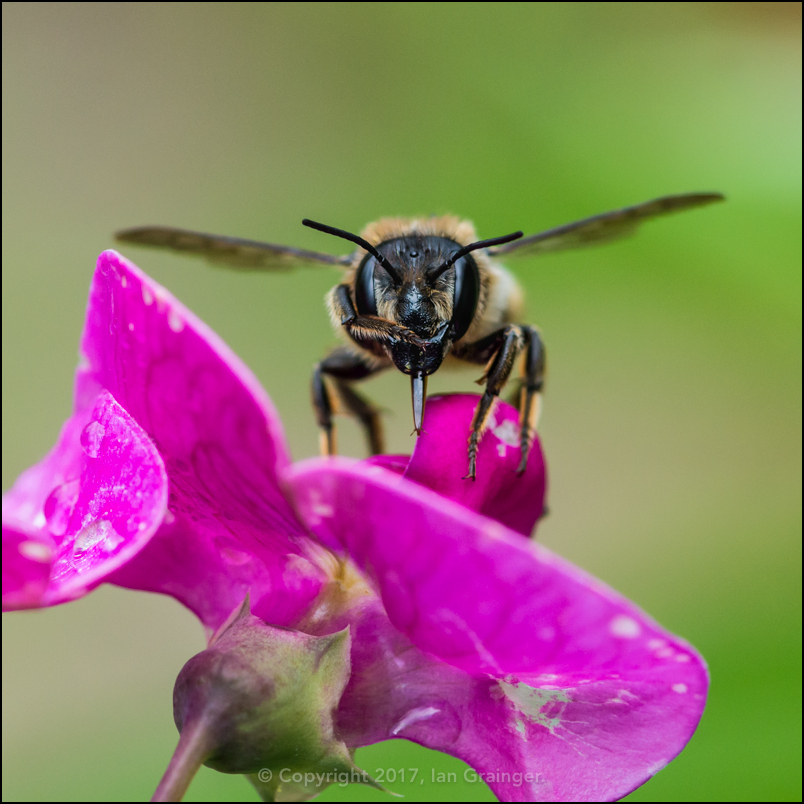 Leaf Cutter Salute - July 2017
...while this Leaf Cutter Bee (Megachile centuncularis) seemed to salute me as it went about its business of collecting pollen from a bright pink Sweet Pea (Lathyrus odoratus) bloom.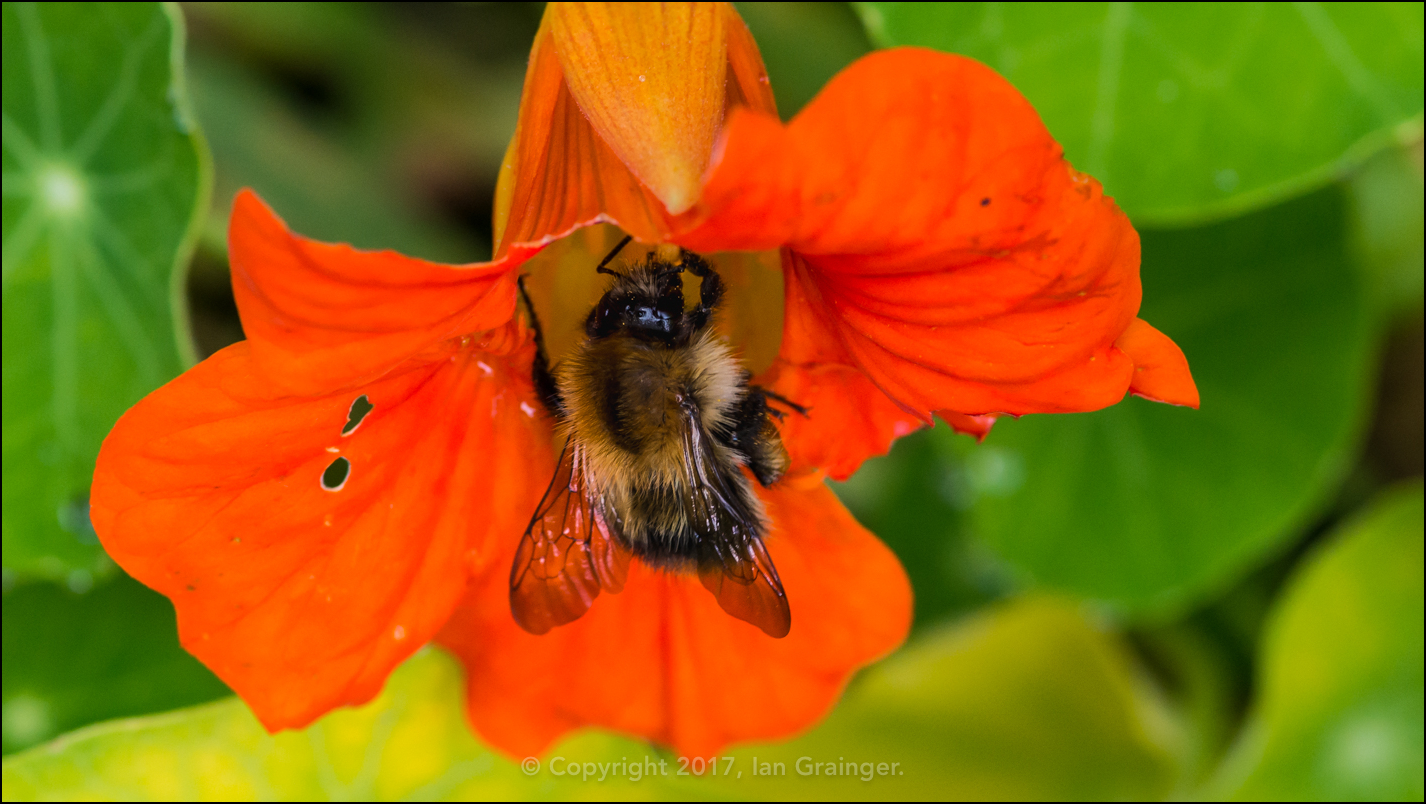 Nasturtium Nourishment - July 2017
This little Bumblebee (Bombus) was enjoying climbing into the brightly coloured Nasturtium (Tropaeolum) flowers in search of his breakfast...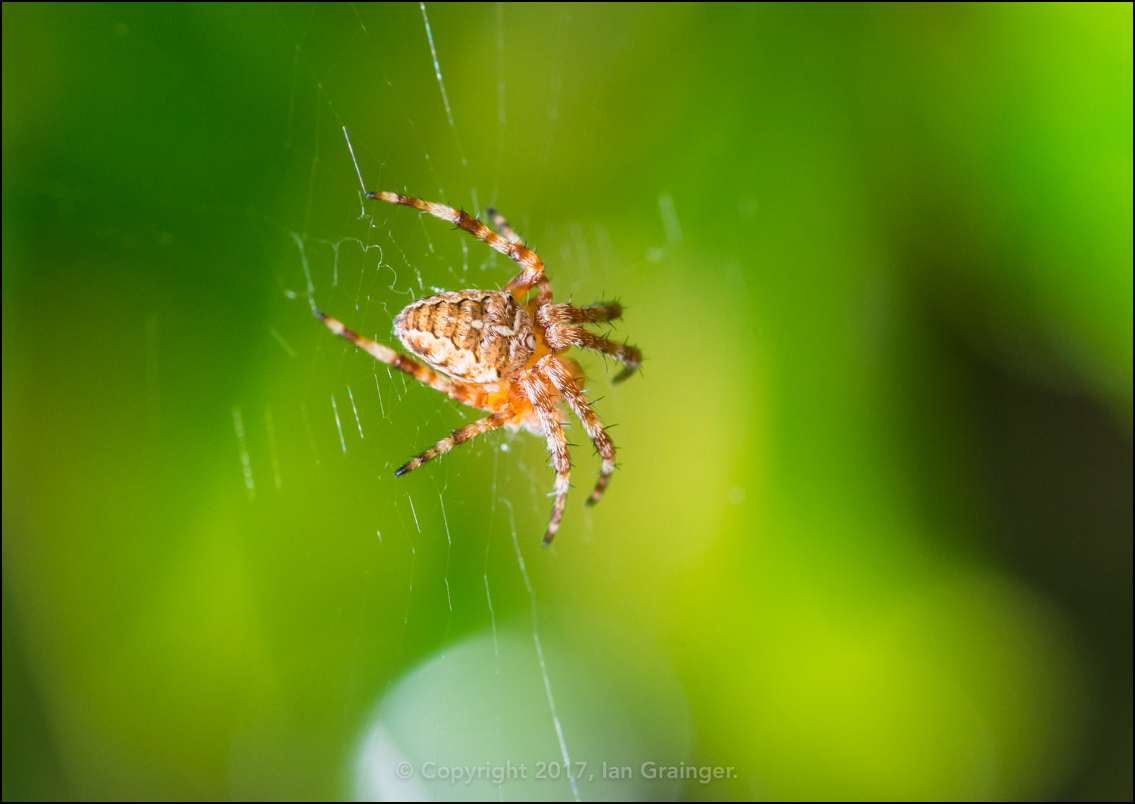 Early Arachnid - July 2017
...while this patient Garden Spider (Araneus diadematus) waited for his to come to him!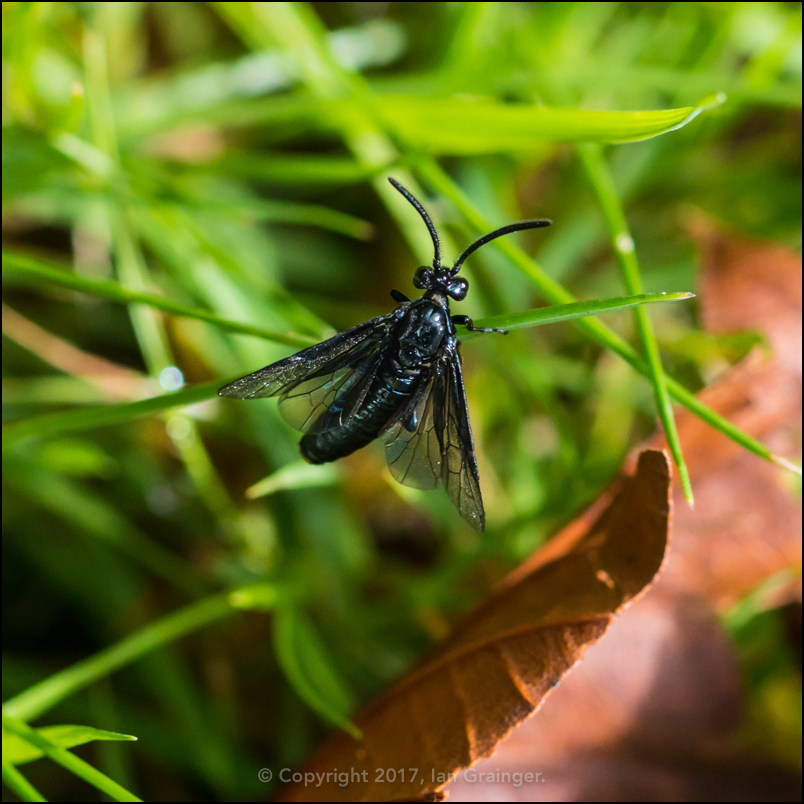 Berberis Sawfly Season - July 2017
There were literally hundreds of these Berberis Sawflies (Arge berberidis) crawling all over the garden lawn, right next to a Berberis bush, and would no doubt be having a feast very soon.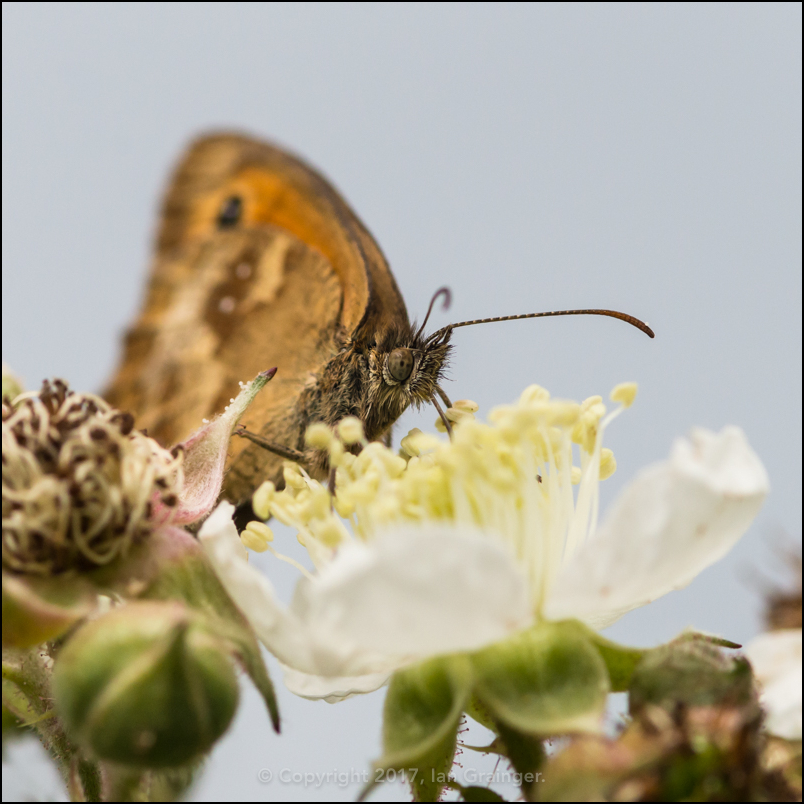 Grey Skies Looming - July 2017
It wasn't long before the blue skies started to turn grey, which is when I spotted this Gatekeeper Butterfly collecting pollen from the same Bramble bush that the Greenbottle above visited.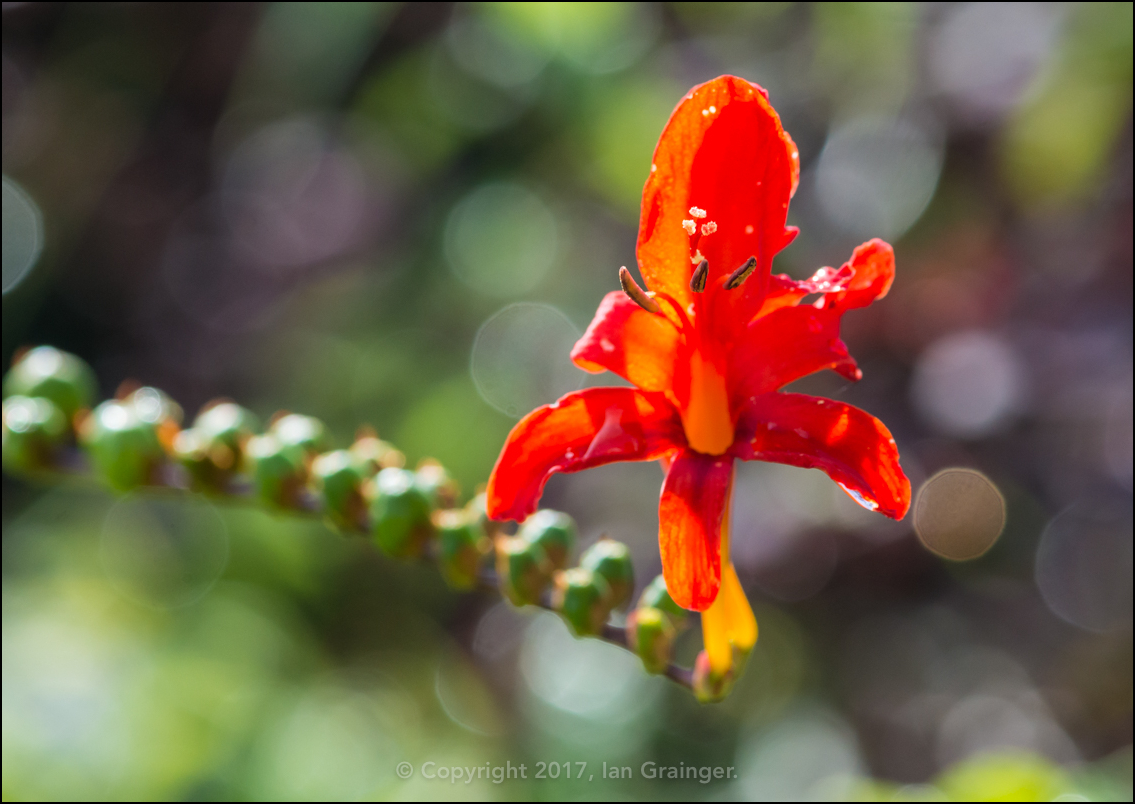 Lucifer - July 2017
As the clouds rolled in, I took the opportunity to take advantage of the natural filter, and started to shoot some new flowers that had arrived in dad's garden. This bright red specimen is Crocosmia variety 'Lucifer'.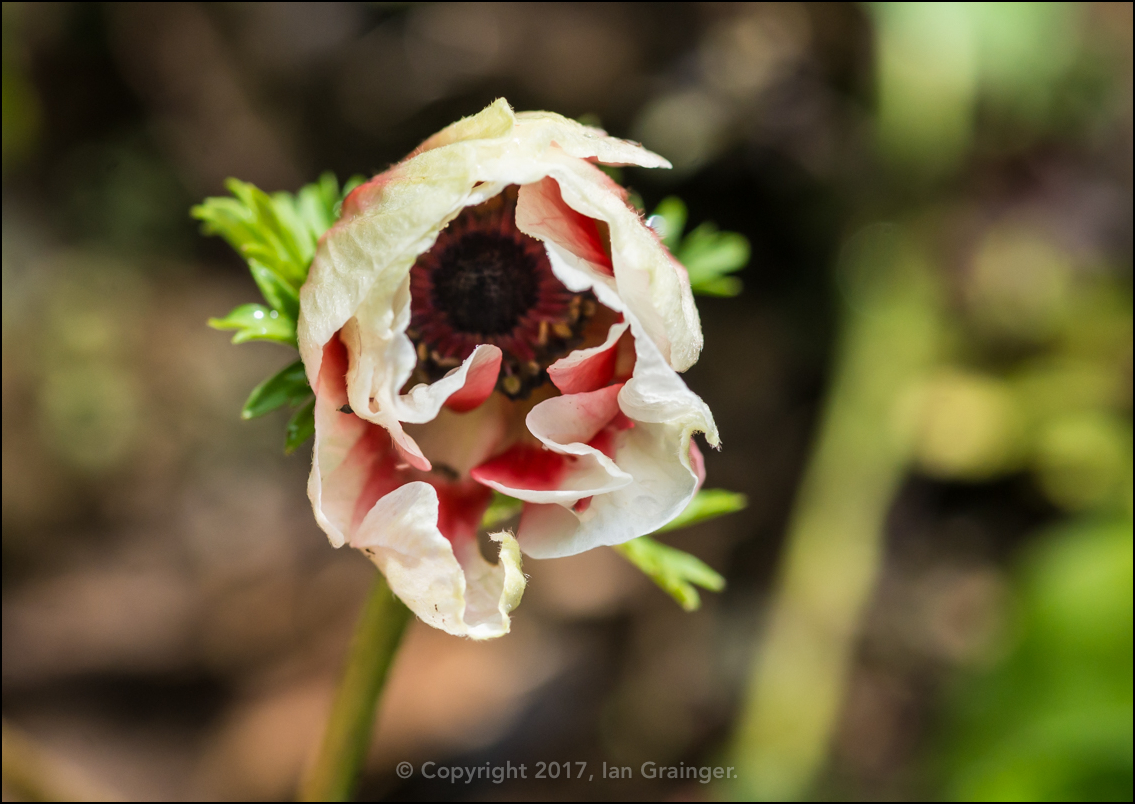 Anemone De Caan - July 2017
The Anemone De Caan bulbs had been planted to add a little springtime colour, but hadn't arrived in time. Instead, they were arriving in mid-summer, and were a welcome addition to the border. Hopefully they'll be in full swing by the time I visit next week.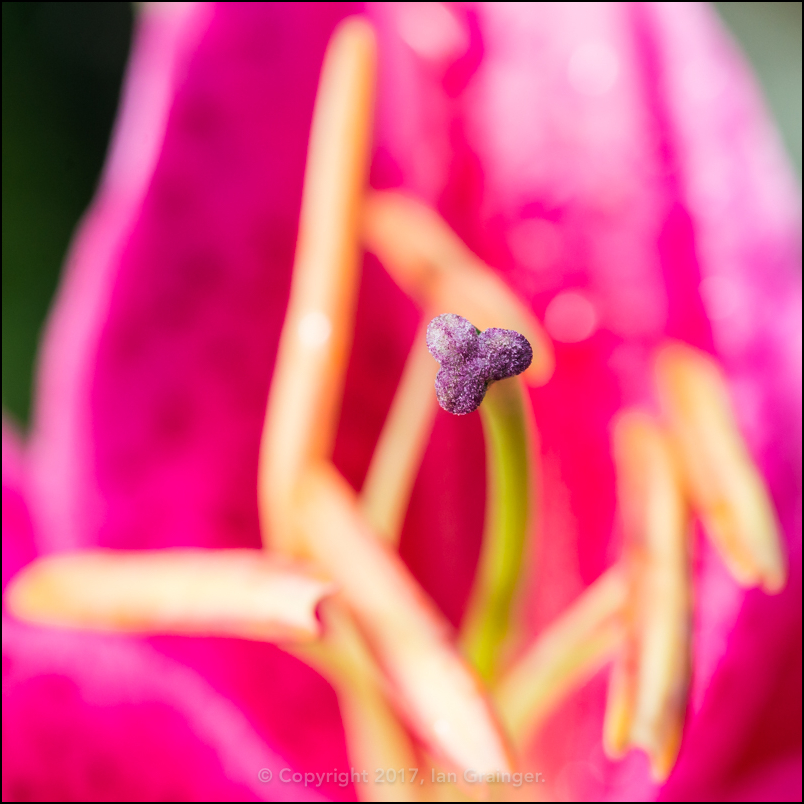 Stamen and Stigma - July 2017
While the late Anemones were only just beginning to flower, the Oriental Lilies (Lilium orientalis) were just about finished for the year. I think this is variety 'Stargazer' but it was supplied unlabelled, so I can't say so positively.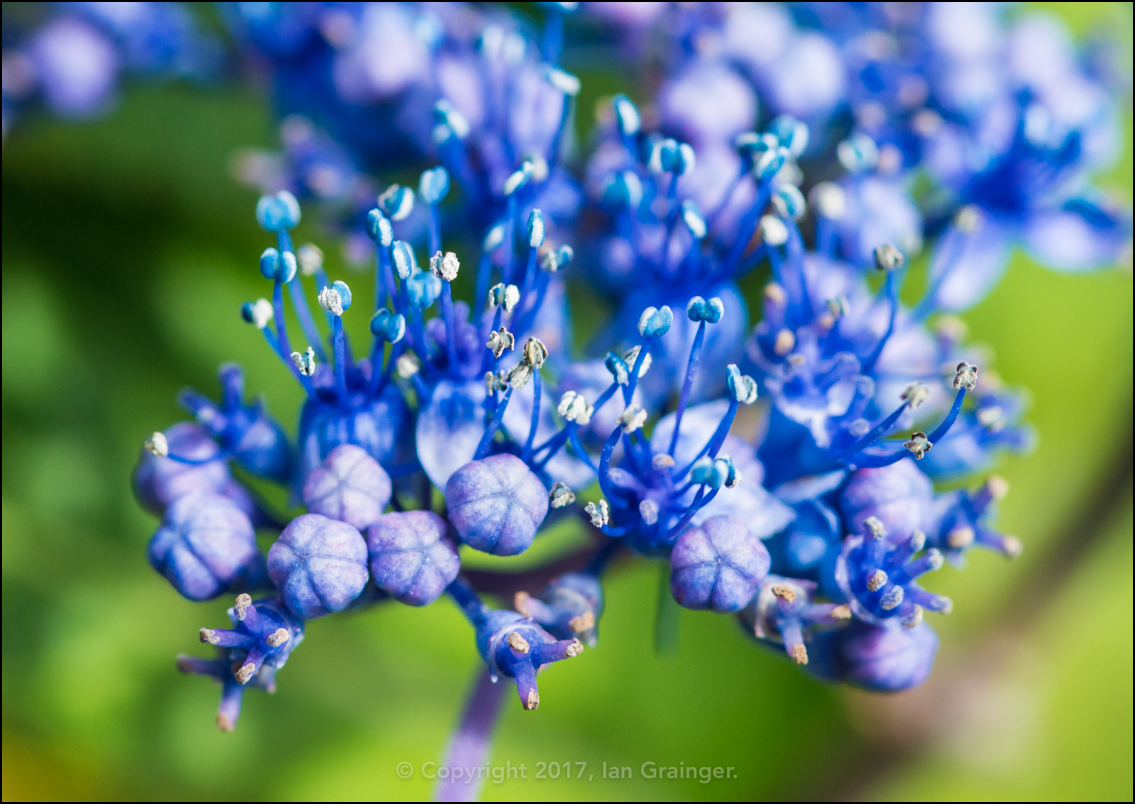 Blue Lacecap - July 2017
The Hydrangea (Hydrangea macrophylla) were now in full swing, with this Lacecap variety showing lots of blue flowers...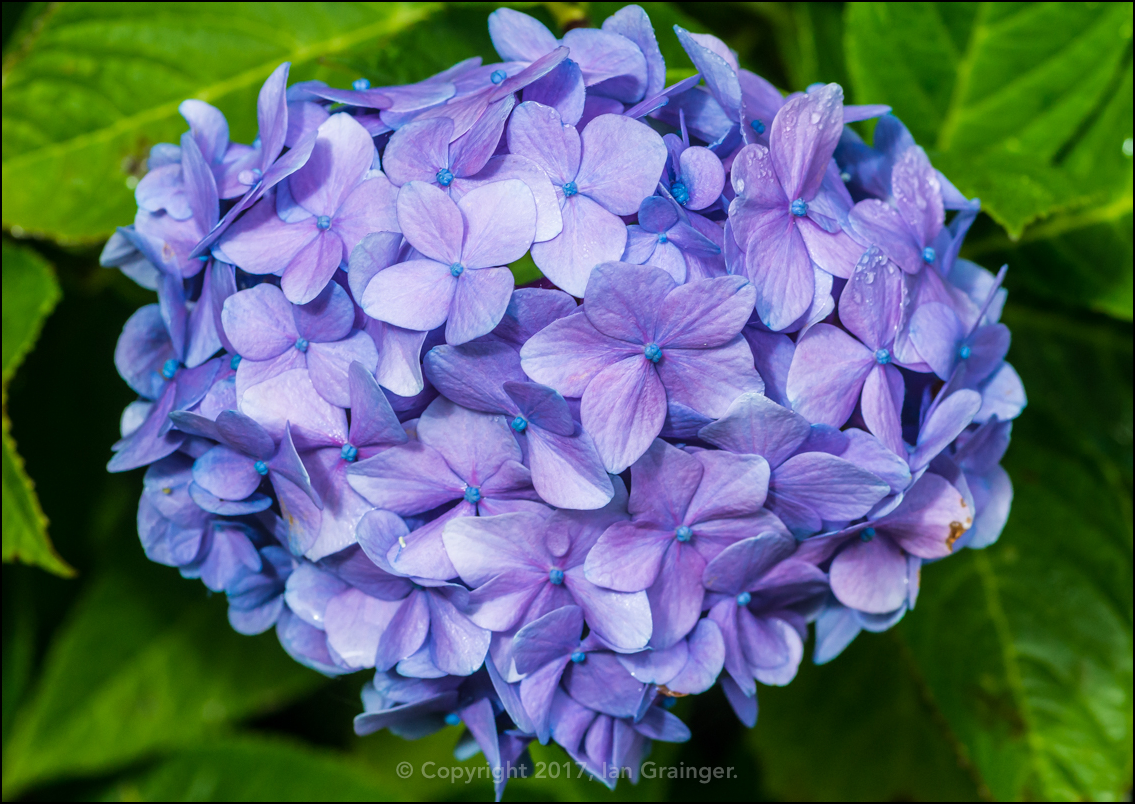 Blue Mophead - July 2017
...while this Mophead variety had lots of blue bracts.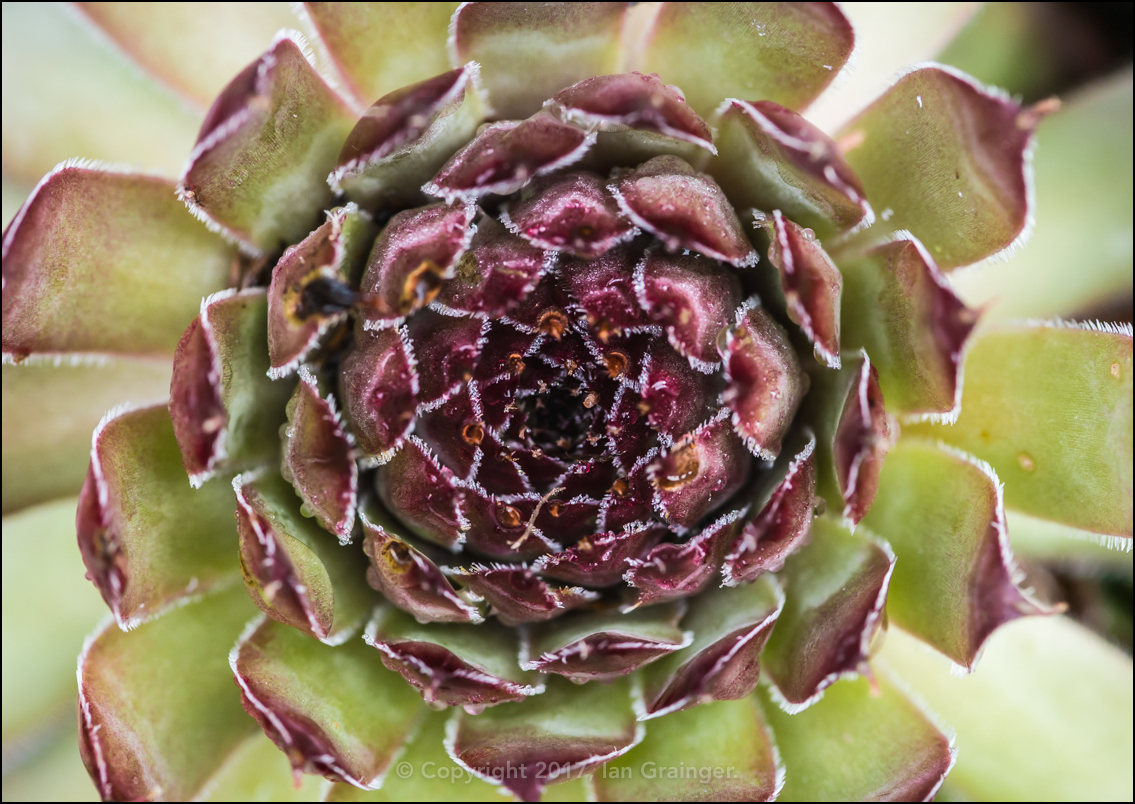 Raindrops Leeking - July 2017
It wasn't long before the grey clouds that had started to get darker began to let go of their wet contents. I thought it was quite appropriate that they were clinging onto the leaves of this Houseleek (Sempervivum).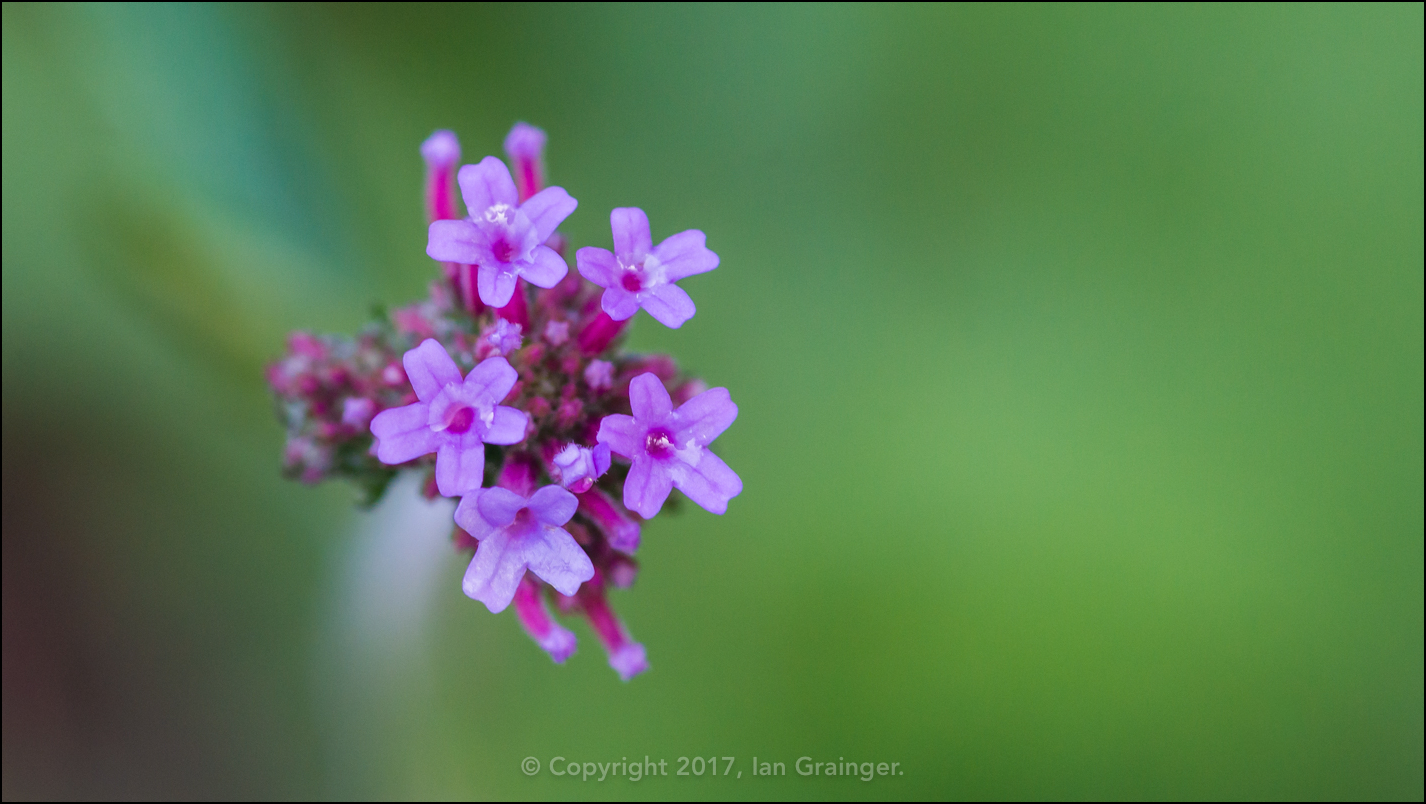 Verbena Buenos Aires - July 2017
These little Verbena (Verbena bonariensis) 'Buenos Aires' blooms were looking very pretty holding onto the raindrops...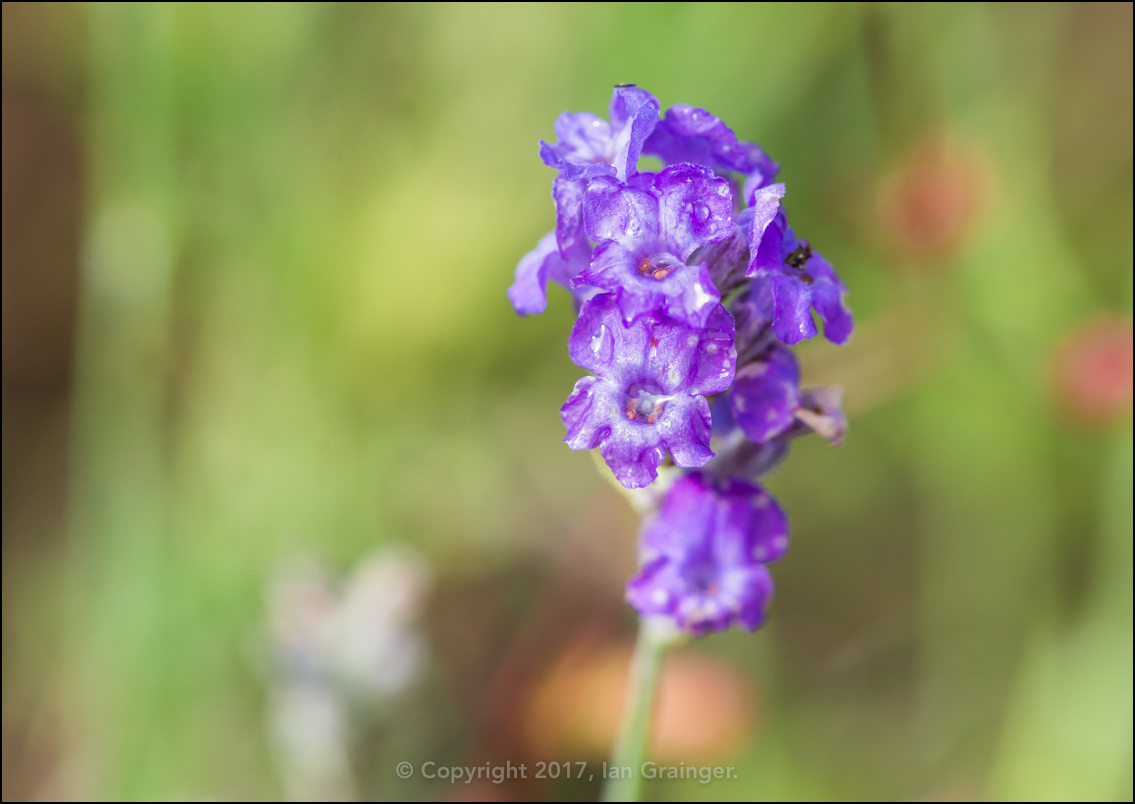 Lavender - July 2017
...as was this Lavender (Lavandula)...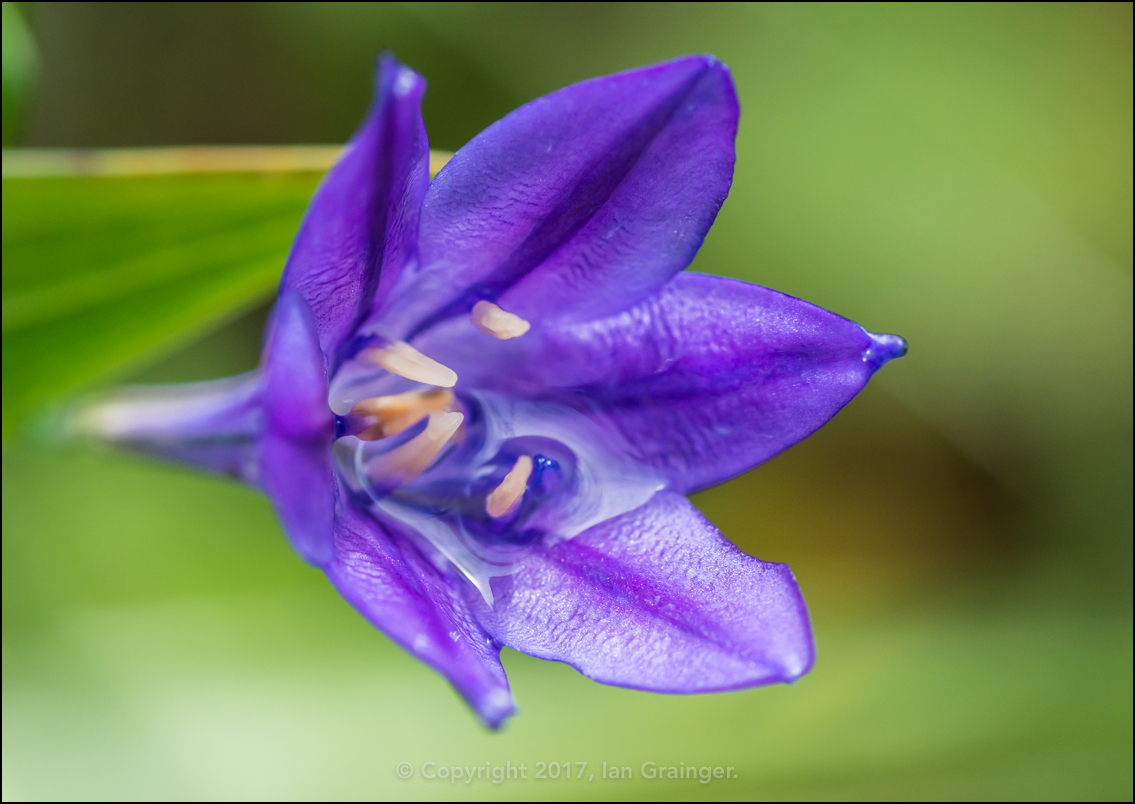 Triteleia Laxa - July 2017
...and this intensely coloured blue Triteleia laxa bloom.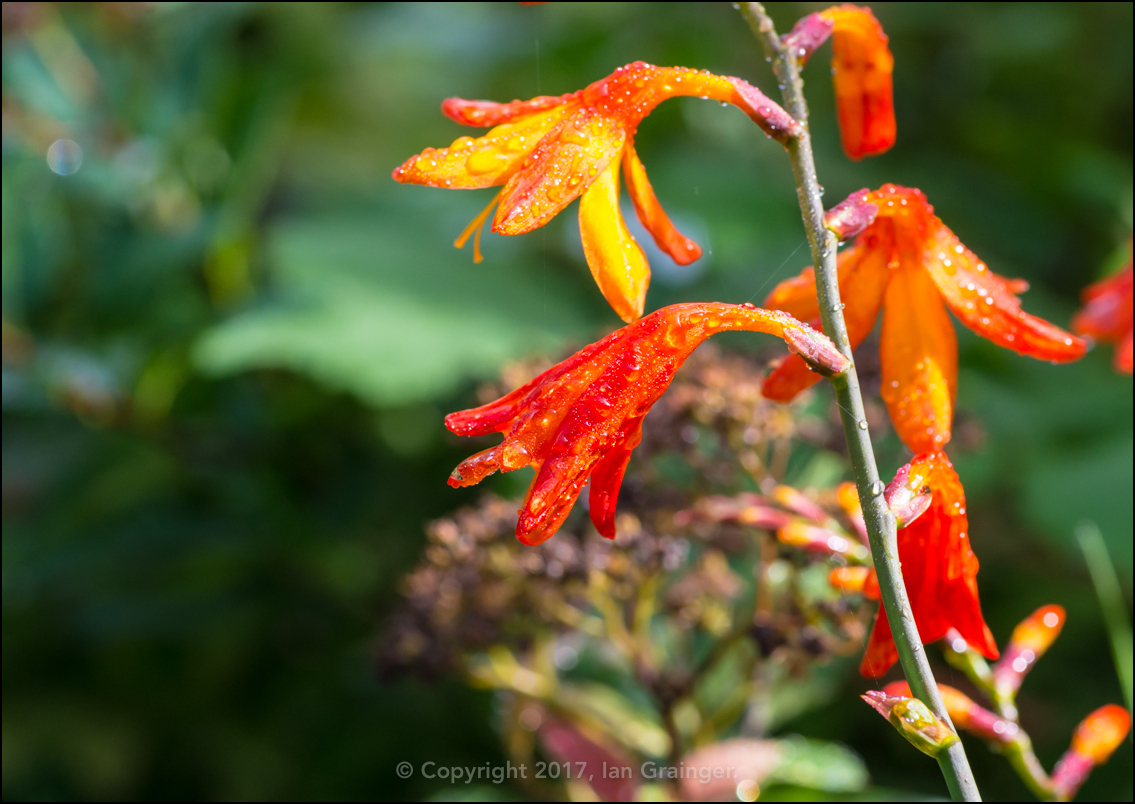 Crocosmia Cascade - July 2017
Even the orange Crocosmia were holding up to the ever increasing flow of raindrops.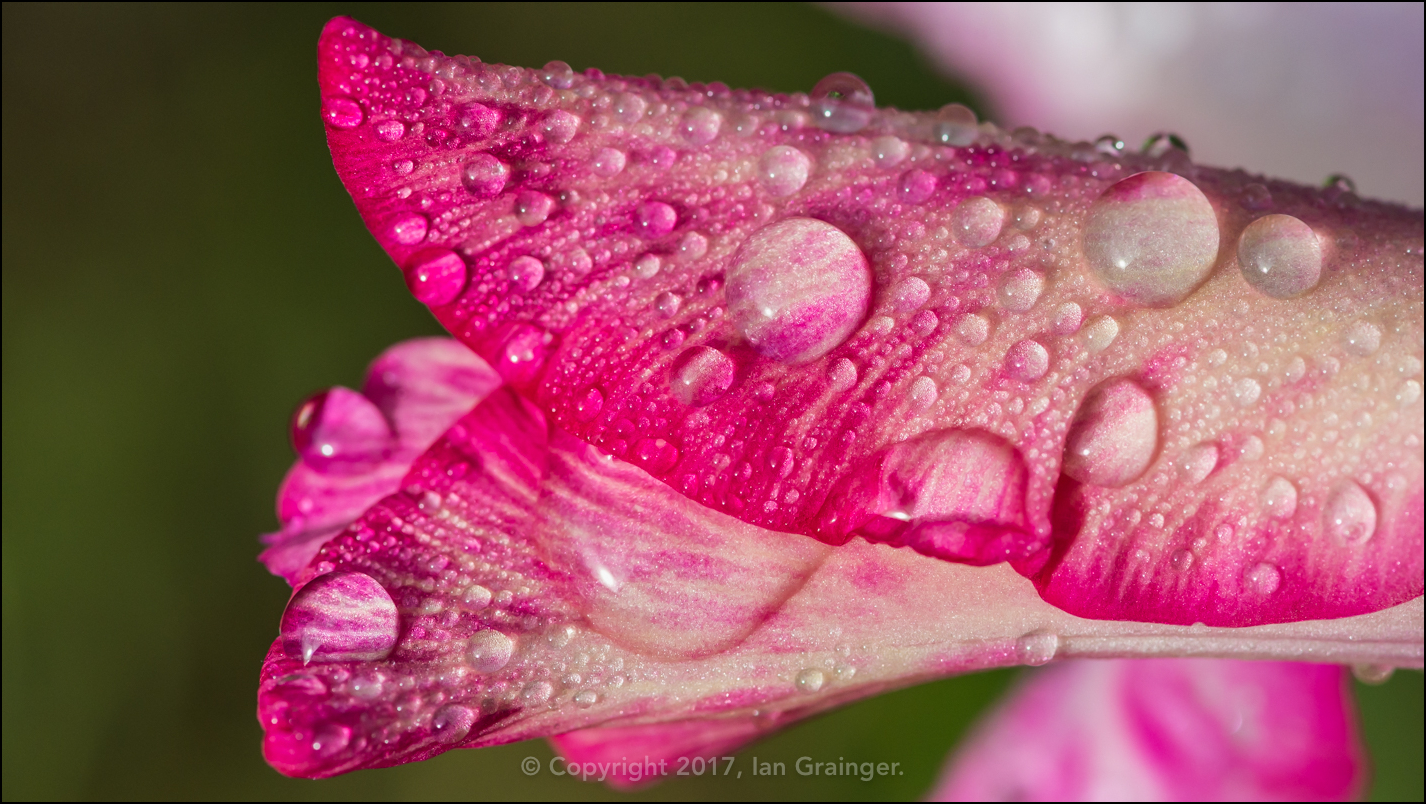 Gladiolus Smattering - July 2017
As the rain came down harder, I started to make my way indoors, but couldn't help stopping off for a few more shots, especially when I came across these Gladiolus petals...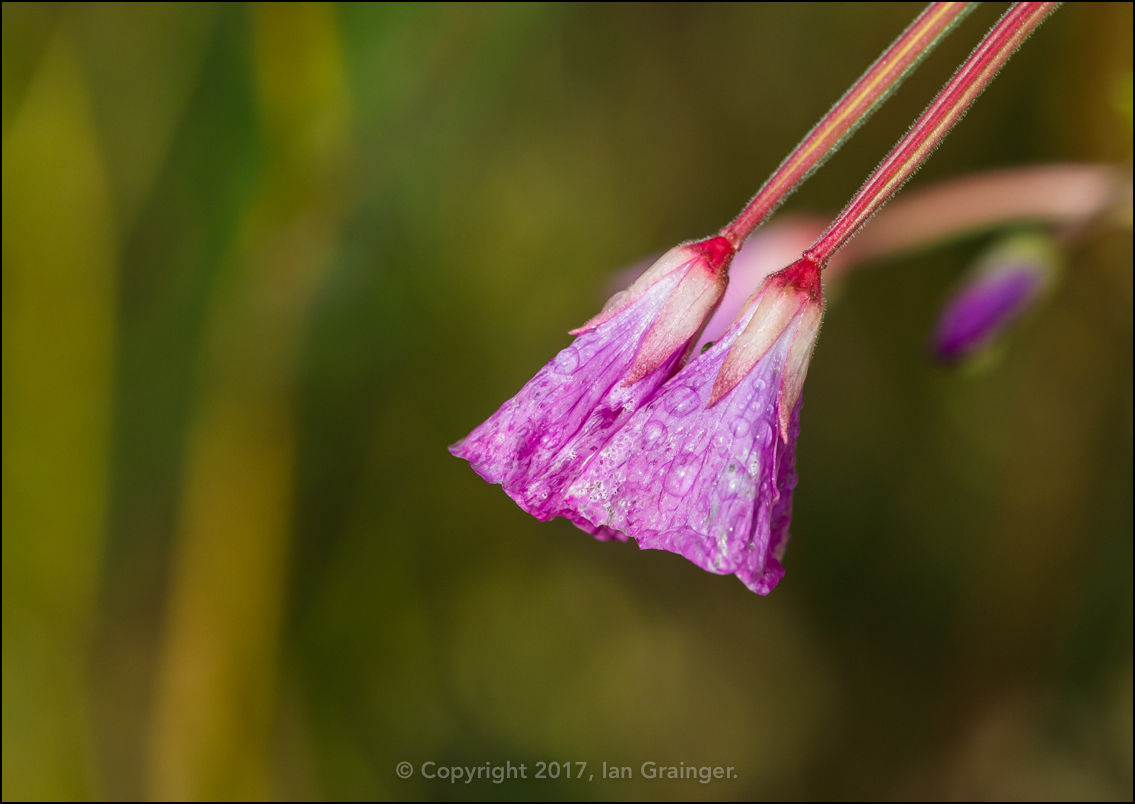 Wet Willowherb - July 2017
...this pair of nodding Great Willowherb (Epilobium hirsutum) flower heads...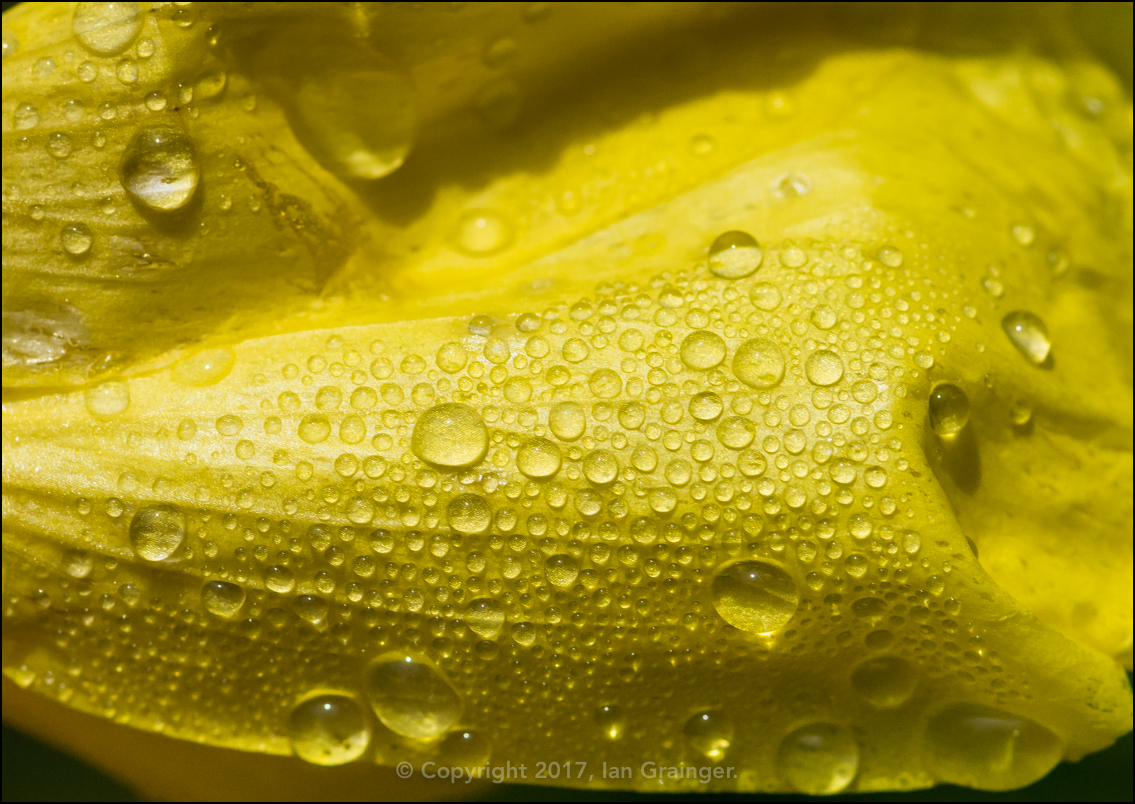 Primrose Droplets - July 2017
...and this drenched Evening Primrose (Oenothera) flower.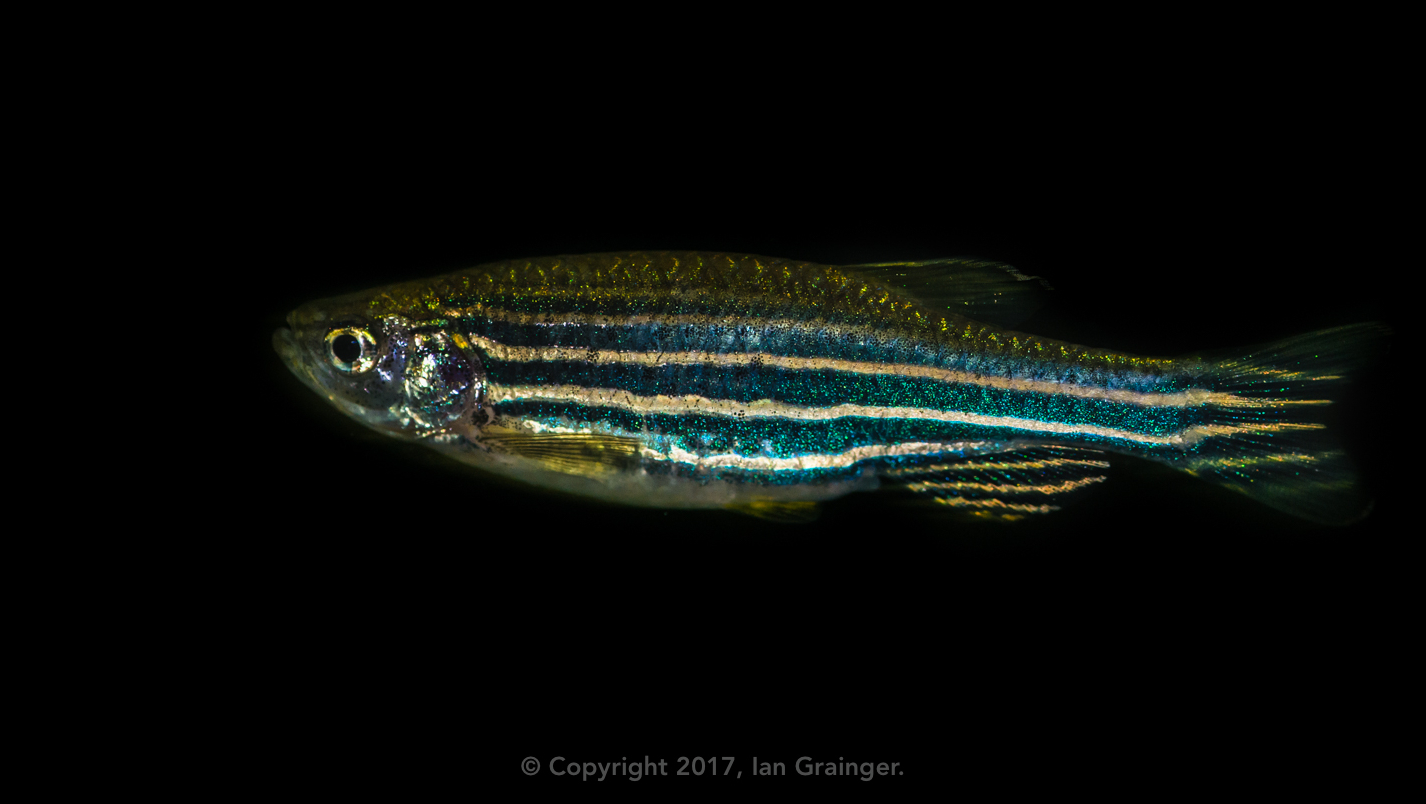 Zebra on Black - July 2017
Finally, and staying with things that are wet, you may remember that last time I tried to take a picture of one of these fast moving little Zebra Danios (Danio rerio) it took me nearly an hour to get one decent shot? Well, nothing has changed! I'm more convinced than ever that they have the ability to Teleport, as I was left with so many pictures with no fish in the frame. I'm not too embarrassed to show this one though, although looking at it again, it's probably a little too dark for my liking!
So, this week I chose Hang Time as my Image of the Week, mostly because I enjoyed trying to catch the gulls in flight as they came in to grab their breakfast, but also because I like how this particular gull seems to be looking straight down the camera lens...