Seedy Allium - August 2016
This week we're starting off in my garden, with this very photogenic Drumstick Allium (Allium sphaerocephalon), pictured in front of a hanging basket full of Petunia 'Night Sky' blooms.
Past its best, I think it's one of those flowers that looks good in the garden even as it goes to seed.
Cornflower Blue - August 2016
This Cornflower (Centaurea cyanus) was grown from a packet of seeds provided as part of Kew Garden's Grow Wild scheme. The initiative is giving away packets of wild flower seeds, and is intended to get the nation growing native, pollinator-friendly wild flowers and plants. Follow the link to register for your own free packet of seeds...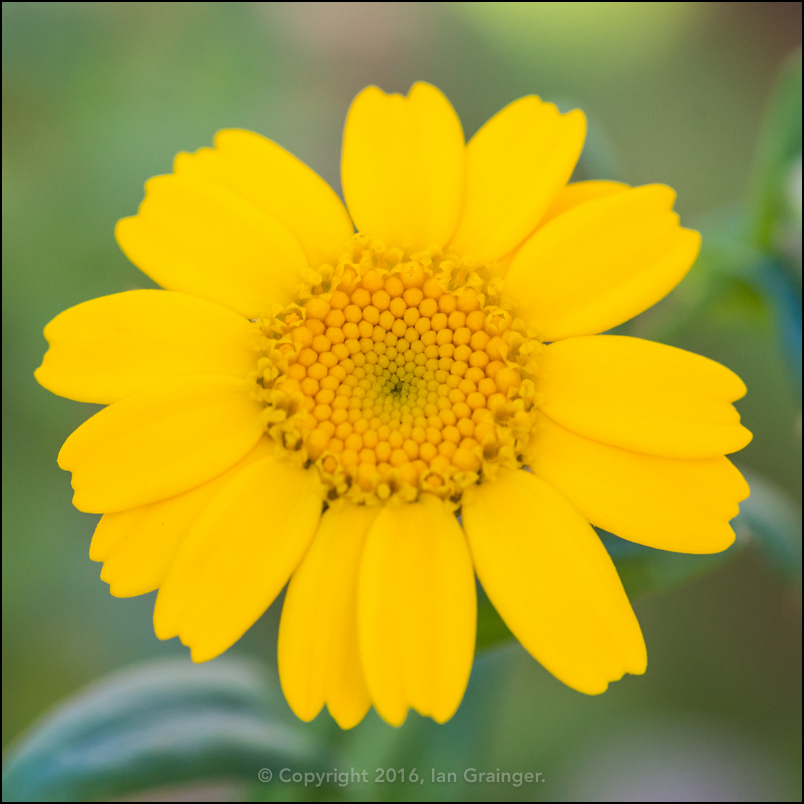 Corn Marigold - August 2016
This Corn Marigold (Glebionis segetum) is another of the flowers provided as part of the scheme.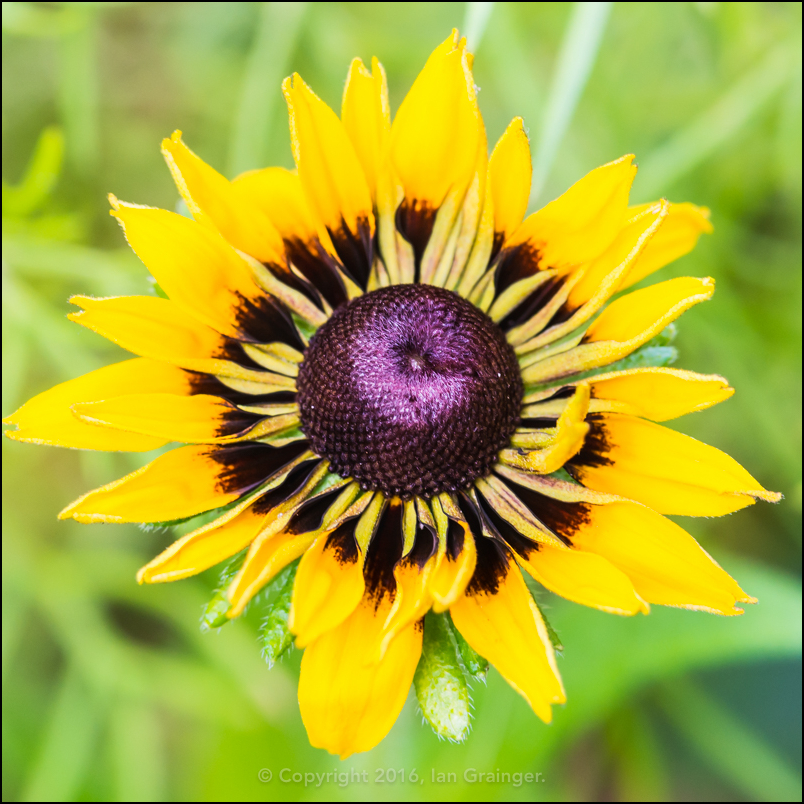 Rudbeckia - August 2016
This Rudbeckia bloom was a complete surprise when I walked into the garden the other day. I have no idea where it came from, as I didn't plant it, but it is a welcome addition.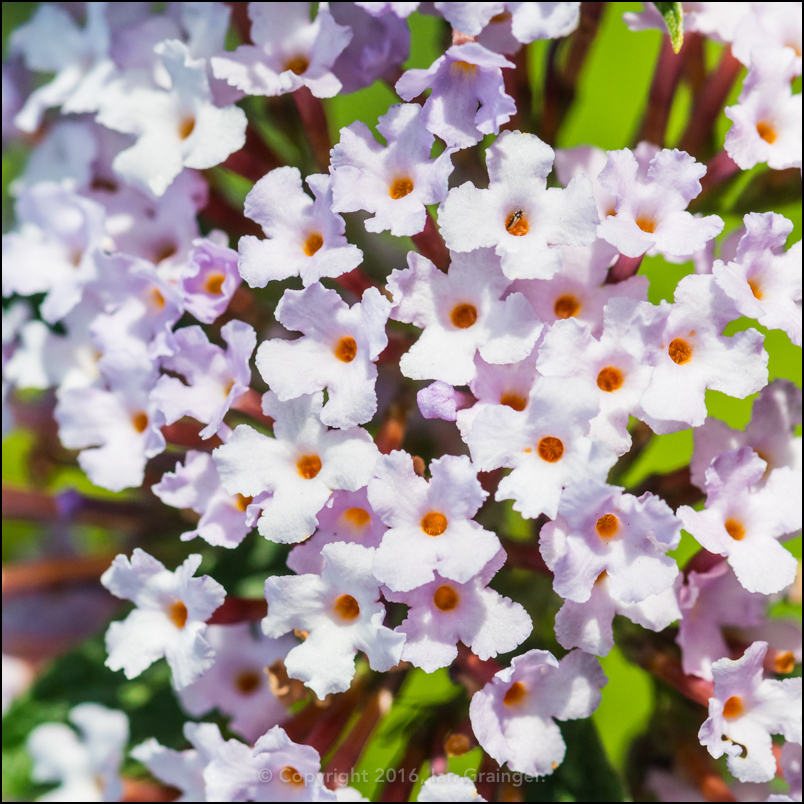 White Butterfly Bush - August 2016
Another new flower to my garden this week is this lovely coloured Butterfly Bush (Buddleia). I much prefer it to the purple and yellow varieties.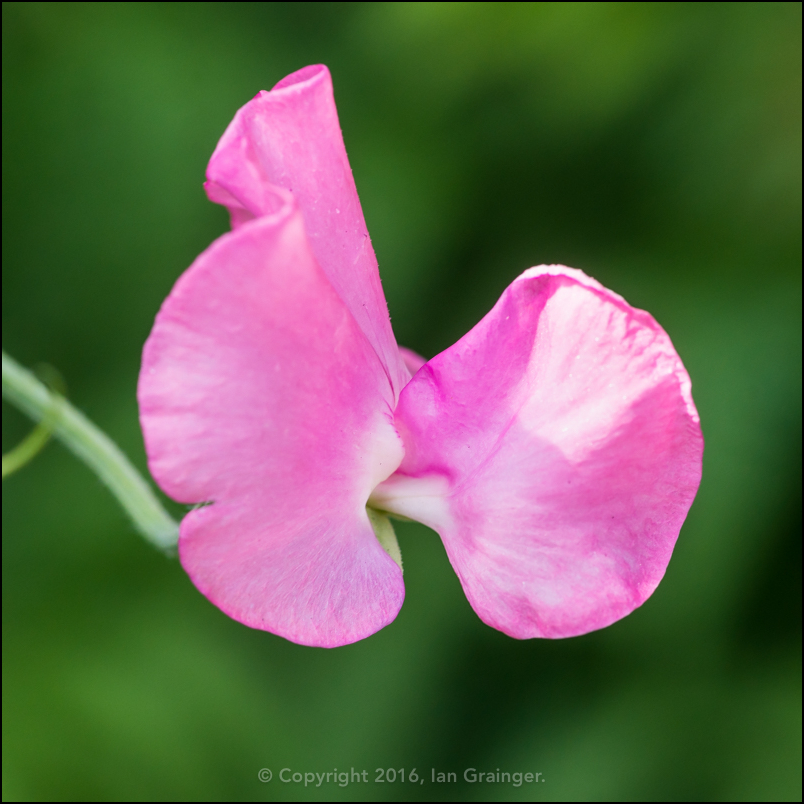 Pink Pea - August 2016
I didn't grow many Sweet Peas (Lathyrus odoratus) this year, but the few I did are putting on a good display at the moment and smell absolutely wonderful.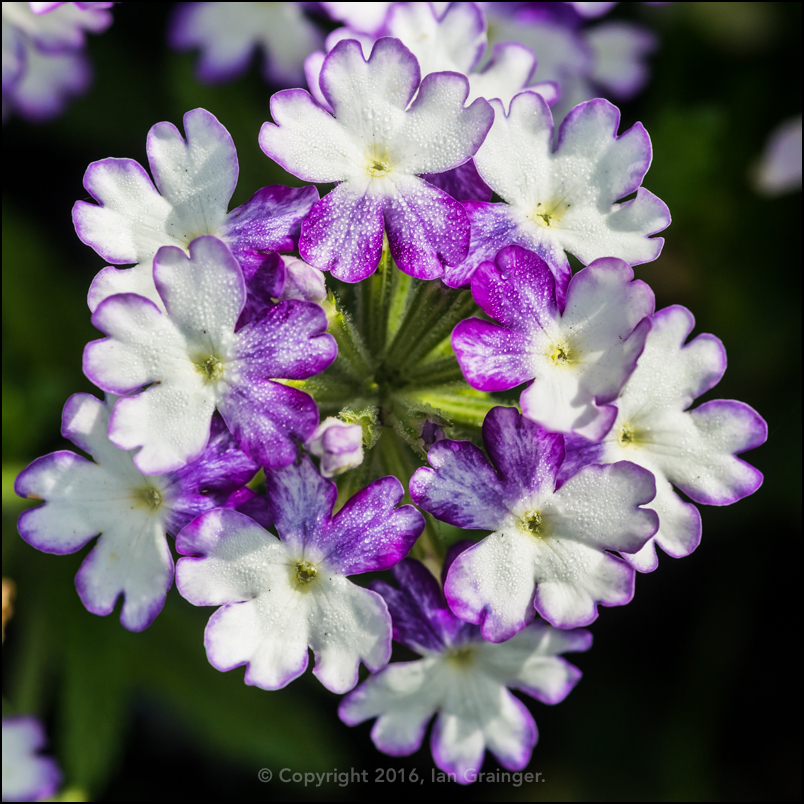 Verbena - August 2016
My Verbena 'Wicked Cool Blue' is still looking rather beautiful, although I still think it looks more purple than blue in colour.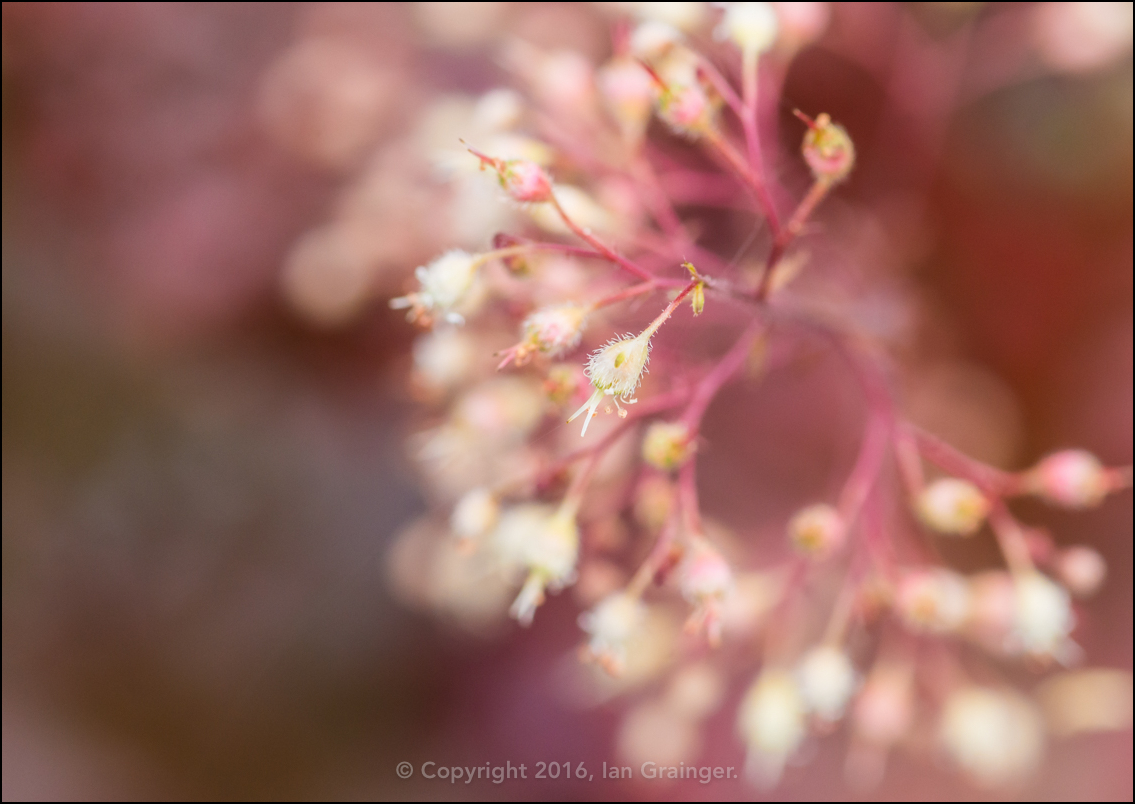 Heuchera Blossom - August 2016
Over in dad's garden, the Heucheras are finally starting to bloom. I know Heucheras are grown mainly for their colourful foliage, but I really like the delicate clouds of flowers they throw up into the air too.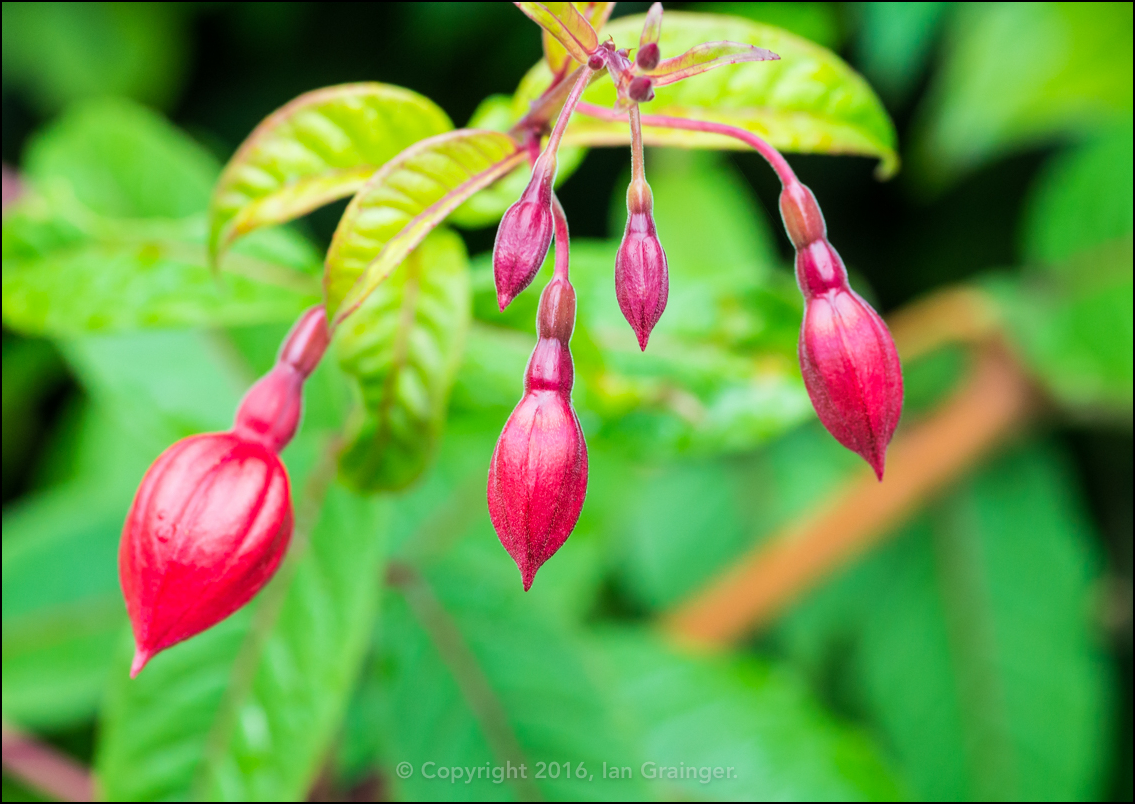 Fuchsia Buds - August 2016
There are currently lots of buds on this red Fuchsia bush, and I expect the flowers to have arrived by next week.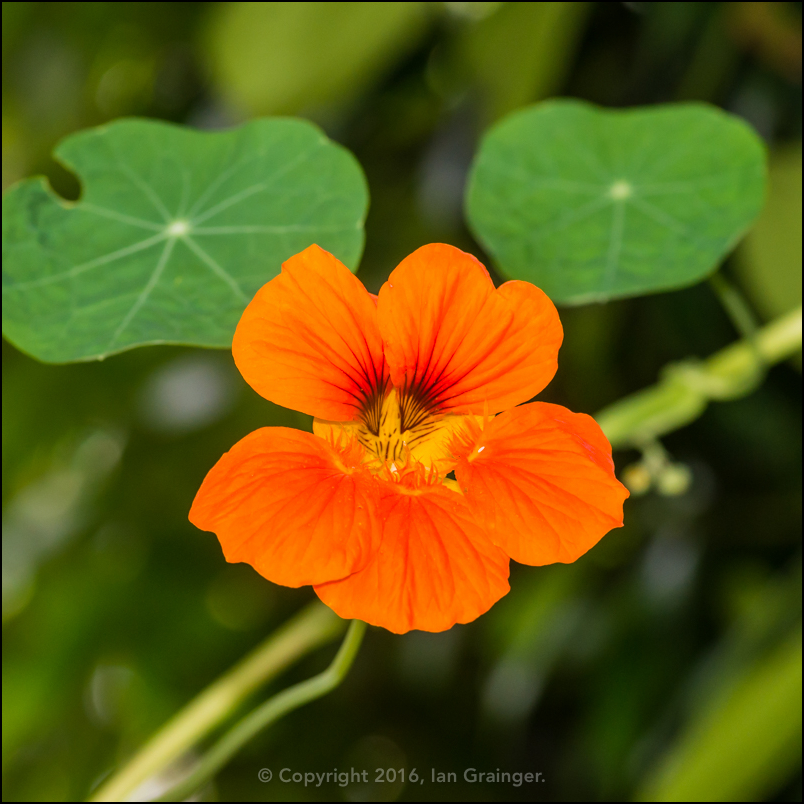 Orange Nasturtium - August 2016
It is certainly a good year for Nasturtiums. Mine have taken over a whole border in my garden, while dad's are popping up all over the place.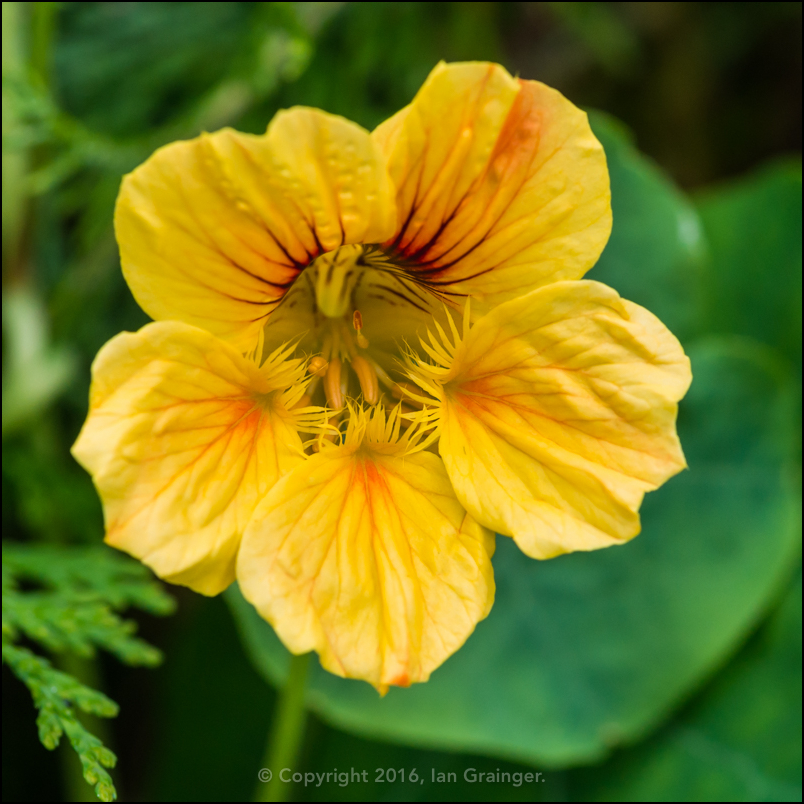 Yellow Nasturtium - August 2016
This yellow coloured variety of Nasturtium is my favourite at the moment.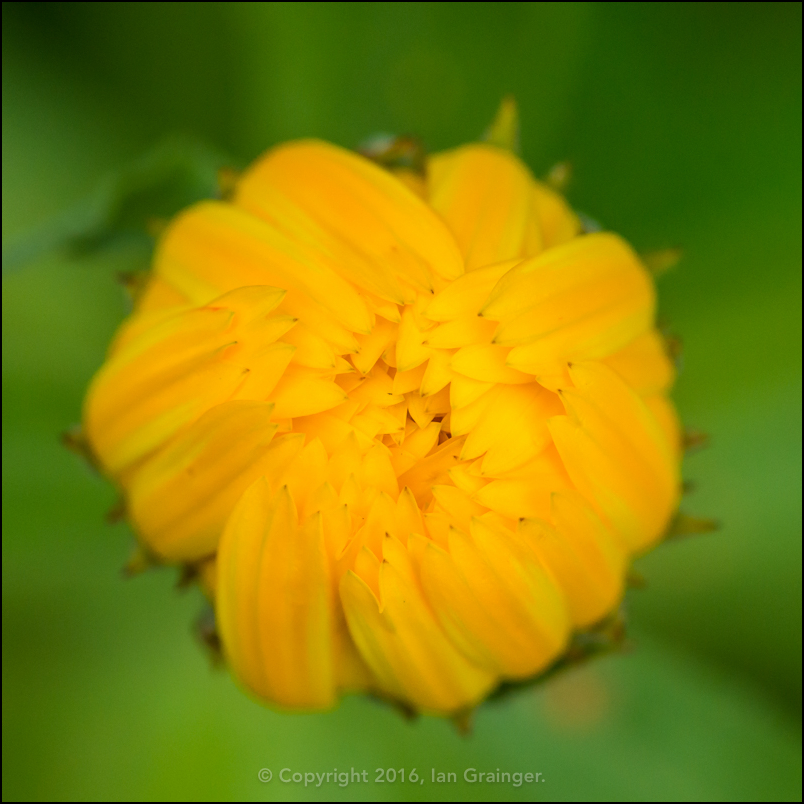 Calendula Coming Soon - August 2016
In fact yellow was definitely the in-colour this week in dad's garden, with this Pot Marigold (Calendula) getting ready to open at the start of my photo shoot...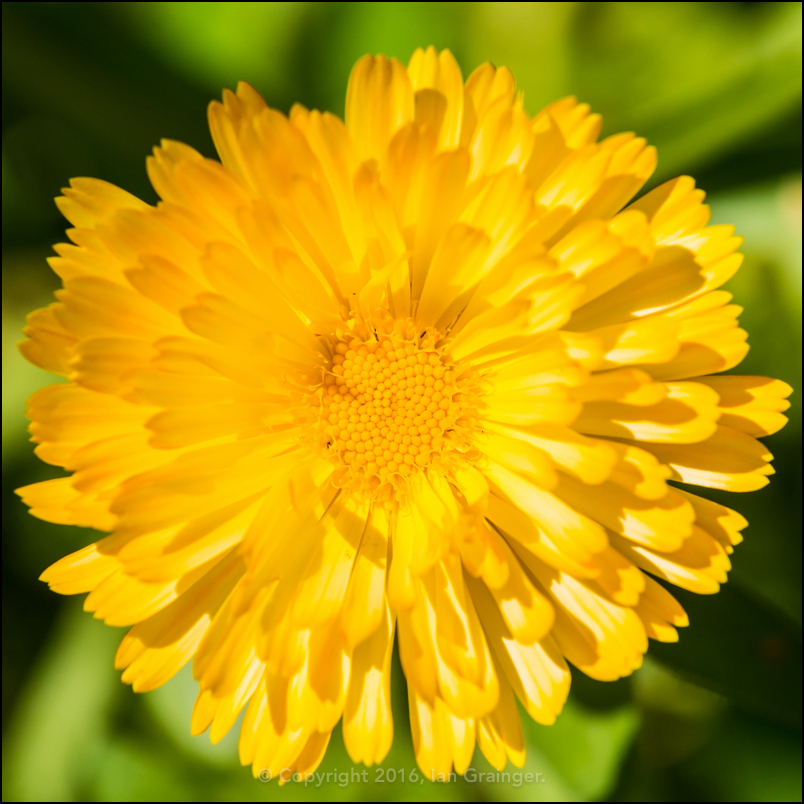 Yellow Pot Marigold - August 2016
...and here it is a couple of hours later, after spending a little time in the sunshine.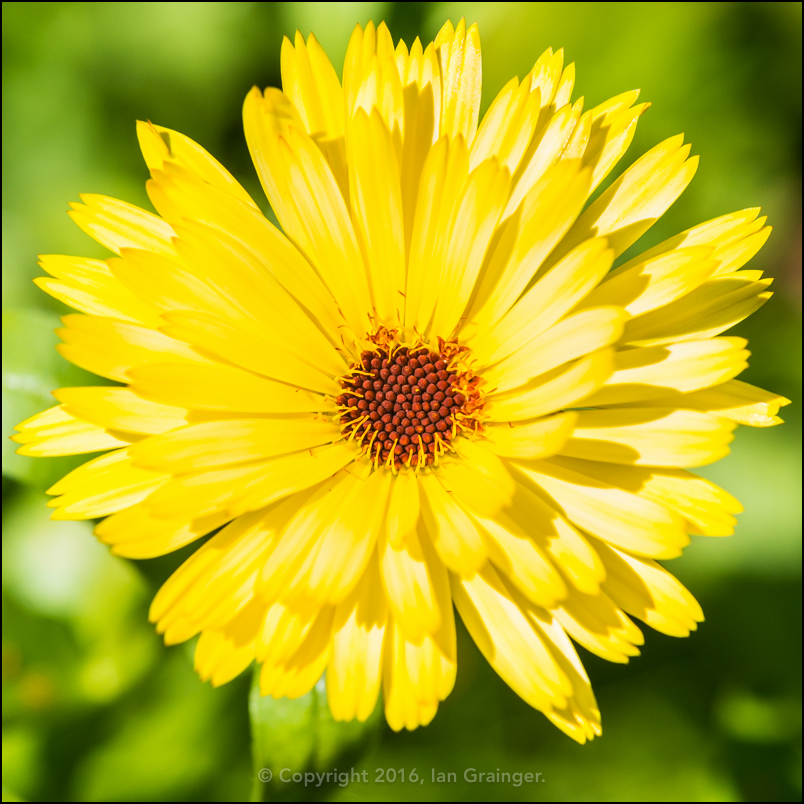 Dark Centred Calendula - August 2016
I think I prefer this dark centred variety personally.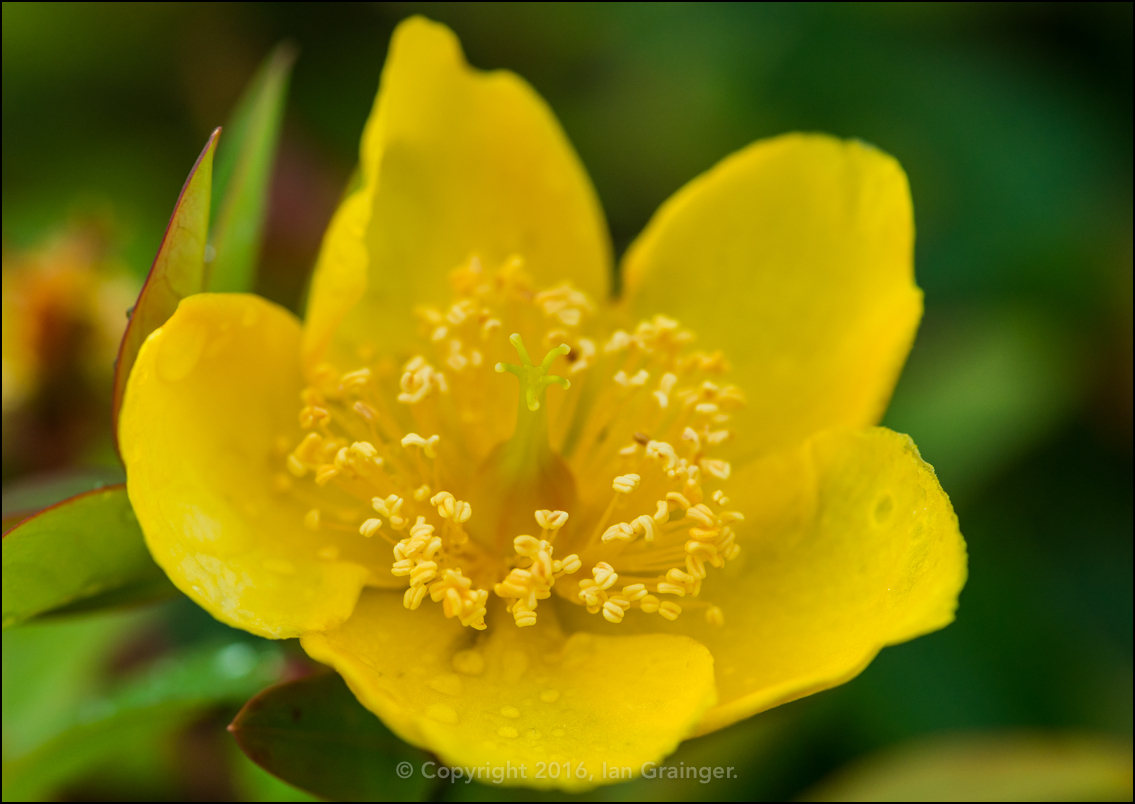 Hypericum - August 2016
Continuing the yellow theme, the Hypericum bush was still covered in flowers...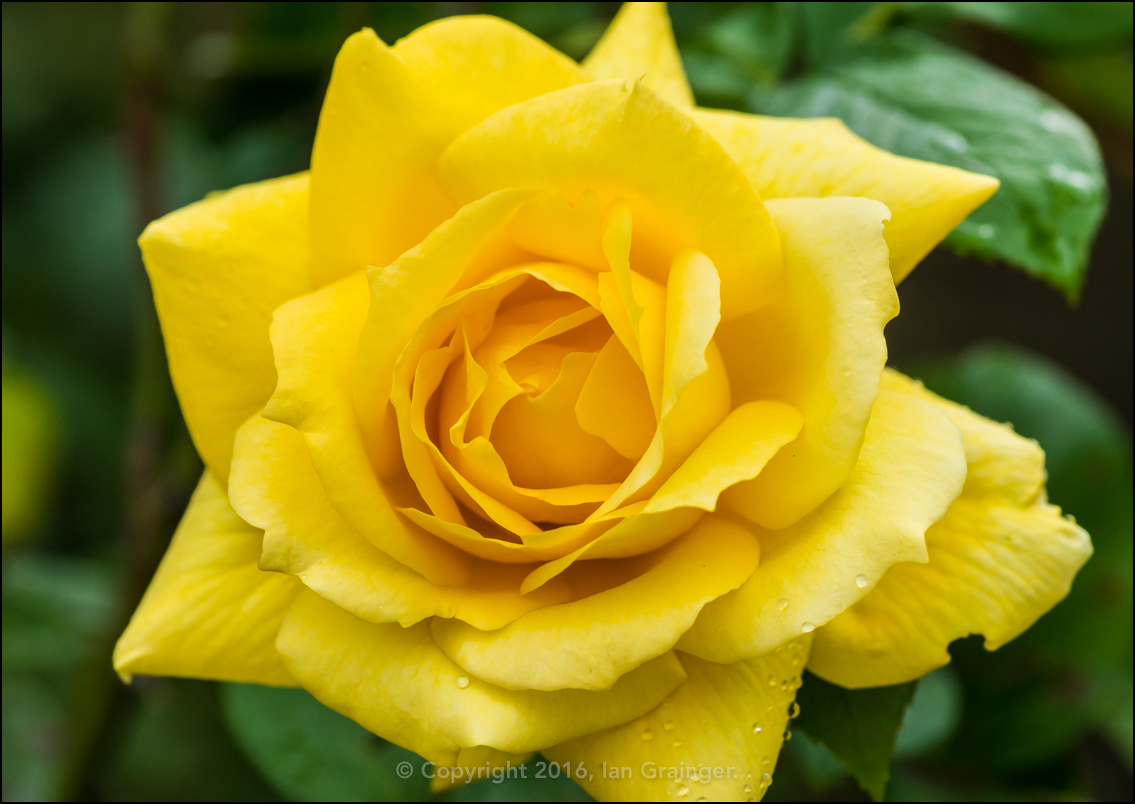 Yellow Rose - August 2016
...while the yellow Rose (Rosa) had decided to start flowering again!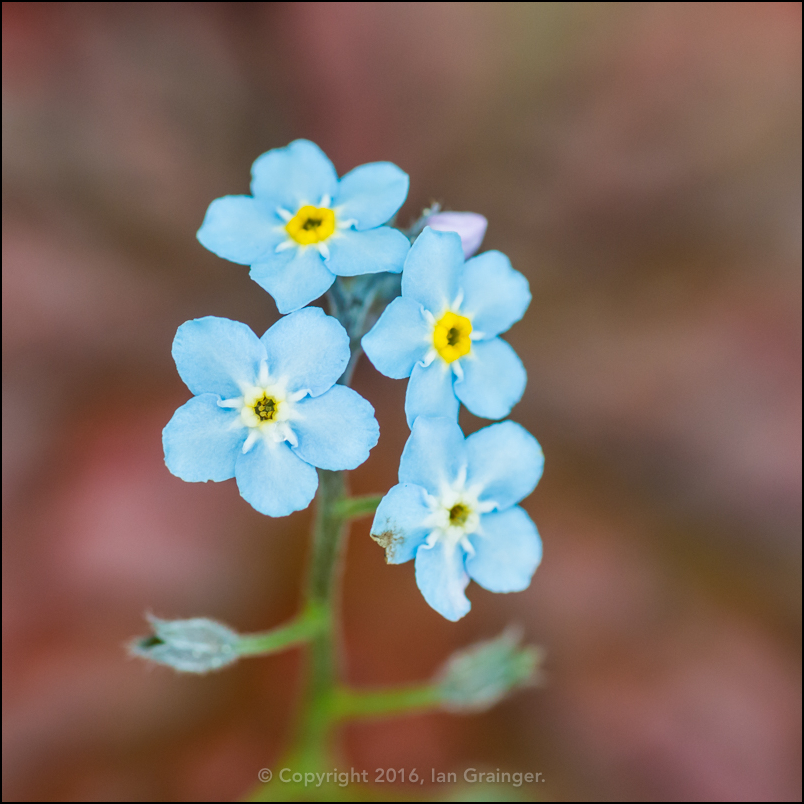 Returning Memory - August 2016
Another returning bloom was the Forget Me Not (Myosotis), with this one looking particularly splendid against the red wine coloured leaves of a Heuchera.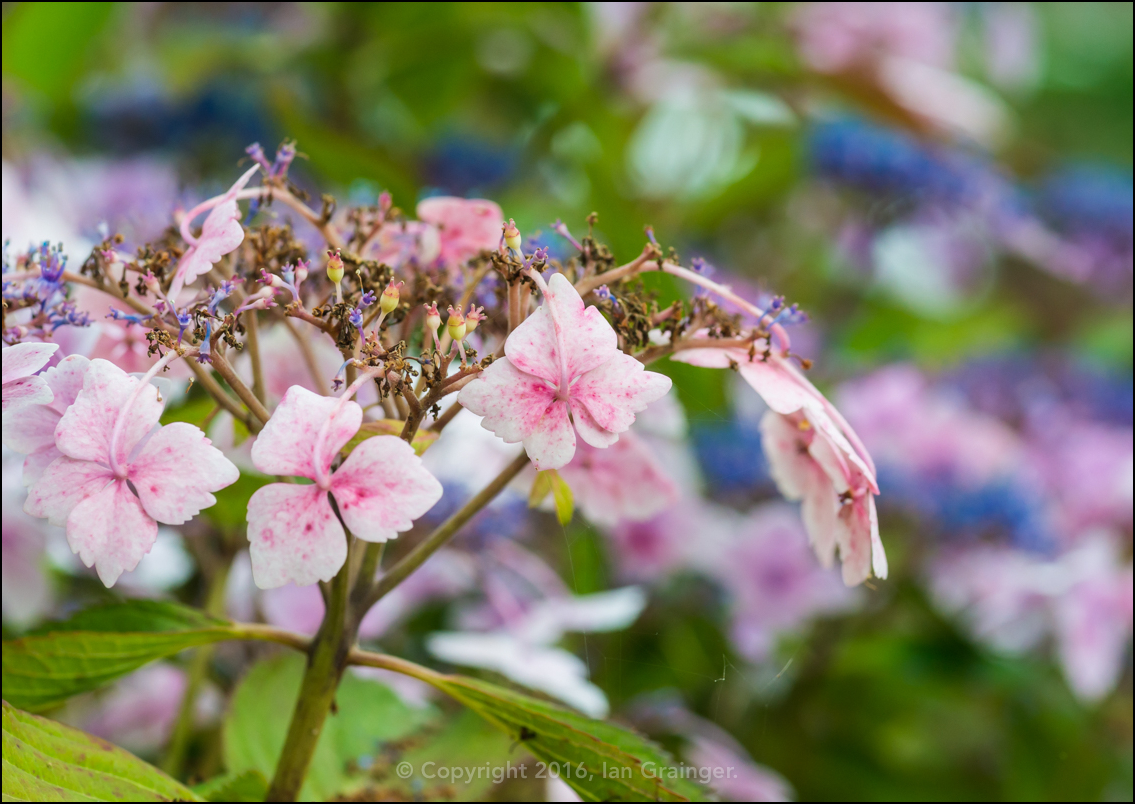 First Signs of Autumn - August 2016
It's not far off now, but there were also a few tell-tale signs of Autumn, with the first Hydrangea bracts starting to turn.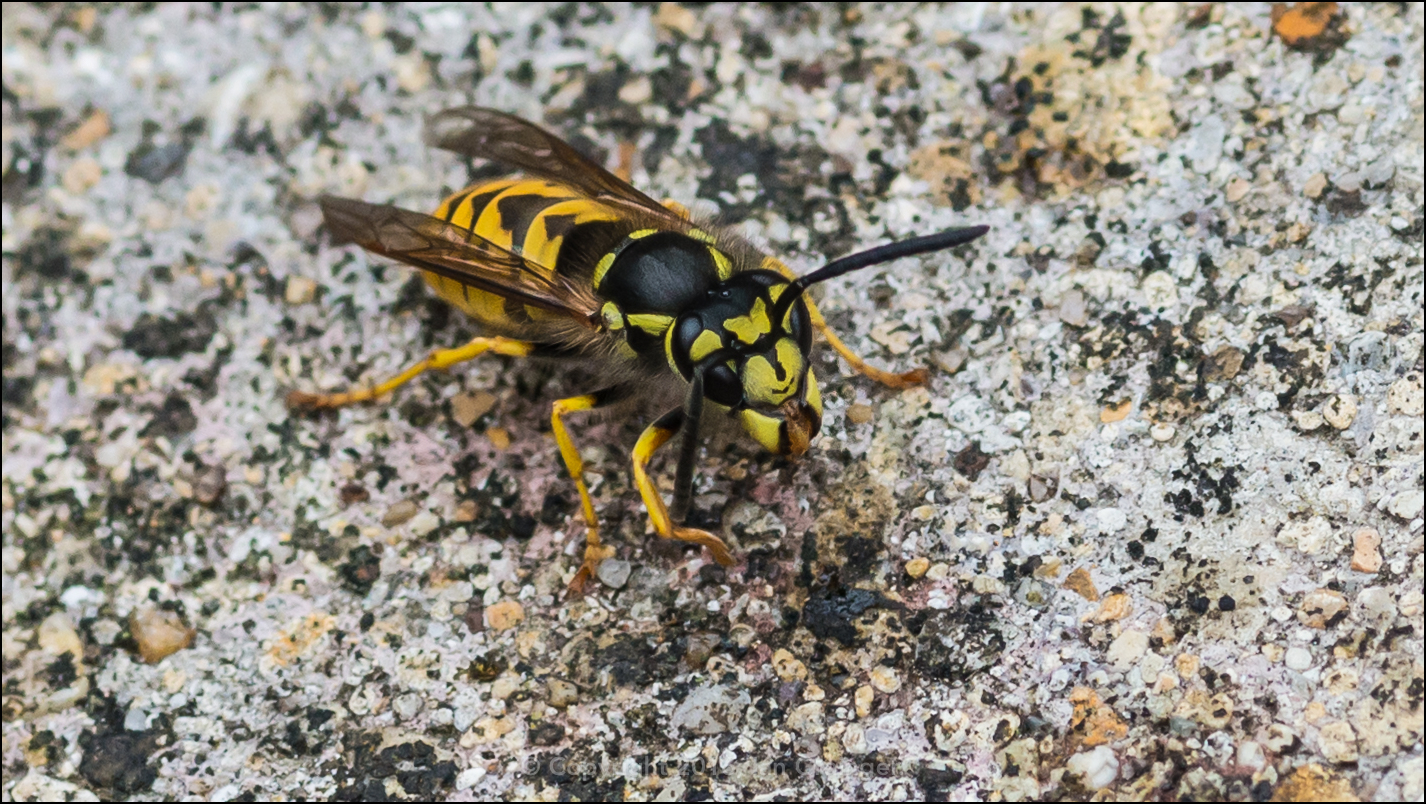 Waspish - August 2016
Insect activity this week was quite high again, with it being mostly hot and sunny for the majority of the week. This Wasp was warming up on the patio stones.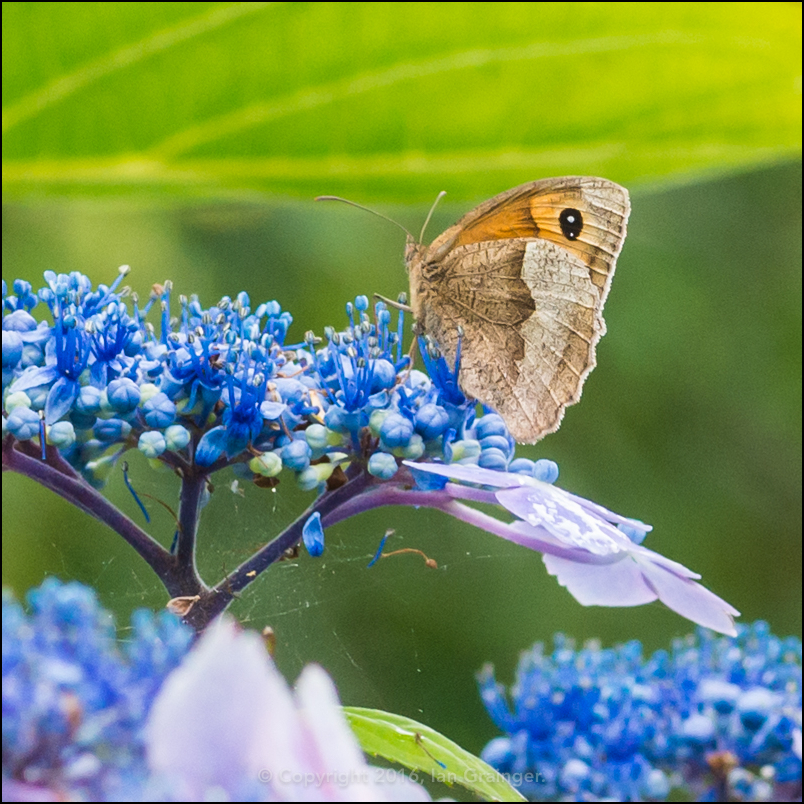 Gatekeeper - August 2016
While this Gatekeeper (Pyronia tithonus) butterfly was collecting pollen from the Lacecap Hydrangea bushes...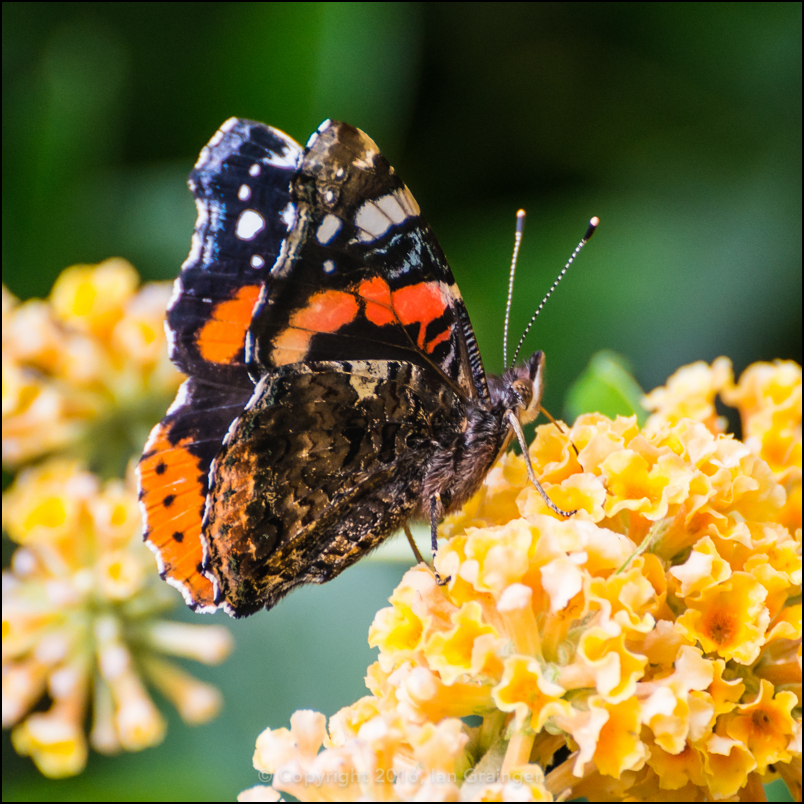 Red Admiral - August 2016
...this Red Admiral (Vanessa atalanta) butterfly preferred getting its pollen fix from the yellow Buddleia bush.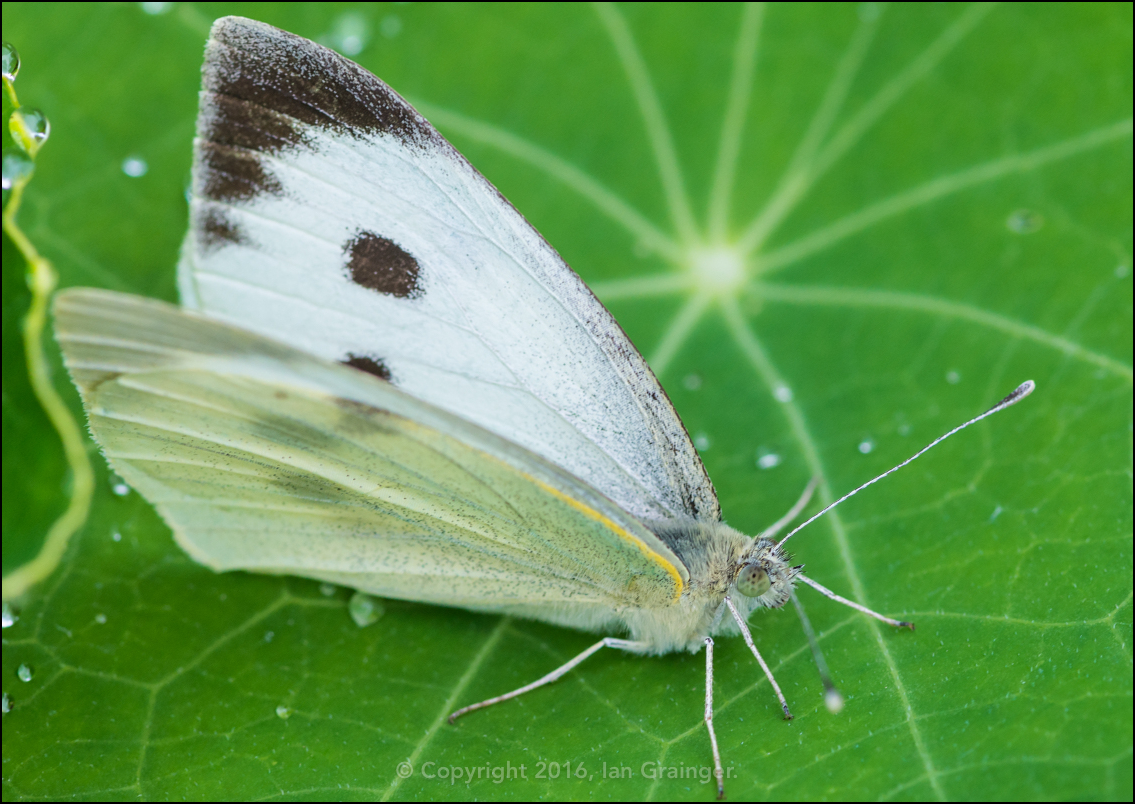 Large White - August 2016
There were plenty of Large White (Pieris brassicae) butterflies around, most of them busy laying eggs on the Nasturtium leaves.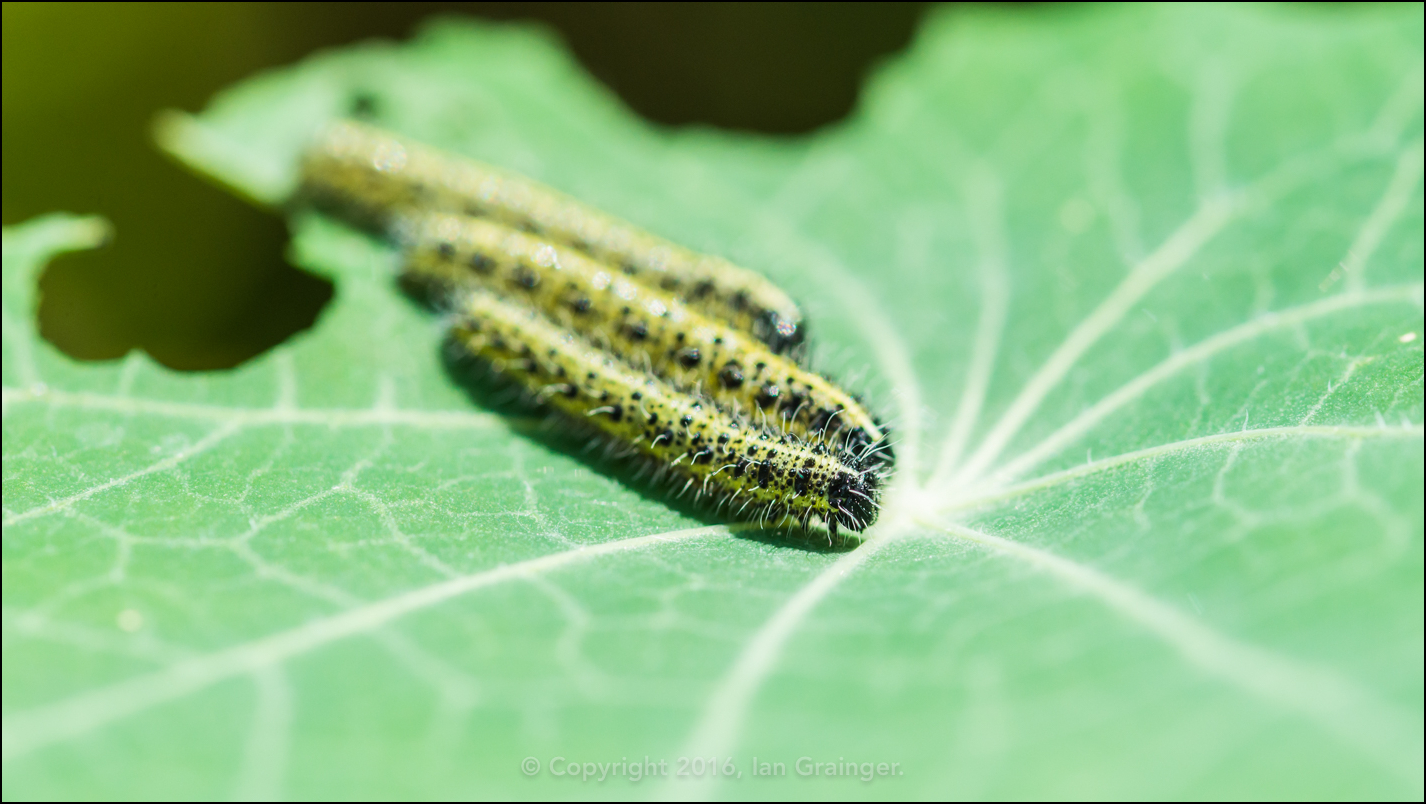 Row of Munchers - August 2016
While back in my garden, the eggs had already hatched, and the Caterpillars were making light work of the leaves. These three reminded me of trains queued at a railway station!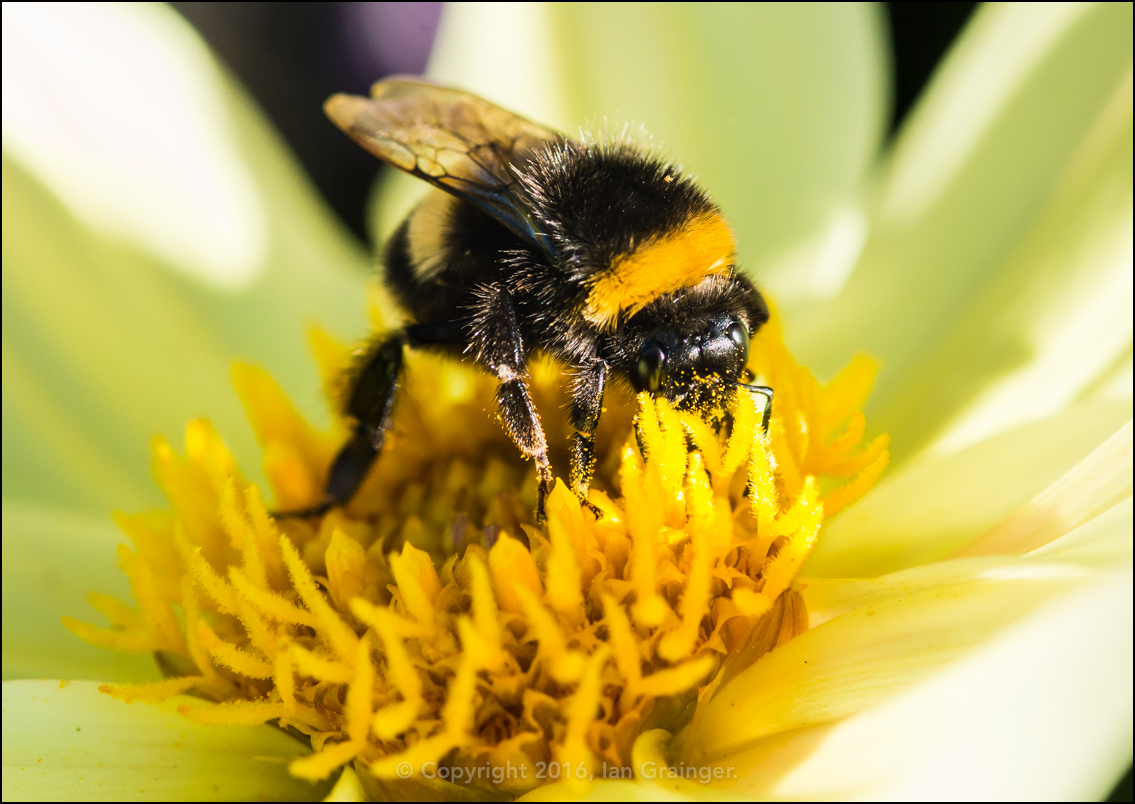 Bumbling About - August 2016
The Bumblebees (Bombus) were aplenty, with this one enjoying the pollen from my Dahlia 'Happy Days'.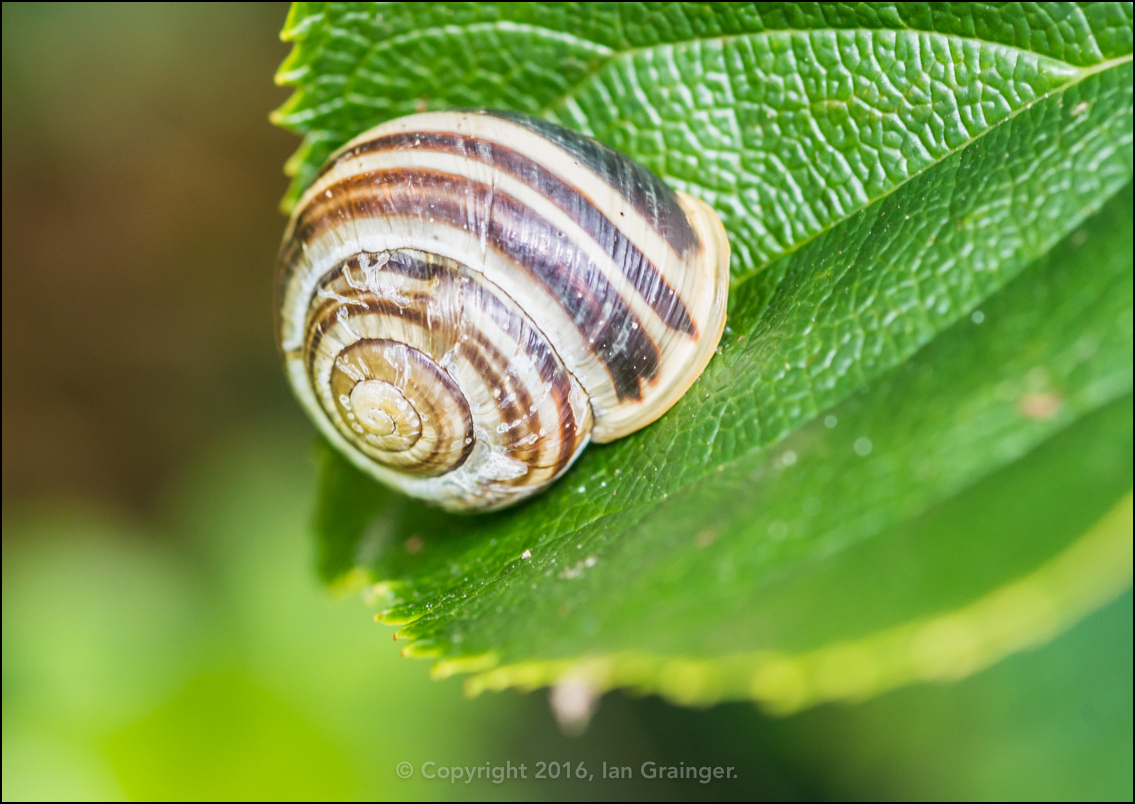 White Lipped Snail - August 2016
Meanwhile a White-lipped Snail (Cepaea hortensis) was up to no good, munching away on something green and healthy.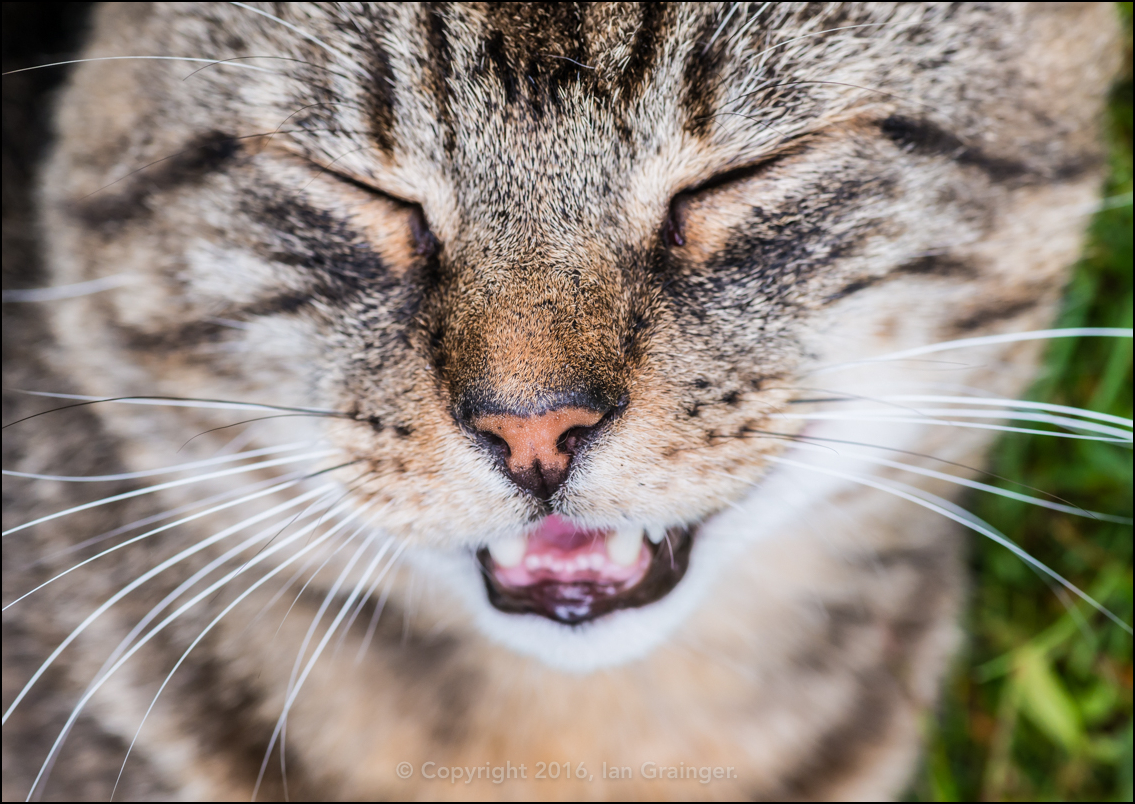 Cute and Cuddly - August 2016
And while all of this was going on, my photo companion was looking as cute and huggable as ever!
Well, this week I didn't really have a stand-out image, so I decided to go with Seedy Allium as my Image of the Week, simply because it's an interesting plant, and I liked the Petunia bokeh...