Ice Crystals - December 2016
While this week has been a little warmer than last, it has still been bitterly cold, and we've had a covering of frost on most mornings. This week during my photo shoot however, the frost didn't budge at all, and remained in the garden all day.
Whilst I'm not a great fan of frost (or snow), it does have a way of making even the most mundane of subjects look prettier than usual. This otherwise sad looking brown decaying Cherry Tree leaf being a good case in point.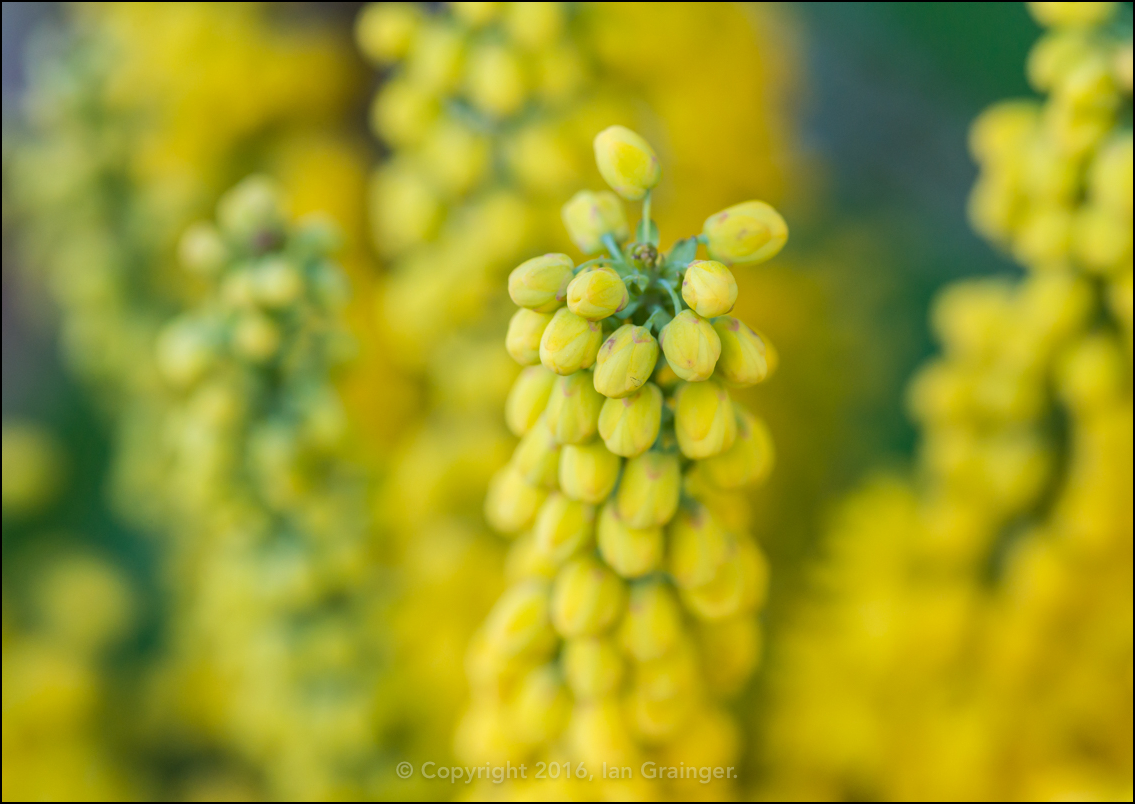 Mahonia Buds - December 2016
Despite the cold weather, the Mahonia Japonica bush is looking resplendent, and is covered in yellow buds and blossom, and is definitely brightening up dad's front garden.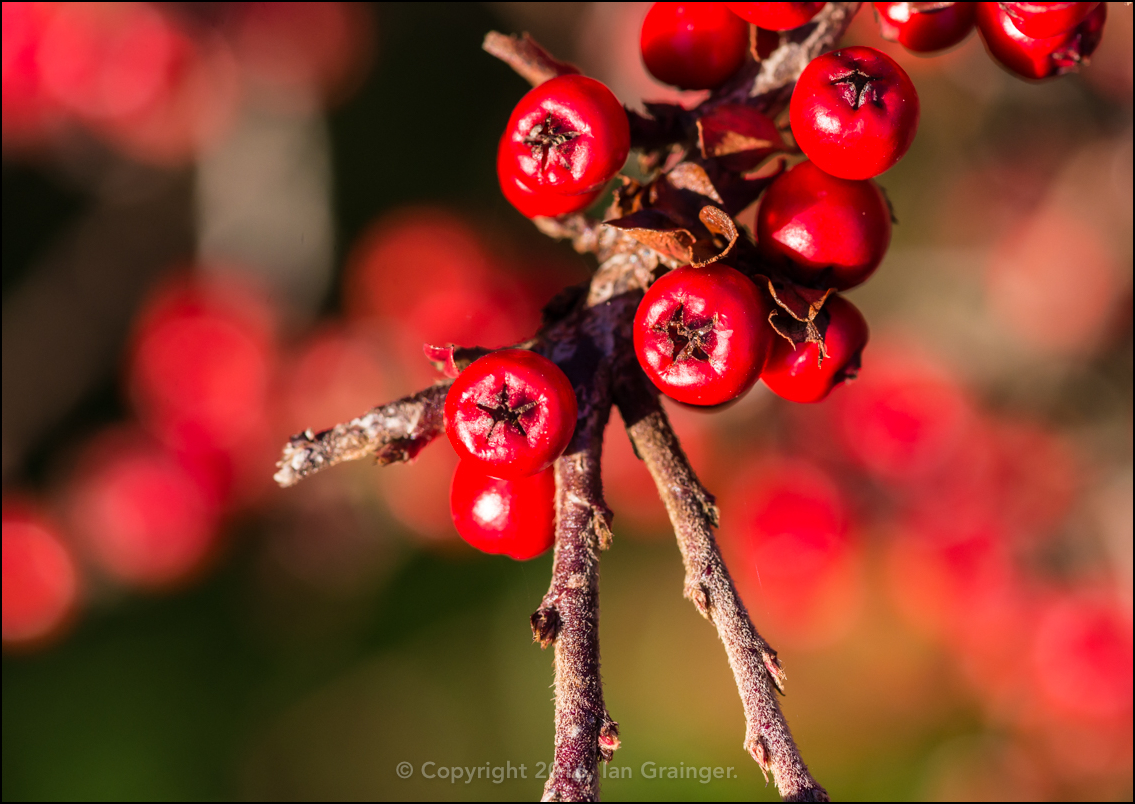 Cotoneaster Bush Berries - December 2016
Also looking very good are the bright red ripe berries of the Cotoneaster bushes. I can't see them lasting much longer as the Blackbirds have been eyeing them up for a few weeks now!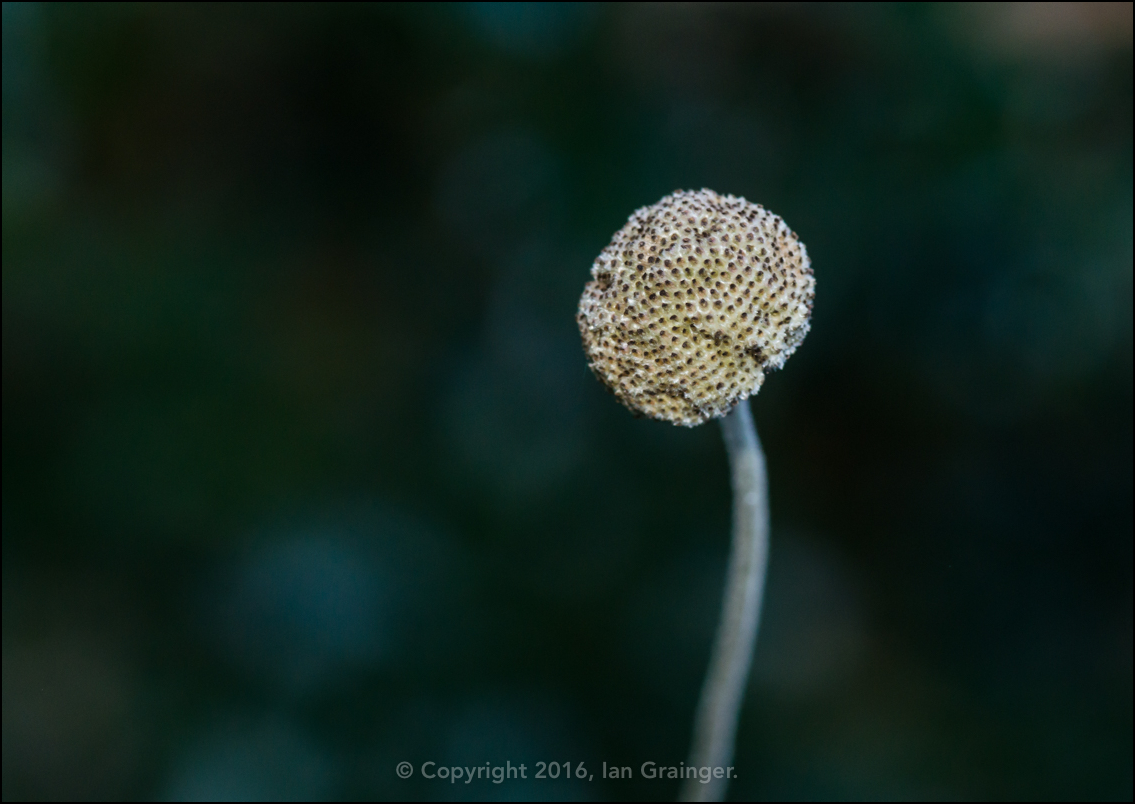 Anemone Seed Head - December 2016
Autumn has taken its toll on the Japanese Anemones (Anemone hupehensis) which are now busily setting seed...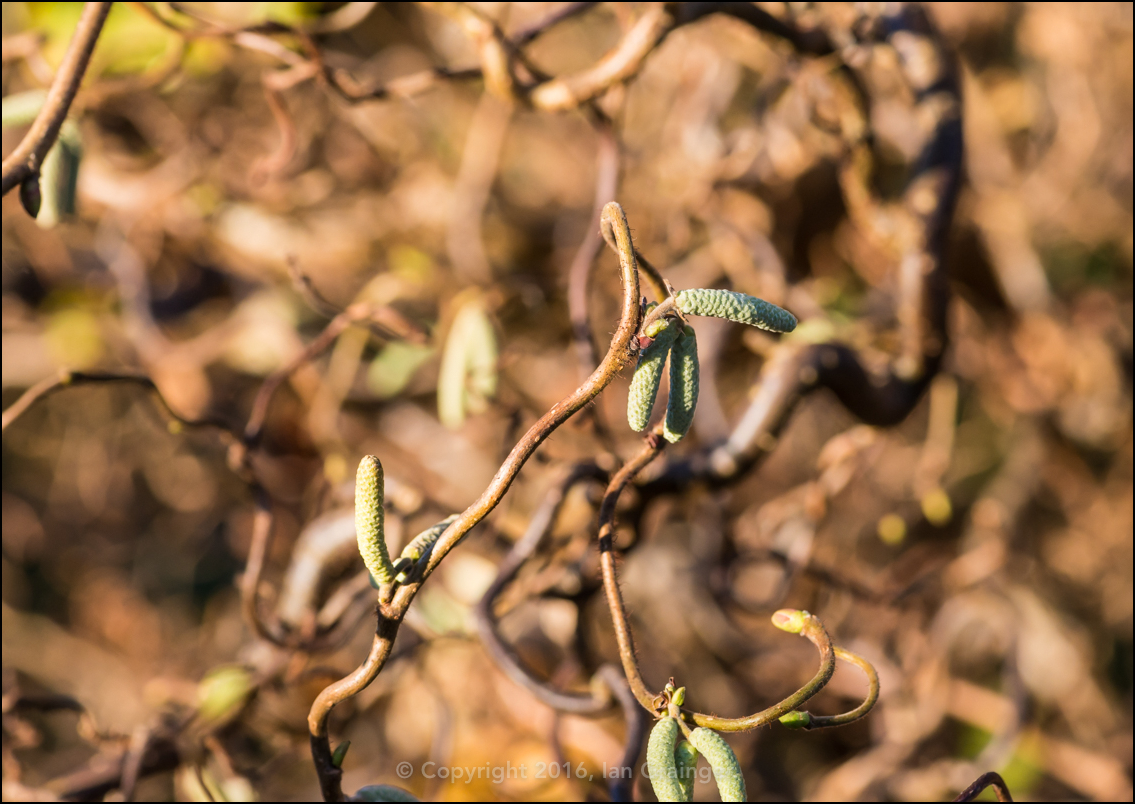 Corkscrew Hazel - December 2016
...and now that the Corkscrew Hazel (Corylus avellana contorta) tree has lost all of its leaves, you can really appreciate how it got its common name.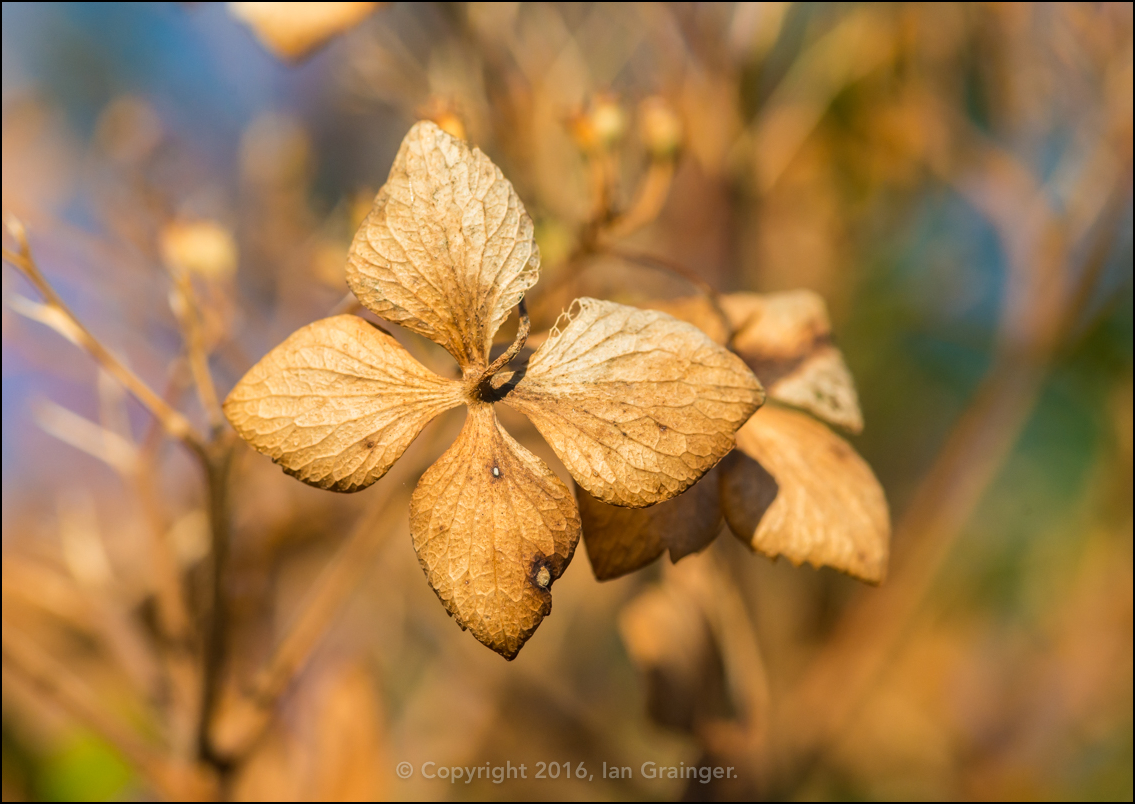 Autumn Bracts - December 2016
The Lacecap Hydrangea (Hydrangea macrophylla) bushes are really taking to their autumn coat of decaying bracts. While many cut the flower heads as soon as they start to wane, I like to leave them as they add interest all through the late autumn and winter months.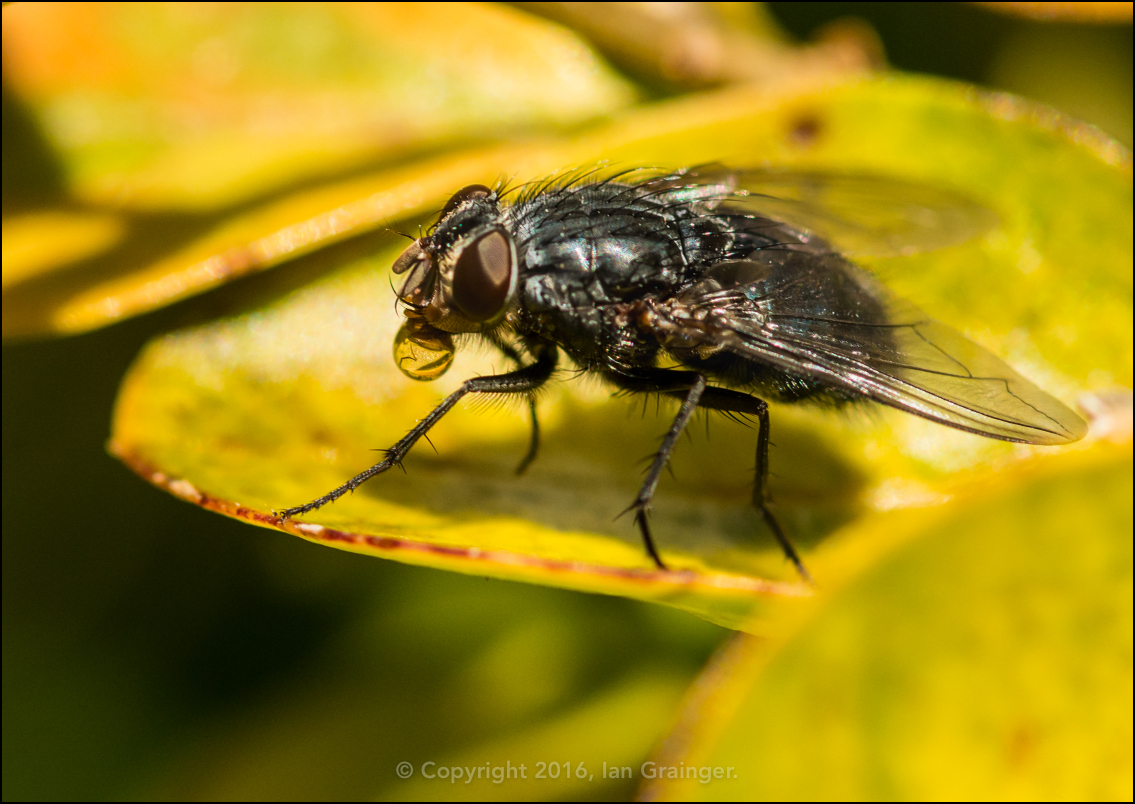 Bubble Blower - December 2016
Something I wasn't expecting to see with it being so cold was an insect, and certainly not one blowing a bubble! I've seen this behaviour in Flies (Diptera) before (see below), and have tried to research the behaviour, however, there doesn't seem to be any consensus of opinion in the scientific community that explains it.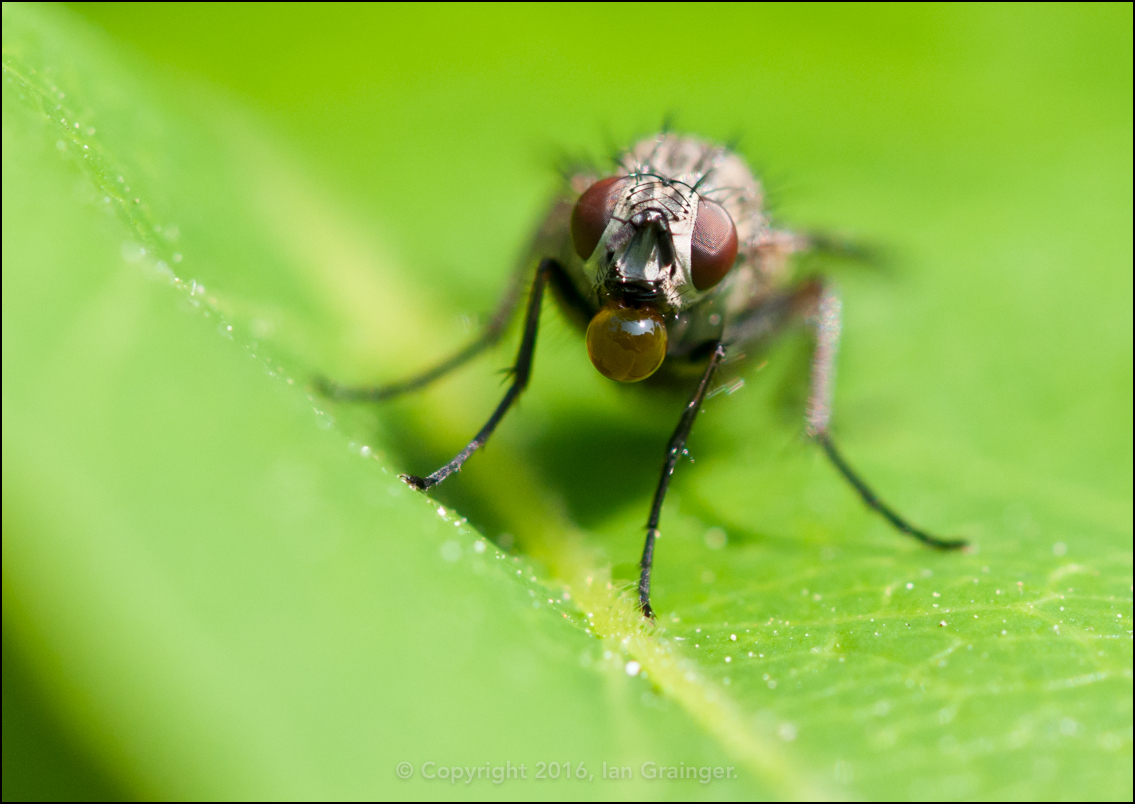 Bubble Blower - April 2011
Some of the theories at present range from them trying to expel excess water from their systems, or them trying to warm the fluid in the sunshine to raise their body temperature, or maybe they just have a cold?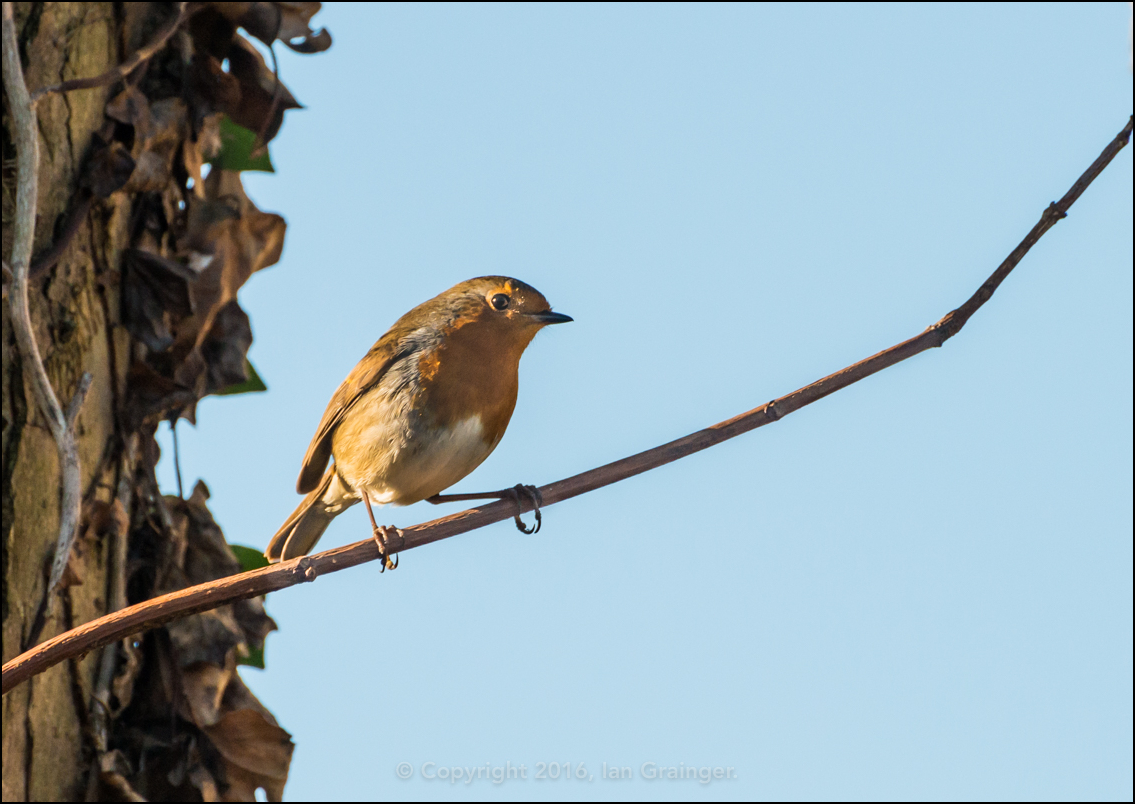 Bird on a Wire - December 2016
A much less gross subject, and much prettier, was this Robin (Erithacus rubecula). He wasn't quite as friendly as the one that keeps me company in my own garden, but at least he picked out a nice perch to sit on while I photographed him.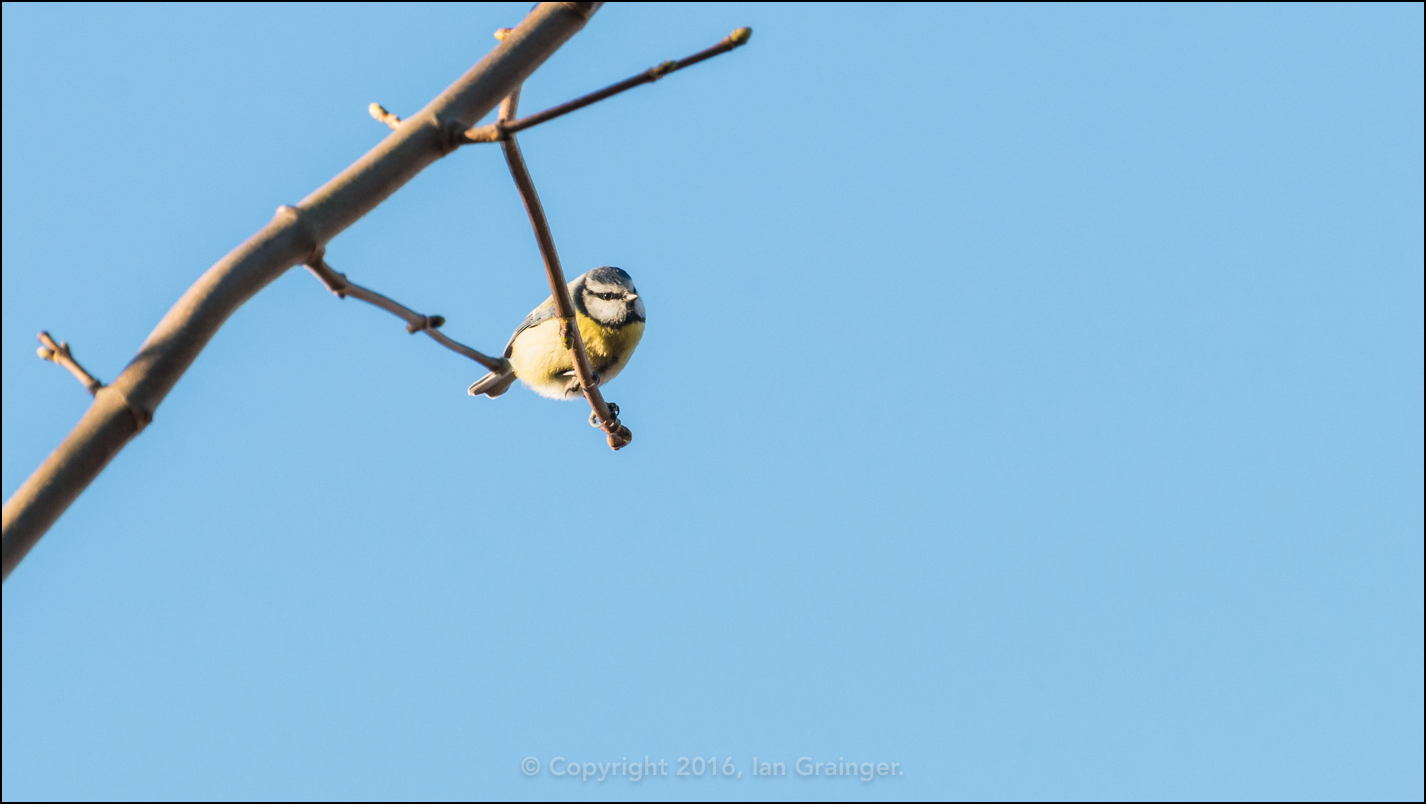 Ready for the Off - December 2016
This Blue Tit (Cyanistes caeruleus) was also quite obliging, although I only had a couple of seconds to grab a shot as he'd spotted something on the other side of the garden...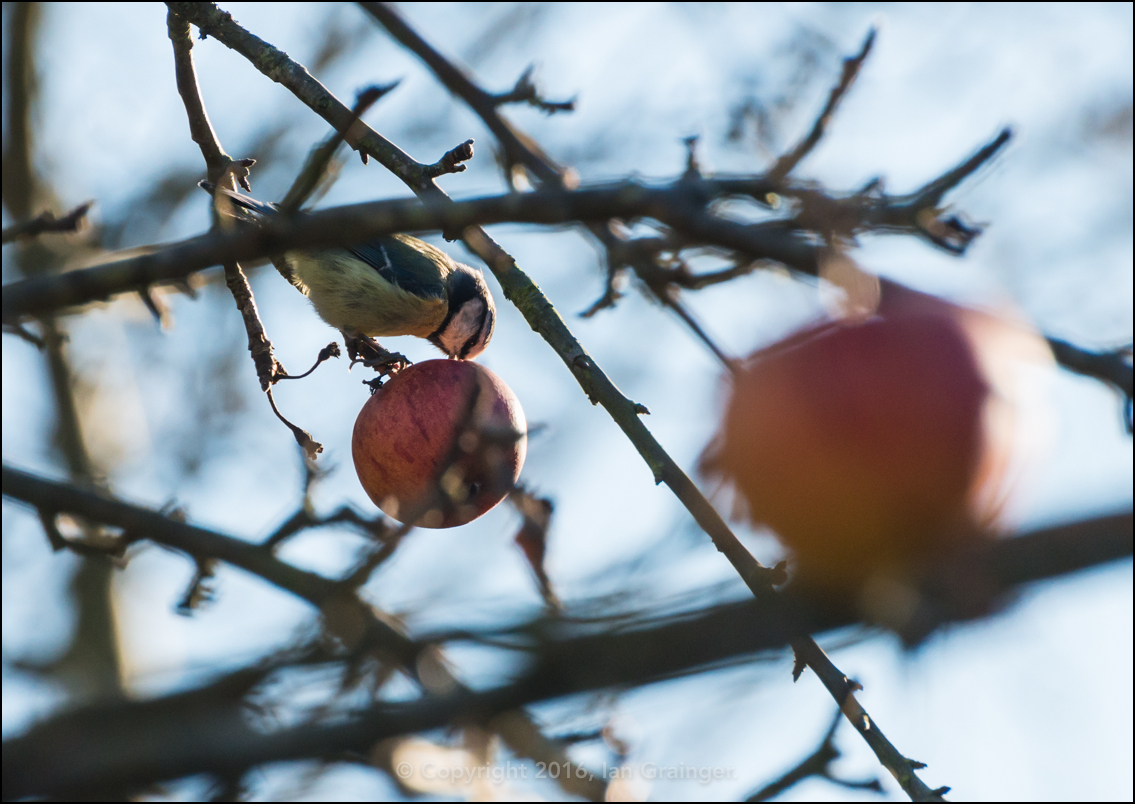 Apple Eater - December 2016
...and when I followed his flight I found out what it was. A big juicy apple!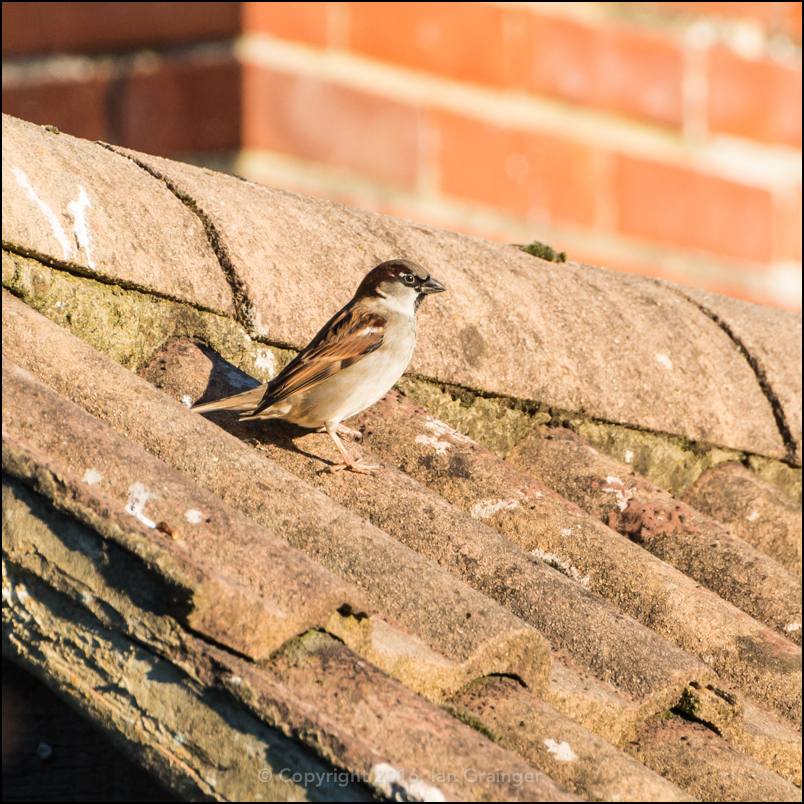 House Sparrow - December 2016
There were quite a few birds around at the weekend, with all of the usual suspects appearing at some point during the morning. As well as the Robins and the Blue Tits, there were plenty of House Sparrows (Passer domesticus) passing through...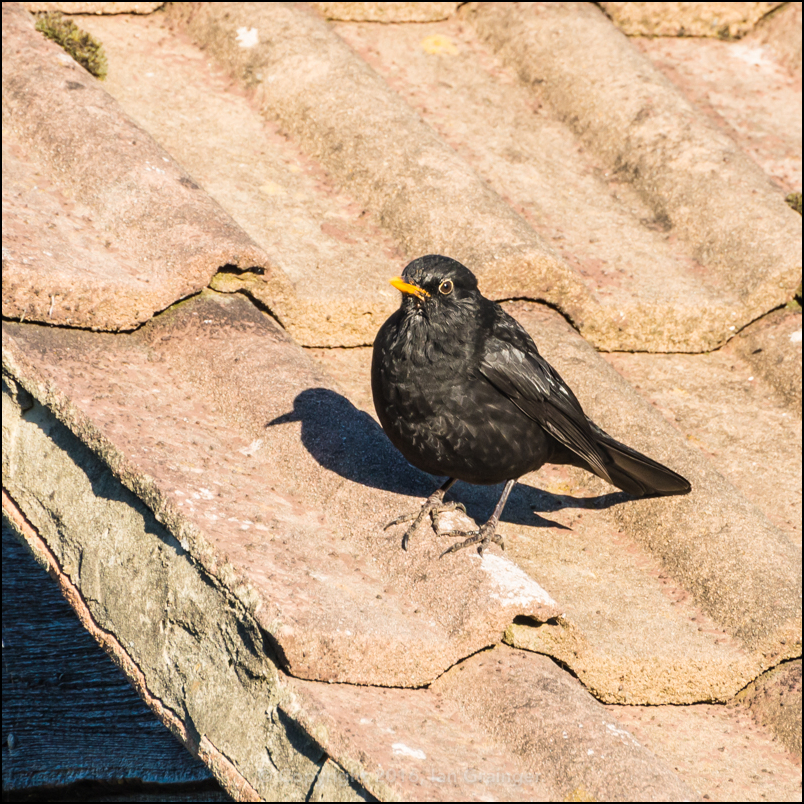 Male Blackbird - December 2016
..and Blackbirds (Turdus merula)...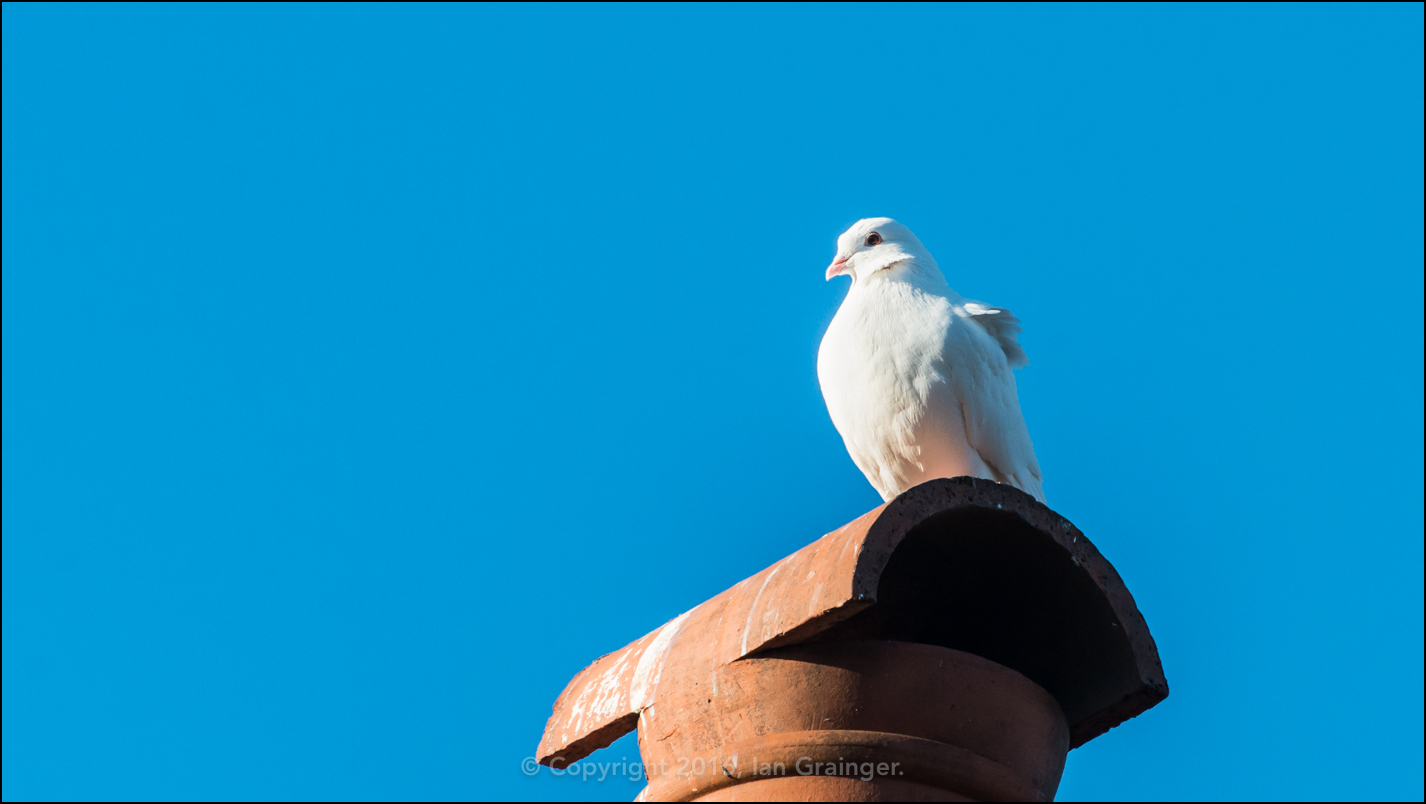 White Feral Pigeon - December 2016
...and this rather unusual white Feral Pigeon (Columba livia) had joined the regular flock that gather on the rooftops.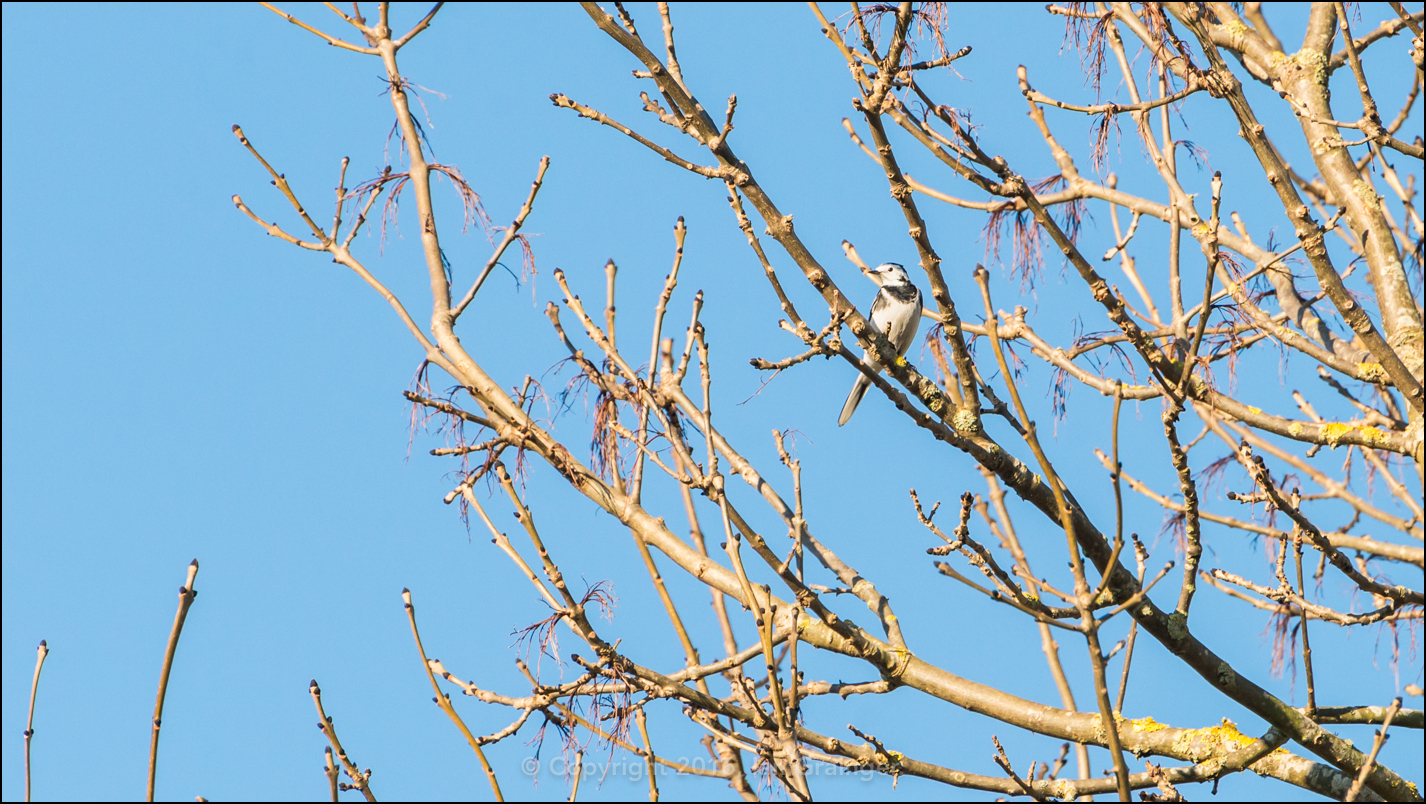 Pied Wagtail - December 2016
There were also a pair of Pied Wagtails (Motacilla alba) flitting about from tree to tree, and enjoying the early morning sunshine.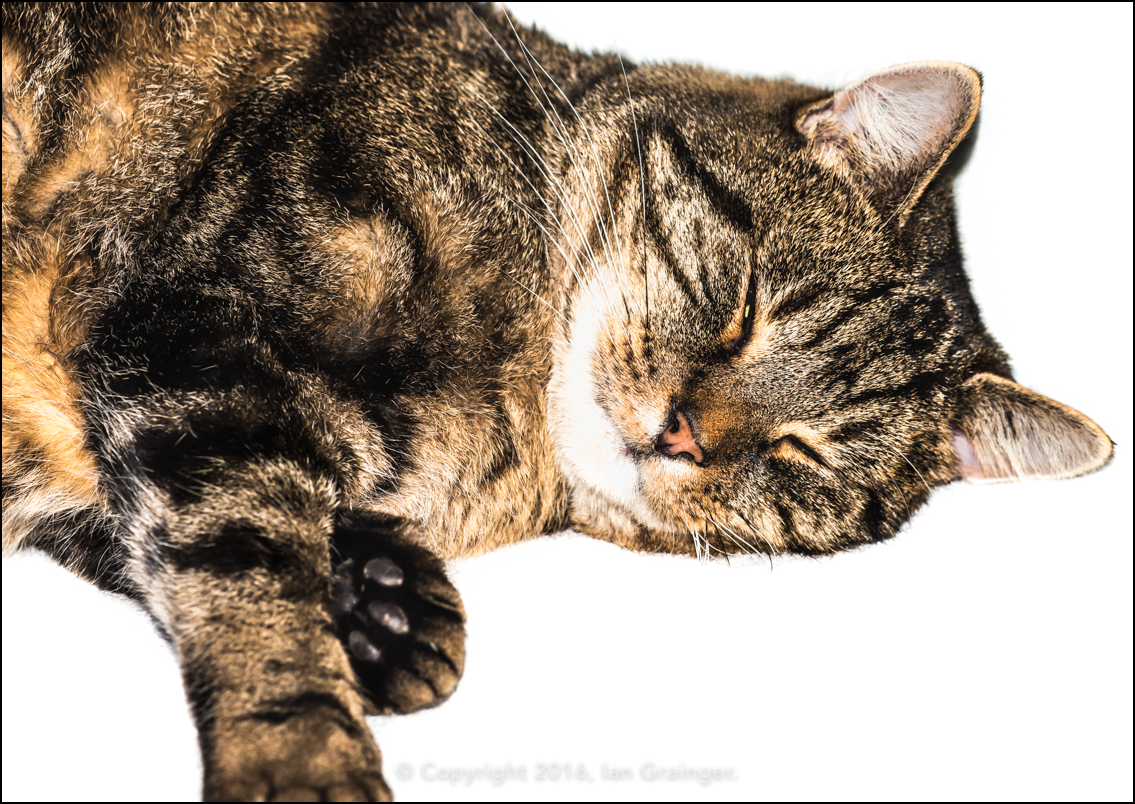 Catnap - December 2016
Frost on the floor meant my trusty photo friend remained indoors again this week. In fact he's getting quite used to lying on the white backdrop sheet I use for portrait and product photography. So much so that it's now almost useless as it's covered in fur!
So, this week I chose Ice Crystals as my Image of the Week, simply because the frosty ice particles lifted the subject from something ordinary to something rather pretty...