Orange Ladybird - July 2016
Well, what a difference a week makes. Last week it seemed summer had deserted us, and winter had returned, but this week we've been experiencing a heatwave.
The heat brought the insects back to the garden, including this lovely Cream-spot Ladybird (Calvia quatuordecimguttata), which seemed to be enjoying the Cosmos flowers in the garden.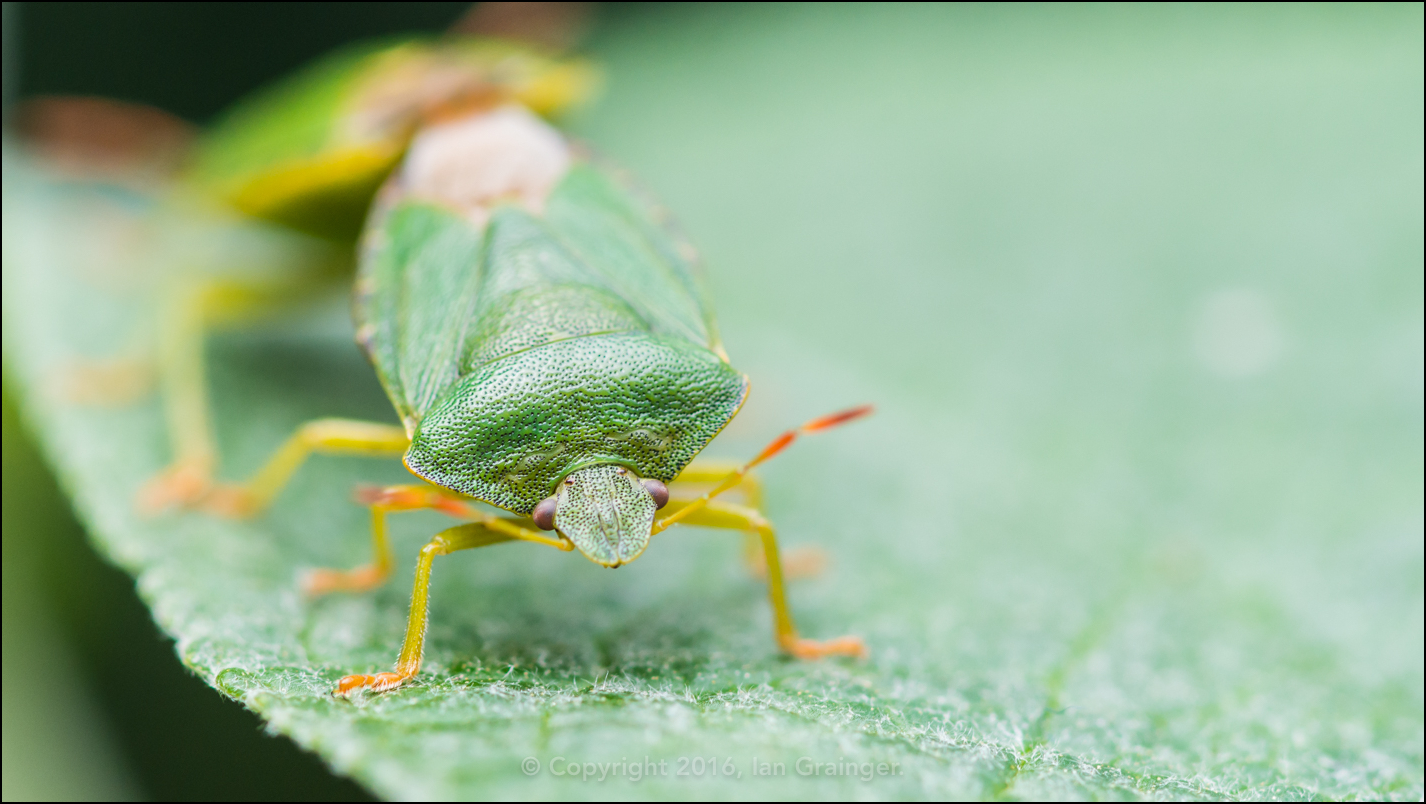 Green Shield Voyeurism - July 2016
The insects were wasting no time, and getting down to the nitty-gritty of procreation, and I caught these two mating Green Shield Bugs (Palomena prasina) in the leaves of a Butterfly Bush (Buddleia).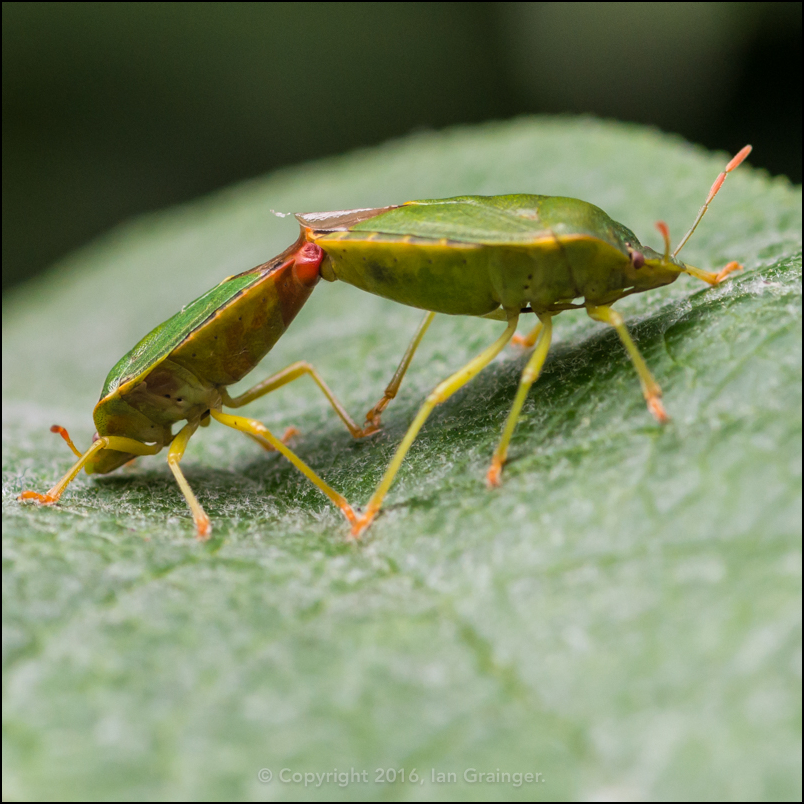 Feeling Frisky - July 2016
In fact they weren't the only mating couple I found amongst the leaves, and this is actually a different pair.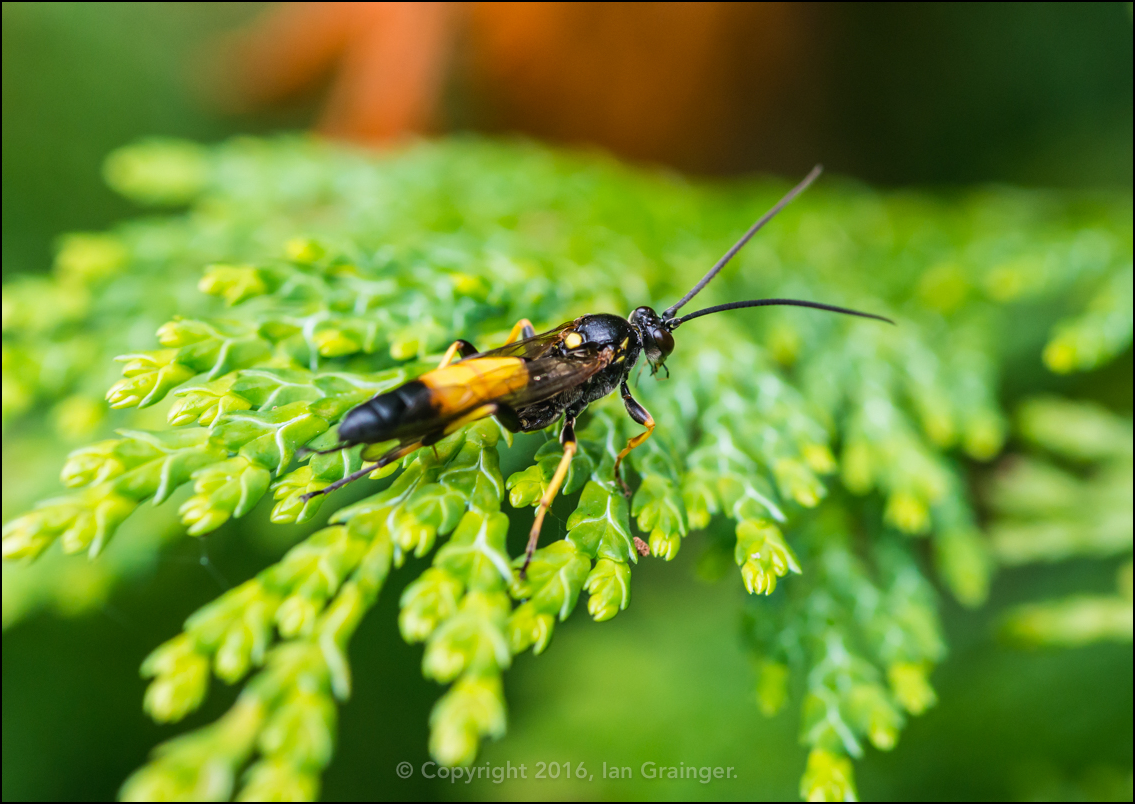 Ichneumon Wasp - July 2016
The Ichneumon Wasps were also out in the sunshine, and seemed to be attracted to the Conifers for some reason.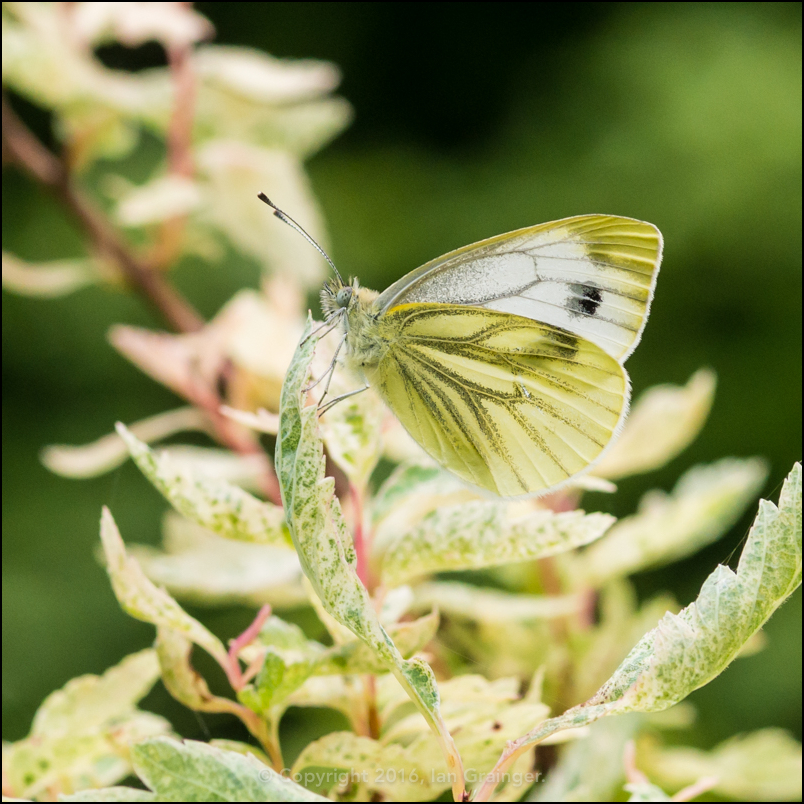 Green-veined White Butterfly - July 2016
There were also a fair few Green-veined White Butterflies (Pieris napi), which had also taken to copulating amongst the Buddleia Bush leaves, although this one was minding its own business in a Spiraea Bush.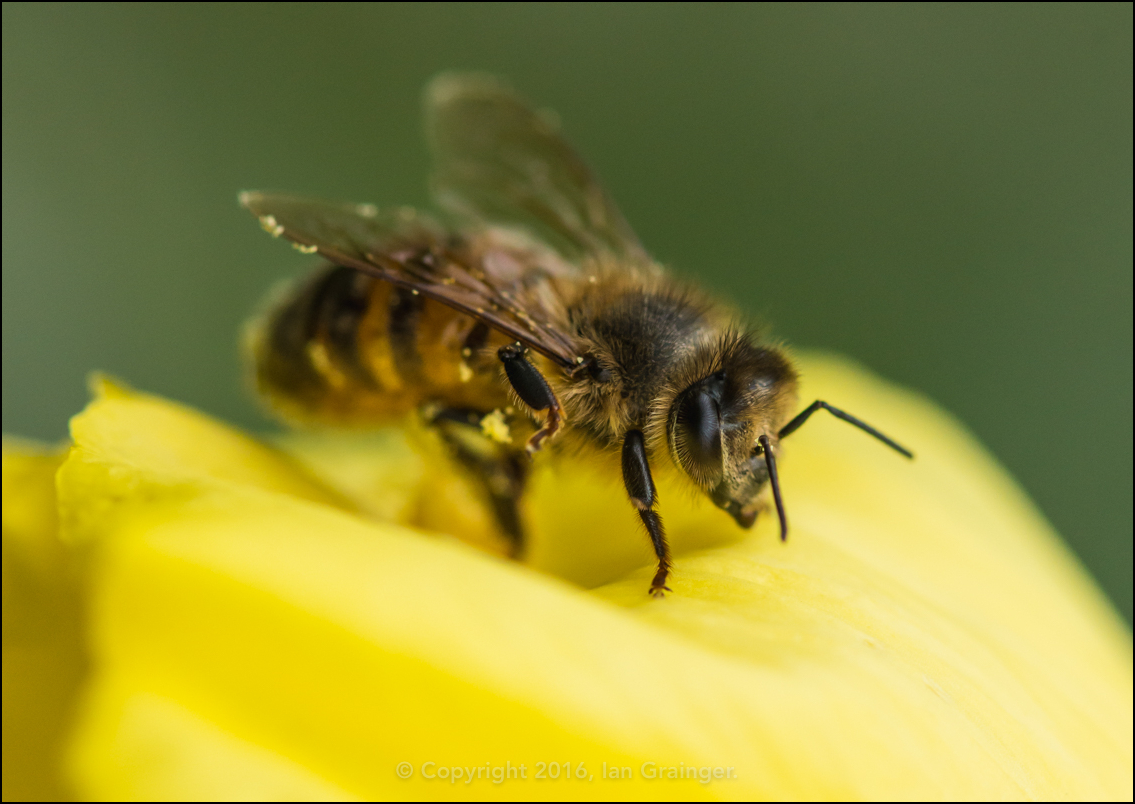 Evening Primrose Morning Visitor - July 2016
The Bees were also enjoying the sunshine, flitting between the various flowers in bloom, collecting as much pollen as possible before the rain returned.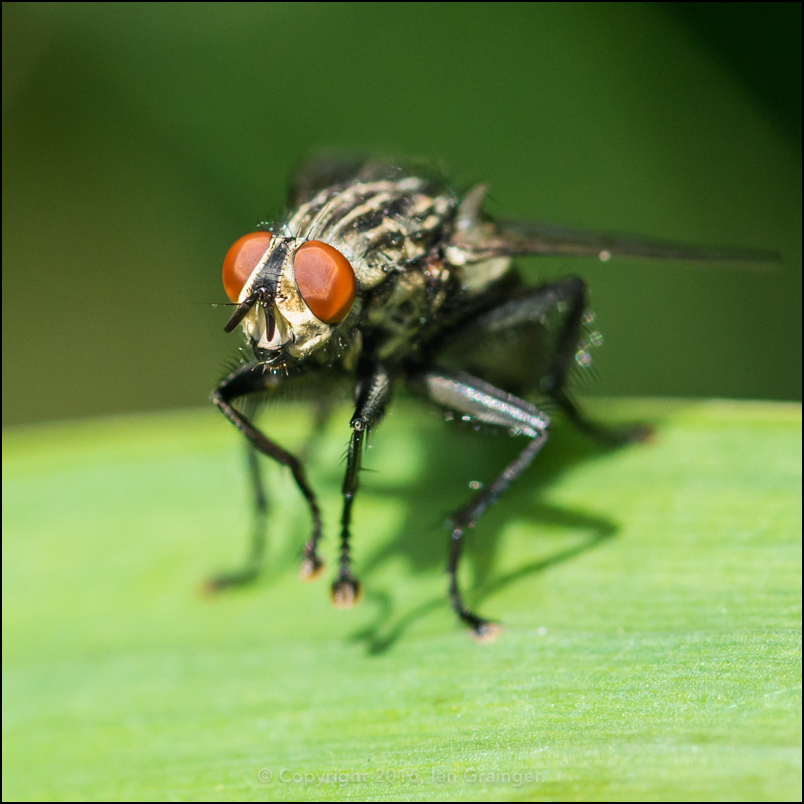 Flesh Fly Head On - July 2016
Of course, the Flesh Flies (Sarcophaga carnaria) are always plentiful throughout the summer months, and I caught this one sitting on the leaf of a Crocosmia...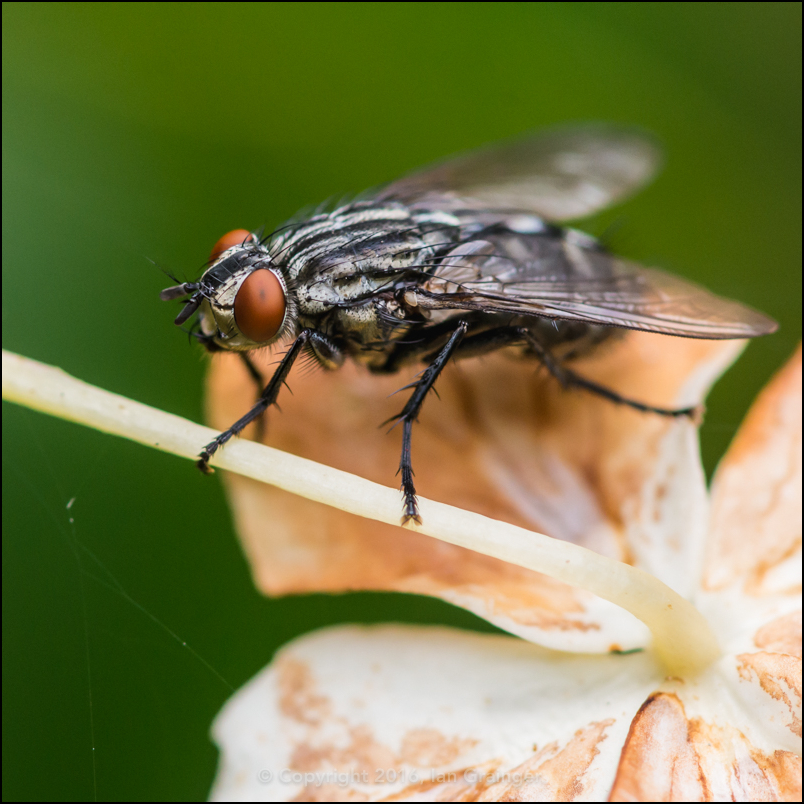 Flesh Fly Profile - July 2016
...while this one was sitting on an old Hydrangea Bush bract.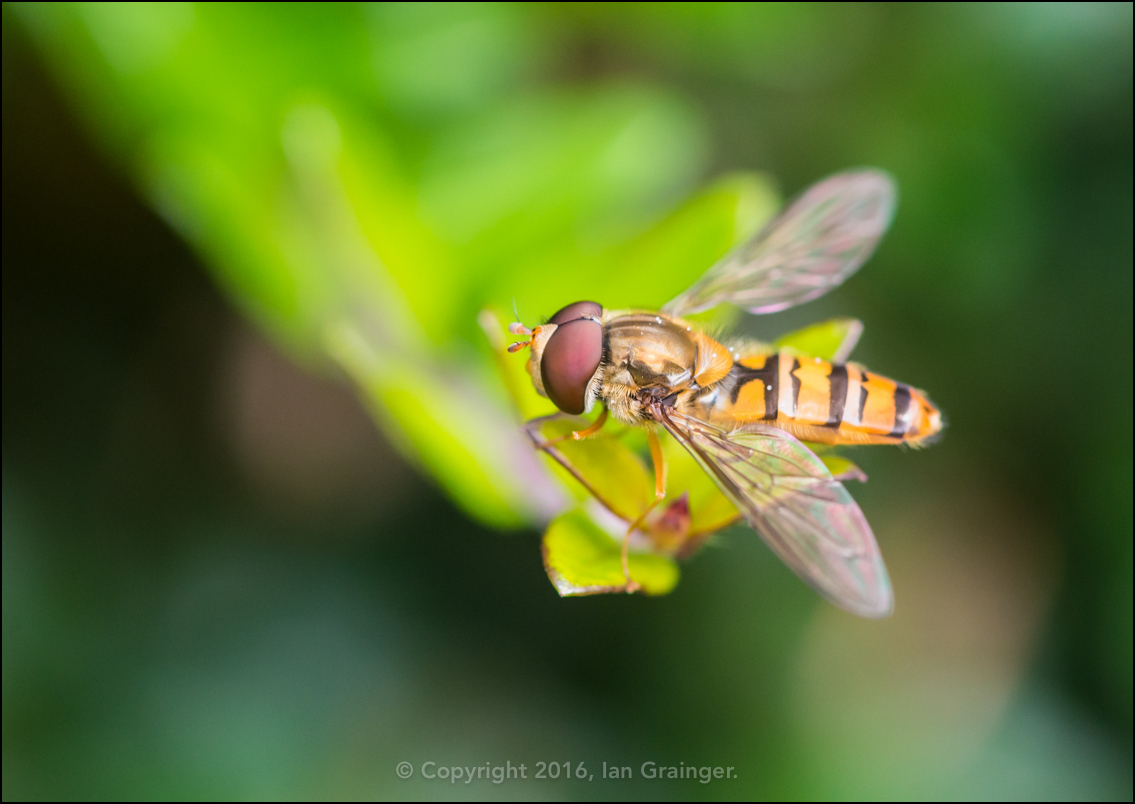 Hoverfly Basking - July 2016
I was surprised that there weren't very many Hoverflies doing their thing, although I did manage to find this one basking in the warm morning sun.
Butterfly Bush Globules - July 2016
New flowers for this week in dad's garden include this very handsome Buddleia, which no doubt will do a great job of attracting lots of butterflies to his garden throughout summer.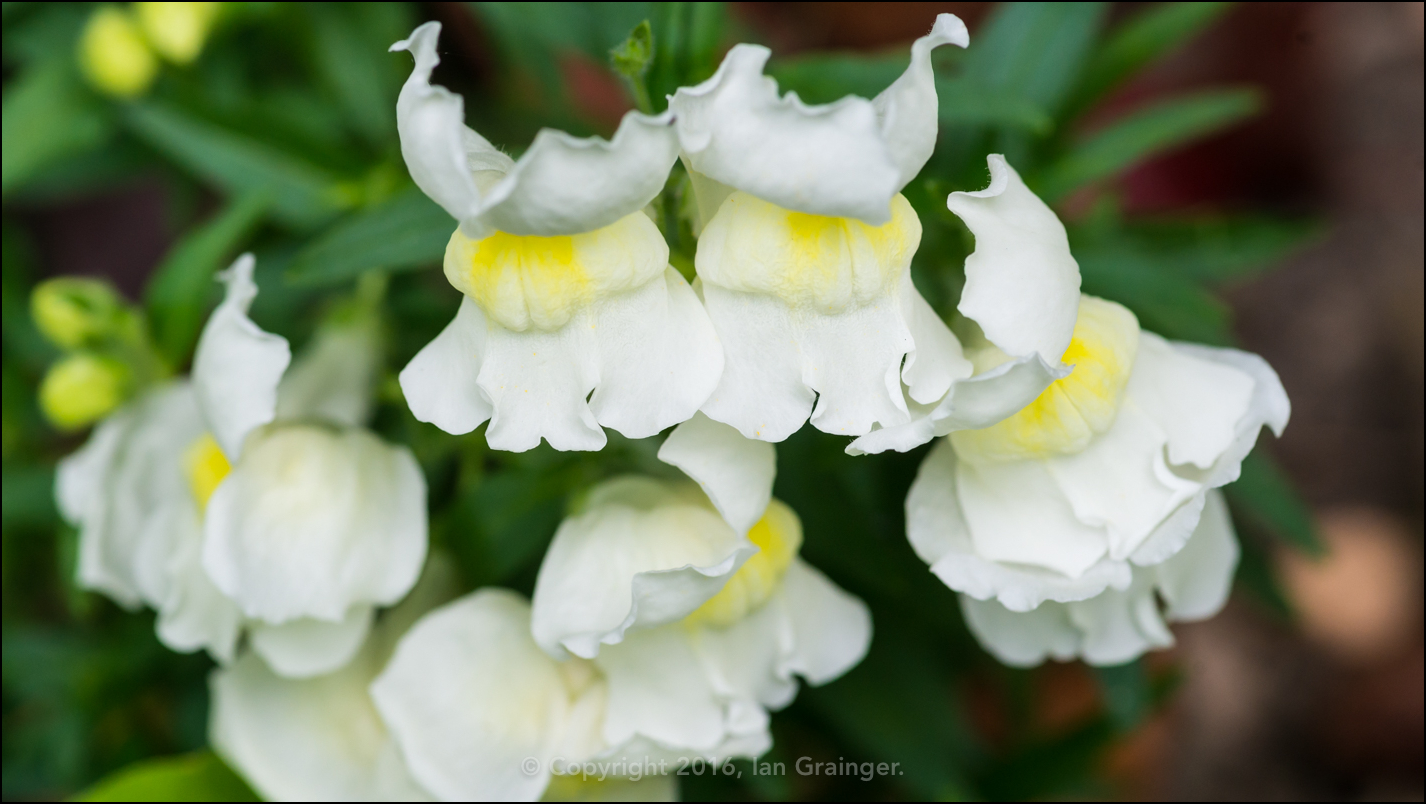 Antirrhinum Surprise - July 2016
We were quite surprised to find some Antirrhinum flowers springing up, which hadn't been planted since last year, and must have self-seeded themselves.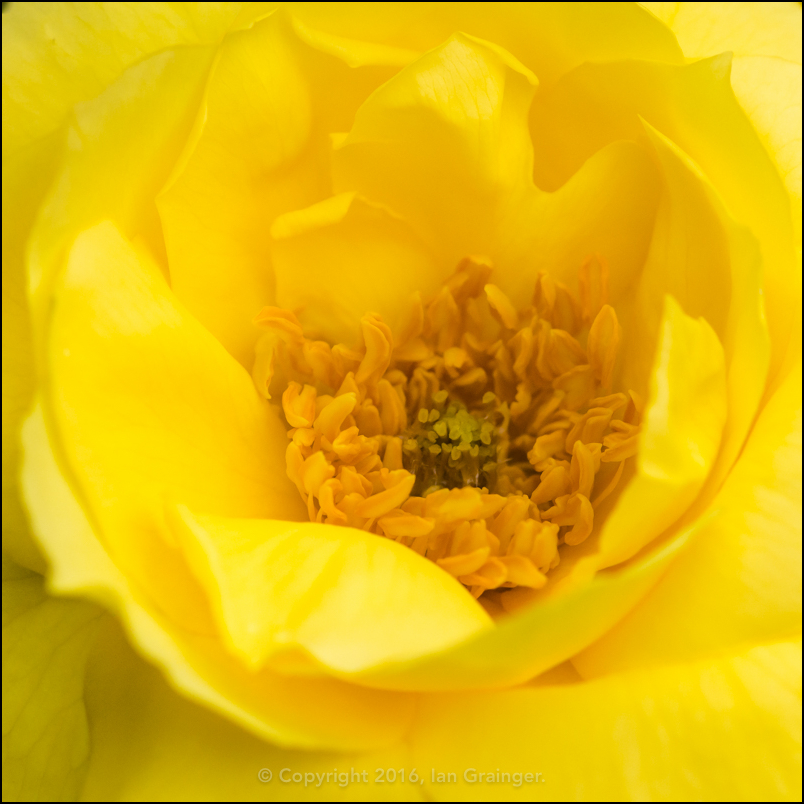 Yellow Rose Bowl - July 2016
Another surprise was this yellow Rose (Rosa) which seemed to have taken on a different appearance, being much more open than we'd seen it in the past.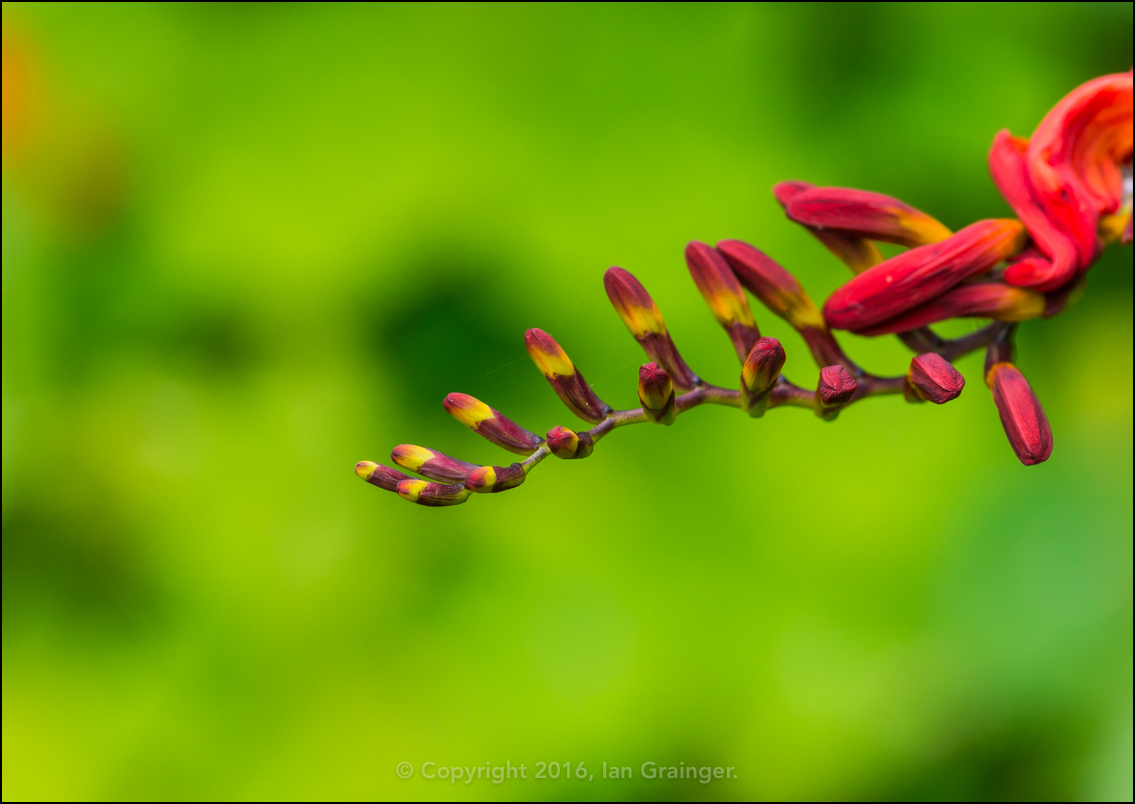 Fiery Fingers - July 2016
I always love the look of Crocosmia 'Lucifer' flower buds before they open, and they're always a challenge to photograph.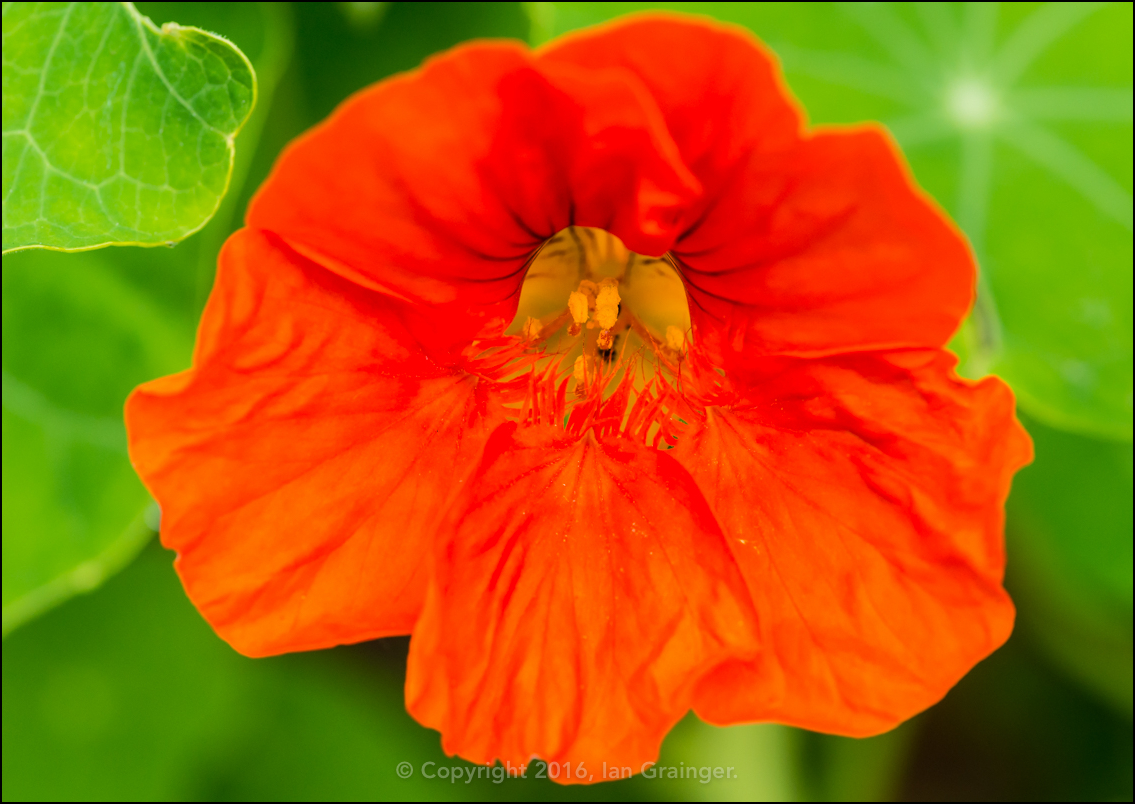 Nasturtium Fire - July 2016
The Nasturtium's were also looking very hot, and brightening up a border or two within the garden.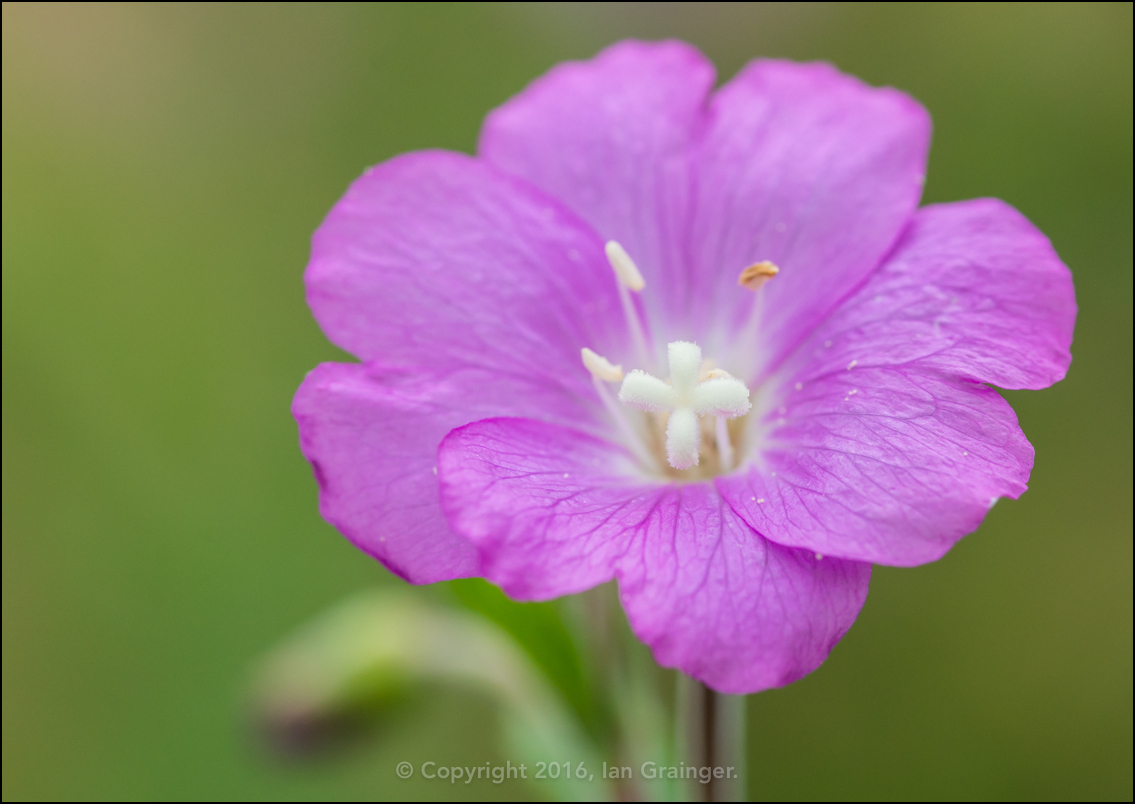 Great Willowherb - July 2016
The Great Willowherb (Epilobium hirsutum) always looks so pretty at this time of year, and although it's basically a weed, I think it has its place in the back of a border.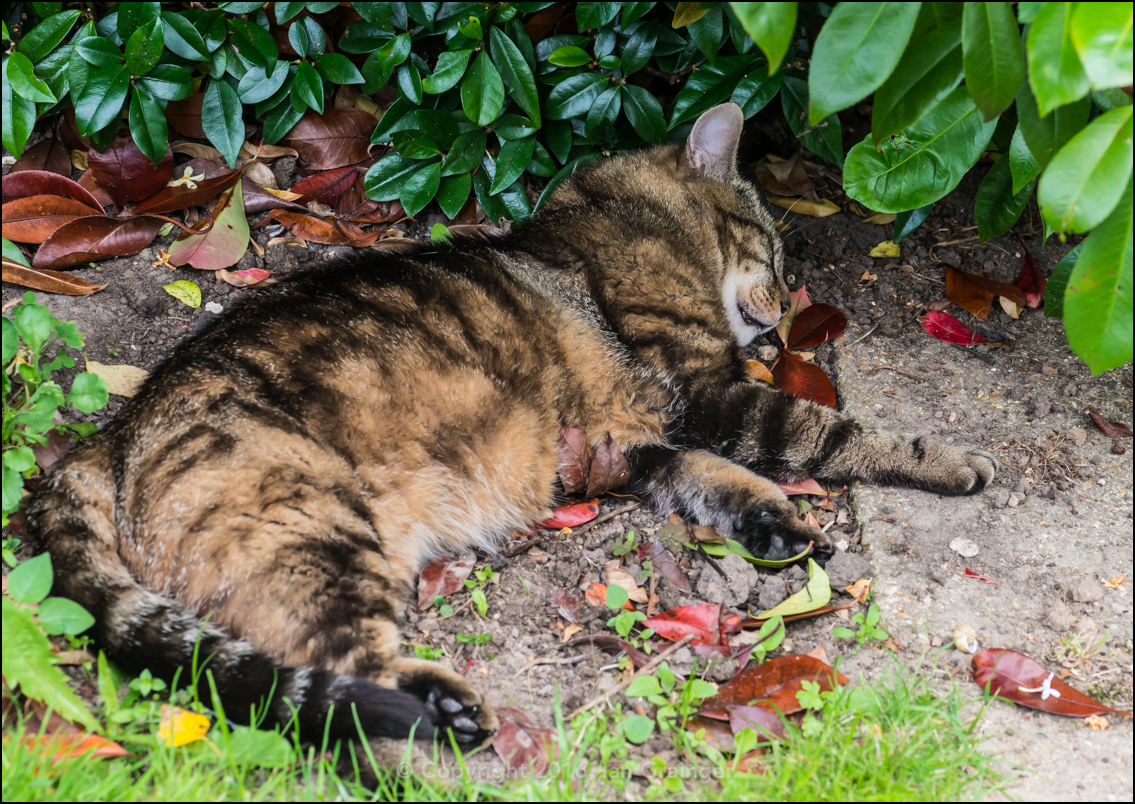 Lazy Sunday - July 2016
I have to stress that it was a very hot day when I took the pictures above, and although my little furry friend tried to follow me around as usual, the heat eventually got to him! He finally plonked himself down in the coolest, but dustiest place he could find and dozed off.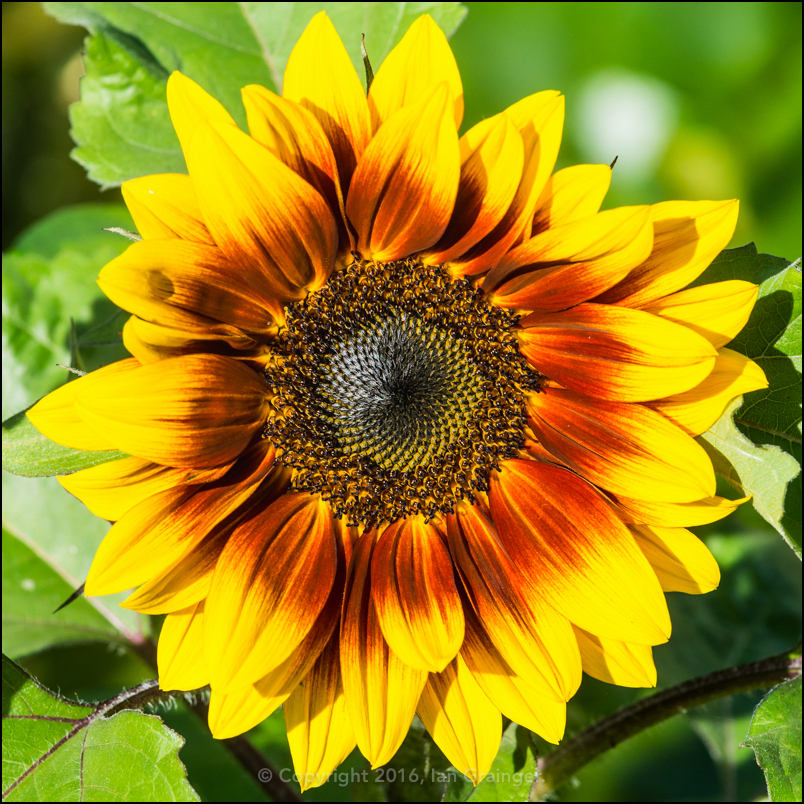 Dazzler - July 2016
Meanwhile, back in my garden, the Sunflowers (Helianthus) had finally arrived...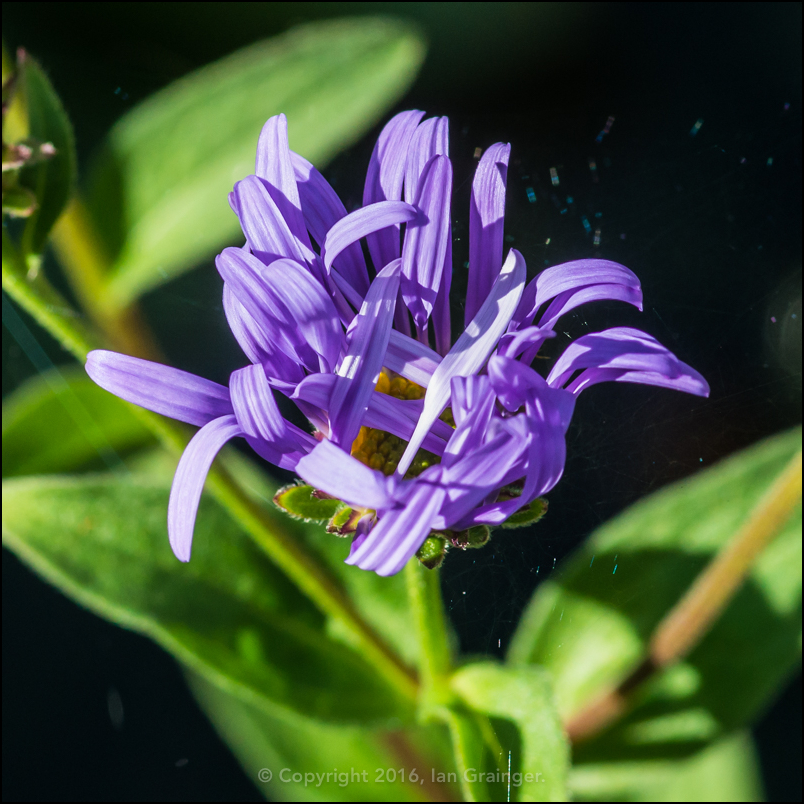 Flower Forming - July 2016
...and it wouldn't be long before the Asters would be joining them. This is a variety called Aster frikartii monch, which has lovely slender blue petals and a bright yellow centre. Hopefully next week we'll get to see it in all of its glory.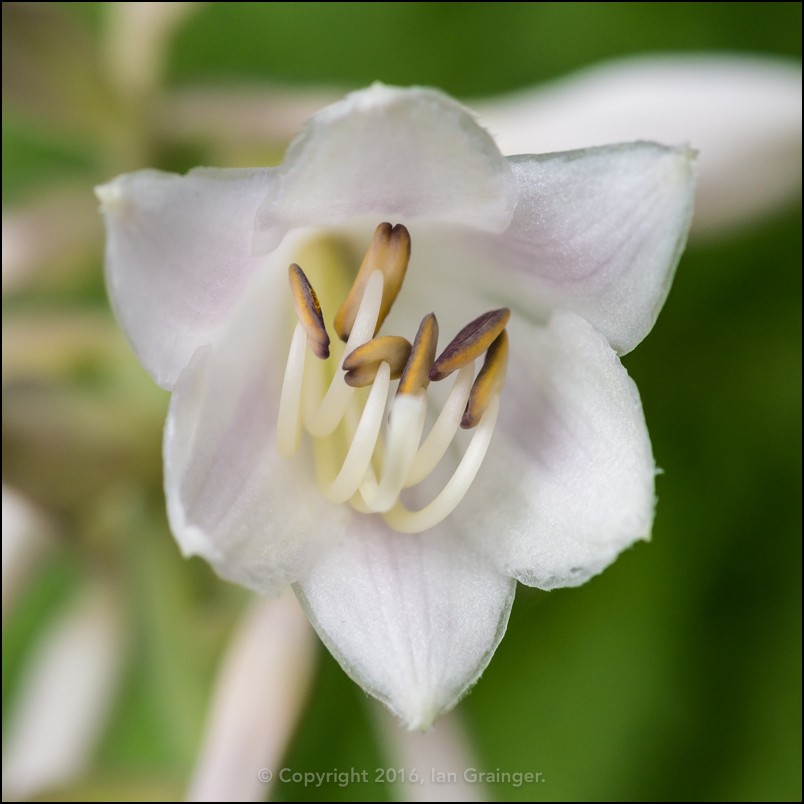 Hosta Bloom - July 2016
The Hosta's have also begun to flower, and while you primarily grow them for their lovely green foliage, they also have quite pretty flowers. This one is variety Hosta aquiba drinking gourd.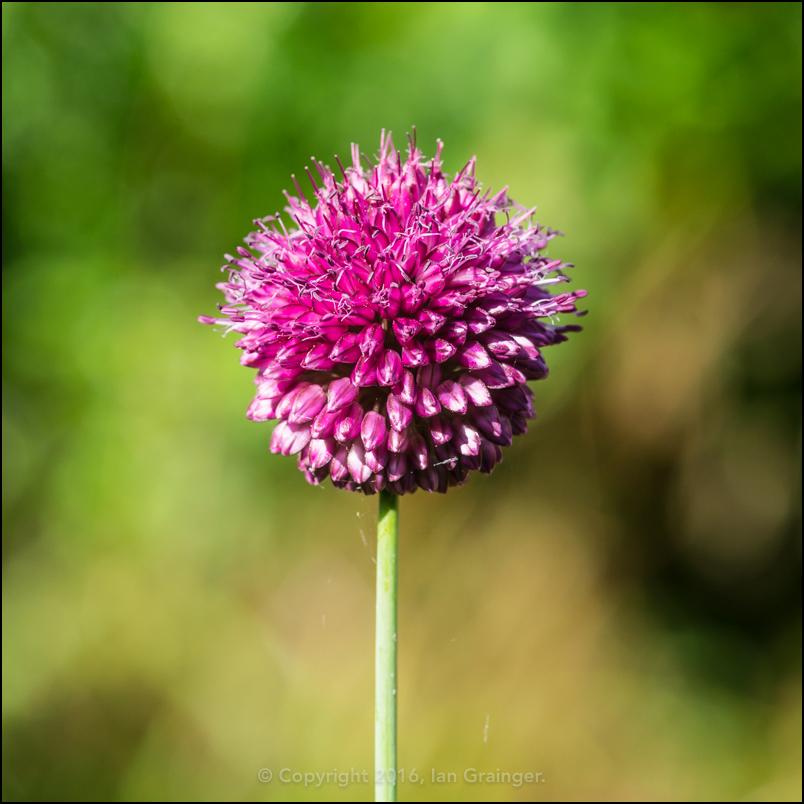 Allium Drumstick - July 2016
The bees are very happy that the Drumstick Alliums (Allium sphaerocephalon) have finally burst into bloom. It's a wonder that there are none in this picture, as they're almost constantly covered in them!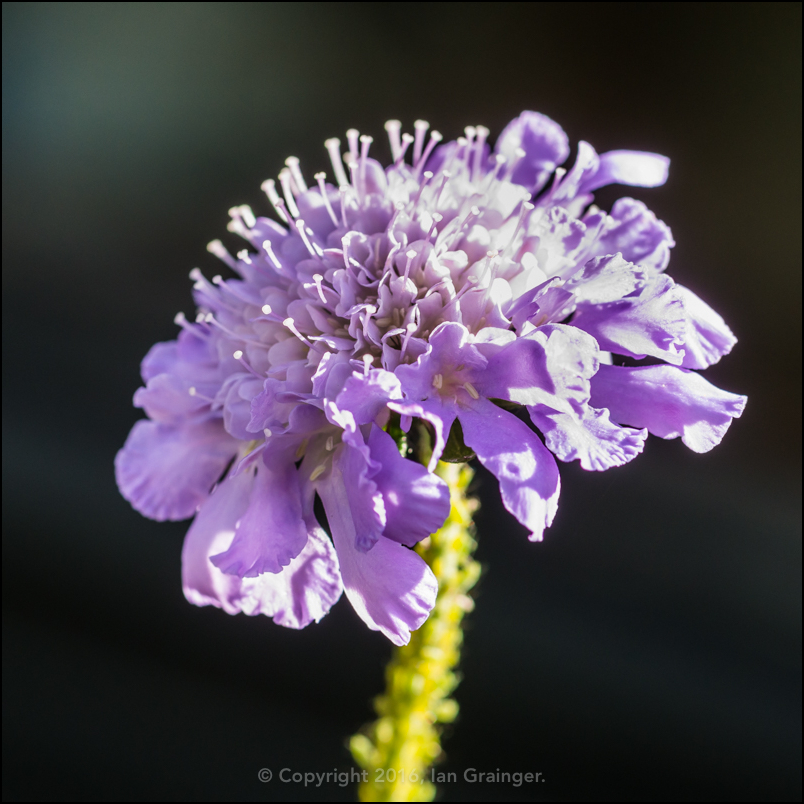 Scabious Saviour - July 2016
I'm very pleased with this Field Scabious (Knautia arvensis) which I bought as a wind damaged plant a few weeks ago. I performed some drastic surgery on it, trimming it all back, and now it is rewarding me with a fresh set of flowers.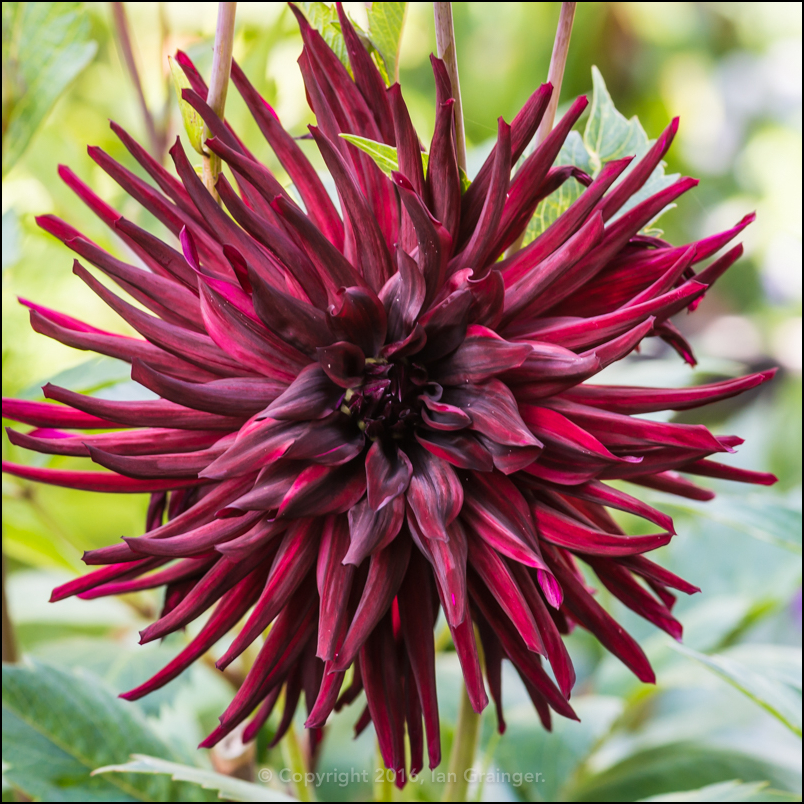 Maroon Dahlia - July 2016
My Dahlia 'Nuit D'Ete' is getting better and better, and is definitely the best plant in my garden, although I have a few more Dahlias currently in bud, so next week that may change.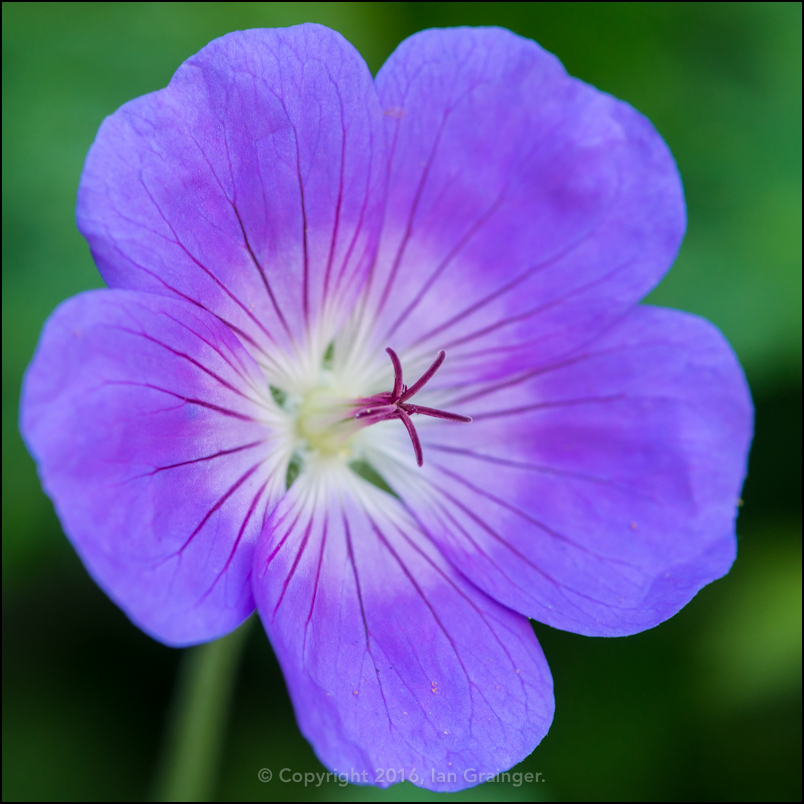 Colourful Geranium - July 2016
My Geranium 'Rozanne' has been flowering since May, and is now really getting into its stride, producing lots and lots of these really lovely bluey purple blooms.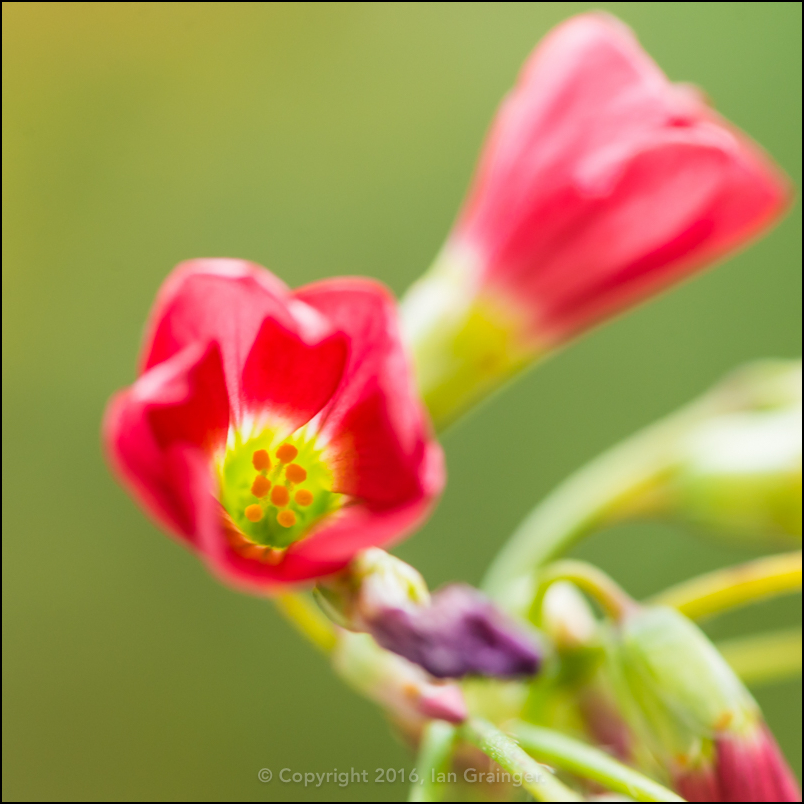 Red Cross - July 2016
Now this is an interesting one! I've grown Oxalis 'Iron Cross' bulbs for the last three years, and although I've had nice lush green foliage, I've never had a flower appear. That is until this week. They don't look much when seen from a distance, but I think they're rather nice when seen in close-up.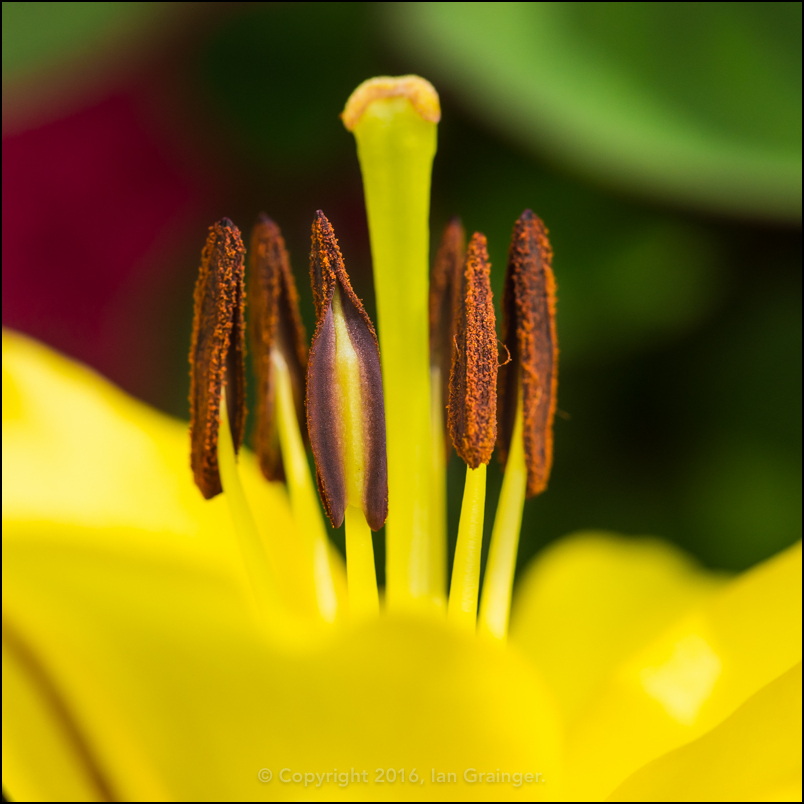 Attention - July 2016
Finally, this week my Oriental Lilies (Lilium) arrived, a few weeks later than my Asiatics, but just as lovely.
So, this week I'm making my Image of the Week Orange Ladybird, although I probably could have chosen any one of the insect photographs and have been reasonably happy with my choice...