Vigilant Gatekeeper - July 2016
The heatwave I talked about last week continued for most of this week, and brought with it a whole host of friendly butterflies.
This Gatekeeper (Pyronia tithonus) was one of many fluttering around the garden at the weekend, and was very patient with me as I followed it around, snapping it from various angles.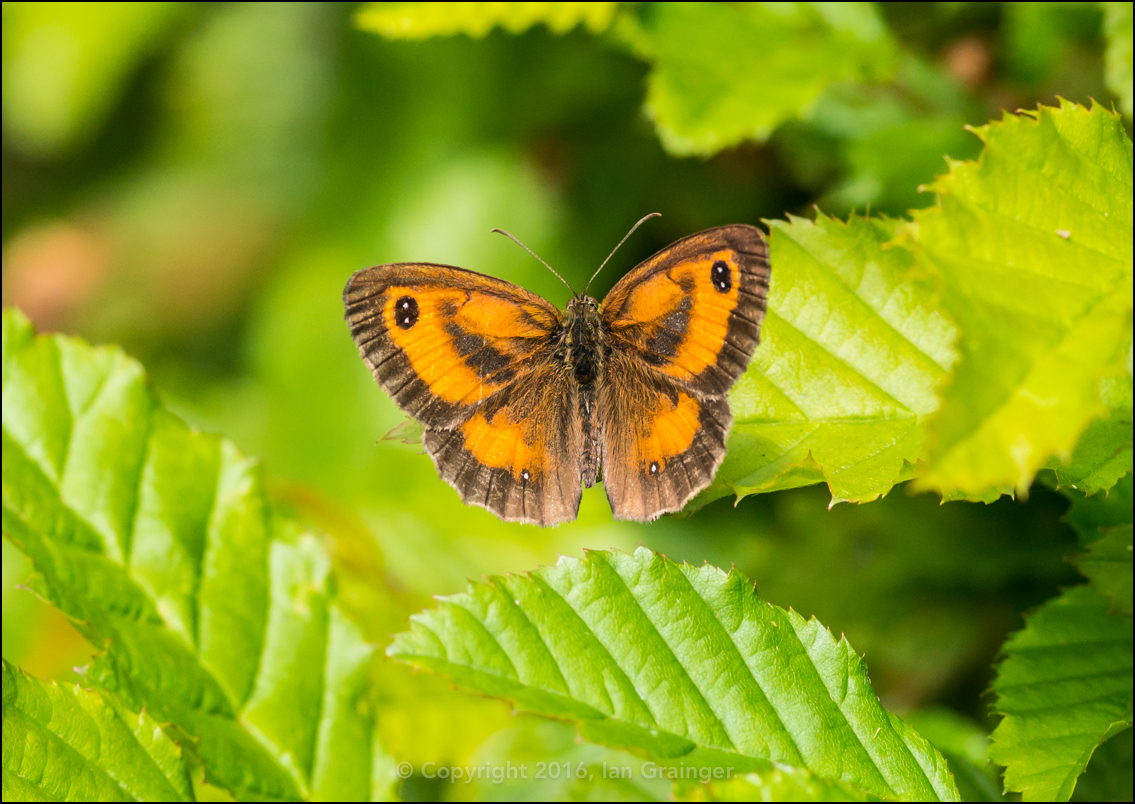 Open Winged - July 2016
They don't sit with their wings wide open for long, so I was quite pleased to grab this overhead shot as it settled in a bush.
Underwing - July 2016
I also managed to grab an underwing shot of the same butterfly as it searched for the best place in the bush to spend the morning warming up.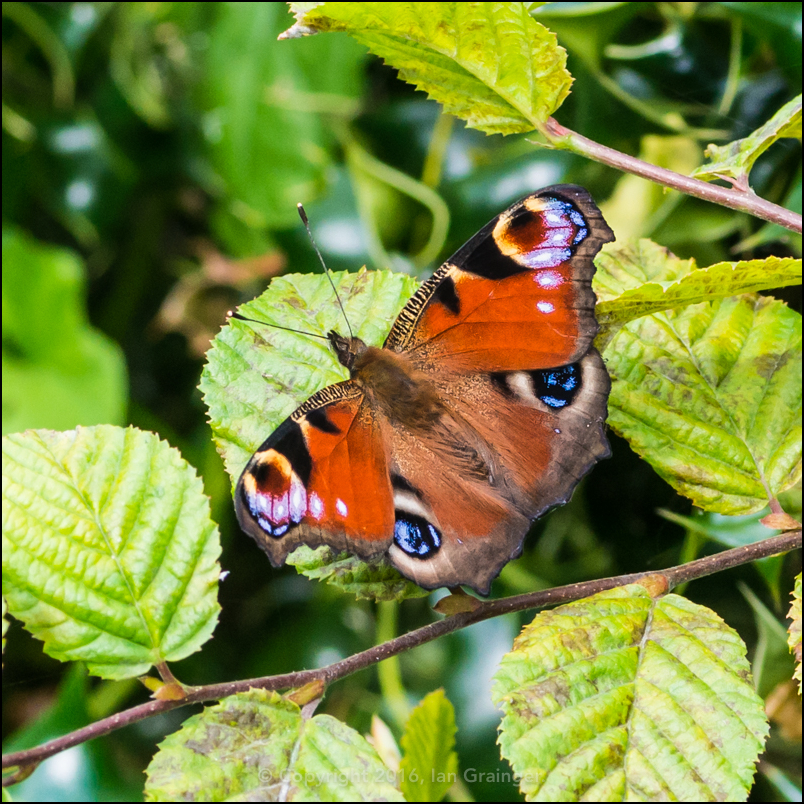 Pretty Peacock - July 2016
Once I was happy I had the shots I wanted of the Gatekeeper, I went off in search of new quarries. The Peacock (Aglais io) butterfly is probably the most colourful of the UK's butterflies, and is definitely my favourite. I don't often see them, and when I do, they don't seem to hang around for long, so I was over the moon to grab this shot as it settled in the same bush as the Gatekeeper!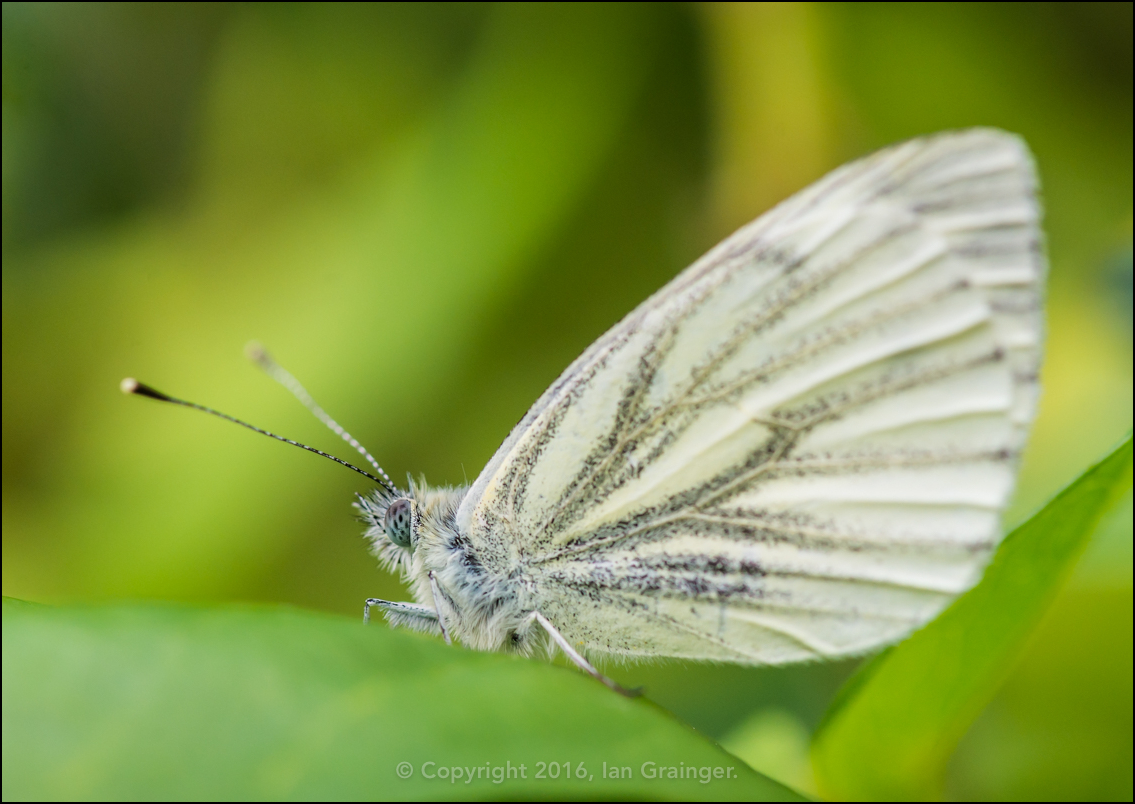 Green-veined White - July 2016
Like last week, there were plenty of Green-veined White (Pieris napi) butterflies making their way around the garden in search of mates.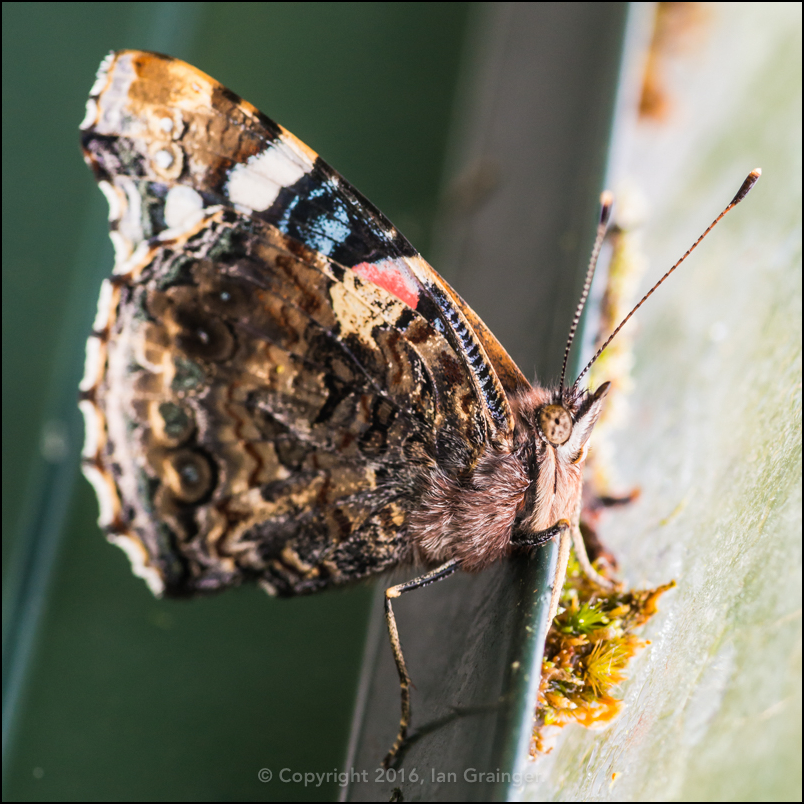 Admiral Underwing - July 2016
I found this Red Admiral (Vanessa atalanta) seemingly trapped in the greenhouse, but when I eventually managed to coax it out, it flew straight back in there!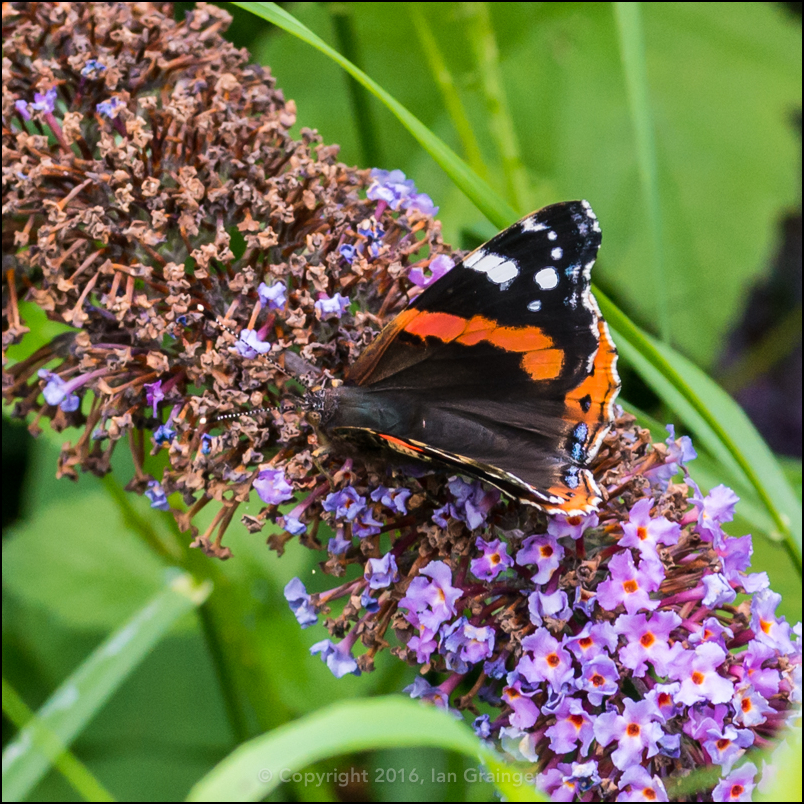 Red Admiral Opening - July 2016
Another specimen was enjoying the treats of a Butterfly Bush (Buddleia), although it could have chosen a better flower to settle on in my opinion...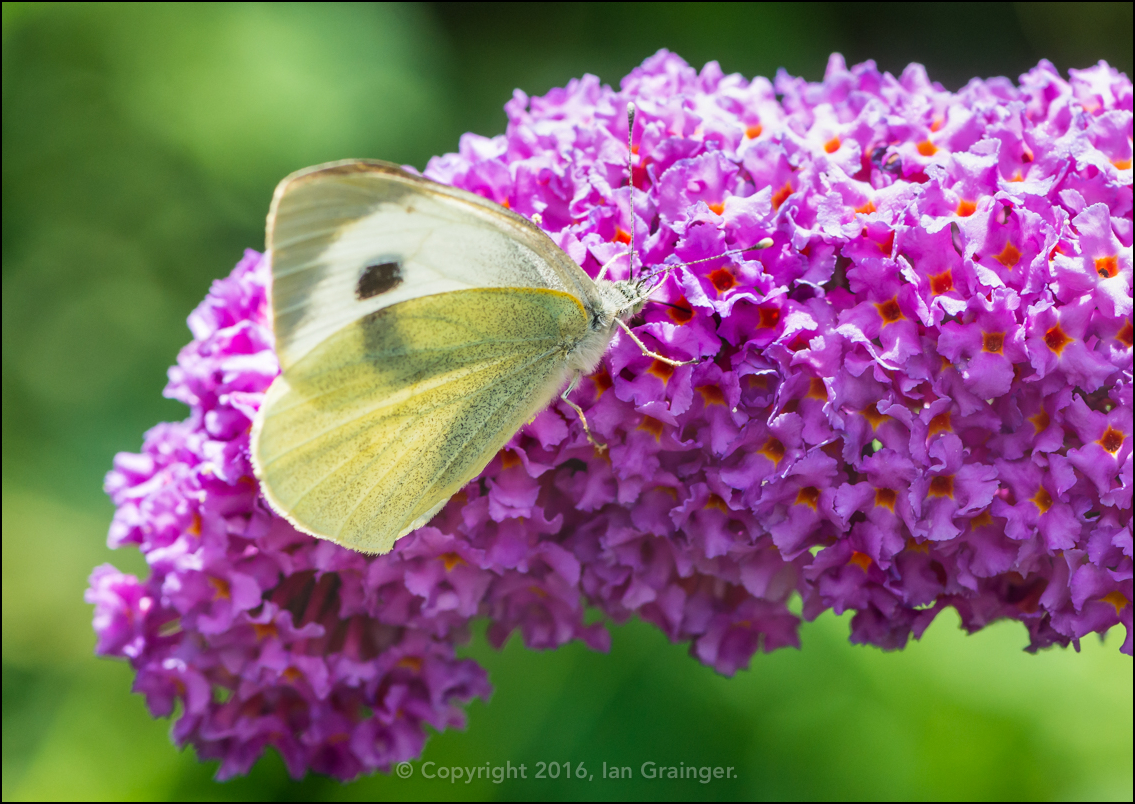 Large White Collector - July 2016
...like this Large White (Pieris brassicae), who seemed to have picked the perfect flower to alight onto.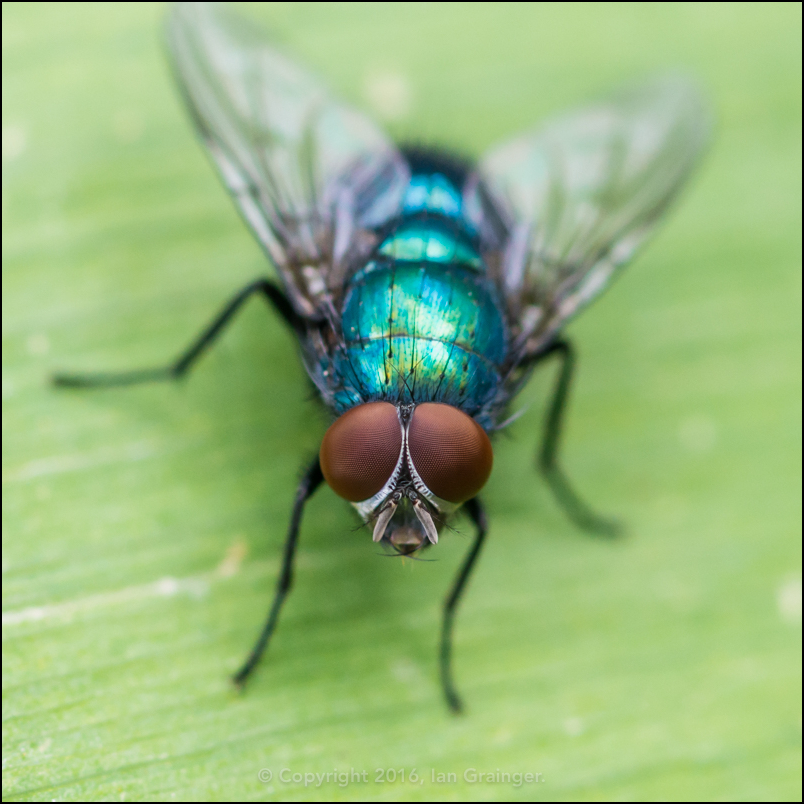 Beady Eyed - July 2016
Other than butterflies, there were plenty of other insects buzzing around the garden, mostly Bees, Hoverfliles, Wasps and Flies, like this Greenbottle (Lucilia caesar).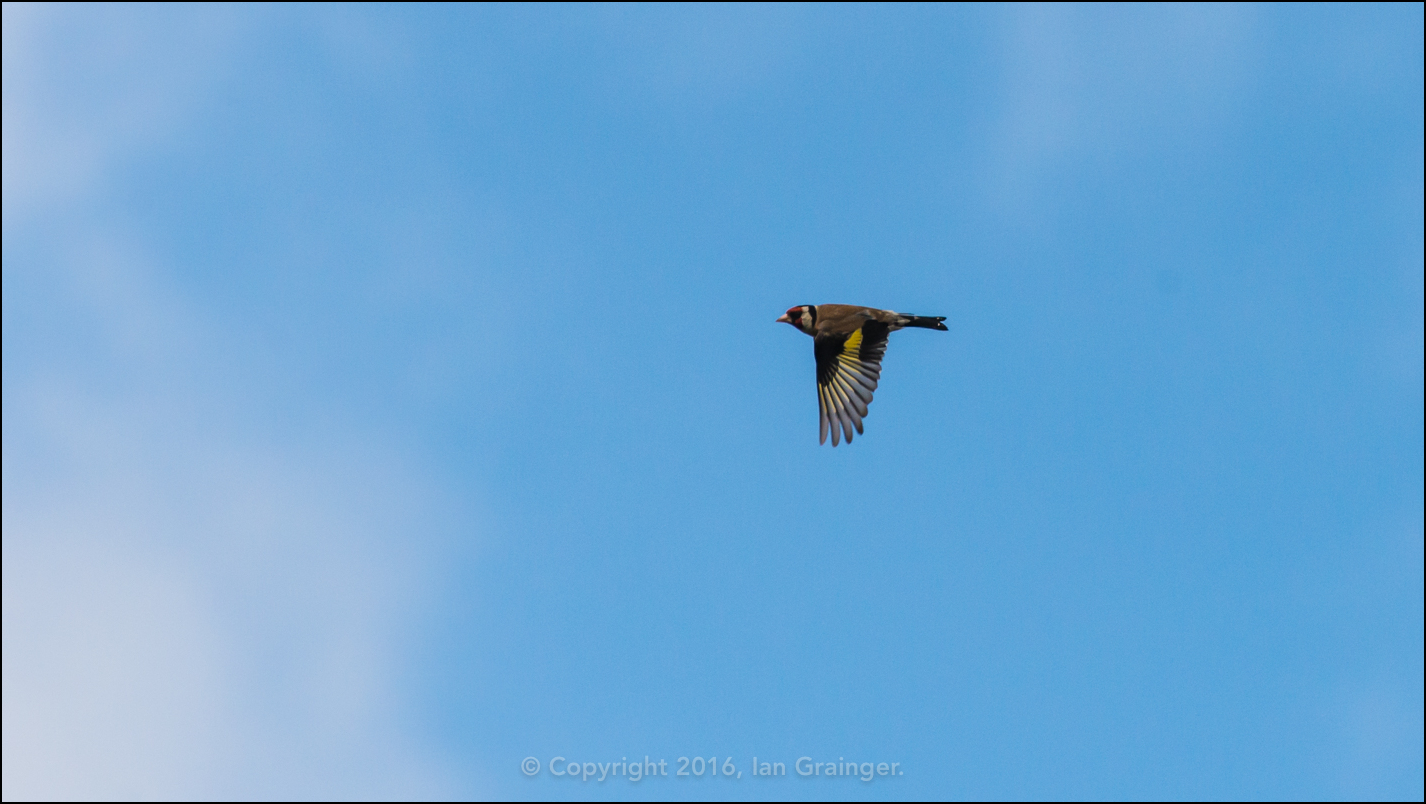 Colourful Grace - July 2016
With insect activity at a high for the year, there were also plenty of birds. As always, the Goldfinch (Carduelis carduelis) were flying from treetop to treetop enjoying the blue skies.
Call on Me - July 2016
Not so much after insects as bread scattered on the lawn were the noisy Black Headed Gulls (Chroicocephalus ridibundus), with this one intent on waking up the whole street with its squawks!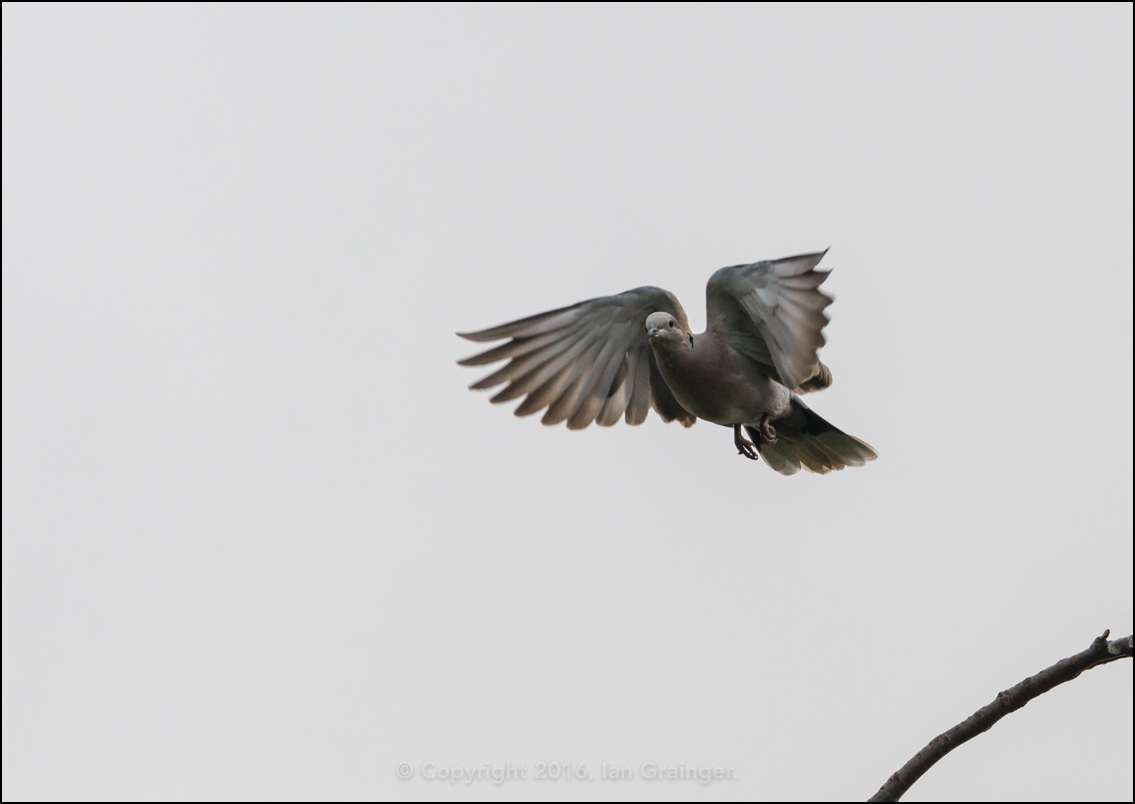 Collared Dove Take-off - July 2016
Another noisy neighbour was this Collared Dove (Streptopelia decaocto), who seemed to be missing their usual mate.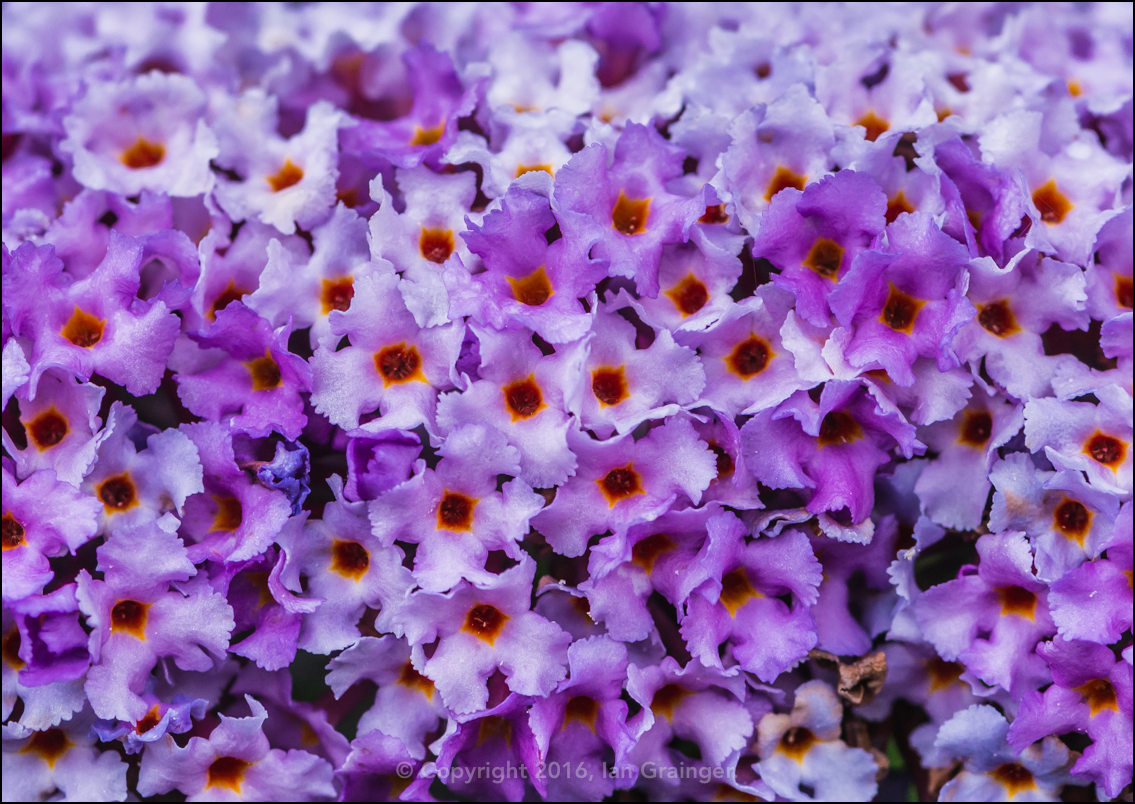 Butterfly Bush Florets - July 2016
As already seen, the Butterfly Bush was doing its job attracting the butterflies to dad's garden, and when you see the structure of the flowers in close-up, you can understand why.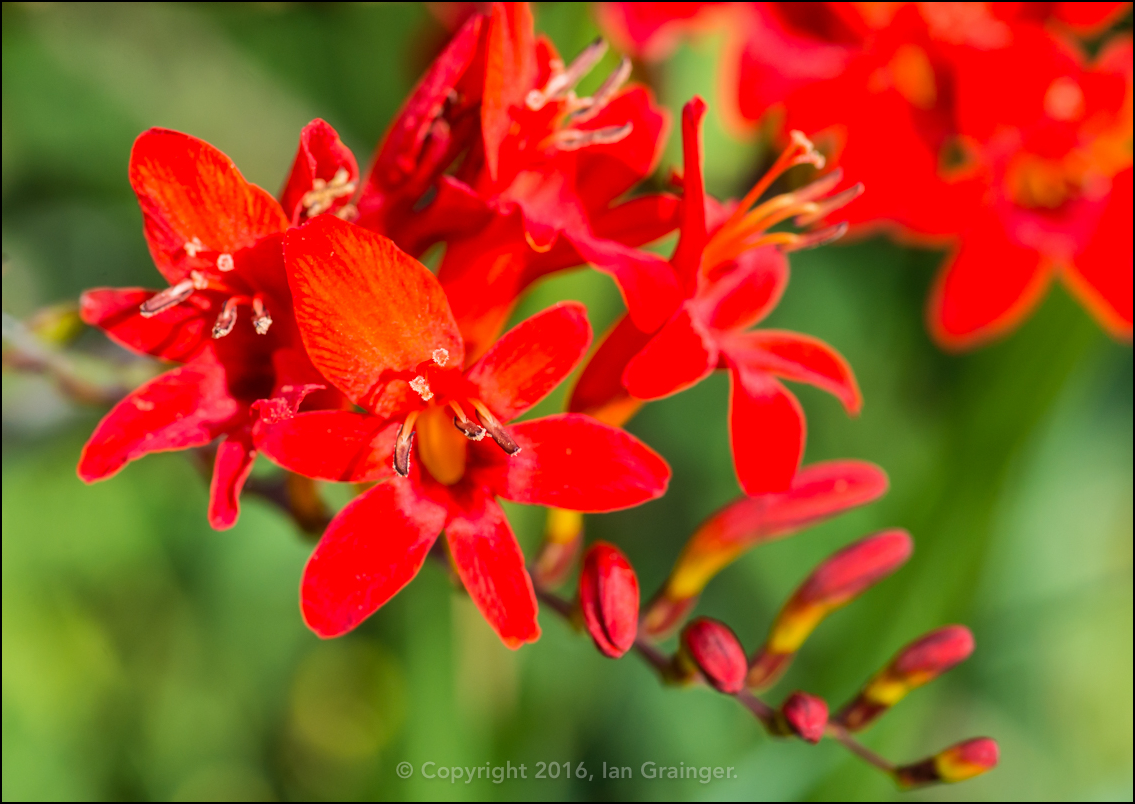 Flaming Crocosmia - July 2016
Another insect attractor were the open flowers of this Crocosmia 'Lucifer', with Hoverflies being its top visitor.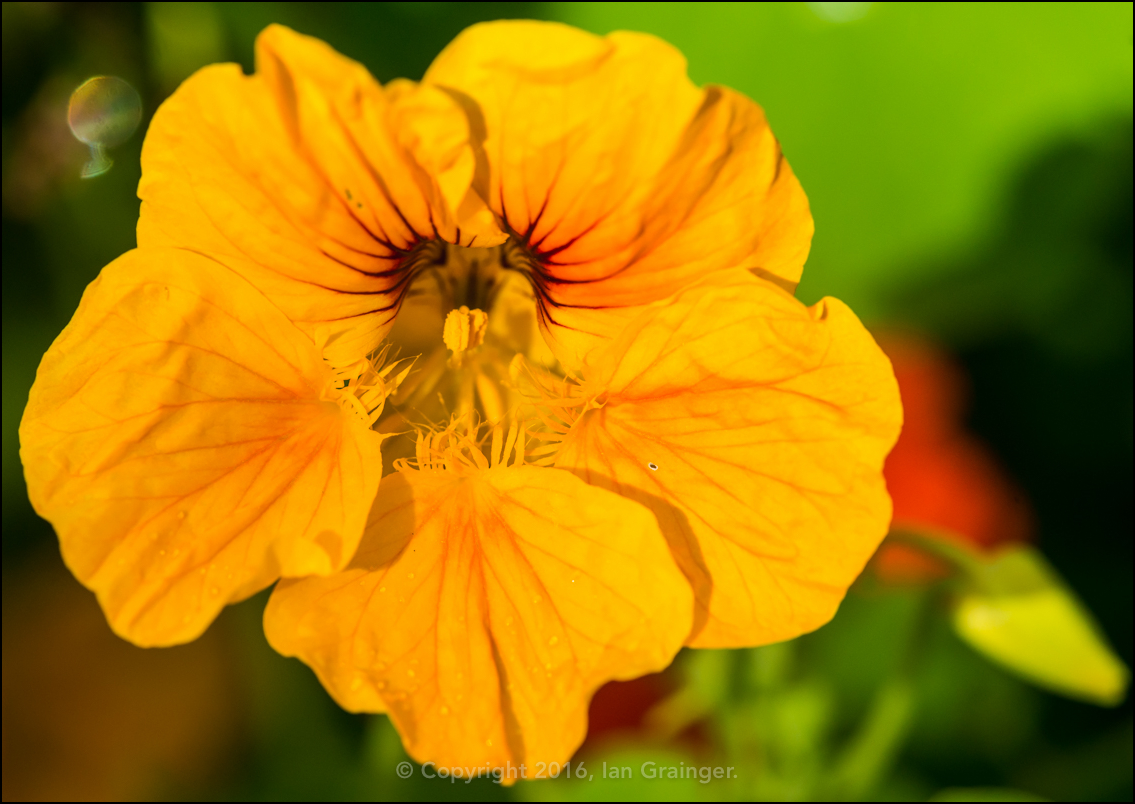 Yellow Nasturtium - July 2016
The Nasturtium's were the favourite of the Bumblebees (Bombus), while their leaves will soon become perfect for Small and Large White butterflies to deposit their eggs.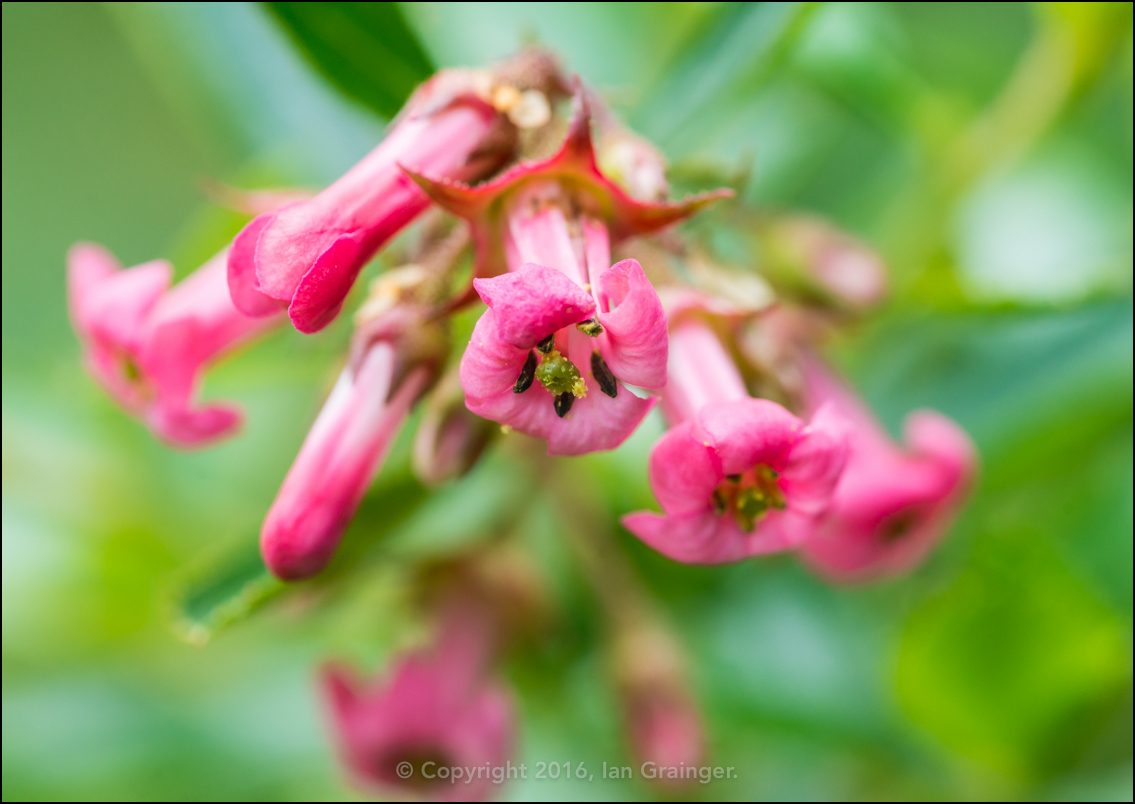 Escallonia Pinks - July 2016
This Escallonia bush was putting on a late display of colour...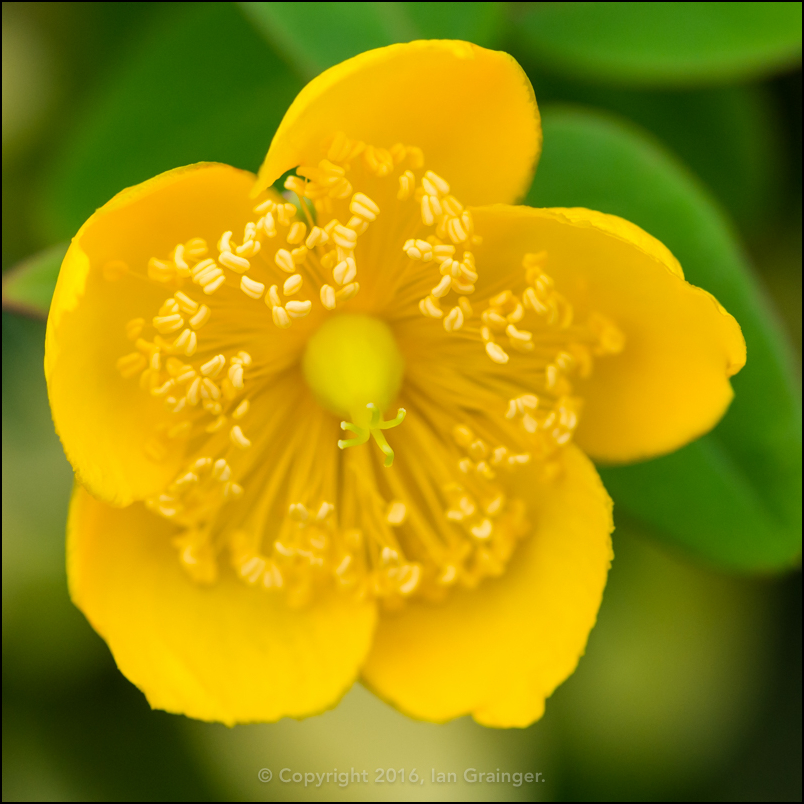 Hypericum Centre - July 2016
...while the Hypericum was just finishing off its display of large yellow blooms for the season.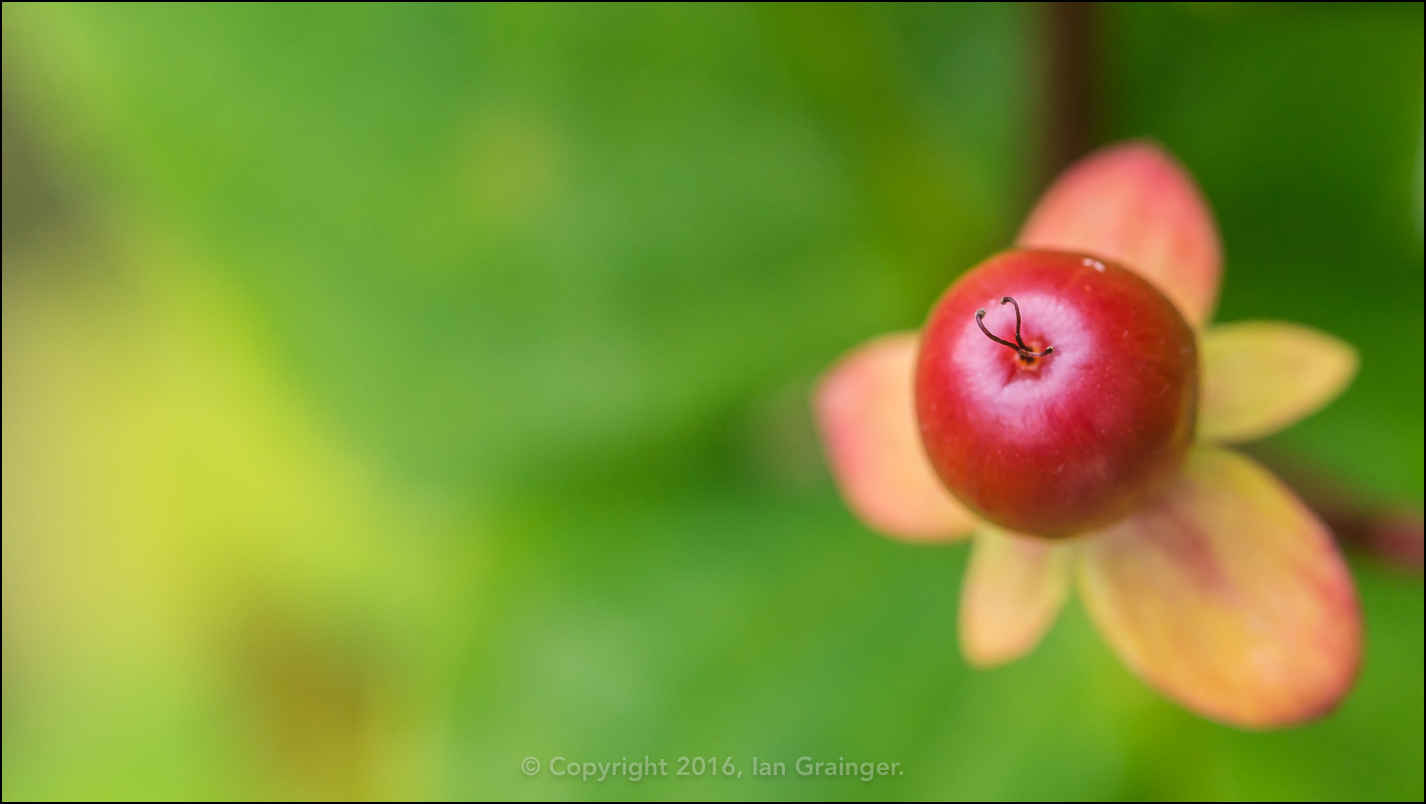 Tutsan Fruit - July 2016
Another type of Hypericum, the Tutsan (Hypericum androsaemum) bush had already started to set seed in its bright red coloured berries.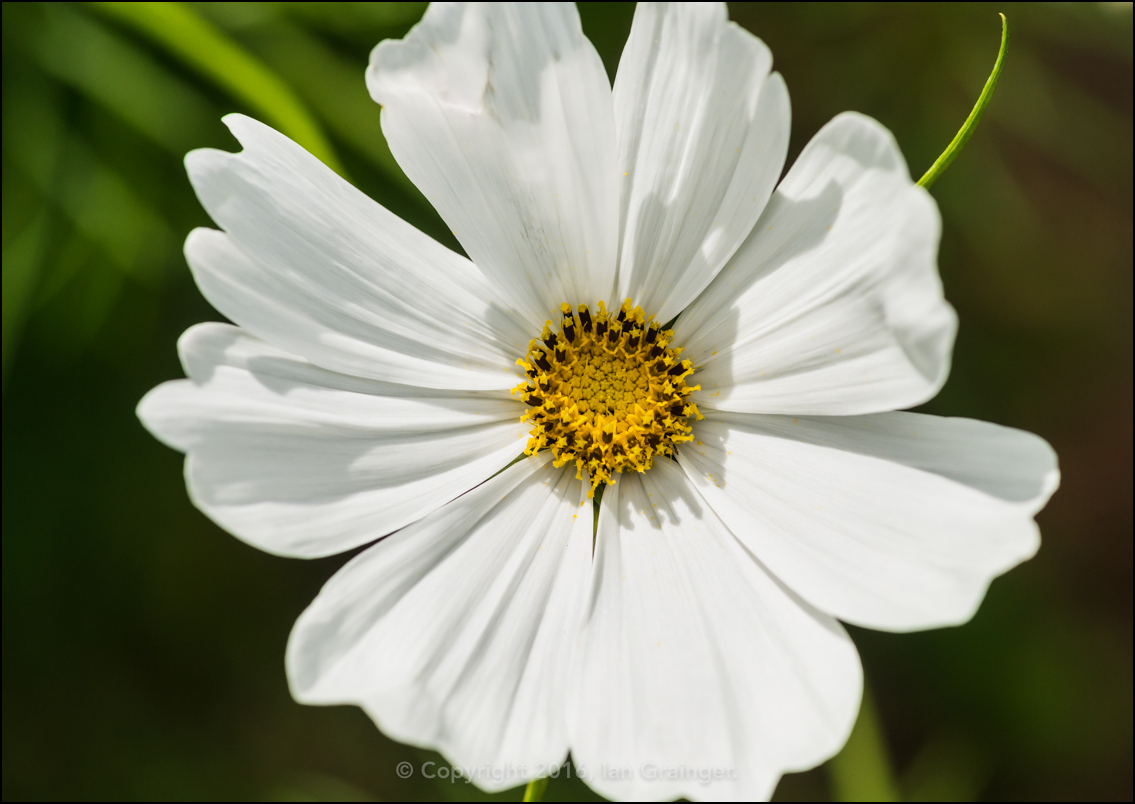 White Cosmos - July 2016
The white Cosmos were looking splendid, and at nearly four feet high were adding some good height into the borders.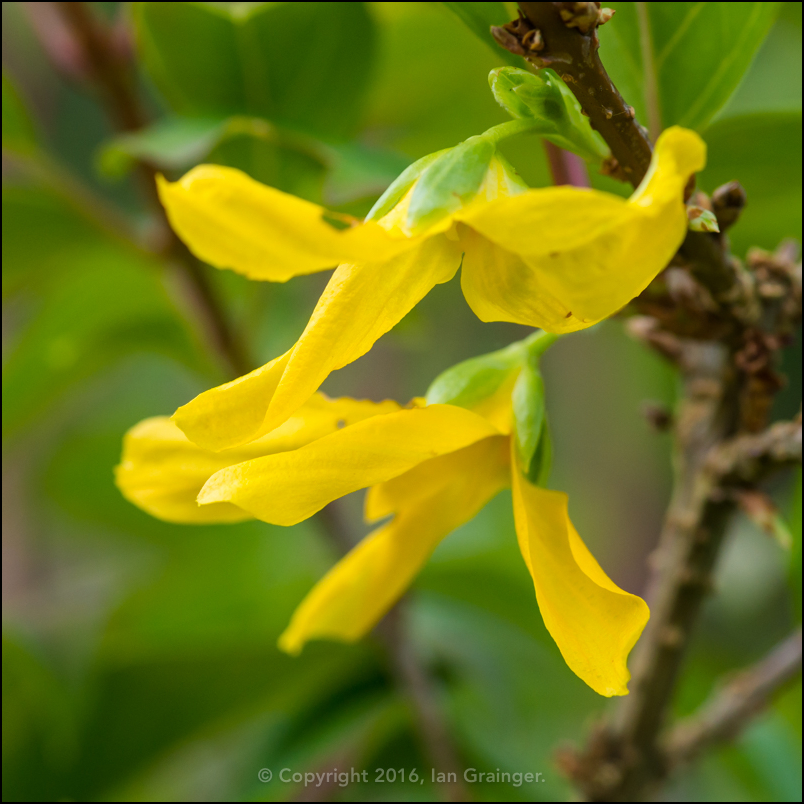 Forgetful Forsythia - July 2016
However, there was one puzzle! The Forsythia, a bush that normally flowered - and did flower - in the spring, had decided to have another go. This is something I've never seen before, but was a welcome enough sight.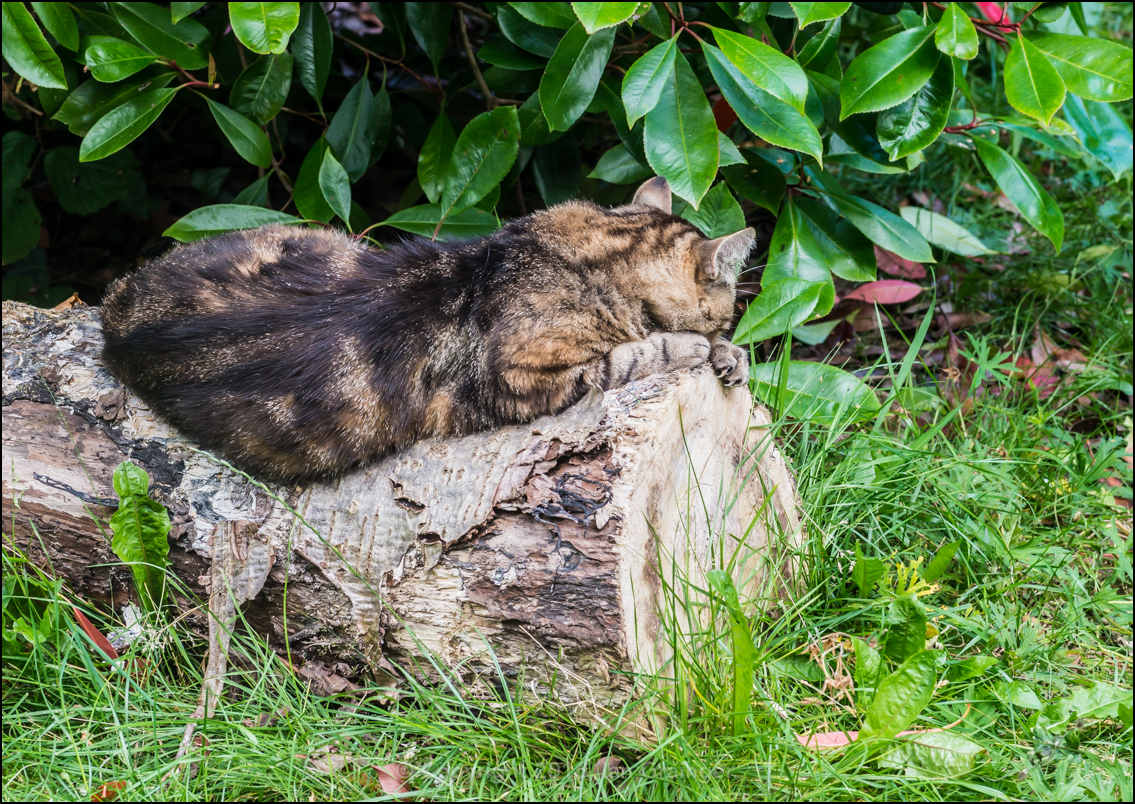 Lazing on the Log - July 2016
It was another hot day when I took all of the images above, and once again my little photo companion found it far too hot to trail after me, so he decided to stretch out and have a sleep on this garden log.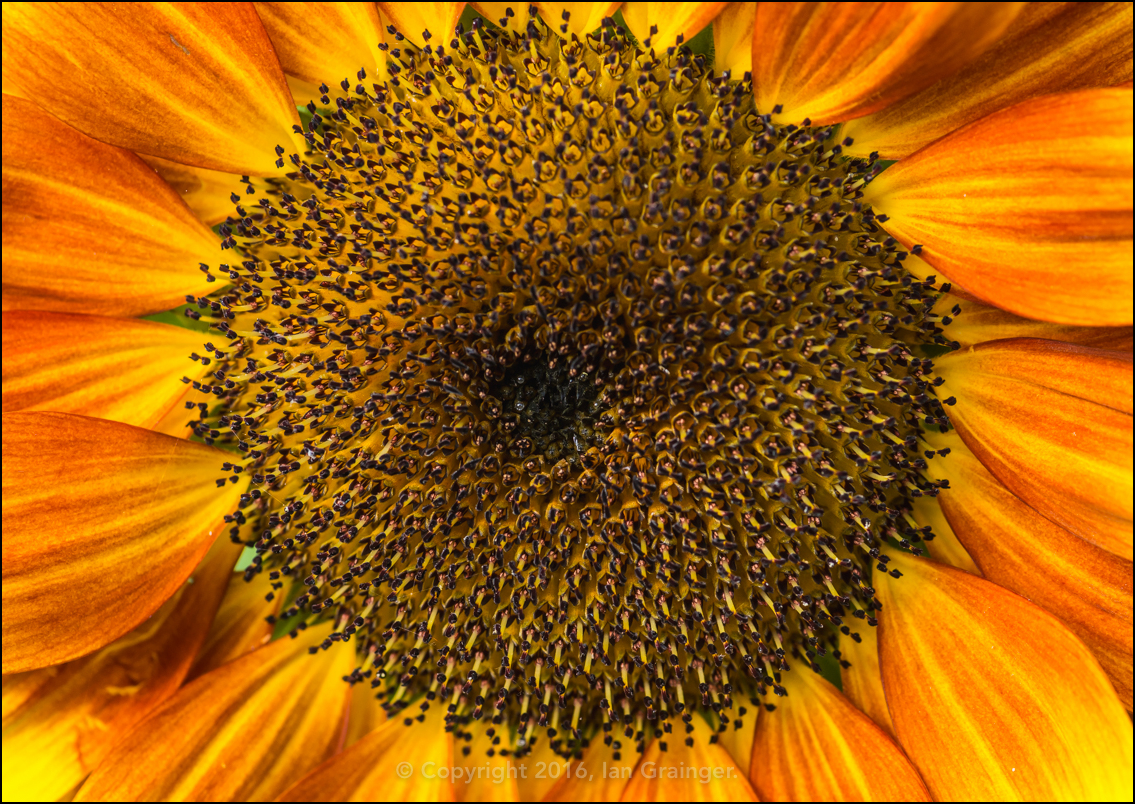 Sun Seed Maker - July 2016
Meanwhile, as the weather cooled down a bit at the start of this week, the flowers in my garden had really benefited from the hot spell. The Sunflowers (Helianthus) were very much at home in the sun.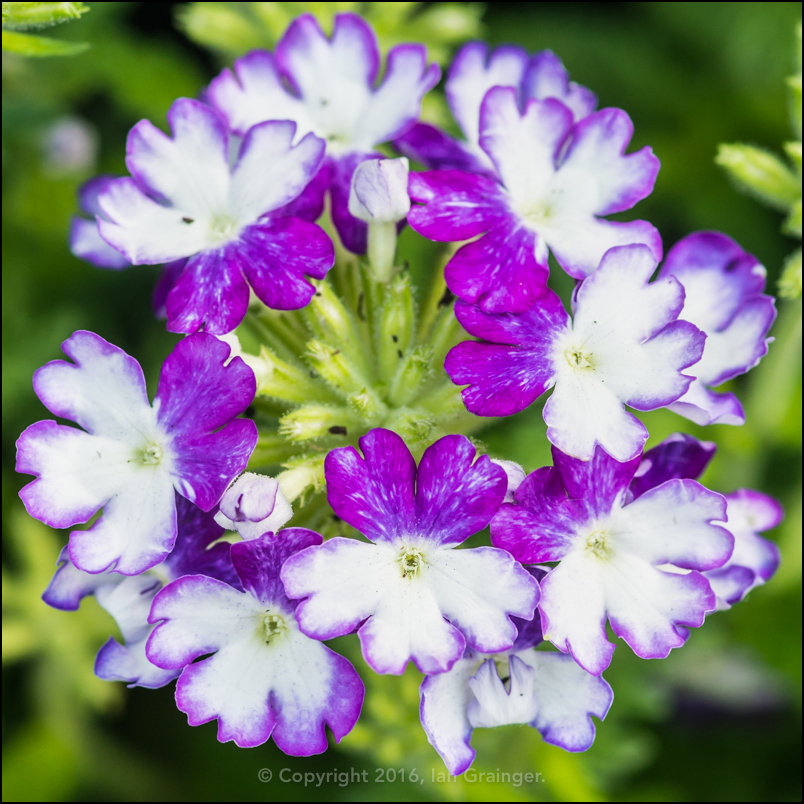 Verbena Circle - July 2016
As was a new plant to my garden, this Verbena 'Wicked Cool Blue' burst into colour, although its blooms look more purple than blue to me!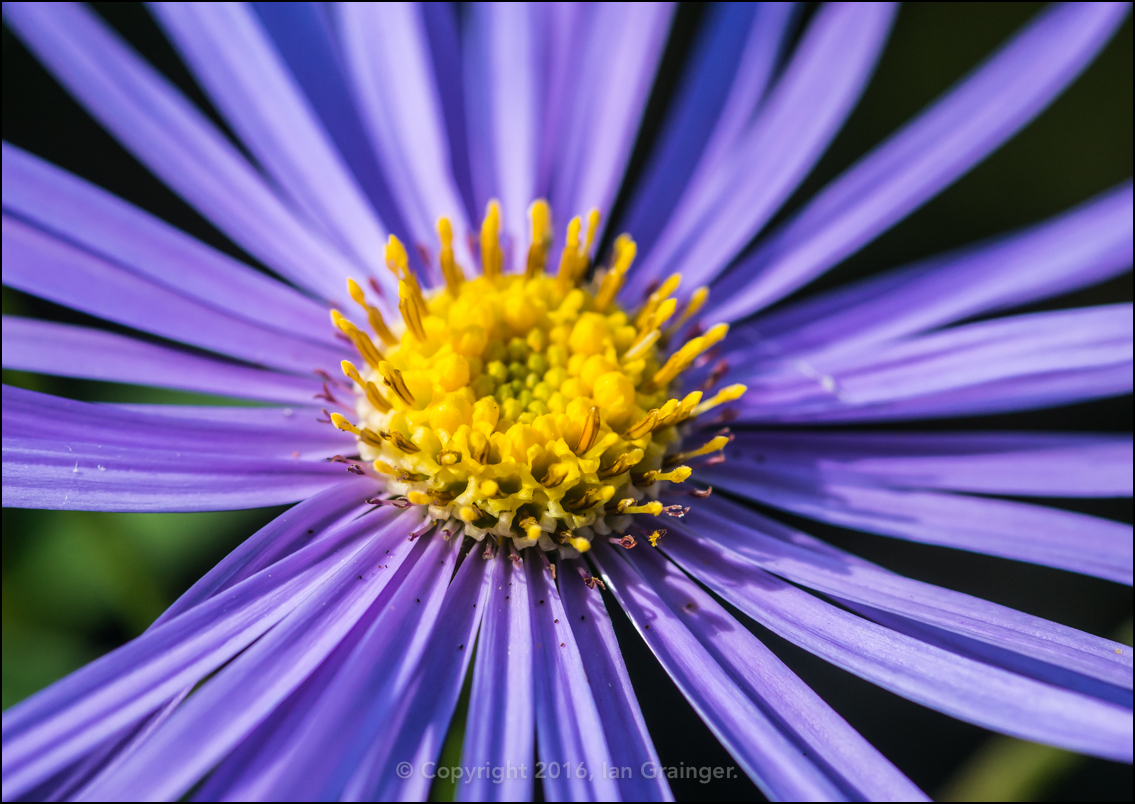 Aster Frikartii Monch - July 2016
A returning favourite, that I showed flower buds of last week, is my Aster 'Frikartii Monch'. Last year this kept on flowering until the first frosts, and I'm hoping for similar this year.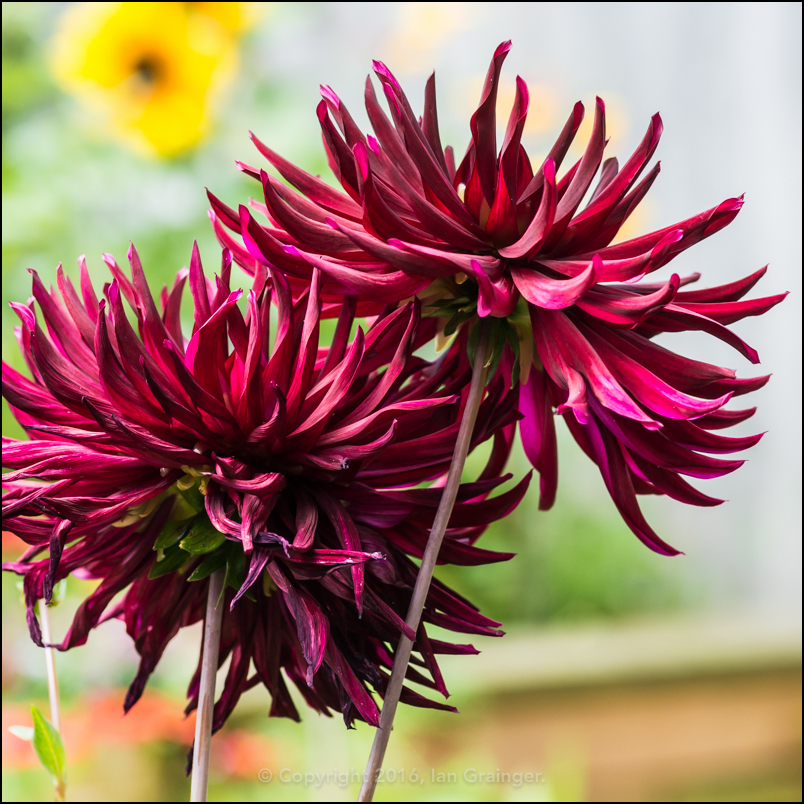 Dahlia Pairing - July 2016
My favourite Dahlia so far has been this Dahlia 'Nuit D'Ete', which is now covered in flowers. However, this week it has some competition...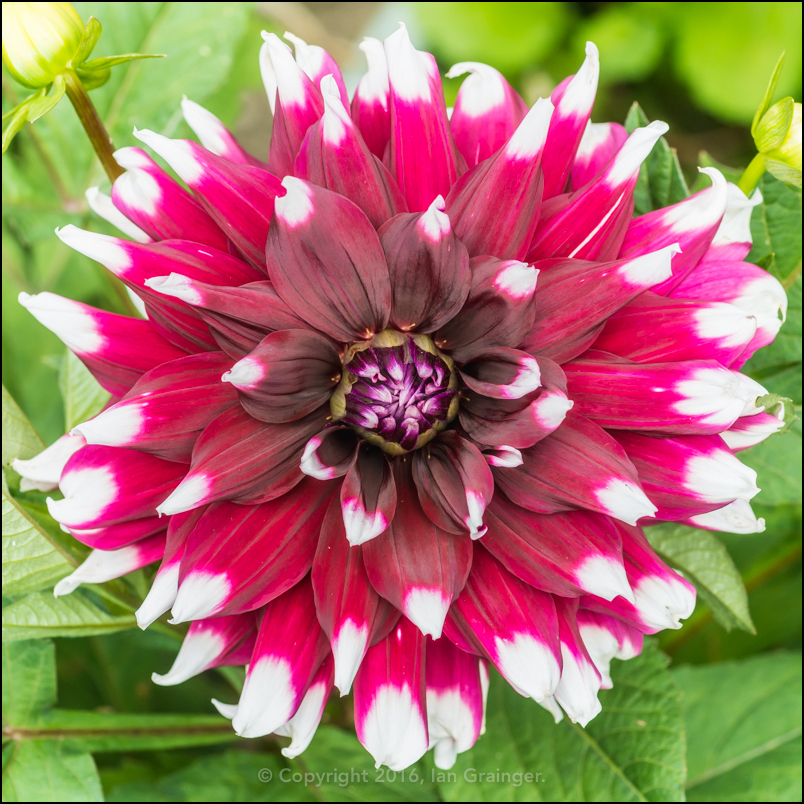 Dahlia Duet - July 2016
...firstly from this Dahlia 'Duet' plant, which has enormous flowers...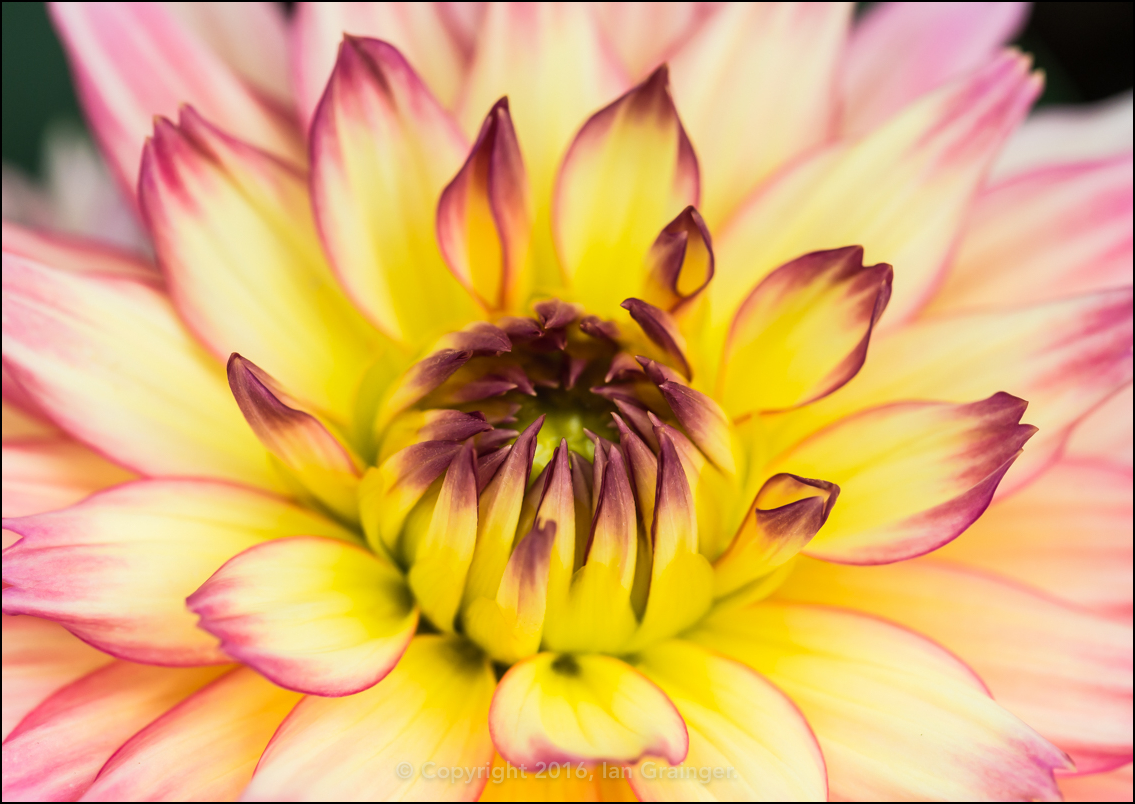 Dahlia Gallery Pablo - July 2016
...and secondly from this Dahlia 'Gallery Pablo' plant, which is equally as stunning!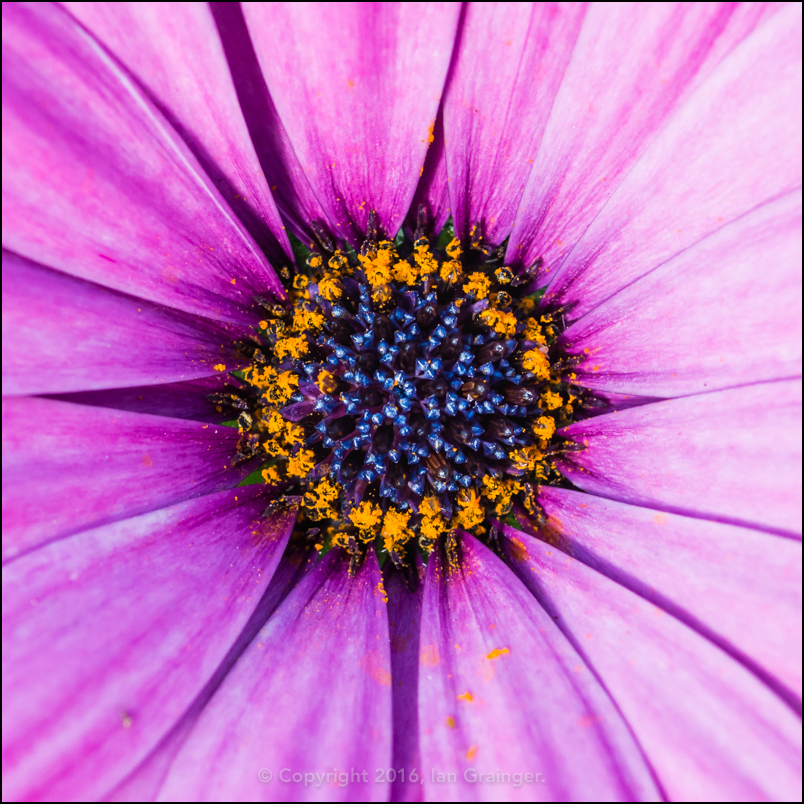 Osteospermum Centre - July 2016
My Osteospermum blooms are still going strong, and I'm still striving to capture them perfectly. I just love their bright blue centres.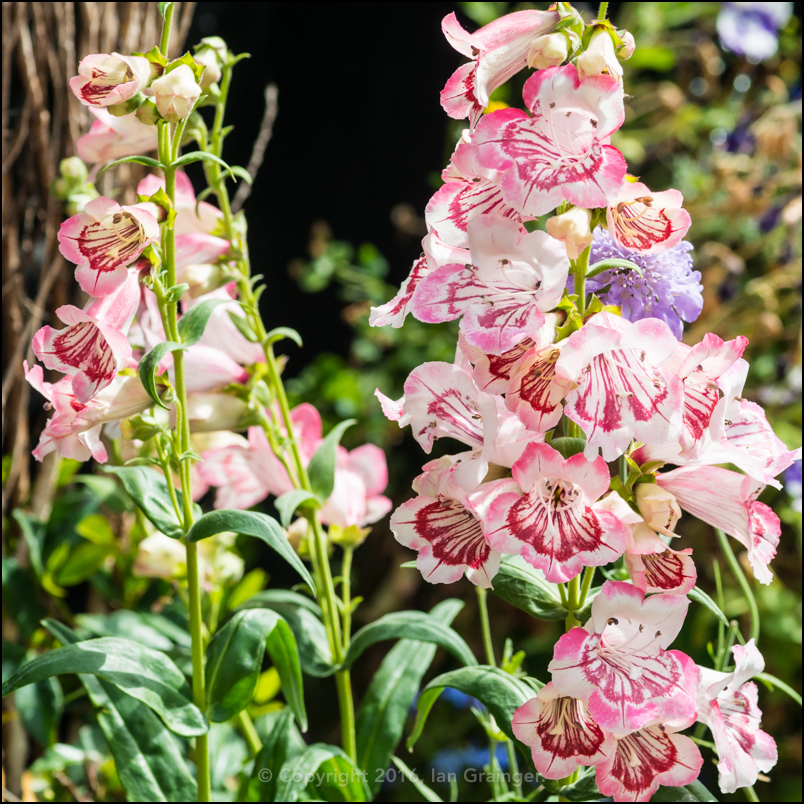 Penstemon Hewell's Pink Spikes - July 2016
Finally, another new plant to my garden. I couldn't resist Penstemon 'Hewell's Pink' when I spotted it at the garden centre. It's another real stunner.
So, this week, with all of the butterflies flitting around at the weekend, I had to choose one of them as my Image of the Week. It was a close call between the Peacock, simply because I love them, but in the end I chose Vigilant Gatekeeper because it's technically a more difficult shot to take...