Yawn... - June 2016
It was only a matter of time before my photographic buddy became one of this year's Image of the Week subjects, and I think you'll agree that my little friend deserves his time in the limelight.
I'm not sure what he gets up to in his busy evening schedule, but he's taken to napping during almost every daylight hour.
If he's not asleep, he's yawning...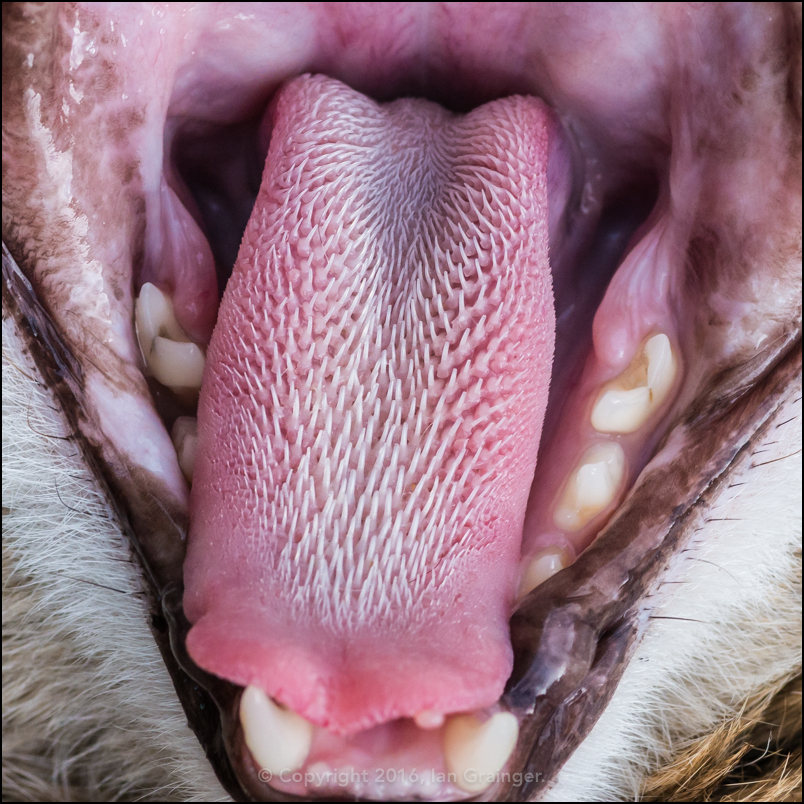 Textured Tongue - June 2016
While I realised that cats had quite a rasp for a tongue, I hadn't realised quite how textured it was until I zoomed in on the shot above. I mean, look at it! No wonder cats suffer from fur balls!!!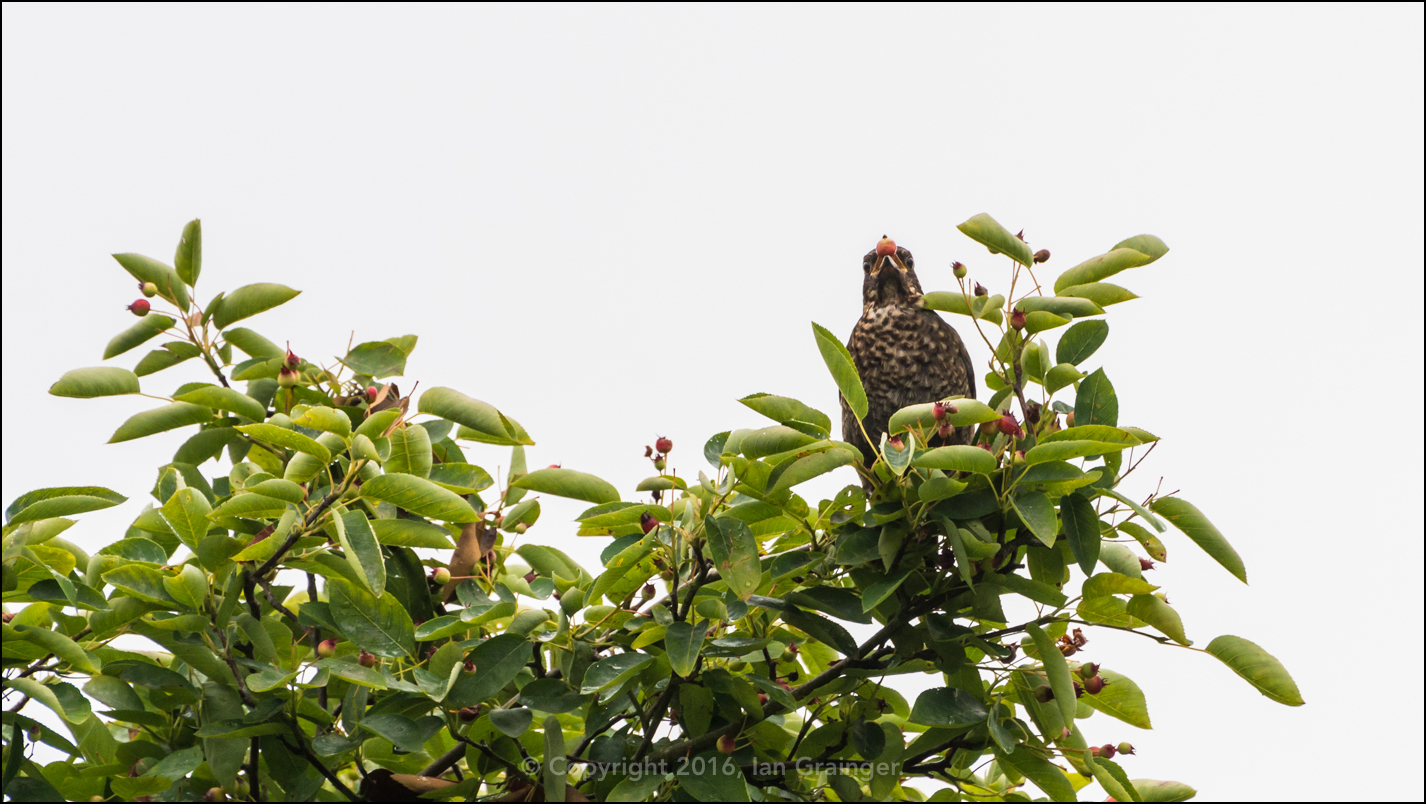 Berry Thief - June 2016
As you can tell from the grey sky, it wasn't the nicest of days when I went on my main photo shoot this week, but this Song Thrush (Turdus philomelos) didn't seem to mind as it snaffled berries from the Amelanchier tree.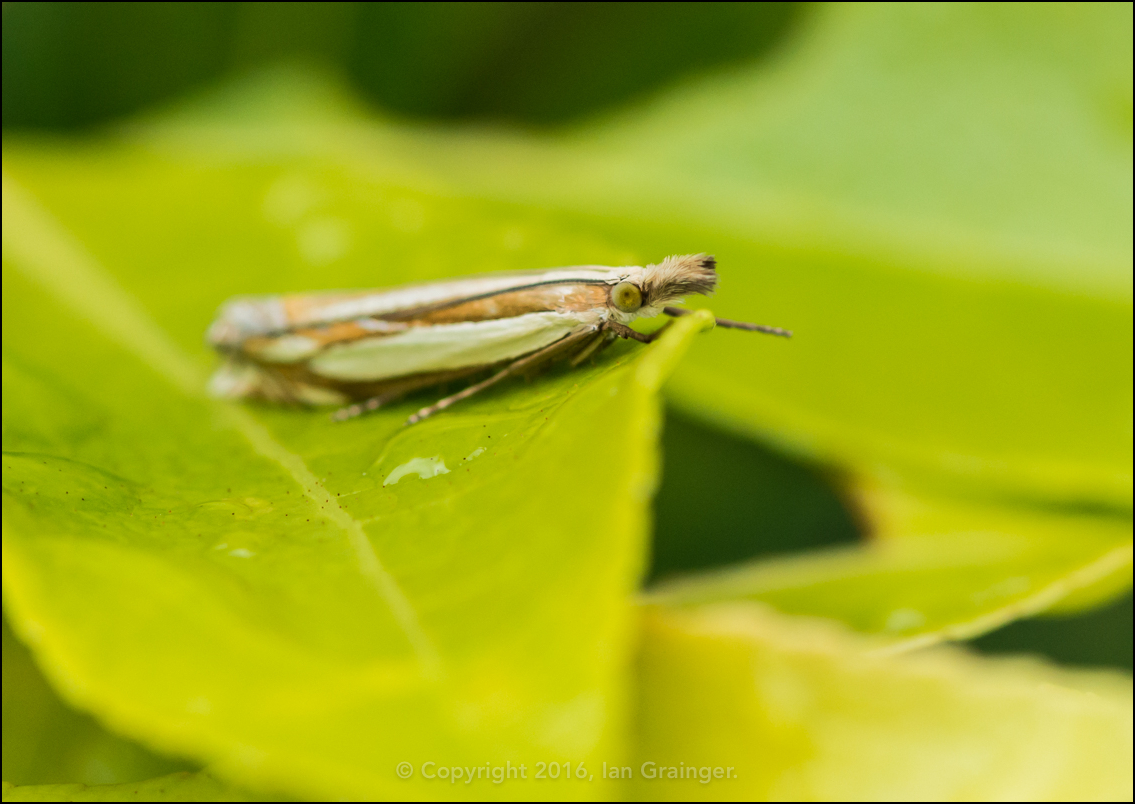 Crambus Moth - June 2016
This Crambus species of Moth was flitting about the hedgerows in broad daylight. I'm not sure if it's a natural nighttime flyer, and I or something else had disturbed it, but it seemed quite happy going from leaf to leaf.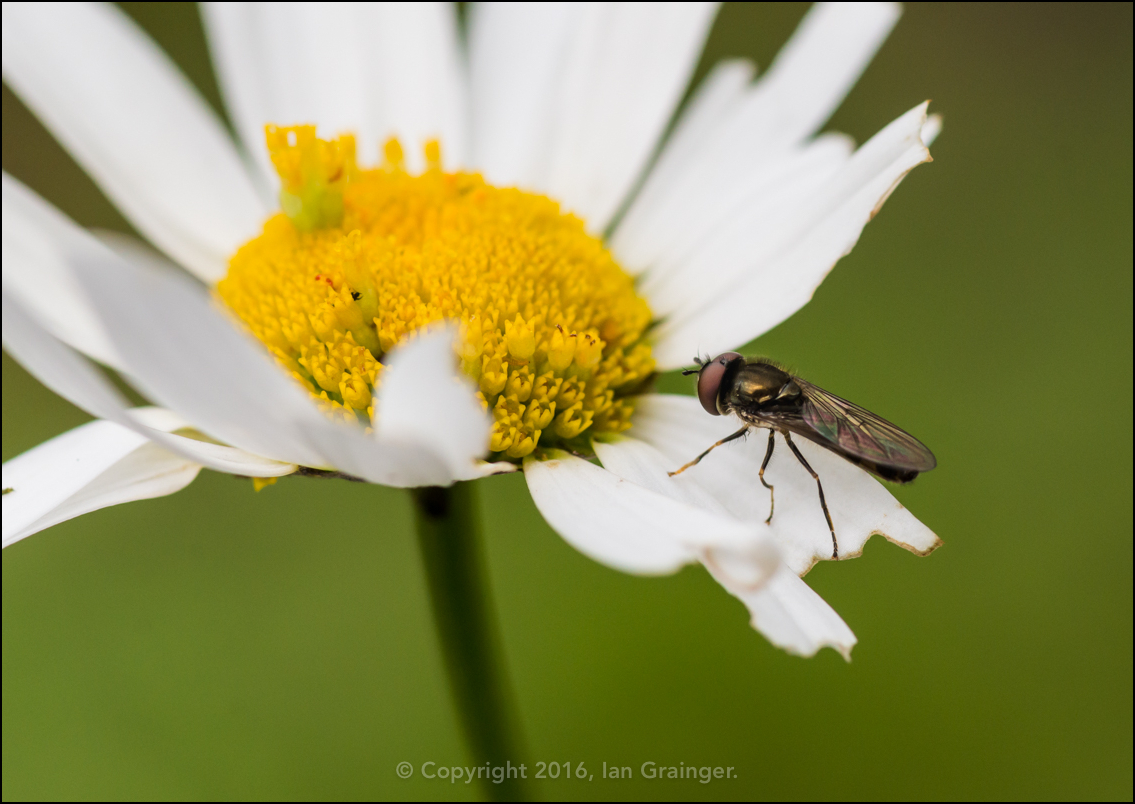 Oxeye Platform - June 2016
As usual, the Oxeye Daisies (Leucanthemum vulgare) were attracting lots of insect wildlife, most of the visitors being flies...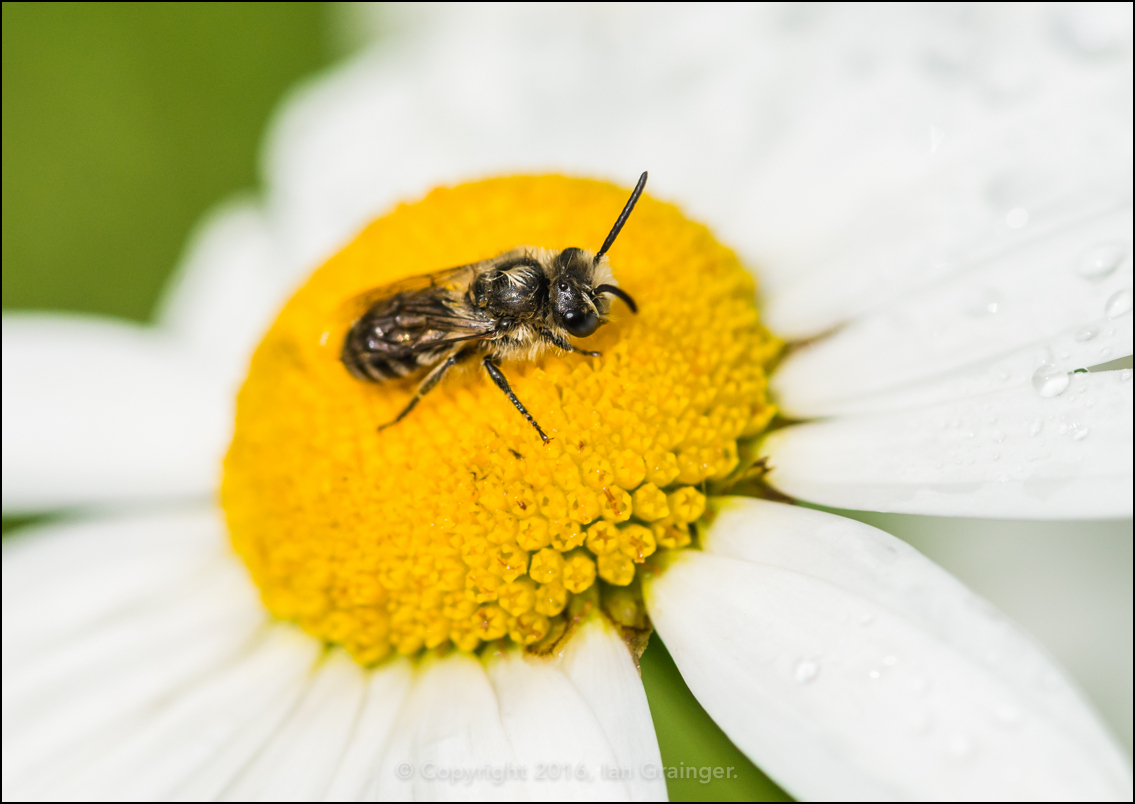 Ox and Bee - June 2016
...although there were some small Bees out in force.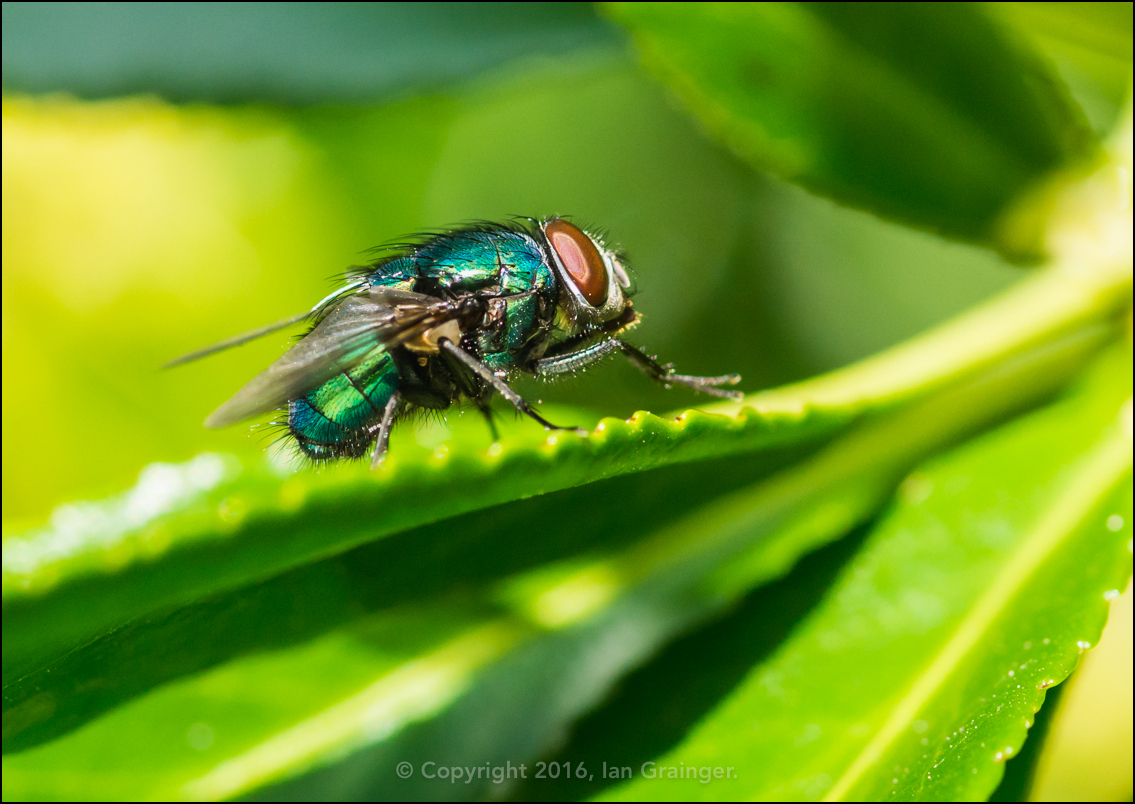 Greenbottle Grooming - June 2016
The Greenbottle Flies (Lucilia caesar) were also aplenty, trying to warm up in the hedgerows.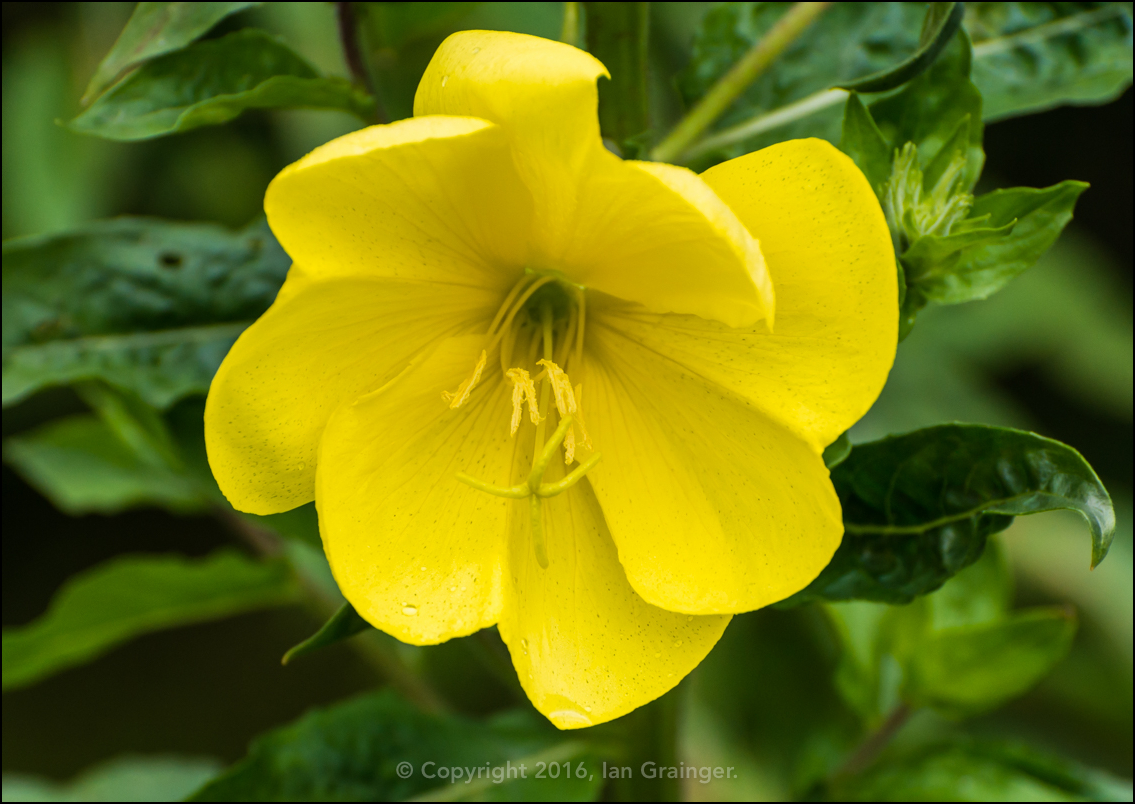 Early Evening - June 2016
New flowers for this week included these beautiful Evening Primroses (Oenothera), which get their name because their petals open up wide every evening as dusk arrives.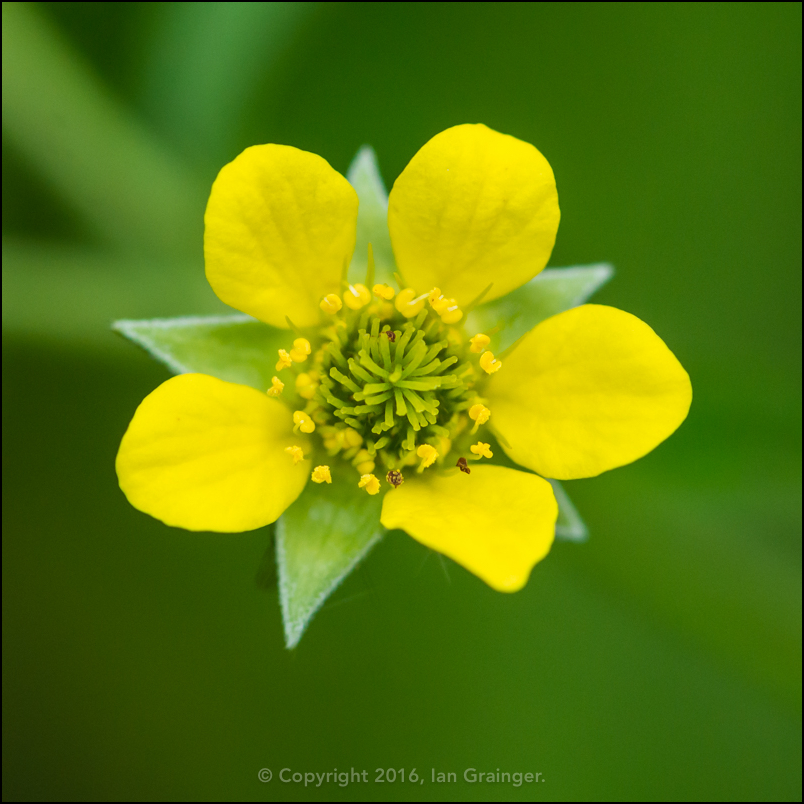 Wood Avens Bloom - June 2016
Another UK native plant that the insects love are these little Wood Avens (Geum urbanum). They're another plant that most gardeners weed out, but I like to leave them for the insects.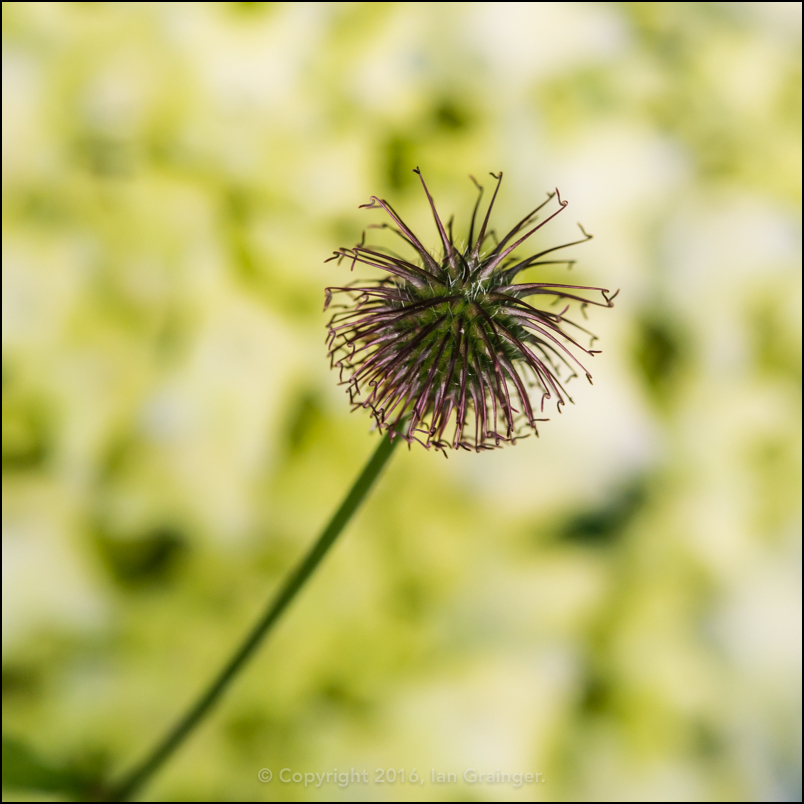 Wood Avens Seed Head - June 2016
They also look quite pretty when they set to seed.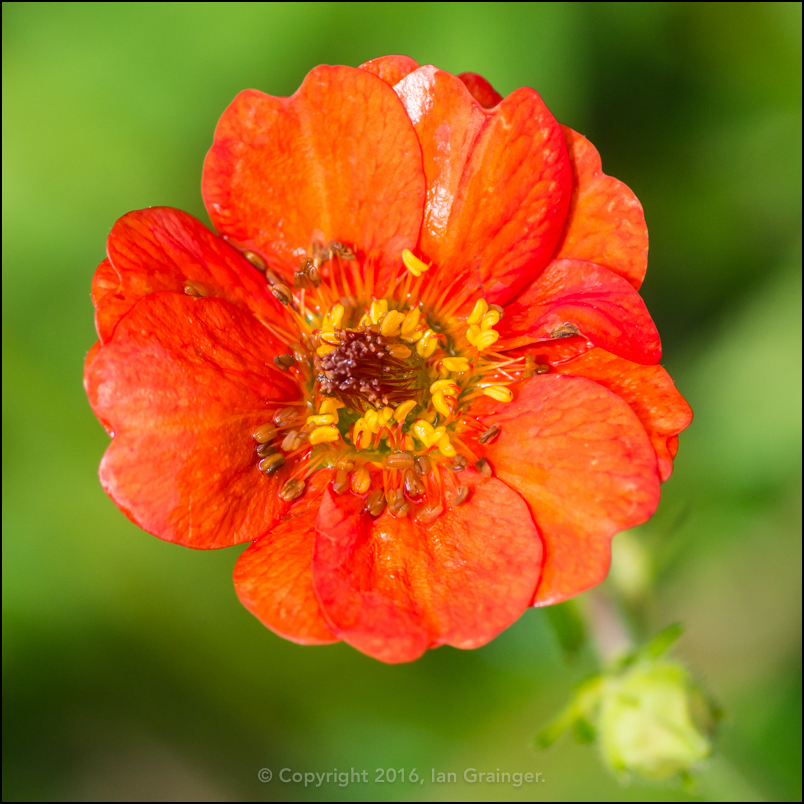 Geum - June 2016
And at the end of the day, they're a free form of the larger and more colourful Geum's you can purchase from the garden centre.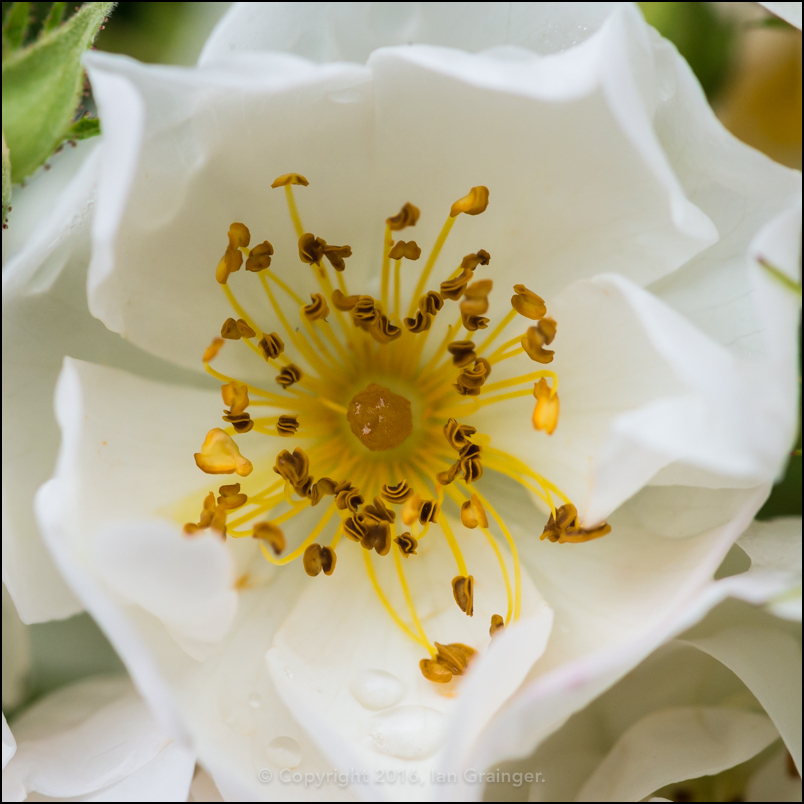 Wild White - June 2016
At this time of year the Wild Roses are starting to run rampant, and this one is climbing through Virginia Creeper that my dad has growing up a wall in his garden.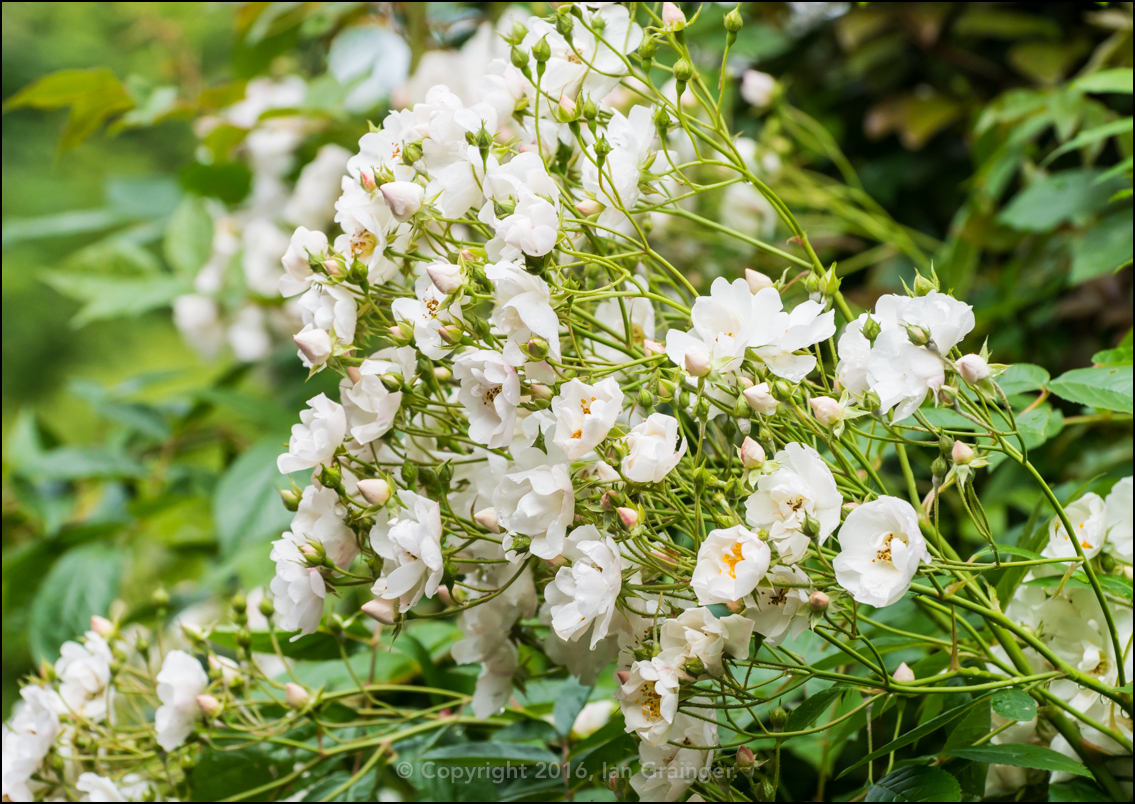 Wall of White - June 2016
As you can see, it has masses of flowers, and it's another one that the bees, especially, absolutely love.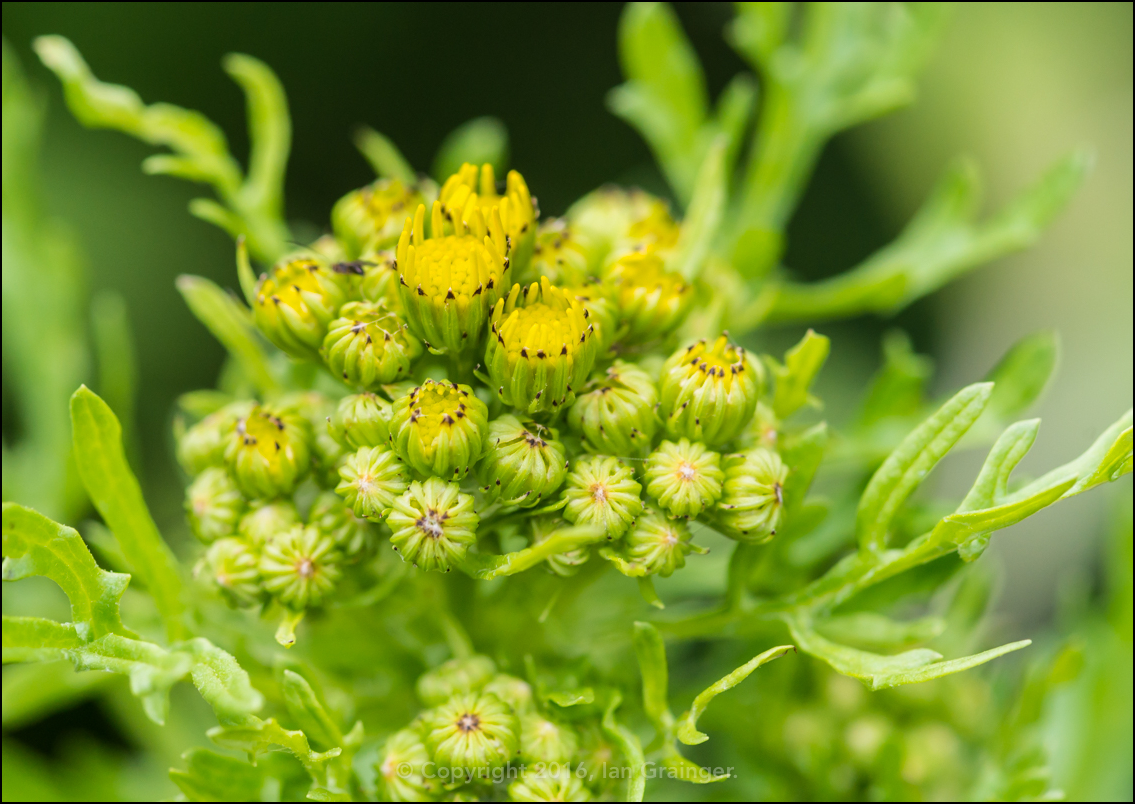 Ragwort Revival - June 2016
These are Ragwort (Senecio) flower buds, and again, while I wouldn't recommend growing it in your garden, I leave a couple of plants because the hoverflies love the stuff. Just remember to cut down before it goes to seed, or you'll end up with thousands of plants!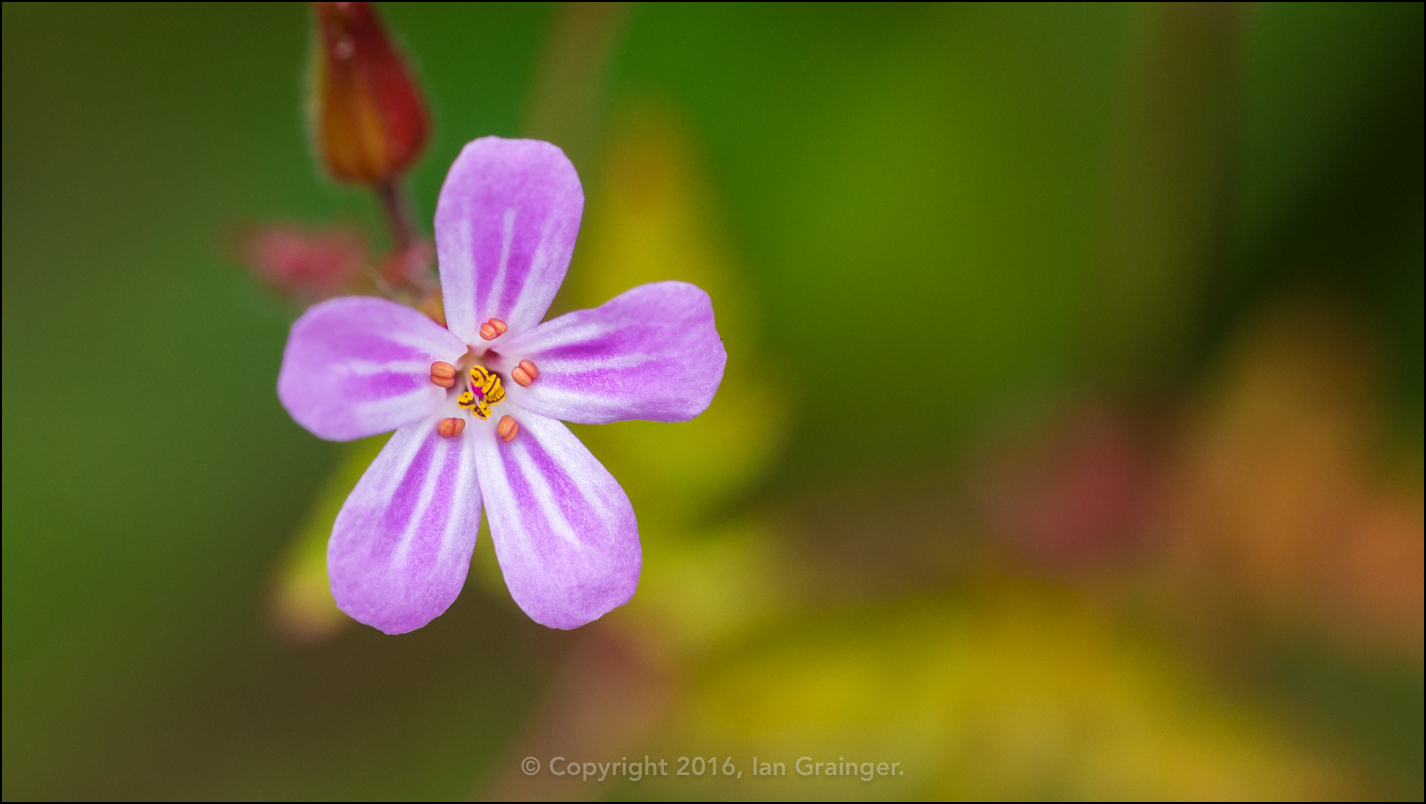 Herb Robert - June 2016
The Herb Robert (Geranium robertianum) is still looking particularly pretty, although because this is growing in between patio stones, I think its days may be numbered.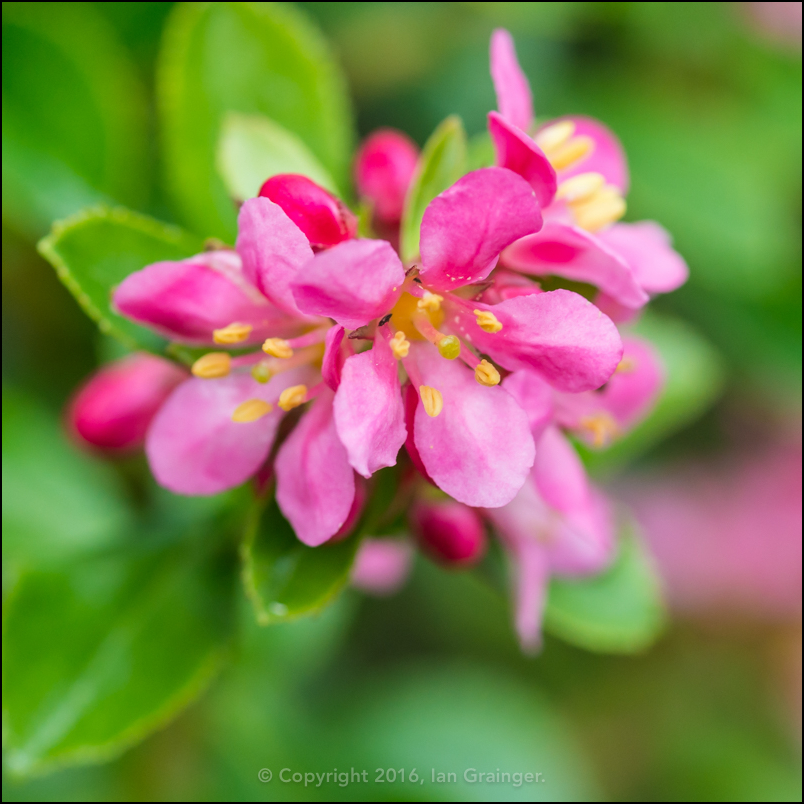 Escallonia Blossom - June 2016
The Escallionia is also beginning to be covered in its beautiful pink blossom. I had to dig one out of my own garden earlier this year as it had died, but am quite keen to grab some cuttings from this one for next year.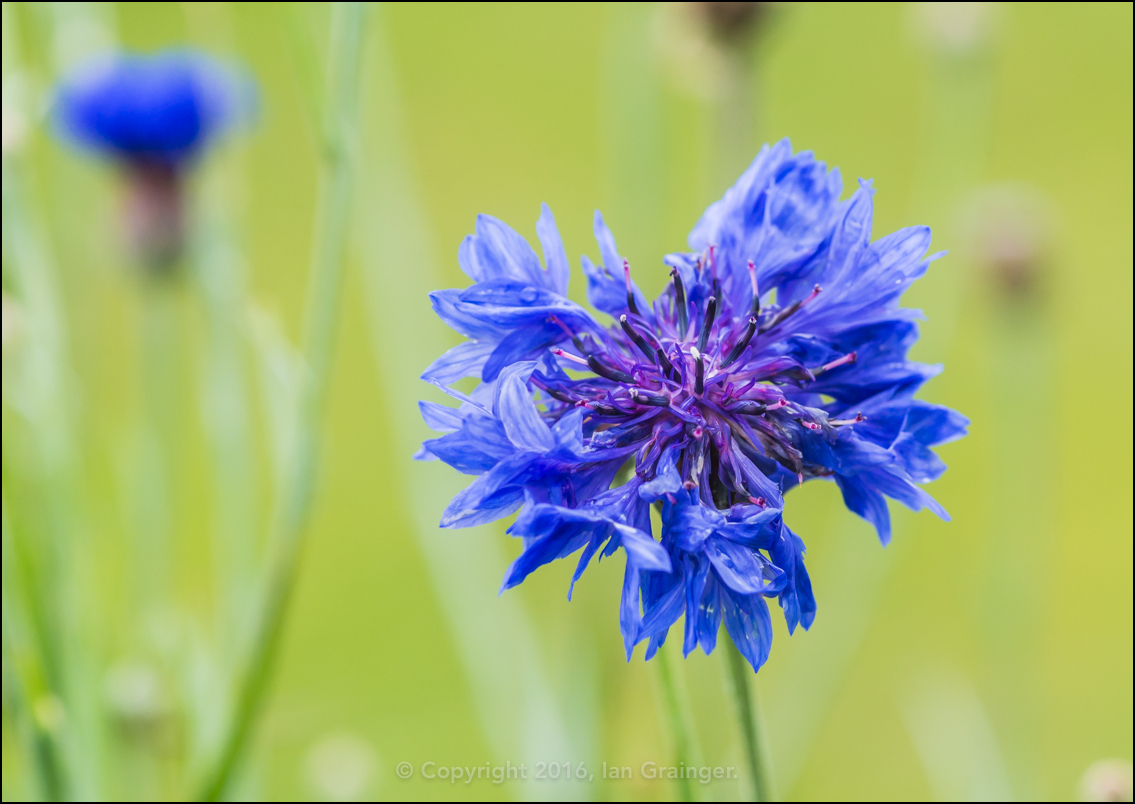 Cornflower Blue - June 2016
Hopping over into a neighbours garden, I grabbed a shot of this lovely coloured Cornflower (Centaurea cyanus)...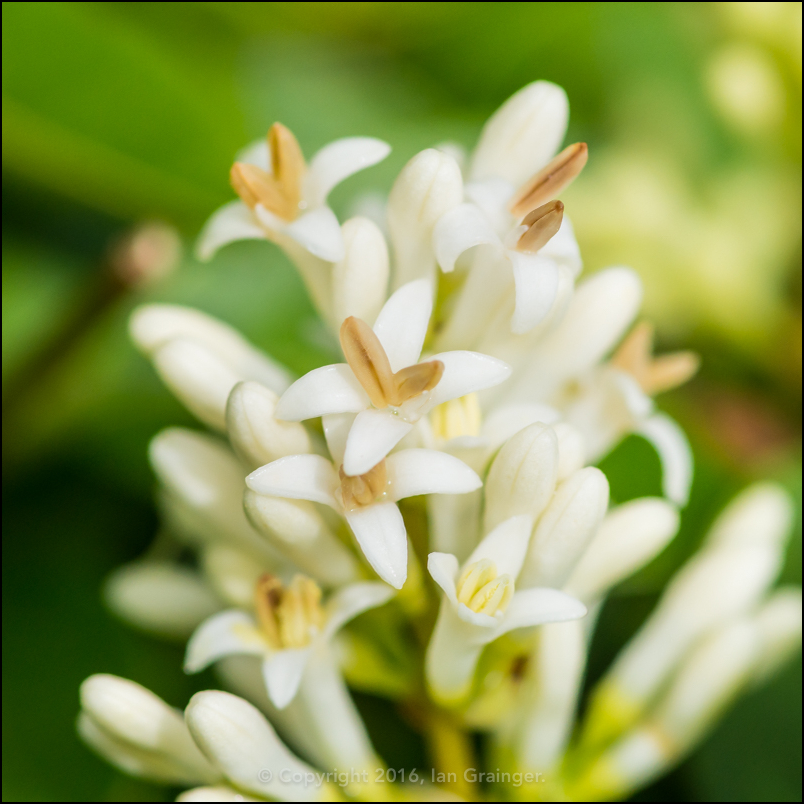 Privet Hedge - June 2016
...and on the way back realised that the Privet hedge was in bloom with these lovely little white flowers.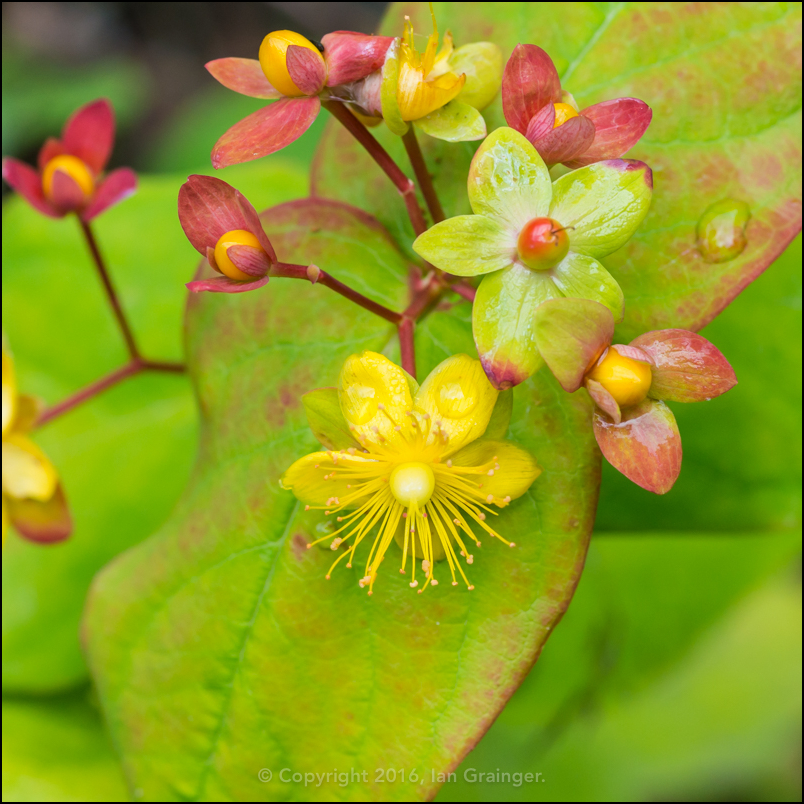 Tutsan Blossom - June 2016
The Tutsan (Hypericum androsaemum) bush seedling that I posted about last week has started to flower also, although because it spreads so rapidly, it will probably be removed before it sets seed.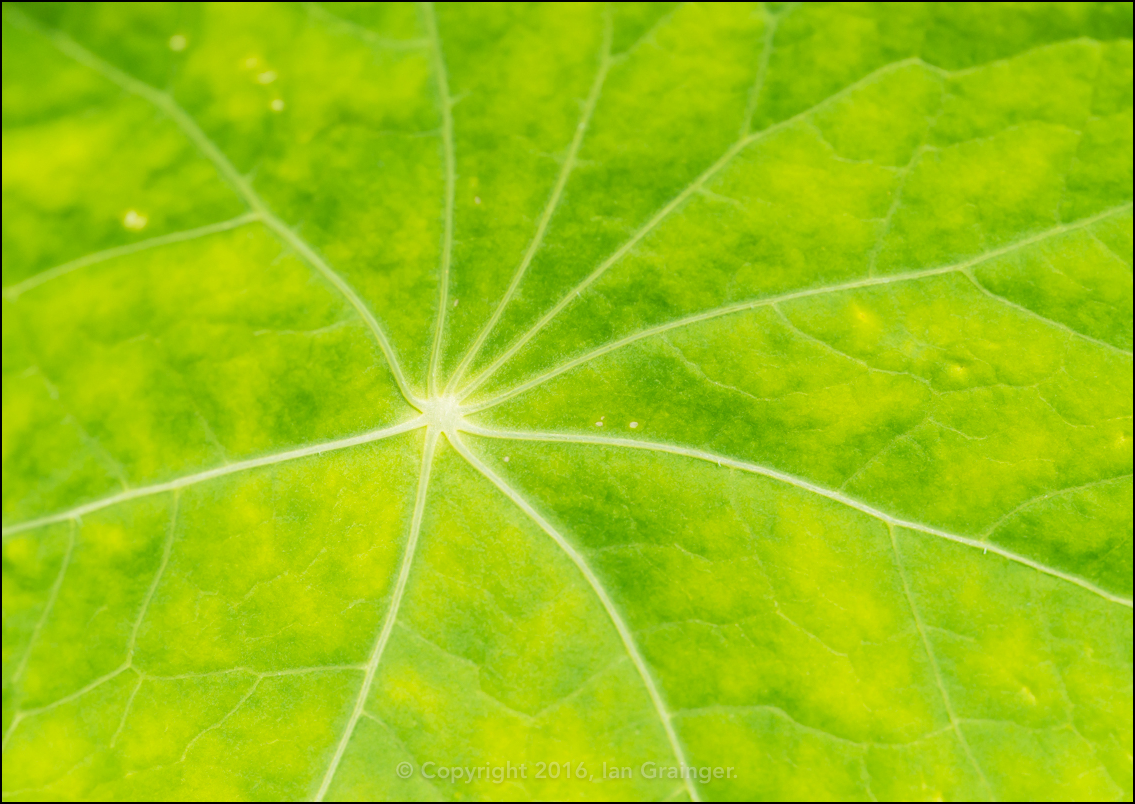 Nasturtium Highways - June 2016
The Nasturtium plants that self seeded last year are finally making an appearance, and their leaves make for a nice abstract image.
Blue Bracts - June 2016
It never seems like summer to me until the Hydrangeas have started to get a bit of colour to their bracts. At least they're one plant that have enjoyed the recent wet weather.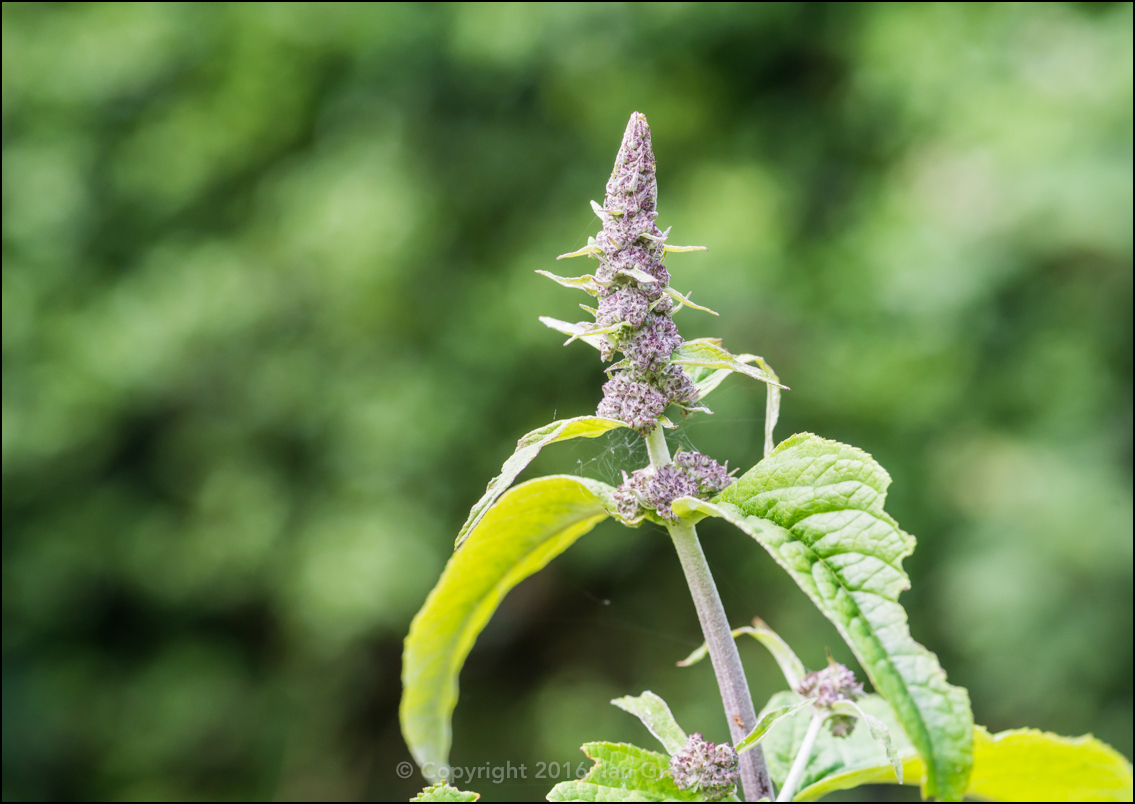 Butterfly Bush Buds - June 2016
Another shrub that it wouldn't be summertime without is the Butterfly Bush (Buddleia). This one is just coming into bud, so it won't be long before it's covered in blooms.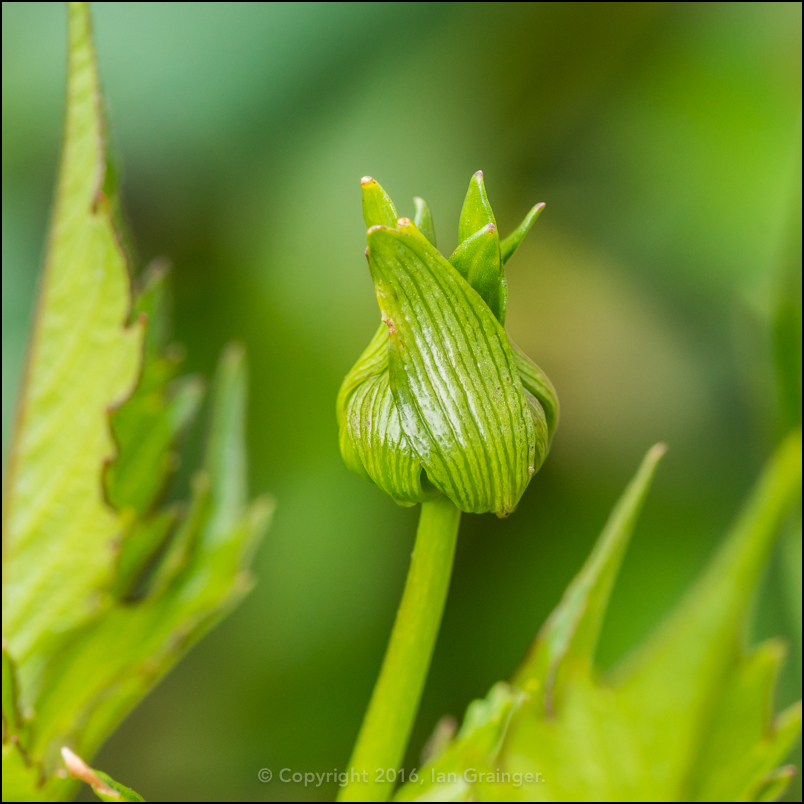 Budding Dahlia - June 2016
Meanwhile back in my own garden, the Dahlias are doing particularly well, with all of my plants producing lots of budding flower stems.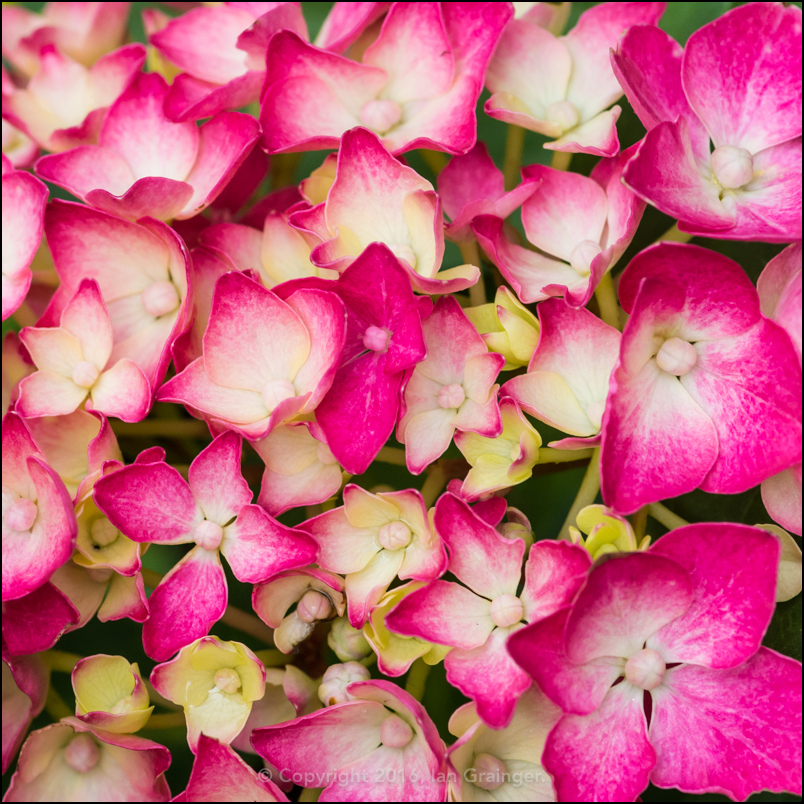 Pink Hydrangea Bracts - June 2016
My Hydrangea is also bursting into colour, but could do with some sunshine to bring it along a little faster.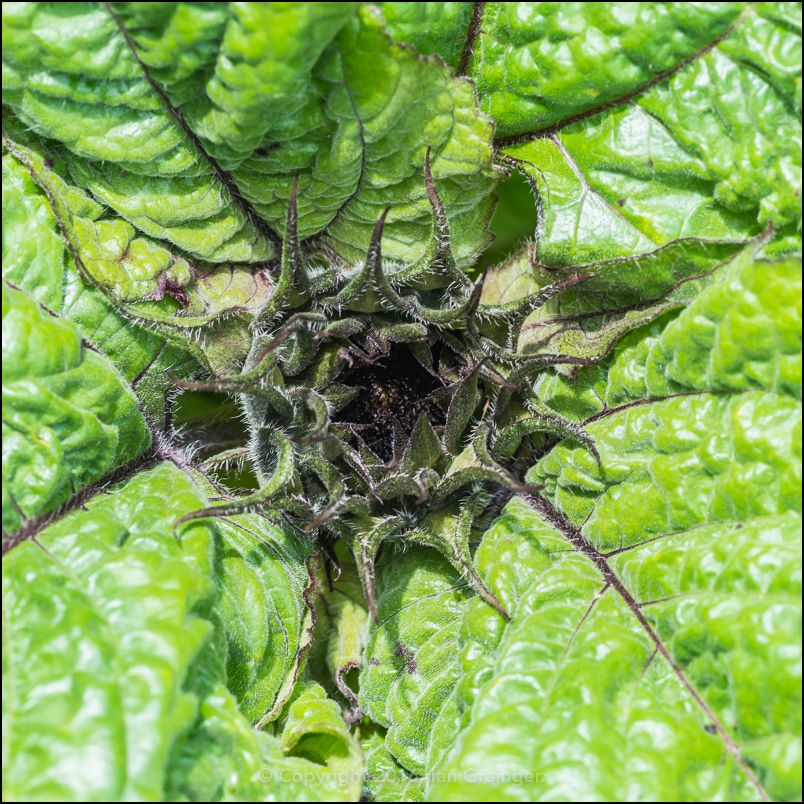 Sunflower Development - June 2016
Something else that could do with some sunshine are my Sunflowers. Another few weeks and they should be ready to open. Watch this space!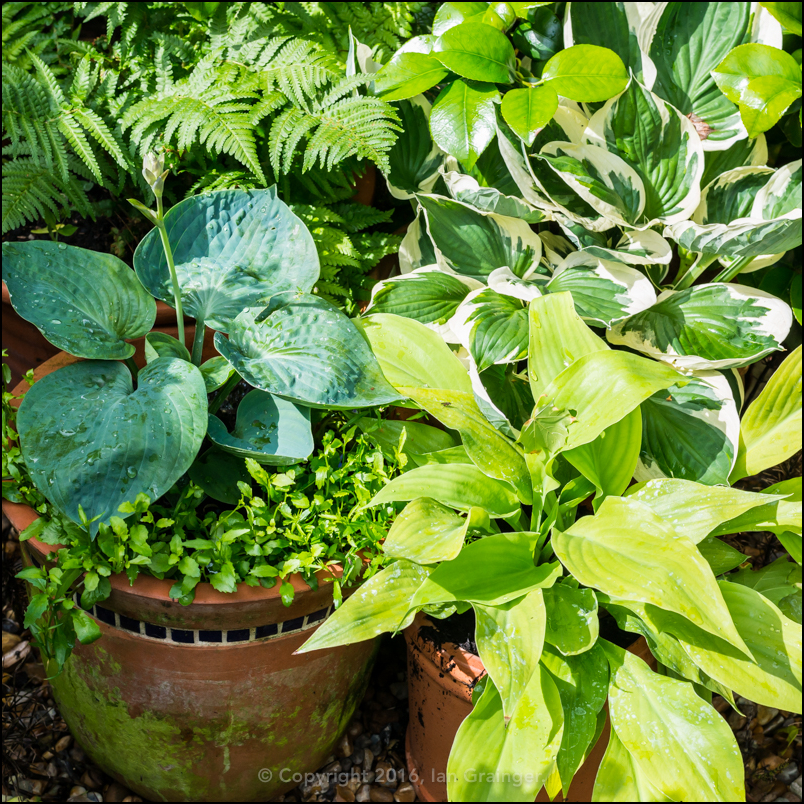 Shade Lovers - June 2016
My shady corner is doing well this year, with the Hostas and the Bracken loving the damp, dark conditions.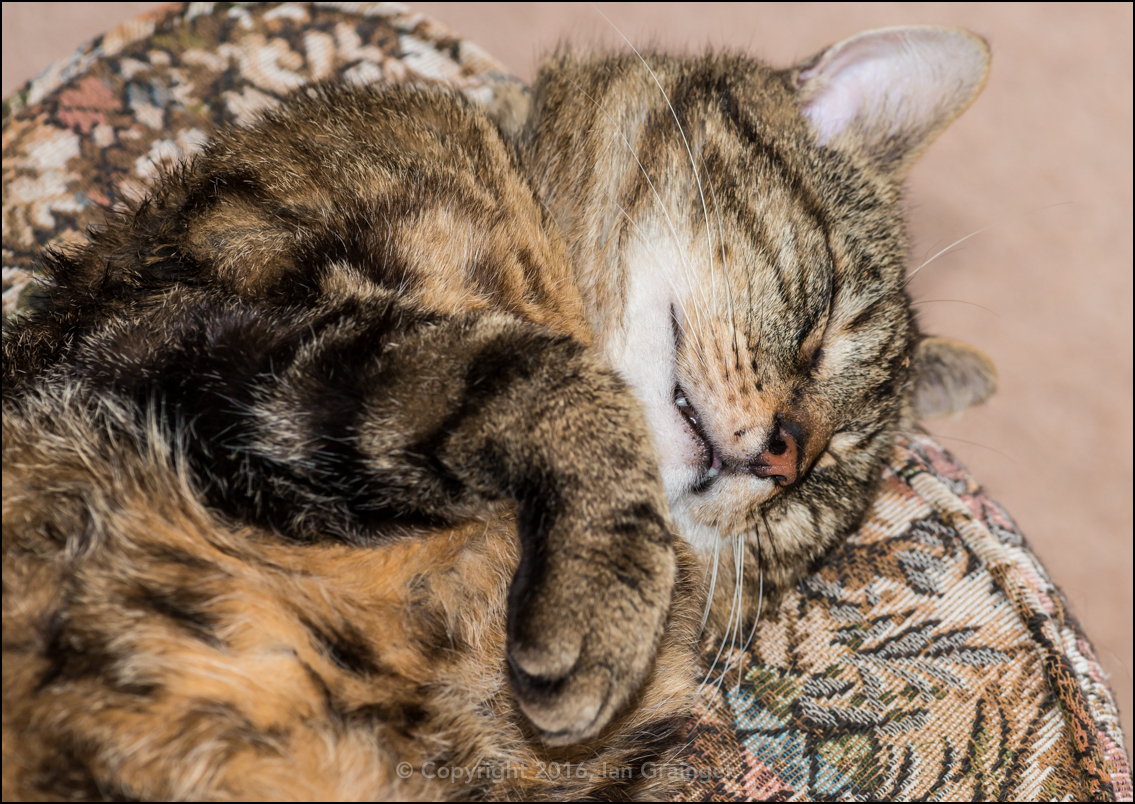 Sleeping Tight - June 2016
Finally, it's back to my photo companion, worn out with all of his wanderings.
So, this week I couldn't resist making Yawn... my Image of the Week, simply because he's such a good subject to photograph, and always seems to come up with the perfect pose...