Common Plume Moth - October 2016
We start off this week's article in the world of the Lepidoptera, which is the order of insects that includes butterflies and moths.
This beauty is the Common Plume Moth (Emmelina monodactyla), and although I've seen them before, this is the first time I've managed grab a shot of one.
It may look like they have virtually no wings at all, but actually, they roll their wings up tightly while they are at rest.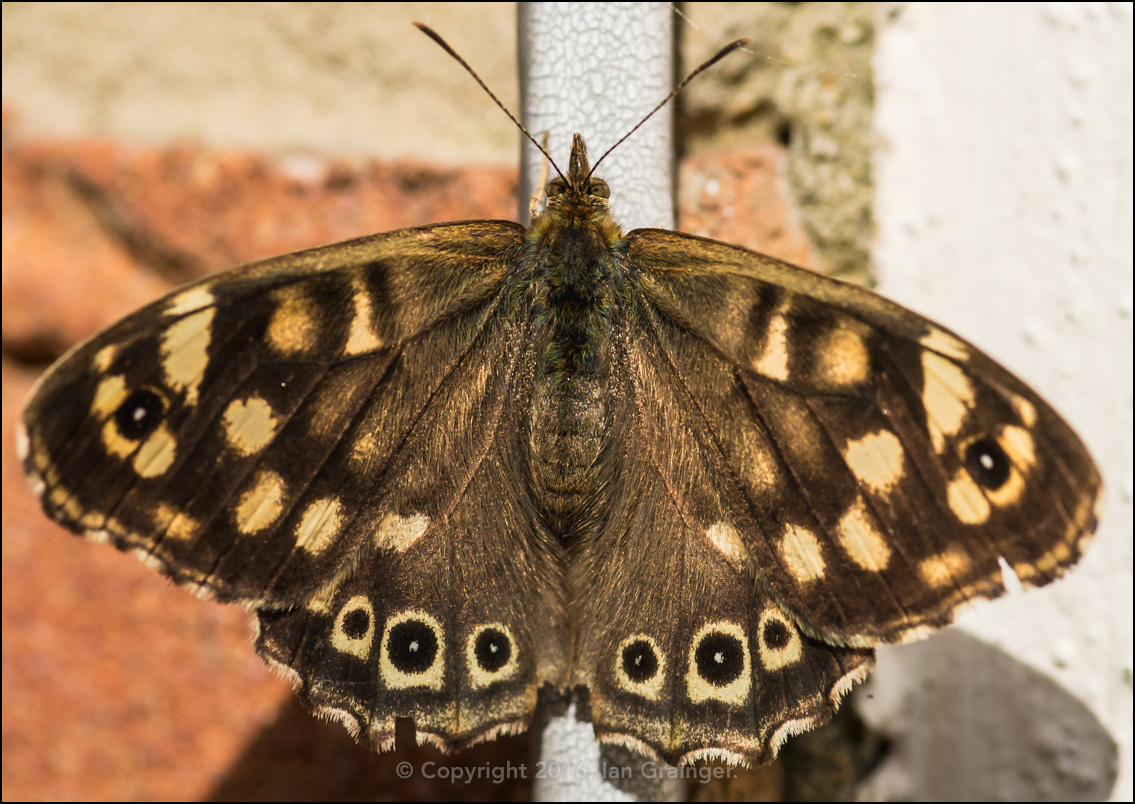 Cable Sitter - October 2016
This Speckled Wood (Pararge aegeria) butterfly saw fit to sun itself on a cable running up the side of my house. I wasn't expecting to see butterflies this late in the year, but I guess the recent spell of good weather has encouraged them to stay around for a bit longer.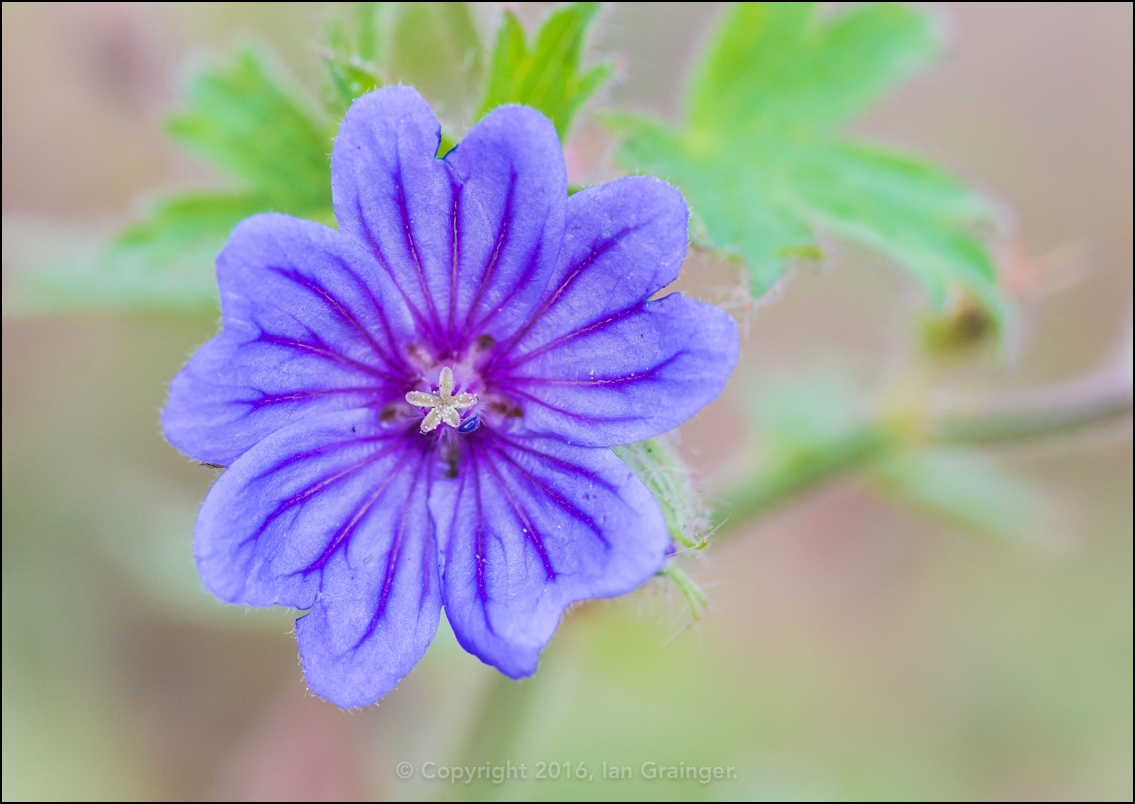 Pollen Platform - October 2016
In my garden, there are quite a few other things staying around too. For instance, my Hardy Geranium (Geraniaceae) have begun flowering again this week...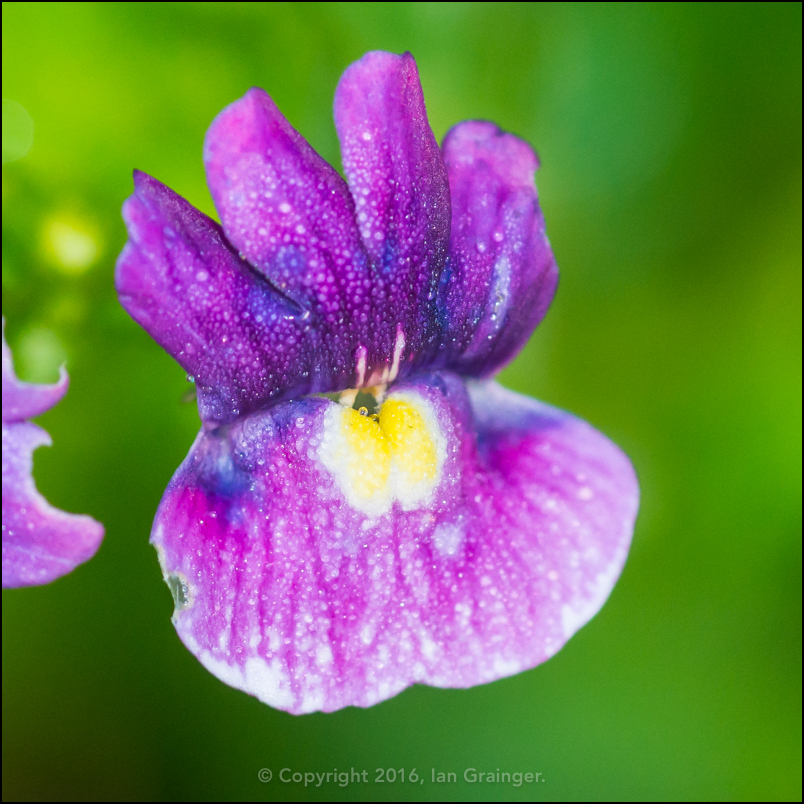 Nemesia Fruticans - October 2016
...as has my Nemesia (Nemesia fruticans).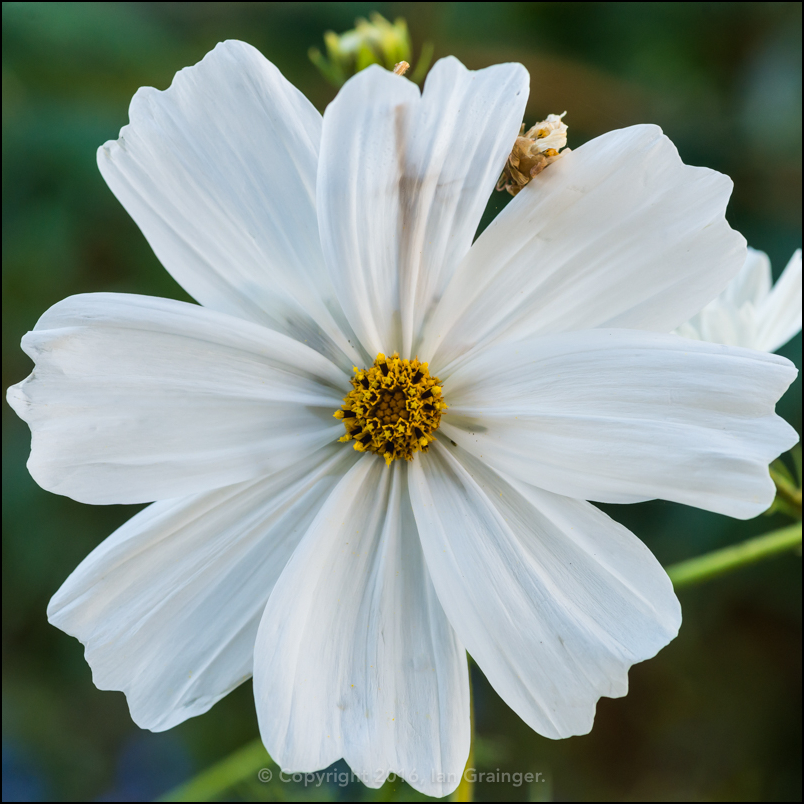 White Cosmos - October 2016
The Cosmos (Cosmea) haven't actually stopped flowering for months, with this white variety producing literally hundreds of flowers...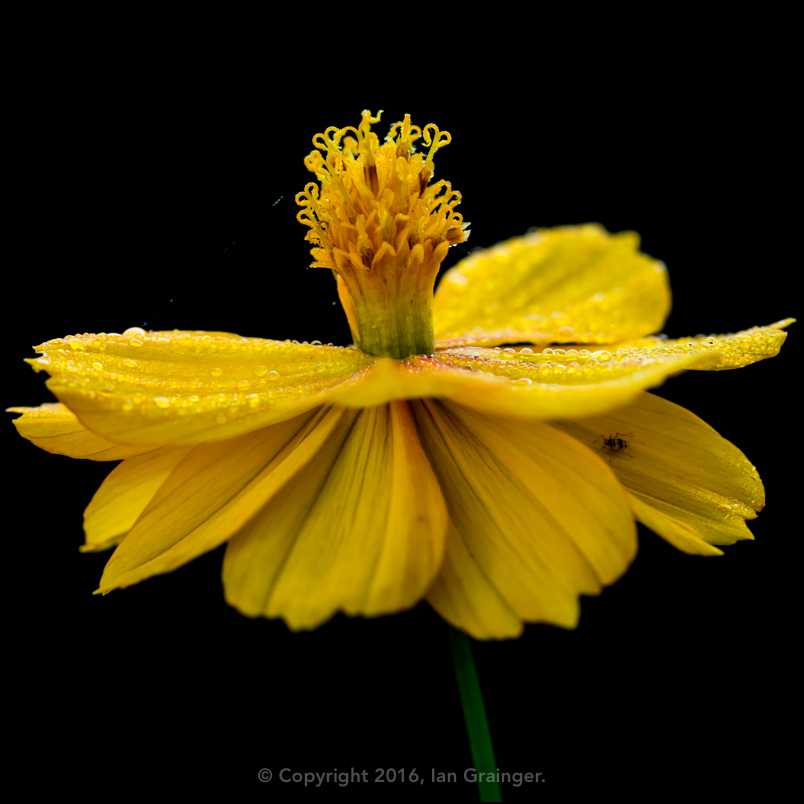 Yellow Cosmos - October 2016
...and this yellow variety, called Bright Lights doing similar, and looking great against a black painted fence.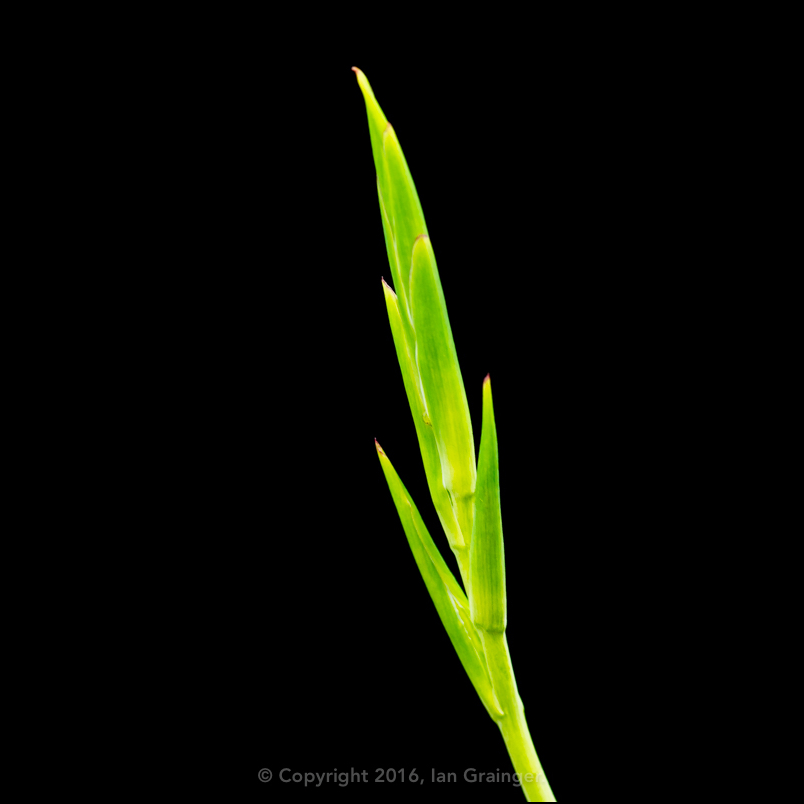 Budding River Lily - October 2016
Meanwhile, the garden is also showing signs of promising things to come. One of my three new River Lily (Hesperantha coccinea) plants has produced some flower buds...
Budding Nerine - October 2016
...and even more exciting, as I've never had one flower before, is that one of my Nerines (Nerine bowdenii) is almost open...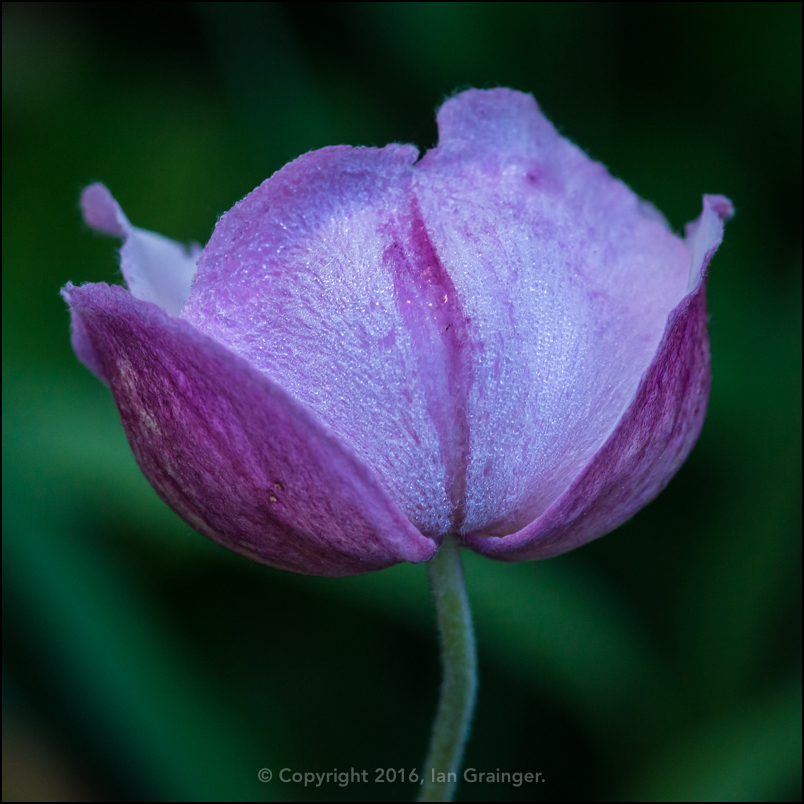 Budding Anemone - October 2016
...while my Japanese Anemone (Anemone tomentosa 'Serenade') is still producing plenty of new flower buds and is doing remarkably well considering it's the first year it has been in the garden.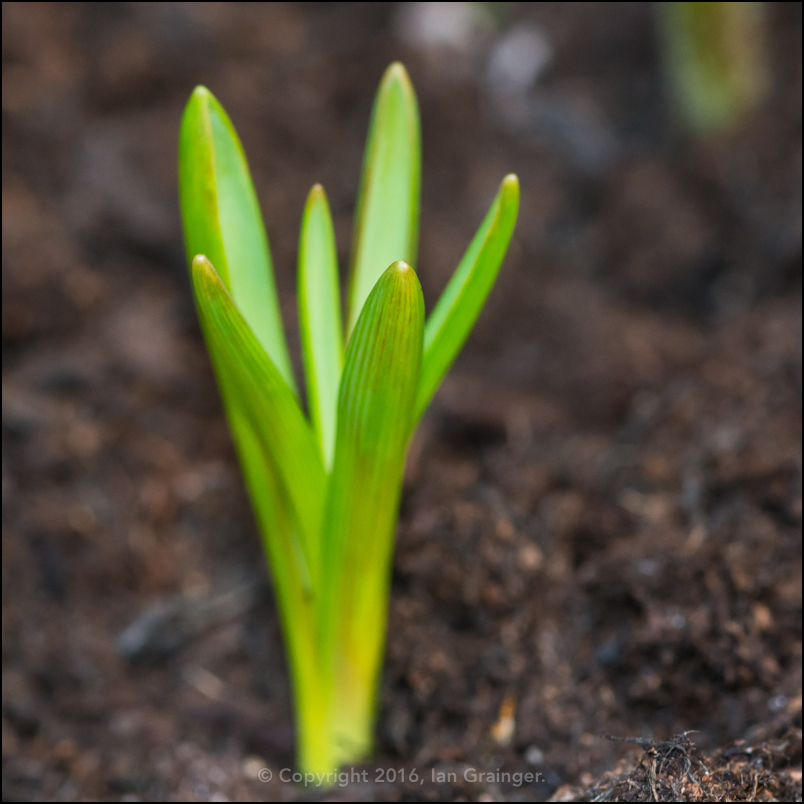 Early Arrival - October 2016
Unfortunately, some of my spring bulbs have been a bit too eager to show themselves! I think this is a Grape Hyacinth (Muscari) arriving way too early, but we shall see.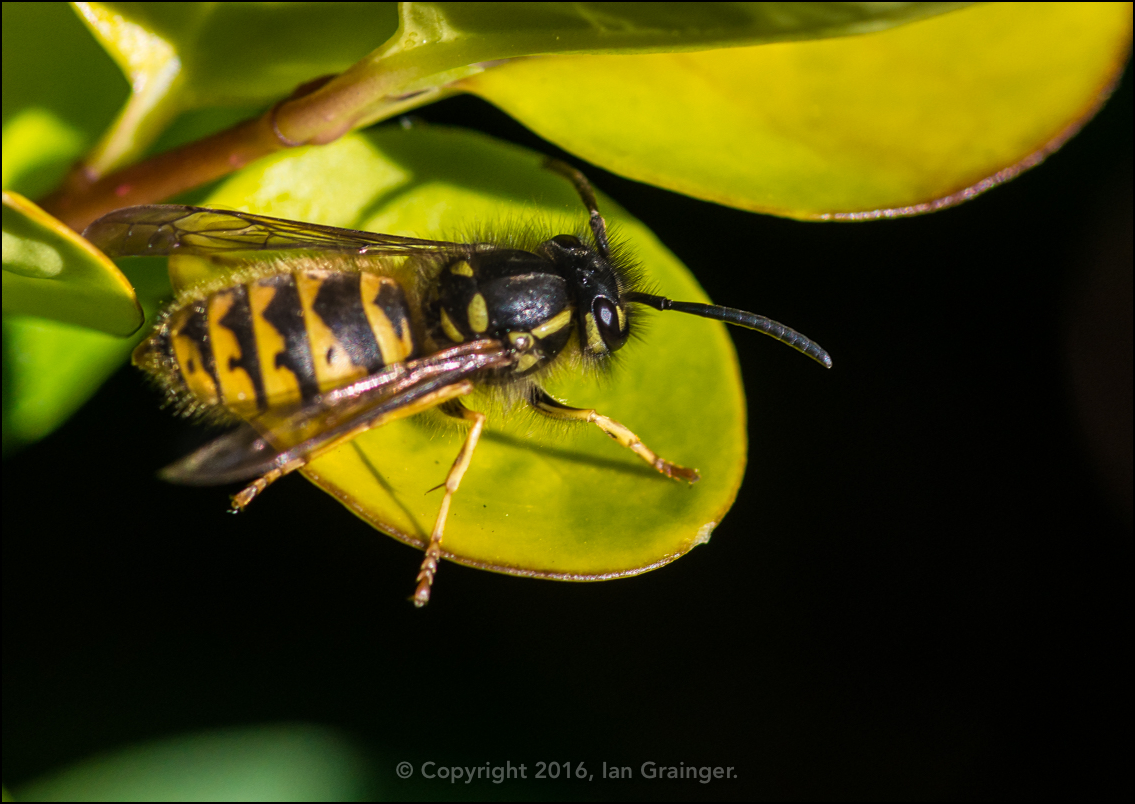 Basking Wasp - October 2016
Over in dad's garden this week, he had a Wasp (Vespula vulgaris) problem. They'd decided to build a nest in a mound of earth below a tree, and were out in force in his garden looking for food.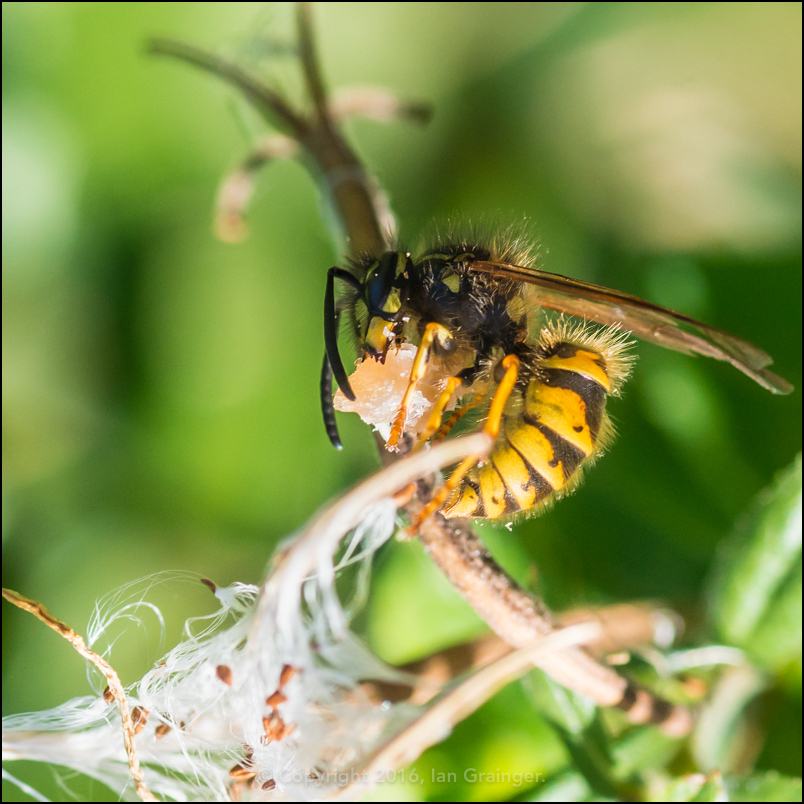 Feeding Wasp - October 2016
This one had found a tiny piece of bread, and had managed to get it from the lawn and up into the relative safety of a Great Willowherb (Epilobium hirsutum) plant. I'm not sure what it planned on doing with it from there though.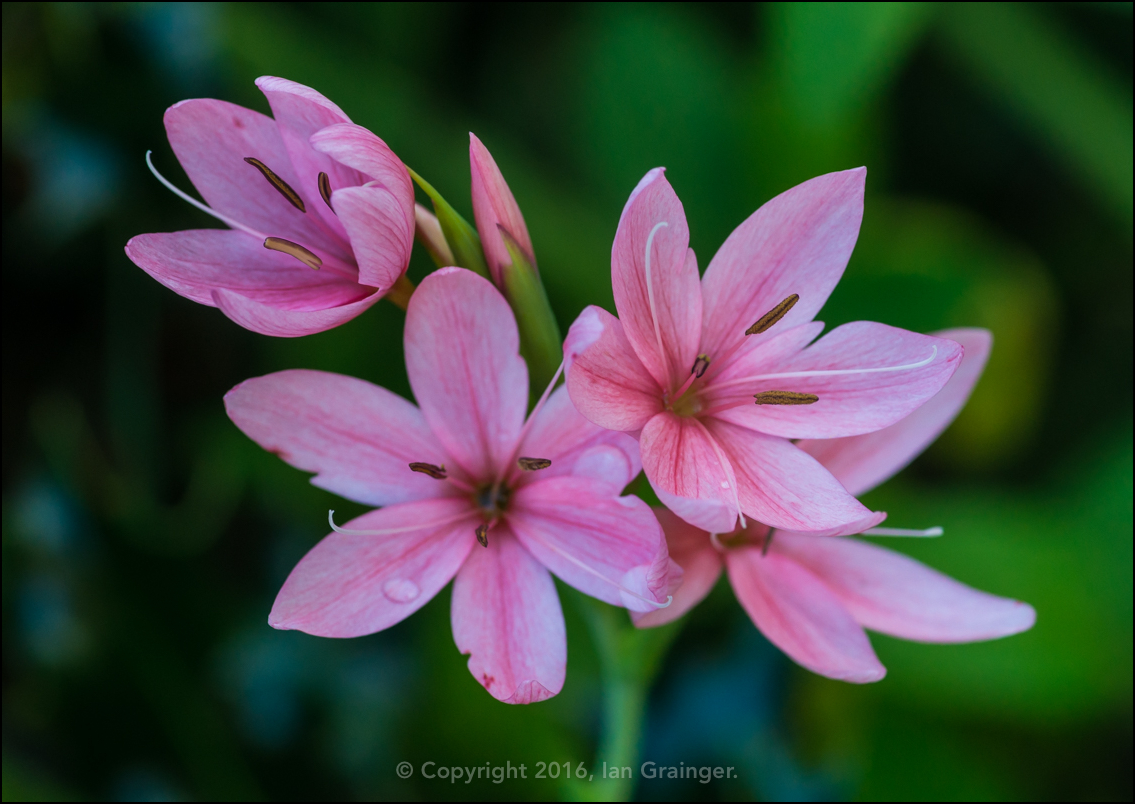 River Lily Bouquet - October 2016
Last week, dad's garden seemed to be running down for the year, but this week, it seemed to be rallying. Unlike mine, his River Lilies had been flowering for weeks, and were continuing apace.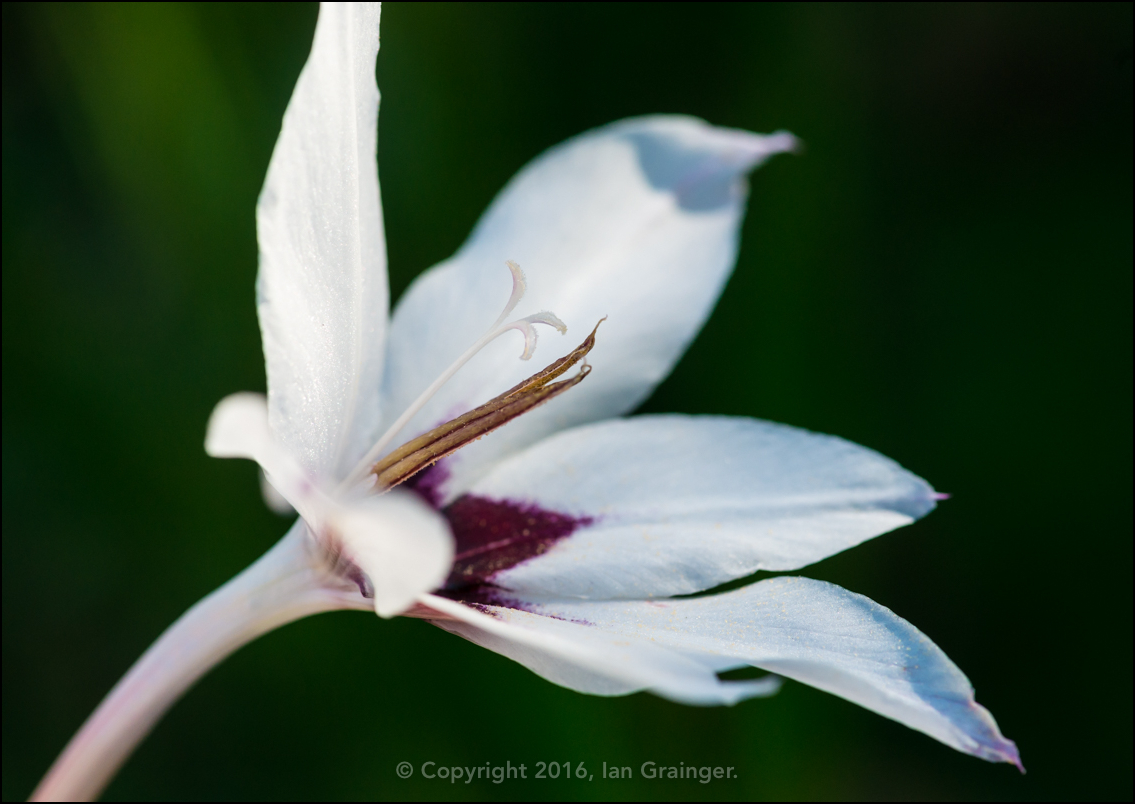 Abyssinian Gladiolus - October 2016
The Abyssinian Gladiolus (Gladiolus murielae) were also putting on a good display, with at least half a dozen flowers per stem.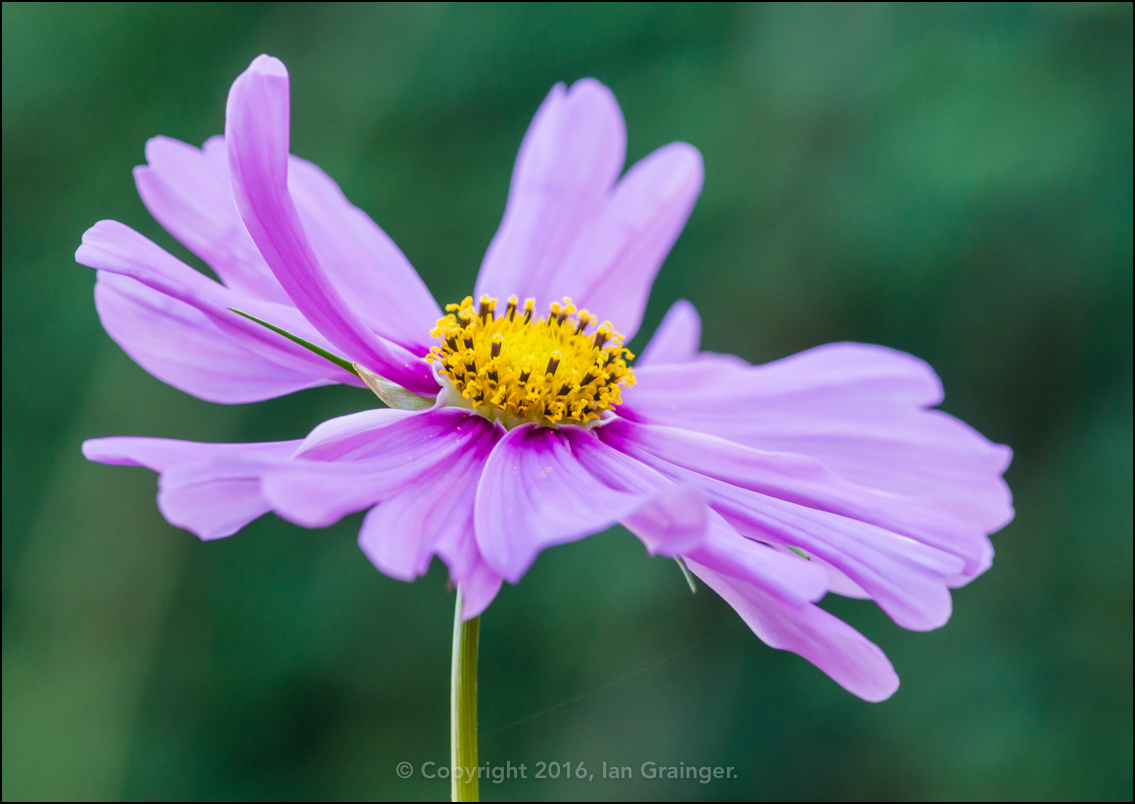 Dancing Cosmos - October 2016
The Cosmos, which I thought had finished last week, had formed new buds, and were now producing lilac coloured blooms.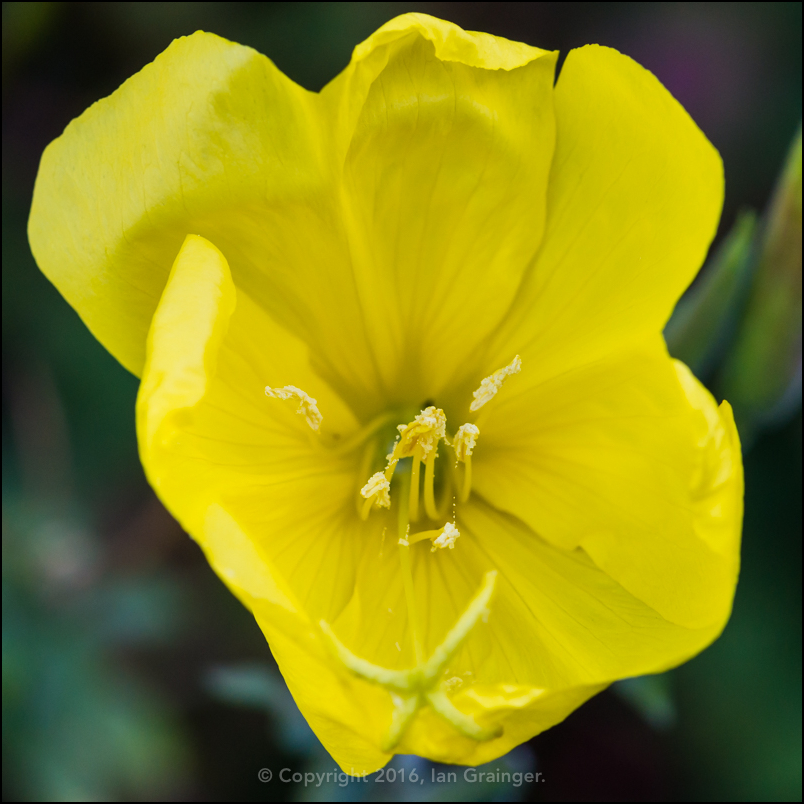 Good Evening - October 2016
And the Evening Primrose (Oenothera) had started to produce new bright yellow flowers again.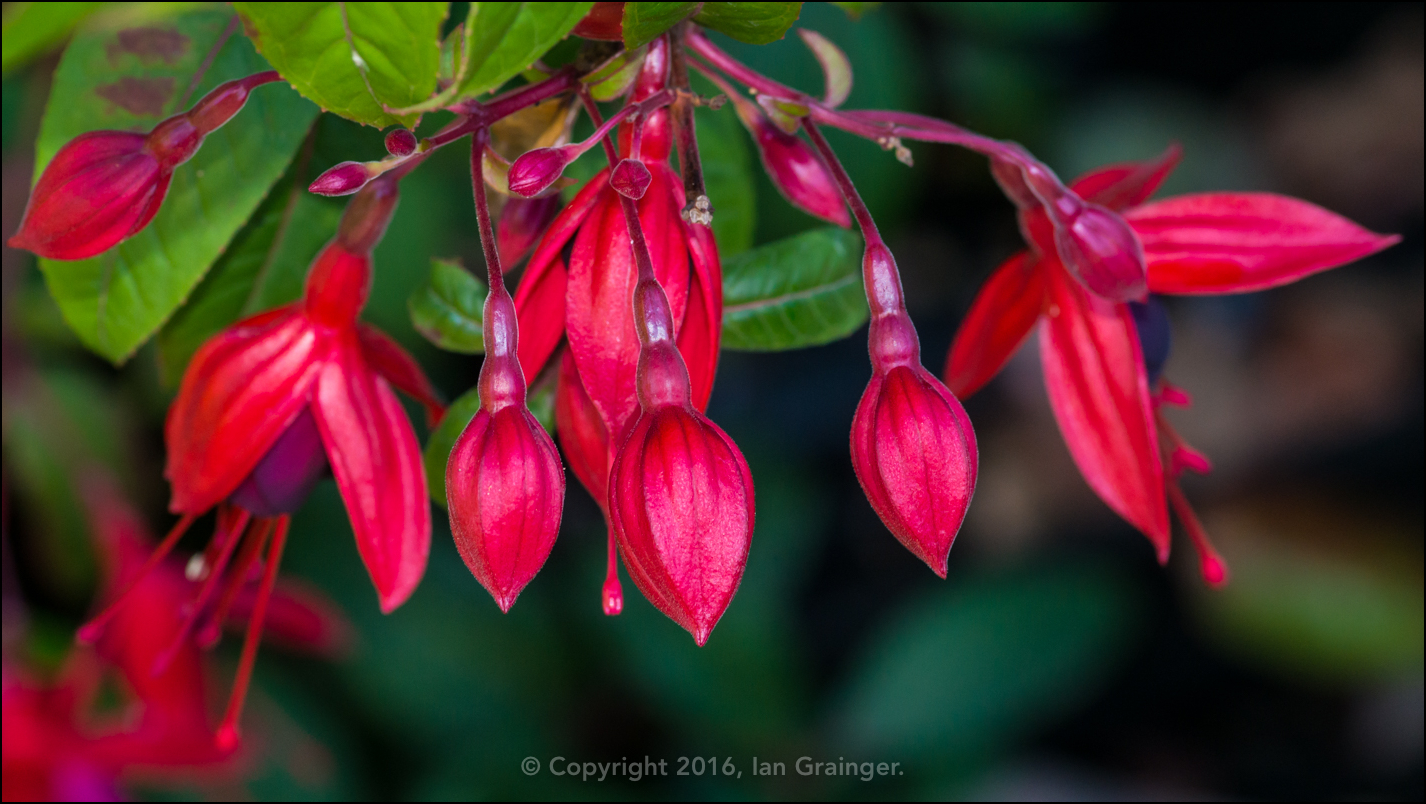 Budding Fuchsia - October 2016
Also, the Climbing Fuchsia, which had managed to climb up through a Camellia bush, was producing many new bright red flower buds.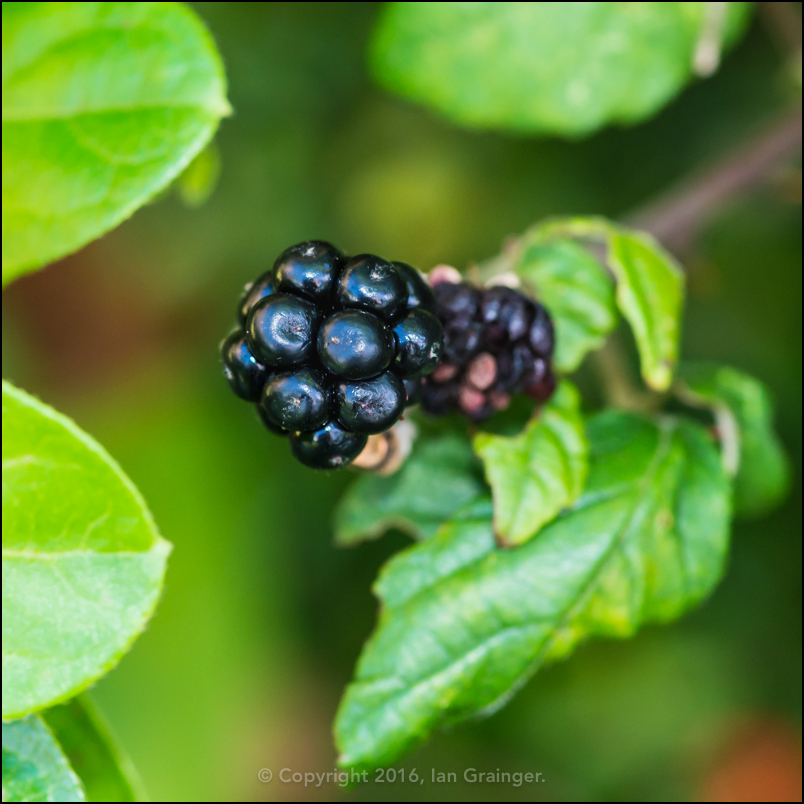 Bramble Delight - October 2016
Even the Bramble (Rubus fruticosus) bushes were producing an autumn harvest...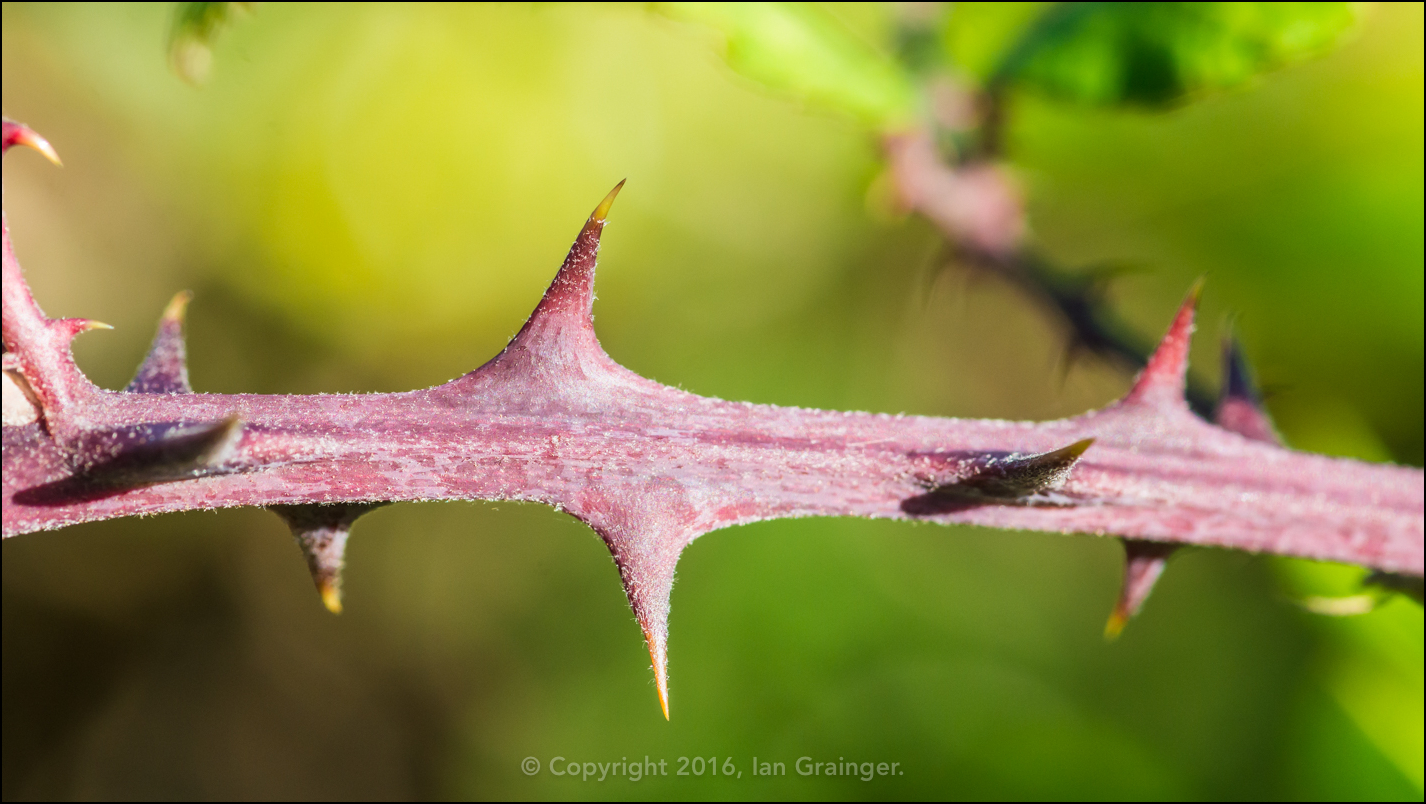 Bramble Dismay - October 2016
...as well as more razor sharp thorns to spoil your day while you are pruning!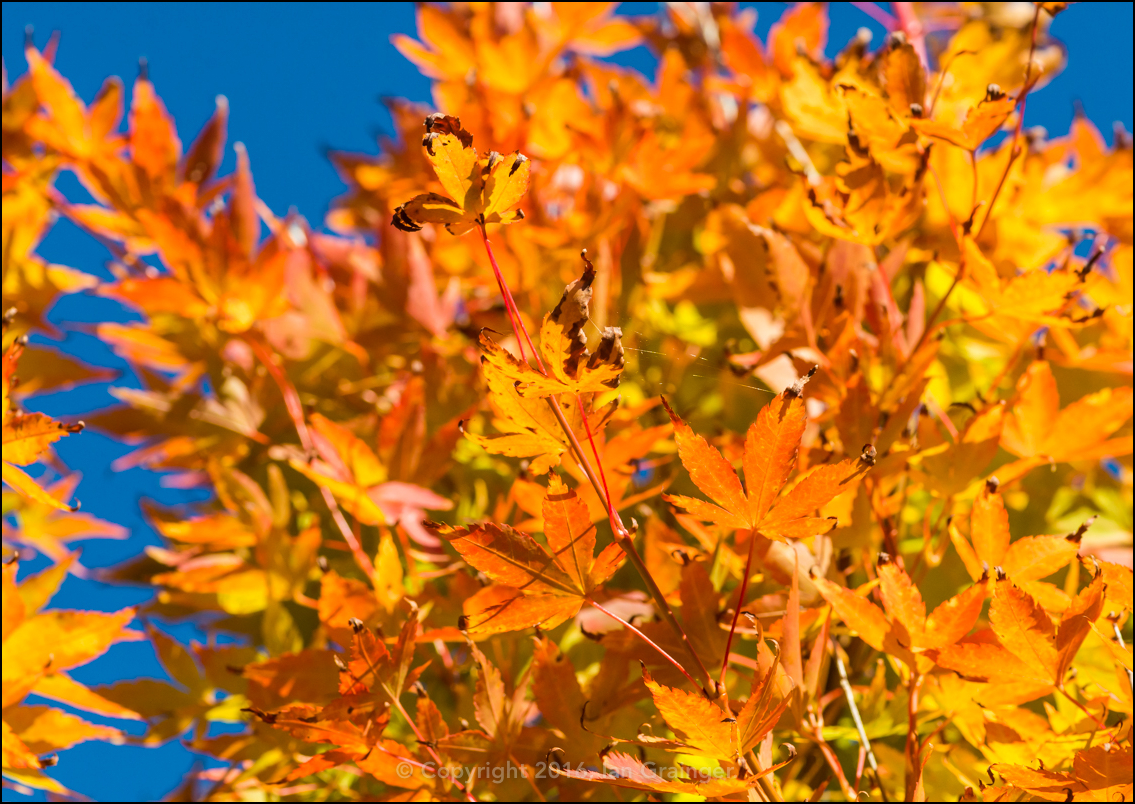 Autumnal Glow - October 2016
The Acer (Acer palmatum) had completed its colour transition from green to golden and looked rather splendid in the sunshine against the lovely blue sky.
Taking a Nap - October 2016
Finally, what was my photo companion up to this week? Well, not a lot! He remained asleep underneath a hedge for the entirety of my photo shoot.
So, this week I chose Common Plume Moth as my Image of the Week, mainly because it was a challenge to get the eye in focus with such a small subject, but also because it was my first time shooting this particular insect...