Raindrop Retreat - August 2016
After an extremely dry period of weather, the garden got some much needed rain this weekend. The only downside was that it came during my Sunday morning photo shoot in my dad's garden!
This meant that there was very little chance of photographing insects as they had all stayed home in bed, avoiding the enormous raindrops.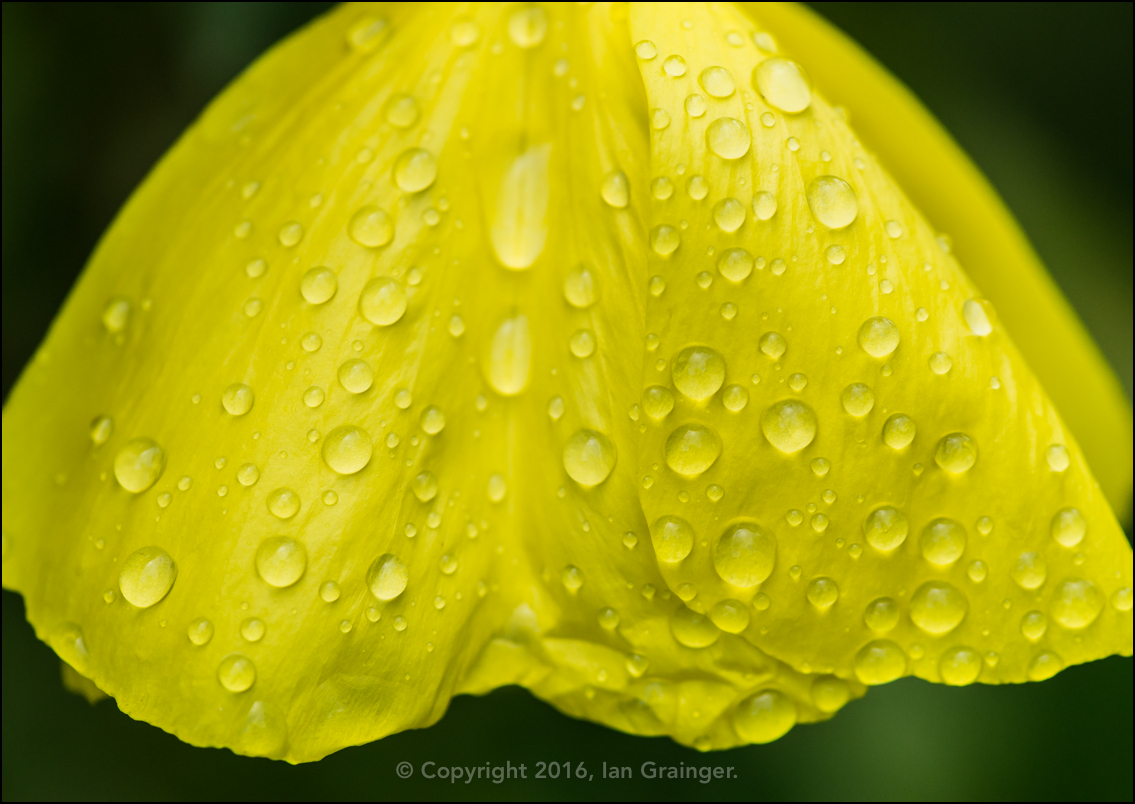 Eventing Raindrops - August 2016
So, I decided to content myself with shooting abstract raindrop patterns on leaves and petals, like this yellow Evening Primrose (Oenothera) petal...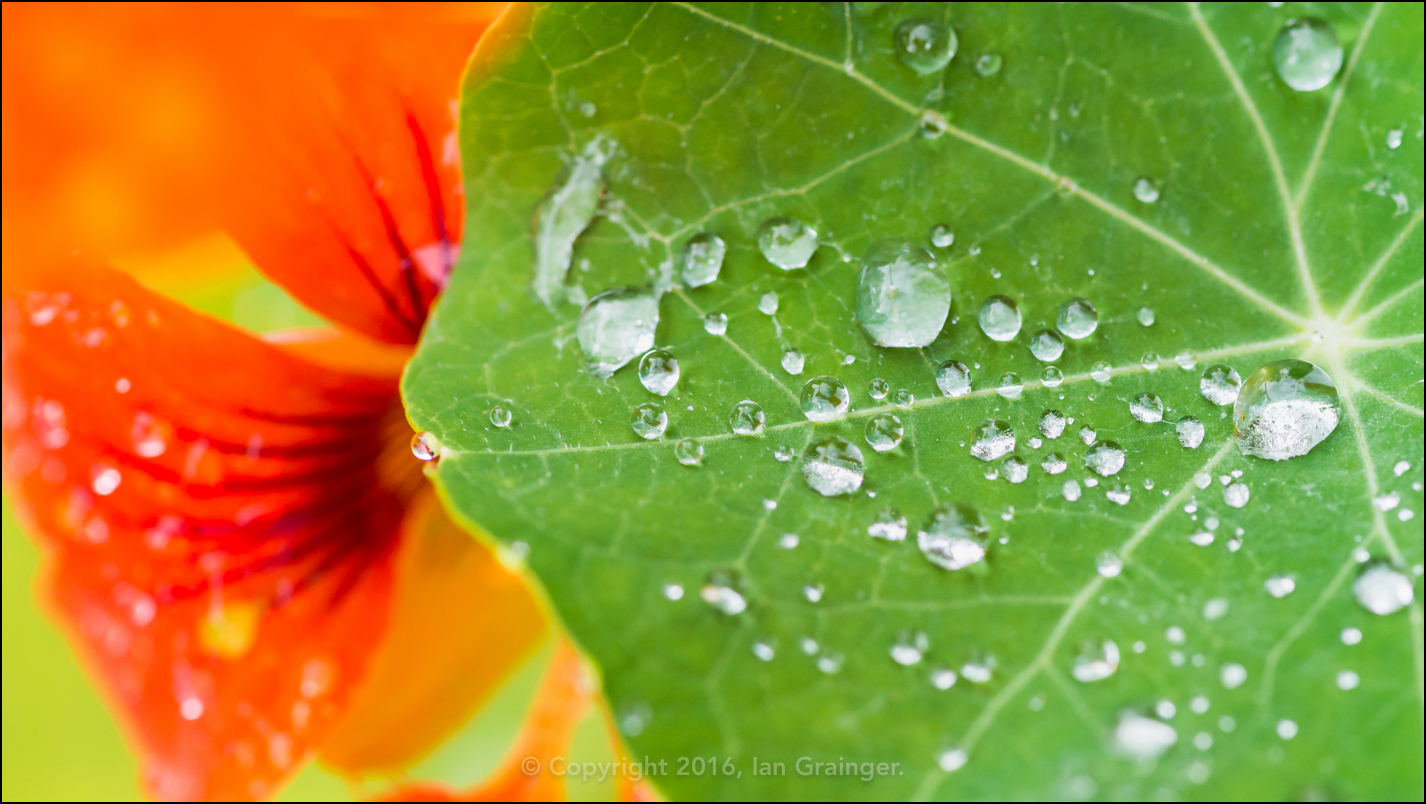 Wet Weekend - August 2016
...and this Nasturtium (Tropaeolum) leaf.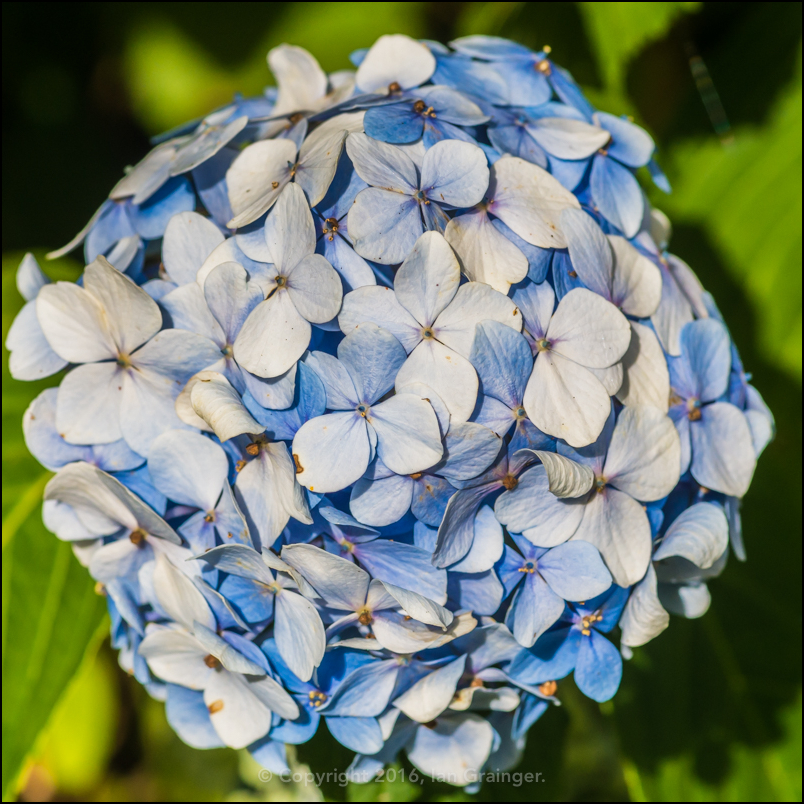 Mophead Hydrangea - August 2016
However, it wasn't long before I started to notice signs of summer coming to an end. This light blue Mophead Hydrangea (Hydrangea macrophylla), although still intact, had certainly seen better days.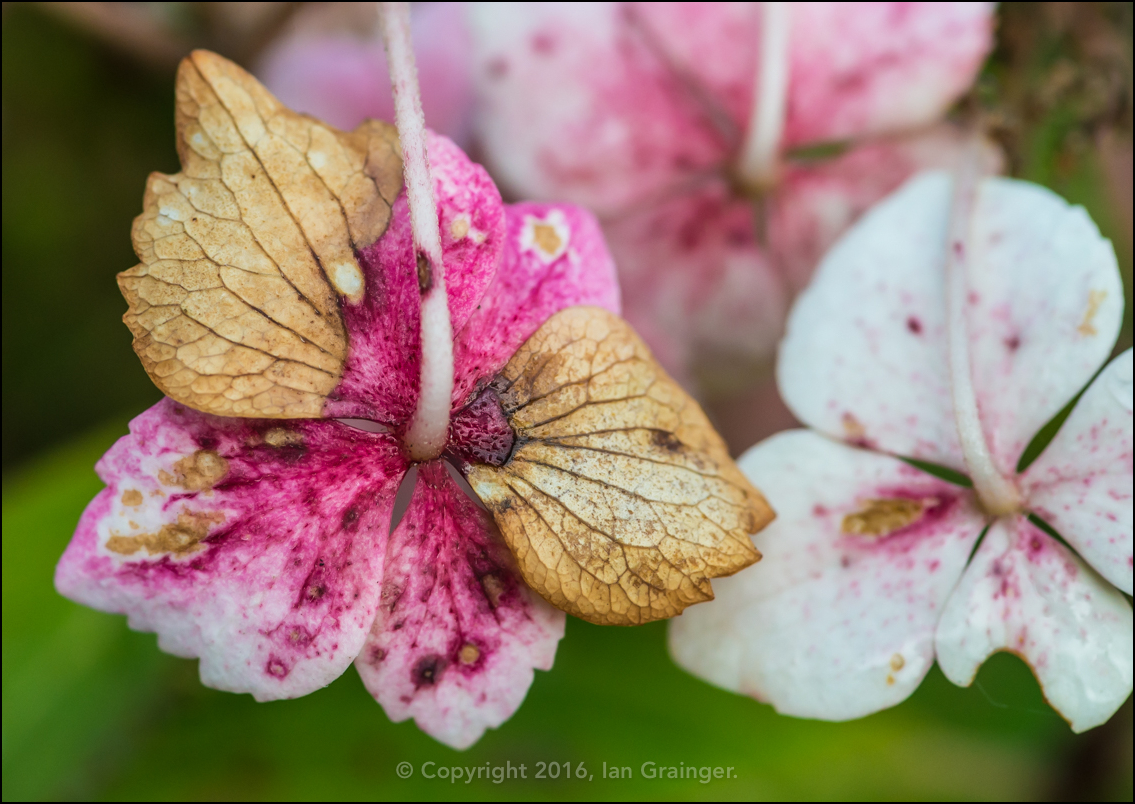 Autumnal Lacecap - August 2016
While this Lacecap Hydrangea was already seemingly well into the autumnal part of its life cycle.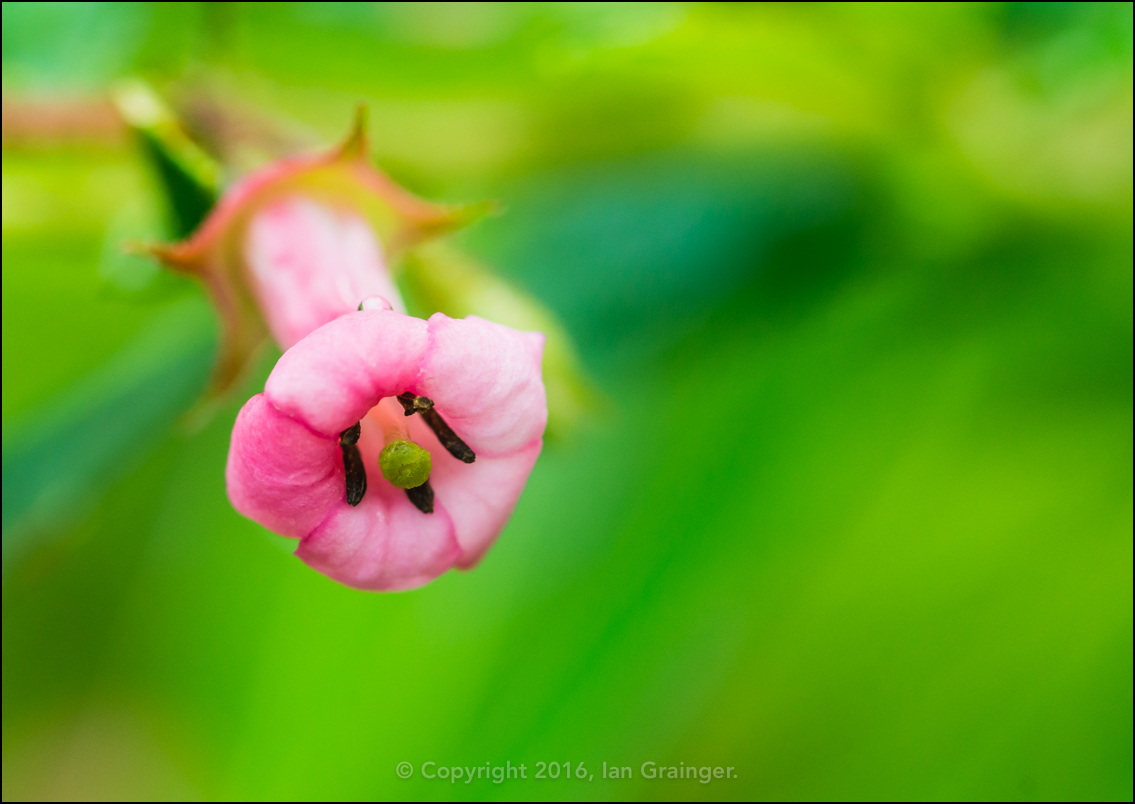 Confused Escallonia - August 2016
No longer was I noticing signs of autumn, however, when I was seeing signs of spring! This Escallonia is usually a springtime flowerer, but was performing again in late summer...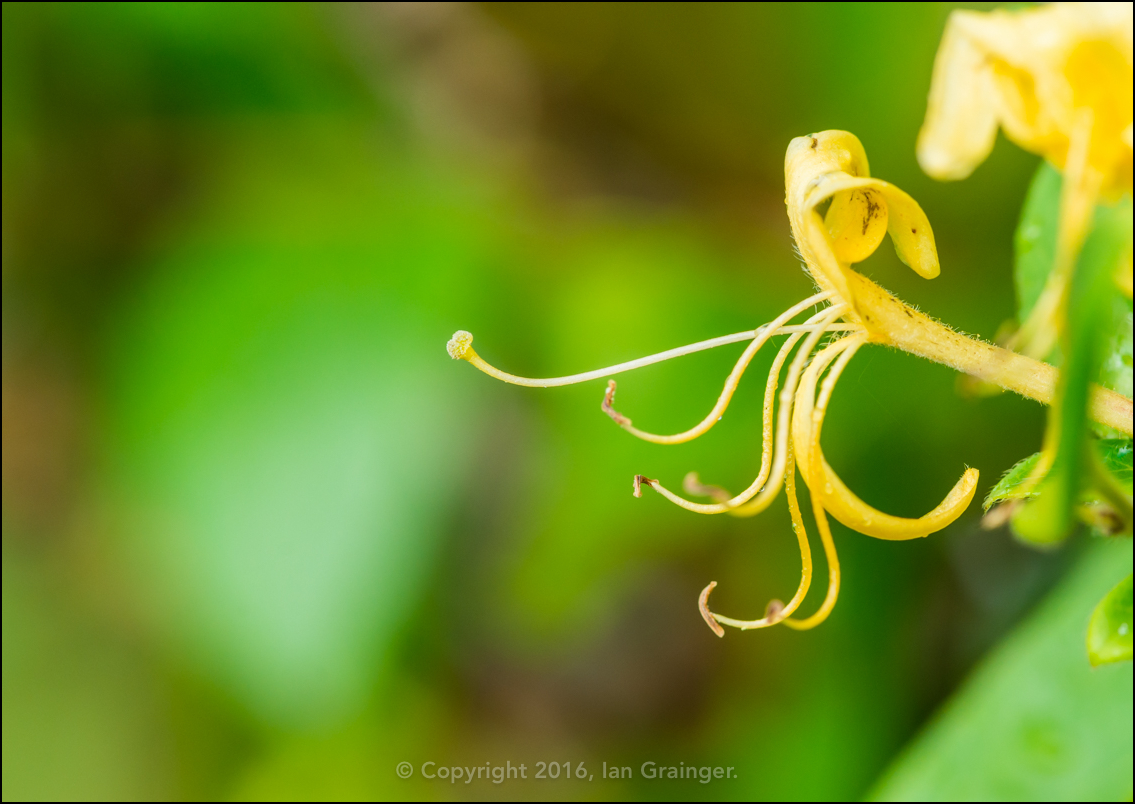 Confused Honeysuckle - August 2016
...as was this Honeysuckle (Lonicera).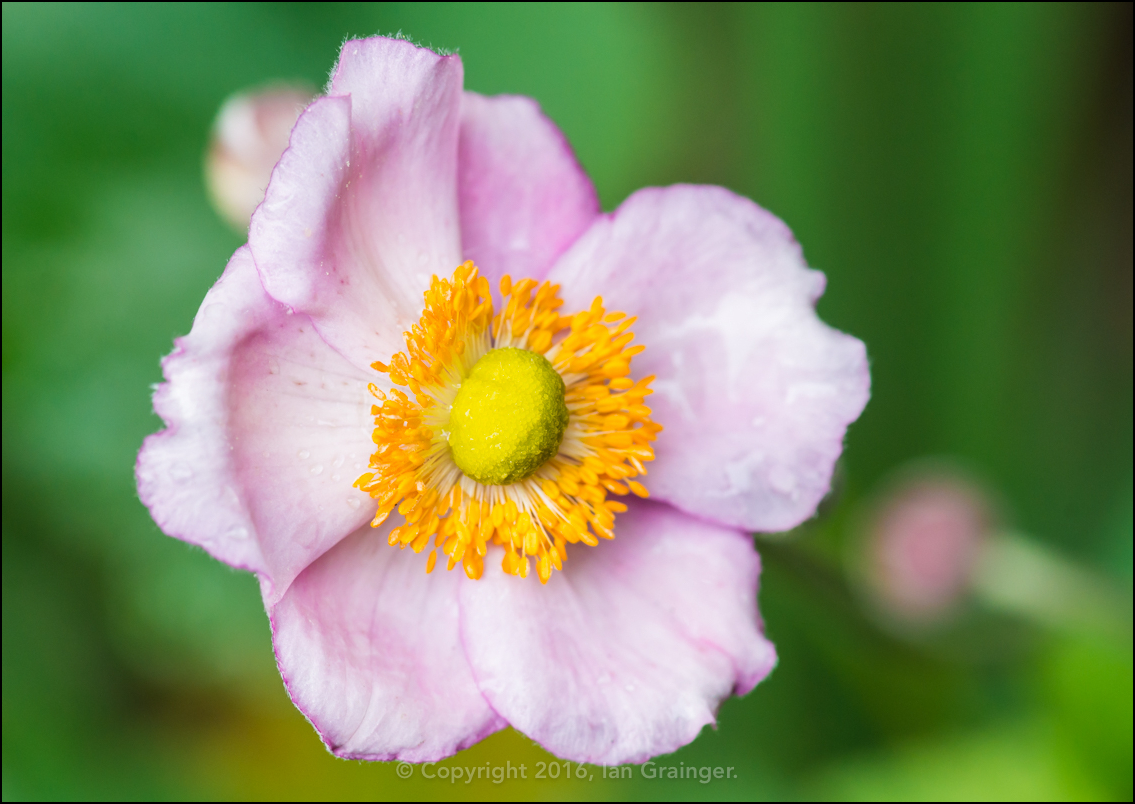 Open Anemone - August 2016
At least the Japanese Anemones (Anemone hupehensis) were flowering at their usual time, and looking quite splendid in a darker corner of the garden.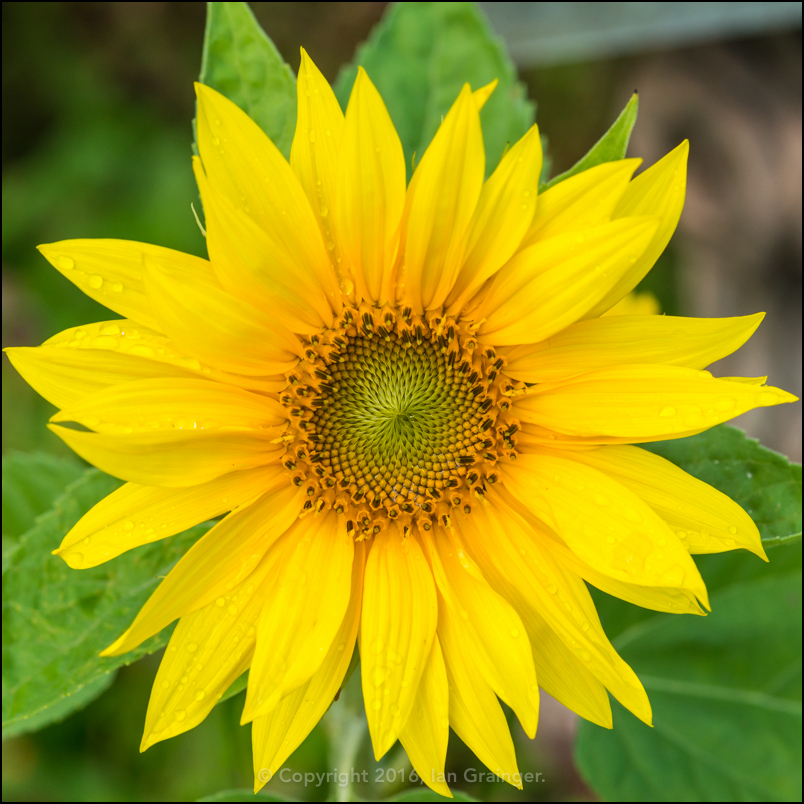 Sun Up - August 2016
Although it was a wet, miserable day, the sun came out eventually, in the form of this bright yellow Sunflower (Helianthus)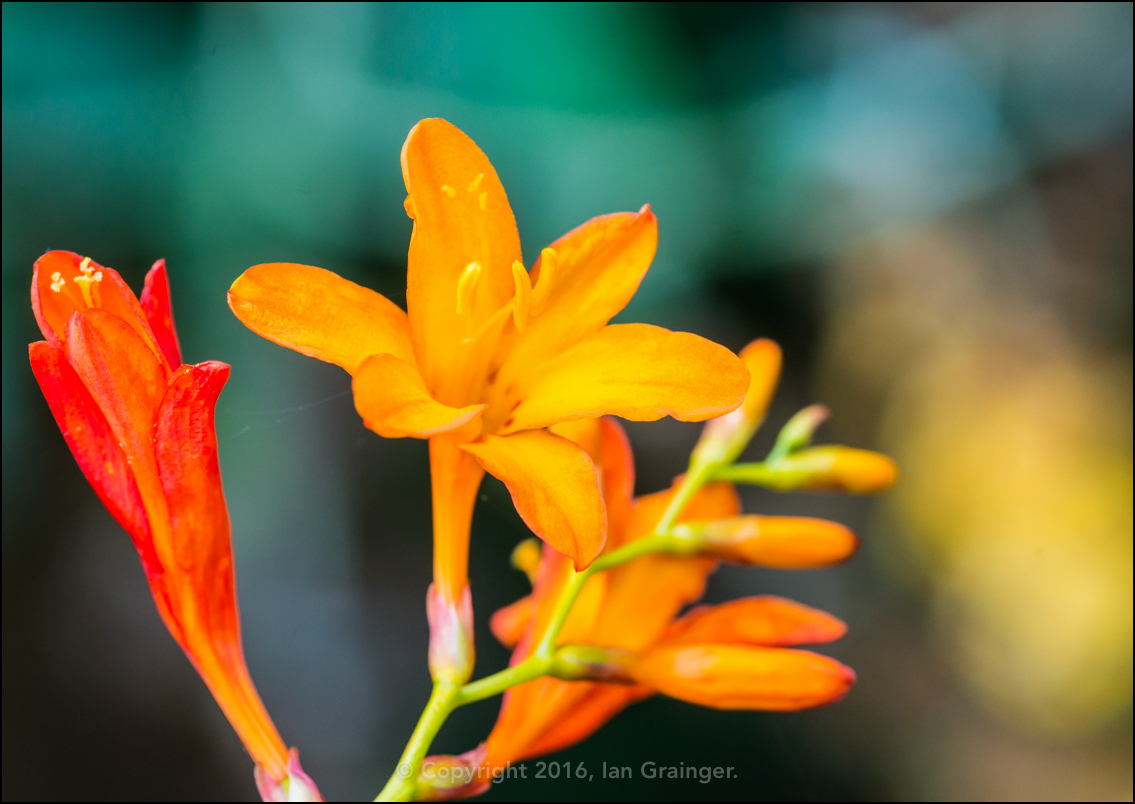 Crocosmia Glow - August 2016
The Montbretia (Crocosmia) was also glowing, despite the wet weather.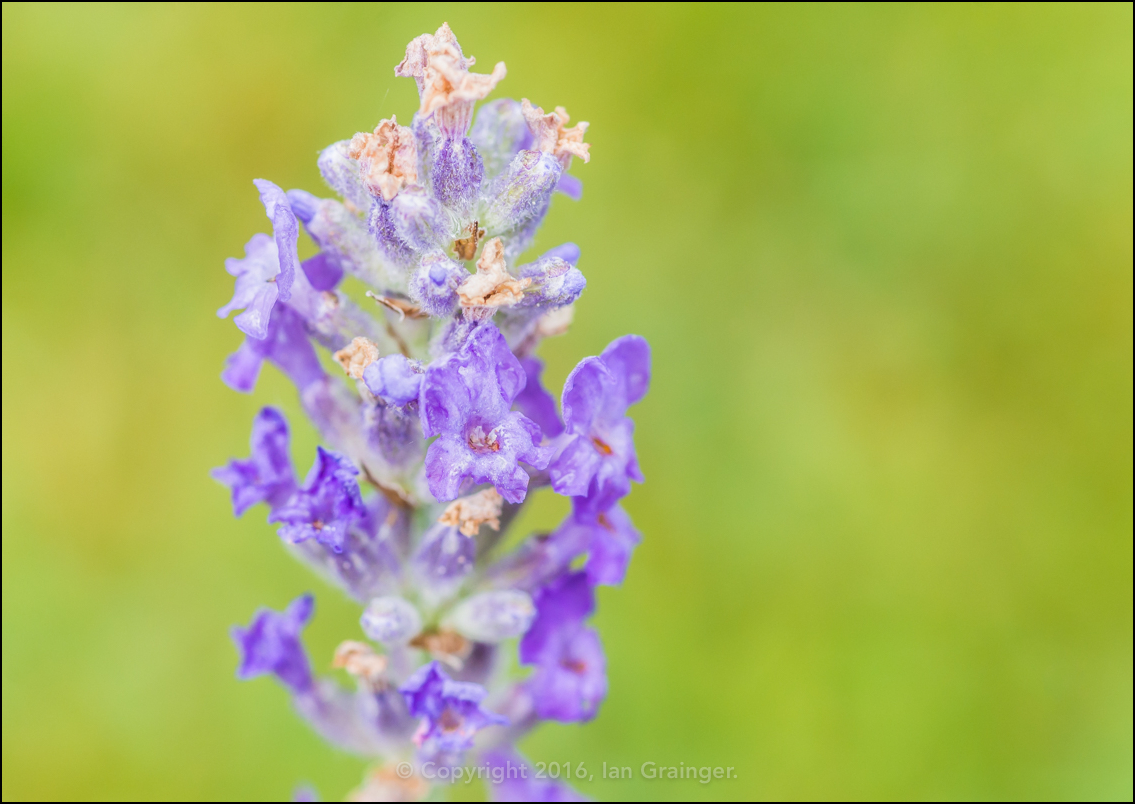 Lavender - August 2016
The Lavender (Lavandula) was looking soggy, being covered in raindrops...
Pink Petunia - August 2016
...as were the pink Petunias, which had flowered continuously since the end of May.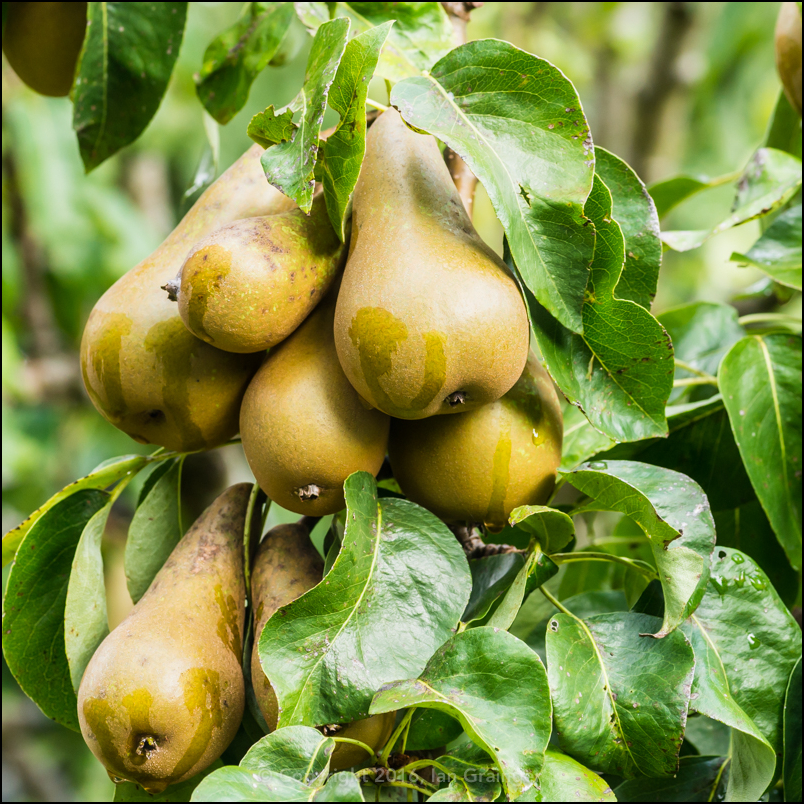 Pear Shaped - August 2016
The Pears were coming along nicely, in a garden adjacent to dad's, with this particular tree having hundreds of ripening fruits.
Fearless Feathered Friend - August 2016
The juvenile Blackbird (Turdus merula) that I featured last week was back, and growing even bolder, as it approached an old frying pan full of drinking water.
Anthurium - August 2016
As the rain came down heavier, it forced me indoors, where this Flamingo Flower (Anthurium) caught my eye.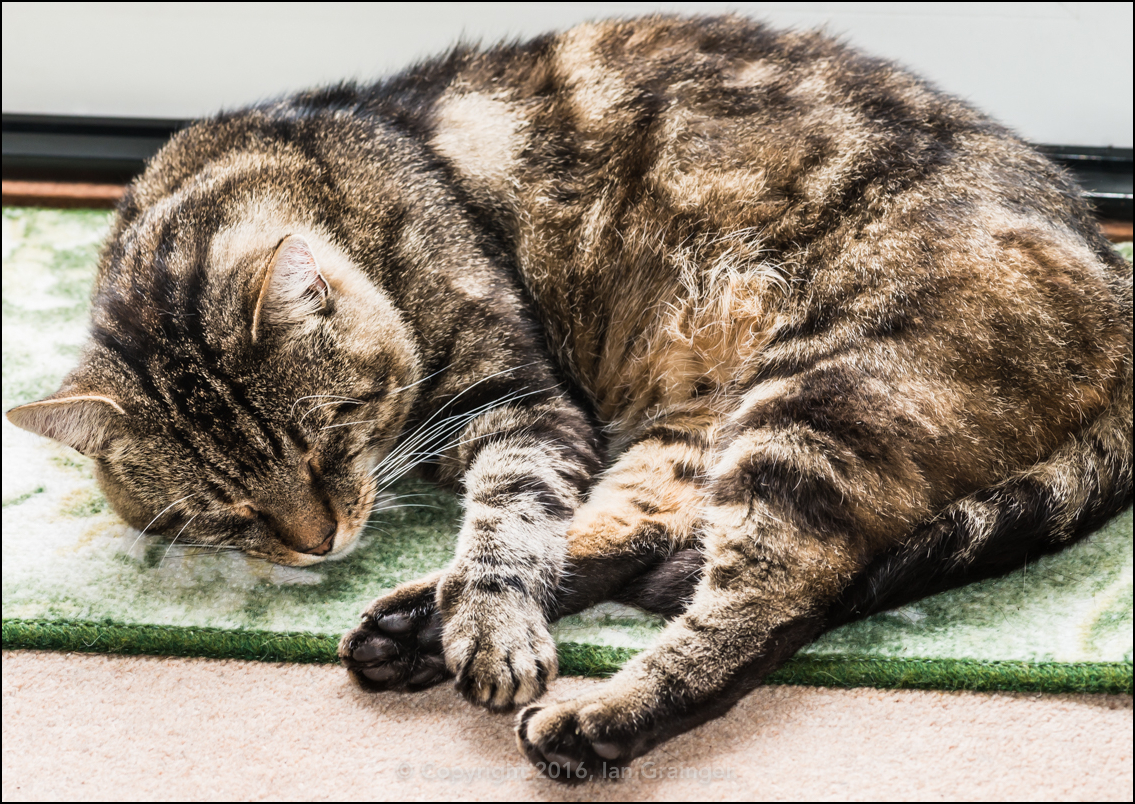 Snoozing Kitty - August 2016
My usual photo shoot companion wasn't impressed at all by the wet weather this week, and while I spent the morning dodging raindrops, he instead opted to have a quiet snooze on his favourite mat.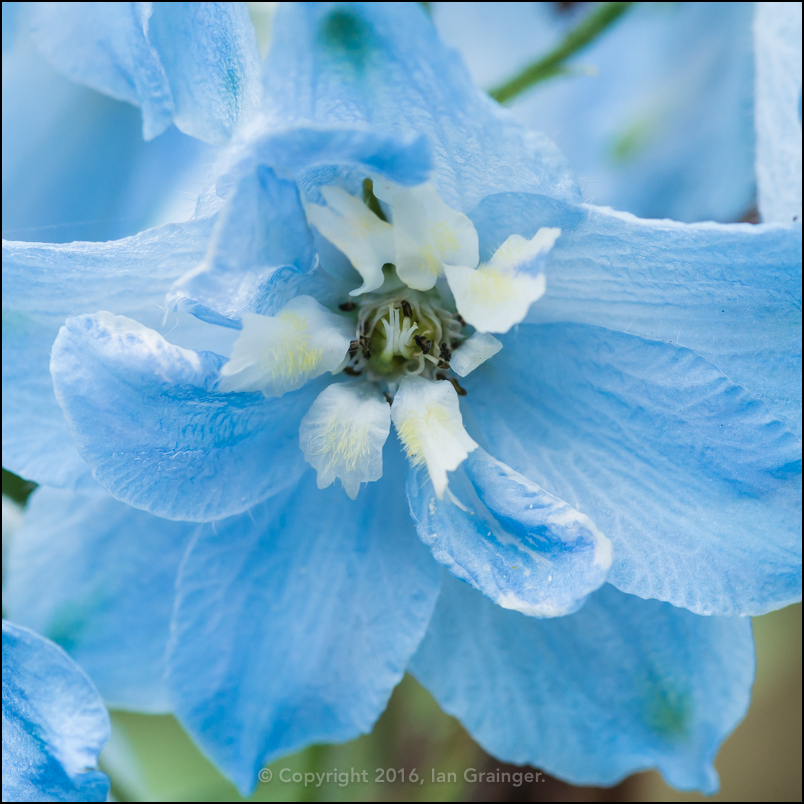 Delphinium Detail - August 2016
Back in my garden this week, I had a plethora of new blooms reporting for duty. My favourite of which was this light blue Delphinium (also known as Larkspur). I was not expecting them to flower this year as I only purchased them as small plug plants a couple of months ago.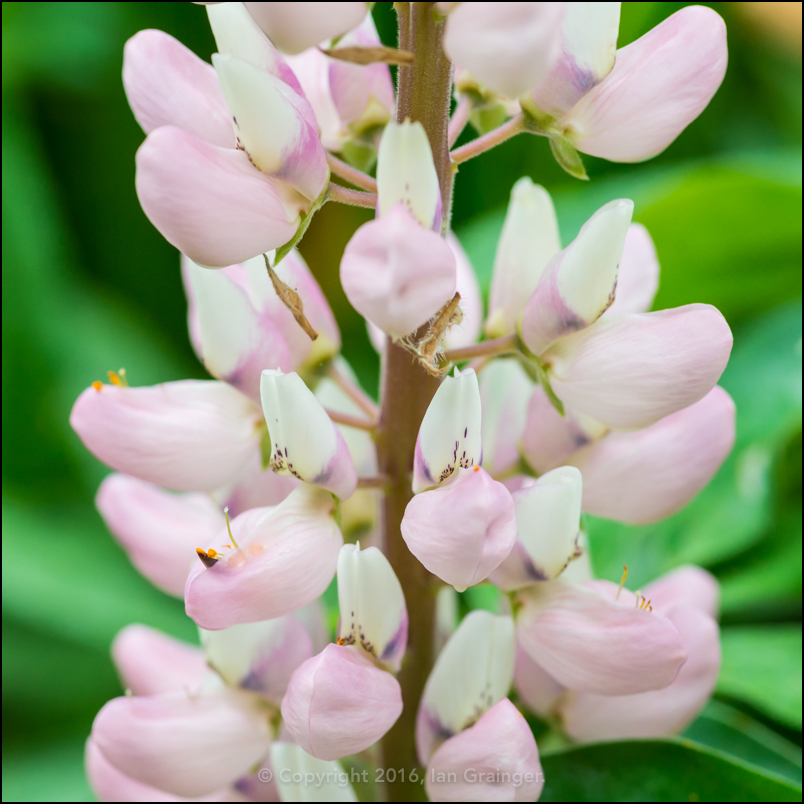 Loaded Lupin - August 2016
The Lupins (Lupinus) were purchased at the same time, and were also not expected to flower this year, but I'm pleased that they have.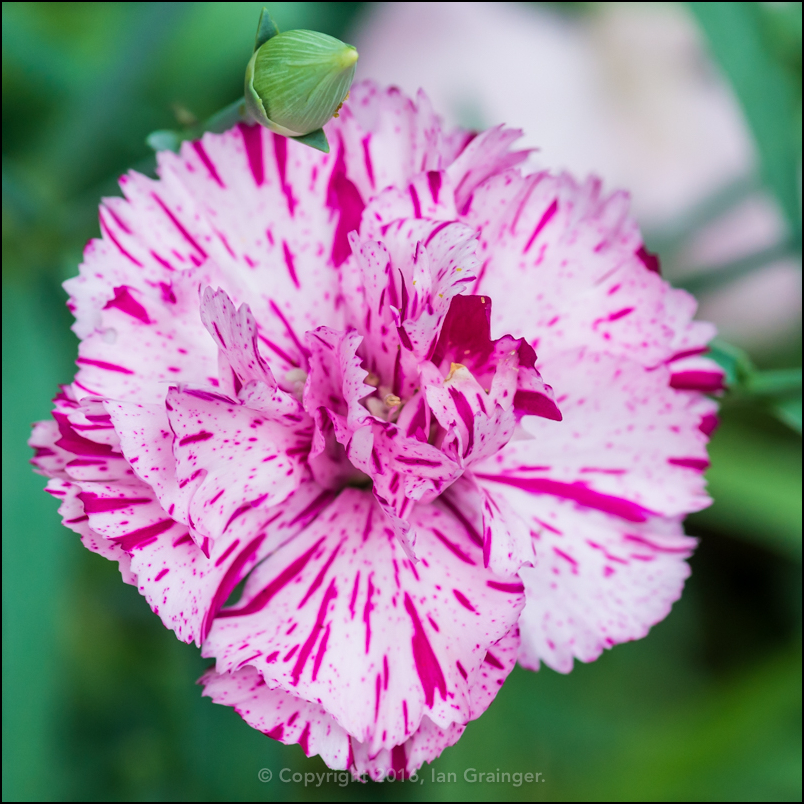 Pink Carnation - August 2016
The Carnations (Dianthus) have started flowering this week, and this mottled pink coloured one was my favourite to open so far.
Cyclamen Echoes - August 2016
I couldn't resist purchasing some Cyclamen when I visited the garden centre earlier in the week. Hopefully they will bring some colour to the garden all through the autumn and winter.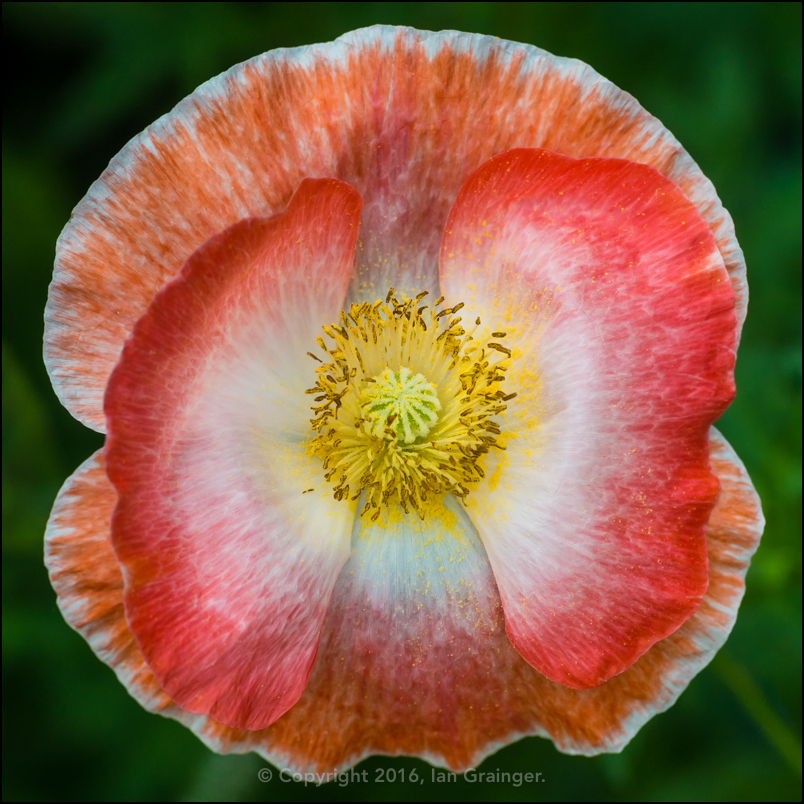 Falling In Love Again - August 2016
Another thing I couldn't resist was showing another picture of this Poppy (Papaveraceae) 'Falling in Love'. It really has captured my heart...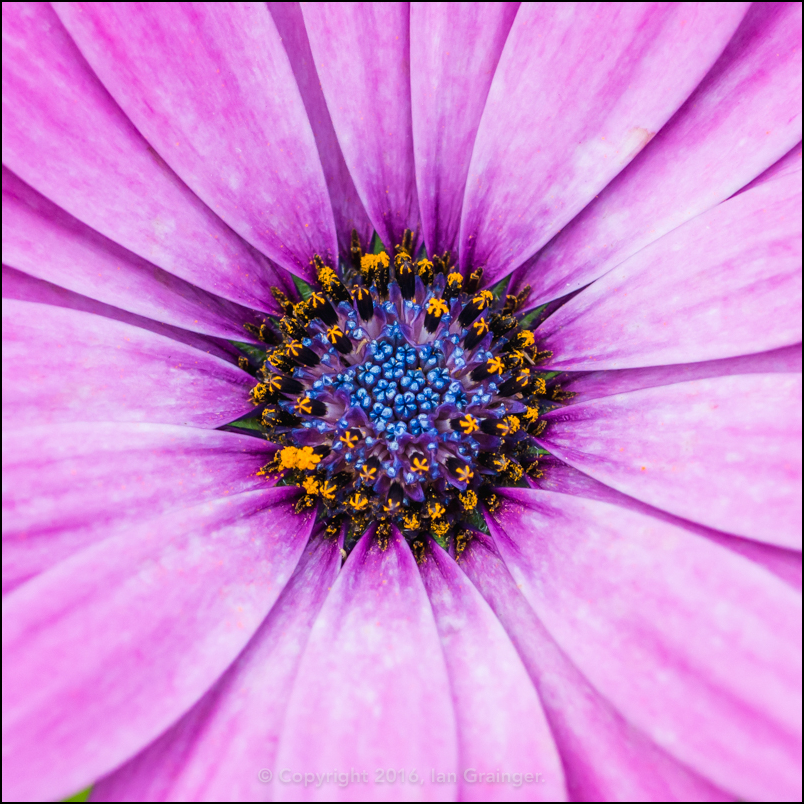 Bluest of Blues - August 2016
...as have the African Daisies (Osteospermum) this year. They've been flowering since late spring, and show no signs of stopping.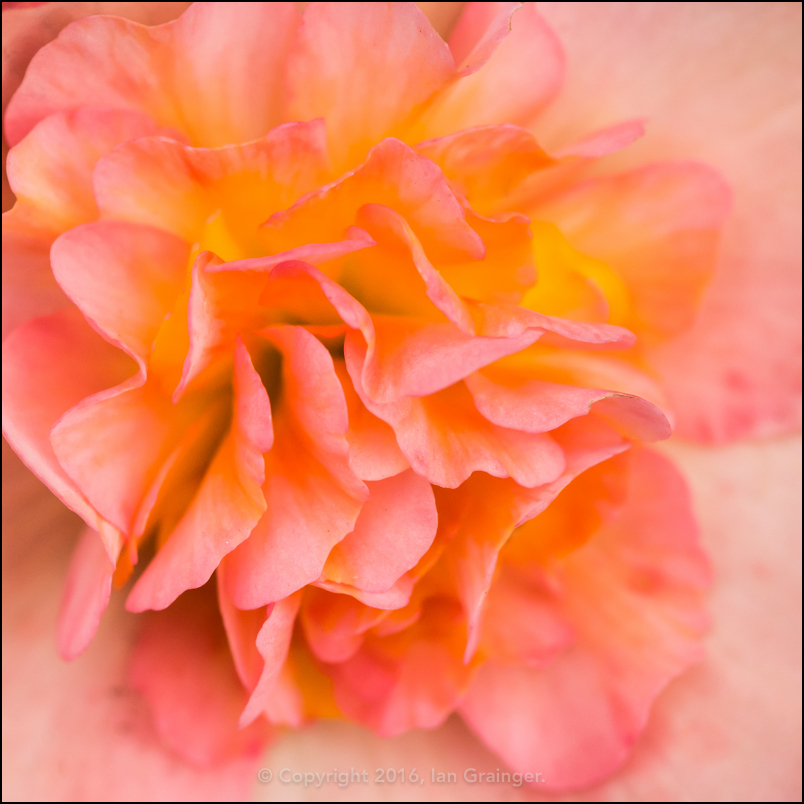 Illuminating - August 2016
Finally, the Begonia 'Illumination' was living up to its name this week, looking quite beautiful in the warm summer sunshine.
So, this week I've chosen Raindrop Retreat as my Image of the Week, mainly because I like the image, but also because it makes a change from the insects and flowers I've chosen for the past couple of months...