Dahlia Reborn - October 2018
It was a beautiful blue skied morning for my photo shoot in dad's garden this weekend, and although a little chilly, thankfully the wind and rain stayed away.
The wind from a couple of weeks ago had completely decimated the Dahlias, so it was nice to see that some of the flower stems had recovered and their buds had begun to open again.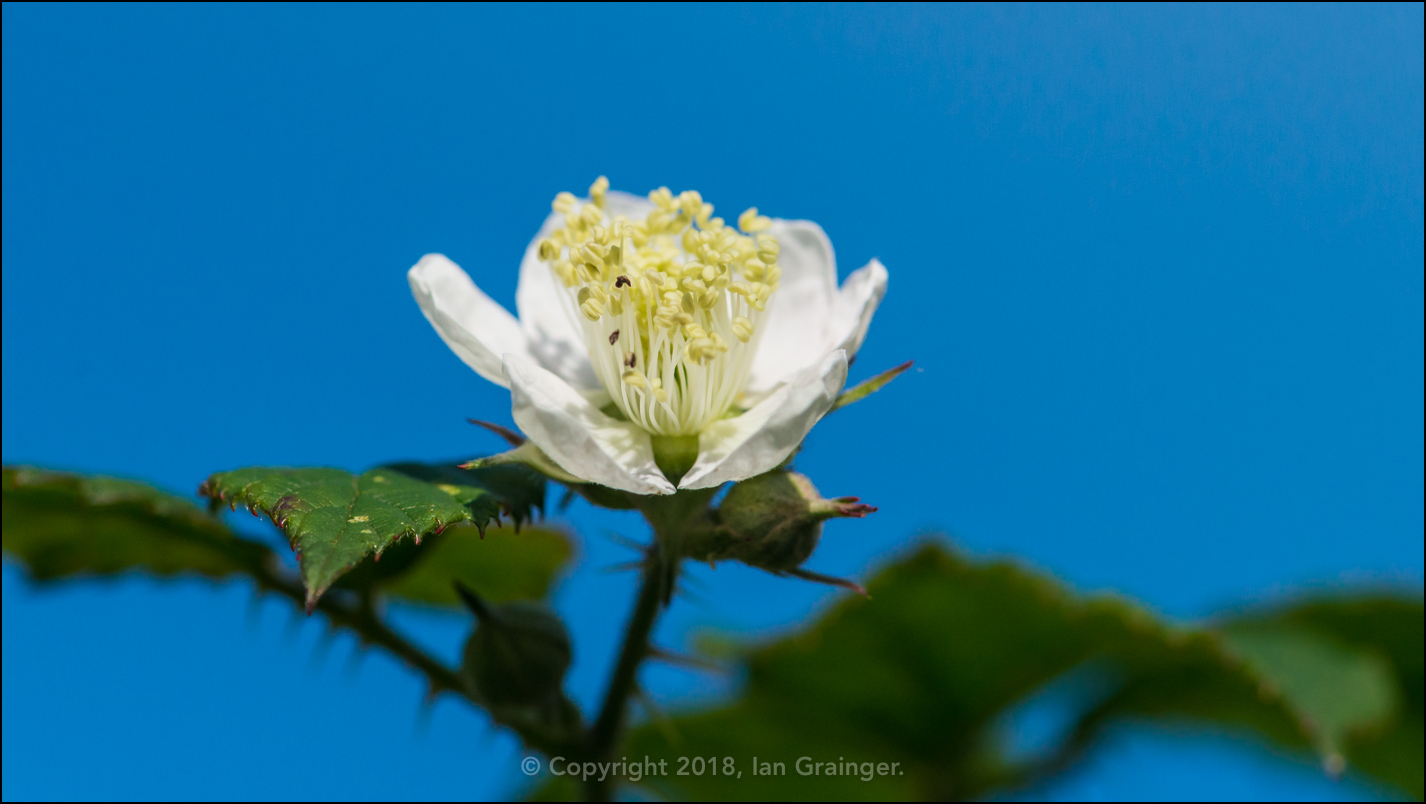 Blue Sky Bramble - October 2018
The beautiful blue sky was a perfect foil for this Bramble (Rubus fruticosus) bush bloom, and the petals positively lit up in the bright sunshine.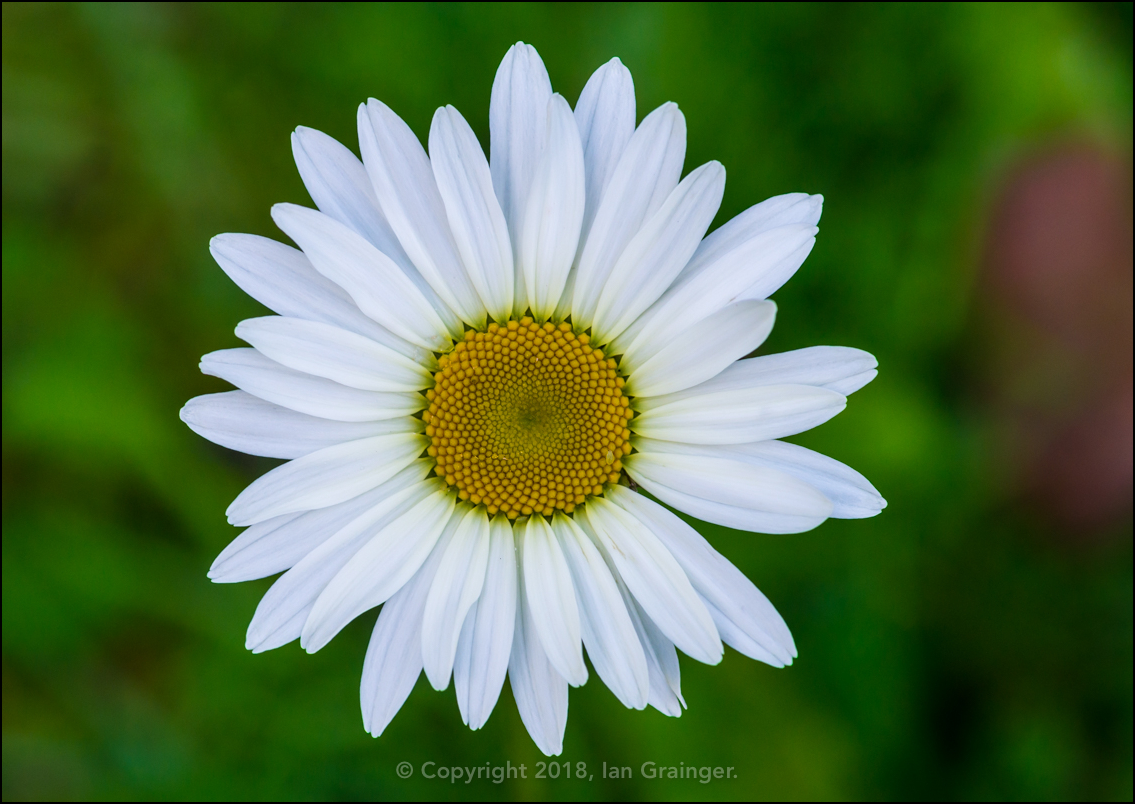 Oxeye Perfection - October 2018
To my complete surprise, the Oxeye Dasies (Leucanthemum vulgare) were still flowering, and this one looked like it had only just popped open, the petals being as near to perfection as possible.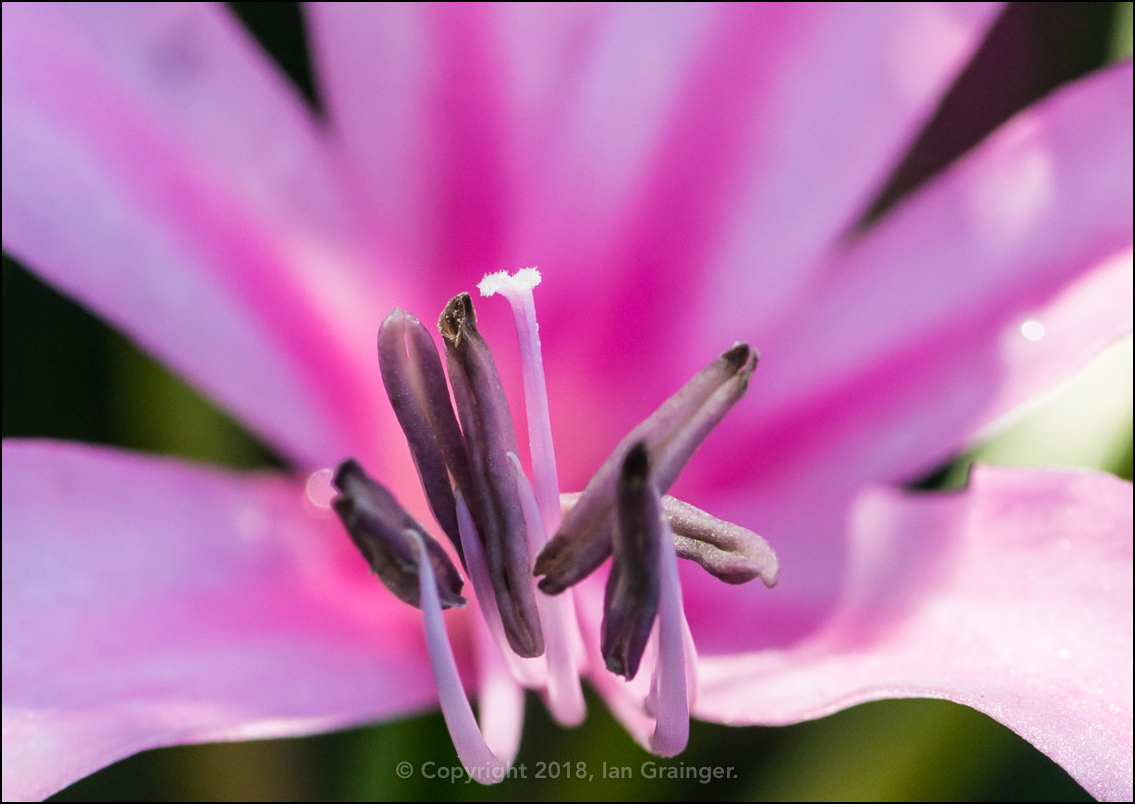 Nerine Detail - October 2018
Examining the detail at the centre of any flower is fun, and zooming in close to the centre of a Nerine (Nerine bowdenii) bloom didn't disappoint.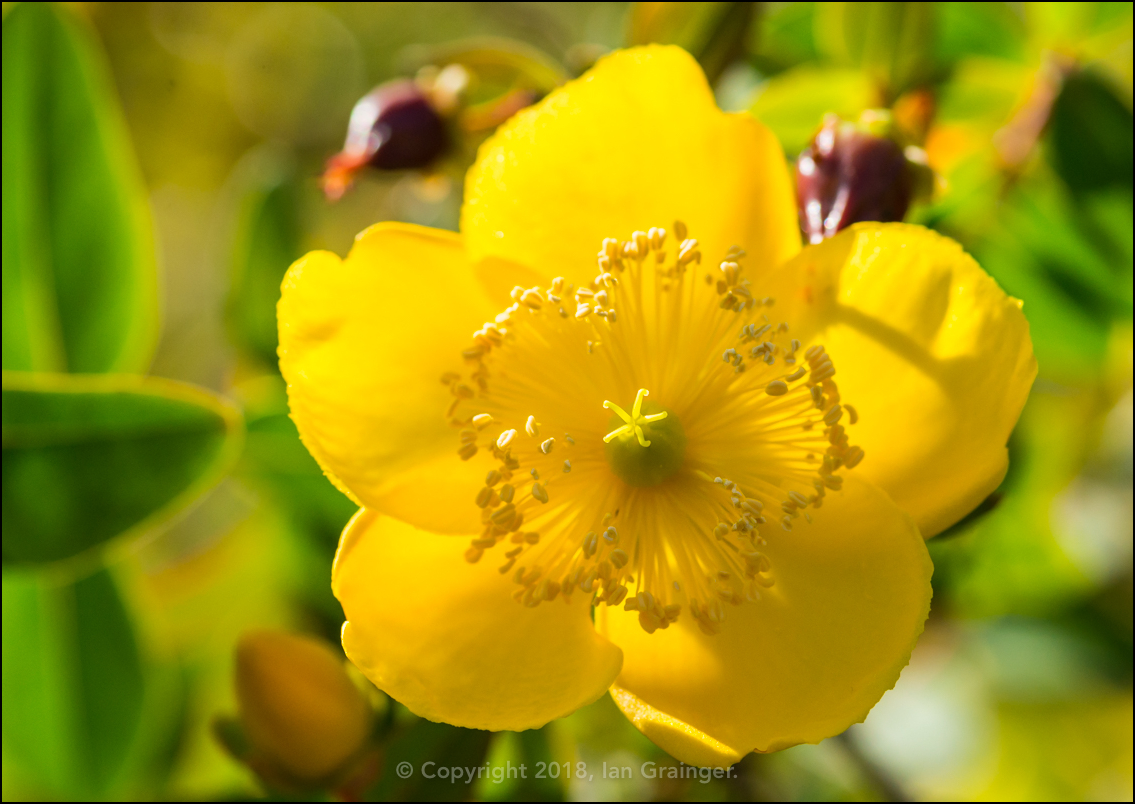 Hypericum Happiness - October 2018
The Hypericum bush was still throwing out loads of early Autumn flowers, and they were all shining brightly in the morning sunshine.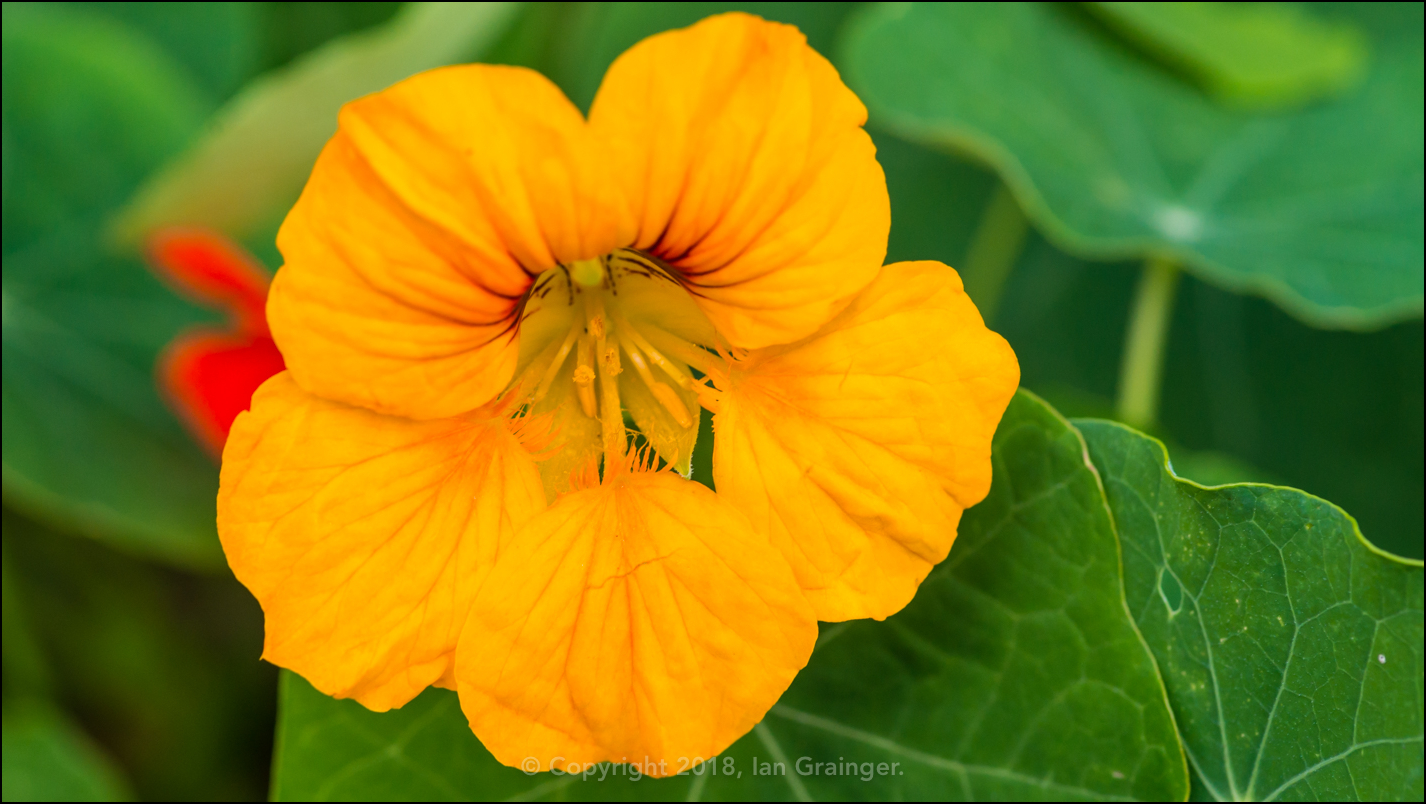 Nice Nasturtium - October 2018
The late run of Nasturtium (Tropaeolum) blooms continued to appear, adding a lovely splash of colour to the fresh looking green leaves.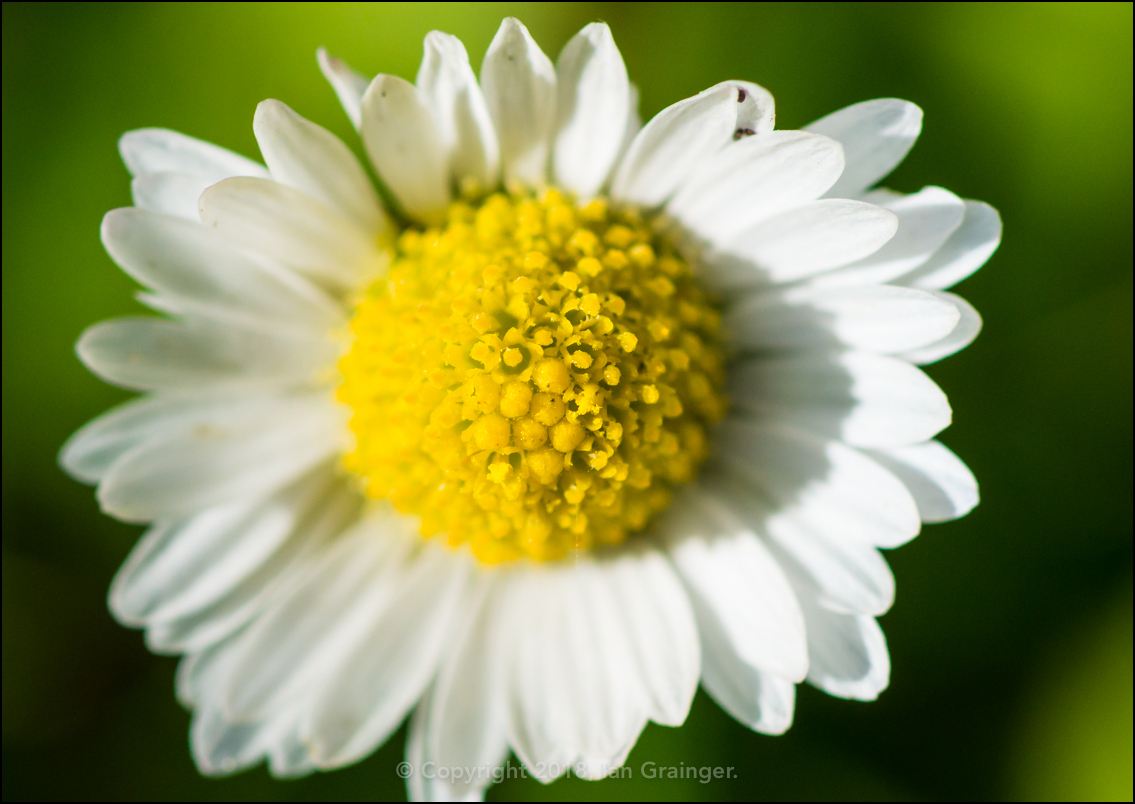 Lawn Daisy Details - October 2018
There seemed to be quite a few Lawn Daisies (Bellis perennis) showing in the front lawn, which made a nice change to the Moss and Clover that also take up residence there!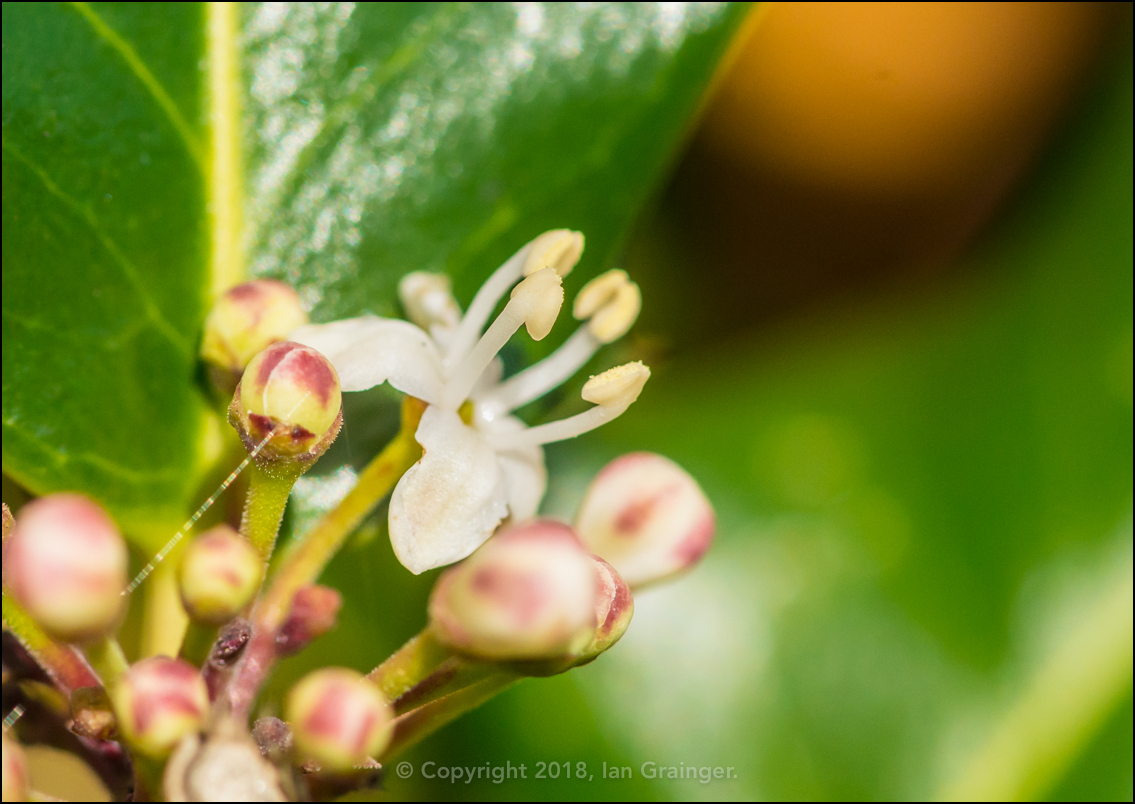 Happy Holly - October 2018
There were more Holly (Ilex) bushes beginning to flower, and I still had my fingers crossed that there were both male and female variants in the garden, so that we may see some berries later in the year.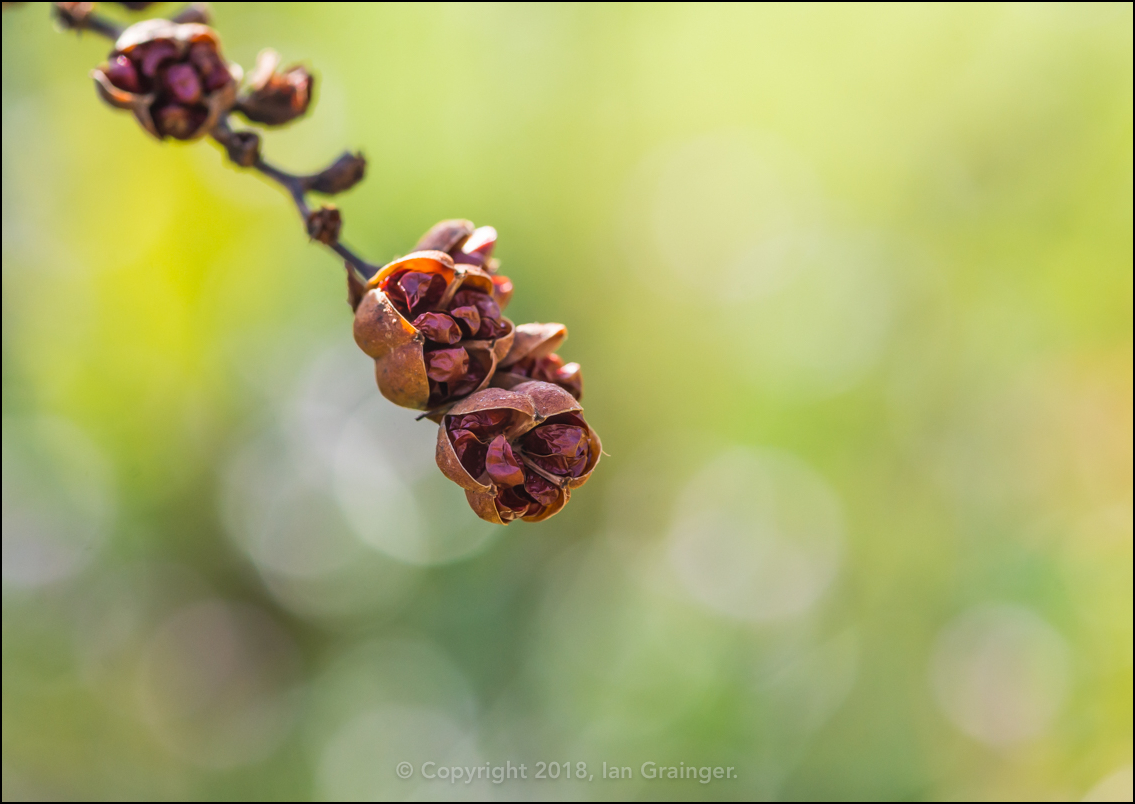 Lucifer Lifegivers - October 2018
The Crocosmia 'Lucifer' plants continued to produce seed pods, and now they were opening up so you could collect the seeds. That would be a job for next week.
Pyracantha Bounty - October 2018
The berry laden Pyracantha bush continued to look fantastic, although the branches were beginning to sag under the weight of all of those ripening berries.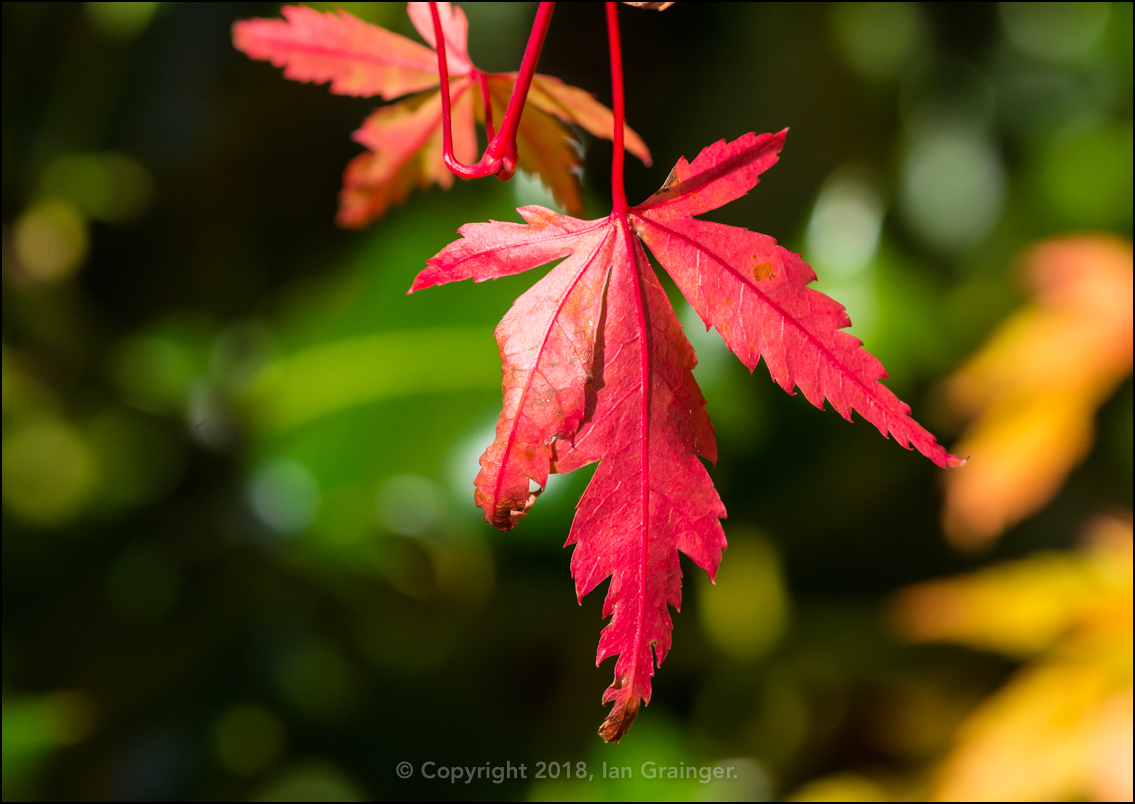 Red October - October 2018
The Acer palmatum tree was generating some fantastically coloured leaves. This red one really caught my attention...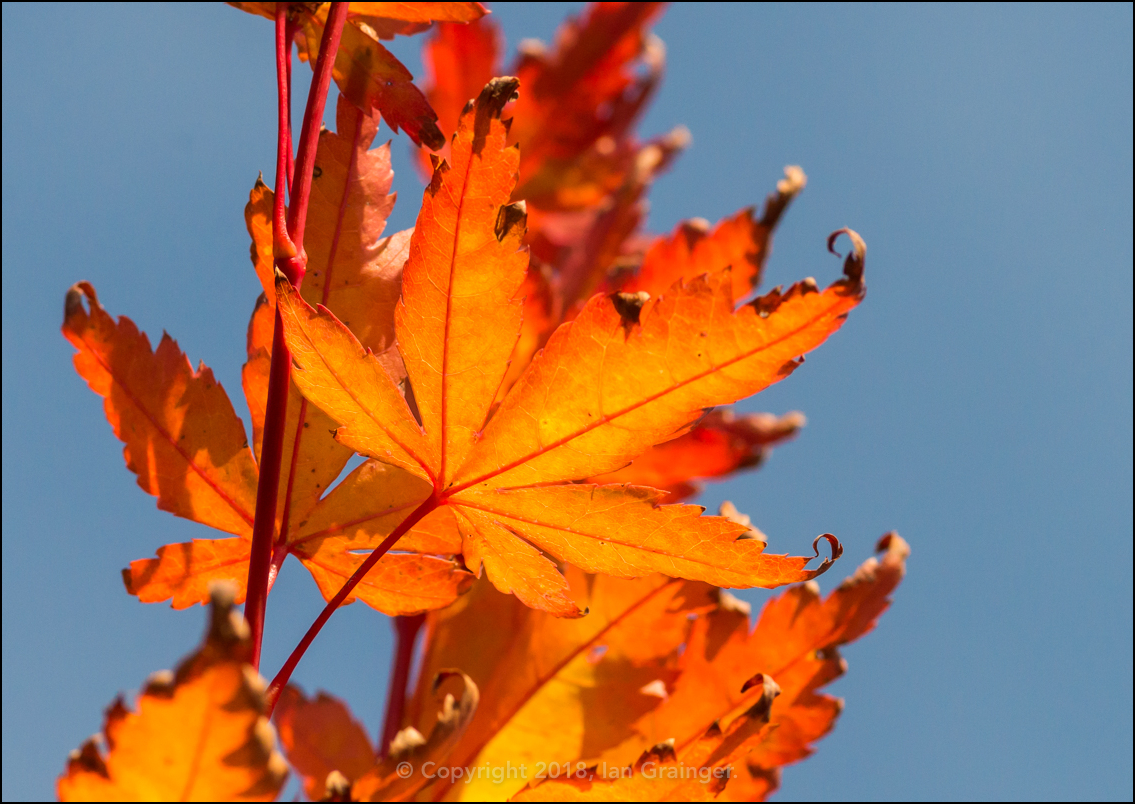 Golden Delight - October 2018
...as did the combination of the blue sky and these golden coloured ones.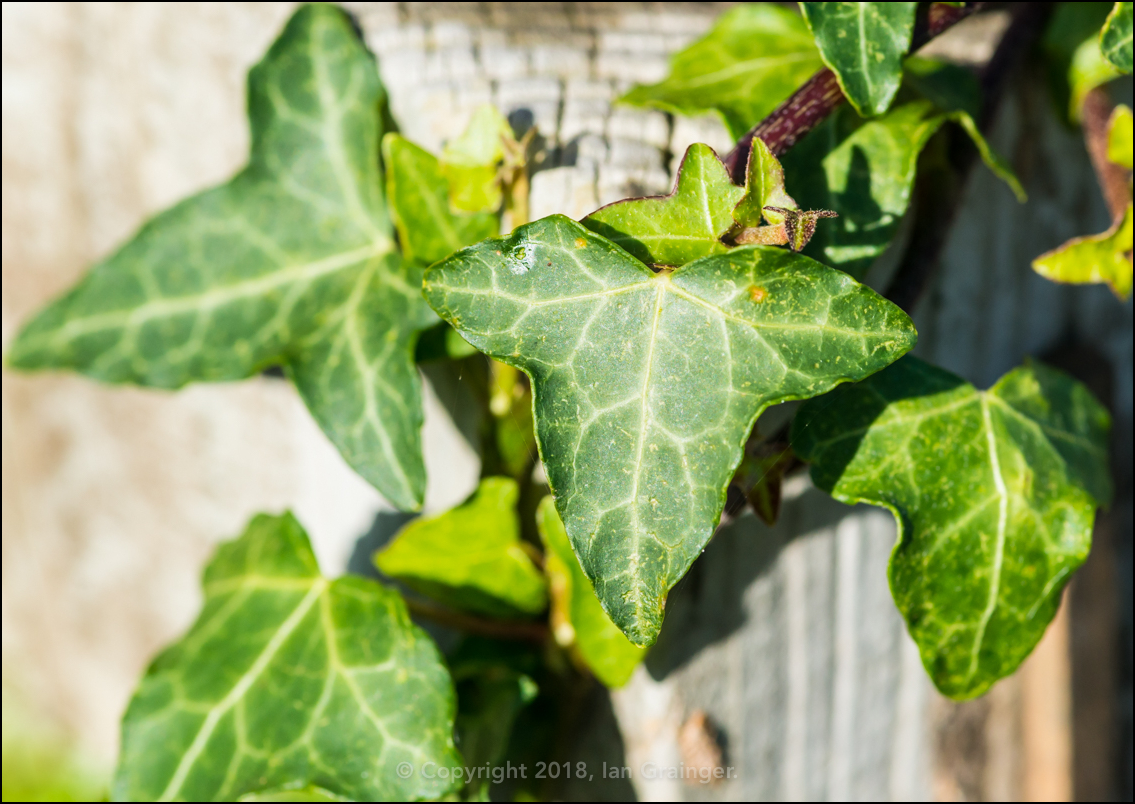 Common Ivy - October 2018
Some Common Ivy (Hedera helix) had begun to generate new leaves as its branches wound their way up a wooden gatepost.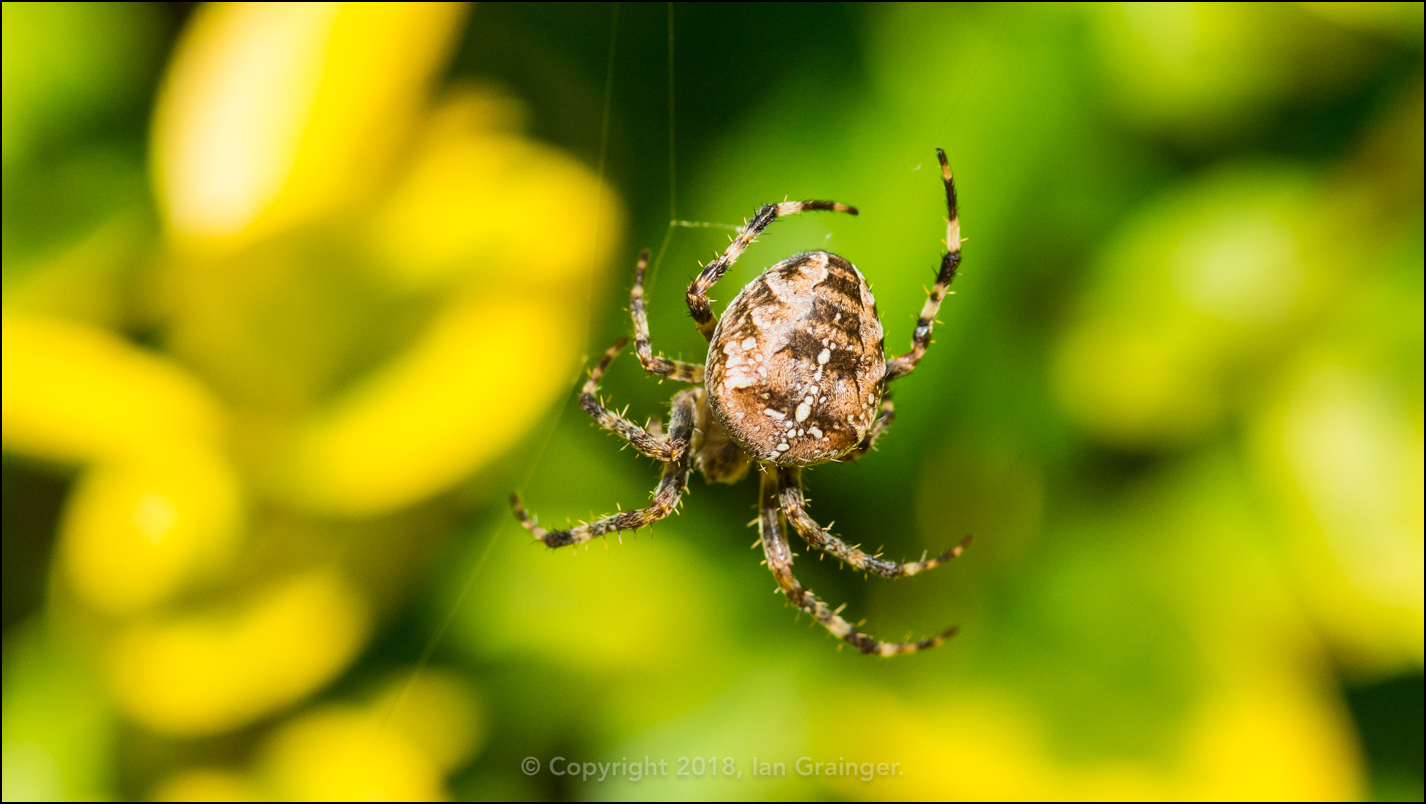 Garden Spider - October 2018
Unfortunately, there wasn't much wildlife around to shoot. The only creature in abundance was the Garden Spider (Araneus diadematus), which had webs literally everywhere you walked.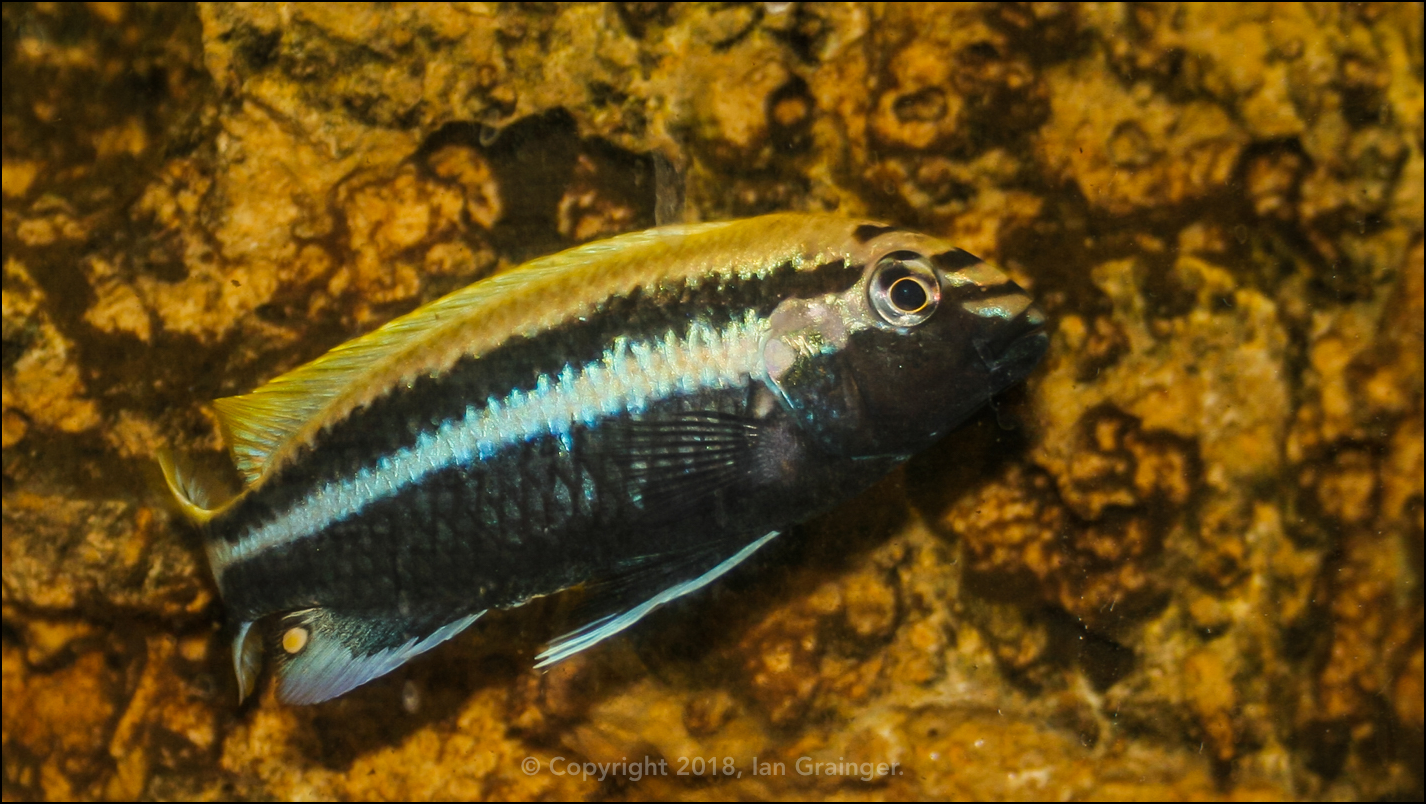 Auratus Cichlid - February 2006
Finally my fishy friends. I had another dip into my photography archives this week to bring you this Auratus Cichlid (Melanochromis auratus). I had a few of these rock dwelling species in a Lake Malawi biotope aquarium. They were feisty fish! This was the dominant male, displaying a black colouration. Other males in the tank took on the female colouration of yellow to avoid too much aggression!
So this week I went with Dahlia Reborn as my Image of the Week, simply because I liked how quickly the plant had bounced back after being almost totally decimated by the gale force winds of a couple of weeks ago...