Fly Away - May 2019
It was a grey cloudy miserable looking Sunday morning for my photo shoot in dad's garden this week, although it was quite warm, and felt like it was going to thunder at any moment.
In spite of the dark grey clouds, there were some colourful moments to capture, my favourite of which was this pair of Goldfinch (Carduelis carduelis) flying away from me.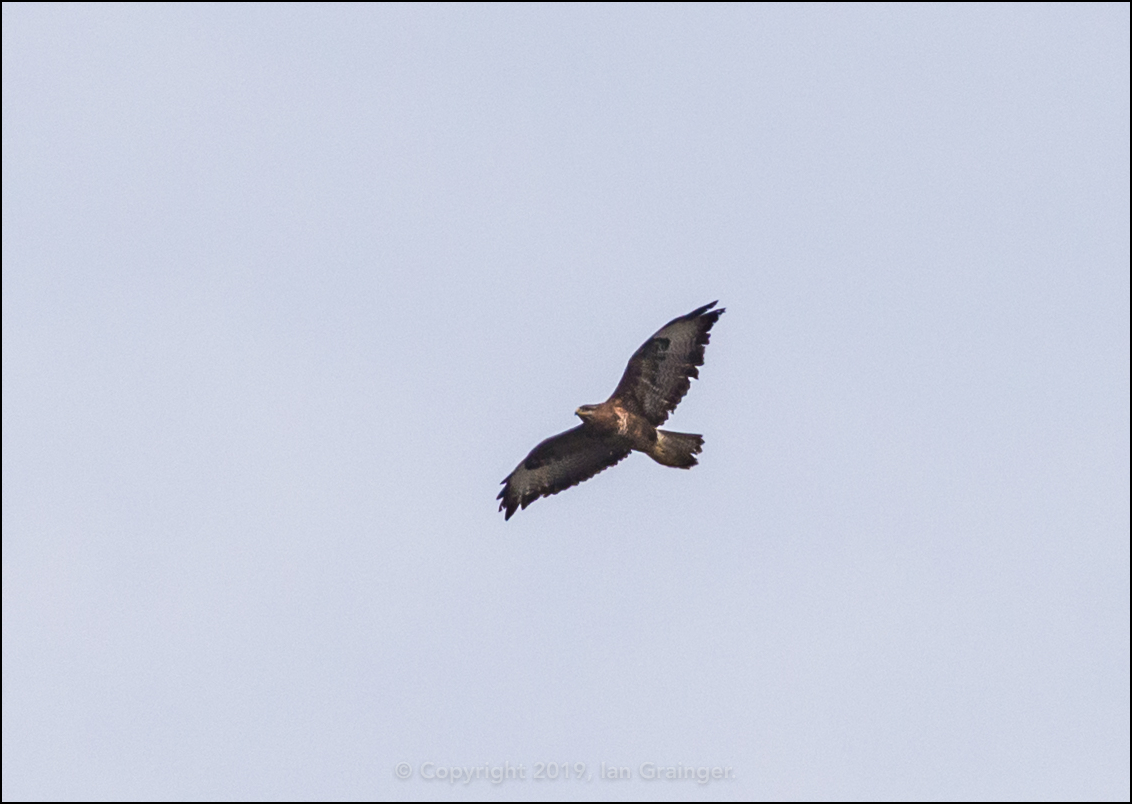 Soaring Buzzard - May 2019
We don't often see Common Buzzards (Buteo buteo) overhead, and this one was reluctant to get any closer as it circled towards the heavens, getting further and further away from me. I love their markings, but needed a much longer lens than my 300mm to capture them in any sort of detail.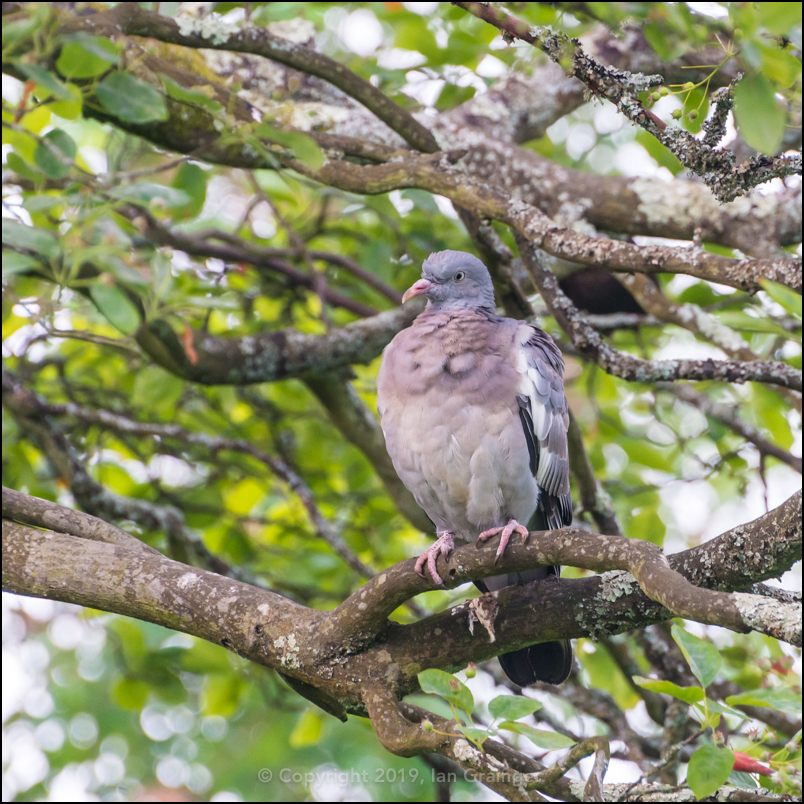 Perching Pigeon - May 2019
I didn't have that problem with this Woodpigeon (Columba palumbus), which was much closer by, sitting in the branches of an Amelanchier tree.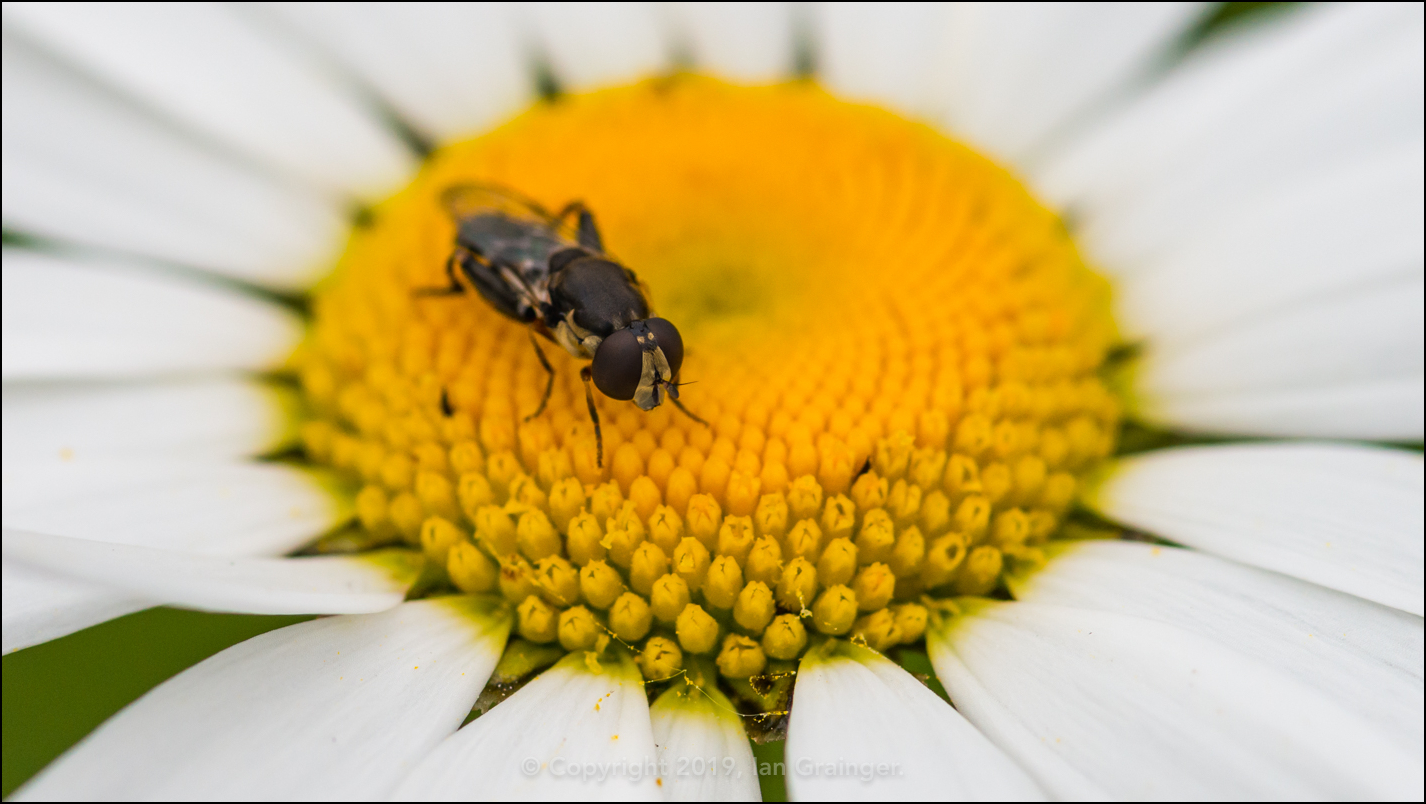 Hoverfly Harvest - May 2019
Switching to a macro lens, I went off in search of my bug buddies! However, rather unusually, the only guy I found was this little Hoverfly (Syrphidae) collecting pollen from an Oxeye Daisy (Leucanthemum vulgare).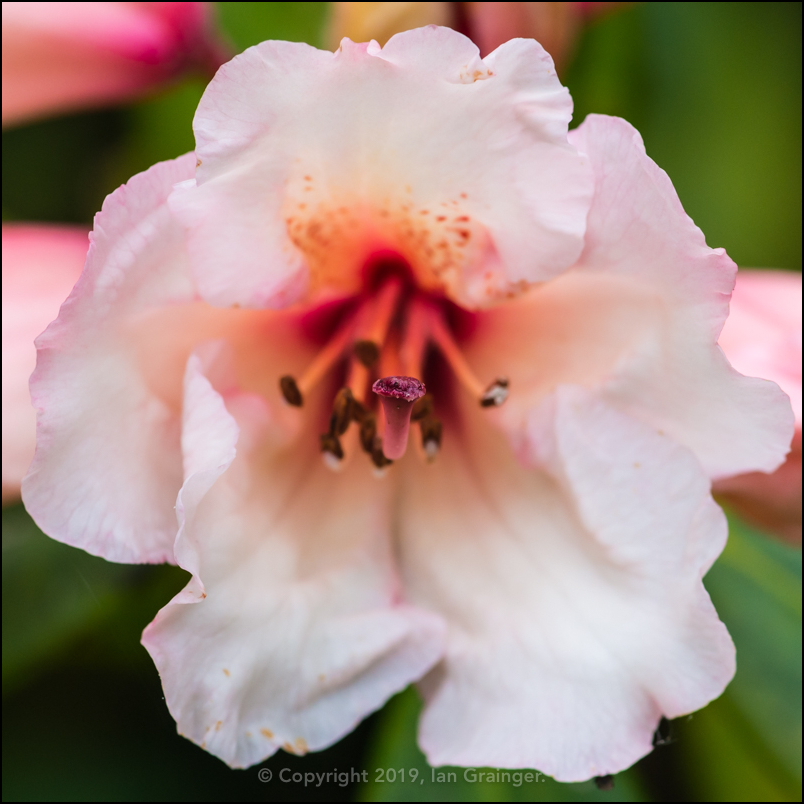 Rhododendron - May 2019
The lack of insects meant I could concentrate on flower photography instead, and my first port of call was the Rhododendron bush. The flowers didn't seem as large as they usually were, but they were certainly as beautiful as ever.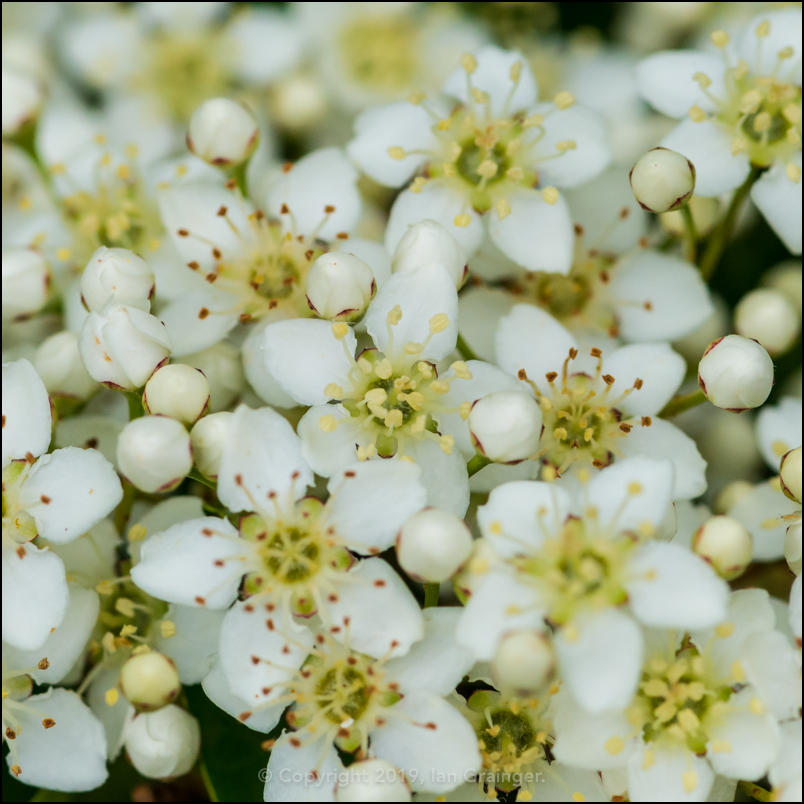 Pyracantha Pretties - May 2019
The Firethorn (Pyracantha) bushes were now beginning to bloom, and it looked like there was lots of blossom still to come, judging by the number of buds that were yet to open.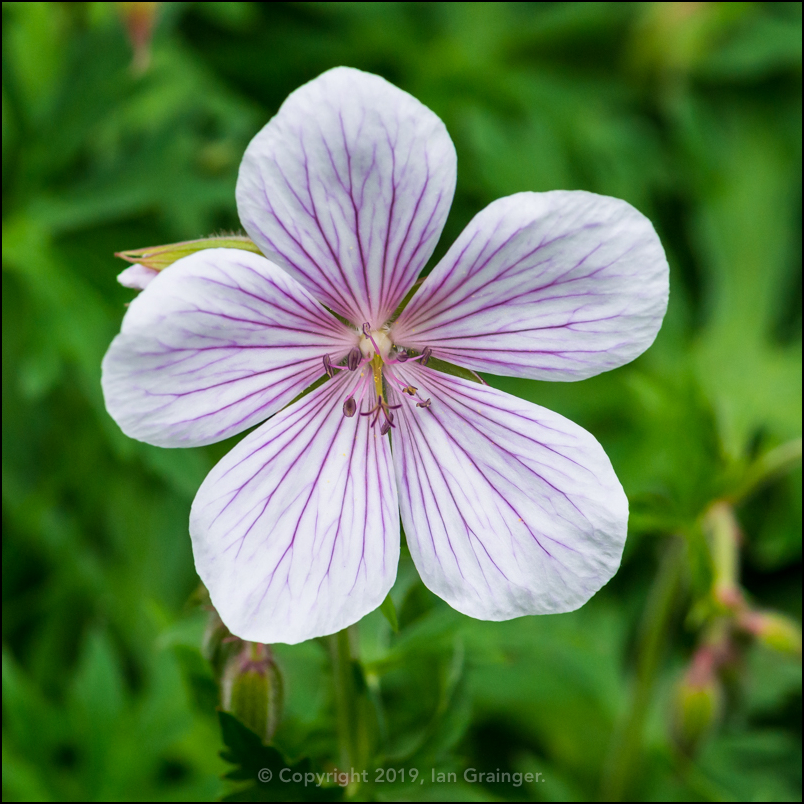 Geranium Clarkei - May 2019
The white Geranium clarkei had returned for another year, although there was no sign of the blue variety that was planted amongst it.
Quince Bush Blossom - May 2019
One of the Quince (Chaenomeles) bushes was still in blossom, with these lovely red coloured blooms covering the entire bush.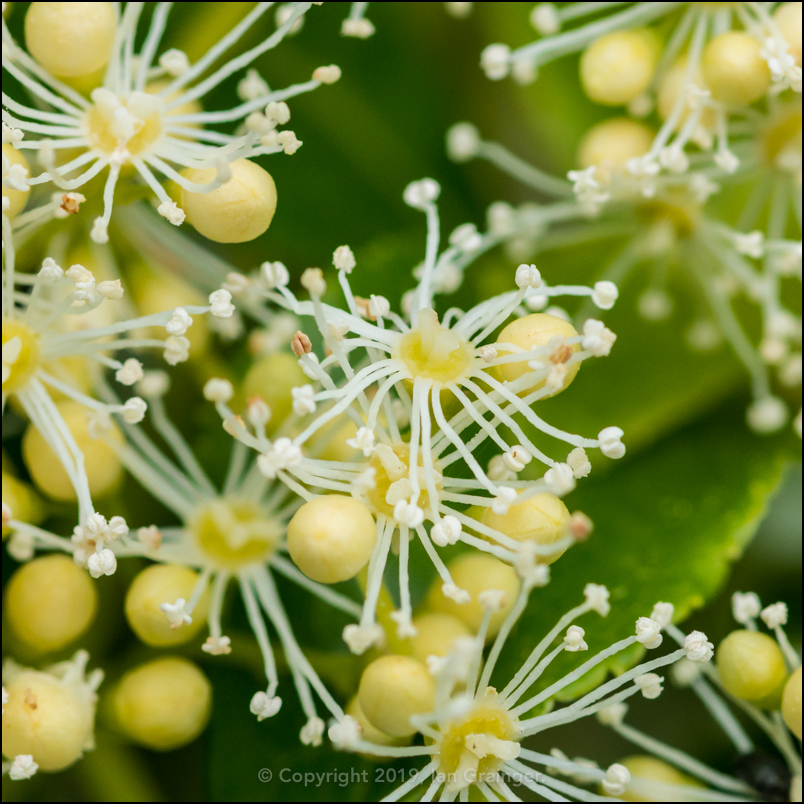 Hydrangea Fireworks - May 2019
My favourite flowers in dad's garden at the moment were those of the Climbing Hydrangea (Hydrangea anomala) bush, which put me in mind of exploding fireworks.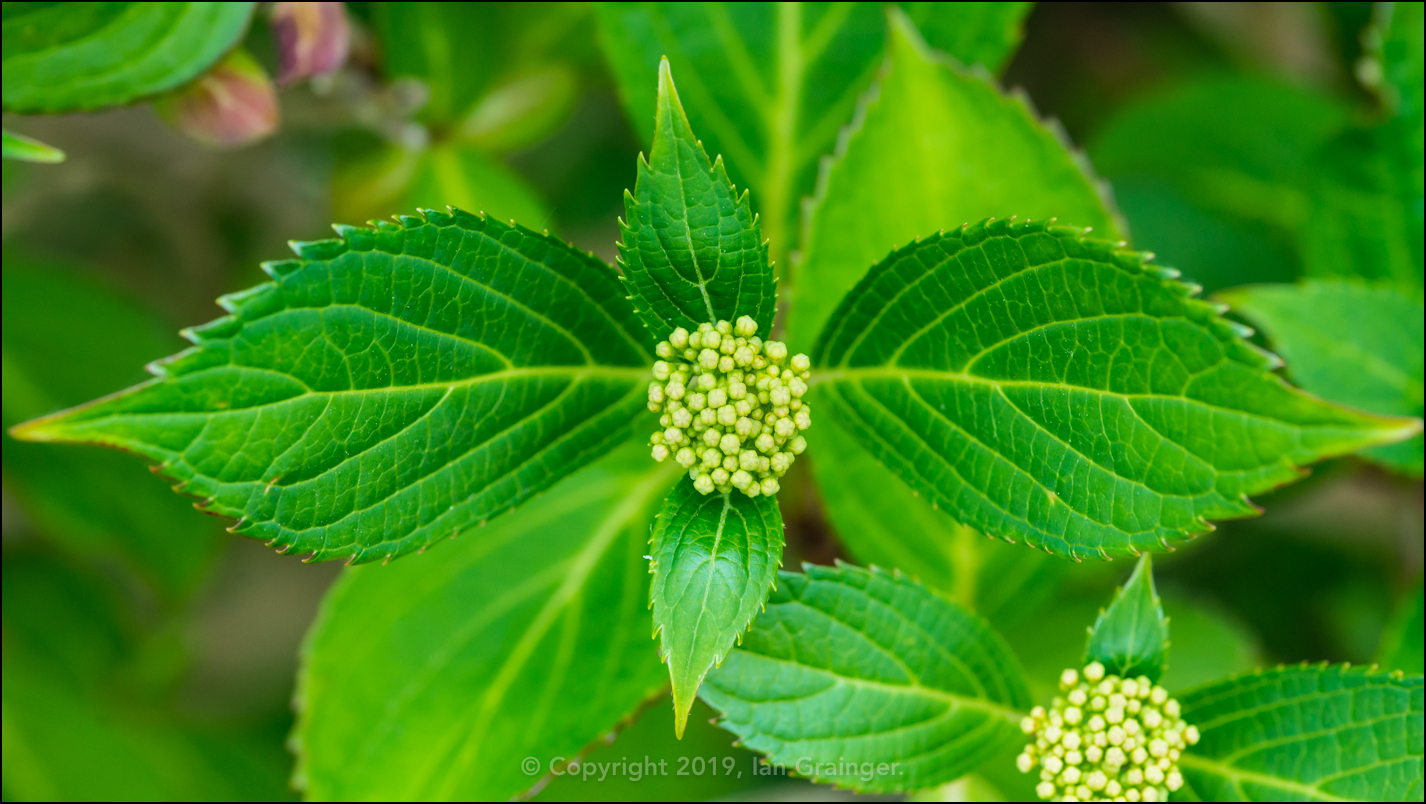 Budding Mophead - May 2019
It wouldn't be too long before the Mophead Hydrangea (Hydrangea macrophylla) bushes were exploding into bloom too.
Colourful Berberis - May 2019
Such a grey day deserved a colourful end, and the leaves of this Barberry (Berberis) bush were definitely trying to provide it.
So this week I went with Fly Away as my Image of the Week simply because I liked the colourful flashes of the Goldfinch wings against the grey sky...