Abyssinian Gladiolus - September 2016
This beautiful piece of flora is called an Abyssinian Gladiolus (Gladiolus murielae formerly classified under the genus of Acidanthera). Grown as a late flowering summer bulb, the flowers are produced on top of slender stems that can grow in excess of two feet tall.
Although a perennial plant, the bulbs are not tolerant of hard frosts, and it is best to lift them and store them in frost free conditions and plant them out again in late spring.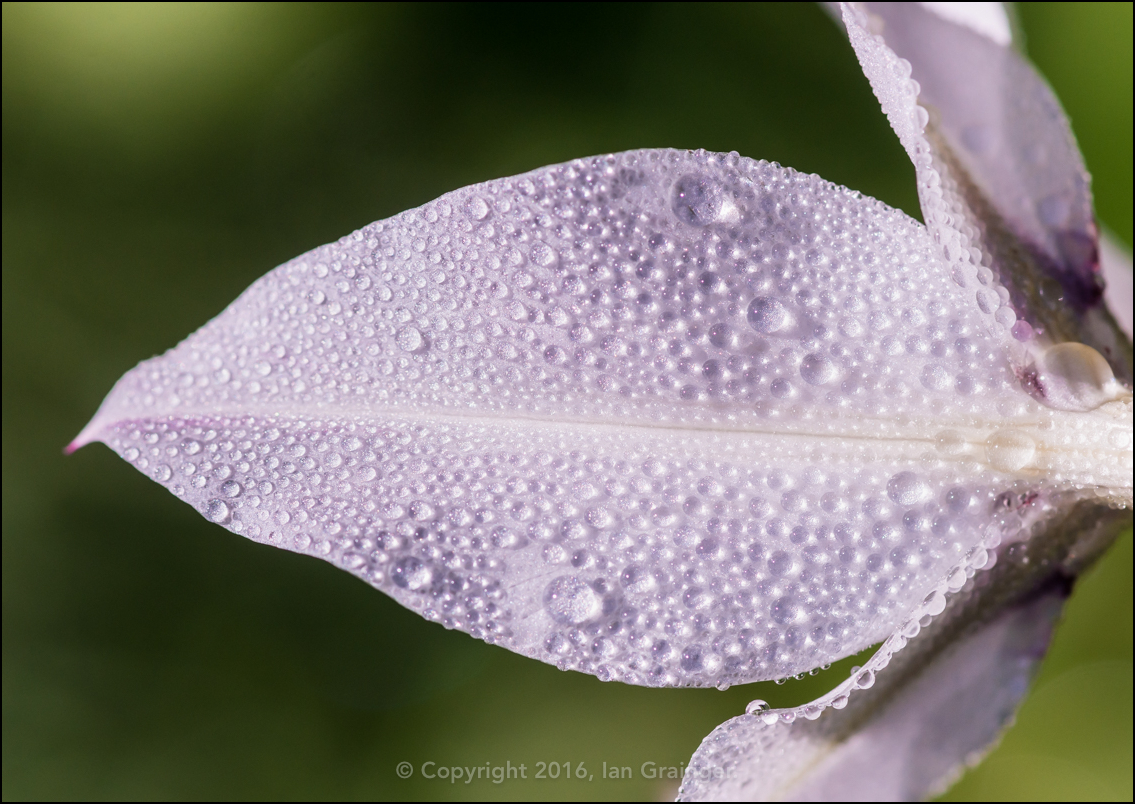 Morning Dew - September 2016
This particular example was found growing in a clump in dad's garden at the weekend, and the petals were looking very nice as they were covered in dewdrops as a cold night turned into a warm late summer morning.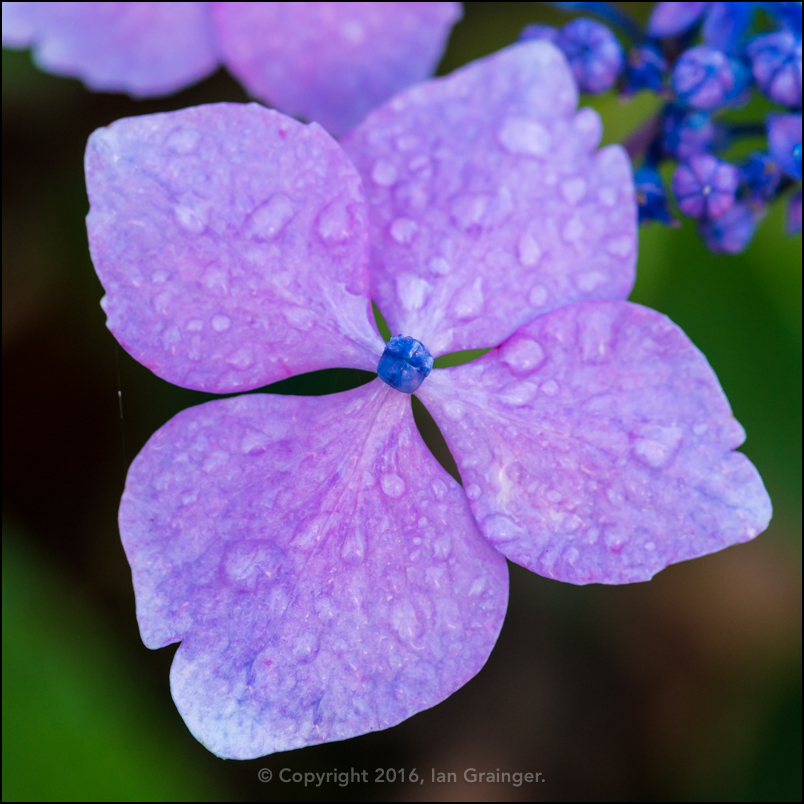 Lacecap Dewdrops - September 2016
Dewdrops were also in abundance on the Lacecap Hydrangea (Hydrangea macrophylla) bracts, of which some still had their summer colour.
Dewdrop Feather - September 2016
More dewdrops were in evidence on quite a few feathers found scattered around the garden. Let's just hope my feline photo companion had been a good boy this week!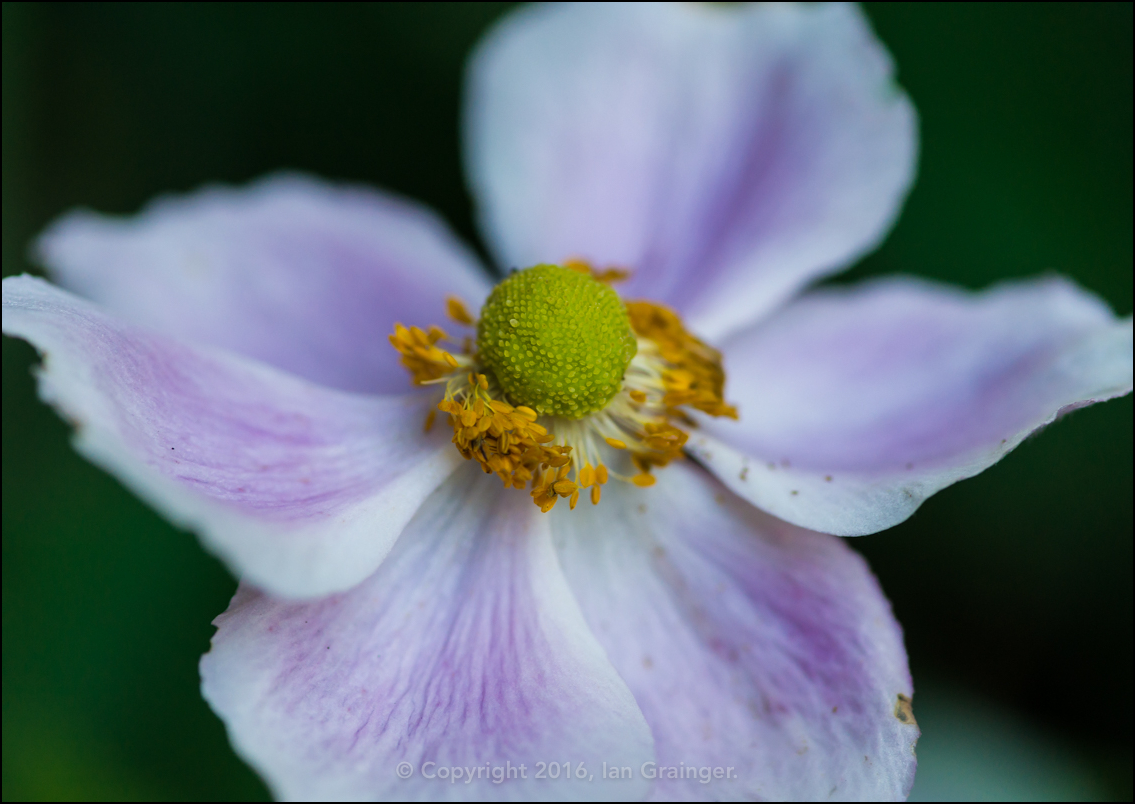 Japanese Anemone - September 2016
Late summer and early autumn is the time of the Japanese Anemone (Anemone hupehensis), and they were putting on a very nice display in a shady part of the garden.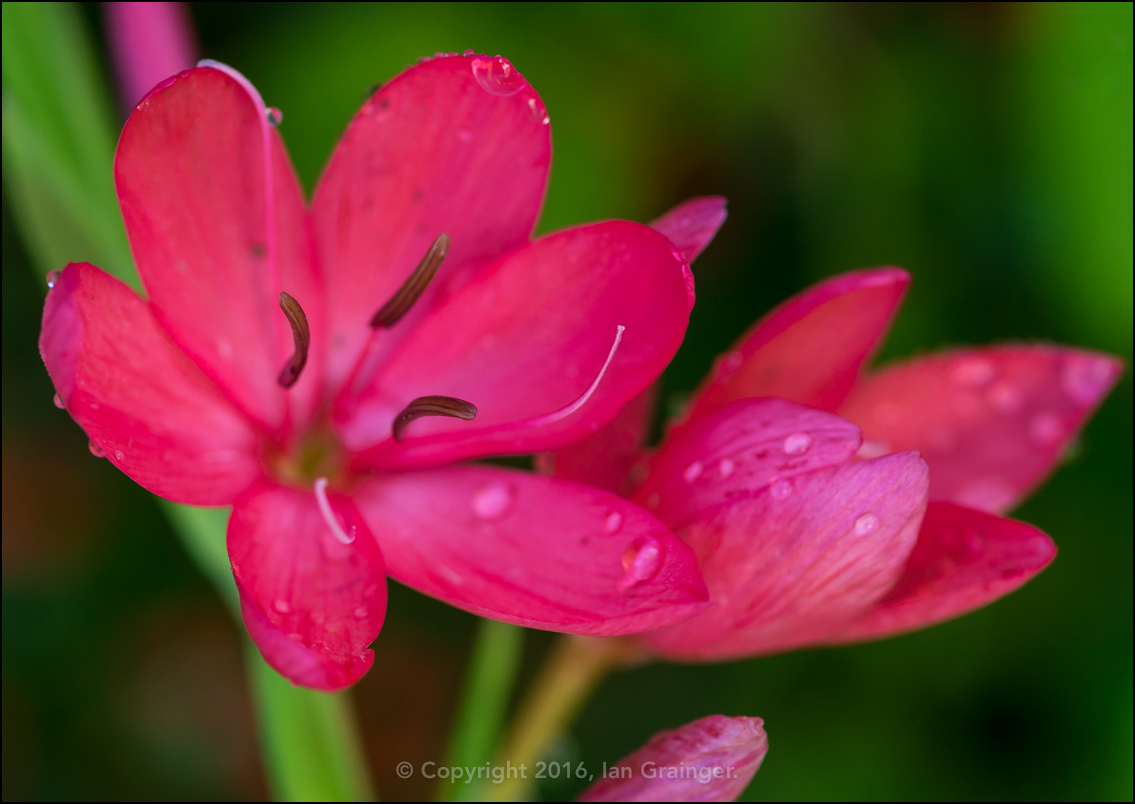 River Lily Lovelies - September 2016
As showcased last week, the River Lily (Hesperantha coccinea) is another late flowering plant, and continues to give a nice display of pink and red flowers.
Decaying Sun - September 2016
As with most of the summer annuals, the Sunflowers (Helianthus) are coming to the end of their days, although leaving the flower heads will encourage the birds into the garden to collect the seeds.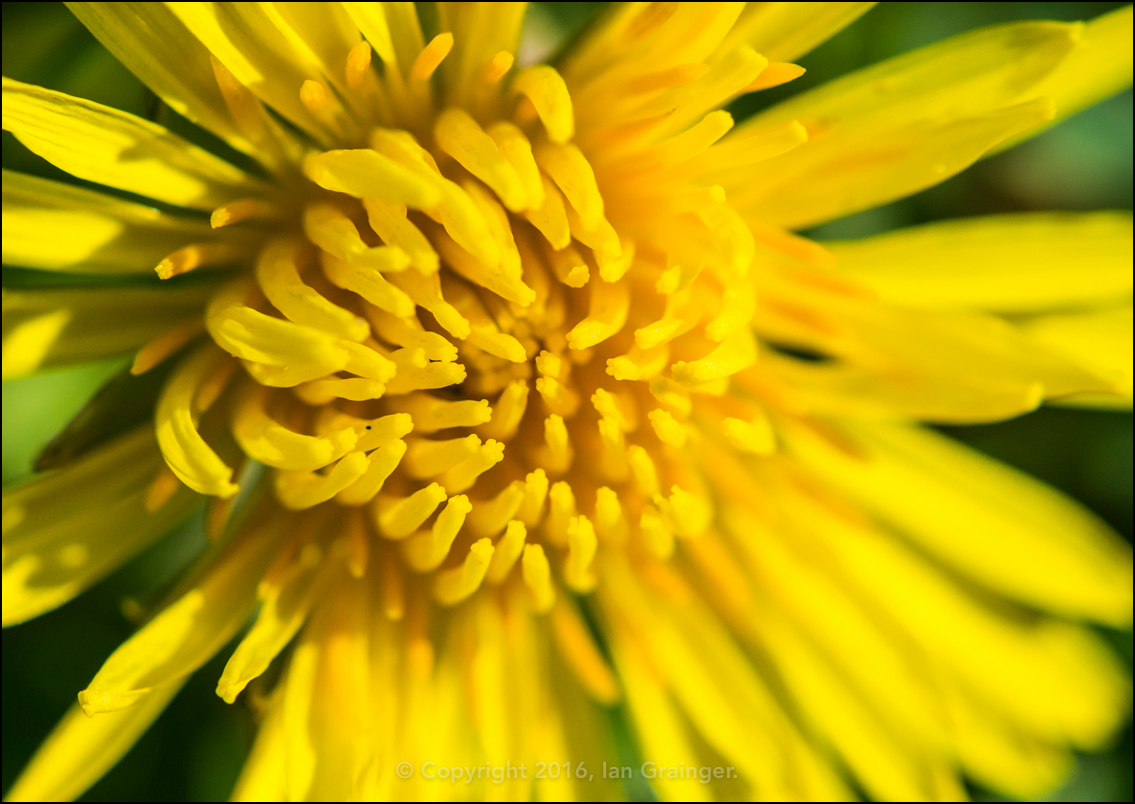 Dandelion Delight - September 2016
With lots of summer flowers coming to an end, it's more important than ever to leave a few wild flowers, or weeds like this Dandelion (Taraxacum) so the insects can find some nourishment in the garden.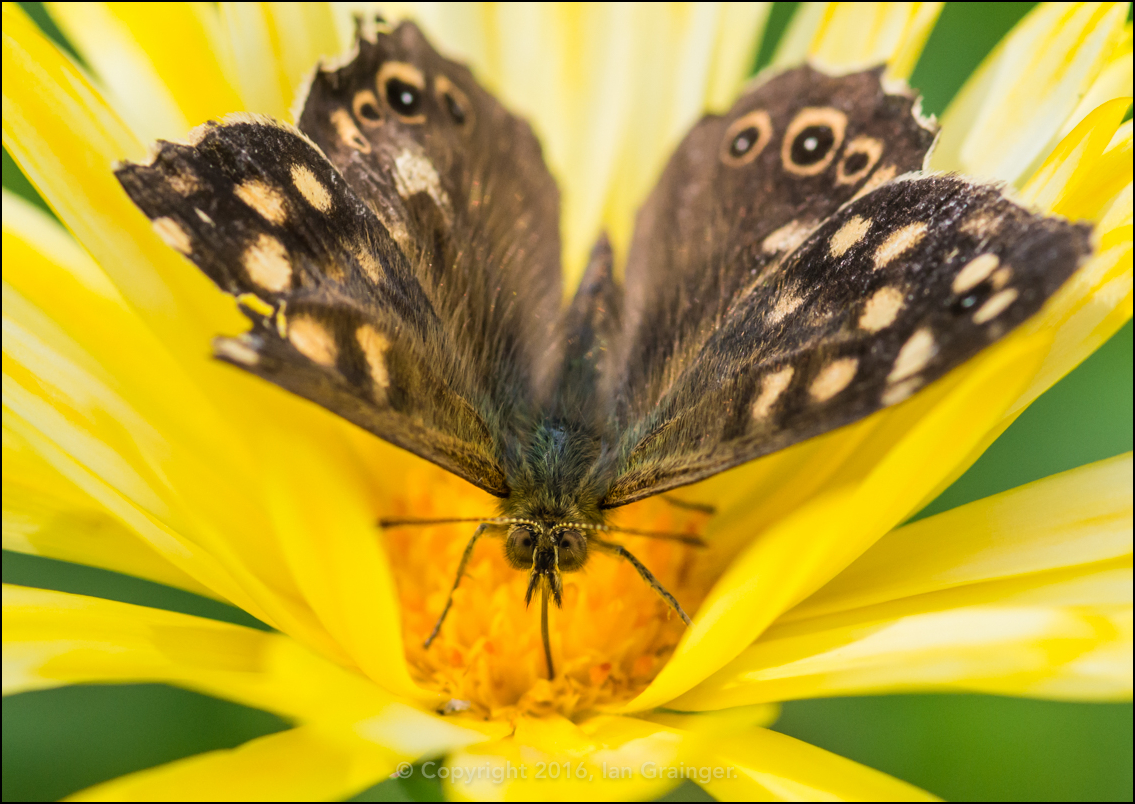 Feeding Speckled Wood - September 2016
And just because it is mid-September doesn't mean that the insects have deserted us. This Speckled Wood (Pararge aegeria) butterfly was enjoying the pollen from a Pot Marigold (Calendula) bloom...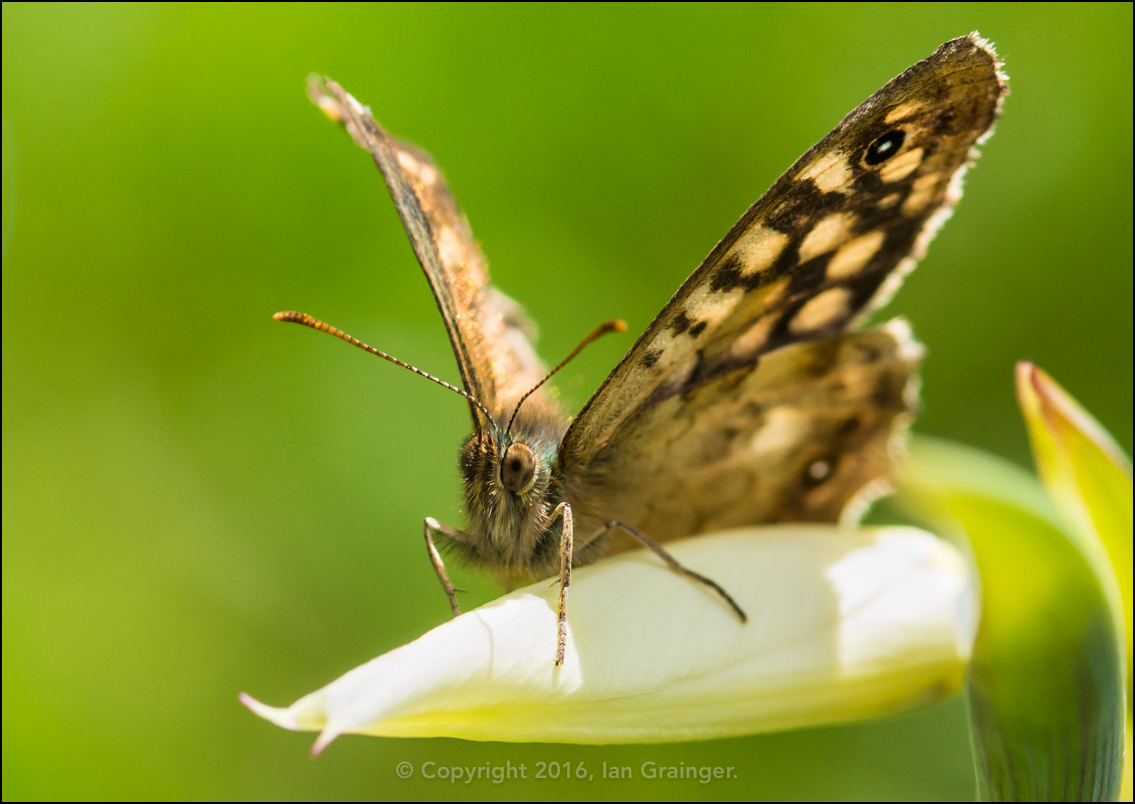 Basking Speckled Wood - September 2016
...while this one was basking in the sunshine atop an Abyssinian Gladiolus flower bud.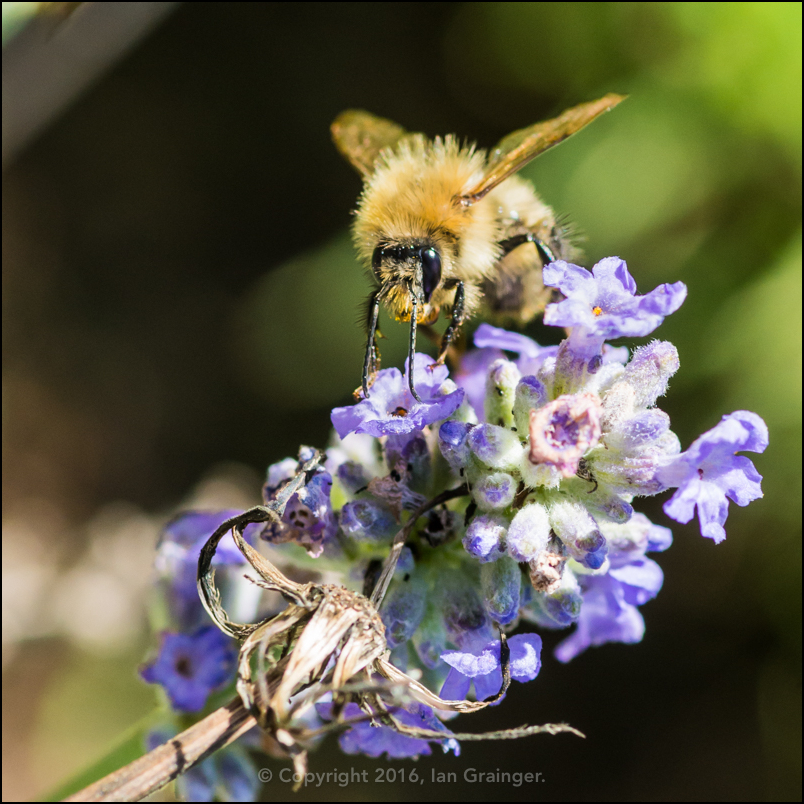 Lavender Drinking - September 2016
This Bee was drinking up the nectar within the late flowering Lavendar (Lavandula).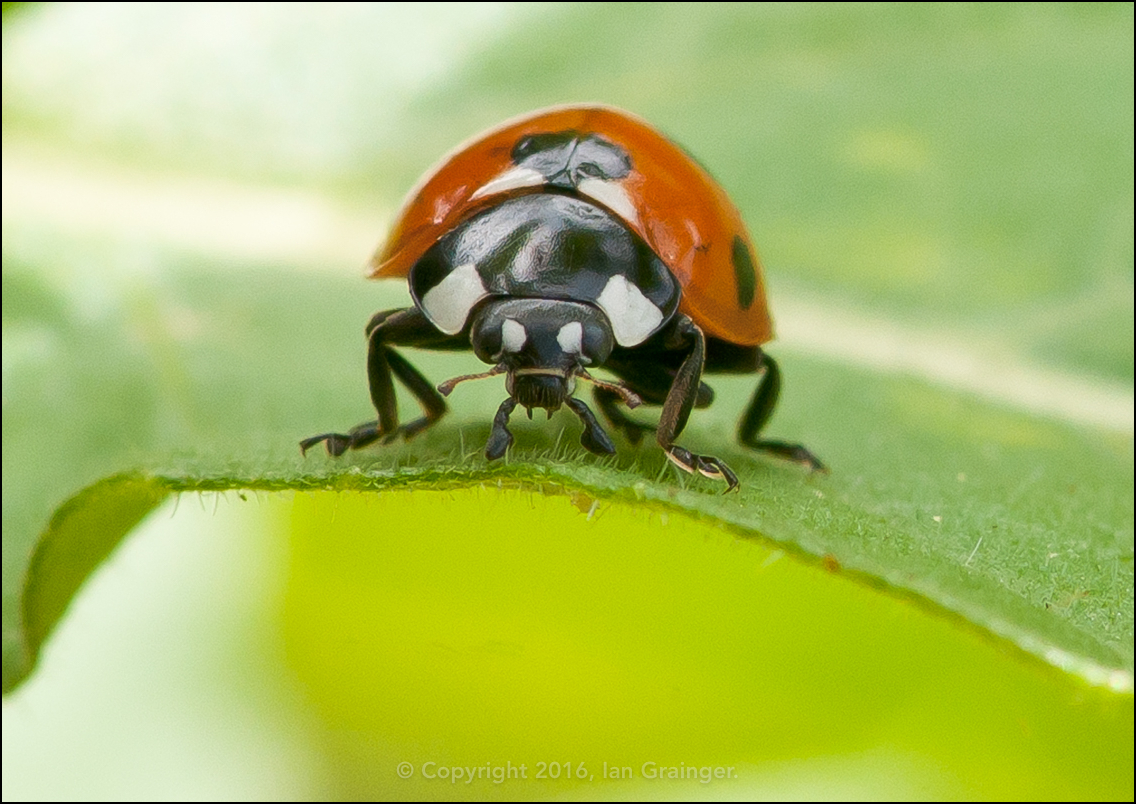 While I'm on the subject of insects, you may be interested to read my tutorial. Entitled Insect Safari, it explains the equipment and techniques I use to locate and photograph insects. Why not click on the link to check it out?
The Spider and the Fly - September 2016
Of course, some invertebrates don't get their sustenance from flowers, as this small Fly (Diptera) was going to find out when it encountered the Garden Spider (Araneus diadematus) that was inching its way closer to it!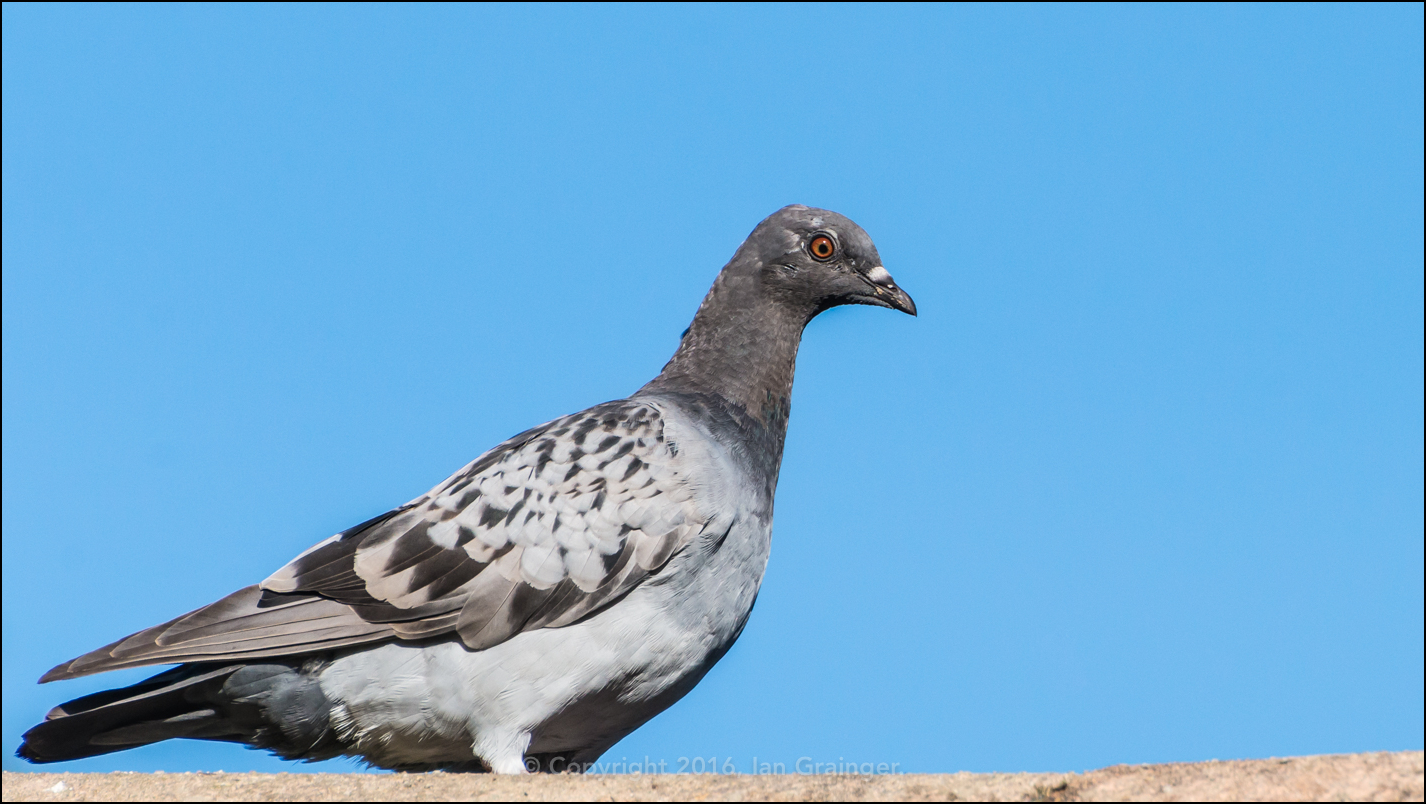 Feral Pigeon Stare - September 2016
It was a beautiful warm sunny morning, and pointing my camera skywards yielded some of our avian friends, like this Feral Pigeon (Columba livia) standing on a neighbouring roof.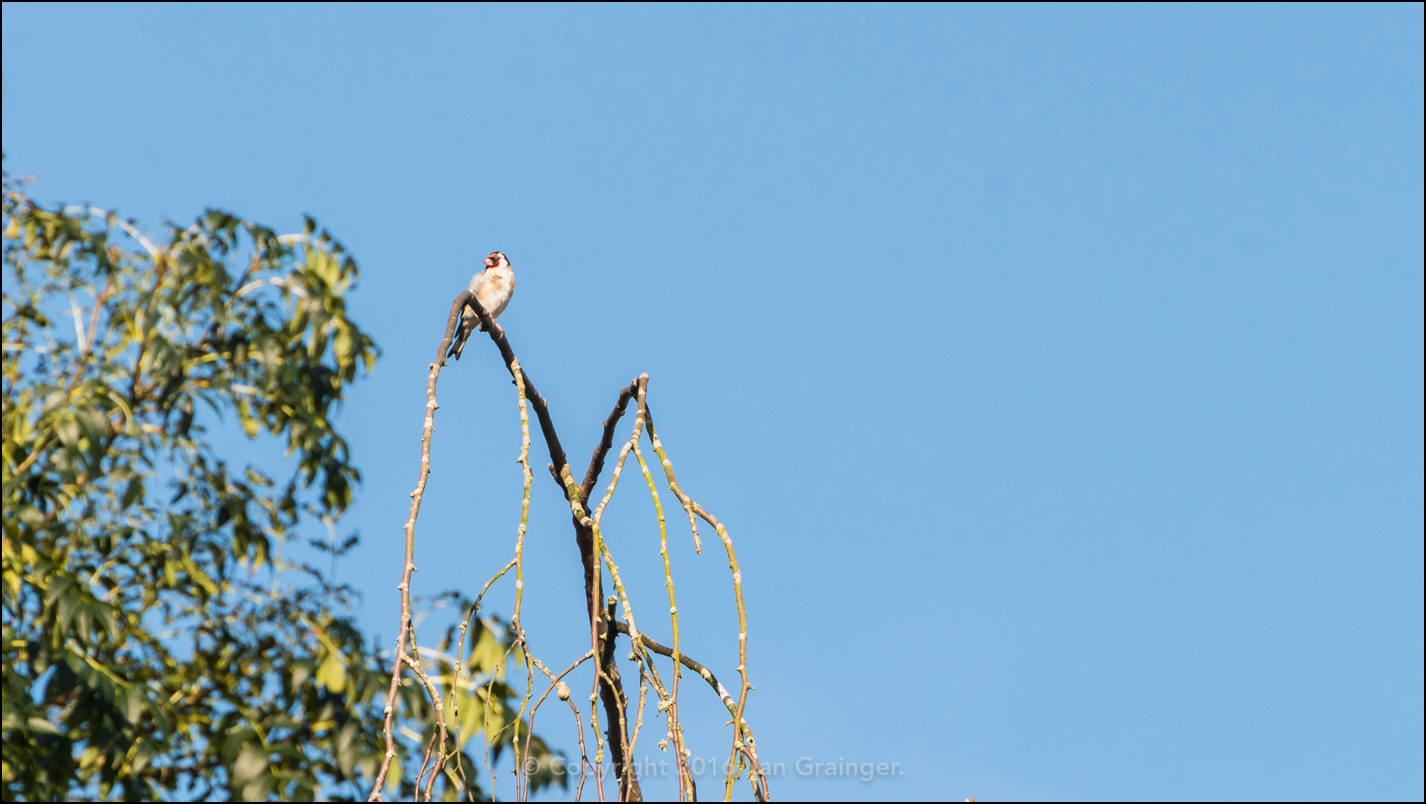 Goldfinch - September 2016
There is one particular perch that seems quite popular around the garden, so I decided to spend a little time seeing what would land there. Firstly, there were some Goldfinch (Carduelis carduelis) that kept returning...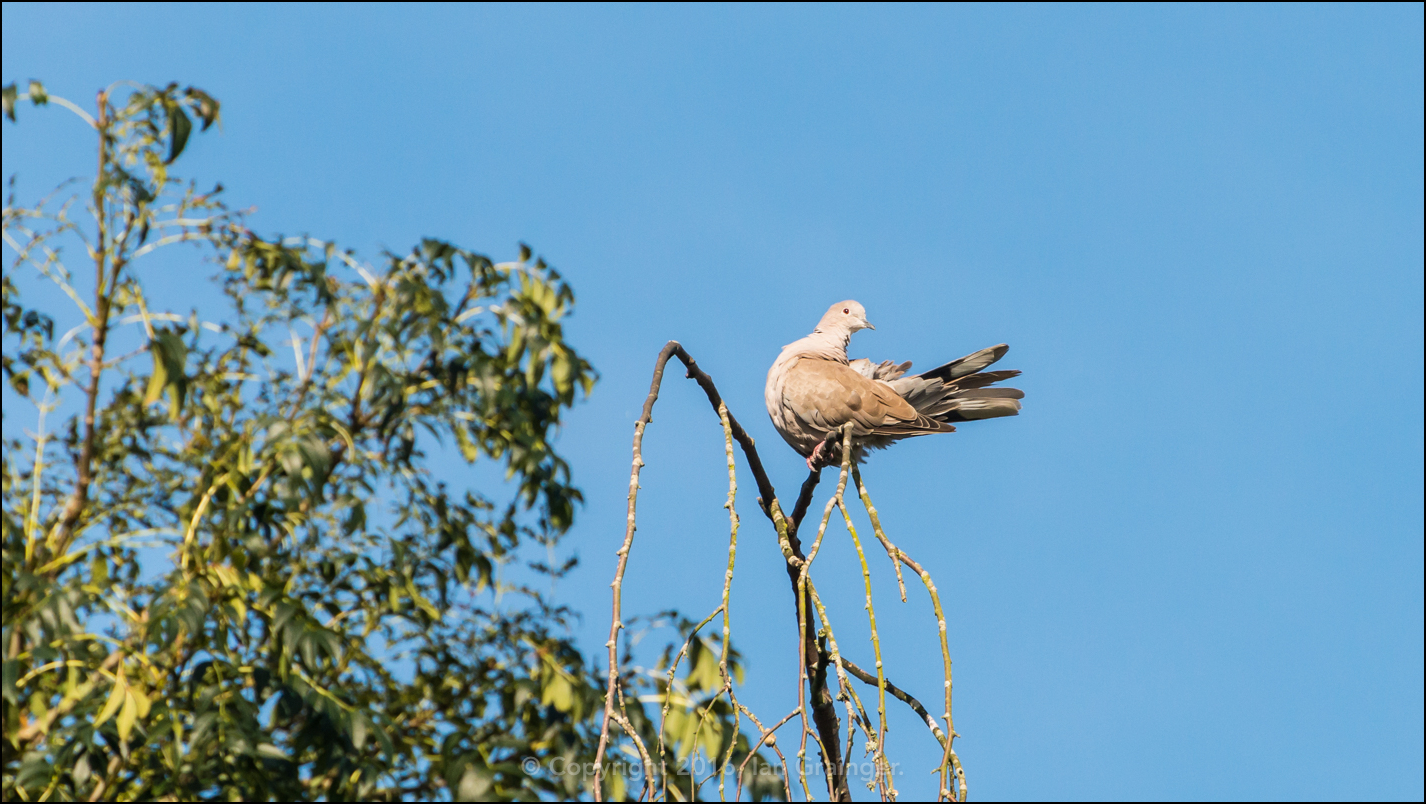 Collared Dove - September 2016
...and these were interrupted by a lone Collared Dove (Streptopelia decaocto), that was using the perch for a spot of preening...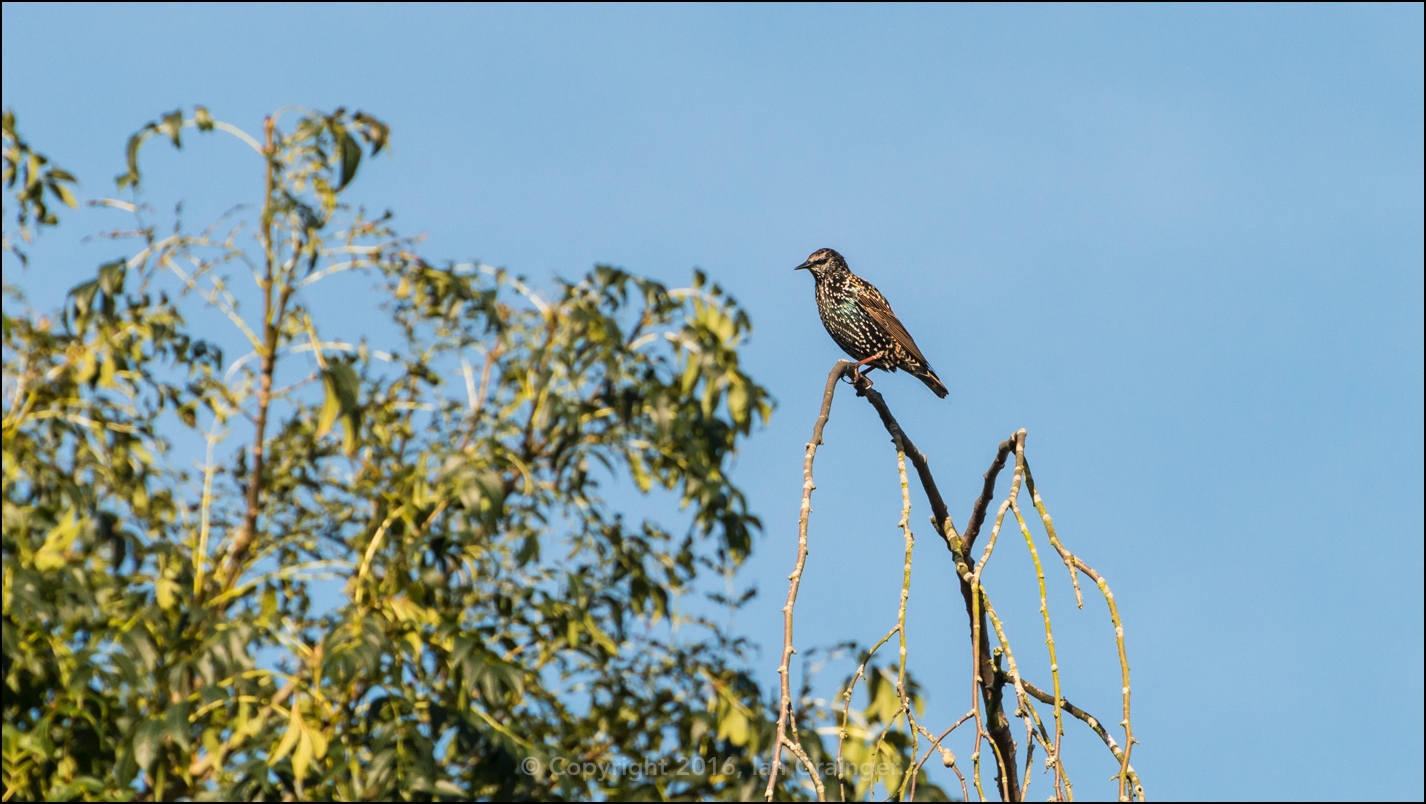 Starling - September 2016
...until it was interrupted by a mob of Starlings (Sturnus vulgaris).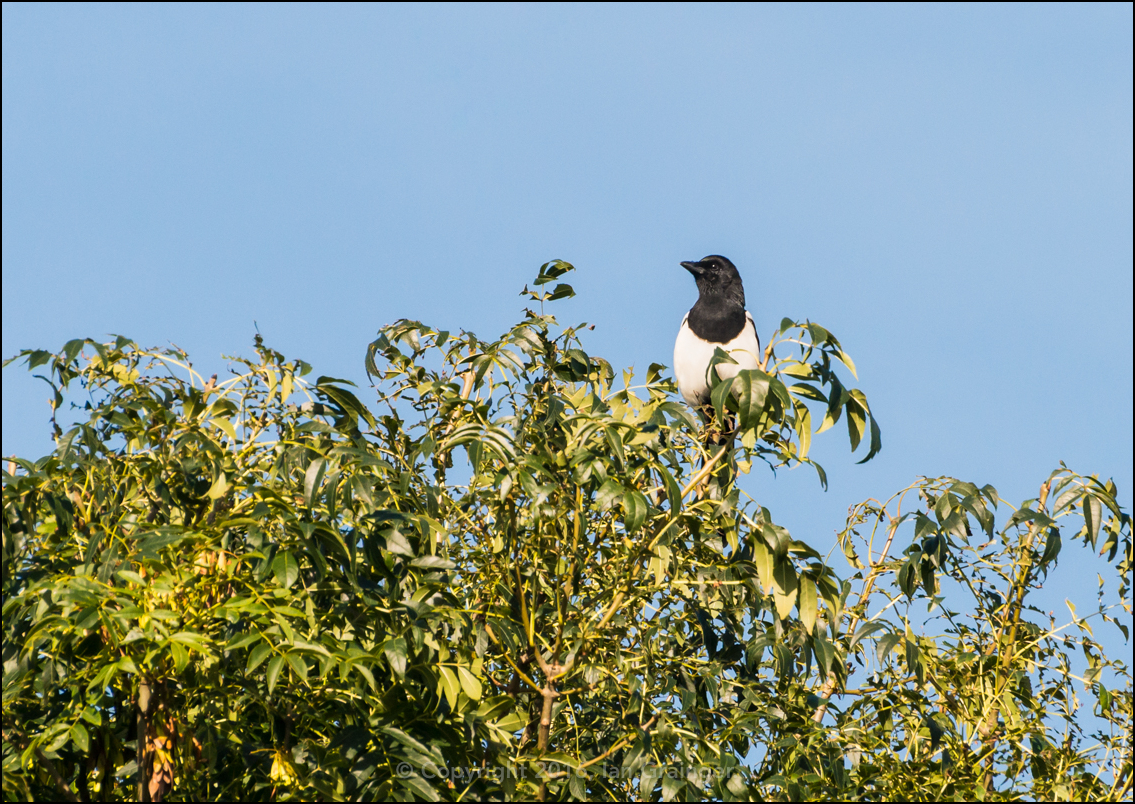 Magpie - September 2016
Meanwhile, a Magpie (Pica pica) kept close attention in a nearby tree, waiting its turn!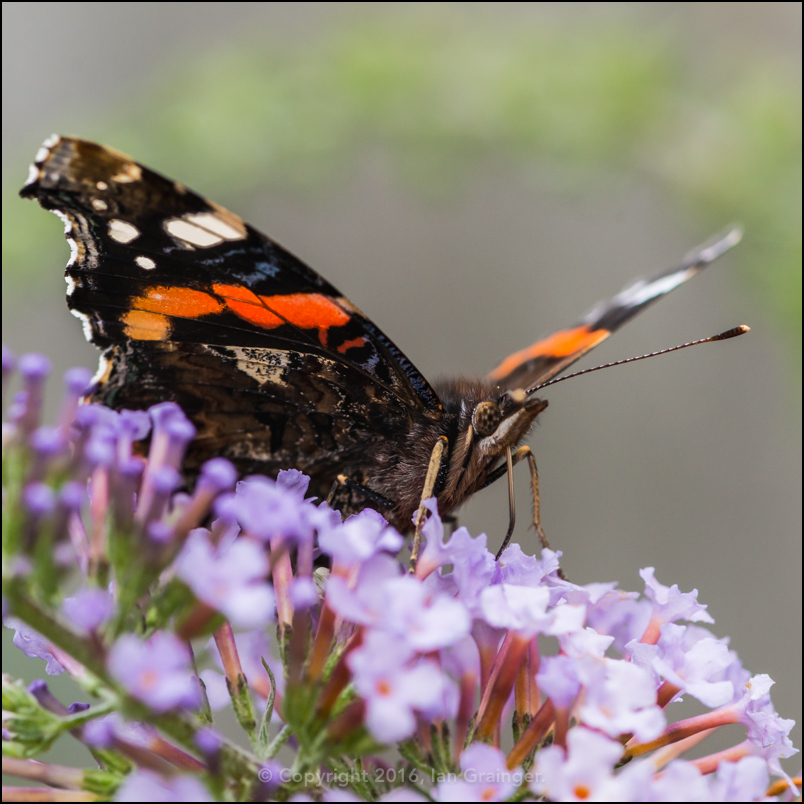 Feeding Red Admiral - September 2016
Over in my garden this week there has been a hive of butterfly activity. This Red Admiral (Vanessa atalanta) was just one of the many attracted by the late blooming Butterfly Bush (Buddleia).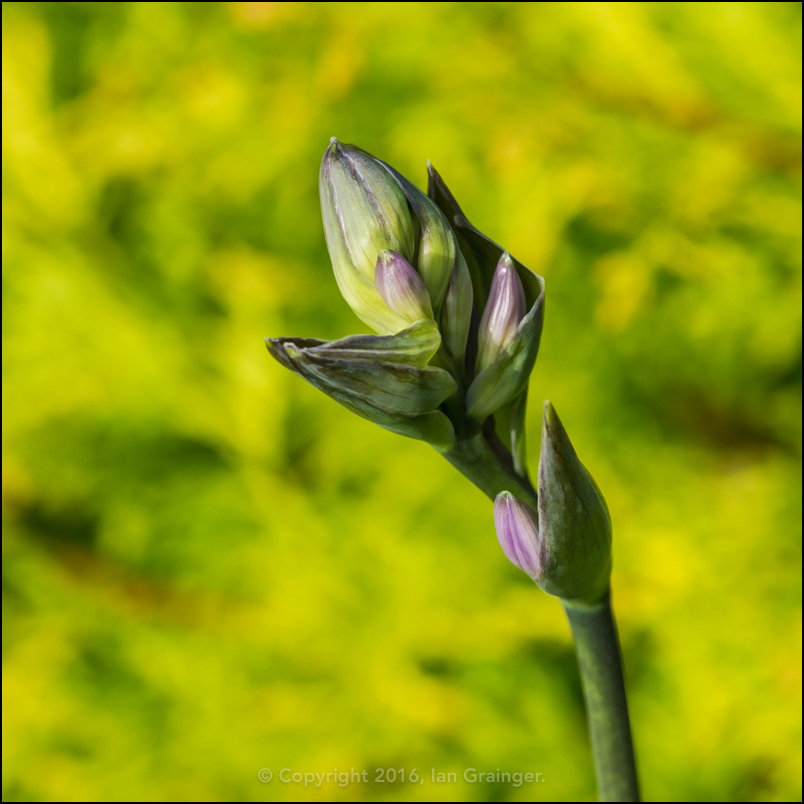 Budding Hosta - September 2016
I'd thought that all of my Hosta flowers had finished, after we'd had high winds that had snapped off the flowering stems a few weeks ago. However, I spotted some new buds, and am hopeful that I may get some more.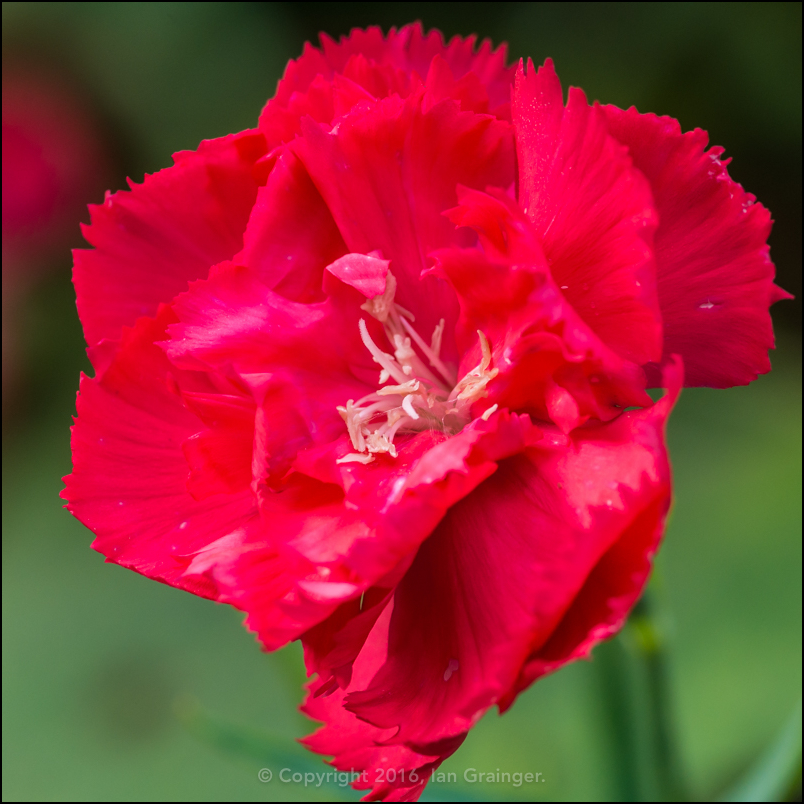 Red Carnation - September 2016
My red Carnations (Dianthus) are coming along nicely, and have started to appear all over the place, even in places I don't remember planting them.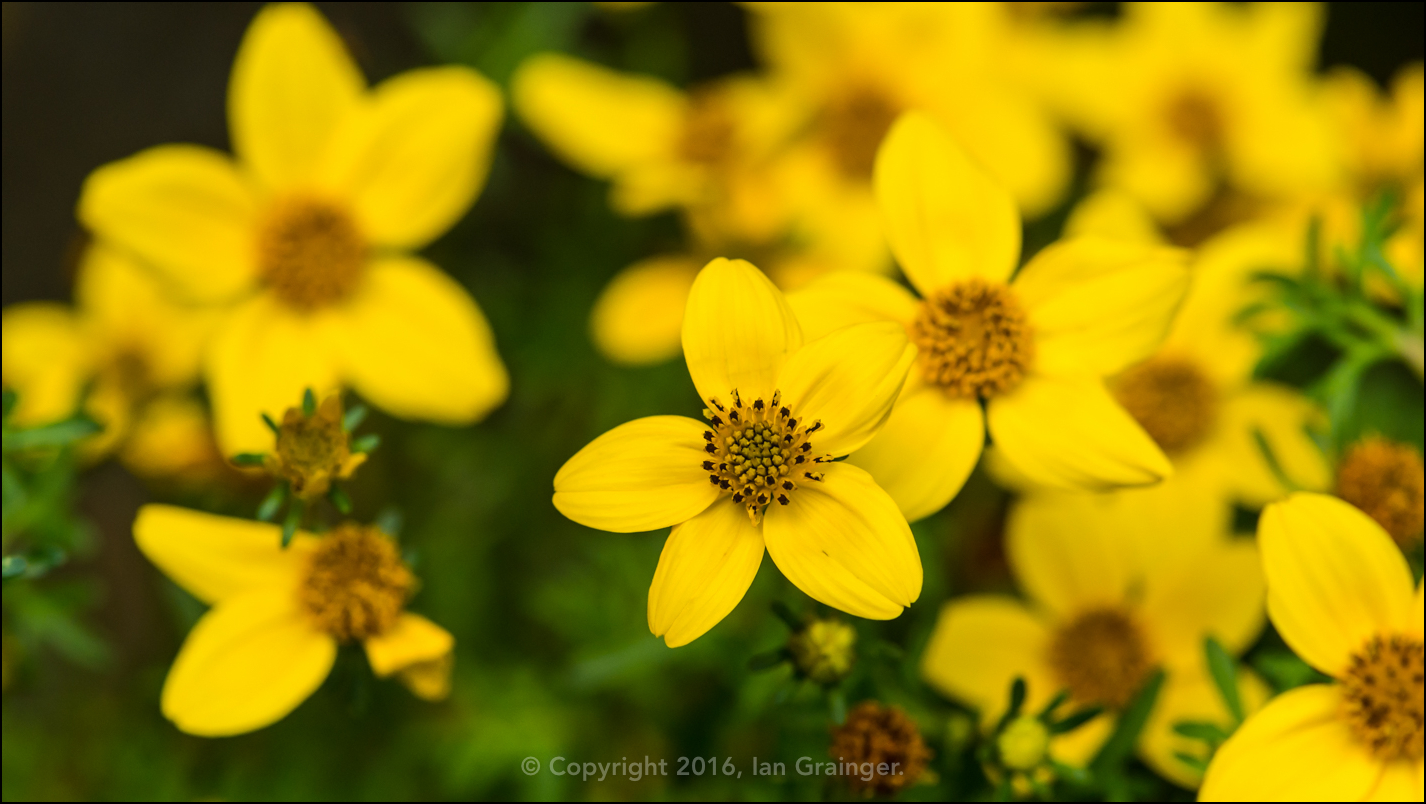 Blooming Bidens - September 2016
There has also been a resurgence of a lot of flowers, such as this Bidens, which has returned after a severe cut back last month.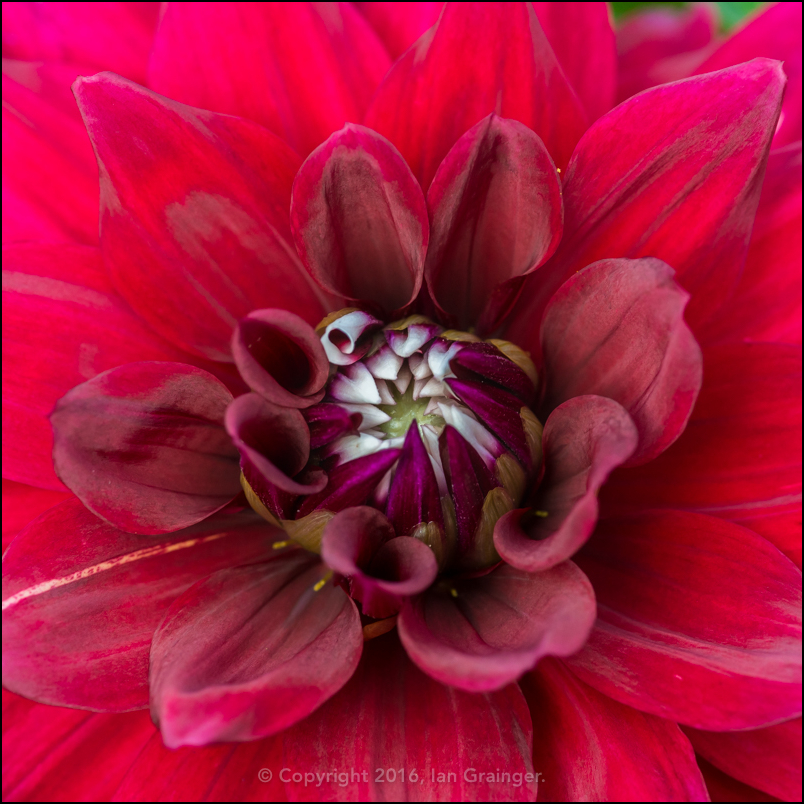 Dahlia Duet - September 2016
This Dahlia 'Duet' seems a little confused. It is called Duet because it has a red and white colouring, but this one doesn't seem to have got the memo, and is predominantly red.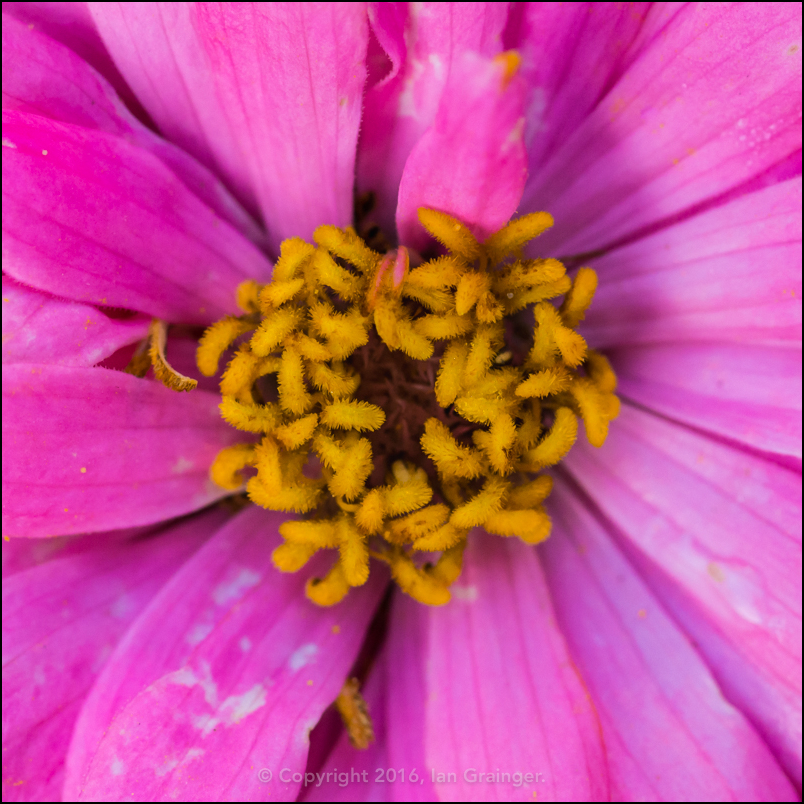 Zinnia Worms - September 2016
My Zinnia are still putting on a fantastic display of colour. Don't you think it looks like little worms are squirming all over the centre of this one?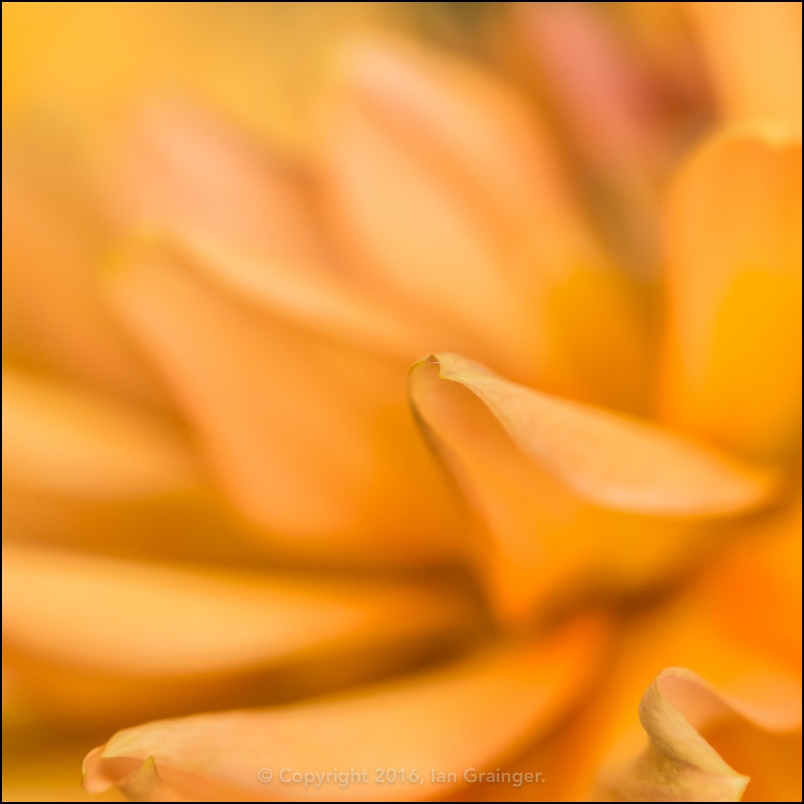 Dahlia Abstract - September 2016
I love taking abstract photographs of flowers. This is Dahlia 'Noordwijks Glorie', and it's the perfect specimen for making an abstract image.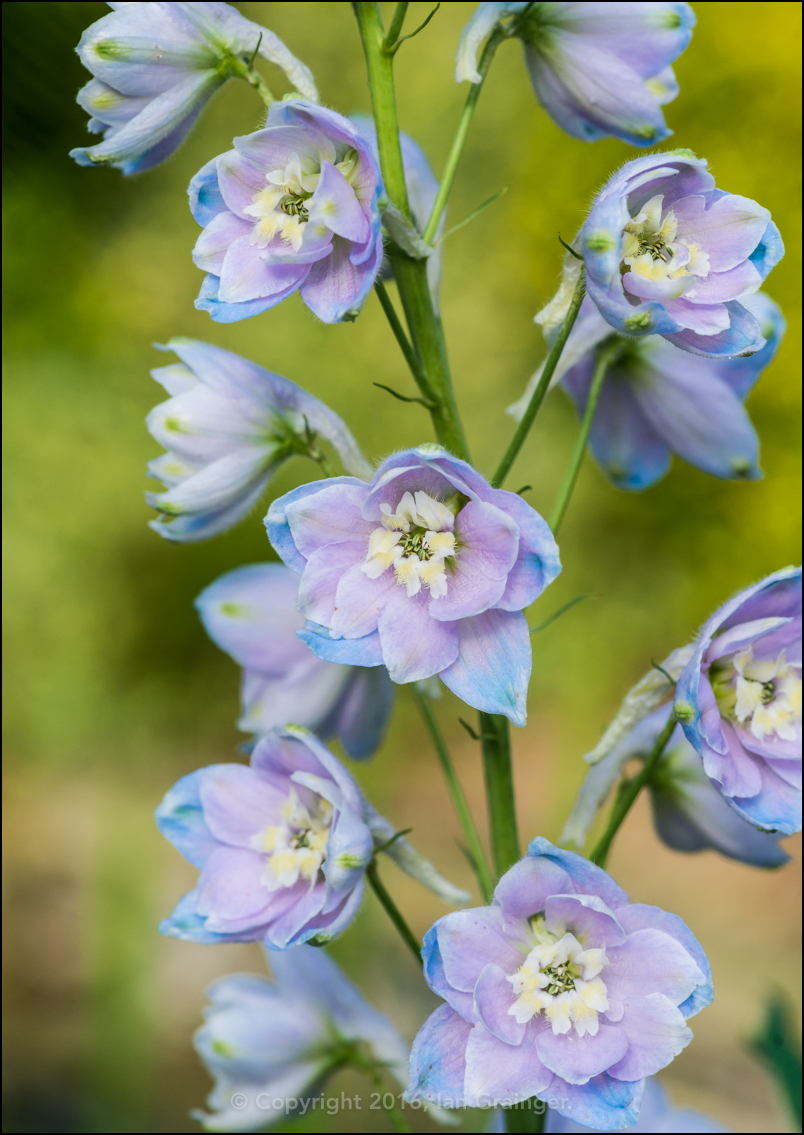 Delphinium Tower - September 2016
Undoubtedly my favourite flower in the garden this week is this Delphinium. It is loaded with the most beautifully coloured pale blue flowers, and at over five feet tall, dominates the part of the garden it stands in.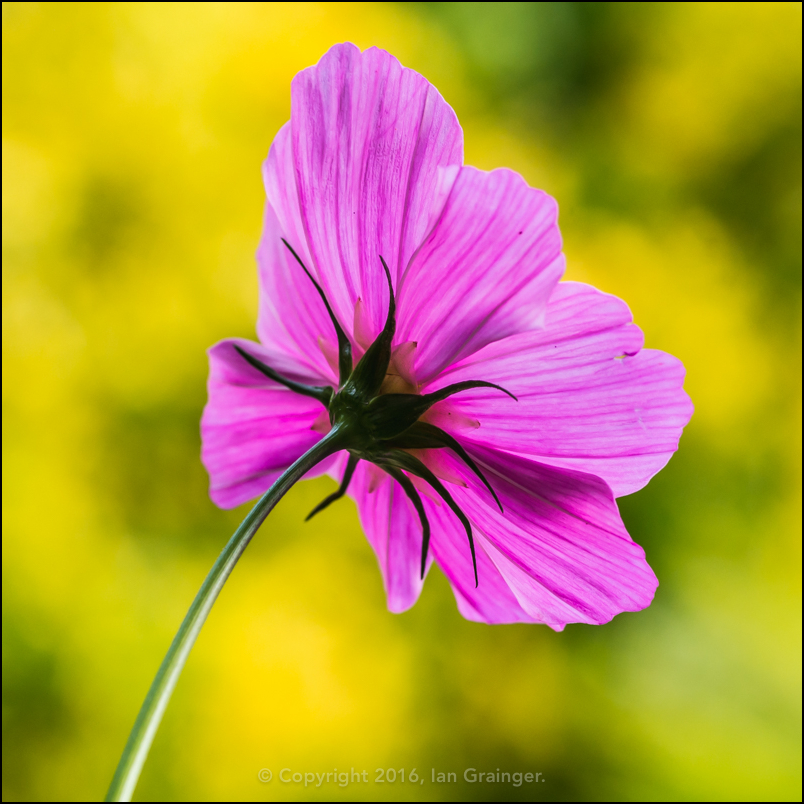 Pink Cosmos - September 2016
It's always nice to get an alternative view of a flower, and looking at the reverse of this Cosmos (Cosmea) highlights how beautiful they can look from any angle.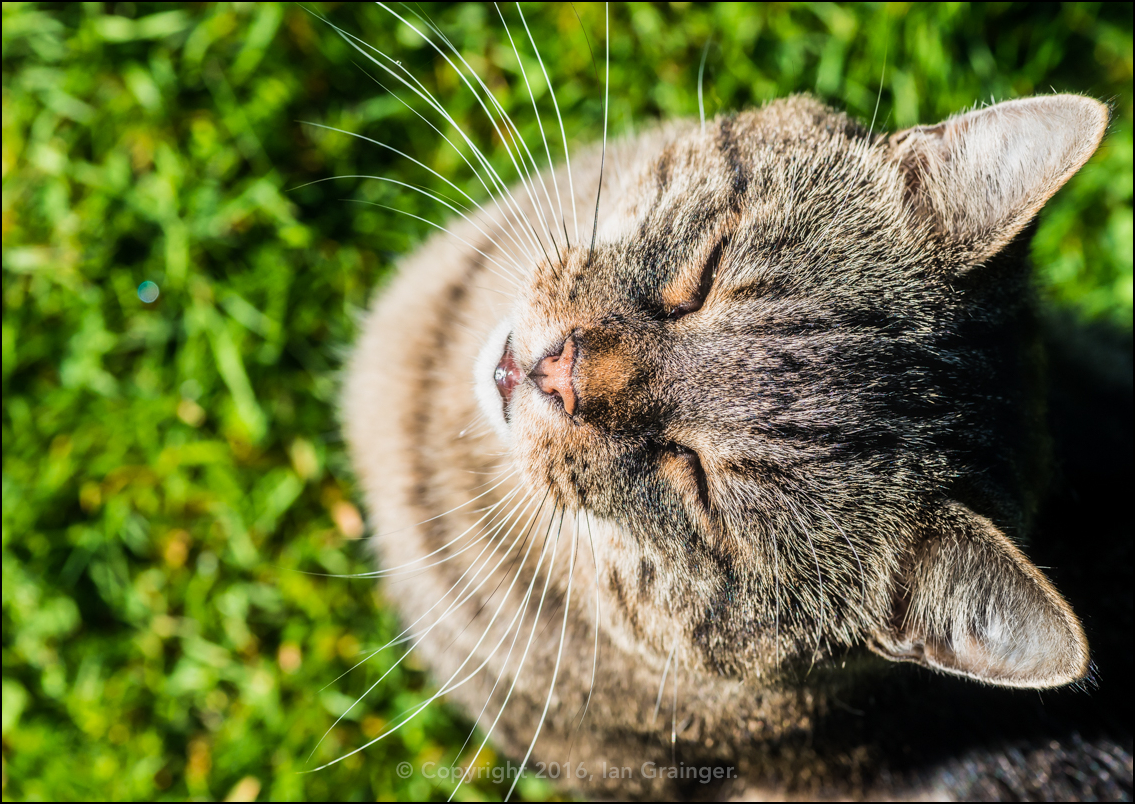 Obedient Feline - September 2016
What of my photo buddy this week? Well, he followed me around dad's garden at the weekend and did his usual begging and crying for attention, which he obviously got! Could you resist giving him what he wanted? I doubt it!
So, this week I've gone for Abyssinian Gladiolus as my Image of the Week, although I also rather liked all of the butterfly photos I took, and was also tempted to choose Obedient Feline purely for its cuteness factor...