Ivy Berries - February 2018
It was another beautiful Sunday morning for my photo shoot this week, and although it was cold, the only real fly in the ointment was the gusting wind. So, I decided to concentrate on images of things that wouldn't be too wind affected, and would stay firmly fixed in place.
The first thing to catch my eye were these Common Ivy (Hedera helix) berries, which were just starting to turn black after what seemed like an eternity.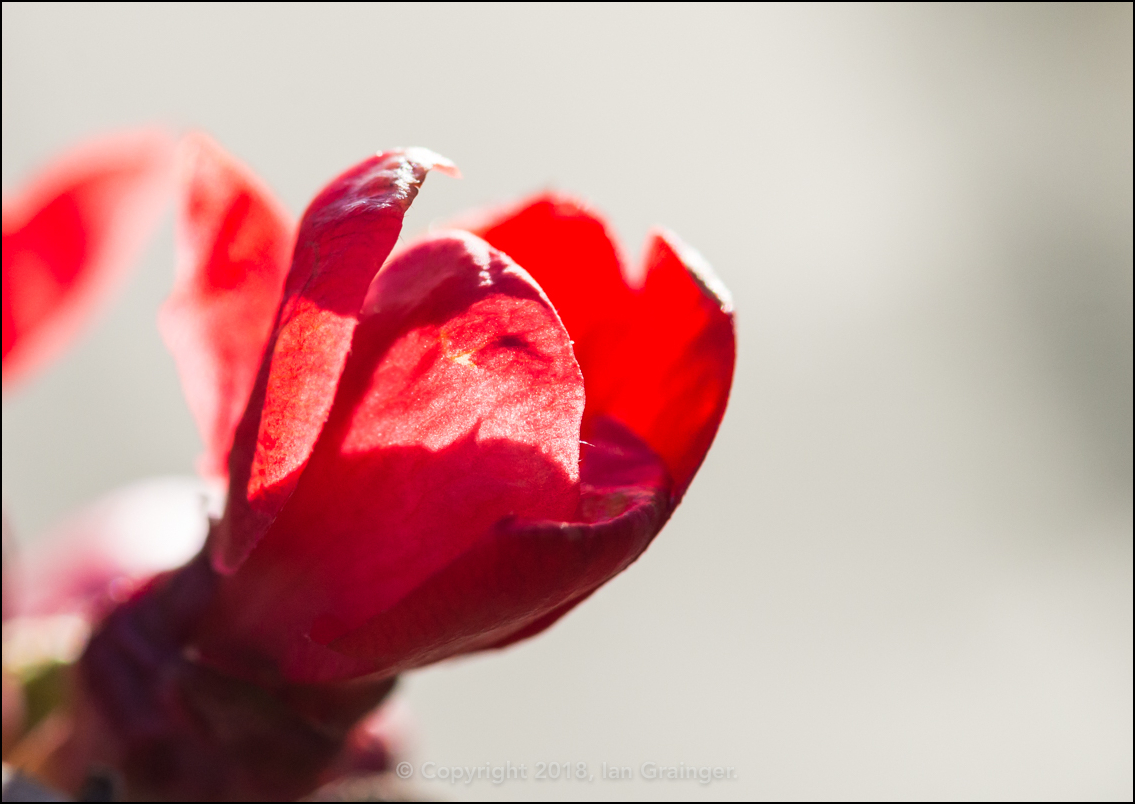 Blooming Quince - February 2018
Talking of eternities, the Quince (Chaenomeles) bushes had seemed to be in bloom for the whole of 2017, and were already starting to flower once again.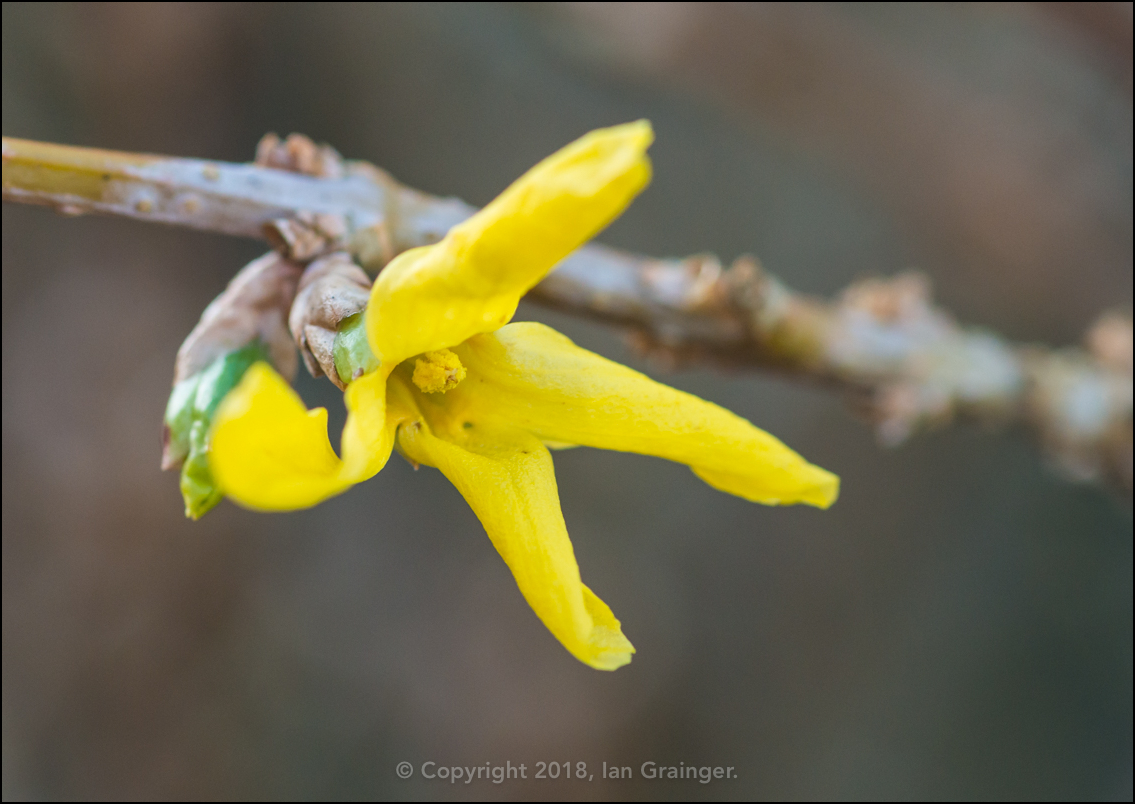 First Forsythia - February 2018
While the Forsythia (Forsythia intermedia) bush had produced blooms back in December last year, they had only been short lived, but now the bush was covered in buds, and this was the first one to venture out of its winter shelter.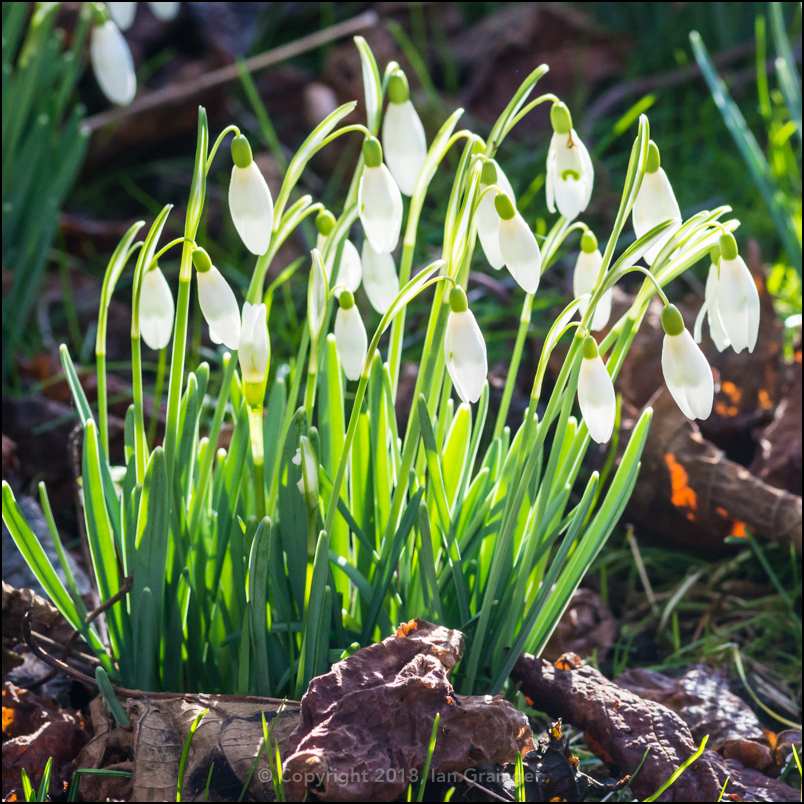 Budding Clump - February 2018
Getting closer to the ground, where the wind was less of a problem, I thought that this little clump of Snowdrop (Galanthus) flowers looked fantastic in the morning sunshine.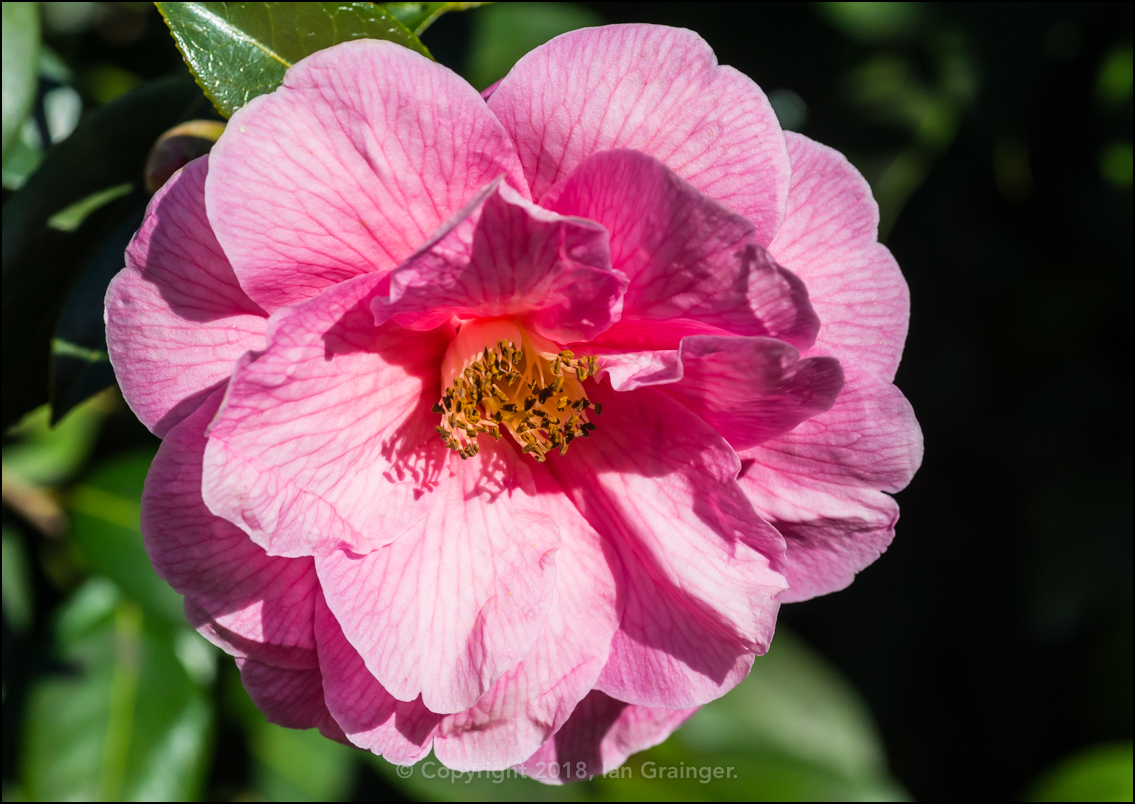 Bright and Beautiful - February 2018
Meanwhile, on the lower branches of a Camellia bush, this flower stood out like a spotlight, shining on centre stage.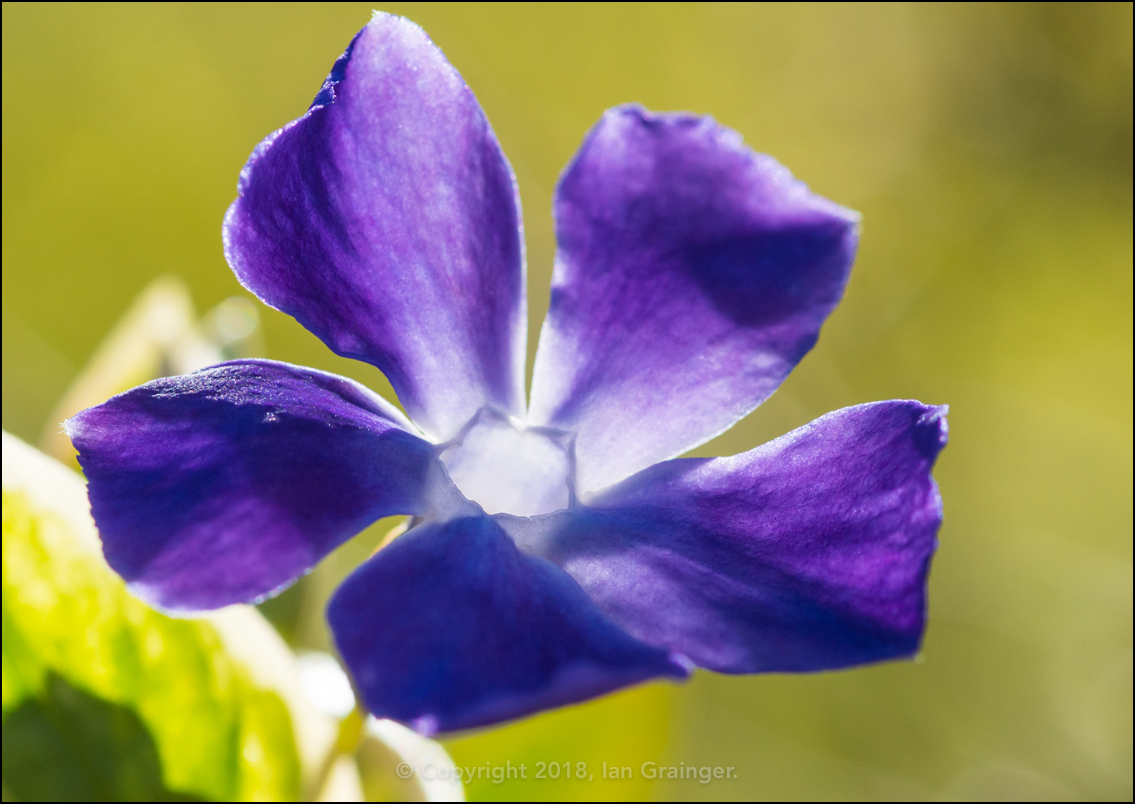 Purple Periwinkle - February 2018
The Periwinkle (Vinca) continued to put on an excellent display, and showed no signs of stopping.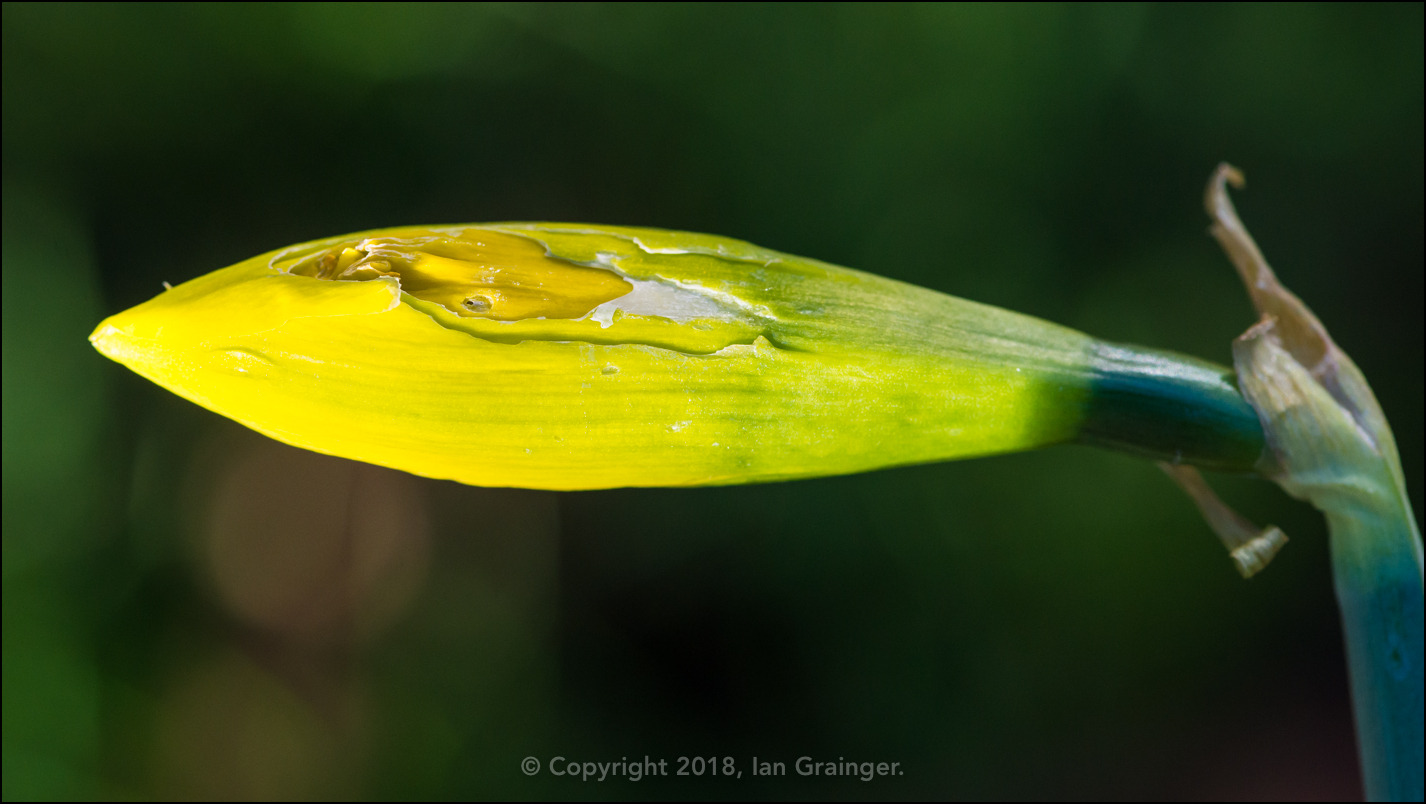 Feasting on Flowers - February 2018
However, I was getting worried about the Daffodils (Narcissus), as this was the second one I'd found in bud, but which had been eaten by something, or someone unknown!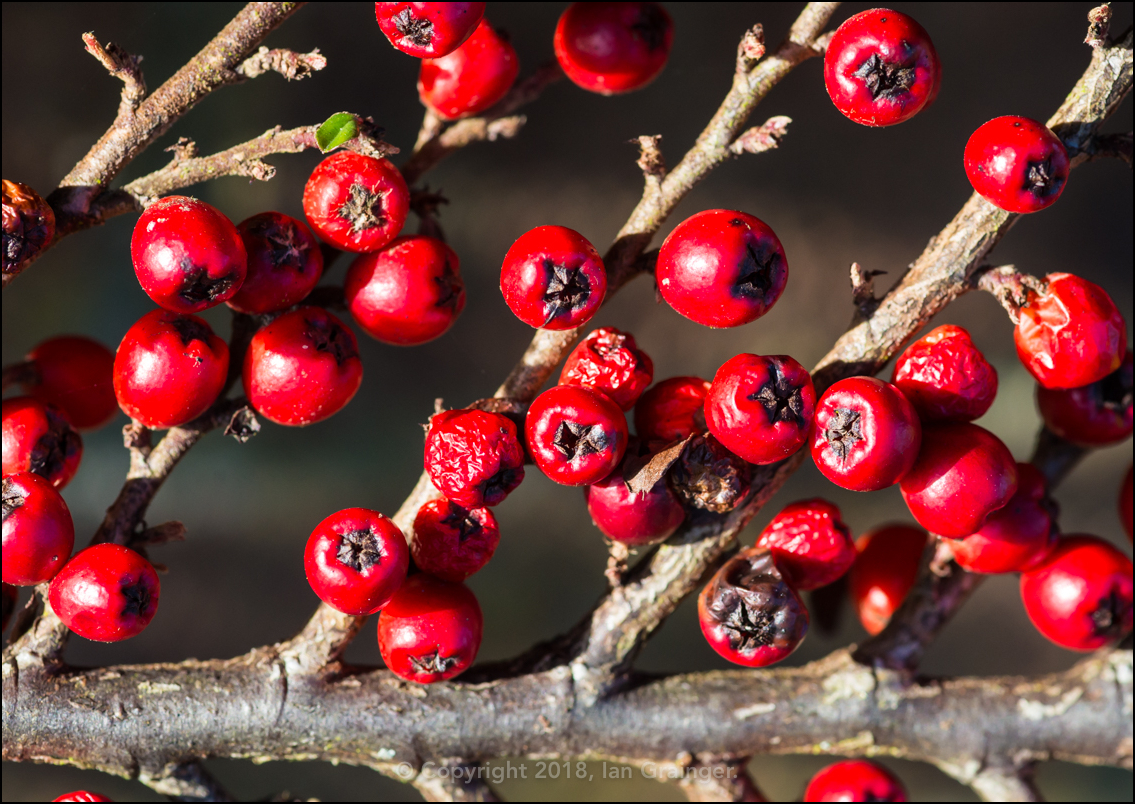 Cotoneaster Berries - February 2018
There were still a few Cotoneaster berries left, although it looked like these remaining few would be left to rot, rather then be eaten.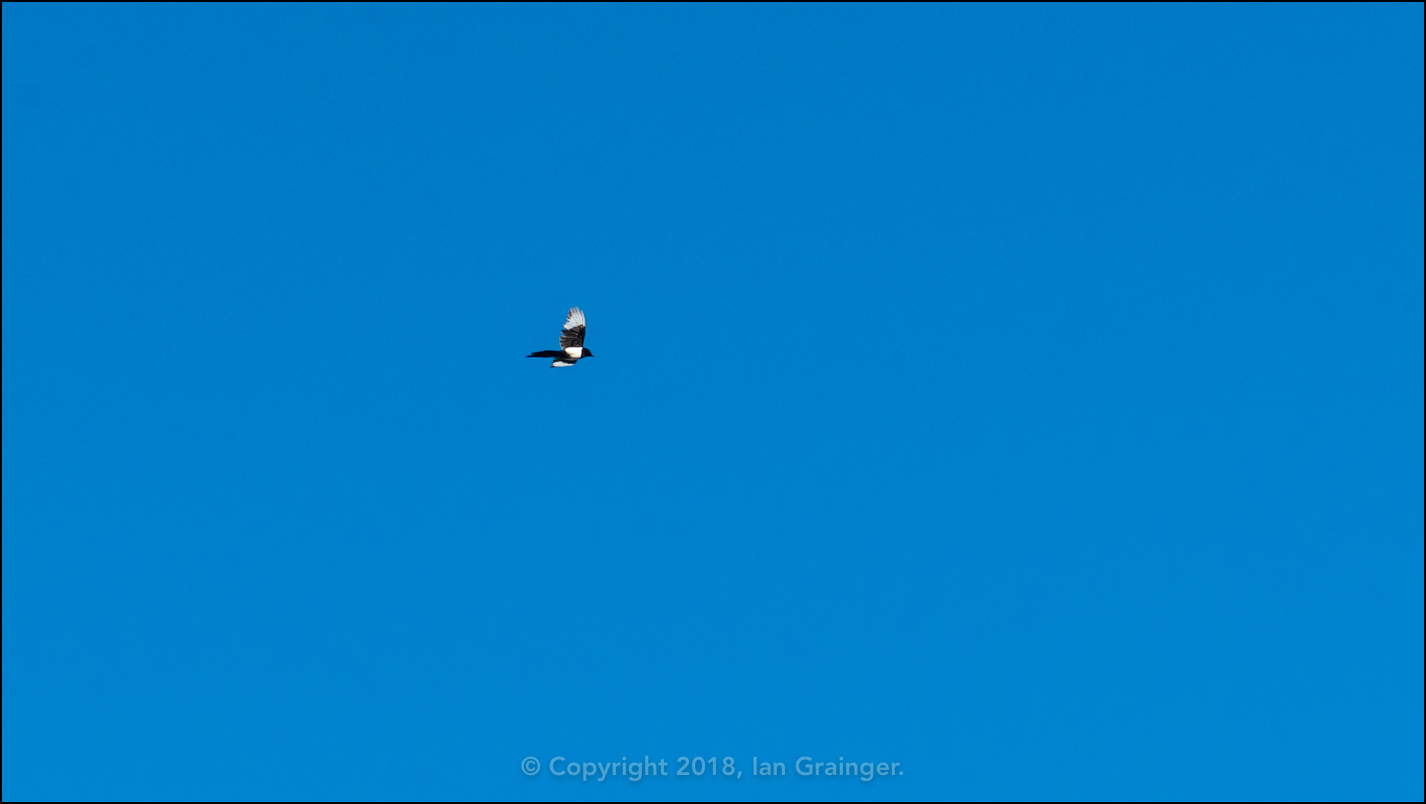 Flying High - February 2018
Turning my lens skywards, towards the beautiful blue skies, I spied this Magpie (Pica pica) flying high, well out of the reach of my 300mm lens.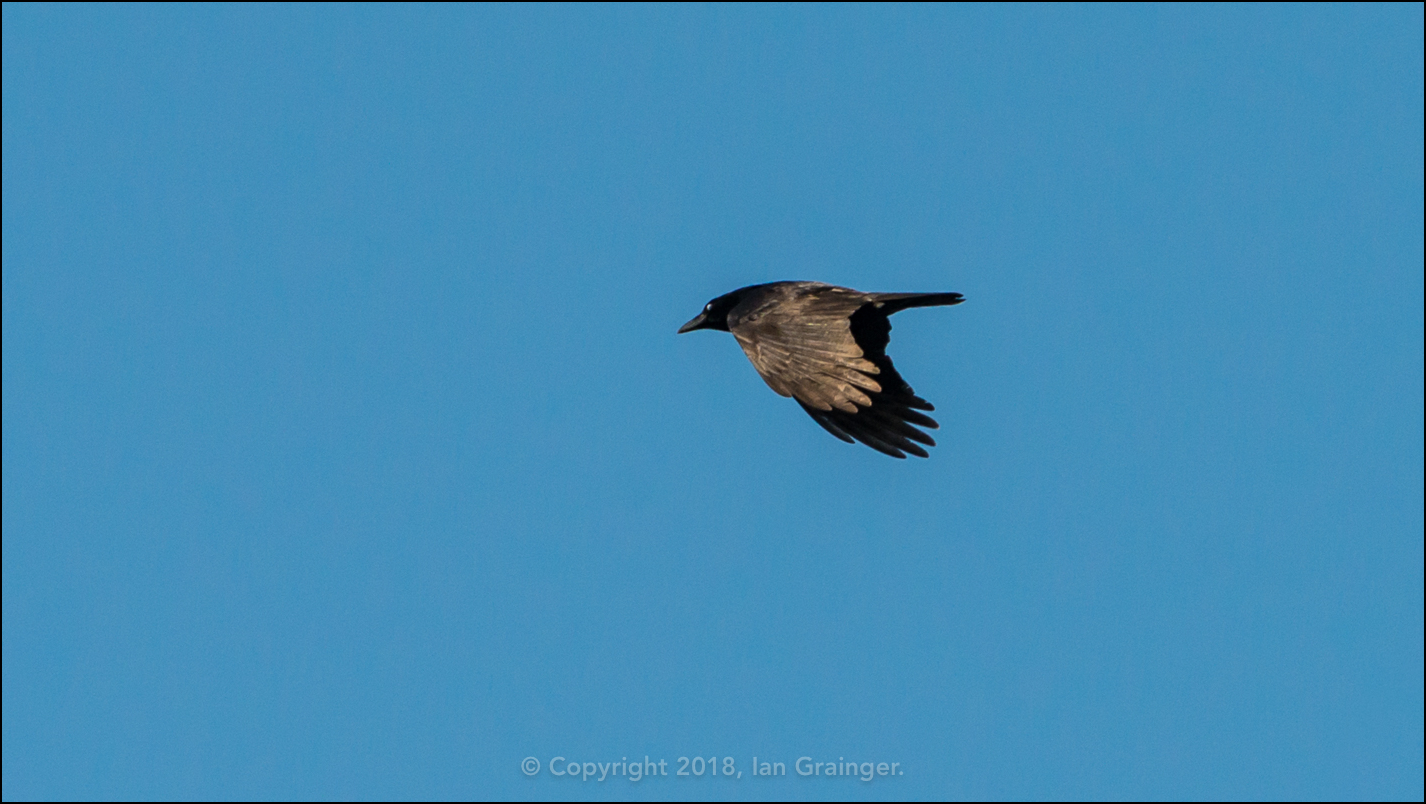 Flying Low - February 2018
This Crow (Corvid) was kind enough to come a bit closer, but was still a bit too far away to capture any real detail.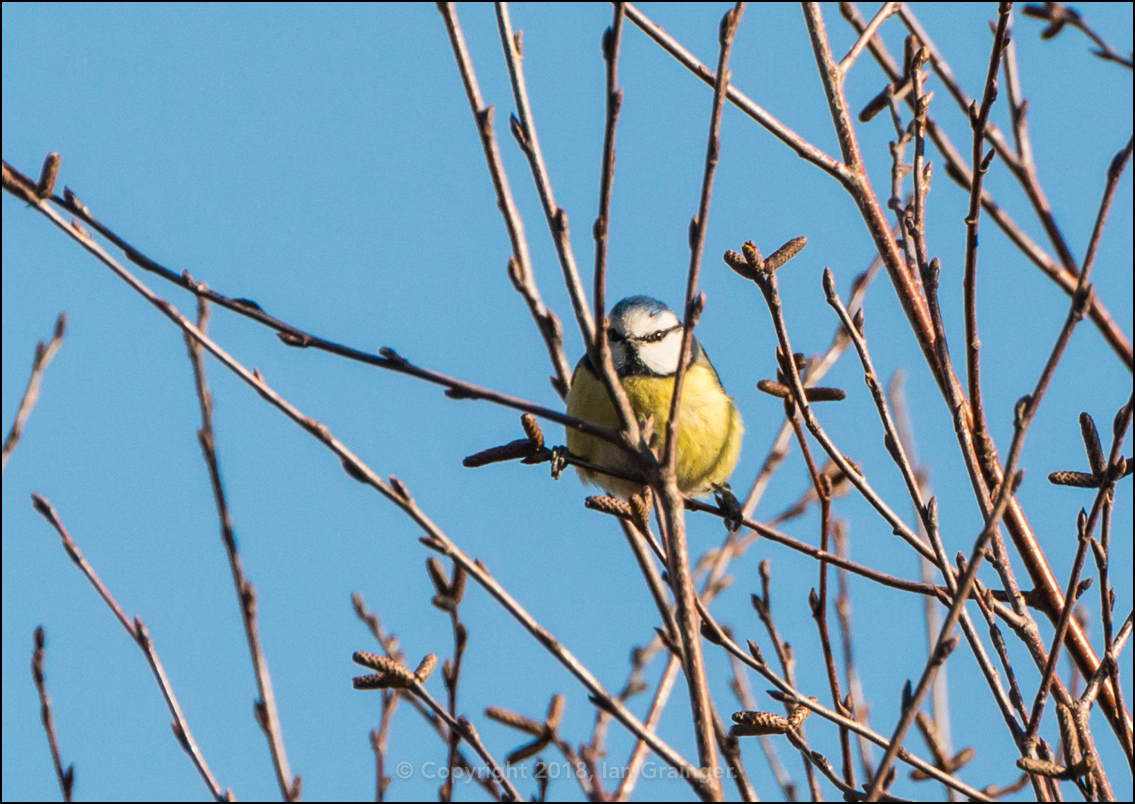 Watching - February 2018
While I was snapping away at flying avians, I realised that I was being watched. This little Blue Tit (Cyanistes caeruleus) seemed to be very interested in what I was doing...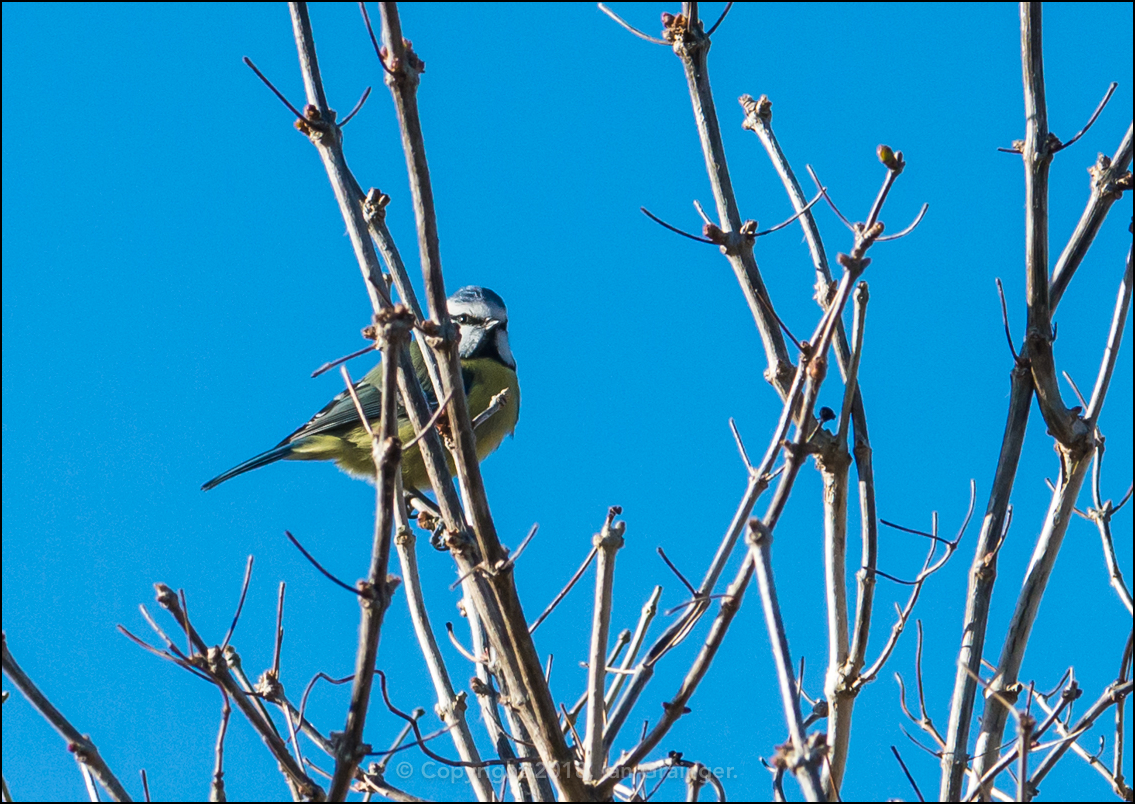 Waiting - February 2018
...as he flitted from tree to tree...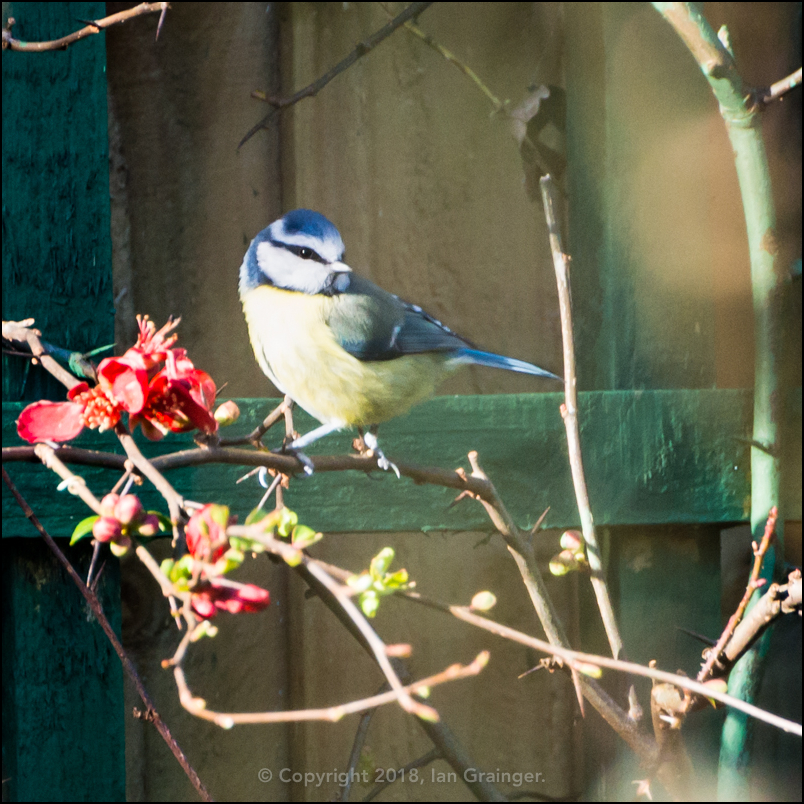 Sneaking - February 2018
...and eventually sneaked into a neighbours Quince bush! Unfortunately, just as I snapped him landing, a leaf from the hedge must have blown across the lens, hence the poor quality of this shot! Well, that's my excuse, and I'm sticking to it!!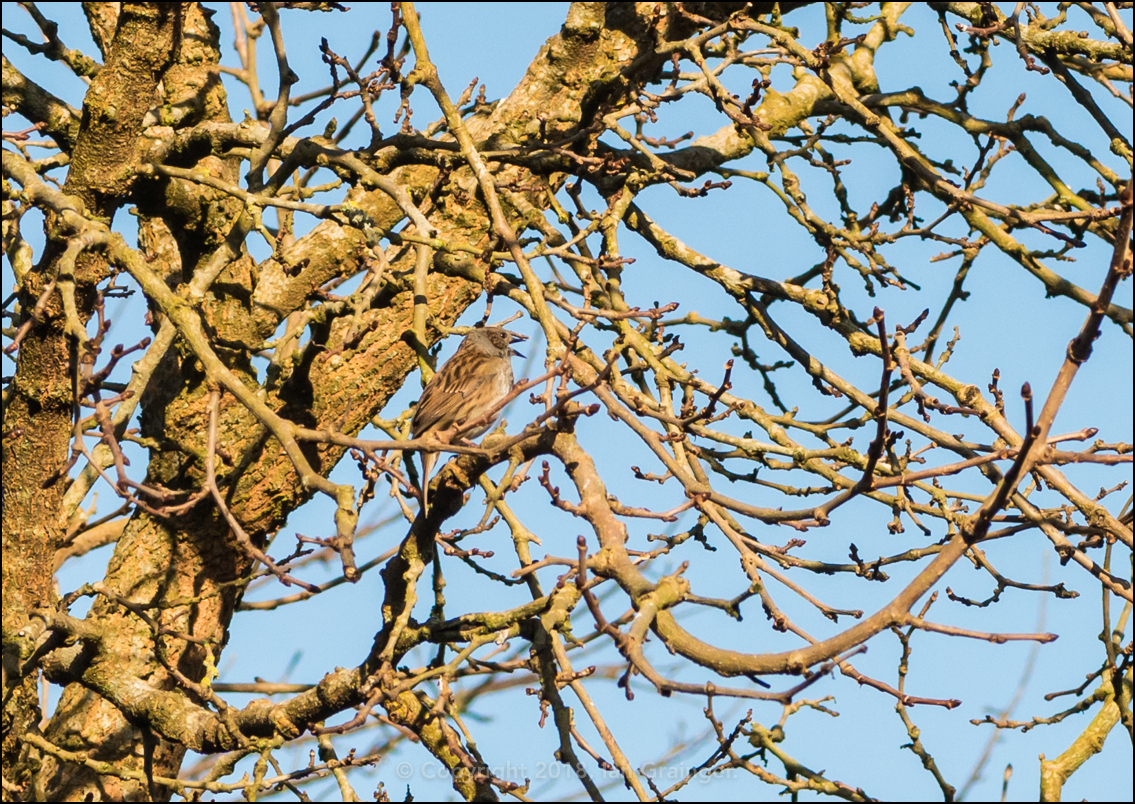 Good Sing Song - February 2018
All of the Blue Tit shenanigans had a musical accompaniment from a singing Dunnock (Prunella modularis), although he seemed less interested in what I was doing.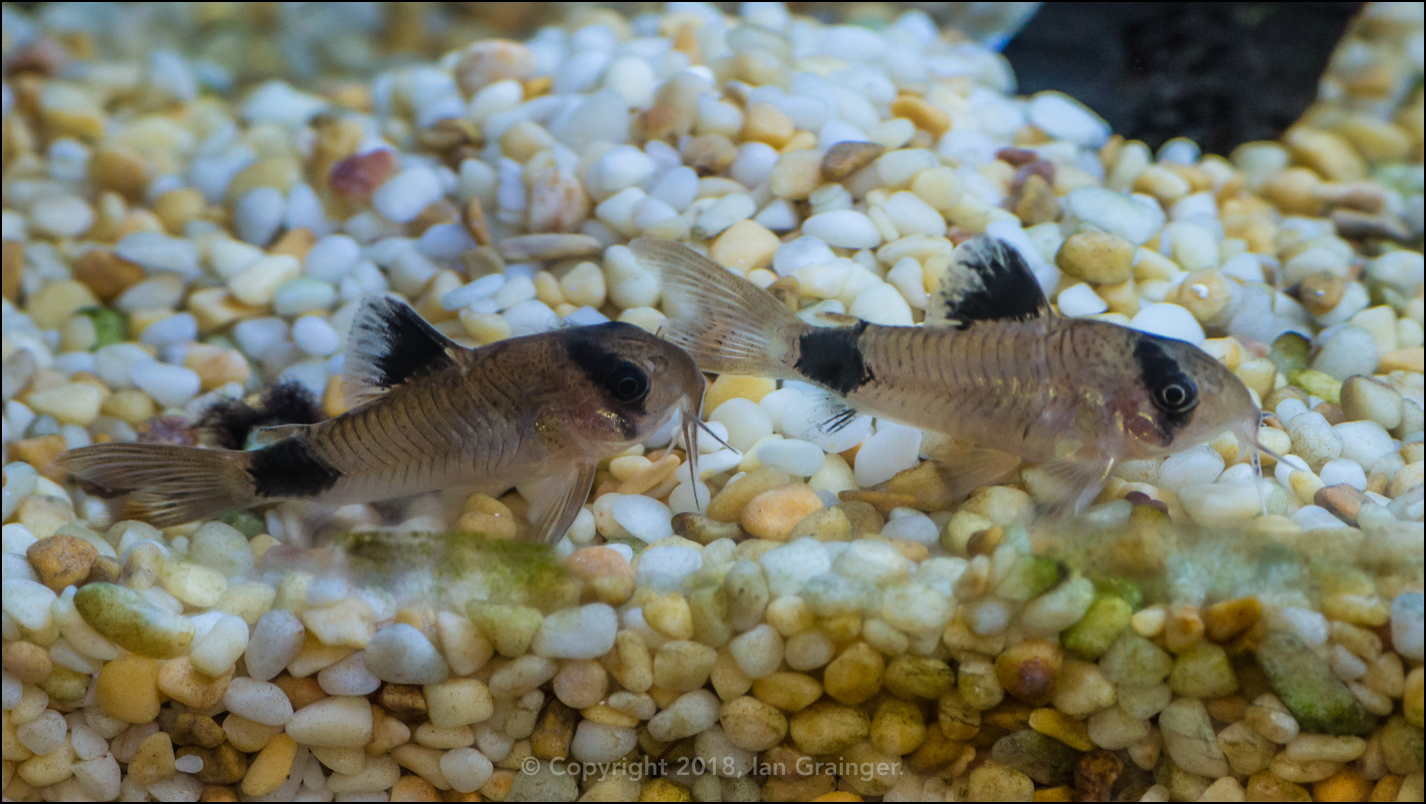 Panda Pair - February 2018
Finally, it has been a while since I last posted a picture of either of my Panda Corydoras (Corydoras panda) catfish, so here they are both together. Don't you just love them?
So, this week I went with Ivy Berries as my Image of the Week, as I seem to have been waiting forever for them to appear, and was so pleased to find that they had finally arrived...