African Daisy - June 2018
I'm kicking off this week's article with images from my own garden, which were taken over the last week.
There are lots of new flowers to catch up on, most of which I've grown from seed or bulb myself this year. However, one of the exceptions is this African Daisy (Osteospermum) bloom, which I bought a couple of weeks ago at the garden centre.
I absolutely love the shiny blue centre, and how it contrasts with the pure white petals.
Cosmos Xanthos - June 2018
I've grown many Cosmos (Cosmea bipinnatus) flowers over the years, but never this variety before. I'm not sure why I like it so much, because it's quite plain really, but it's definitely one of my all time favourites.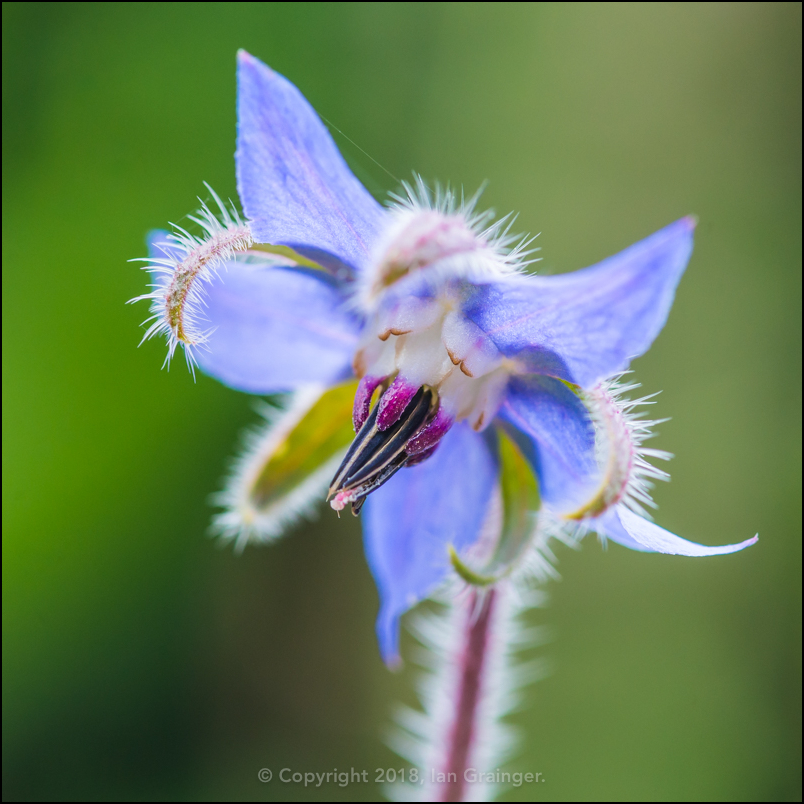 Borage Blue - June 2018
I've never grown Borage (Borago officinalis) from seed before, but it seems to make an excellent photographic subject, so I'll definitely be trying it again.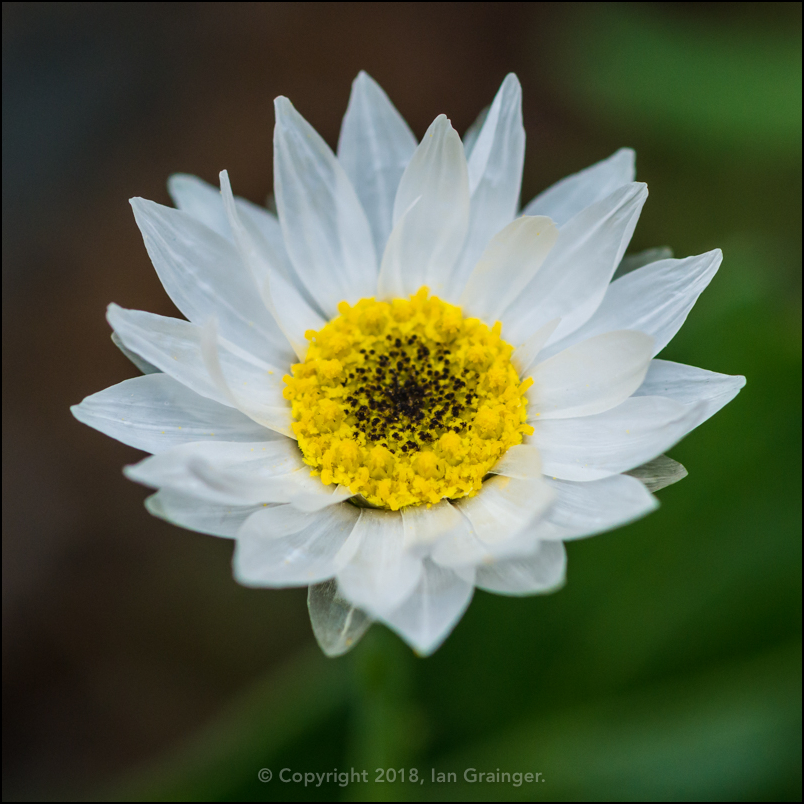 Everlasting Daisy - June 2018
This little beauty is an Everlasting Daisy (Helipterum roseum) variety 'Pierrot'. I've never grown them from seed before either, and didn't have great success, but at least a few of the plants have made it to the flowering stage.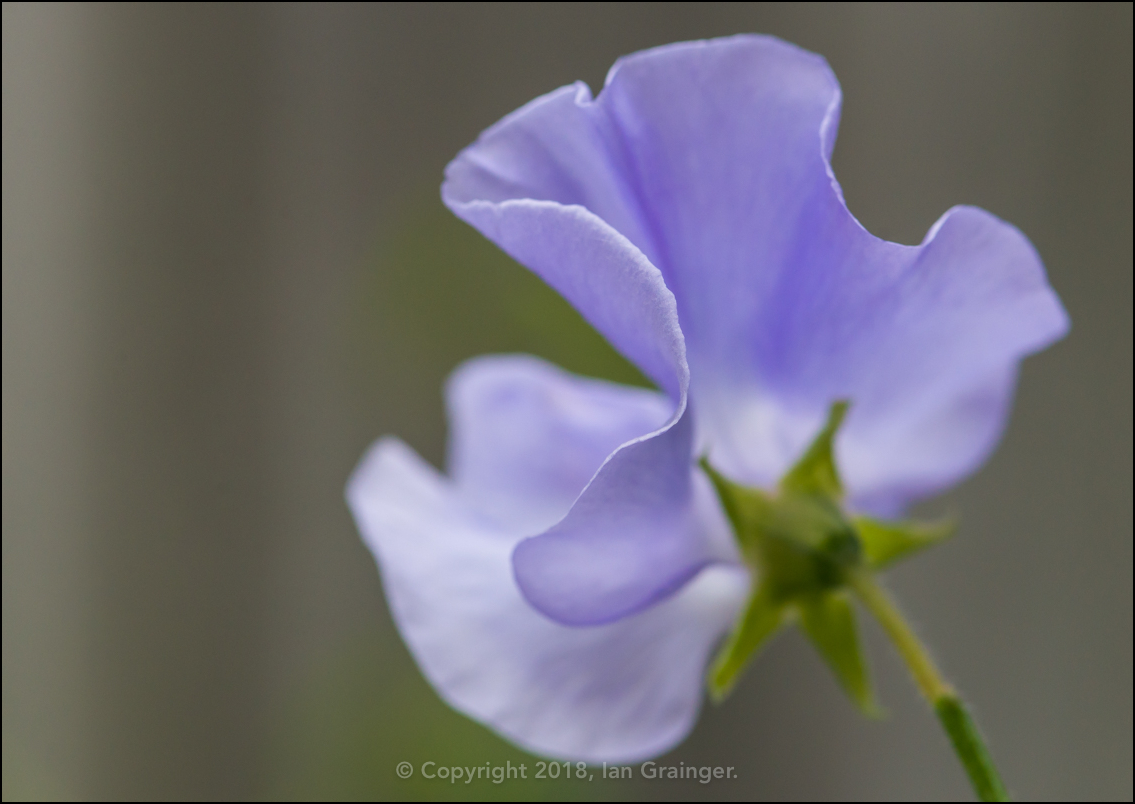 Light Blue Pea - June 2018
This year I paid special attention to my Sweet Pea (Lathyrus odoratus) seeds. I nurtured them, keeping them for a while in the fridge until they germinated, and then gave the roots plenty of time to establish in the growhouse. The only problem is that this variety is called 'Midnight Blue', but maybe they should have been called 'Midday Blue', as they're quite a light blue?
Allium moly - June 2018
I'm extremely pleased with my Allium moly blooms. I've been trying to grow the bulbs for quite a few years, and this year is the first time I've managed to get more than one or two of them to produce flowers. I think the key was neglect! Didn't water them, didn't feed them and actually thought the pot they were in was empty! They've rewarded me with a fantastic display.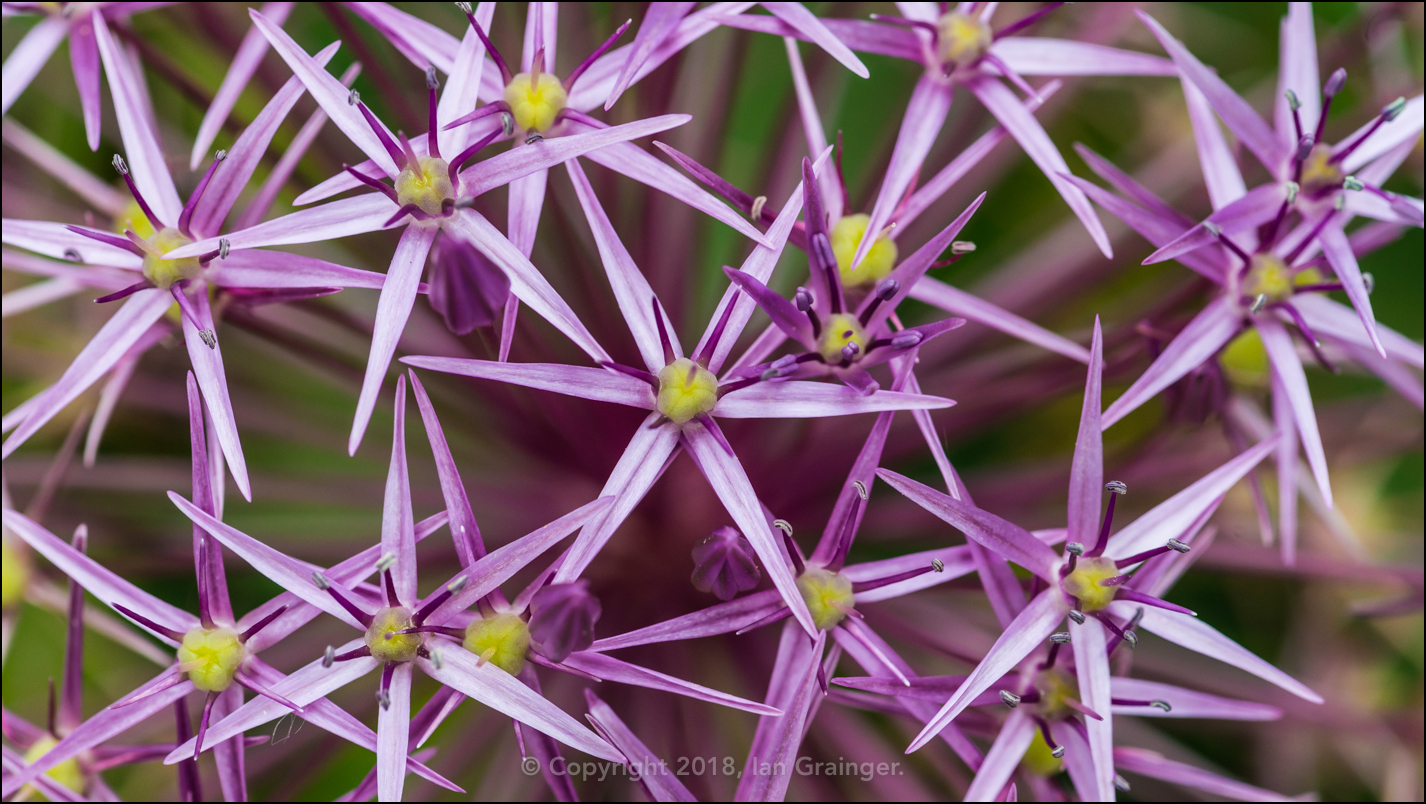 Allium Purple Sensation - June 2018
Another Allium (Allium hollandicum) 'Purple Sensation' is also rewarding me with a fantastic display, although this one seems much easier to grow, as it has returned without fail for many years.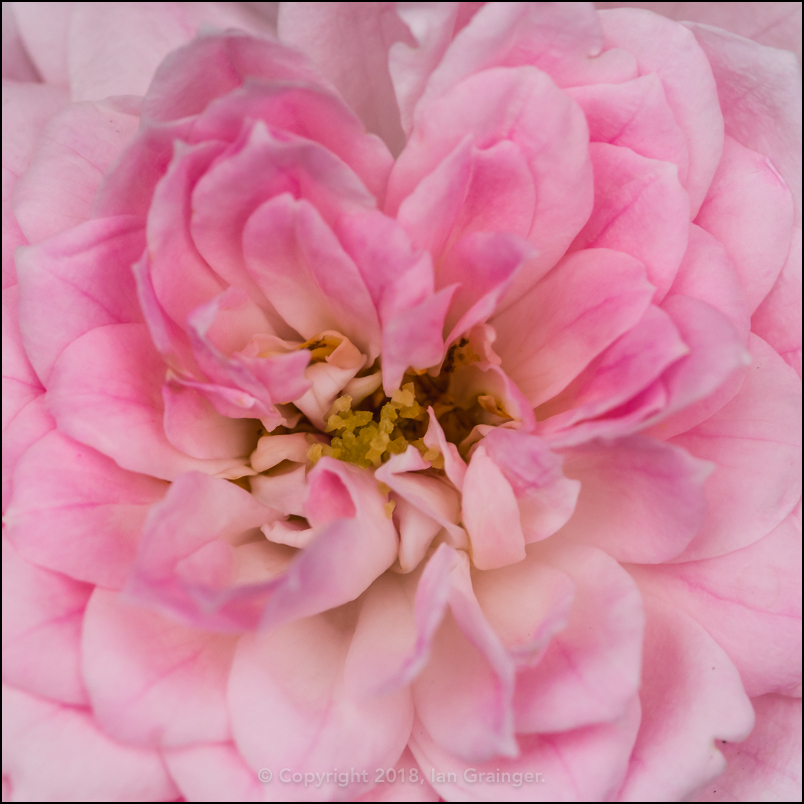 Pink Patio Rose - June 2018
Other returning flowers include my gorgeous pink patio Rose (Rosa)...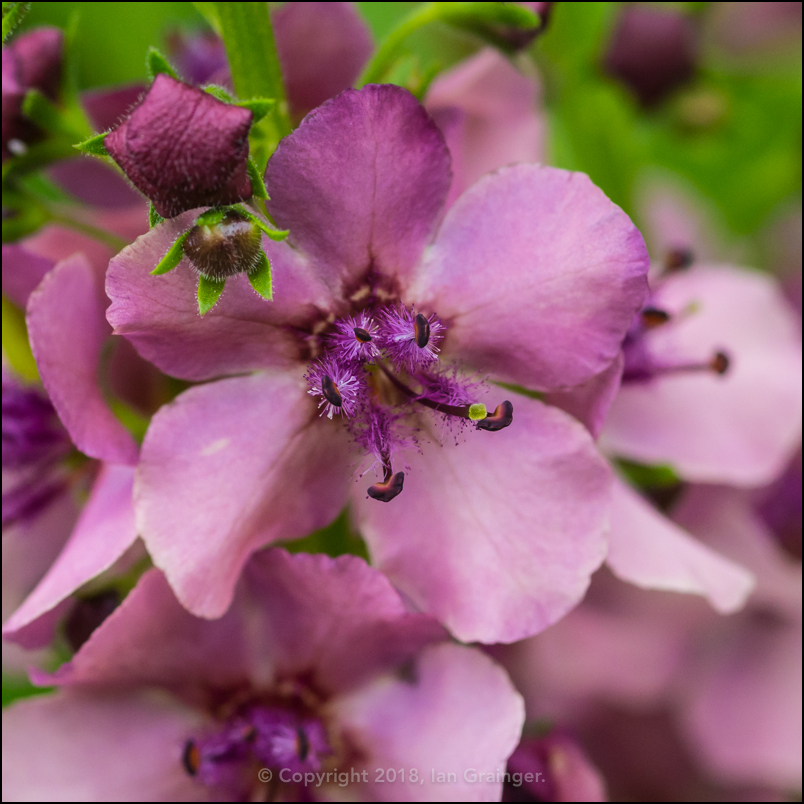 Southern Charm - June 2018
...and this rather lovely Verbascum named 'Southern Charm'.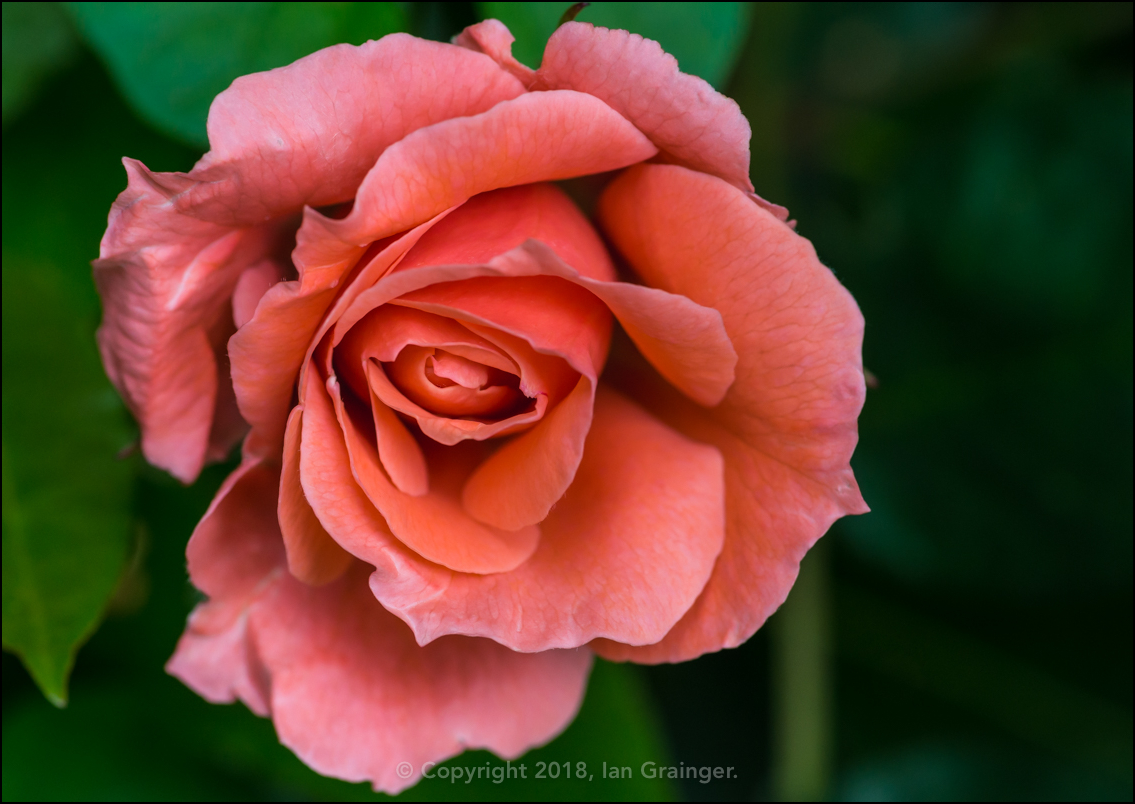 The Queen - June 2018
Meanwhile, over in dad's garden, it was a bit of a dull day for my weekly photo shoot. While there wasn't much wildlife to shoot, there were quite a few new flowers on display, and we'd had a visit from the Queen! This is Rosa 'Queen Elizabeth', who was returning for another year.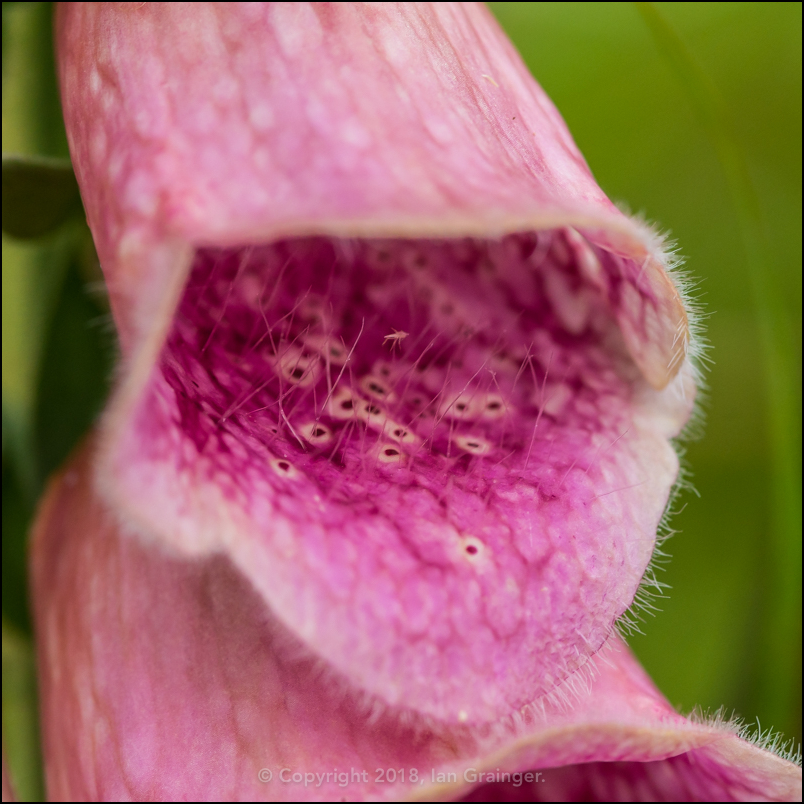 Pink Foxglove - June 2018
I was intrigued by the hairy inners of this pretty pink Foxglove (Digitalis).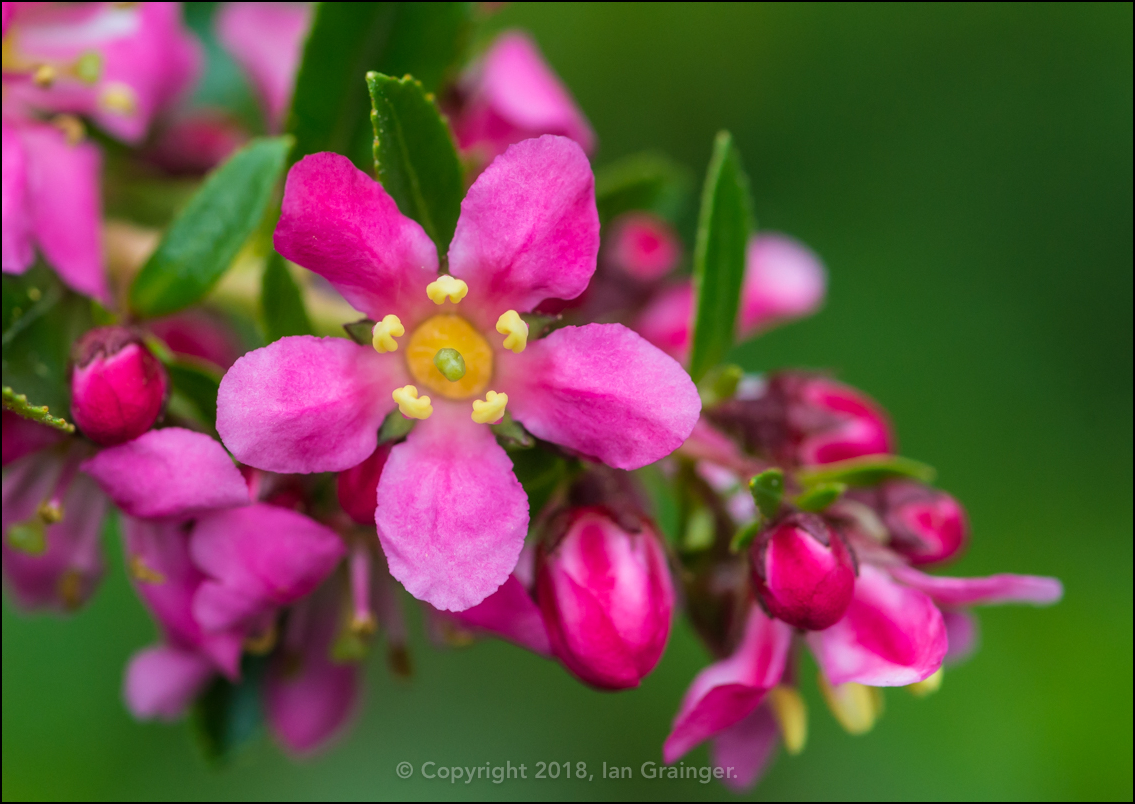 Escallonia - June 2018
The flower buds of the Escallonia bush had fulfilled their promise from a couple of weeks ago and were looking very pretty.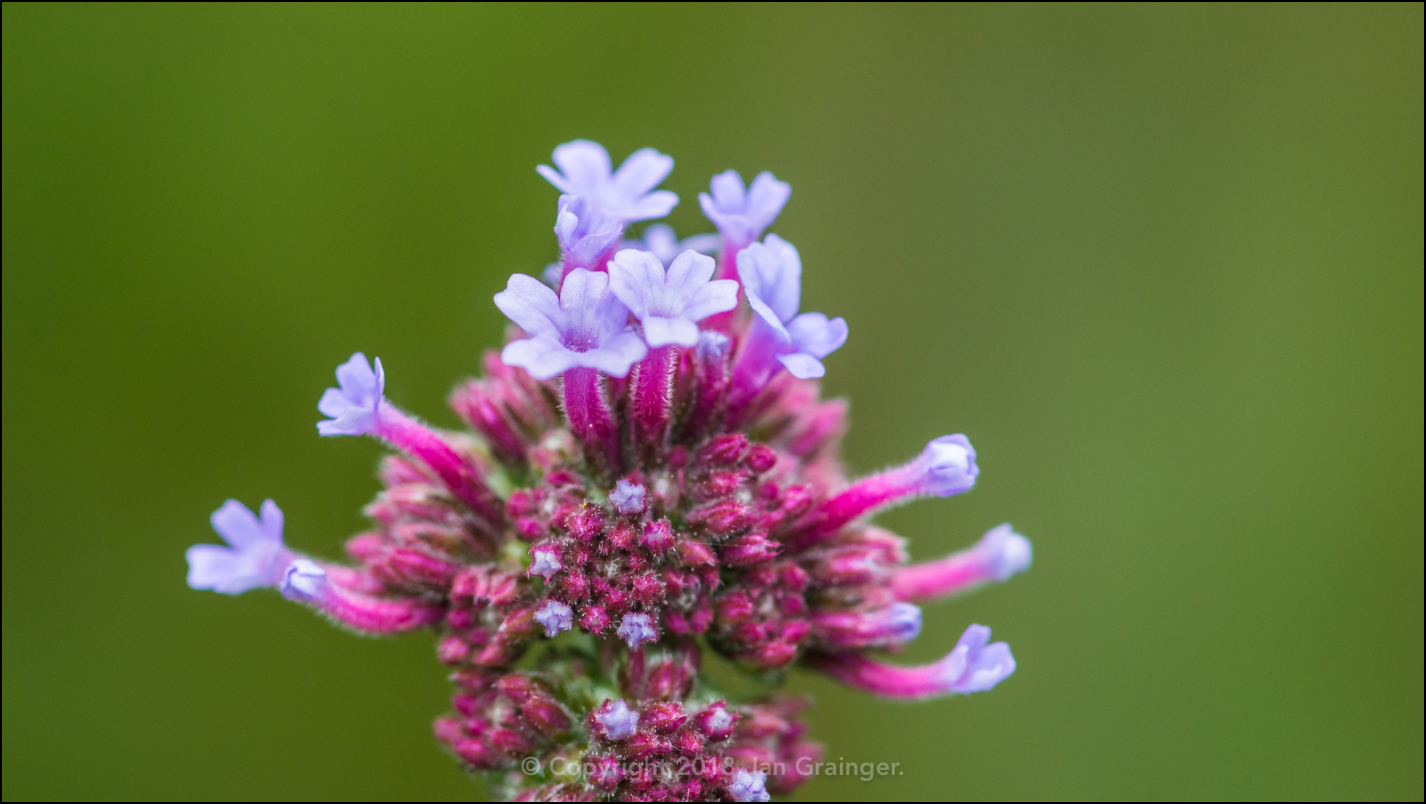 Verbena - June 2018
Likewise, the Verbena (Verbena bonariensis) were also just beginning to flower.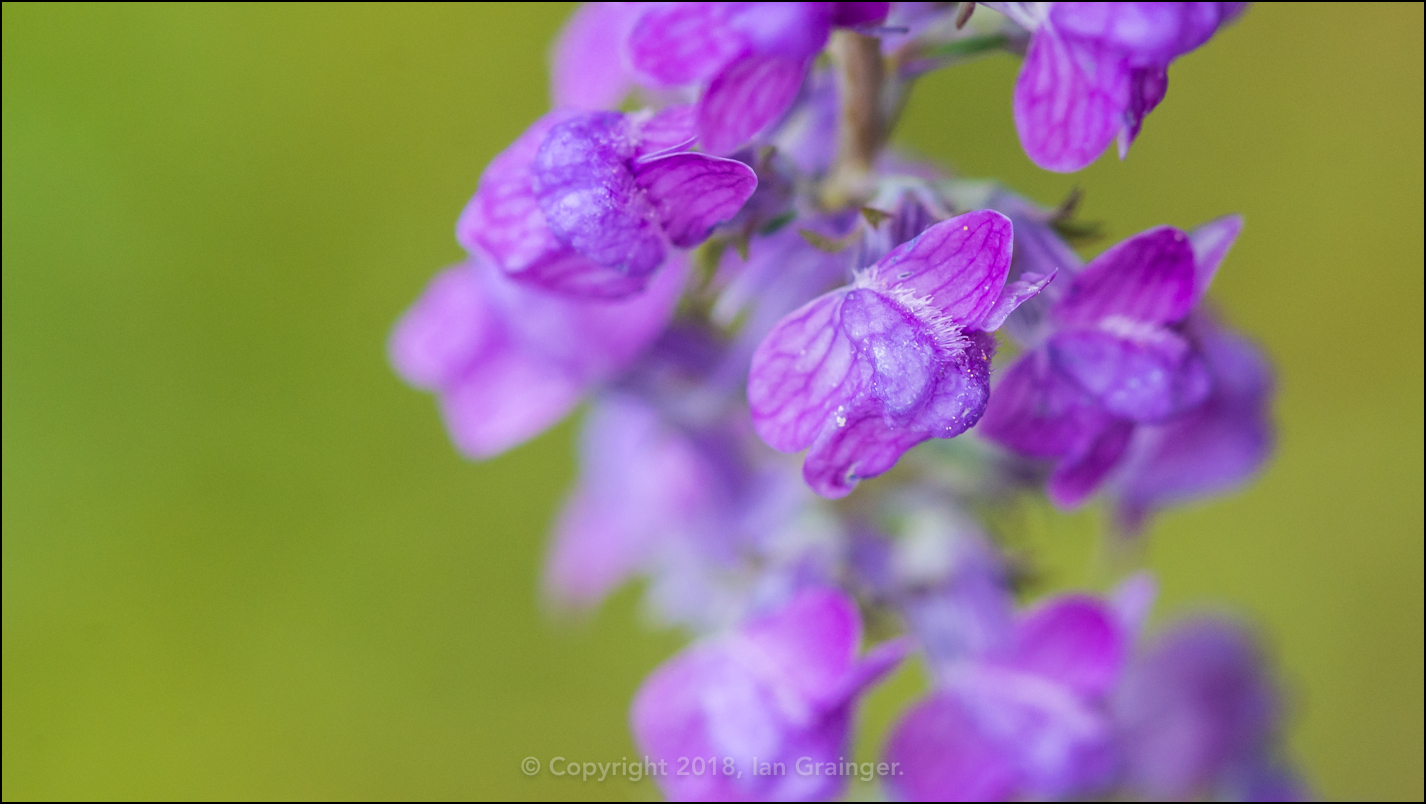 Purple Toadflax - June 2018
I always like to feature a weed or two in my weekly blog if possible, and this week I've got a couple. This is Purple Toadflax (Linaria purpurea), which the insects seem to love, and I think looks quite elegant.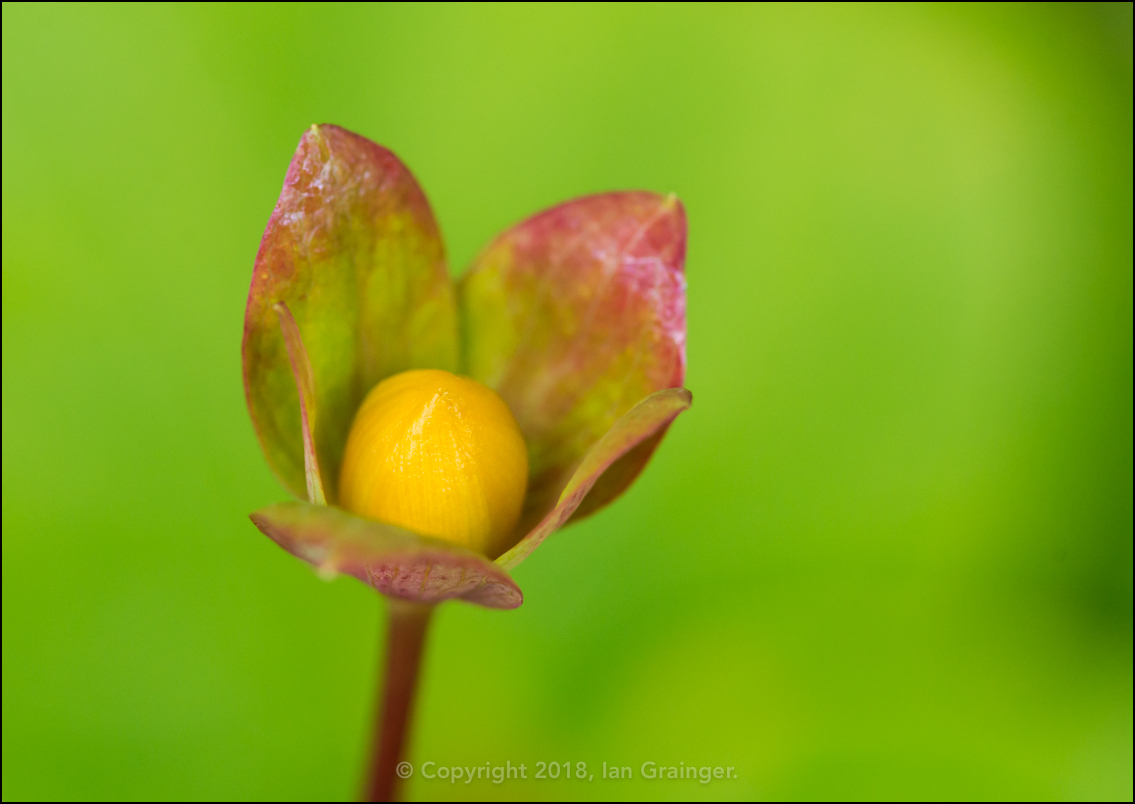 Tutsan Bud - June 2018
While this is a Tutsan (Hypericum androsaemum) bush flower bud. This can get out of hand if not kept in check, but has lovely yellow flowers which the insects also enjoy.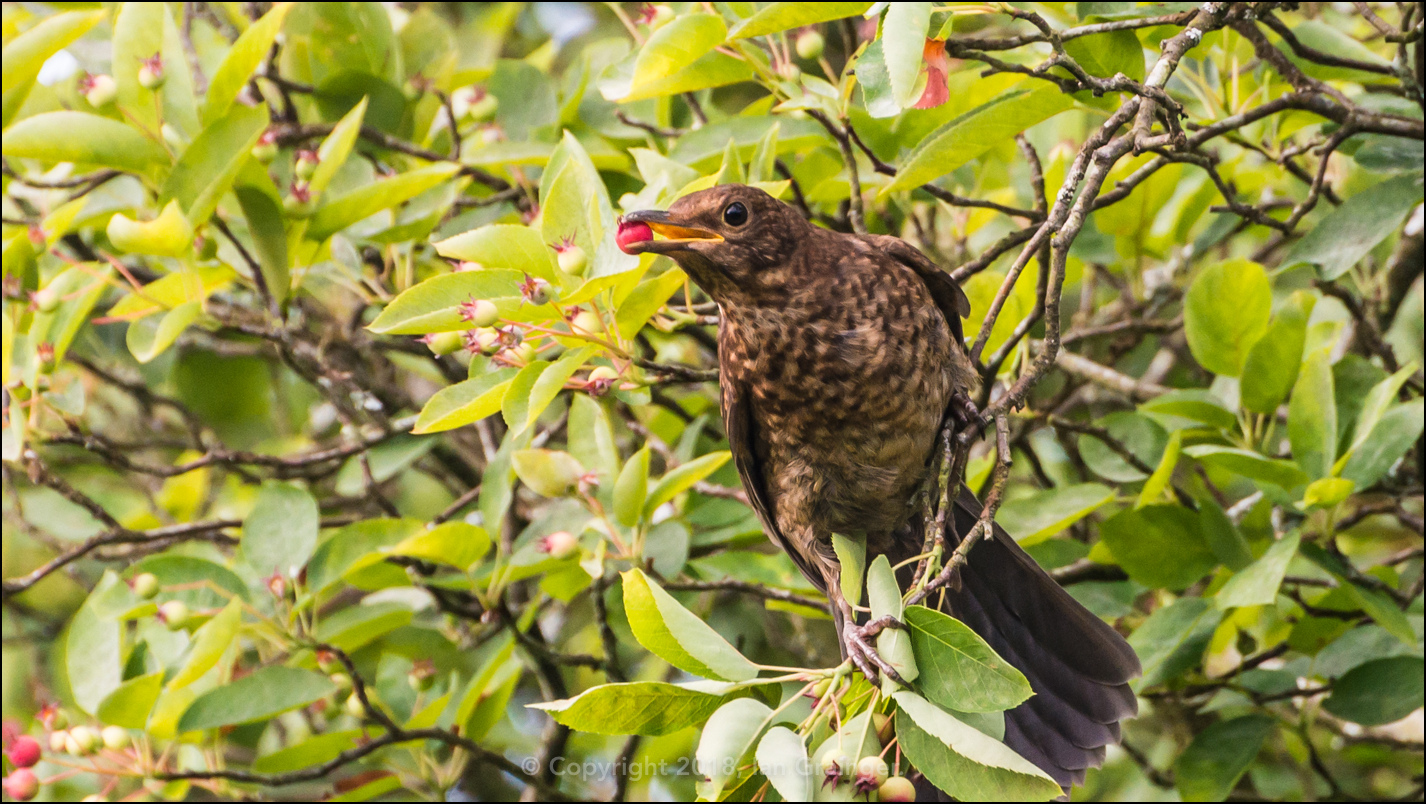 Feeding Blackbird - June 2018
Now, while there was a distinct lack of wildlife in the garden for my weekend photo shoot, I did spot this cheeky Blackbird (Turdus merula) raiding the Amelanchier tree for berries!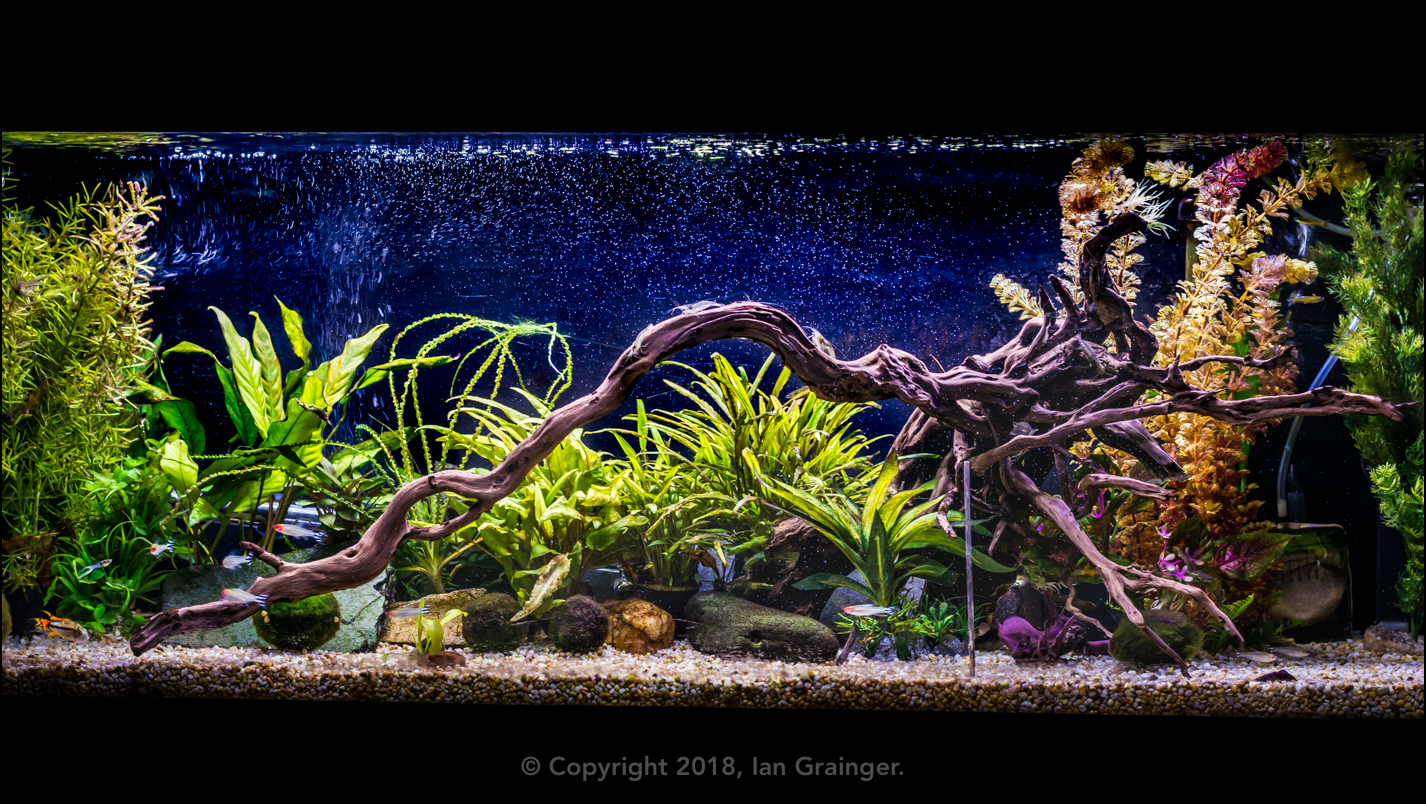 4ft 55g Aquarium - June 2018
Finally, my fishy friends. This week I thought I'd share a picture of my largest aquarium, which is 48 inches x 15 inches and contains about 55 US Gallons of water. This was taken just after a water change, and I really should have left the pumps switched off while I took the photo to reduce the number of bubbles! Regardless of the bubbles, I thought it was looking quite good!
So, this week I went for African Daisy as my Image of the Week, mostly because I love how the blue centre of the flower seems to shine in the sunlight...