Smile Please - May 2018
The weather for my photo shoot this weekend could be described as varied at best. I didn't hold out much hope for capturing any of my bug buddies as the early morning thunder promised to bring some imminent downpours.
However, it remained warm, and the occasional glimpse of sunshine meant that the insect populous may come out of hiding at any time.
So, I spent the morning dodging showers in dad's garden, and managed to track down a few friends in the sunnier moments. This Large Red Damselfly (Pyrrhosoma nymphula) was actually my first catch of the day.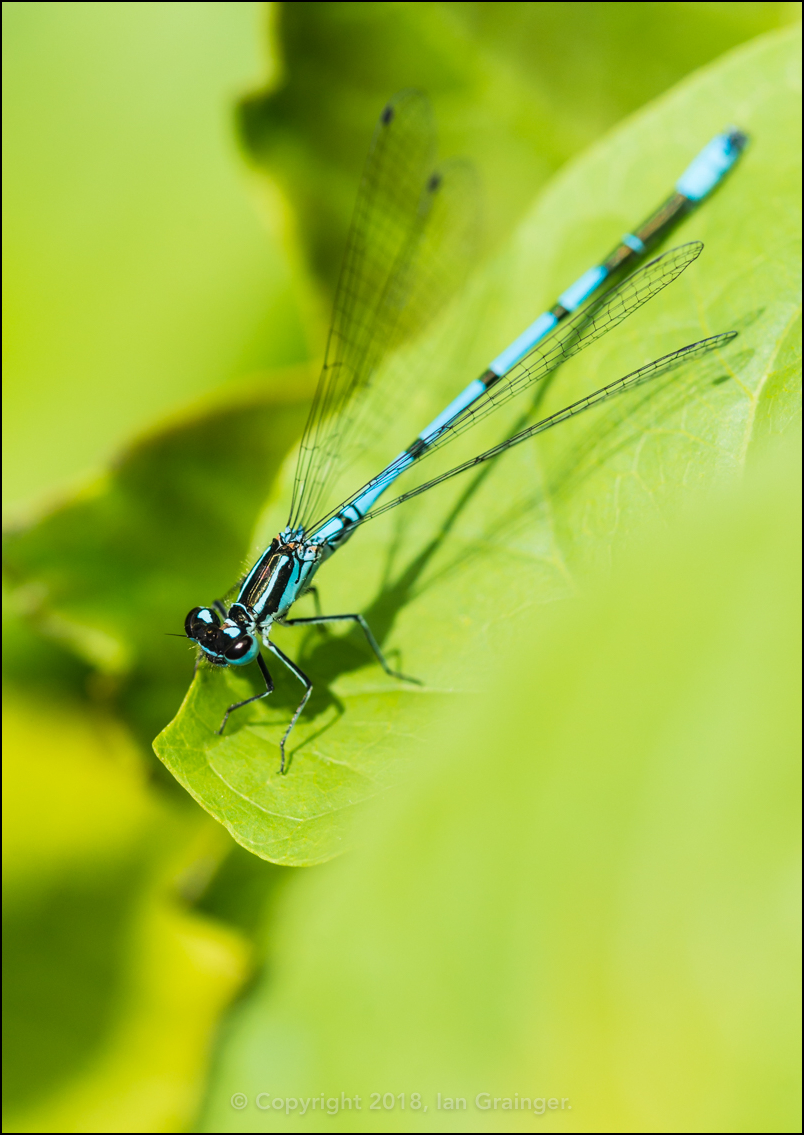 Blue Azure Damselfly - May 2018
The Large Red was quickly followed by this Azure Damselfly (Coenagrion puella), which was sitting in the same bush only a couple of feet away.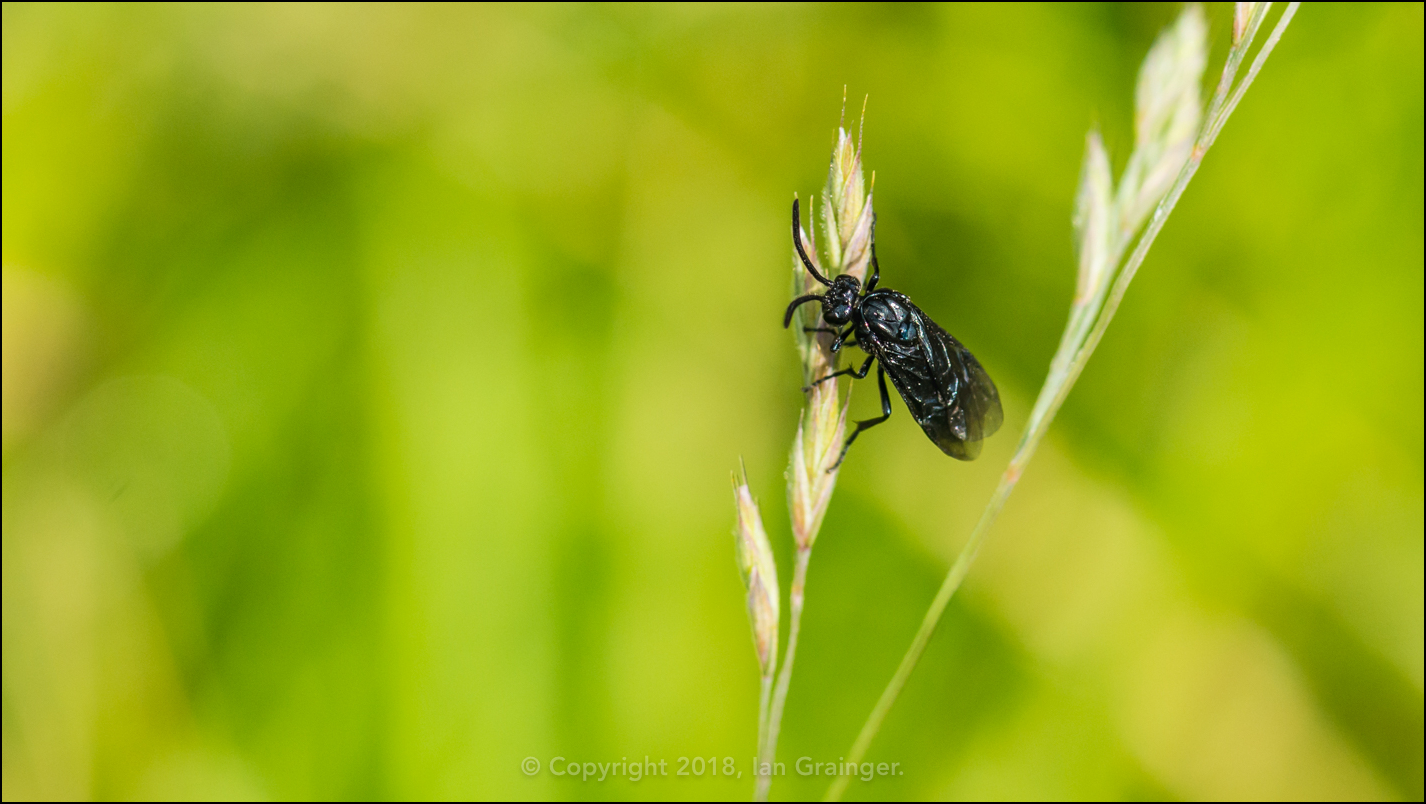 Berberis Sawfly - May 2018
I had to wait a while for my next find, as rain interrupted play. Then I came across this Berberis Sawfly (Arge berberidis) hanging out on a stalk of grass, right next to the Barberry bush I photographed last week.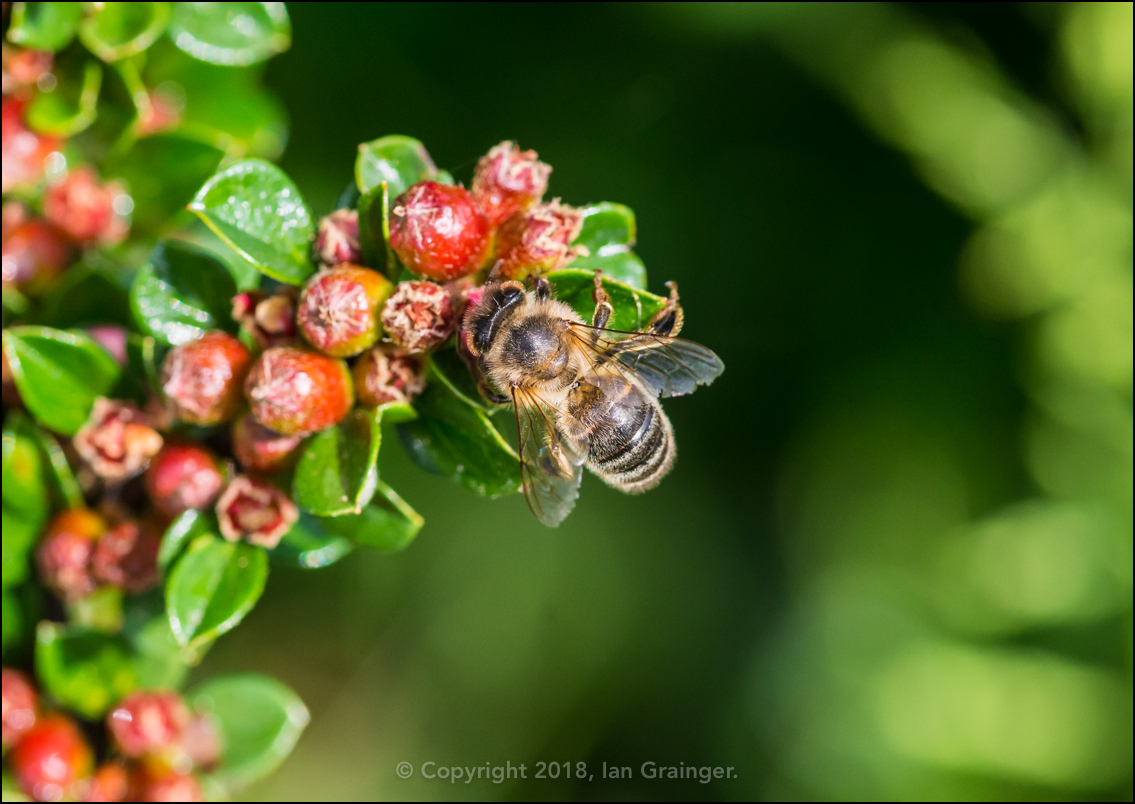 Honey Bee Harmony - May 2018
Funnily enough, as predicted last week, the Cotoneaster bush was playing host to quite a number of Honey Bees (Apis mellifera), which were relishing the tiny pink blossom.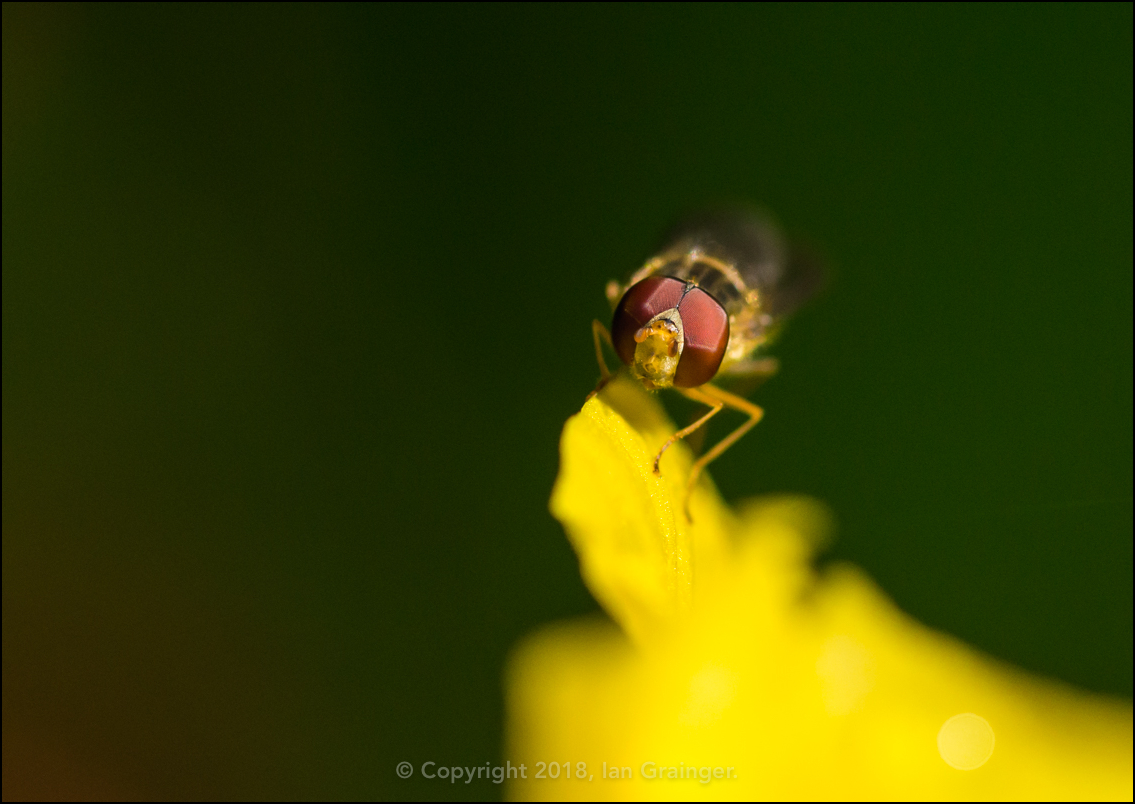 Hoverfly Stare - May 2018
After another trip indoors to avoid rain, when I returned to the garden, there were even a few Hoverflies (Syrphidae) to be found. This one was collecting pollen from a Flag Iris (Iris pseudacorus) - see later on in the article for a better image of the flower itself.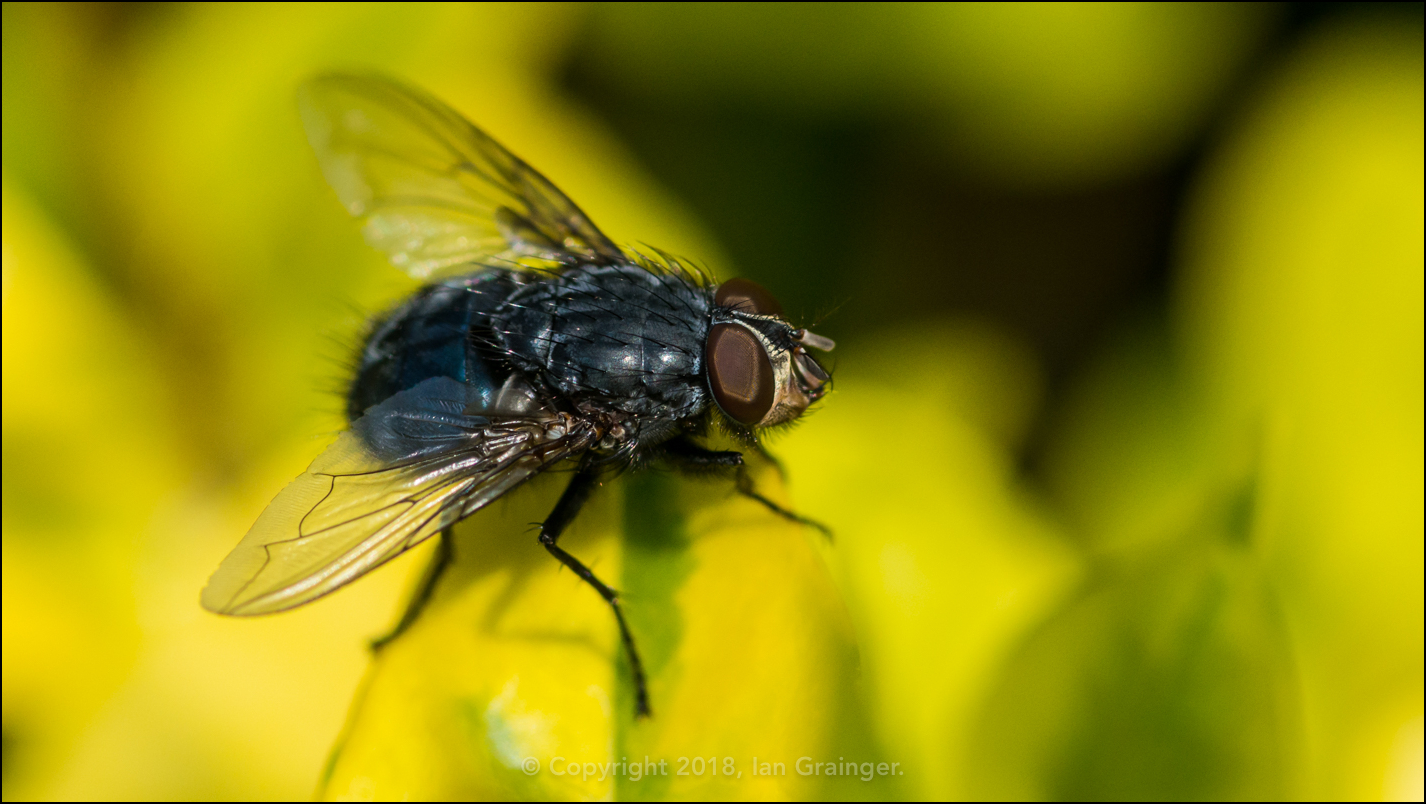 Big Blue - May 2018
By the time the rain had stopped for good, there were quite a few flies, like this Bluebottle (Calliphora vomitoria), sunning themselves in the late morning sunshine.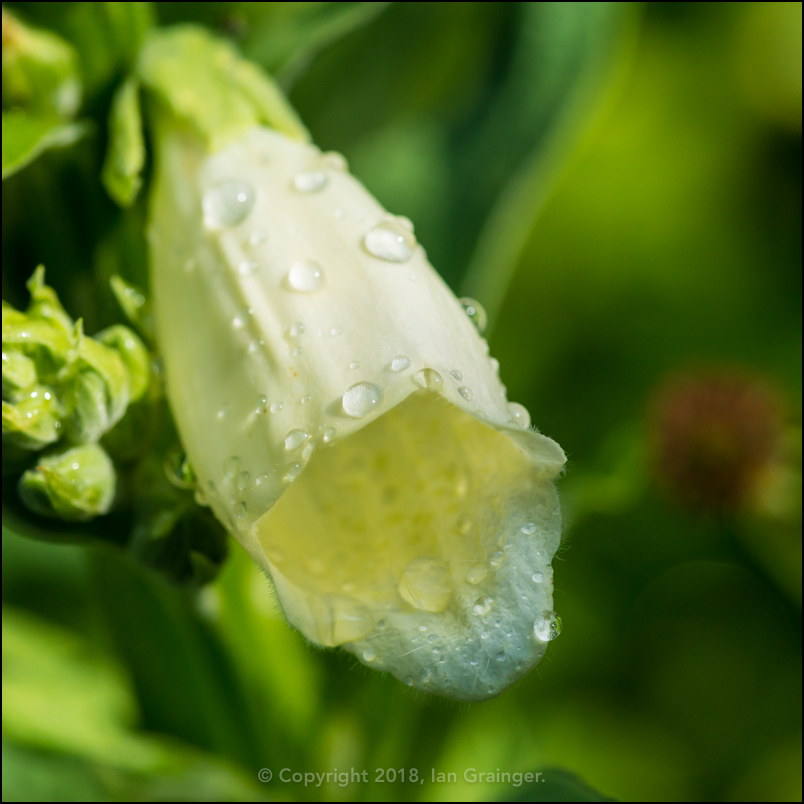 First Foxglove - May 2018
New flowers to the garden this week were this rather damp looking Foxglove (Digitalis)...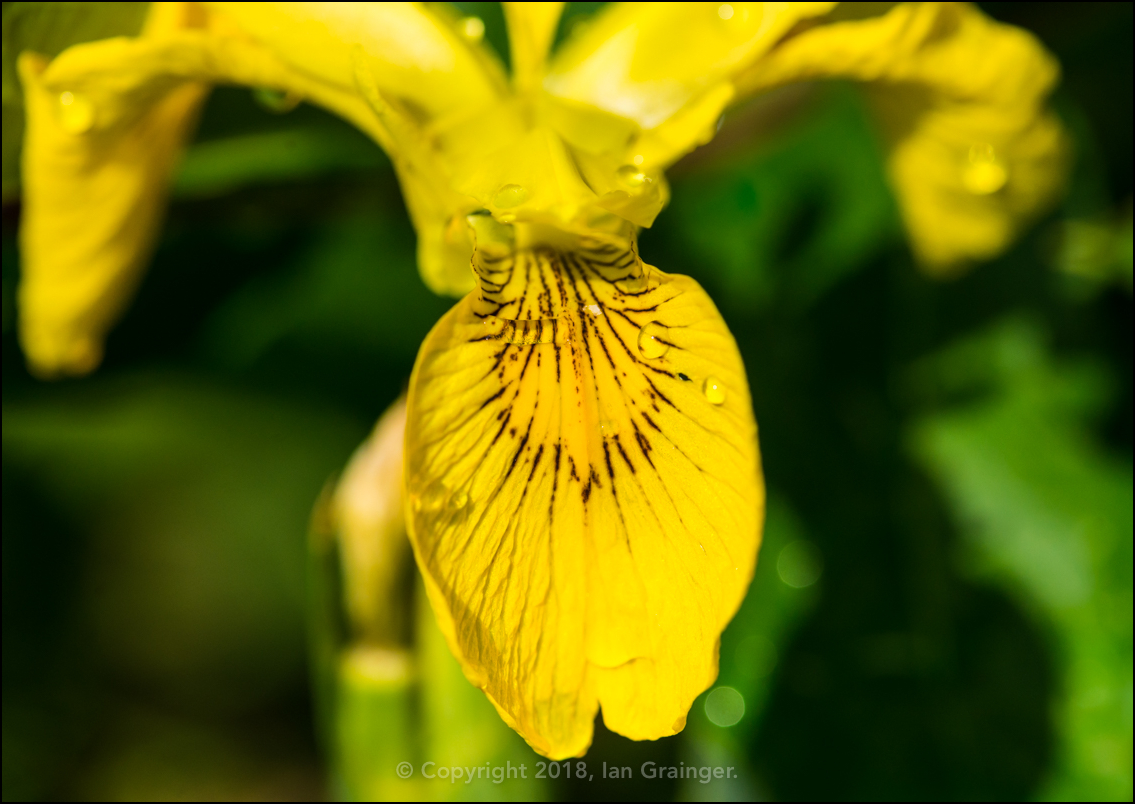 Yellow Flag - May 2018
...as well as the aforementioned yellow Flag Iris (Iris pseudacorus).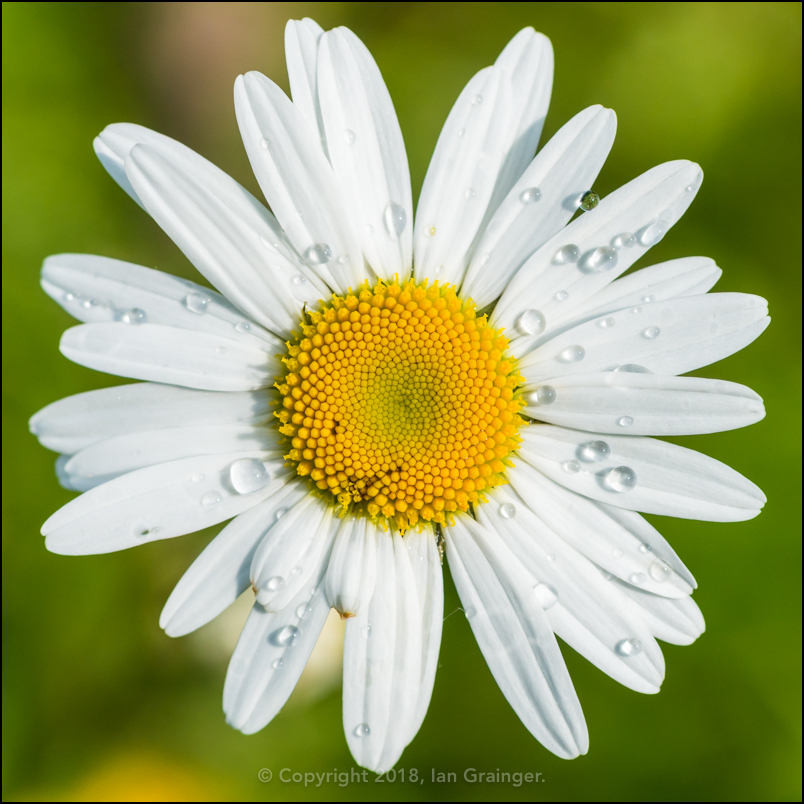 First Oxeye - May 2018
A real garden favourite with both myself and the insect hoards were the Oxeye Daisies (Leucanthemum vulgare), which were popping up just about everywhere.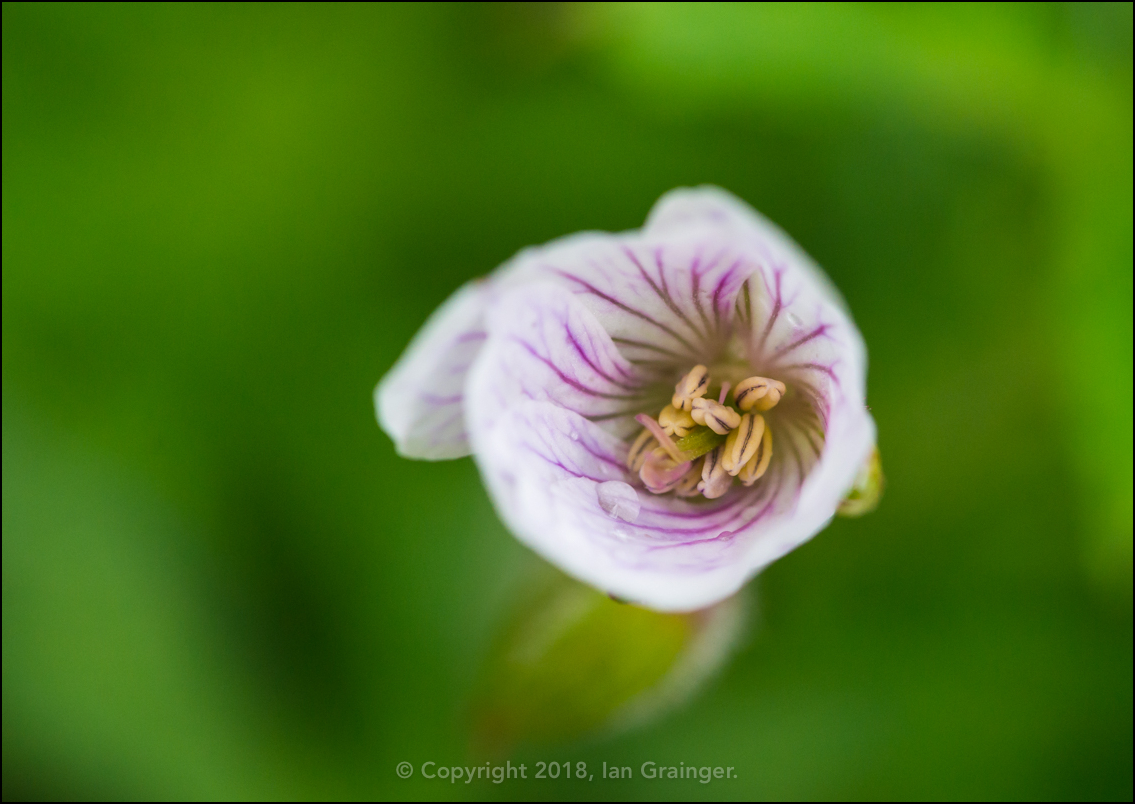 Hardy Geranium - May 2018
It wouldn't be long before the next batch of hardy Geranium blooms would be here. I really liked how the petals of this one were swirling around, keeping the contents of the inner flower safe.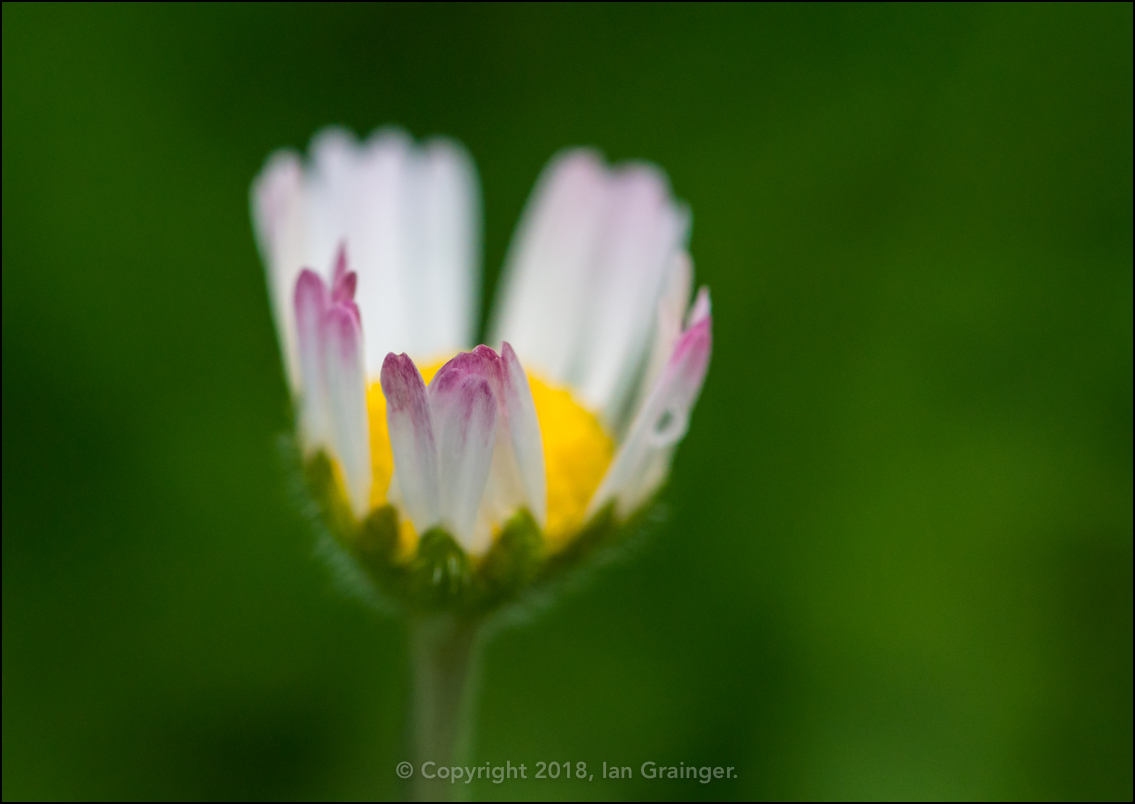 Pink Tipped - May 2018
The Lawn Daisies (Bellis perennis) were looking particularly pretty in the lawn, and doing a good job of feeding hungry critters.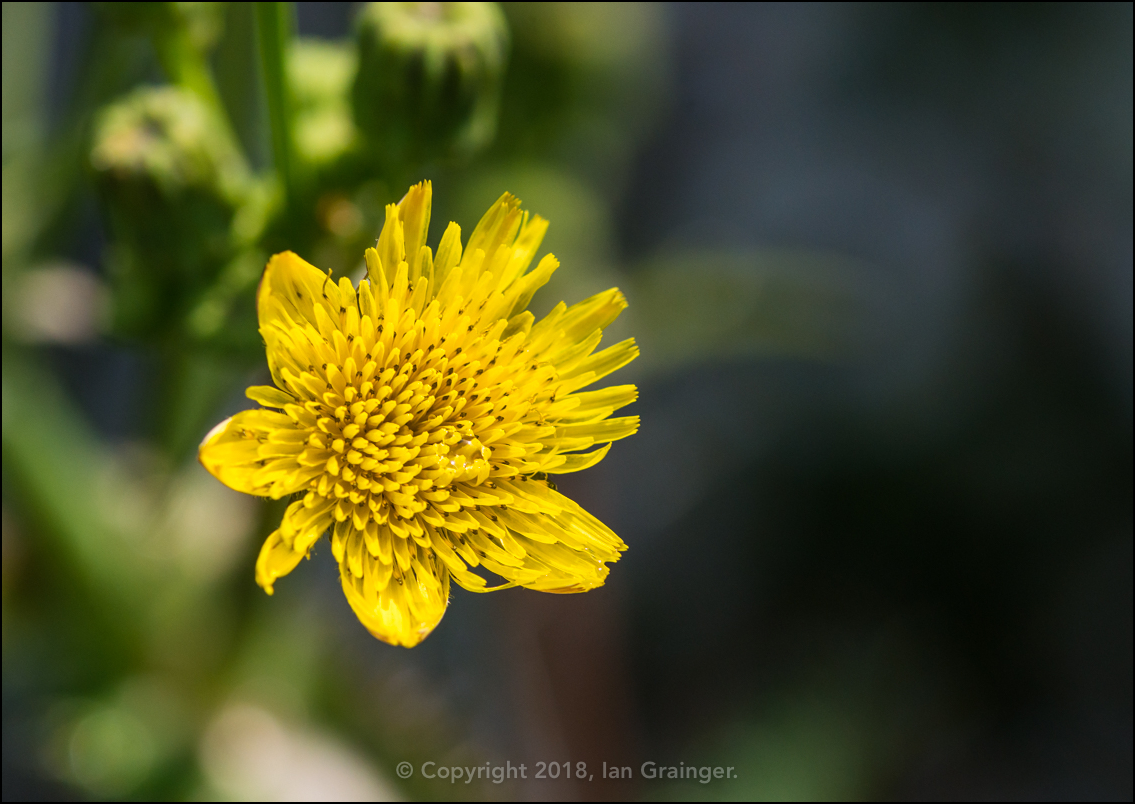 Prickly Sow Thistle - May 2018
While the Prickly Sow Thistle (Sonchus asper) plants may look unsightly, they too were helping to sustain the insect population.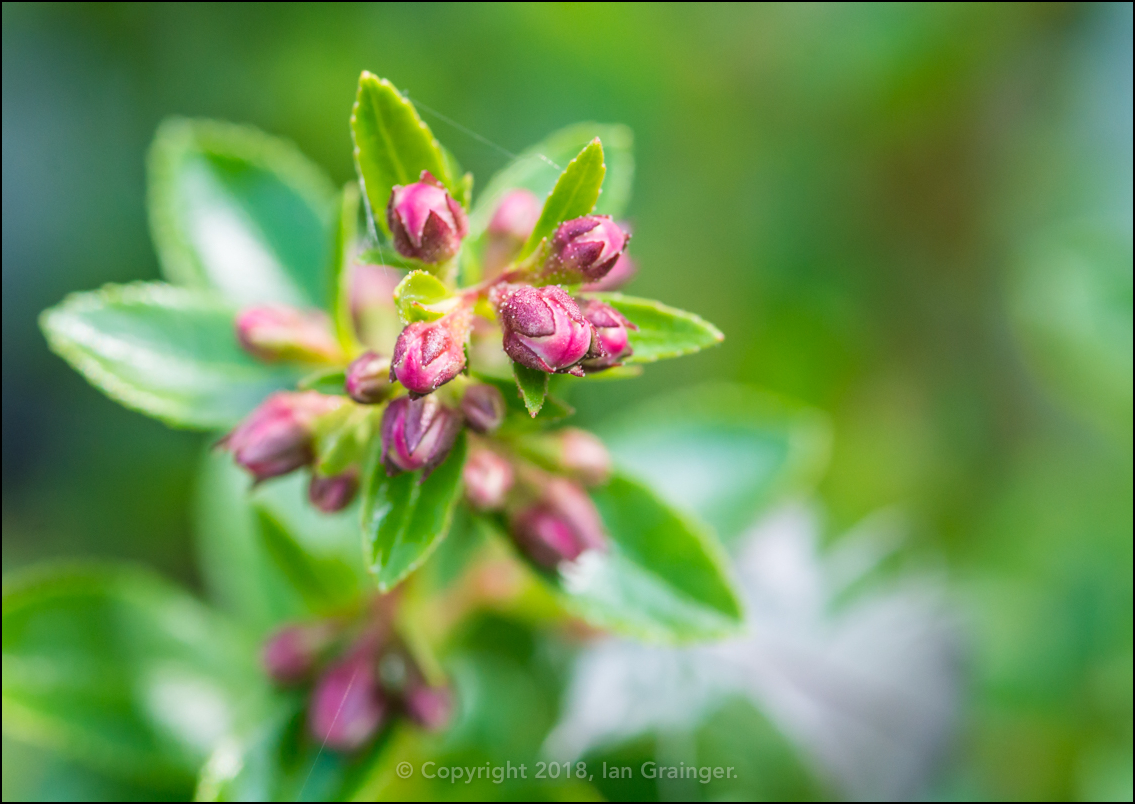 Budding Escallonia - May 2018
It wouldn't be long before the Escallonia bush was bursting into bloom, and would be another haven for the Bees and Hoverflies.
Verbena Buds - May 2018
I was very pleased to see the return of the Verbena (Verbena bonariensis) 'Buenos Aires' plants, which had grown in number, so must have self seeded themselves.
Evening Primrose Formation - May 2018
Another self-seeder was the Evening Primrose (Oenothera biennis), with many plants appearing in unusual locations - like this one, which was growing up through a bench on the patio.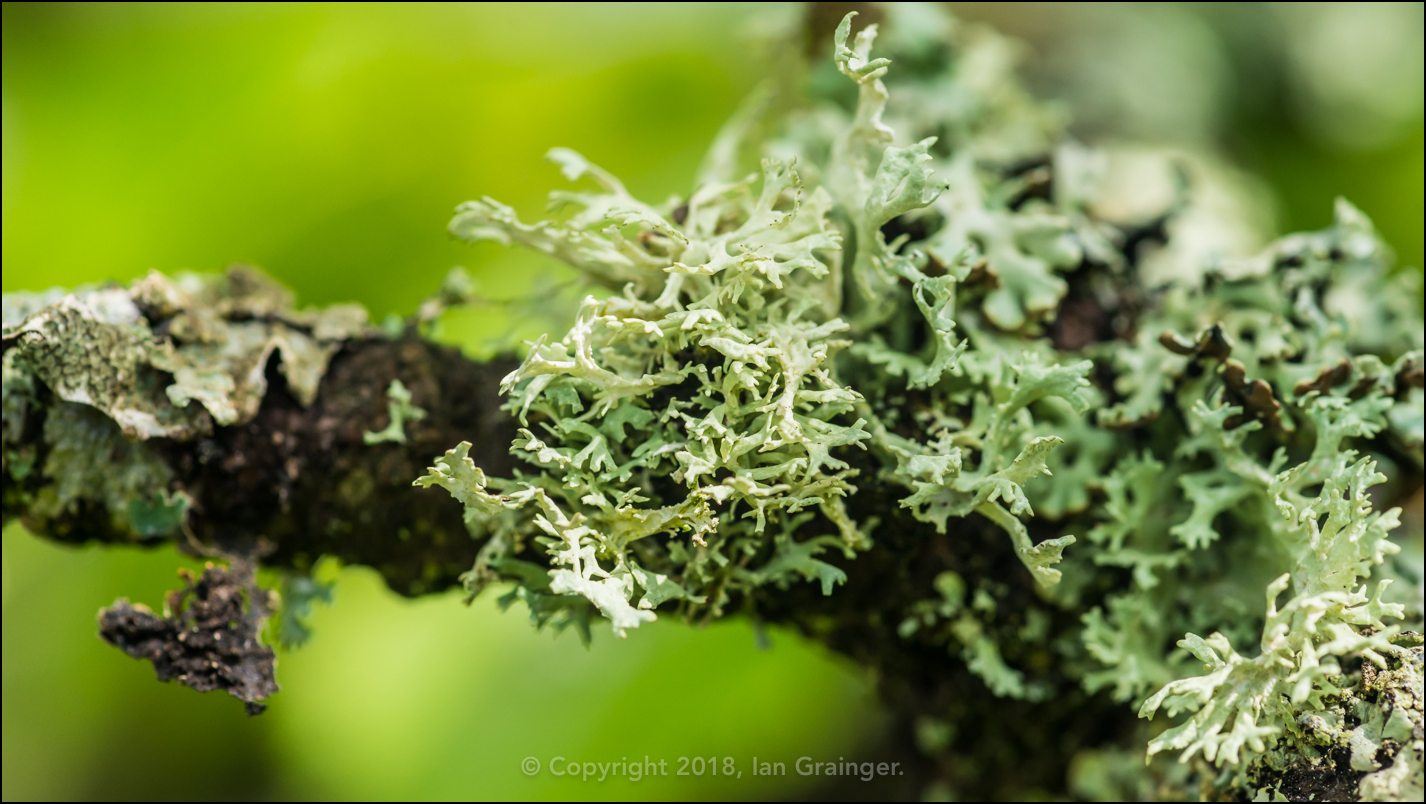 Lots of Lichen - May 2018
I hadn't noticed before, but it seemed that the Cherry Blossom Tree (Prunus) had been covered in quite a lot of Lichen. However, there's nothing to worry about, as it's completely harmless to the tree, as I've discussed before here if you're interested.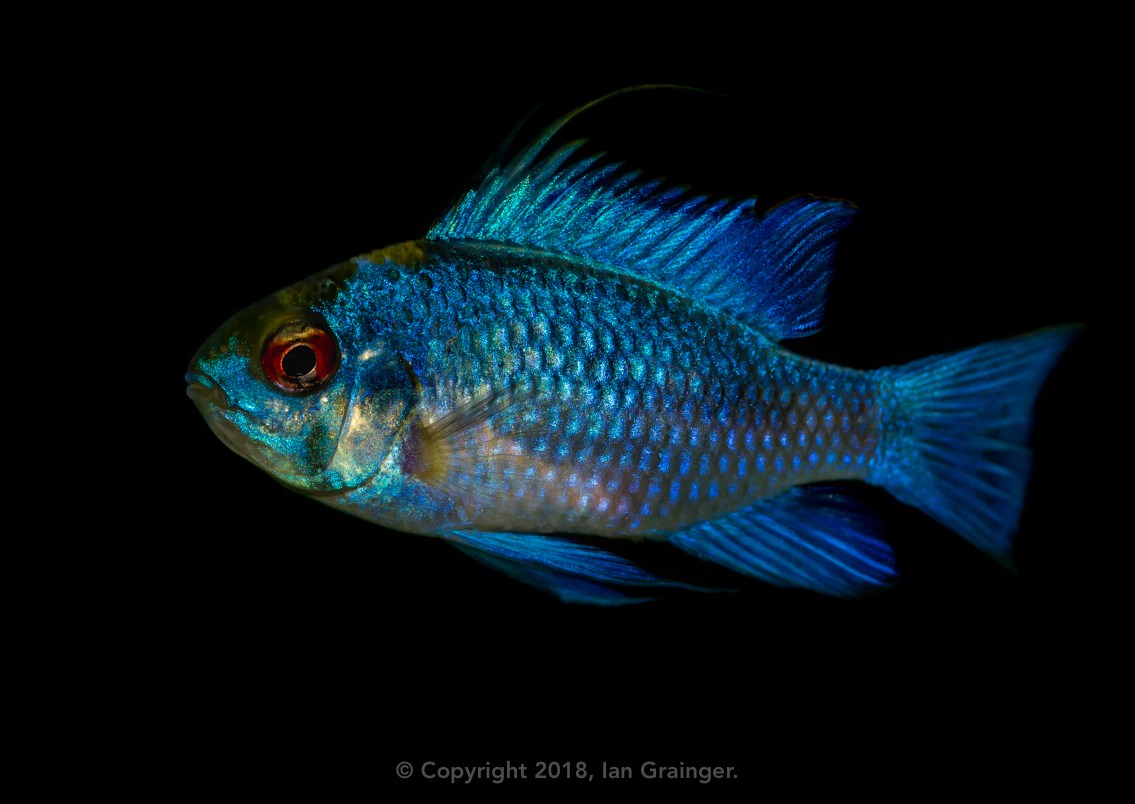 Electric Eric - May 2018
Finally, my fishy friends. It's been a while since I shared a shot of Eric, my Electric Blue Ram (Mikrogeophagus ramirezi). He's still King of the tank, and from this pose, you can see why - the handsome devil!
So, this week I went with Smile Please as my Image of the Week, simply because I thought it was the best insect photograph I captured...