Outgoing Camellia - March 2018
After a week of sub-zero temperatures, snow, frost, ice, hail, rain, wind and general transport chaos, it was more like a normal Spring day for my photo shoot this weekend.
However, there had been casualties of the weather. The chief of which was this Camellia bush in dad's garden. Regular readers may remember I posted last week about how spectacular it looked, with many of the flower buds opening last weekend. Well, they'd rather jumped the gun, so to speak.
This was only one of a handful of blooms that remained...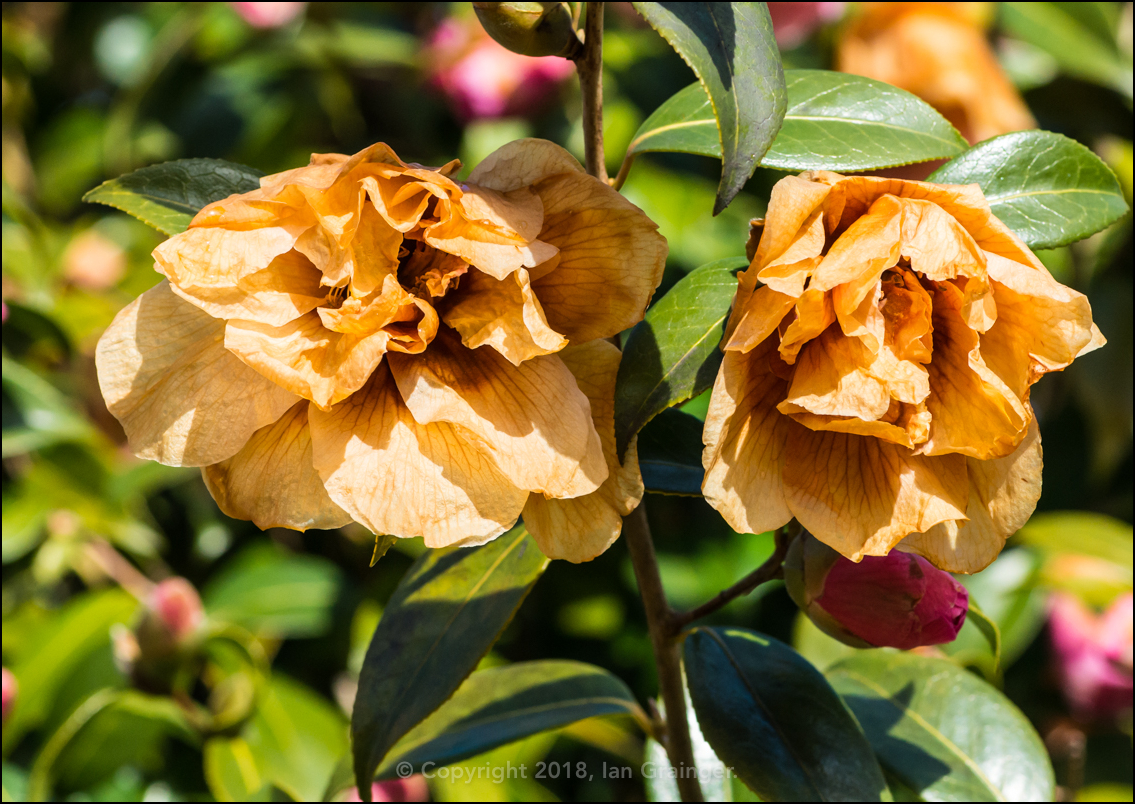 Frost Damaged Pair - March 2018
...with the majority of them looking like this, having been damaged by the atrocious conditions.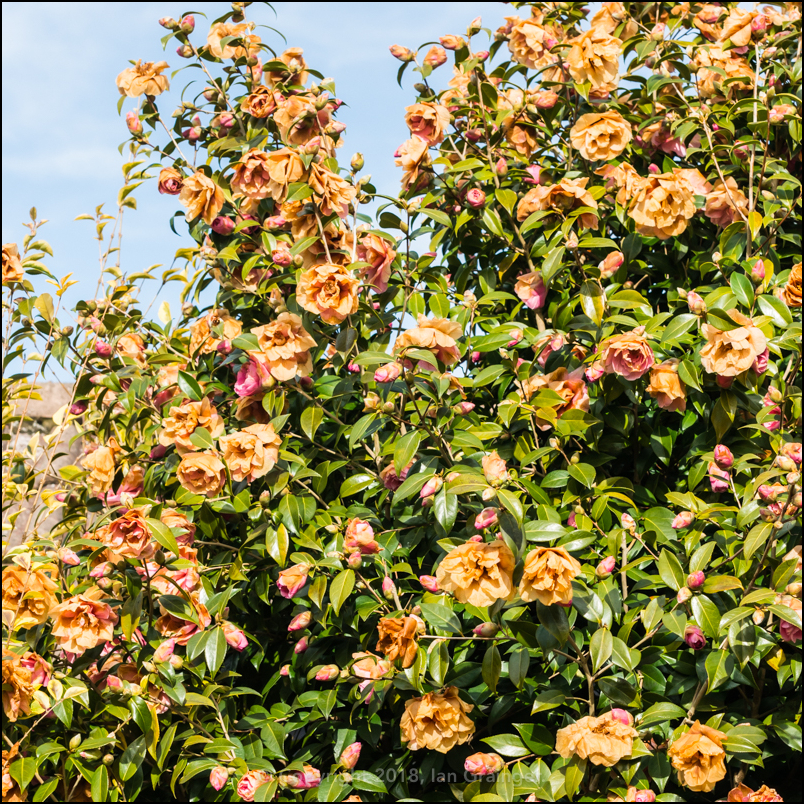 Frost Victim - March 2018
Here's a wider view of the bush to show the extent of the damage sustained. Such a shame as it was looking to put on a wonderful display for the next couple of months.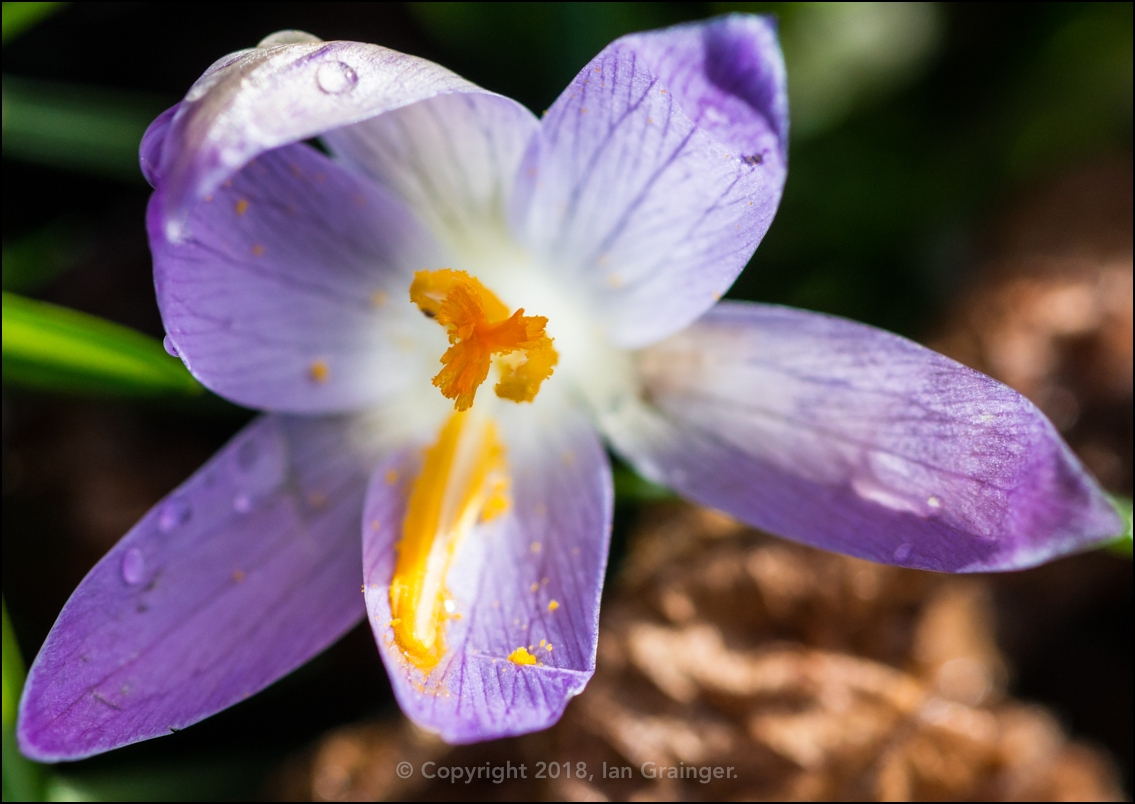 Springtime Stretch - March 2018
Most of the Crocus blooms were laying horizontal in the lawn, with the exception of a hardy few. This blue one was enjoying catching some sun...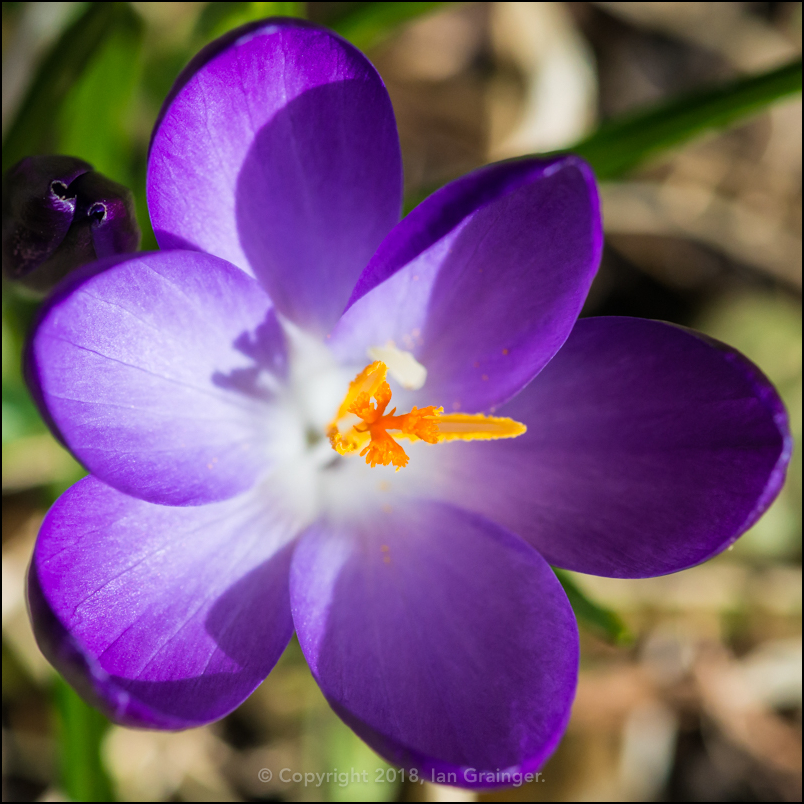 Purple Glow - March 2018
...as was this purple one...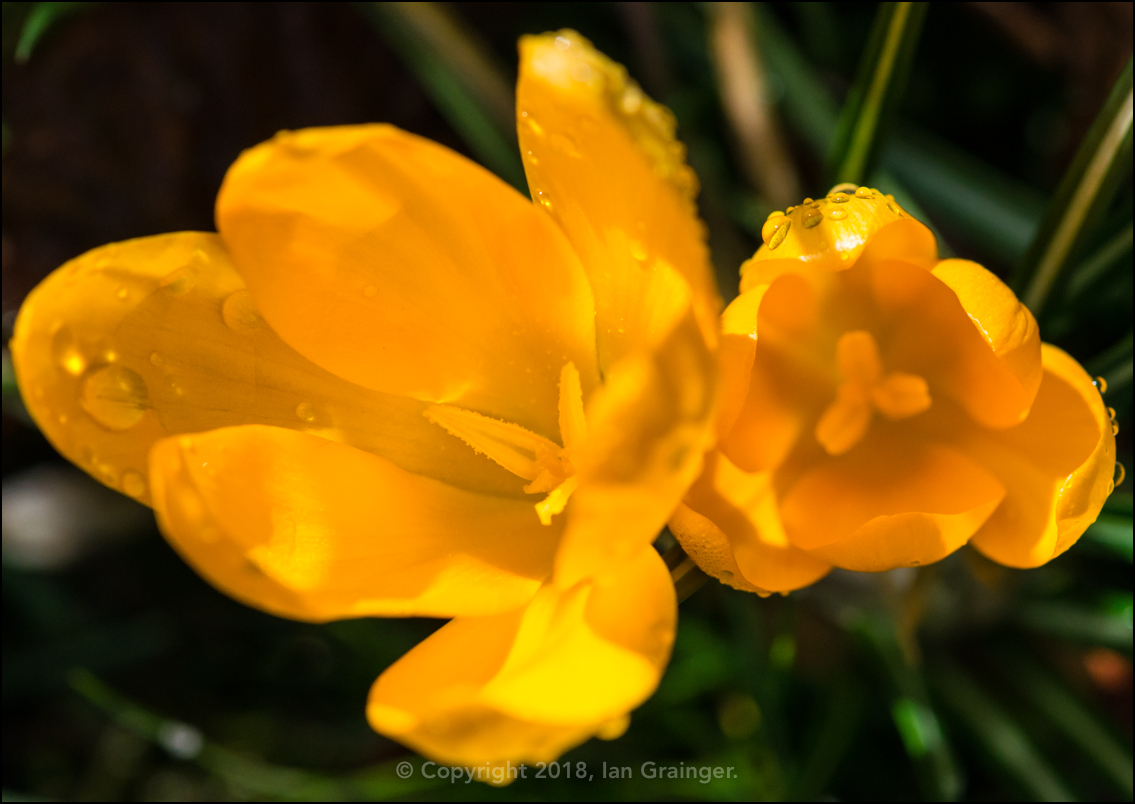 Orange Twosome - March 2018
...and this pair of orange specimens.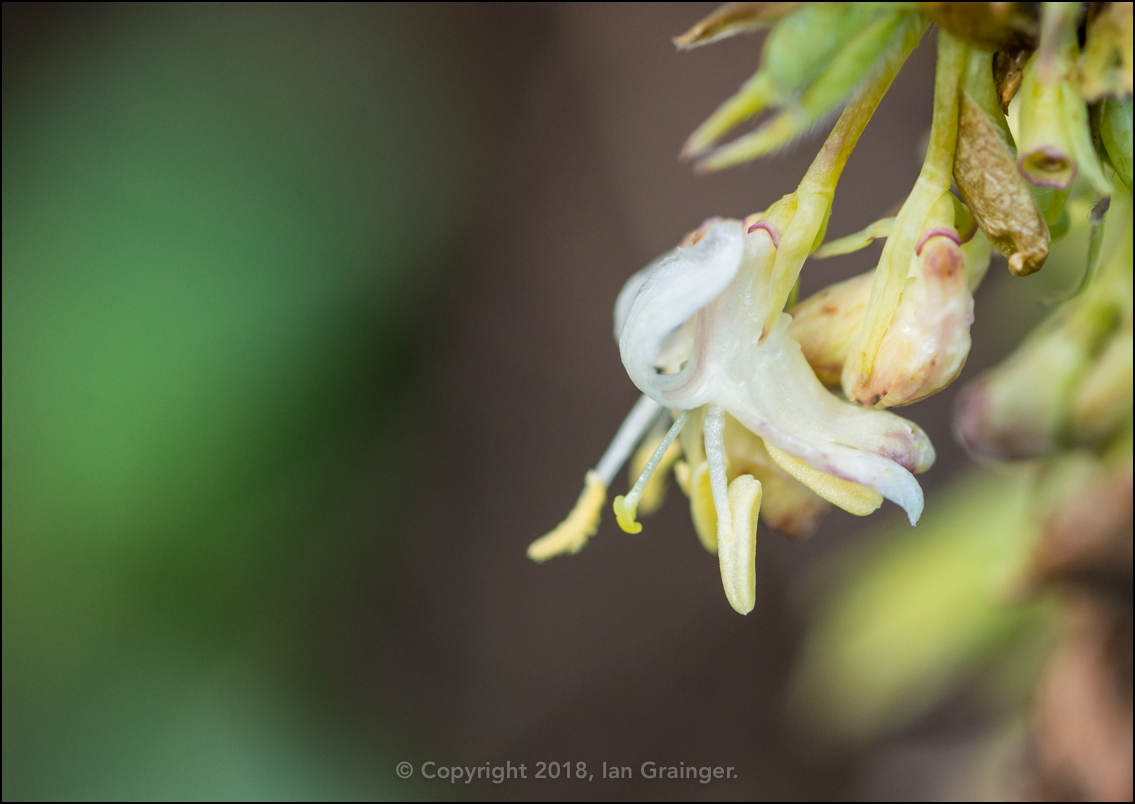 Resilient Honeysuckle - March 2018
I couldn't believe that the Winter Honeysuckle (Lonicera fragrantissima) bush still had flowers. I'd written this off a couple of times in these pages already this year, but here it was, still performing after some of the worst weather we'd had in a long time!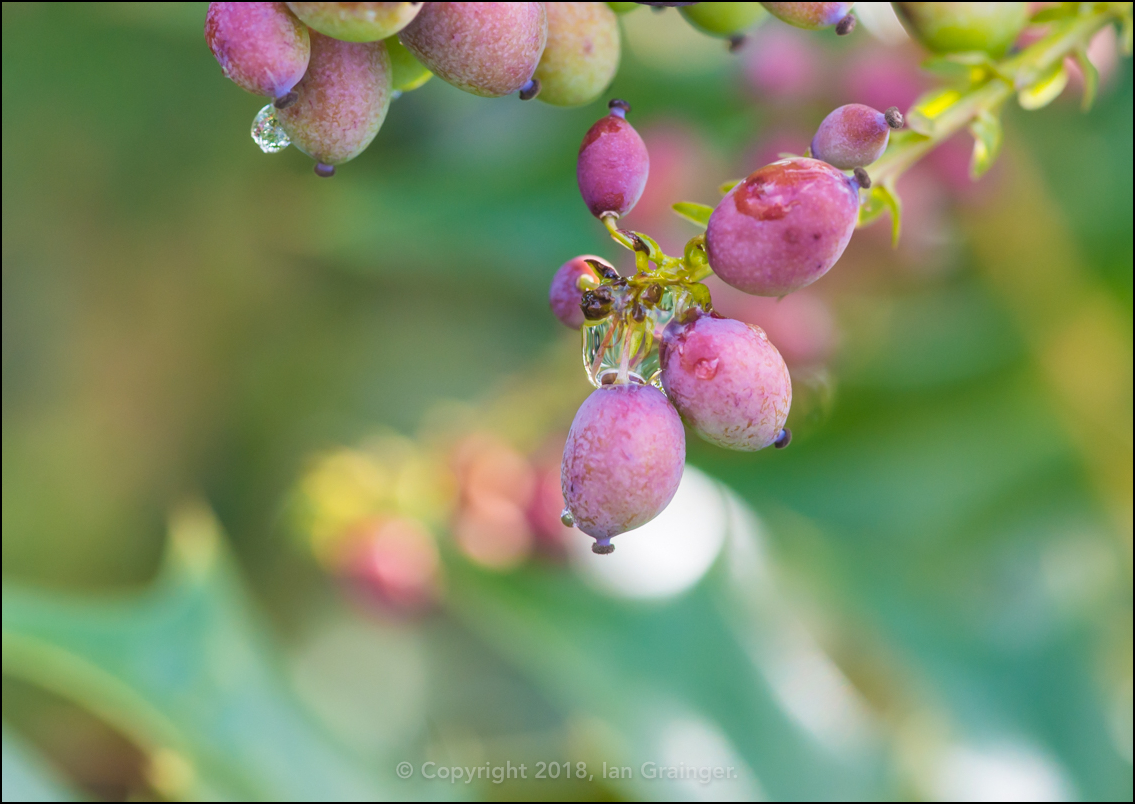 Berry Droplets - March 2018
The Mahonia (Mahonia japonica) berries also seemed unaffected by the adverse conditions, and were colouring up nicely.
Honey Spurge - March 2018
Rather than wreak havoc with their growing season, the cold snap seemed to have spurred other plants into action, like this Honey Spurge (Euphorbia mellifera) bush, which had lots and lots of new green leaf growth...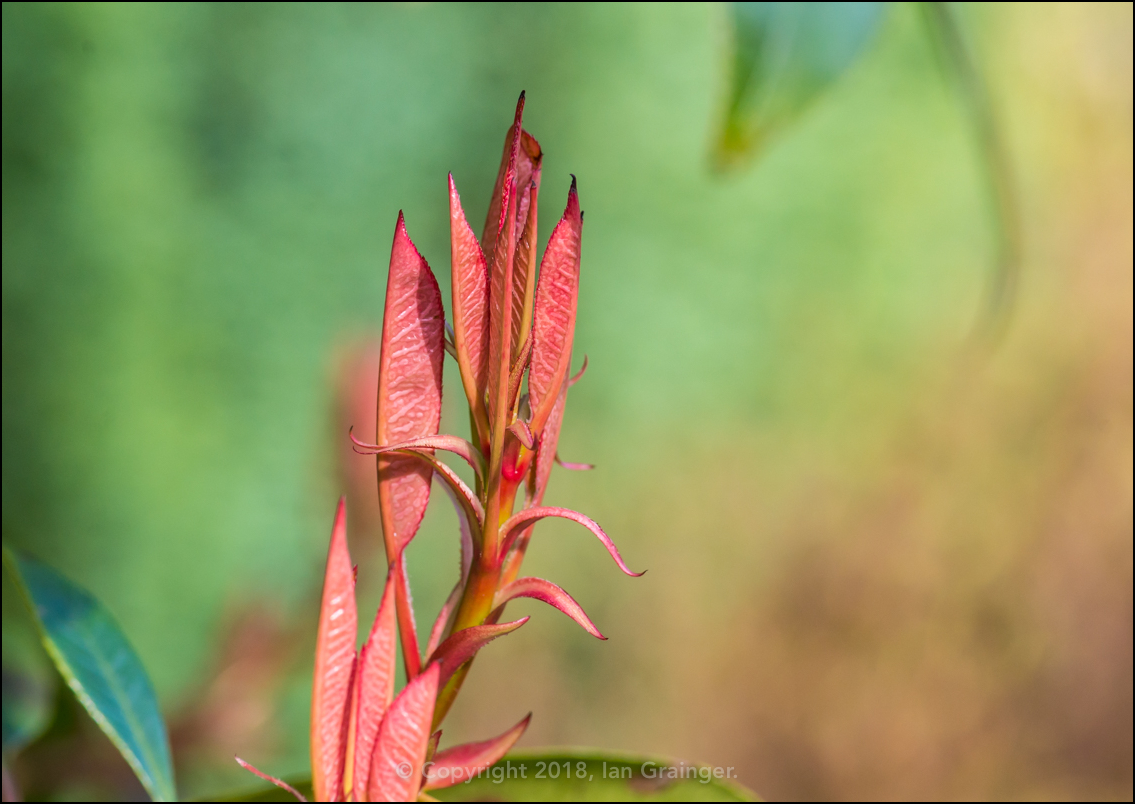 Red Robin Resurrection - March 2018
...and this Red Robin (Photinia fraseri) bush, which was forming many new red leaves.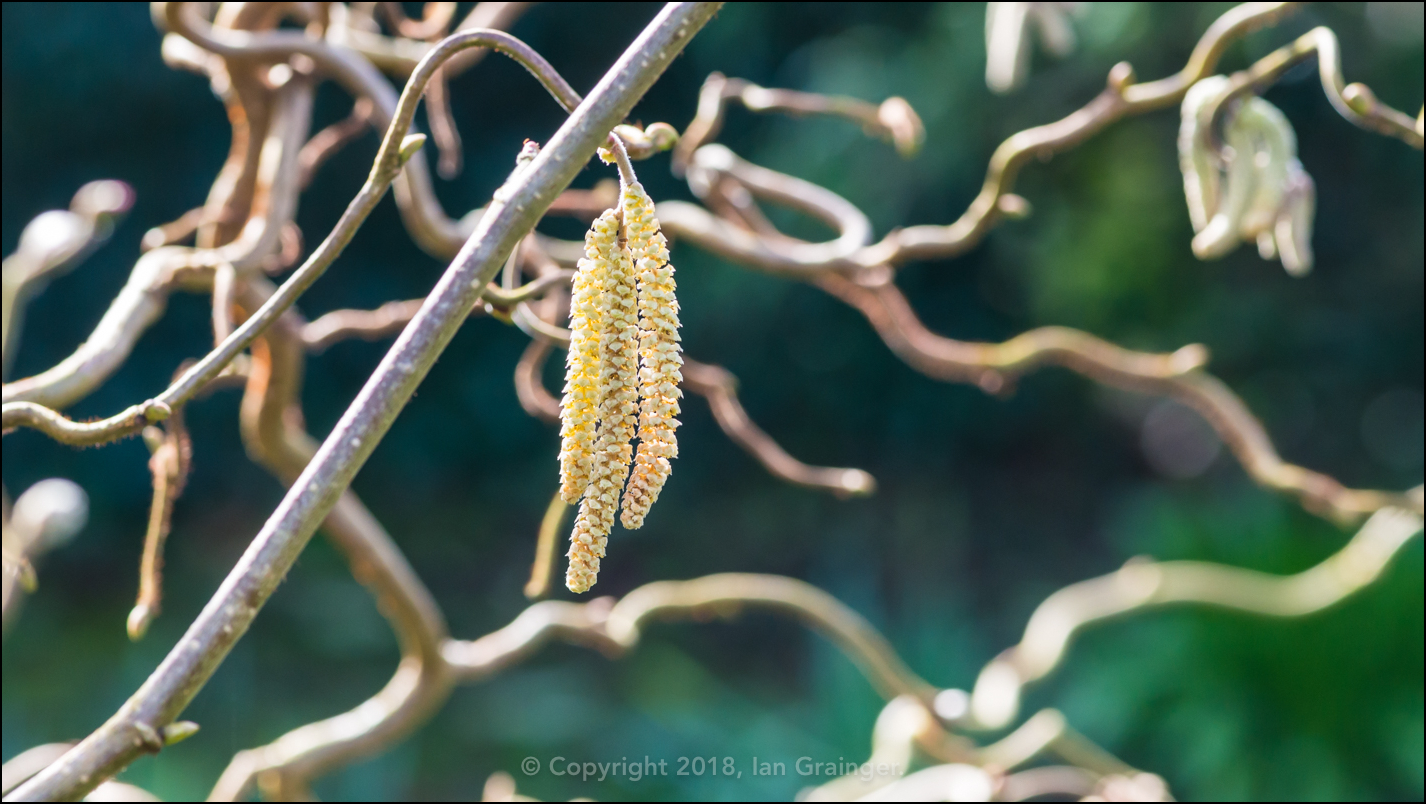 Twisted Hazel Catkins - March 2018
Meanwhile, the Twisted Hazel (Corylus avellana Contorta) tree catkins continued to open up to await pollination.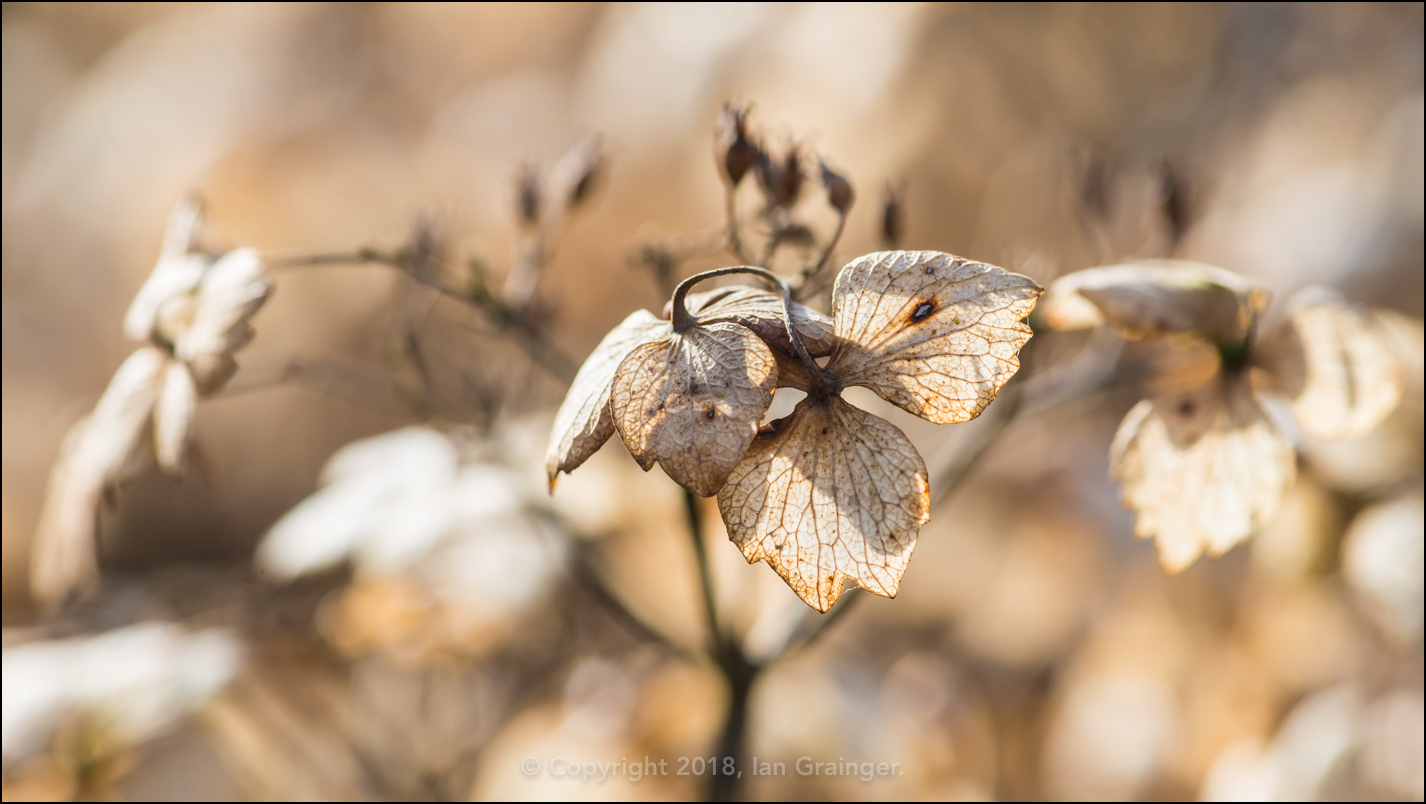 Autumn in Springtime - March 2018
Now, technically, I know that Springtime doesn't begin for another couple of weeks, and that it's still late Winter, but doesn't this photo put you in mind of Autumn?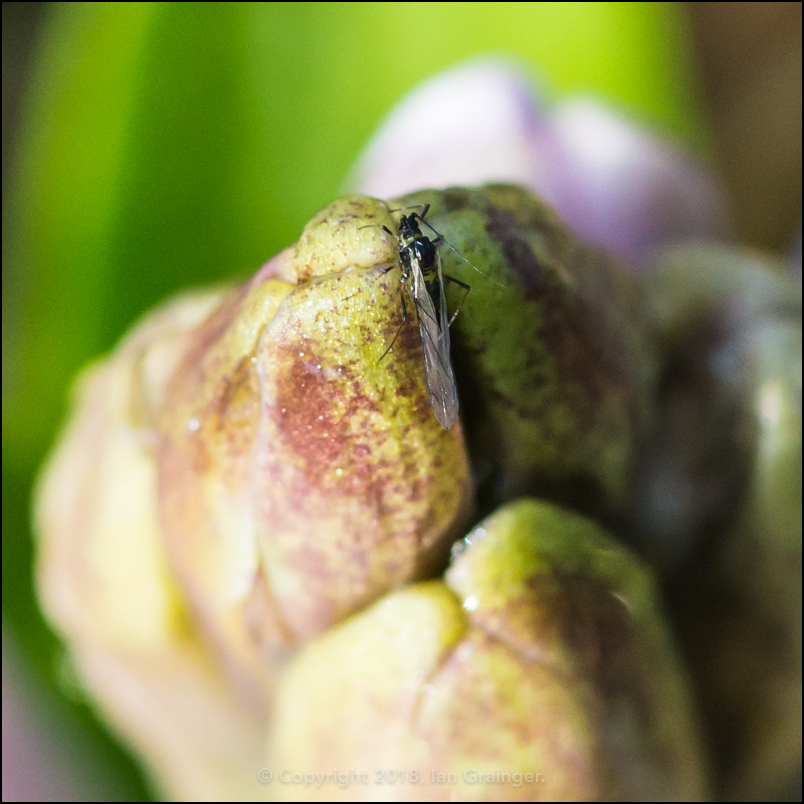 The Smallest Fly - March 2018
So while I was looking for something, anything, to photograph in dad's garden, I came across a Hyacinth (Hyacinthus orientalis) flower bud, with a tiny little visitor on top. I've no idea of the species of Fly, but he was certainly a very hardy creature.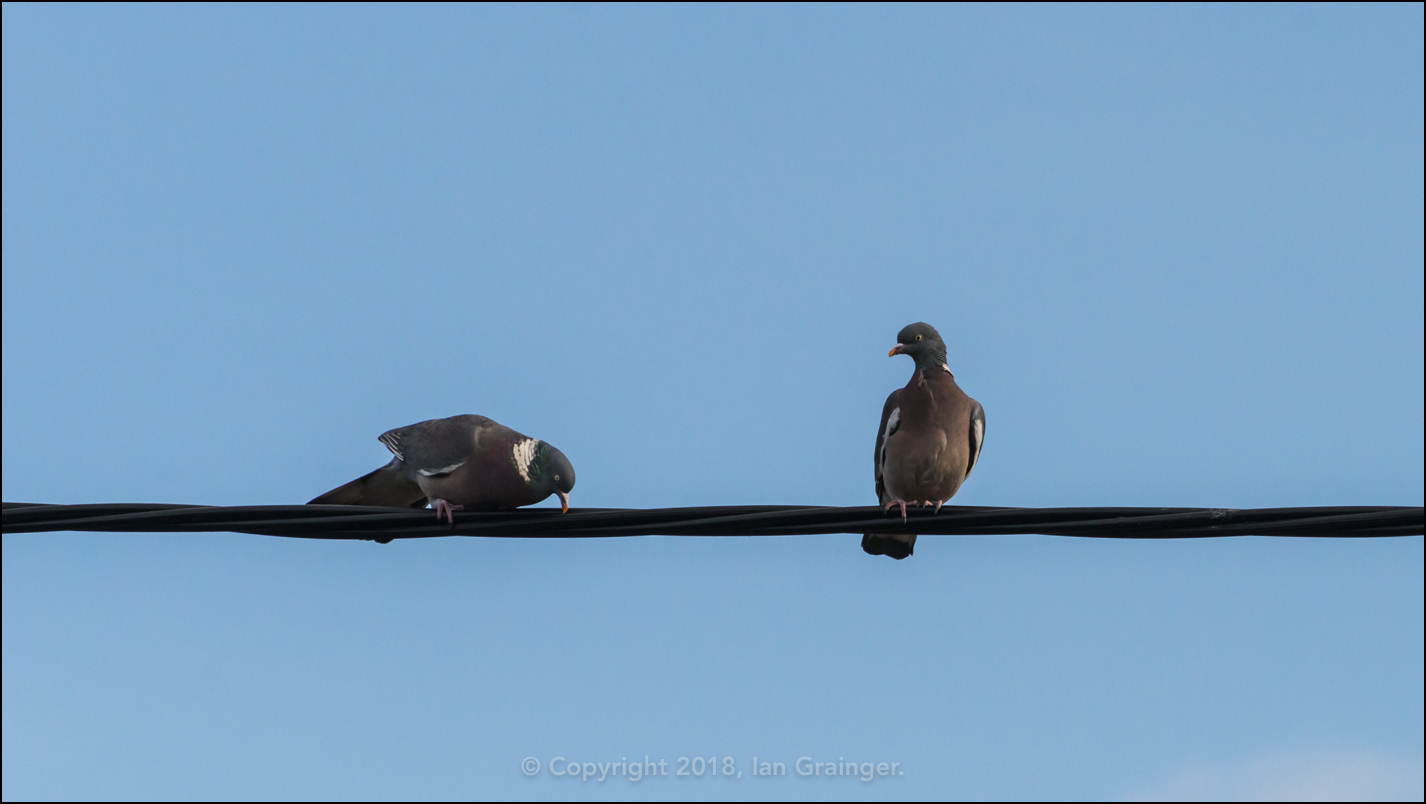 Courtship Bow - March 2018
Turning my lens towards my feathered friends, I was intrigued by these two Wood Pigeons (Columba palumbus). The male, I assume, on the left was performing some sort of high wire dance, bowing his head, and inching closer and closer to his prospective mate. The female was unimpressed though, and they both ended up flying off in different directions.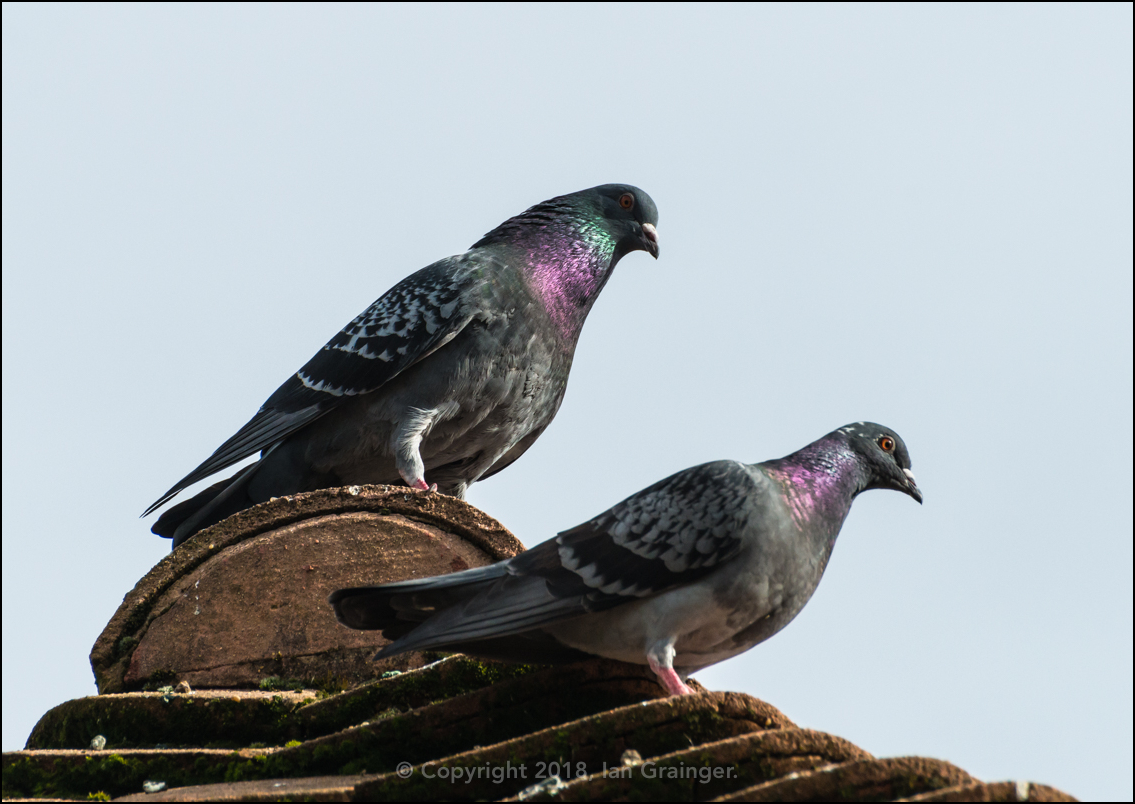 Courting Couple - March 2018
Maybe these Feral Pigeons (Columba livia) would make better partners? The big male at the top had a different dance to attract a partner. He spun around and around and around, bobbing up and down, and puffing out his neck feathers, constantly cooing as he spun. At least the female didn't fly off, so she must have been impressed!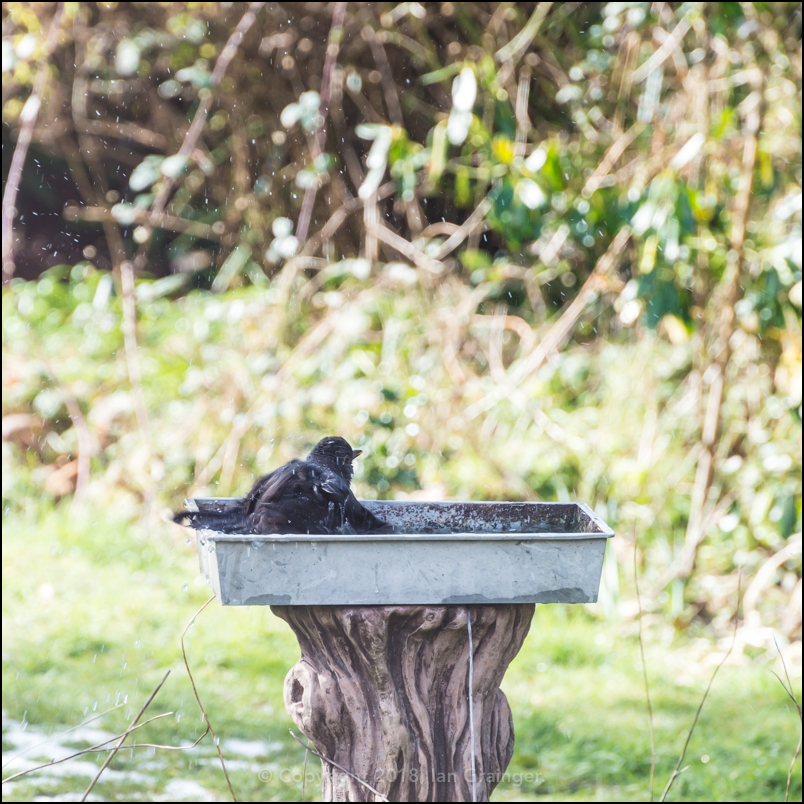 Bathtime - March 2018
While all this was going on, this little Blackbird (Turdus merula) was enjoying having a splash about in the makeshift bird bath. It had been frozen solid for the past week, so there was a queue of birds waiting to use the facilities!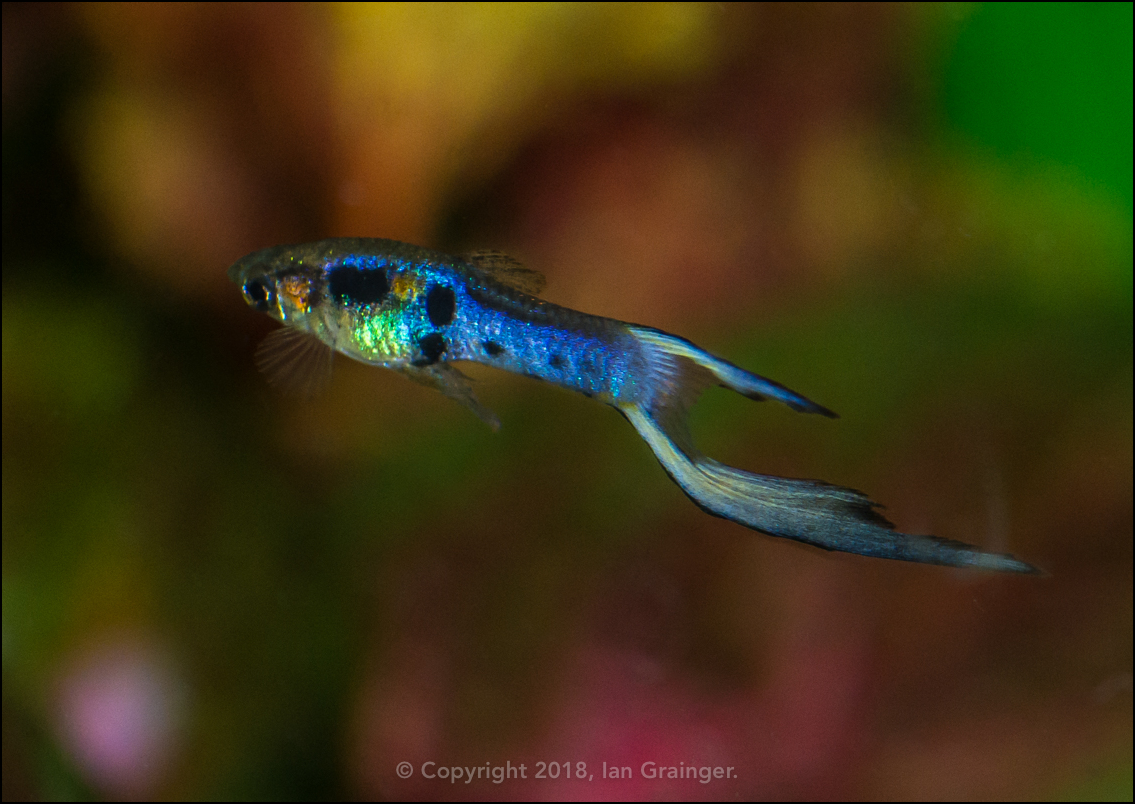 Colourful Endler - February 2018
Finally, back indoors to one of my tropical fish tanks. Last week I managed to grab another photo of Elvis, my pretty colourful Endler (Poecilia wingei) guppy. He's grown maybe 3-5mm since I last photographed him, but he's still so small he's no easier to get a decent photo of. I thought this shot showed his tail off quite well though.
So, this week I went with Outgoing Camellia as my Image of the Week, mostly because I may not get another chance to shoot another Camellia if the remaining flower buds have also been damaged by the frost...