Finch Fight Club - May 2018
It was another lovely warm Spring day for my photo shoot this week, but the sunshine and blue skies did not materialise until later in the day. My aim for the shoot was to go in search of insect life again, but, again, my luck was mostly out.
Instead, I concentrated on bird life, and like last week, encountered a pair of squabbling Goldfinches (Carduelis carduelis), both determined to be top of the pecking order at the top of the tree.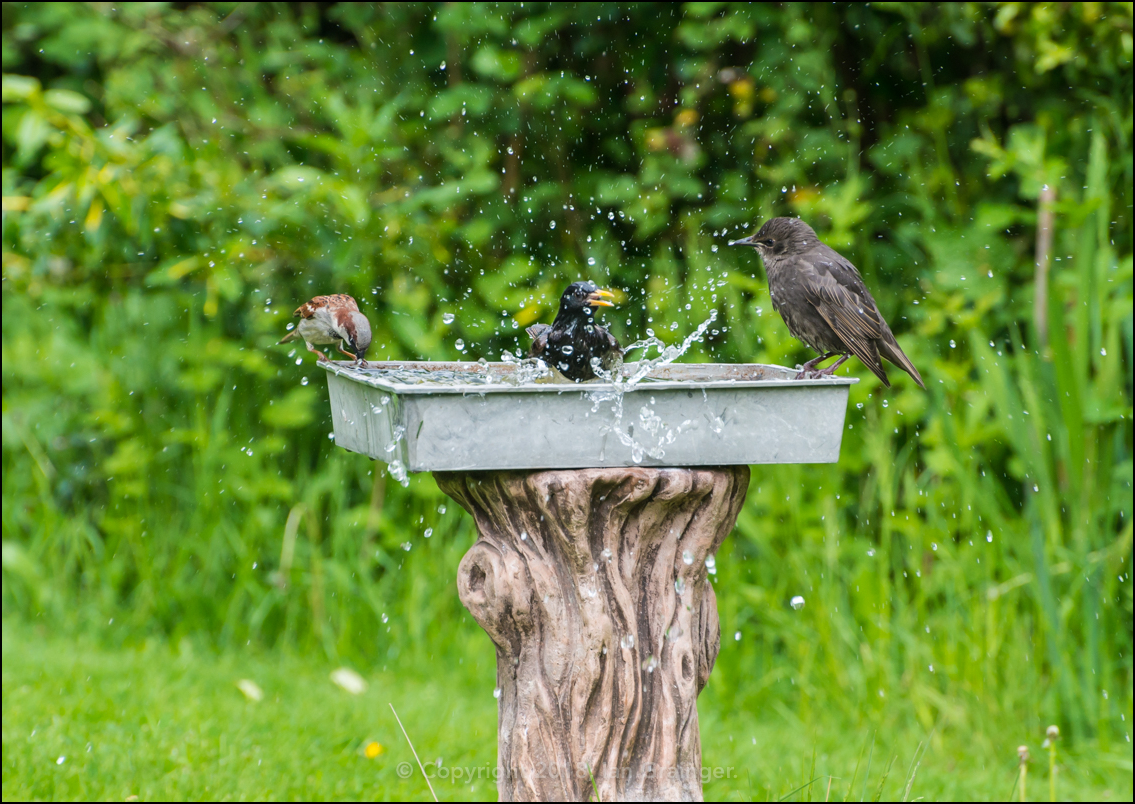 Bathtime Lesson - May 2018
Next I happened upon this charming scene, as an adult Starling (Sturnus vulgaris) tried to show a bemused juvenile what bathtime was all about. Meanwhile, a wily House Sparrow (Passer domesticus) nipped in for a drink while the adult Starling splashed about, trying to encourage the juvenile to join in!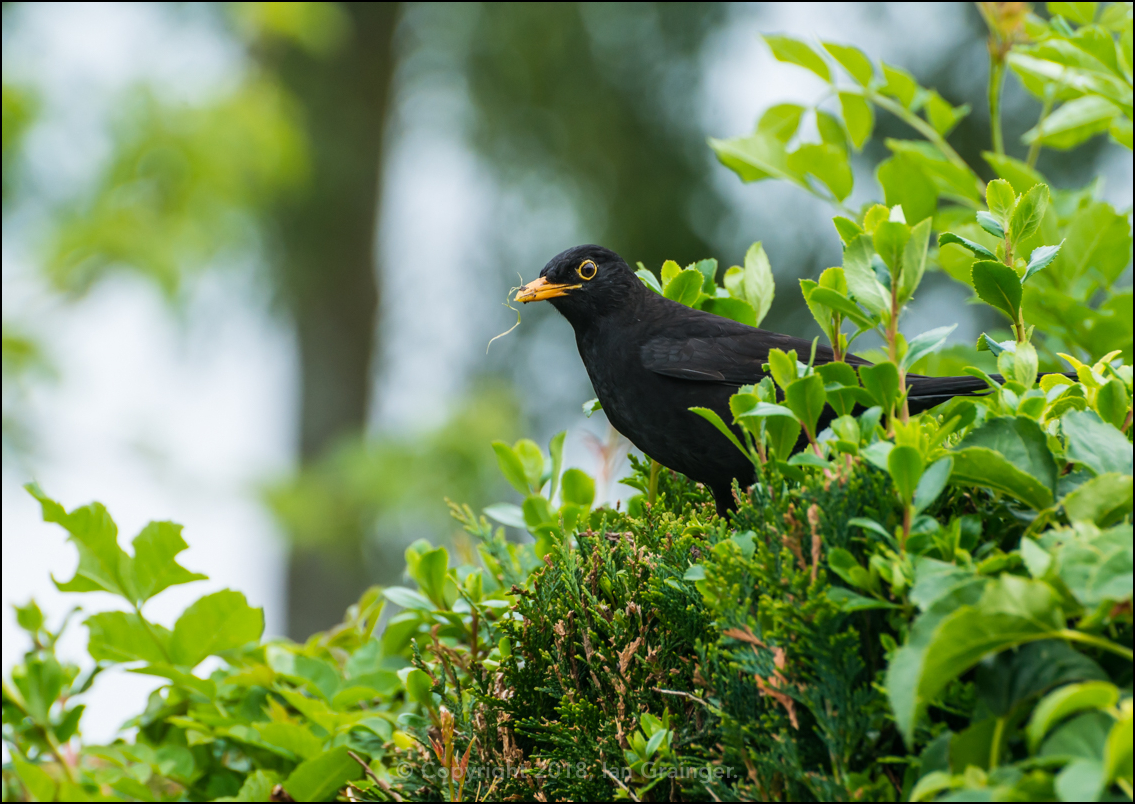 Collection Agent - May 2018
Over in the hedge, a Blackbird (Turdus merula) looked on while collecting small pieces of soft nesting material that were trapped in the leaves of the hedge.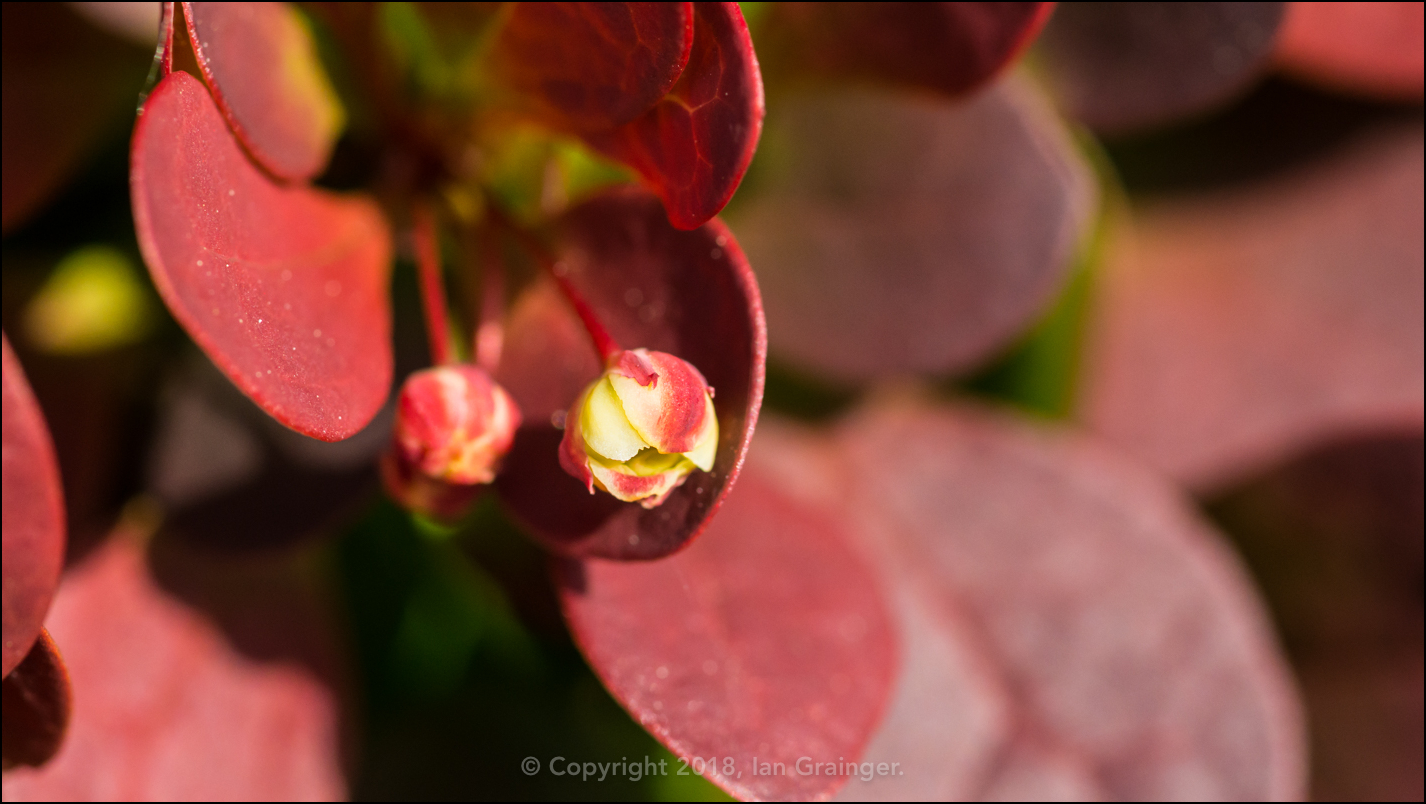 Berberis Blossom - May 2018
Changing to my macro lens, I went off to find what was new in dad's garden this week. The first thing I found was this Barberry (Berberis) bush blossom...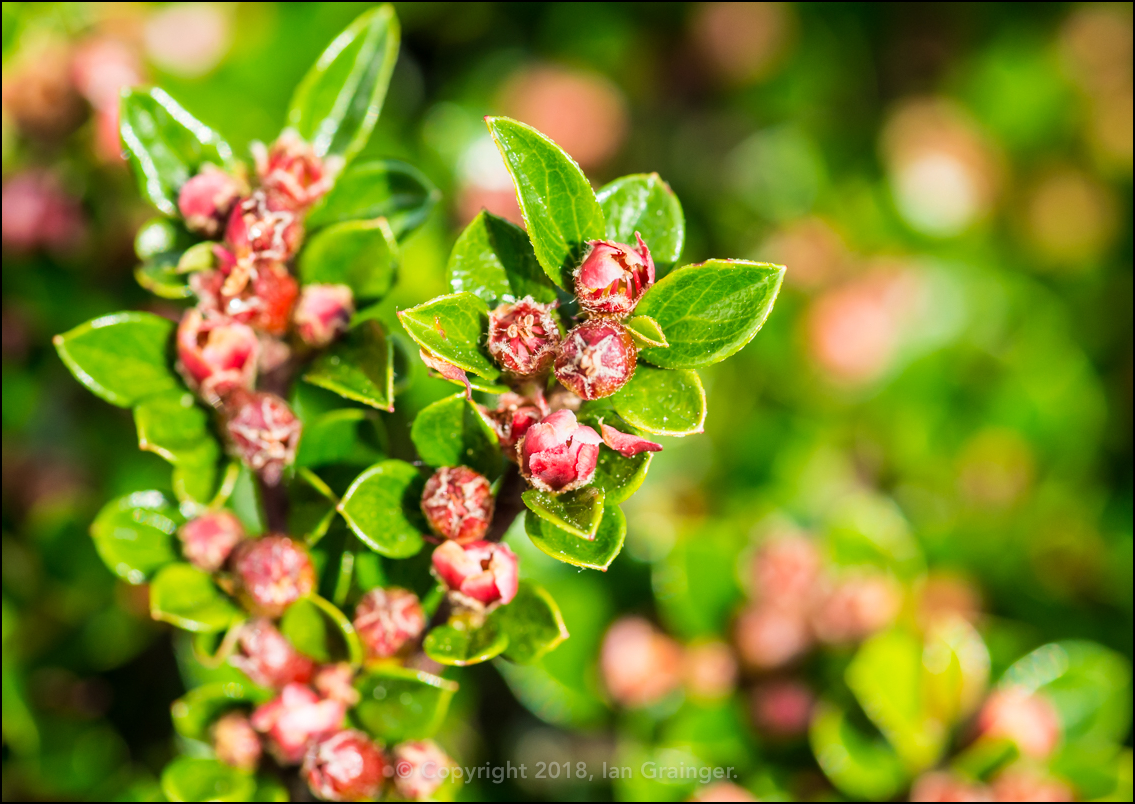 Cotoneaster Blossom - May 2018
...which was right next door to the newly formed small pink blooms of the Cotoneaster bush. These were a magnet for all types of insects last year, especially the Bees, but they were free from visitors so far.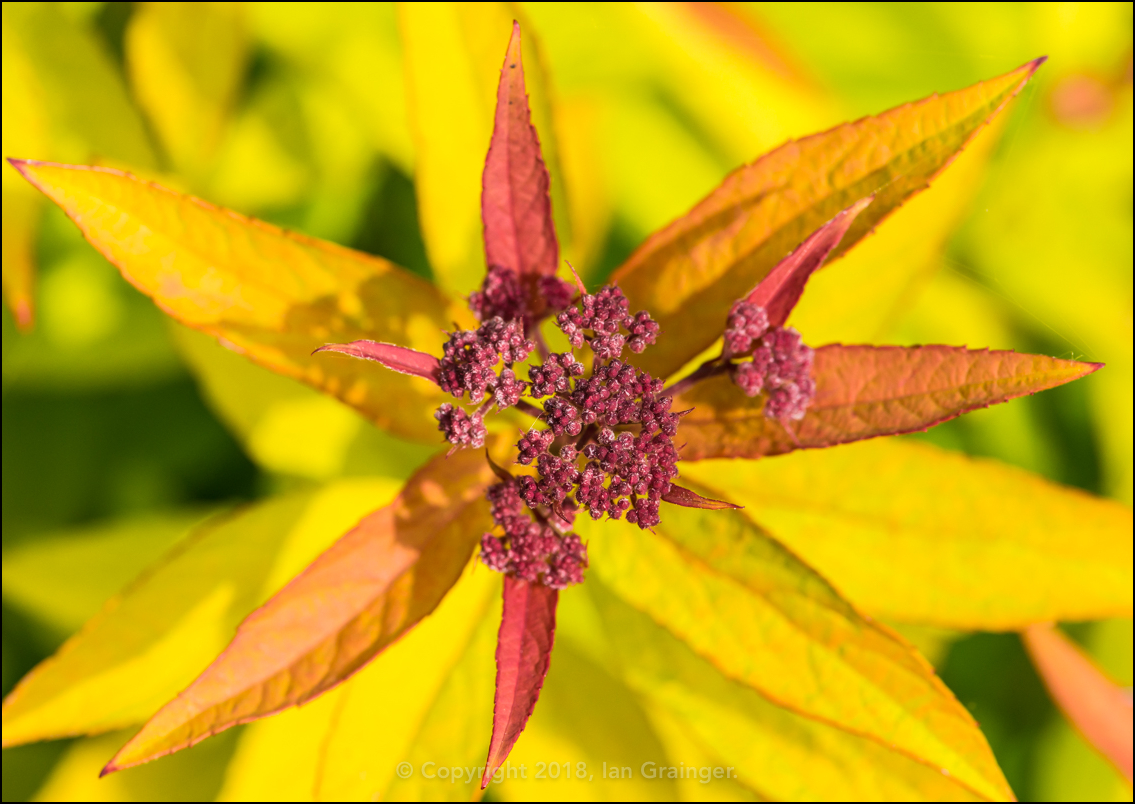 Magic Carpet Blossom - May 2018
The Magic Carpet (Spiraea japonica) bush was also quite popular with the Bees, and would be opening soon.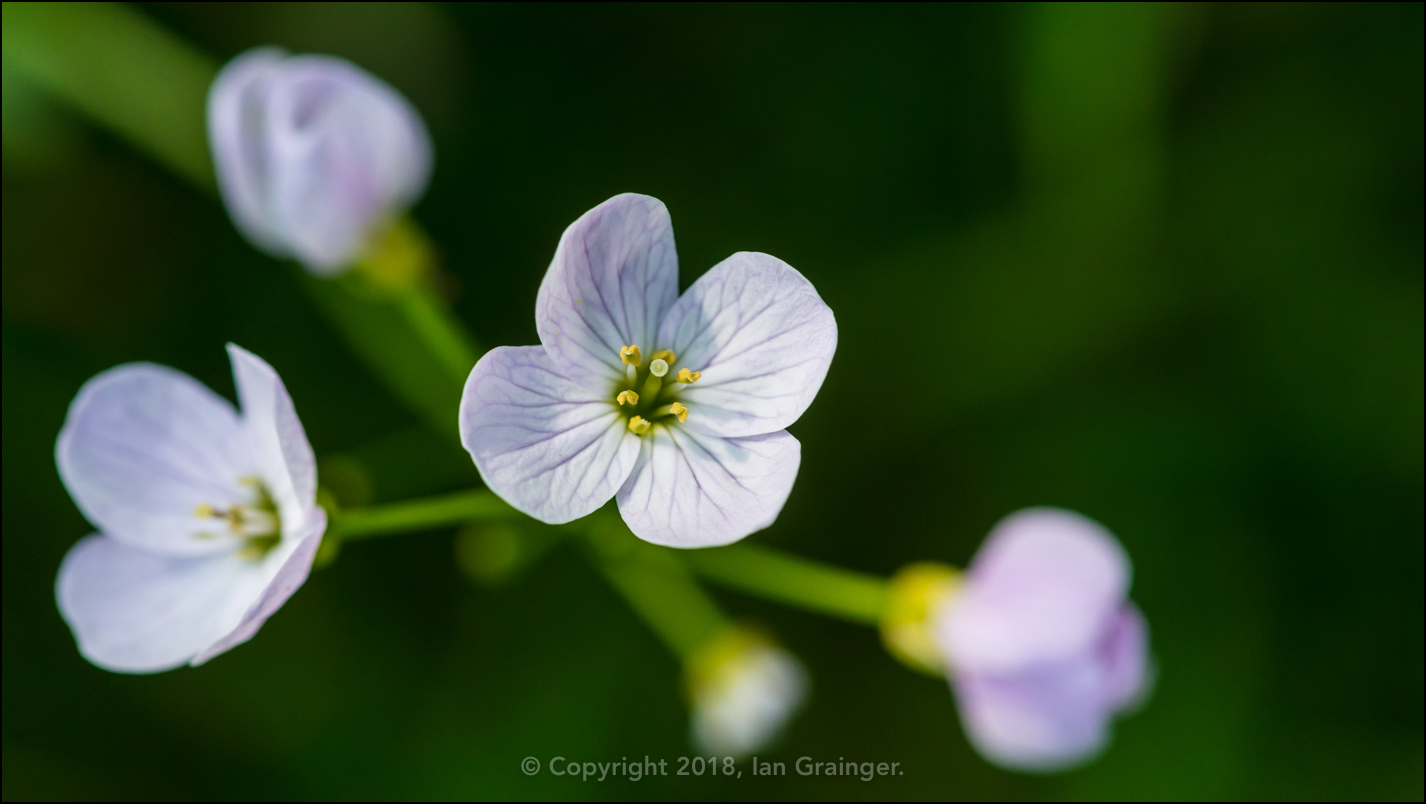 Cuckooflower - May 2018
I'd not come across this Cuckooflower (Cardamine pratensis) until a week or so ago. It's sometimes called Mayflower or Milkmaids, and makes a welcome wildflower addition to the garden.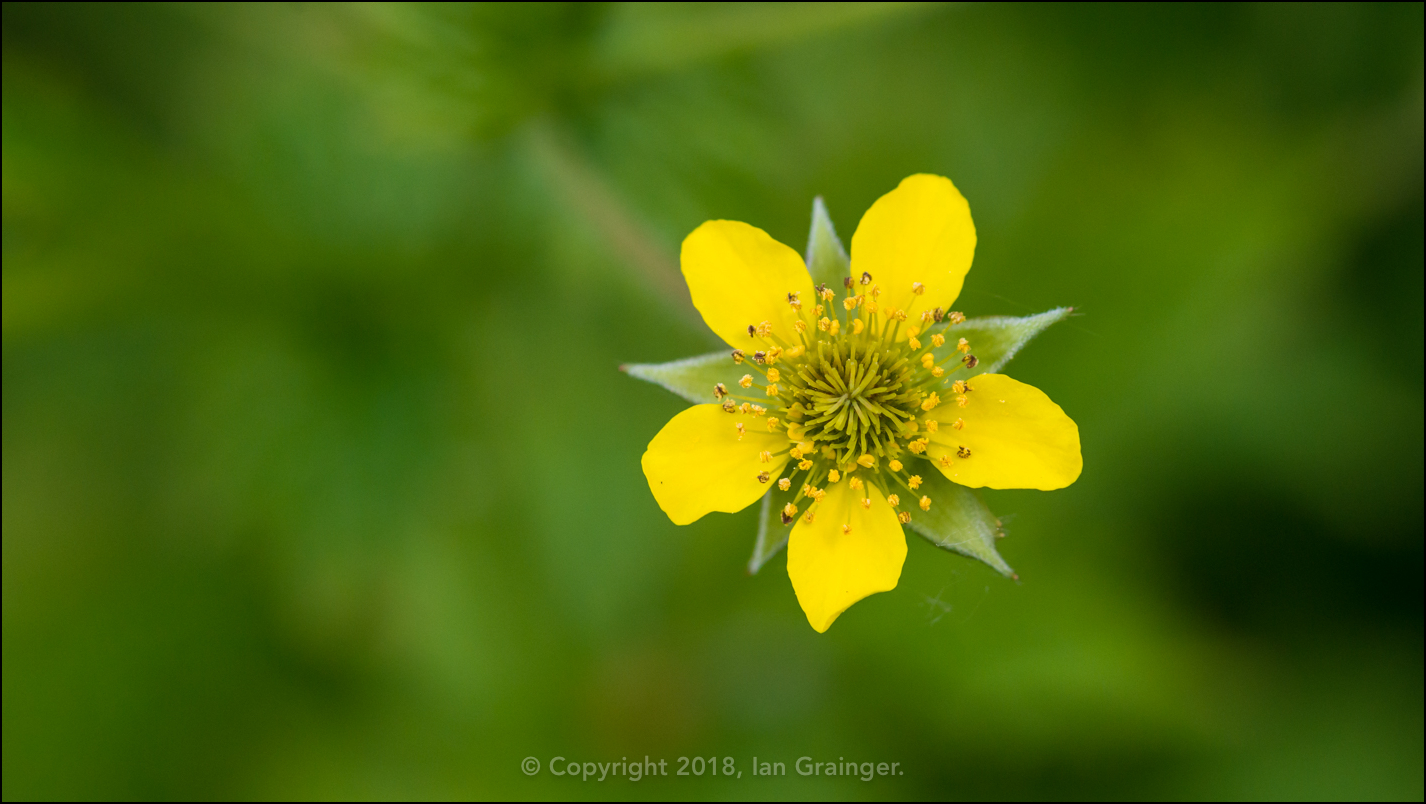 Wood Avens - May 2018
The pretty yellow flowers of the Wood Avens (Geum urbanum) had returned for another year, and would eventually be appreciated by the bugs - if they ever showed up!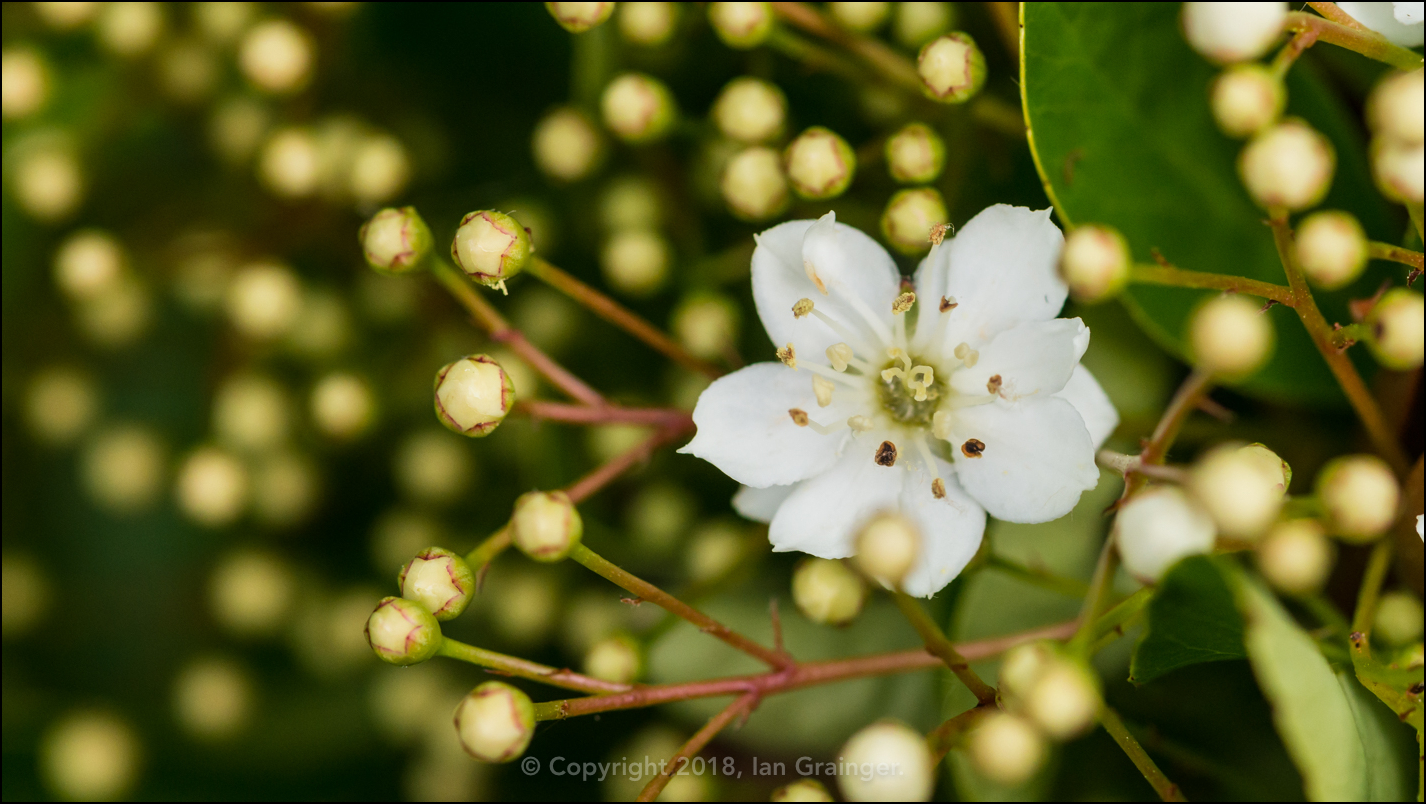 Early Pyracantha - May 2018
While the majority of the Firethorn (Pyracantha) bushes were just coming into bud, there were one or two buds that were eager to begin blooming.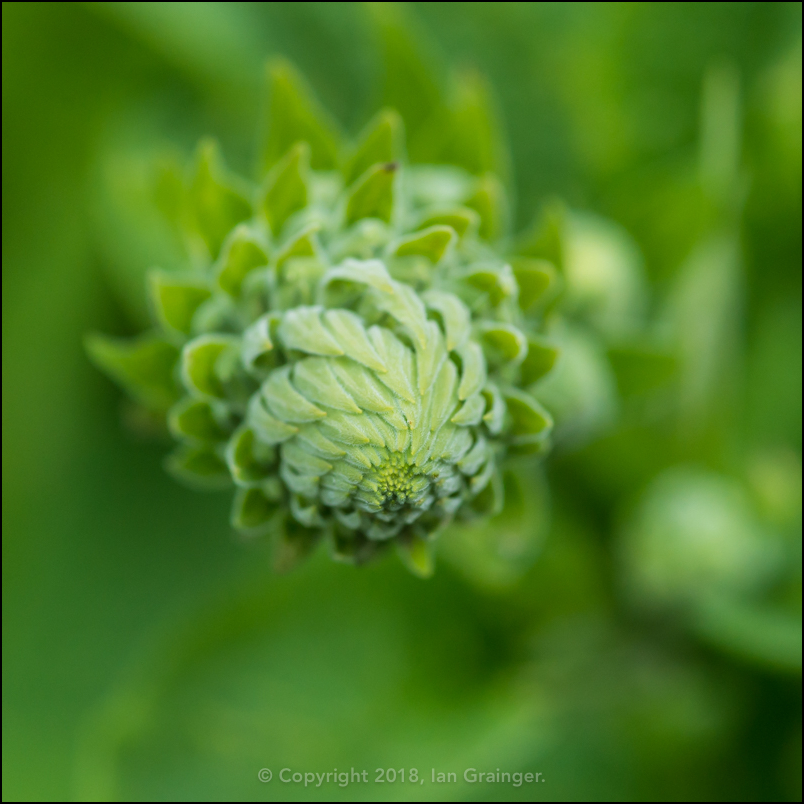 Budding Foxglove - May 2018
I was quite pleased to see the return of the Foxgloves (Digitalis), as they put on such a wonderful display last year.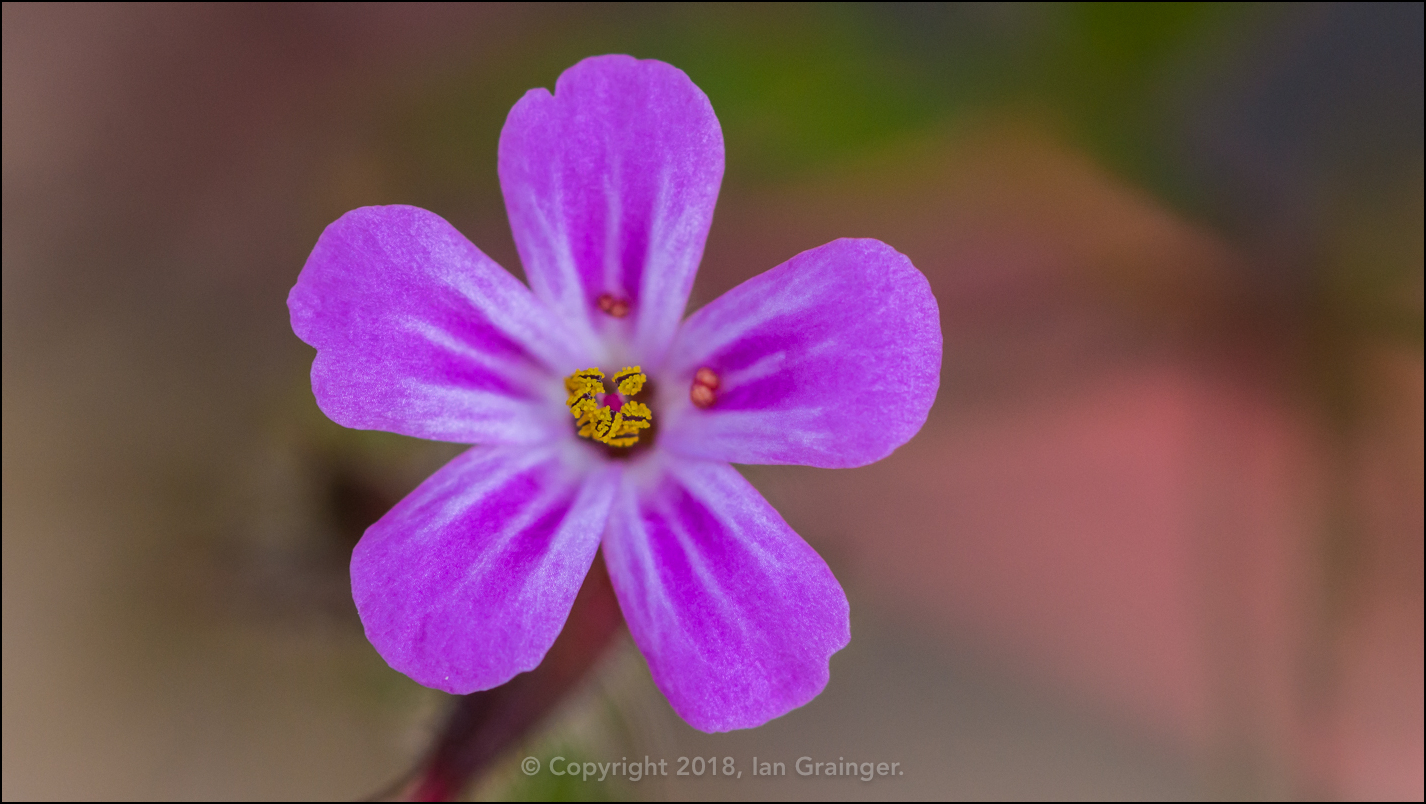 Pollen Count - May 2018
Herb Robert (Geranium robertianum) is definitely one of my favourite weeds, and I loved that I could pick out the individual grains of pollen when I zoomed into the centre of this image.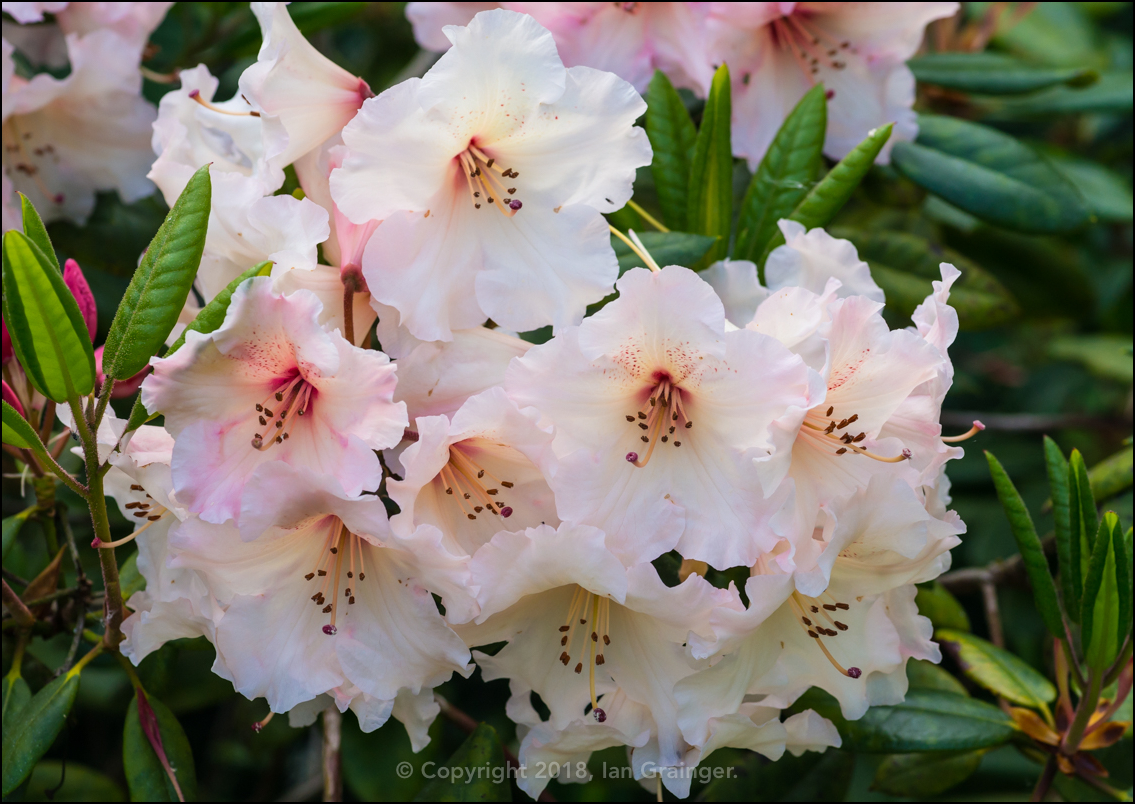 Rhododendron - May 2018
The Rhododendron bush was looking at its best, with nearly all of the flowers open on every branch.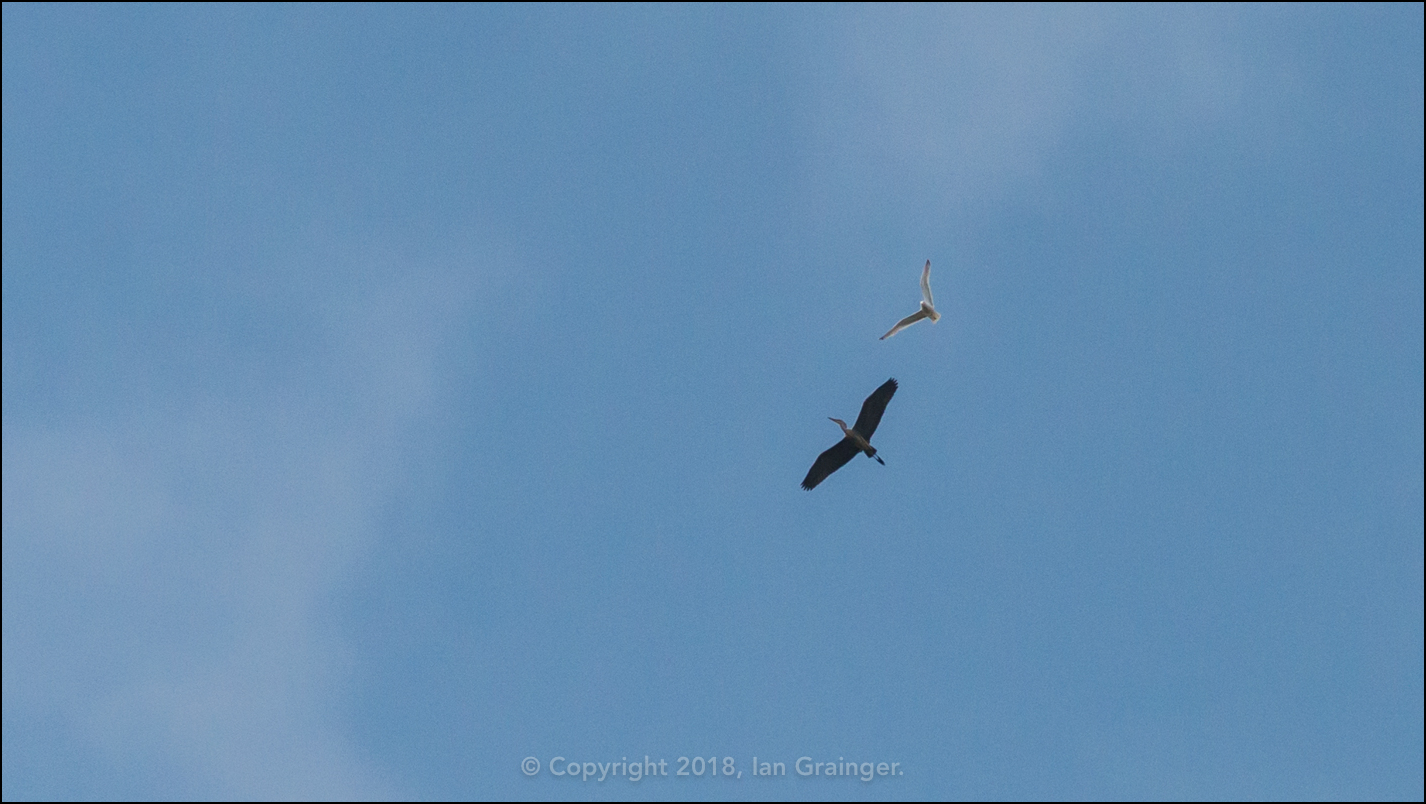 The Chase - May 2018
At this point my photo shoot was interrupted by a lot of squawking going on overhead. Of course, I had the wrong lens on the camera to capture the action in detail, but a Herring Gull (Larus argentatus) was giving chase to a Grey Heron (Ardea cinerea), and making one heck of a noise! I suspect the Heron had either got away with an egg, or worse, a chick...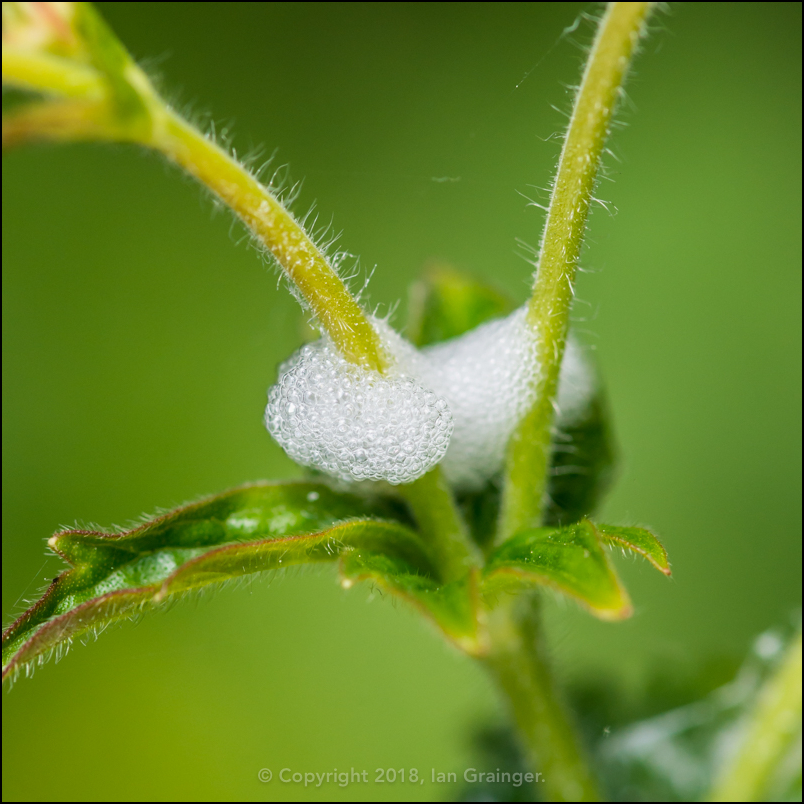 Cuckoo Spit - May 2018
Back to capturing the smaller things, and there was plenty of this Cuckoo Spit clinging to the stems of plants. For those that don't know, this is the protective coat that is exuded by the larvae of Froghoppers, and is completely harmless.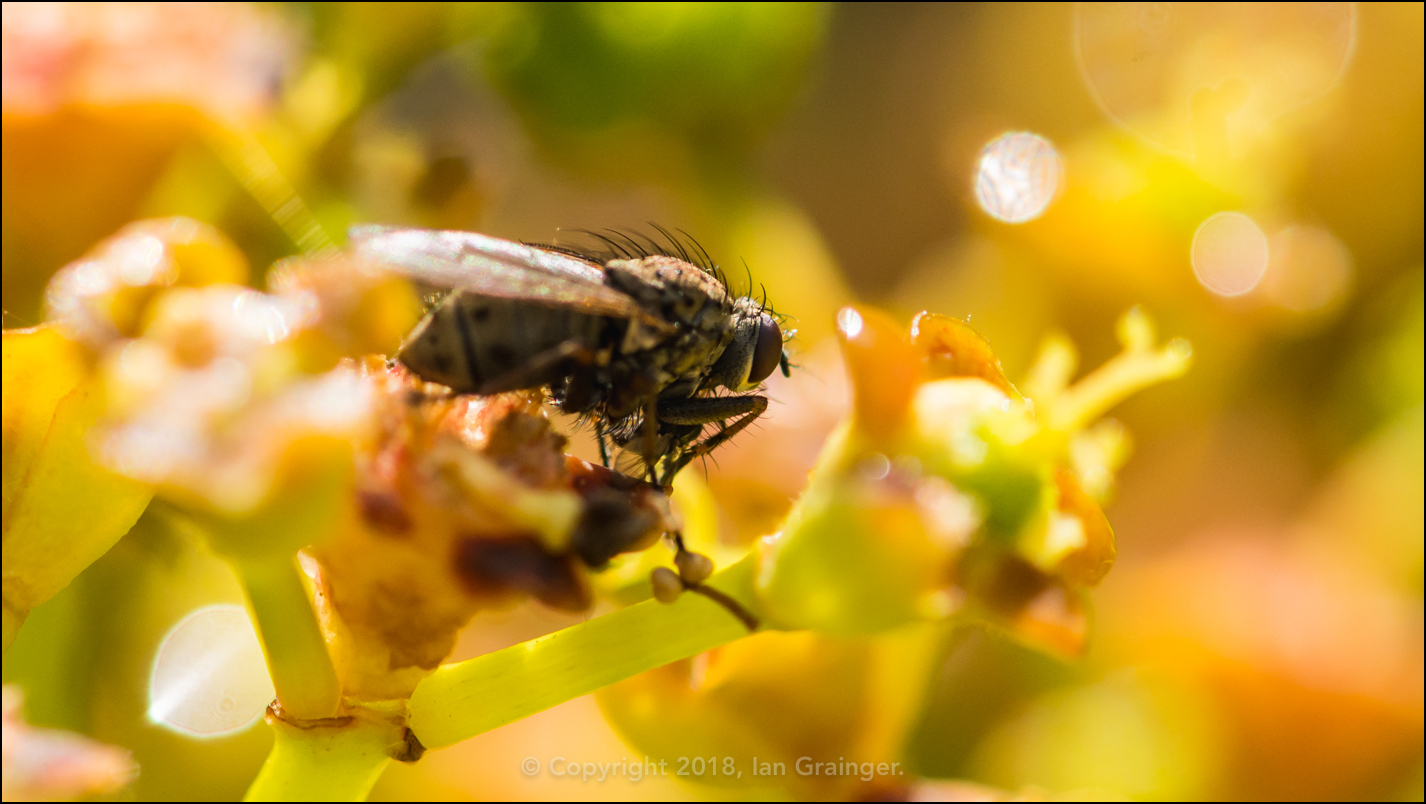 Lunch is Served - May 2018
While the Froghopper Nymphs remained cocooned in their frothy secretions, I finally found a couple of insects I could actually photograph on my Honey Spurge (Euphorbia mellifera) bush! I think I interrupted this Fly (Diptera) dining out on another Fly...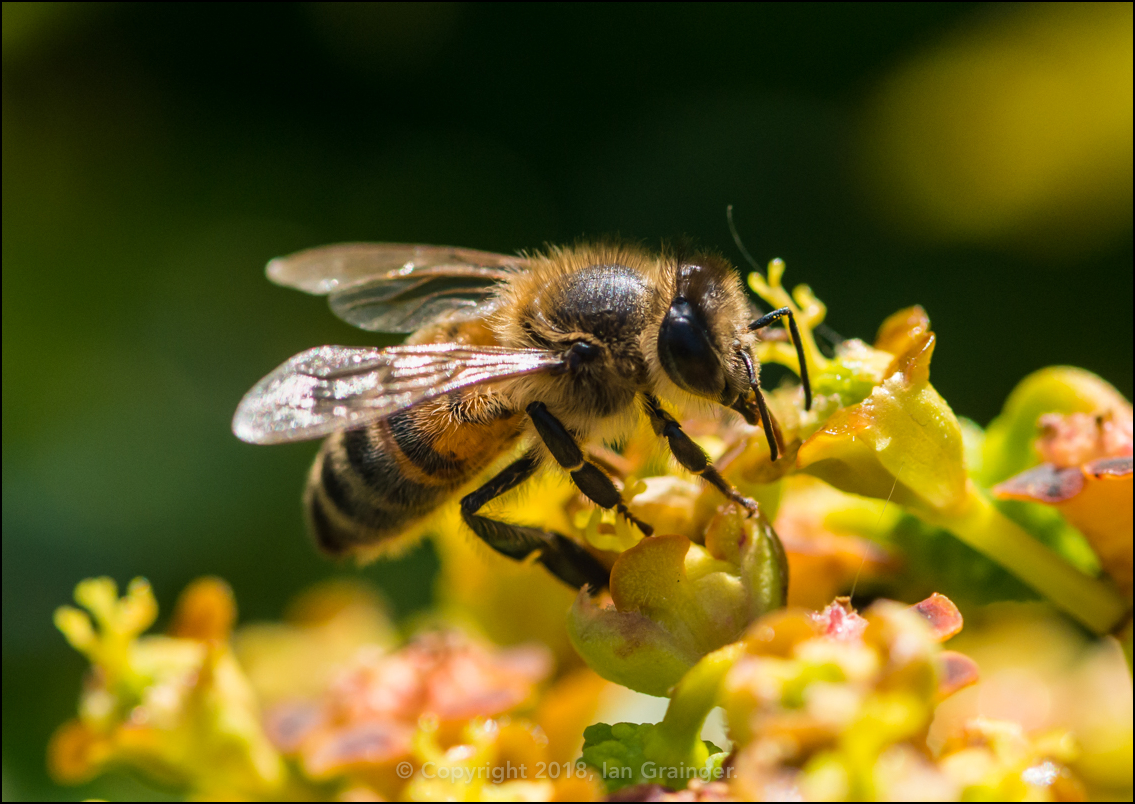 Honey Bee Honey Spurge - May 2018
...while this Honey Bee (Apis mellifera) seemed very keen to fill up on Honey Spurge nectar!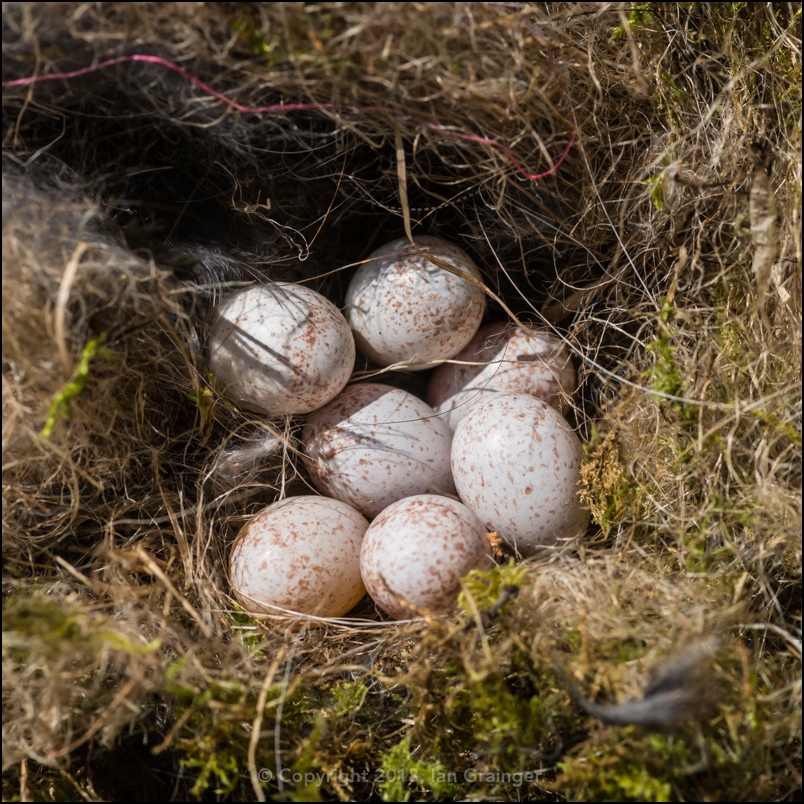 Abandoned - May 2018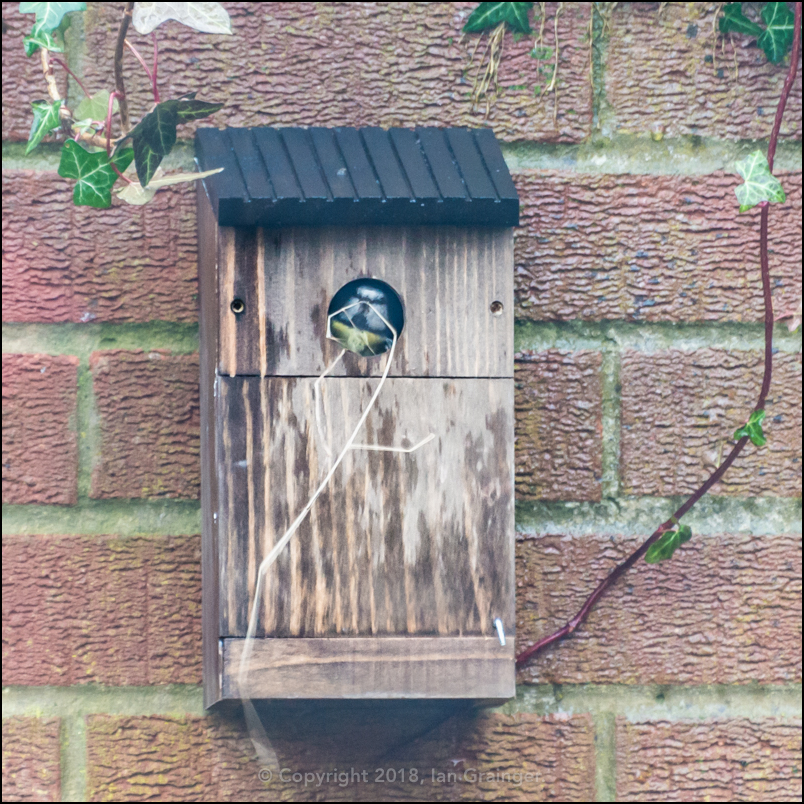 In some rather sad news, the Blue Tit's that were nesting in the new nest box I'd installed in the garden, were driven away by an over curious cat. I caught the cat sitting on top of the box one day, as he worked his paw into the entrance hole. From that day, the birds didn't go back to the box. When I investigated a couple of weeks later, I found this clutch of eggs in a beautifully made nest inside the box. I've now removed the nest box, and will try and work out a way to cat-proof it before I put it back up!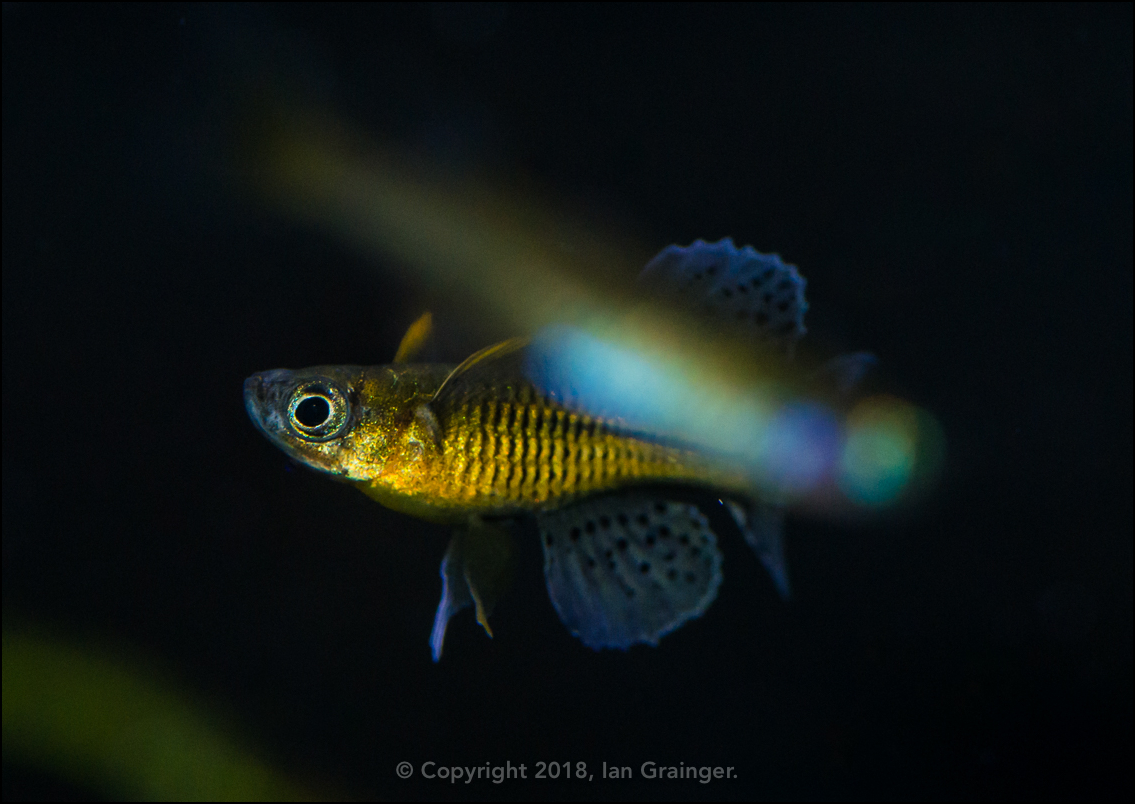 Displaying Rainbowfish - May 2018
Finally, on an incredibly frustrating note, you may remember me introducing you to my Spotted Blue Eye Rainbowfish (Pseudomugil gertrudae) a couple of weeks ago? Well, I finally spotted a male displaying while I had my camera in hand, and reeled off half a dozen shots. Typically, the only shot in focus was the one that was photobombed by another fish! Argh!
So, this week I chose Finch Fight Club as my Image of the Week, mostly because I liked it as an action shot, but also because it was quite a lucky catch, and it evened out the bad luck I had with capturing the displaying Rainbowfish...