Abyssinian Gladiolus - October 2017
What a peculiar day it was weather wise for my photo shoot this week. We had cloud. We had sun. We had warm. We had cold. We had dry. We had wet. About the only conditions we didn't have were wind and snow!
Because of the changing conditions, my photo shoot was a bit of a stop start event, but I was very pleased at one point to stop and admire these Abyssinian Gladiolus (Gladiolus murielae), which were appearing a little later in the season than I was expecting. I've posted information about these beautiful flowers in a previous article, so won't dwell on them again here.
However, I will say, they were a complete surprise to see, looked as gorgeous as ever, and had me smiling for the rest of my shoot.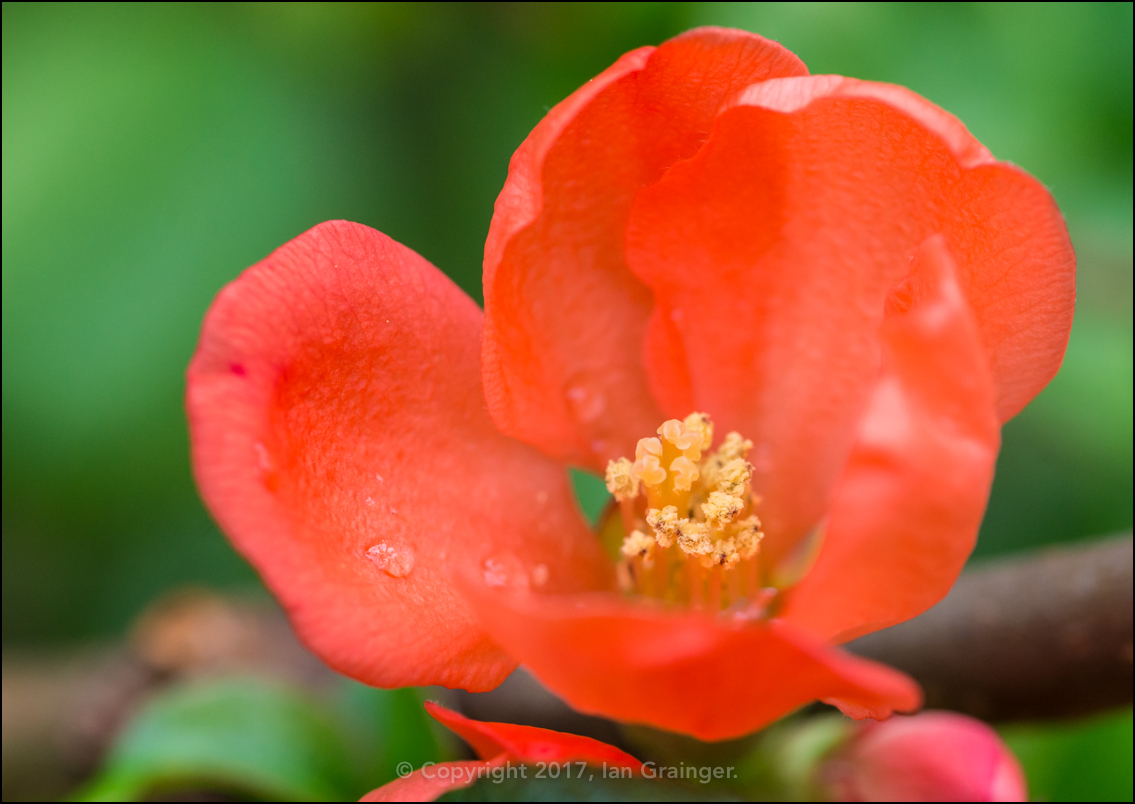 Quince Blossom - October 2017
Another unexpected flower to appear was this Quince (Chaenomeles) blossom. This particular bush is still producing fruit from the previous blossom, so it seems that it is completely confused over which season it is.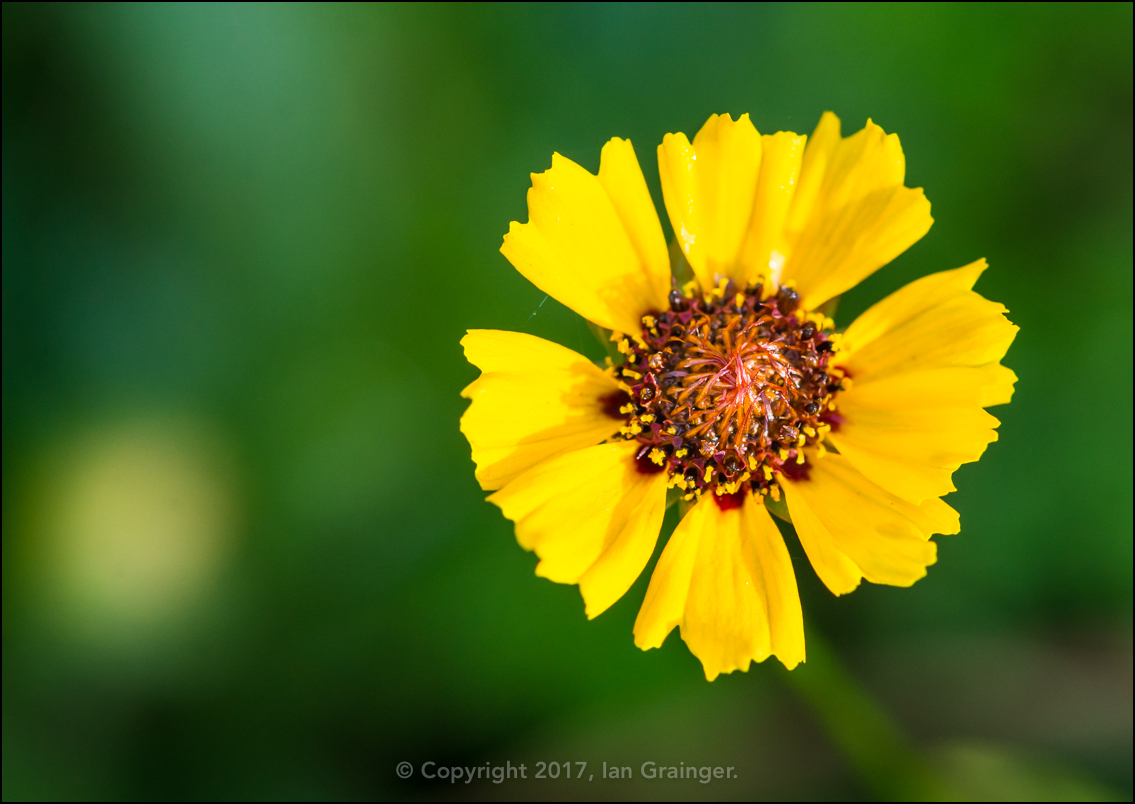 Plains Coreopsis - October 2017
The Plains Coreopsis (Coreopsis tinctoria) was coming to the end of its flowering period, and the flowers were getting smaller and smaller as a consequence.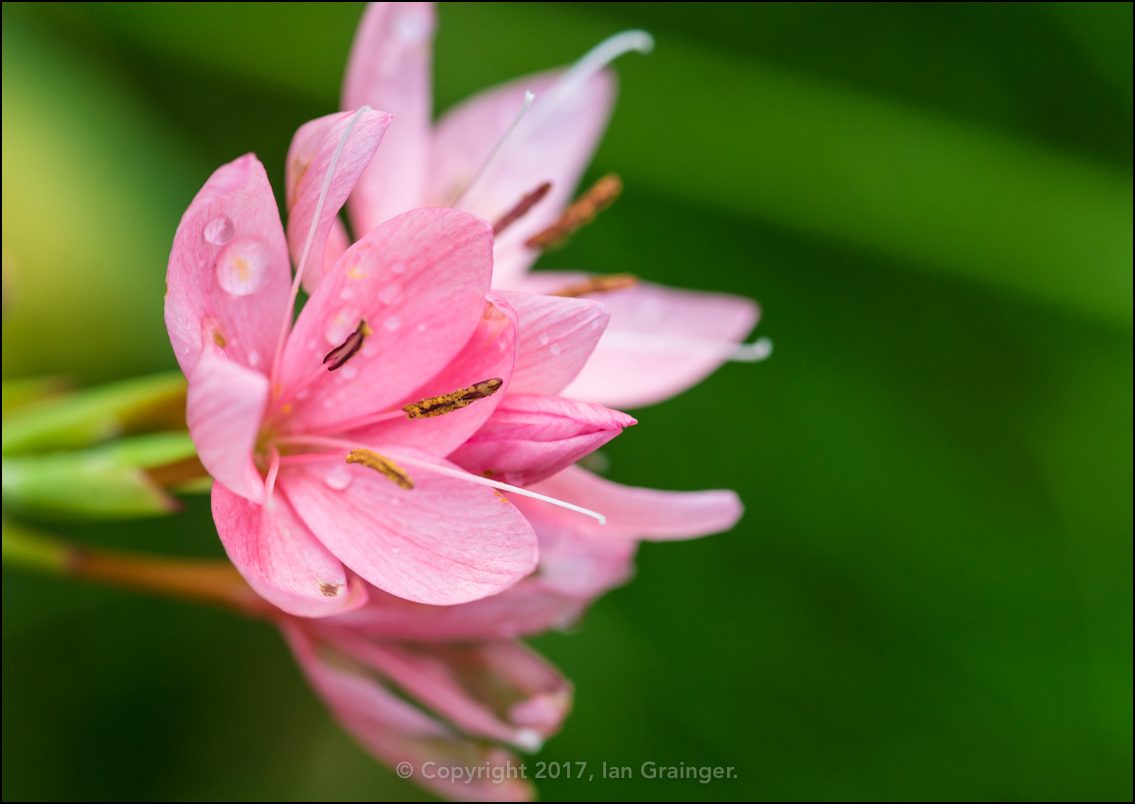 River Pinks - October 2017
The River Lilies (Hesperantha coccinea) were almost finished for another year also...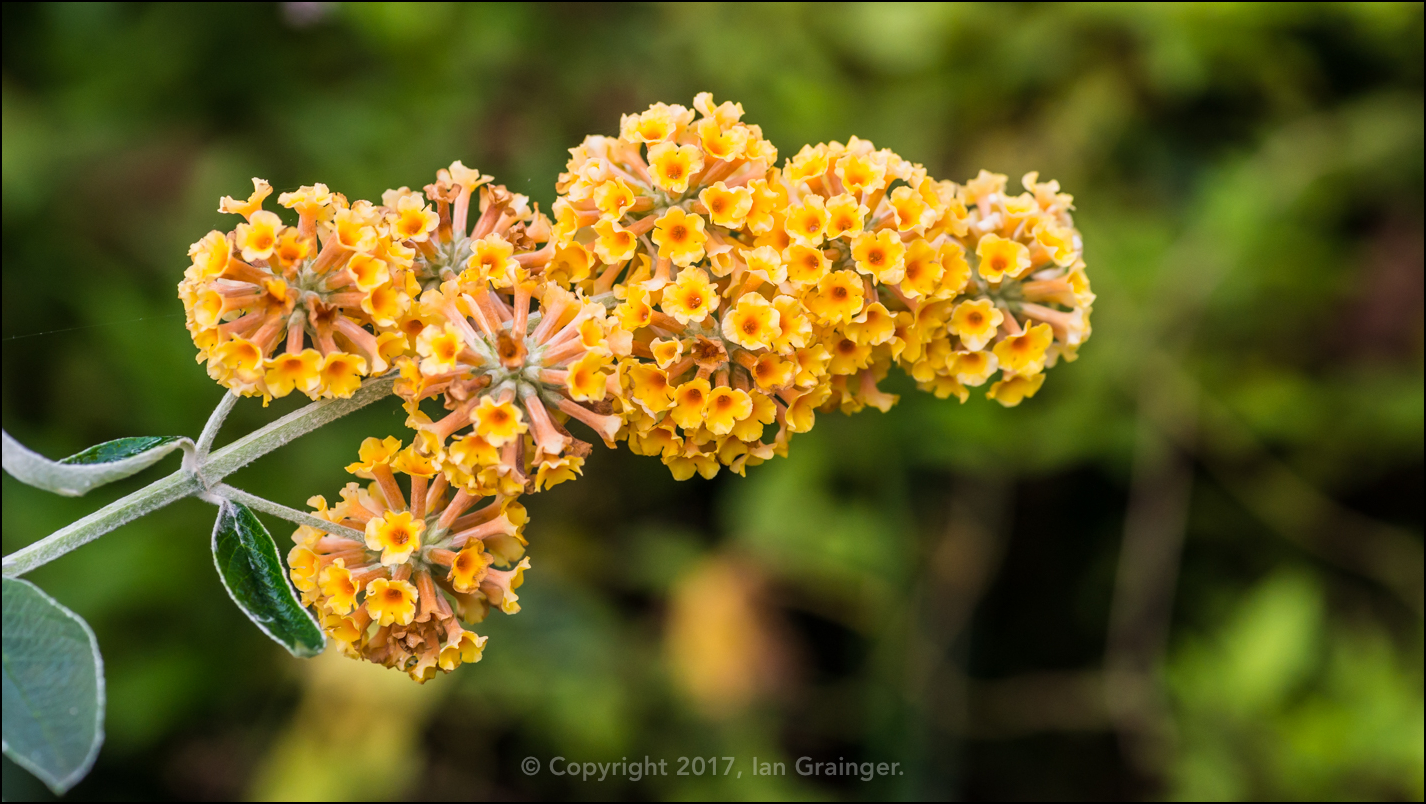 Butterfly Blooms - October 2017
...as was the large yellow Butterfly Bush (Buddleia), which I've featured for the last couple of weeks. Here's how it looked last week.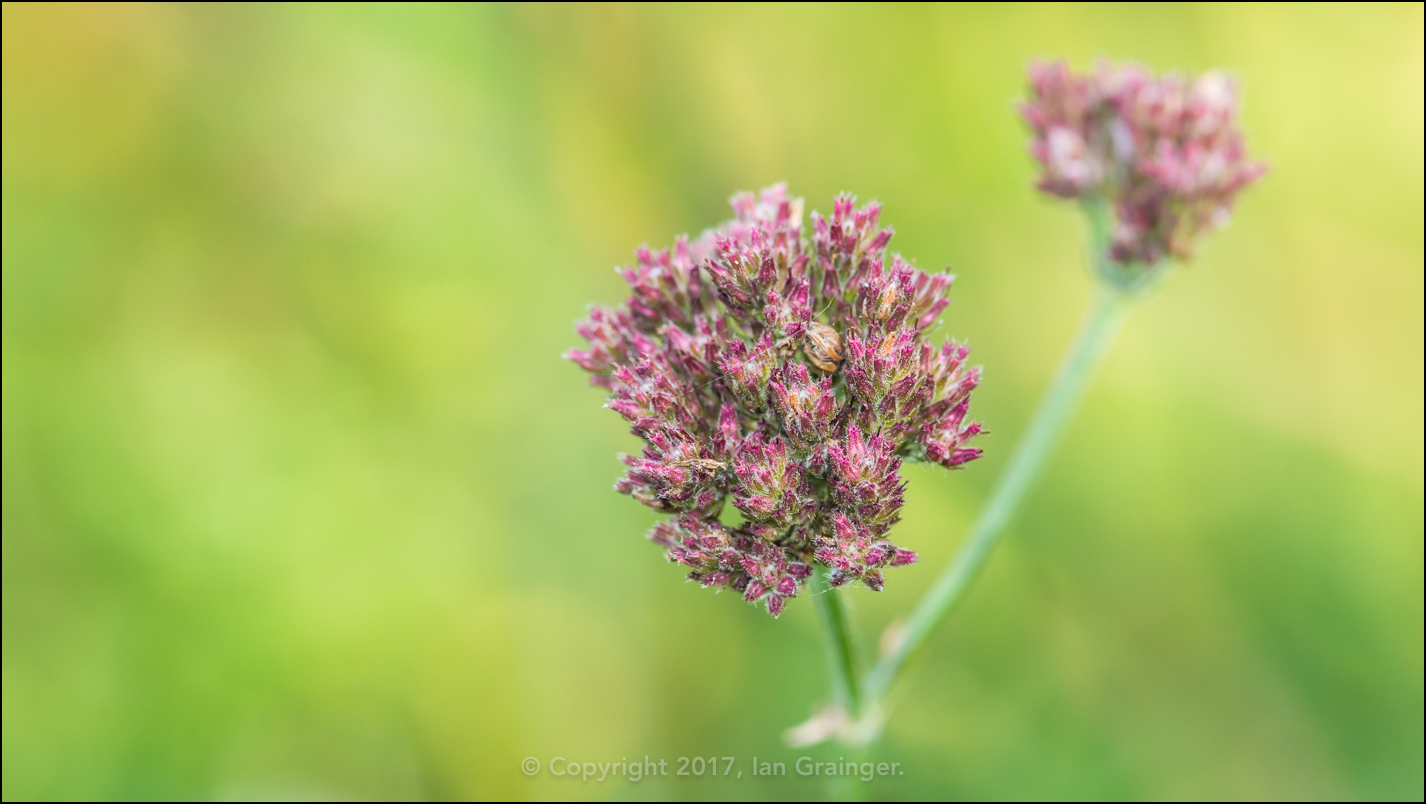 Seedy Verbena - October 2017
Another plant that was leaving us for another year was the Verbena (Verbena bonariensis), which was starting to go to seed.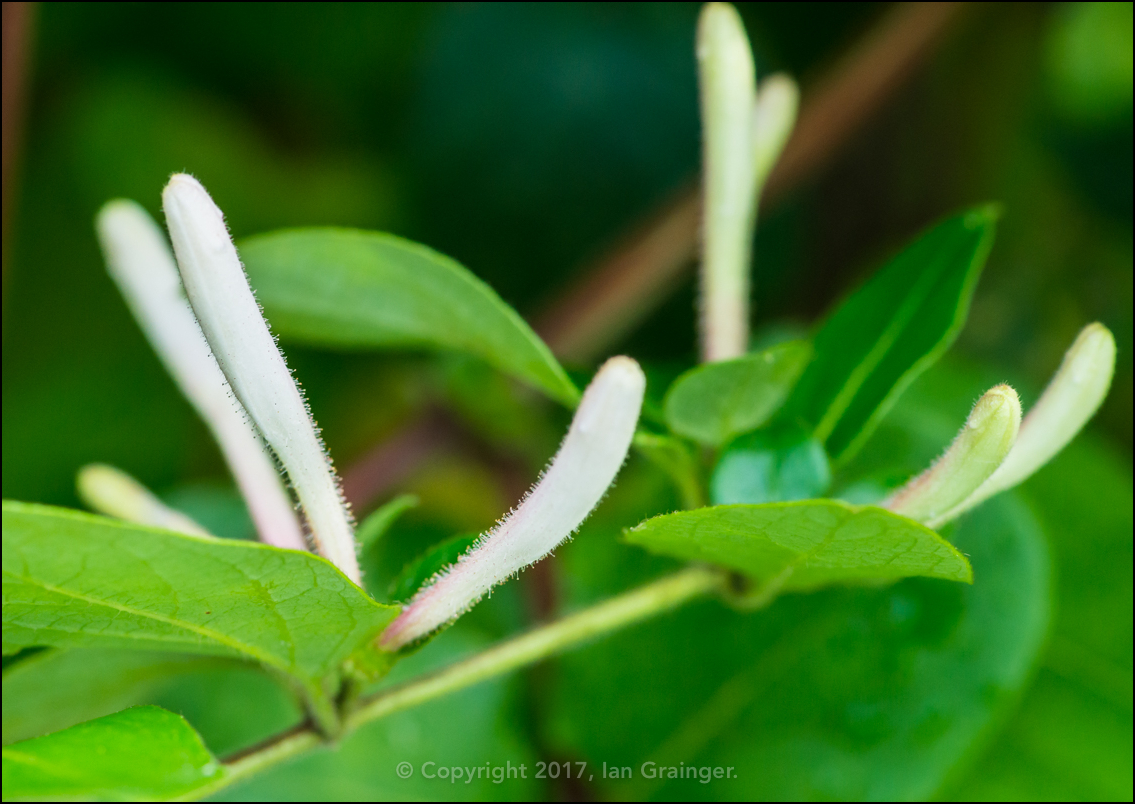 Honeysuckle Buds - October 2017
Meanwhile, the Winter Honeysuckle (Lonicera fragrantissima) buds were popping up all over the garden...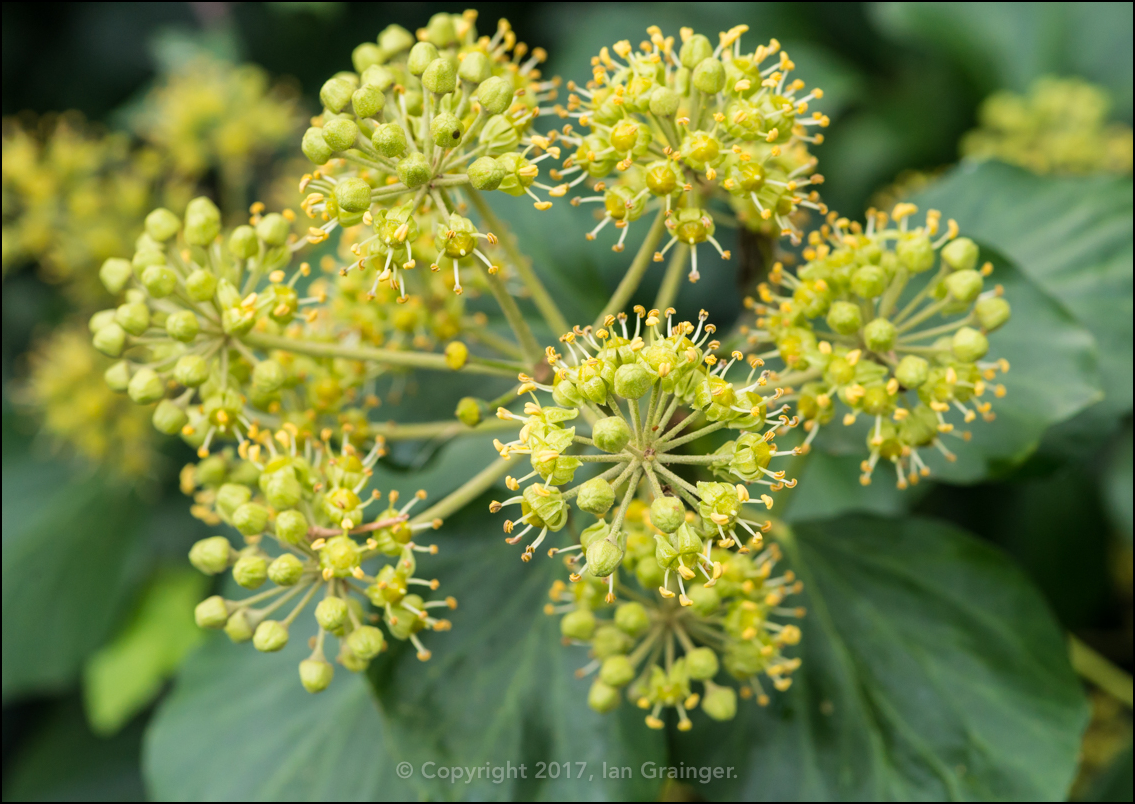 Flowering Ivy - October 2017
...and the majority of the Common Ivy (Hedera helix) was now in flower.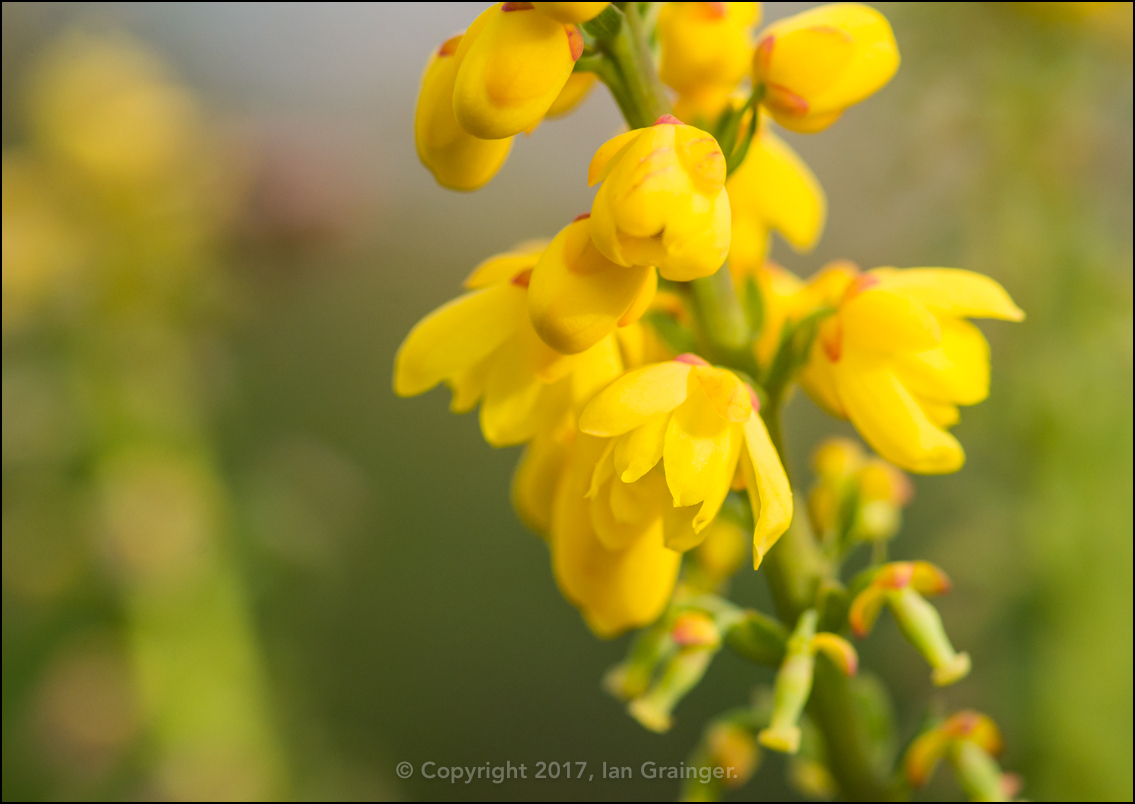 Mahonia - October 2017
At least the Mahonia japonica blooms were still going strong. I doubt if they'll still be going in the New Year though, like they were at the beginning of this year.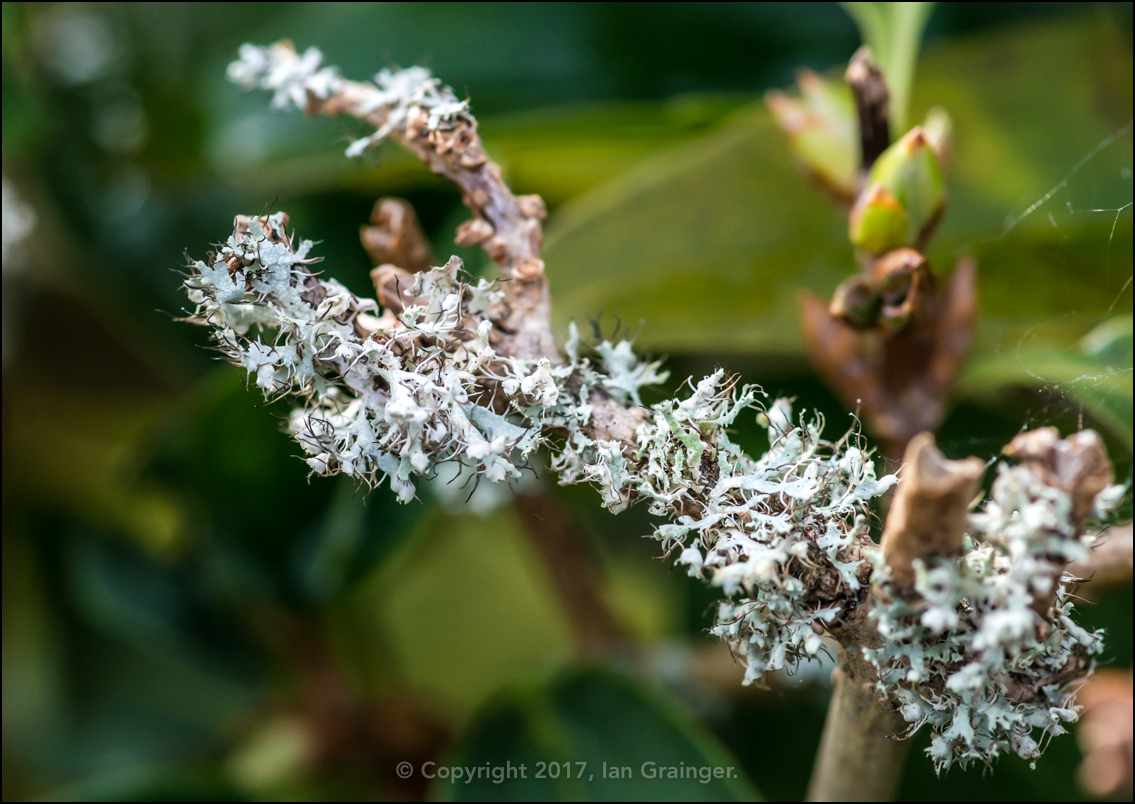 Lichen - October 2017
With flowery subjects beginning to dwindle in the garden, I went off in search of other subjects. Firstly I came across this Lichen, which is completely harmless to the plant it attaches itself to. I've discussed the reasons why, previously, in this article.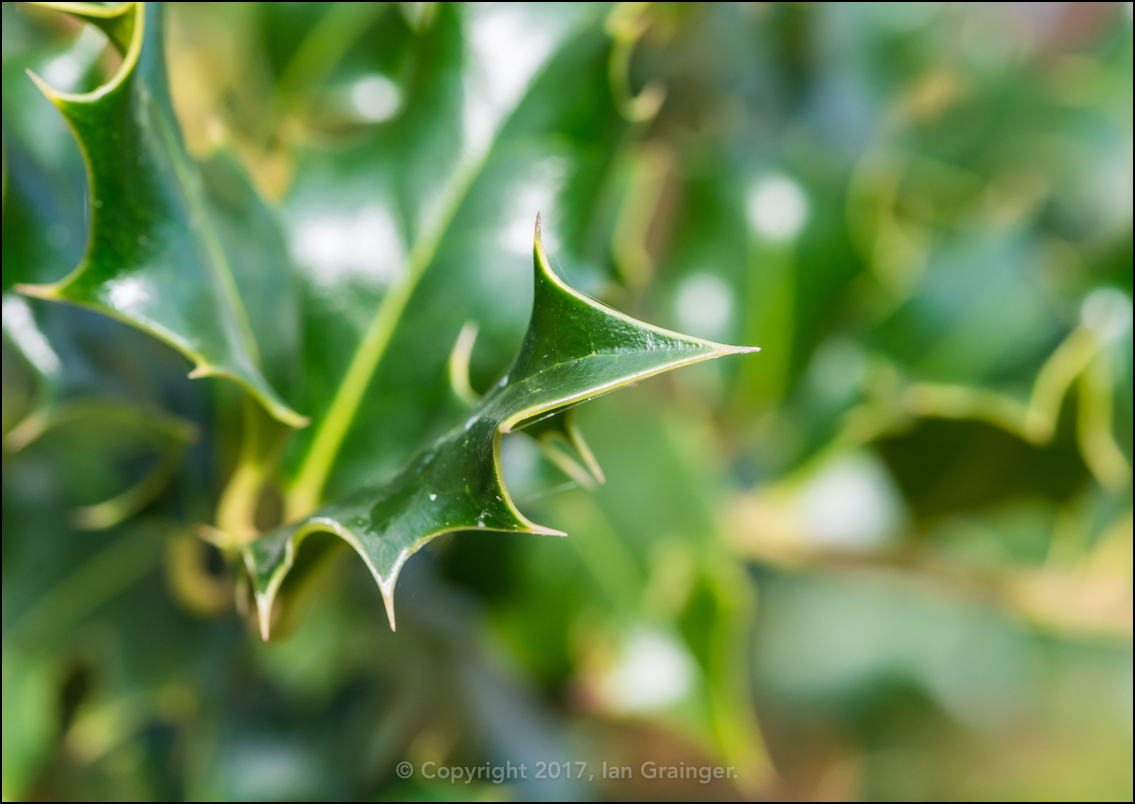 Sharp Shrub - October 2017
Next up I focussed, in every sense of the word, on some newly developing Holly (Ilex) bush leaves.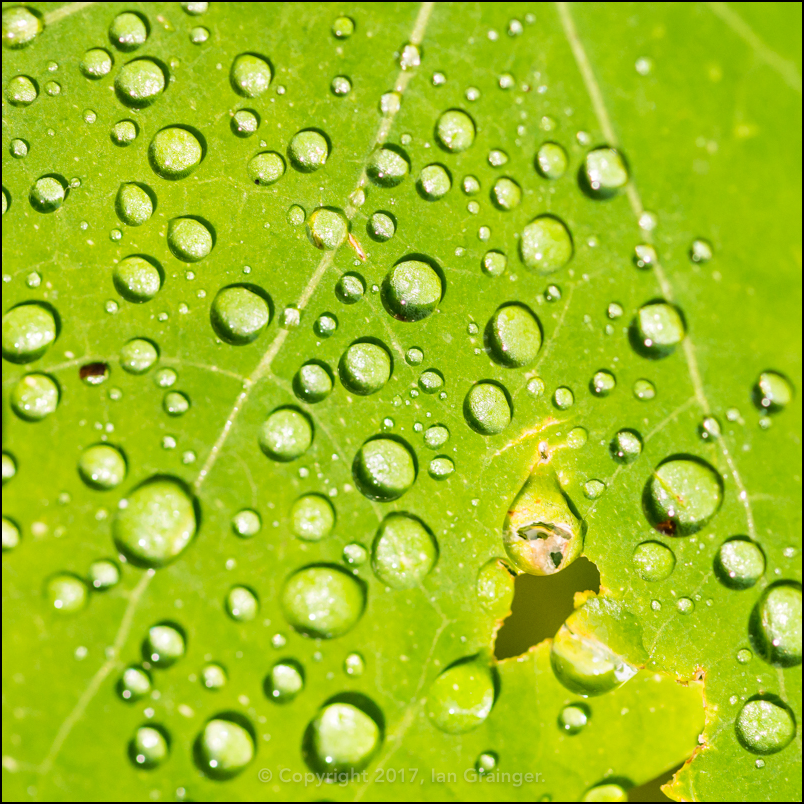 Raindrops - October 2017
Of course, with the very changeable weather, there were plenty of raindrops to point my lens at, so here are some on a Nasturtium (Tropaeolum) leaf.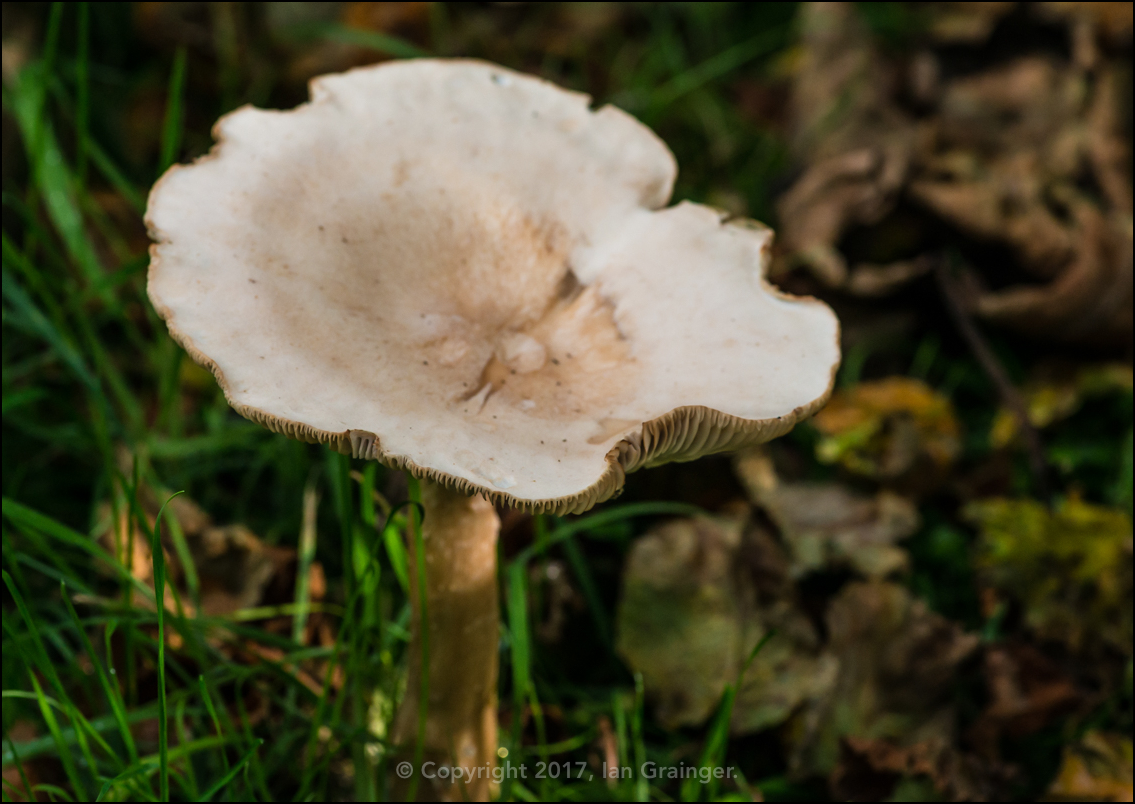 Fungi - October 2017
With the onset of Autumn, and the consistently damp conditions, there were a number of small Mushrooms growing around the garden. However, this one was a whopper, being almost six inches in diameter!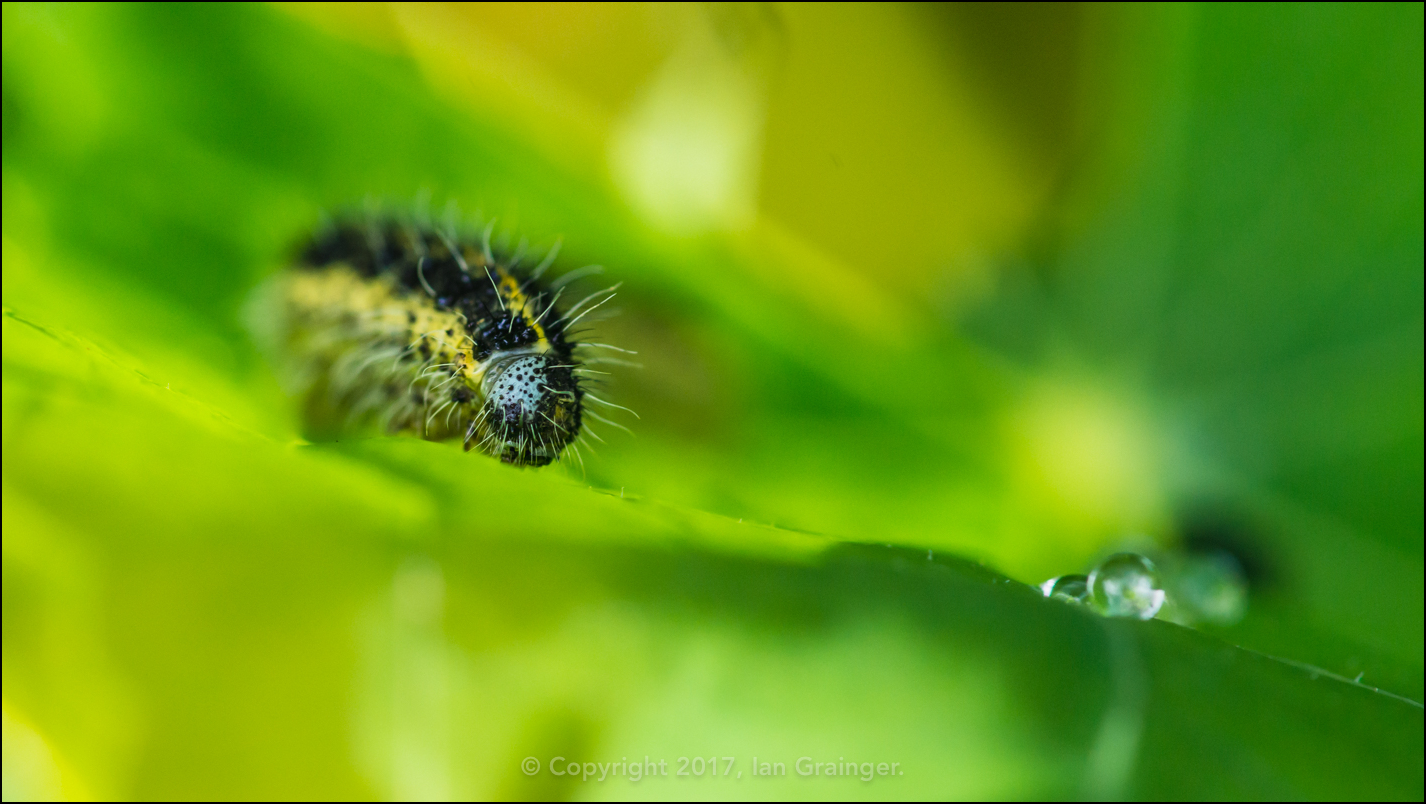 Spotted Eye - October 2017
I didn't think I'd be seeing any insect life, especially as it had been so cold overnight, but I then I stumbled across this Large White Butterfly Caterpillar (Pieris brassicae) happily munching away on a Nasturtium leaf.
Late Collection - October 2017
I then saw a number of Bees (Apis) buzzing around the Mahonia bush, collecting pollen presumably to store over winter.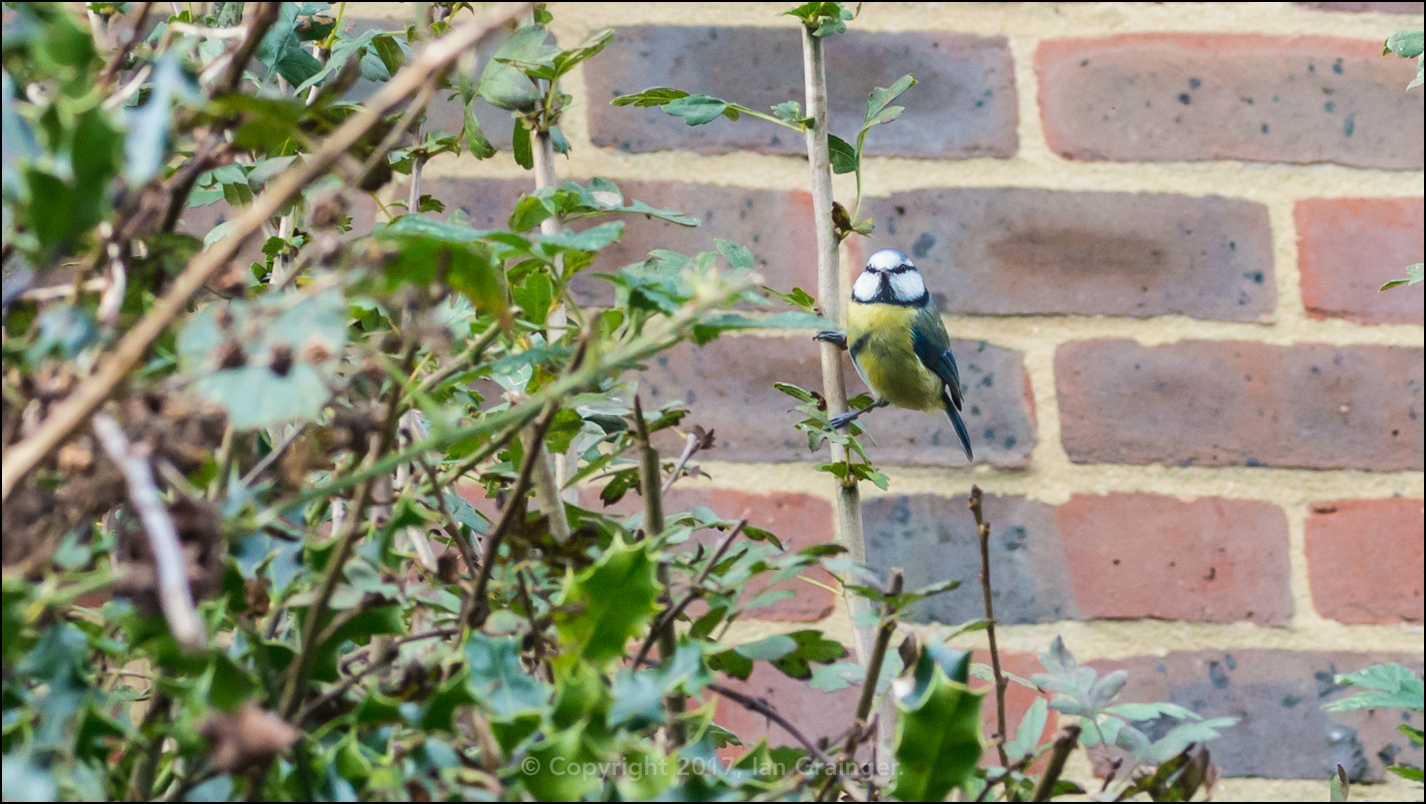 Perching Blue Tit - October 2017
As always seems to be the case when I encounter small garden birds, I never have the right lens attached to my camera. This was the case twice within the space of five minutes when first of all I encountered this lovely little Blue Tit (Cyanistes caeruleus) perched in the branches of a nearby shrub...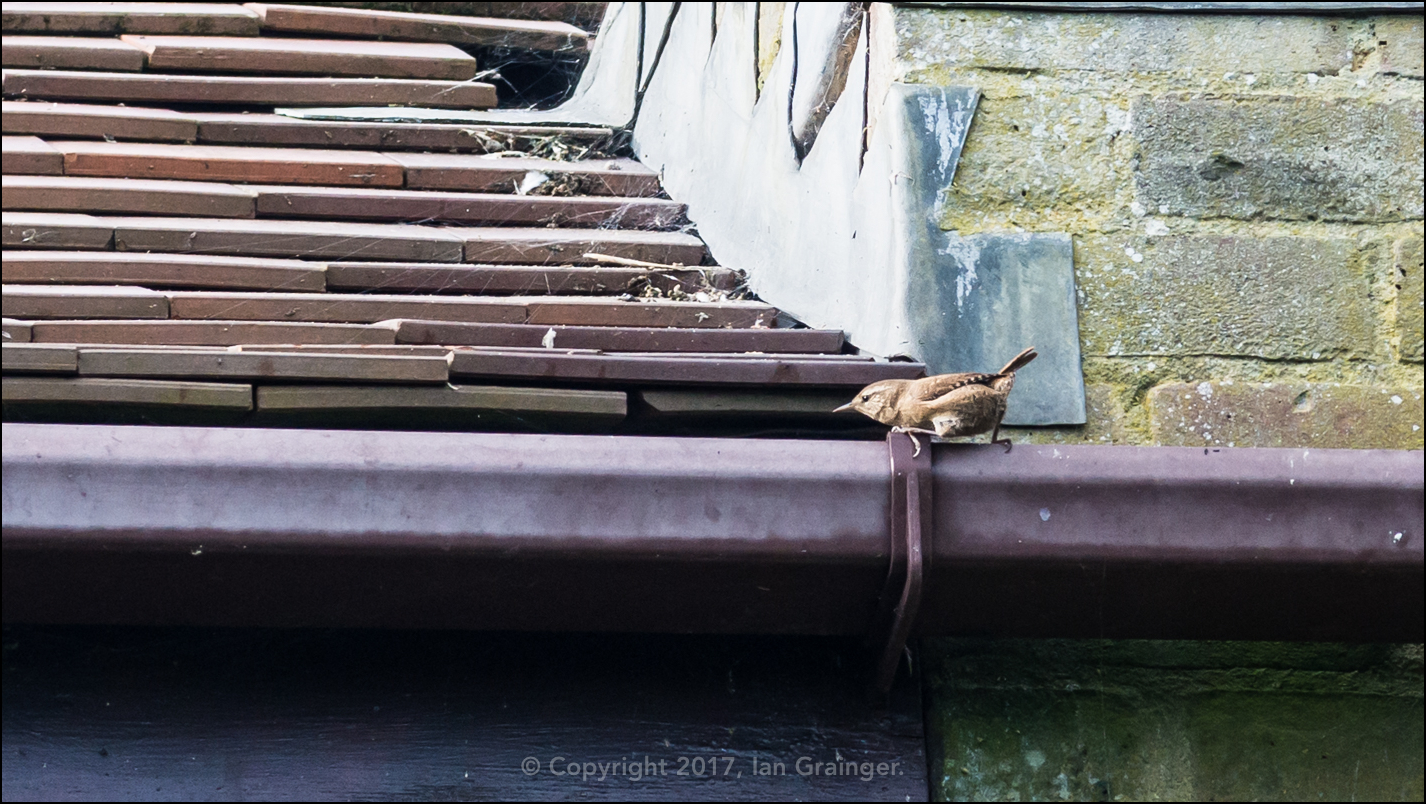 Patrolling Wren - October 2017
...and then spotted this tiny Wren (Troglodytidae) patrolling the guttering of a neighbouring house.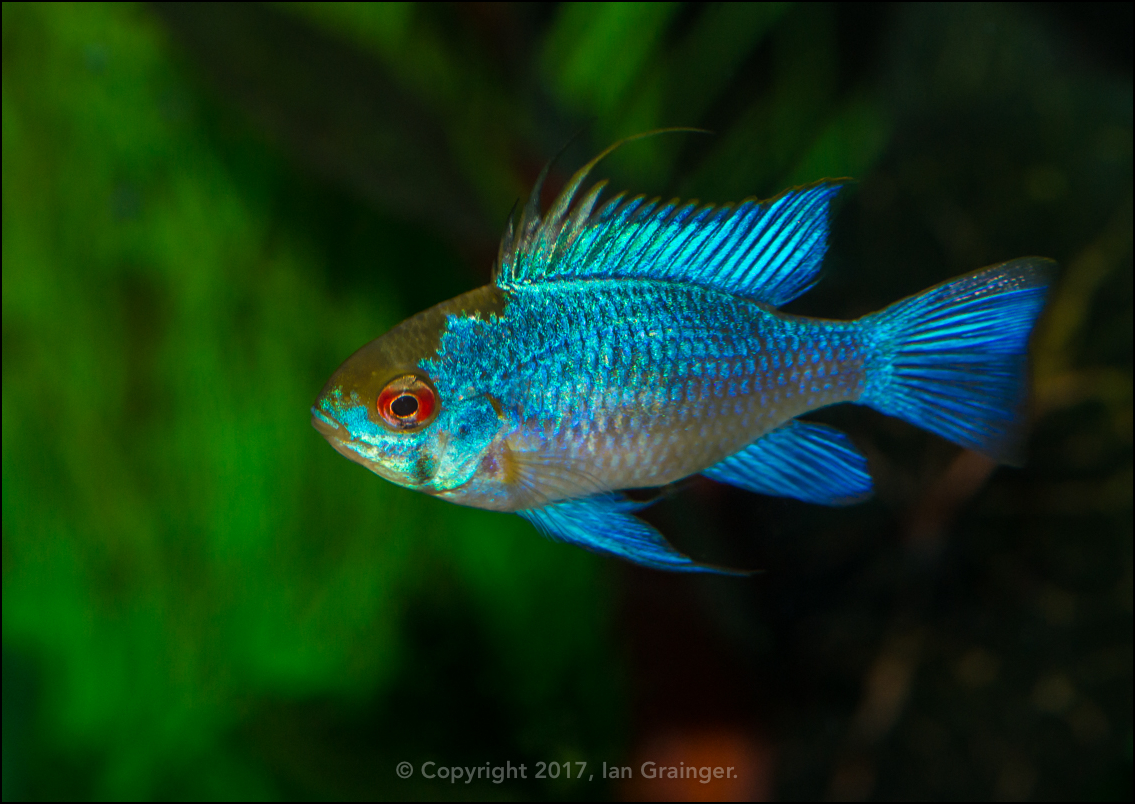 Male Electric Blue - October 2017
Finally this week, a photo of my fishy friend Eric! He's been looking particularly splendid recently, especially when flaring and showing that magnificent dorsal fin. I'm hoping to find him a large female that he can't bully, but you only ever see juvenile specimens that are difficult to sex.
So, this week I went with Abyssinian Gladiolus as my Image of the Week, mainly because it was such a surprise to see them, but also because they are very beautiful blooms...